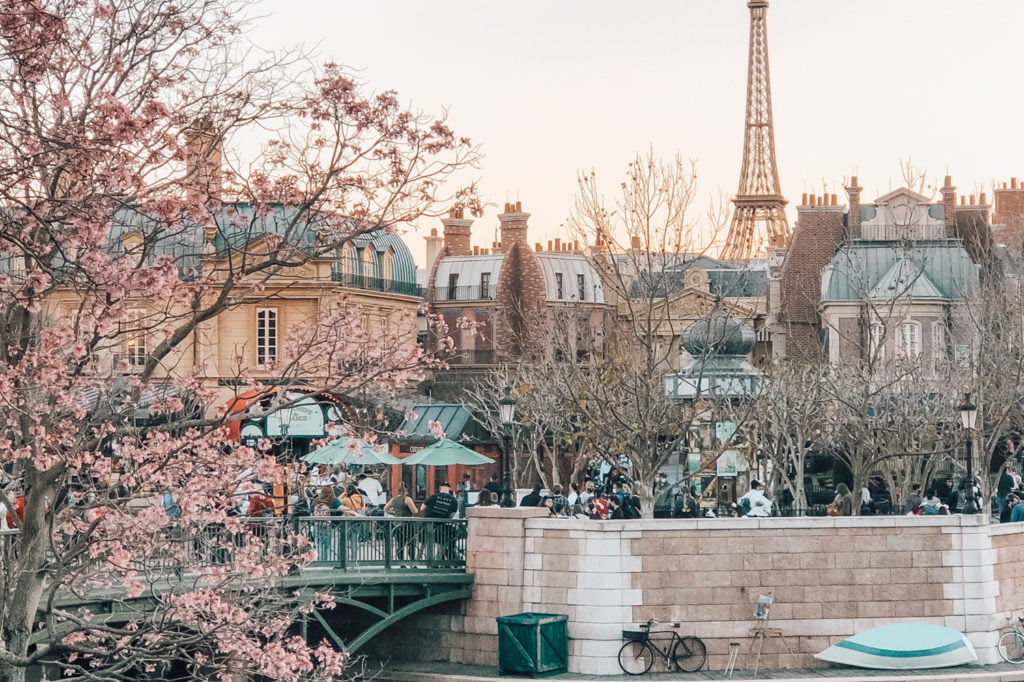 Over the past five years, France has become my second home. I fly home every couple of years to visit family in the Champagne region, eat incredible meals, and spend a few days wandering the streets of Paris in a dreamlike trance. From admiring Claude Monet's garden in Giverny, to exploring the historic streets of Burgundy's wine capital in Beaune, my visits to France are an endless source of inspiration for the way I live my life. No matter where I am in the world, I am forever seeking out new ways to recreate the tastes, smells, and overall joie de vivre that make France my dream vacation destination. Luckily for me, and for all my fellow Francophiles, there are several incredible options for a French date night in Orlando.
From French bistros and pâtisseries to our own miniature Paris, here are a few romantic ways to share a French-inspired date night in Orlando. And if you're heading to the Tampa Bay area, be sure to experience a Perfect French Date Night in Tampa Bay, too!
Enjoy an Authentic French Picnic in the Park
One of my absolute favorite things to do when I visit Paris is to create a picnic using fresh ingredients from around the city. It turns out, wine, bread, cheese, and a spot along the Seine are the only ingredients needed for a perfect evening in Paris.
Here in Orlando, La Femme du Fromage is my go-to pick for imported French cheese, inspired charcuterie boards, and sandwiches that are perfect for a late afternoon picnic. Located in the East End Market, La Femme du Fromage and its owner, Tonda Corrente, have been featured on several cooking shows, including Emeril's Florida. In 2018, USA Today declared it the best place to get a grilled cheese sandwich in the entire state of Florida. Try "Le Grande Fromage," featuring a 3 cheese house blend, prosciutto, tomato, basil, and garlic butter on Italian bread. Keep an eye out for a second location opening soon in Orlando's North Quarter, featuring an expanded wine and cheese bar, a larger menu, and a private dining room for private tastings.
Tip: La Femme du Fromage also offers grazing boxes for cheese and charcuterie on the go.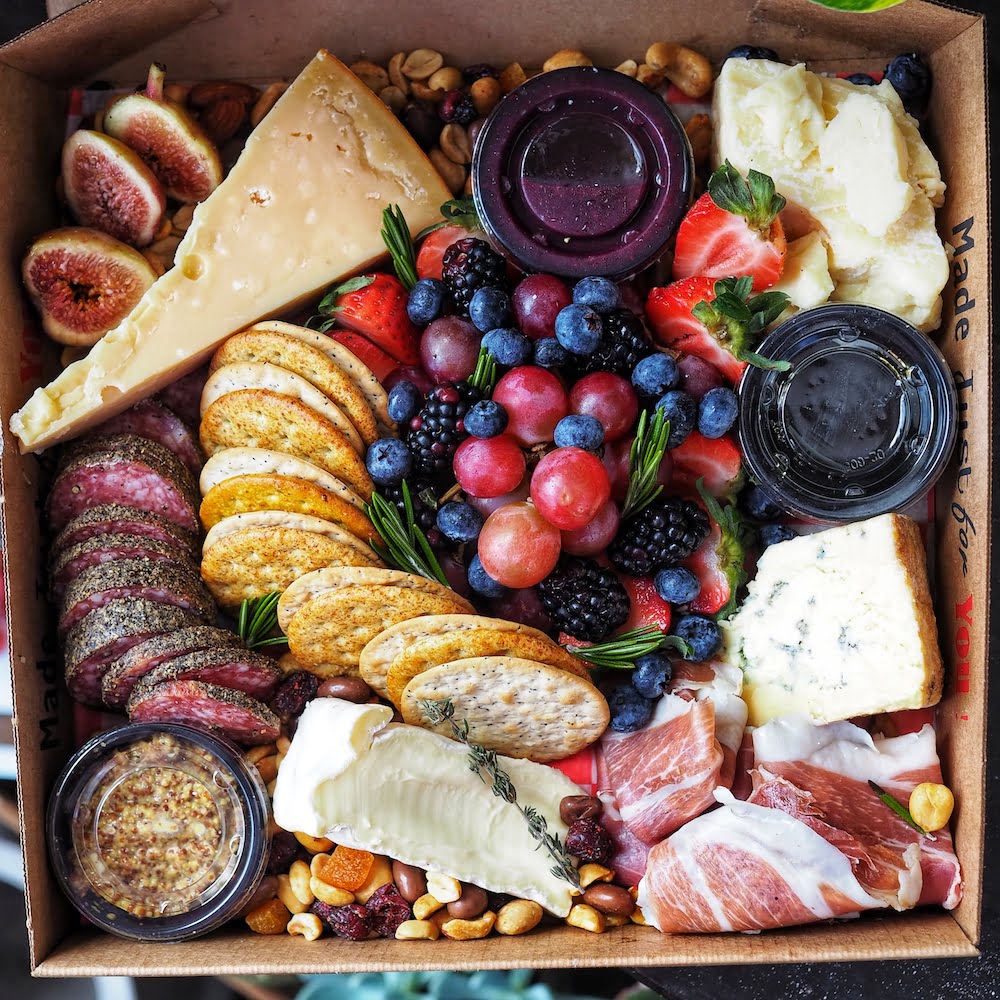 Have a Lunch Date at the Farmer's Market
If you prefer the authentic French experience of buying meat from a butcher, cheese from a cheese monger, and so forth, check out your local farmer's market for fresh seasonal ingredients. Bring some reusable bags and load up on fresh produce, artisanal spreads, flowers, and more. Buy your own picnic ingredients, or grab lunch from one of the market vendors for a simple and delicious meal in a relaxed outdoor setting.
A few favorites are the Winter Garden Farmers Market (Saturdays from 8am-1pm), Winter Park Farmers Market (Saturdays 8am-1pm) and Orlando Farmers Market (Sundays 10am-3pm).
Linger in a French Café
Grab un café en terrasse at one of Orlando's many French cafes. Le Gourmet Break, which is owned and operated by Parisian expats, is a fantastic downtown Orlando pick for authentic French pastries, omelettes, crepes and more. Their turkey prosciutto sandwich, served on a warm baguette, takes me back to carefree days spent sightseeing around Paris.
Winter Garden's Rosallie serves up gourmet coffee, tea and pastries in a delightful French market ambiance. Enjoy creative offerings like a white chocolate truffle mocha or provence latte, paired with a warm almond croissant. The stylish terrace out front is perfect for lingering over coffee and people watching in prime Parisian fashion.
Winter Park's Financier feels like one of those classic Parisian café–bistros you might see on a travel show. With its classic bar, creamy striped wallpaper, and green accents that bring to mind the famous Café de Flore, this is the place to go if you want to feel truly transported to Paris. Linger over authentic French classics like a croque madame, moules frites, or lobster brioche. Top it off with a bottle of wine or a couple of glasses of champagne for a truly French date night.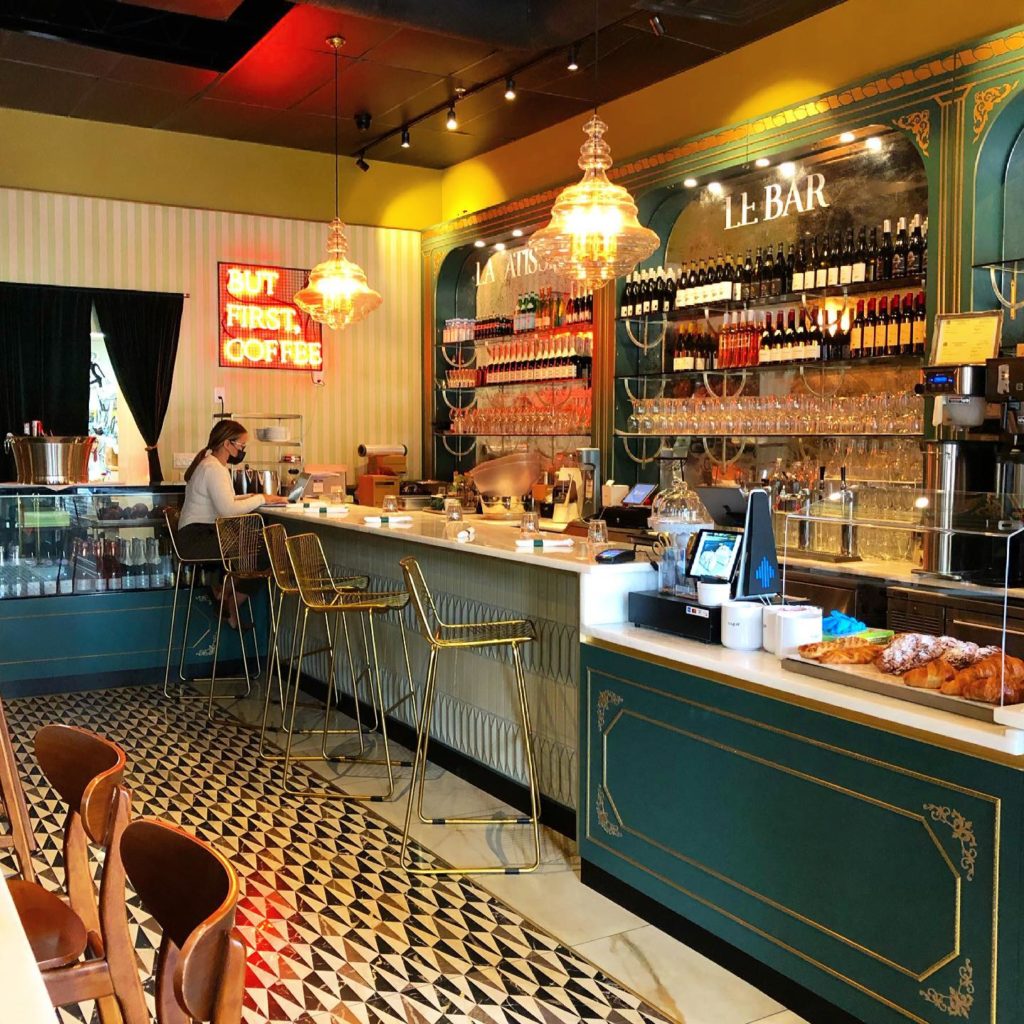 With two Central Florida locations, The French Café is a great casual daytime spot to enjoy French staples like a ham, béchamel, and swiss croissant, or a warm gourmet chicken sandwich served up with greens, brie, and balsamic onions. This is one of my favorite post-work stops for a miniature mid-week vacation.
Finally, check out Croissant Gourmet in Winter Park for a pastry selection that rivals even the best pastry displays in France. Come December, you can even order a traditional French Bûche de Noël, or yule log cake, for your holiday celebrations.
Browse the Local Vintage Markets
Paris is known for its incredible flea markets and vintage stores. Replicate the thrill of the hunt by visiting some of Orlando's best-loved antique and thrift stores. Adjectives sells an eclectic mix of authentic vintage clothing, furniture, and home decor, along with newer mass market wares with a vintage feel. Stop by The Unhinged Market at their Altamonte Springs location to browse over 80 market stalls featuring local artisans, collectors, and creators.
More fun markets to explore: Trader Mae's Furniture & Decor, Orange Tree Antiques, Wirewood Market and The Lovely Boutique.
Take Inspiration from the Gardens of Paris
Replicate the feeling of strolling through the Tuileries with a day date at one of Orlando's beautiful gardens. Leu Gardens is perhaps Orlando's best-known botanical garden, with over 40 plant collections, including a tropical rain forest and Florida's largest formal rose garden. Visit on the first Friday of each month for Movie Night in the park. Feel free to bring your own picnic basket and wine to complete your romantic night under the stars.
Bok Tower Gardens in Lake Wales is one of my favorite places to spend the day. Designed as an informal woodland garden, this is a place that encourages and rewards visitors for exploring off the beaten path. Discover your own romantic hideaways to take in the view of the citrus groves, or listen to the daily carillon bell concerts from the iconic Singing Tower. Get away from the crowds on one of the dedicated nature trails, or visit the stunning Mediterranean-style Pinewood Estate for that extra European touch.
Take a French-Inspired Cooking Class
Chocolate and Croissants Galore
Learn how to prepare your own authentic French pastries with a romantic pastry making course. Truffles & Trifles in College Park offers funs hands-on classes in everything from macarons to chocolate soufflés. The French Pastry course covers a variety of quintessential French desserts, like éclairs, Madelines, and Frangipane.
Another fun way to indulge your sweet tooth is with a date night at Farris & Foster's Chocolate Factory in Baldwin Park. Spend the evening concocting your own chocolate creations, and take home an entire pound of chocolate to share when the night is over. Couples are encouraged to bring a bottle of wine to the weekly Date Night event, which takes place every Friday at 7PM and 9PM. At $34 per couple, it's a fun and affordable way to create a memorable date night experience.
Finally, the cake decorating class at Amorette's Patisserie in Disney Springs (currently on hold) offers couples a chance to get creative with their pastry art. Amorette's is one of my favorite pâtisseries in Central Florida, with chocolate eclairs that my mom (who grew up in France) declared to be just as good as the real thing back home. The shop's classic domed cakes take three days to prepare, so this is not a cake baking class, but purely a course in the art of pastry decorating. When class ends, enjoy your cake and grab brunch at Disney Springs' Wine Bar George. With over 140 wines, cheese and charcuterie, and a charming outdoor dining area, it's the perfect place to continue your French date night in Orlando.
Learn to Cook Classic French Cuisine
For a savory alternative, try the Truffles and Trifles French Date Night course! Relax in an intimate, couples-only setting as you learn to make French onion soup, coq au vin, chicken chasseur, and more! Menu items vary by class, so be sure to check out the monthly calendar to see what's cooking.
Publix offers themed cooking classes in their Winter Park and Dr. Phillips Aprons kitchens several times a week. Choose a hands-on class to create a delicious meal with your partner, or choose a demo course to sit back and learn (and eat!) while a Publix chef does all the cooking. Past French-inspired classes include Classic French Pastries, French Baking Workshop, and Parisian Bistro Wine and Dine. Browse upcoming classes here.
Once you've picked up a few new skills, invite some friends over and host a delectable French meal in your home. Pick up charcuterie ingredients and some wine at the market, and try your hand at cooking a classic French meal.
Enjoy a Parisian Happy Hour
A few years ago, my husband and I stayed in Le Marais, one of Paris's oldest and trendiest neighborhoods. Most bars and restaurants there opened around dinner time, and it was common to see post-work crowds socializing out in the street with a glass in hand. To recreate this relaxed, buzzy vibe right here in Orlando, I love visiting Crooked Can Brewery inside Winter Garden's Plant Street Market. The market features a spacious outdoor terrace for enjoying your drink en plein air. Complete your French-inspired market date with raclette from Morthan Cheese and macarons from David Ramirez Chocolates.
More fun breweries with outdoor seating: Ivanhoe Park Brewing, Ravenous Pig Brewery, and Suncreek Brewery. Clermont's historic downtown is entirely open-container, so feel free to sip and stroll!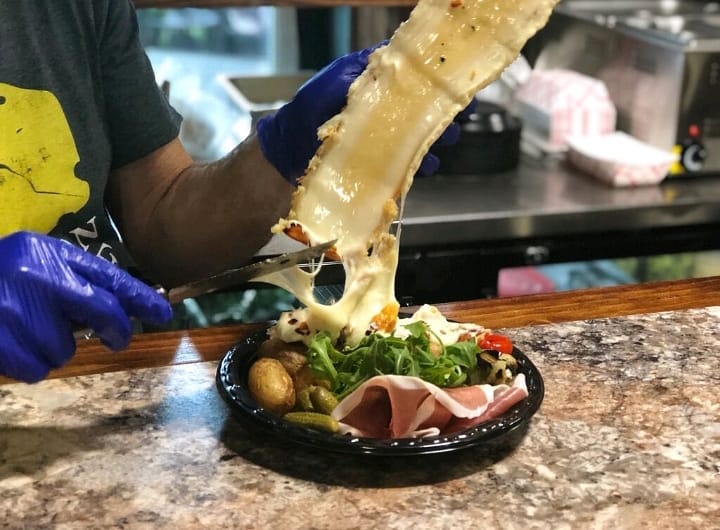 Fake a Getaway to the French Riviera
Escape to the Mediterranean at Walt Disney World's newest hotel, the Riviera Resort. Inspired by Walt Disney's travels throughout Europe, the resort celebrates the architecture, food, and culture of this stunning region. With two breathtaking large-scale mosaics, 40 signature art pieces created just for the hotel, several delectable dining options, and convenient transportation to the theme parks, date night at Disney's Riviera Resort is one of the best ways to experience the magic of France right here in Orlando.
Head up to Topolino's Terrace on the top floor for an incredible meal inspired by the flavors of France and Italy. After dinner, step out onto the terrace for prime viewing of nightly fireworks at Disney's Magic Kingdom, Epcot, and Hollywood Studios. If your date night includes a visit to the theme parks, hop aboard the Disney Skyliner for a free scenic ride over Epcot's France Pavilion.
Have a Parisian Adventure in Epcot's France Pavilion
For the ultimate mini escape to Paris, look no farther than the France Pavilion at Walt Disney World's Epcot. Take in a replica of the Eiffel Tower, savor a macaron ice cream sandwich from L'Artisan des Glaces, and sample traditional French sandwiches, pastries, and more from Les Halles Boulangerie-Patisserie. For a truly intimate and romantic experience, grab dinner at traditional bistro Les Chefs de France, or attend one of the specialty dining events typically offered during the annual Epcot Food & Wine Festival. Don't miss a viewing of Impressions de France, a stirring 18-minute virtual journey through the magnificent landscapes of France and the daily lives of her people.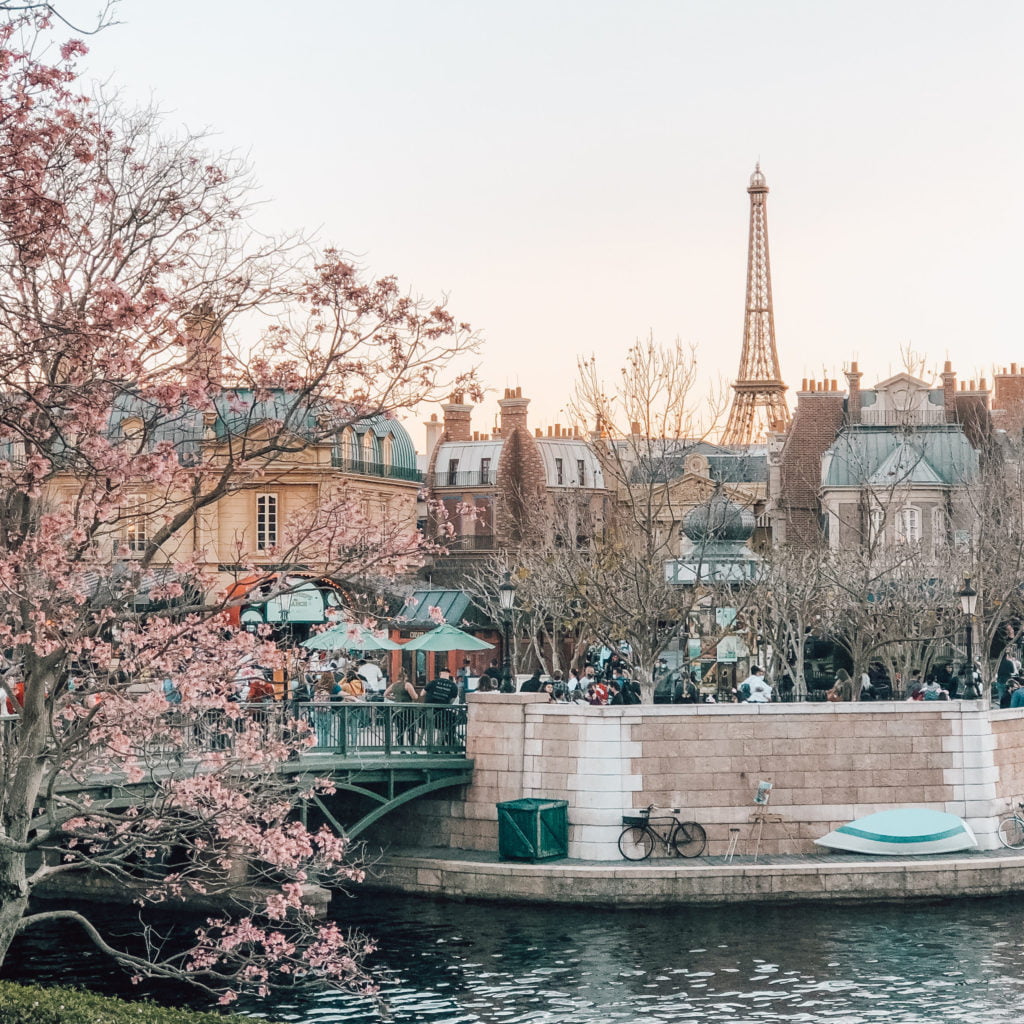 Sip & Savor French Wine
Toast to the spirit of France with wine tasting courses. Designed for wine aficionados and newbies alike, classes are held monthly at the Emeril Lagasse Foundation Kitchen House & Culinary Garden in College Park. Swirl, sip, and savor with your partner as you spend a romantic night learning everything from the correct way to taste wine to the distinguishing marks of varietals from around the world. Try the Introductory Wine Course, reviewed here, or narrow your focus to the wine-making regions of Bordeaux, Burgundy, Alsace, Beaujolais, and the Rhone in the France Discovered course.
Alternatively, share the thrill of discovering something new by driving out to a neighboring city and going on a wine walk. Whether you DIY your own bar crawl or sign up for a hosted experience, this is the perfect way to let the endorphins flow. We've gathered the best wine walks in Central Florida for you to browse.
You could also stop by Central Florida's favorite winery, Lakeridge Winery, for a day of wine tasting and enjoy the famous rolling hills of Clermont. On the weekends, enjoy live music, delicious food, and wine by the glass out on the vineyard green.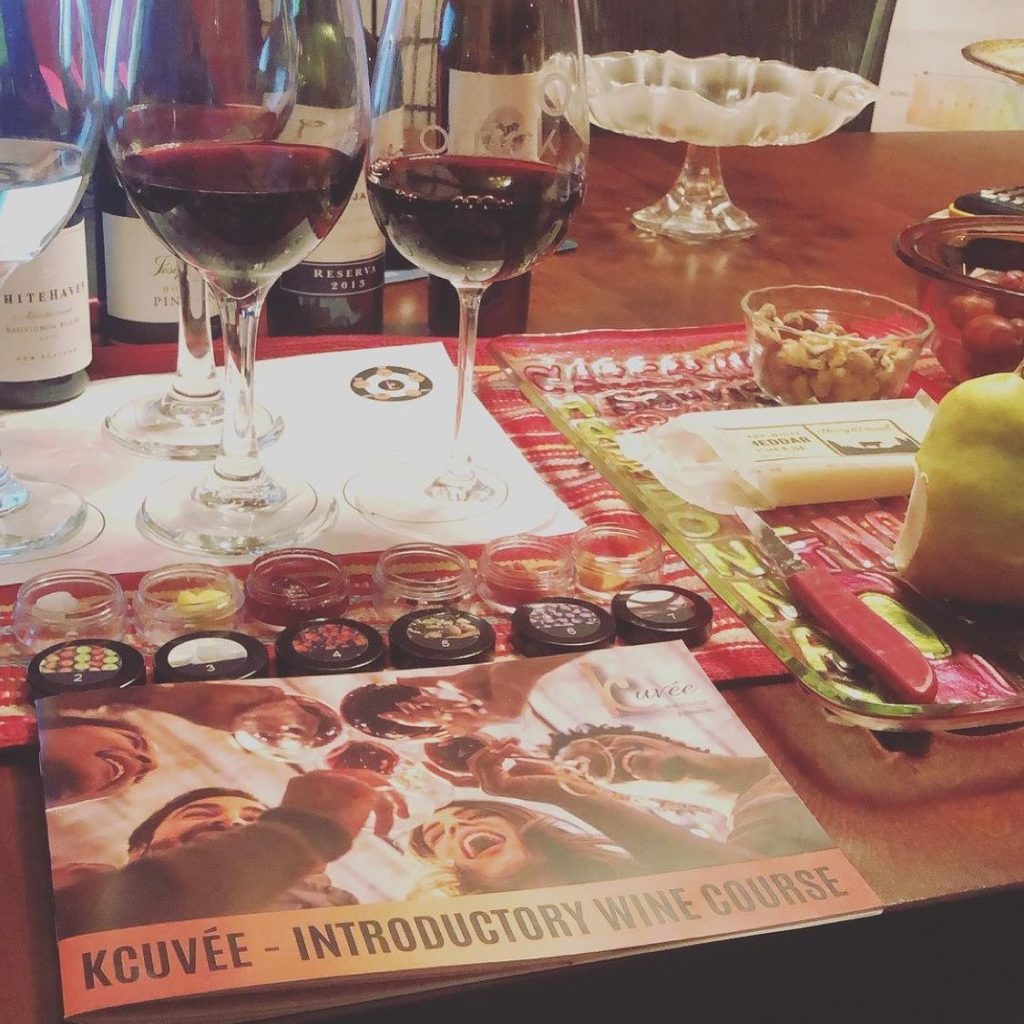 Visit "La Plage"
Every summer, the banks of the Seine in Paris are filled with sand to create a charming little beachside escape right in the middle of the city. Take advantage of Orlando's sunny days to create your own homage to La Plage. Pack an oversized beach umbrella, some fun retro outfits, and your favorite bottle of bubbles for a relaxing French-inspired day at the beach or the pool. Bonus points for packing a tasty beachside picnic of baguettes, fruit, and charcuterie.
Dine at a Romantic French Restaurant
Orlando is home to several fantastic French restaurants, ranging from traditional French bistro fare to modern, French-inspired eateries with an emphasis on texture and flavor. Here are some of the best spots for a French dinner date in Orlando.
Several years ago, I celebrated a birthday at Le Coq au Vin. This historic Central Florida restaurant, which opened in 1976, has been serving classic dishes like duck confit, steak au poivre, and its namesake coq au vin for 45 years. Its moody, dimly lit dining room is perfect for a romantic dinner date complete with buttery escargots, a bottle of red wine, and a fluffy soufflé for dessert.
Meanwhile in Winter Park, Chez Vincent serves up classic French dishes like duck a l'orange alongside unique local takes on French flavors, like the provençal grouper – fresh Florida fish cooked in the tomatoes, onions, white wine, and garlic typical of the Provence region. Chez Vincent is also one of the only local spots to serve frog legs, if you're feeling bold.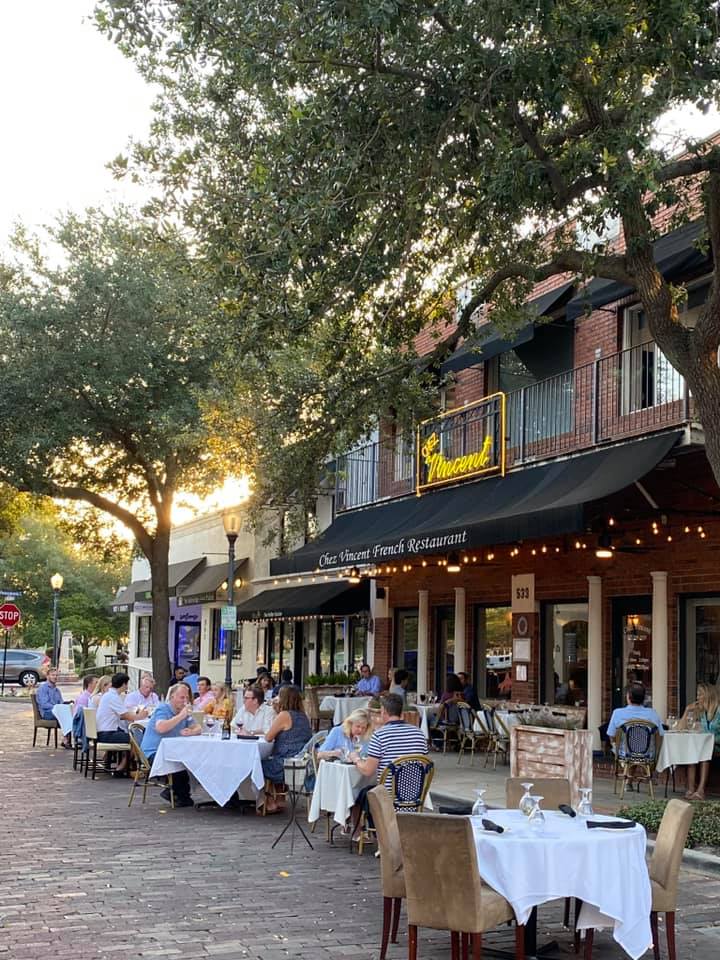 Dovecote, located in downtown Orlando, offers a modern take on French cuisine. Guided by the flavors of France rather than a list of classic dishes to replicate in-house, you'll find everything from beer-steamed mussels to ribeye steak served with bearnaise butter, garlic whipped potatoes, and grilled asparagus with citrus oil. Stop by during happy hour for small plates and $6 bubbles.
Finally, French steakhouse chain La Boucherie recently opened their first-ever location in the United States, right here in Dr. Phillips. La Boucherie started out as a butcher shop in France. It ultimately grew into a thriving restaurant business when customers began to ask the owner to cook their cuts of meat. Today, dinner starters include bone marrow, escargots, foie gras, and more, with entrées like sea bass, veal blanquette, and a rosemary lamb shank. The food is surprisingly affordable, which means you can splurge on a nice bottle of wine. The lunch special is a particularly great deal: all lunch entrees are $12 and come with a side of fries, soup, or salad. The turkey brie sandwich, served with apple butter and arugula on a toasted croissant, is the perfect mid-week pick-me-up.
Soak Up the Local Culture
Take a note from the French, and visit a cultural landmark or museum right here in Florida. Orlando has several museums and historic homes that make for a classy date night. Try 1st Thursdays at the Orlando Museum of Art for a fun night of live music, wine and beer, and local art. The Albin Polasek Museum, located in Winter Park, has a great outdoor sculpture garden that is visually reminiscent of the Rodin Museum in Paris. For an authentic taste of Paris, check out the Immersive Van Gogh art exhibit coming to Orlando in October 2021.
More Great Cultural Landmarks: Casa Feliz, the Orlando Science Center, and the Citrus Tower.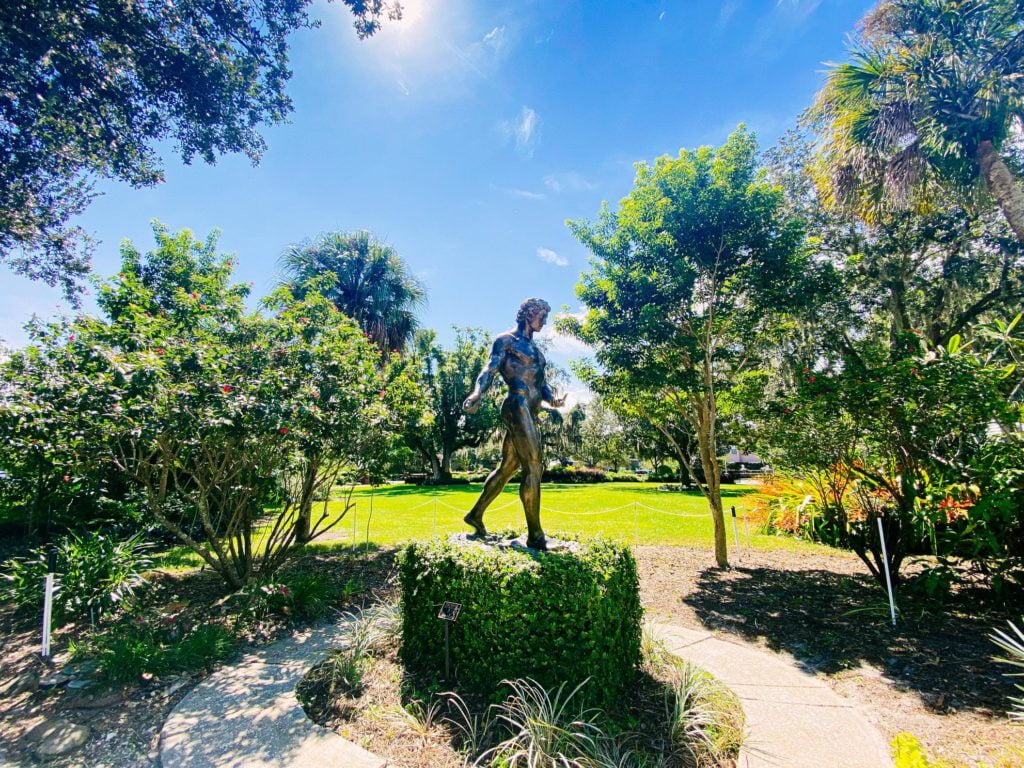 Catch a Foreign Film
Share a bottle of wine and a foreign flick for a date that's as romantic as it is fun. Check out the Florida Film Festival, held every spring at the celebrated Enzian Theater in Maitland. The 2021 festival featured several international films, including Sundance winner "Summer of 1985." The next festival will be held in April 2022.
Get a Bird's Eye View of Orlando
Many of France's most popular attractions and monuments offer a breathtaking bird's eye view over the surrounding area. Seek out that sense of wonder by getting some perspective at some of Orlando's best attractions with a view.
Here are a few ideas:
What other fun ideas would you add to this list? Shout out your favorites and share some new French-inspired date ideas. Santé!
Feature image credit: Beth Bell