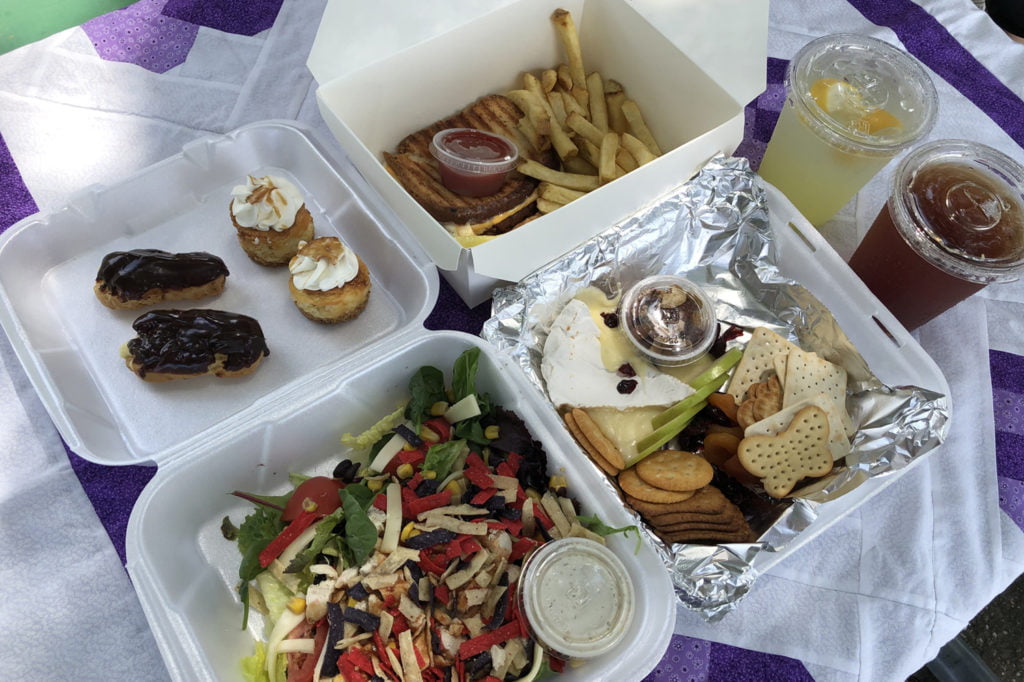 Looking for a fun, delicious new way to get out of the house, explore, and connect with your date? A mystery picnic from AmazingCo offers the perfect blend of fun, adventure, and culinary discovery, whether you're visiting a city for the first time or exploring your hometown.

Savor an unforgettable picnic date with fun puzzles and clues designed to lead couples on a foodie scavenger hunt through some of Central Florida's best culinary hotspots. Discover local artisans and restaurateurs, check out notable landmarks and murals throughout the city, and enjoy a mouthwatering spread at your final picnic destination. AmazingCo takes care of the planning and sends out a list of clues the evening before for a fun, stress-free date. Just pick a time and a place, bring your smartphone full of clues, and let the good times roll.

So what does an AmazingCo mystery picnic look like, exactly? I enjoyed a mystery picnic date in Mount Dora earlier this month, and I'm here to share all the details.

How does an AmazingCo Mystery Picnic work?

AmazingCo currently offers mystery picnics in two Central Florida locations, starting from $90 per couple. Rediscover Orlando's foodie heart in picturesque Winter Park, or take a day trip out to Mount Dora for small-town charm and scenic lakefront views.

Each mystery picnic includes multiple stops, revealed by way of an interactive scavenger hunt. You must solve puzzles, riddles or games in order to discover each location for collecting your picnic provisions. There are also extra stops for sightseeing and the final picnic location, where you can enjoy your food from the previous stops.

Mystery picnics are also in the works for Saint Augustine, New Smyrna Beach, Lake Formosa, Sanford, and Cape Canaveral.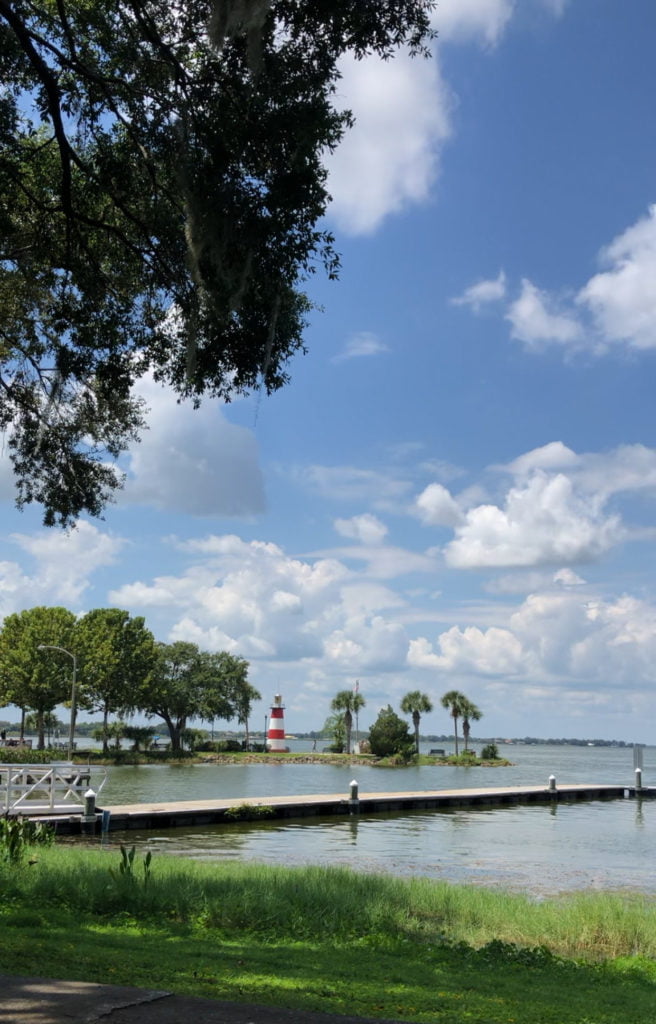 What's Included?

Every mystery picnic includes:
Food and non-alcoholic drinks, including gratuities (wine is available for an additional fee)
Interactive scavenger hunt clues on your smartphone
Bonus games and conversation starters
Local recommendations, optional activities, and additional points of interest if you want to prolong your adventure

This date day adventure was right up my alley. Spending quality time with my husband, exploring new places, and savoring tons of delicious food in a beautiful waterfront setting? Sign me up!

Mount Dora, with its gorgeous lake views, colorful downtown, and tasty shops and restaurants, has been on my radar for months. What better way to finally explore Mount Dora than going on a stress-free mystery picnic date from AmazingCo? Our picnic started at 11am and included six stops, a mix of eateries, local points of interest, and a stunning final picnic location.

I won't completely spoil the "mystery" aspect of this date by revealing every place we visited, but I will share some photos and thoughts from our journey! We absolutely loved this date and can't wait to try more offerings from AmazingCo soon.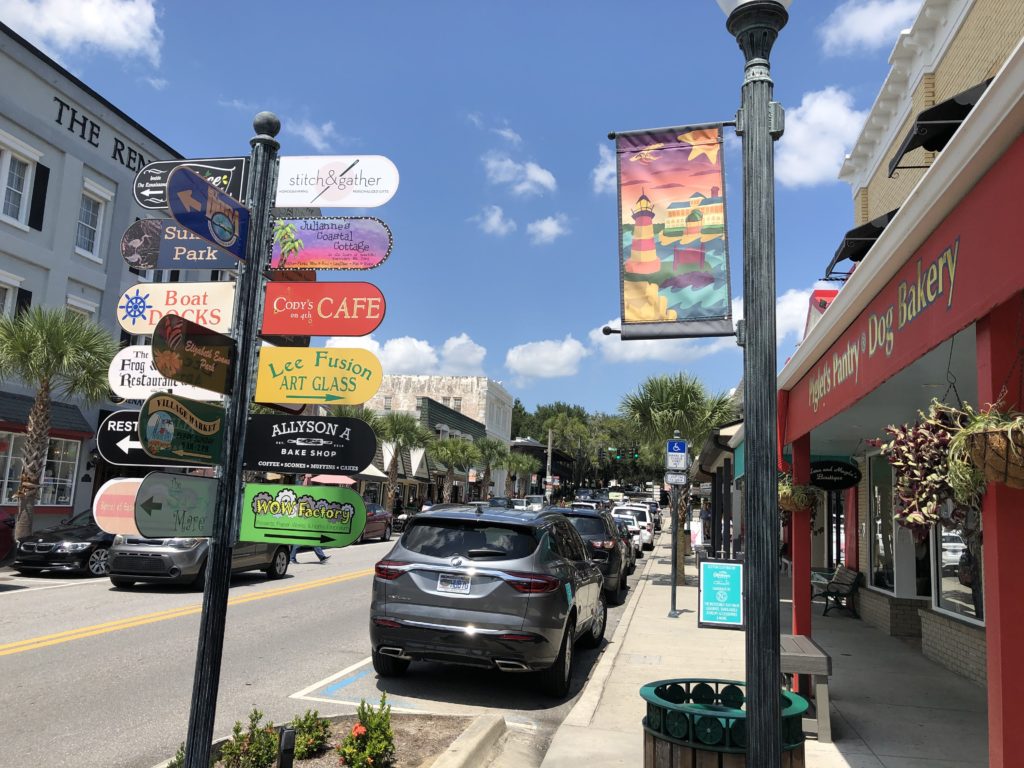 Work Together to Solve the Clues

Every clue in our scavenger hunt took the form of simple puzzles, riddles or games. The clues did not assume any local knowledge of the area, and were purely aimed at revealing the name of each new stop. If we got stuck on a puzzle, we could ask for hints or simply reveal the destination and move on.

At AmazingCo's recommendation, we solved the first clue and revealed our first stop the evening before our big adventure.

We packed a large cooler and a picnic blanket, downloaded an offline map of the area, and drove up to Mount Dora on a sunny Sunday morning.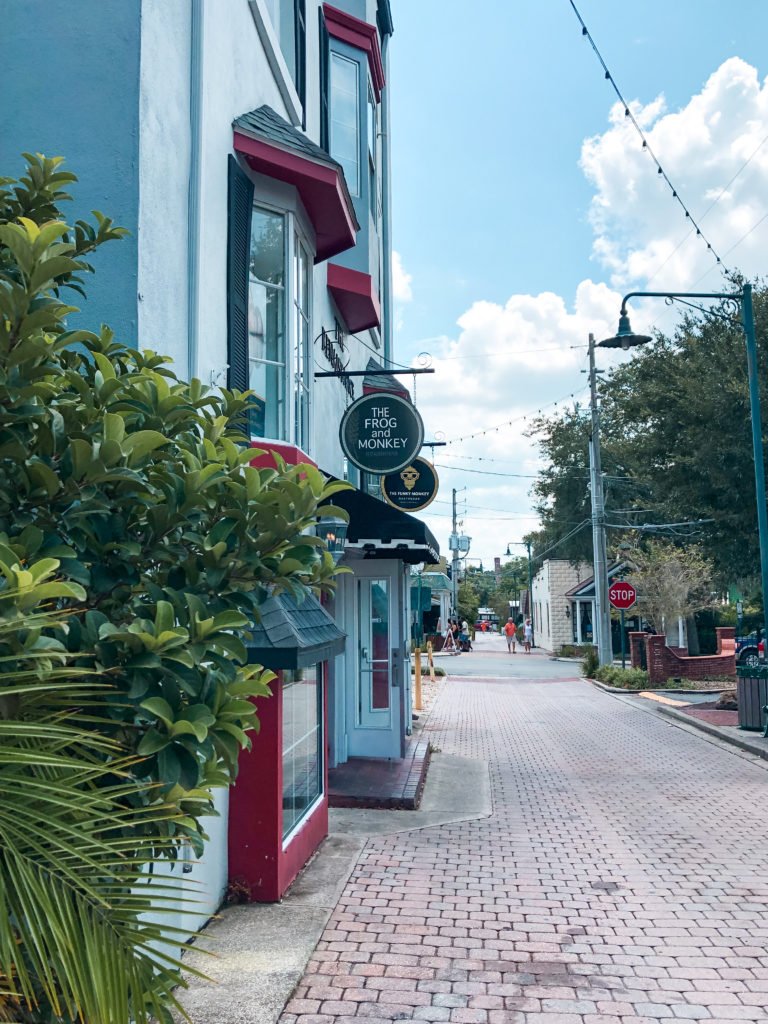 A Foodie's Tour of Mount Dora

The AmazingCo mystery picnic takes the guesswork out of eating in a new city and offers an insider's perspective on the area's best-loved delis, bakeries, and more.

We loved chatting with the staff and soaking up the atmosphere of each unique location on our picnic route. All of the stops were very close together and easily walkable, giving us plenty of time to just relax and enjoy historic Mount Dora's small-town charm.

Each location reveal included interesting facts about our next stop, paired with even more recommendations for things to check out nearby. Our mystery picnic included four food stops, one local landmark, and a final picnic destination, along with tons of extra ideas to help fill our day.

We chose to collect our food items first and enjoy our picnic spread in the scenic spot suggested by AmazingCo. After lunch, we could double back to check out the local landmark and some of the bonus recommendations.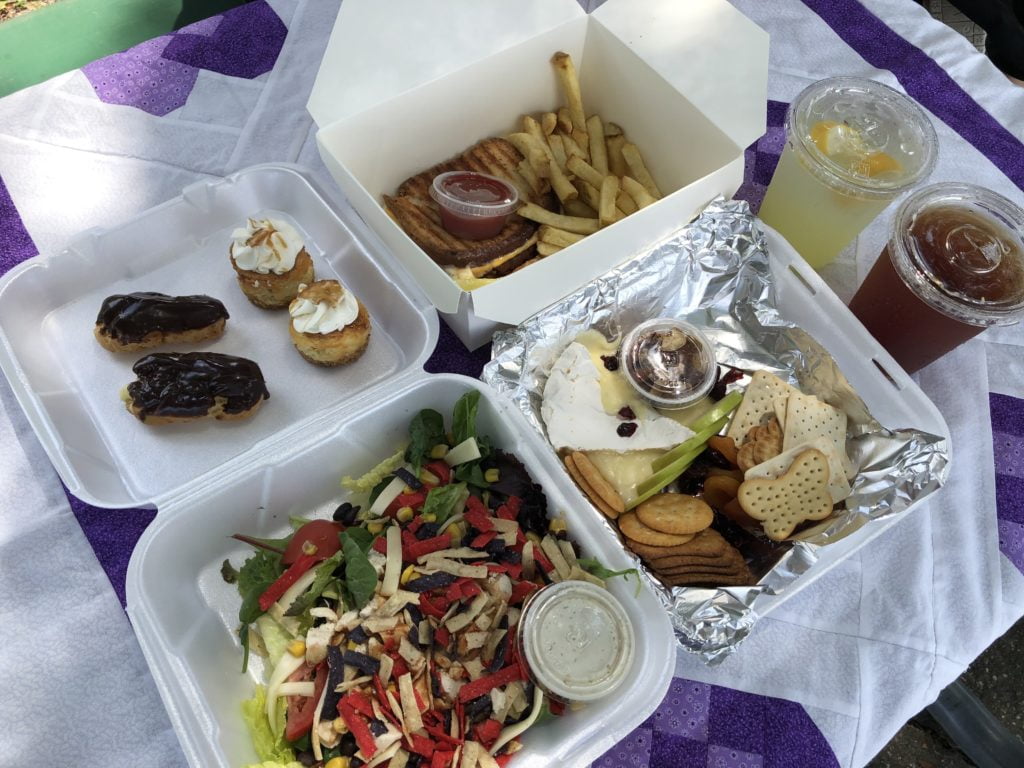 A Romantic Picnic in the Park

After spending the morning in full sun, we solved our final clue to reveal our picnic destination. We rested in the shade of moss-draped oak trees, lemonade and sweet tea in hand, and enjoyed a delicious picnic. AmazingCo curated a great spread, including an elegant baked brie board, classic comfort food, savory, crunchy greens, and some sweet treats to wrap it all up.

Boaters and kayakers drifted across scenic Lake Dora as we relaxed by the water. Nearby, we saw a sunny boardwalk trail and picturesque lighthouse just begging to be explored.

After lunch, we explored the park, then returned to downtown Mount Dora to see some of the places we missed earlier in the day. We admired the famous Van Gogh house, took photos at the butterfly mural, and window shopped on Donnelly Street. We didn't have time to explore every bonus recommendation from AmazingCo, but that's ok! I left Mount Dora with an even bigger list of things to see and taste on my return visit.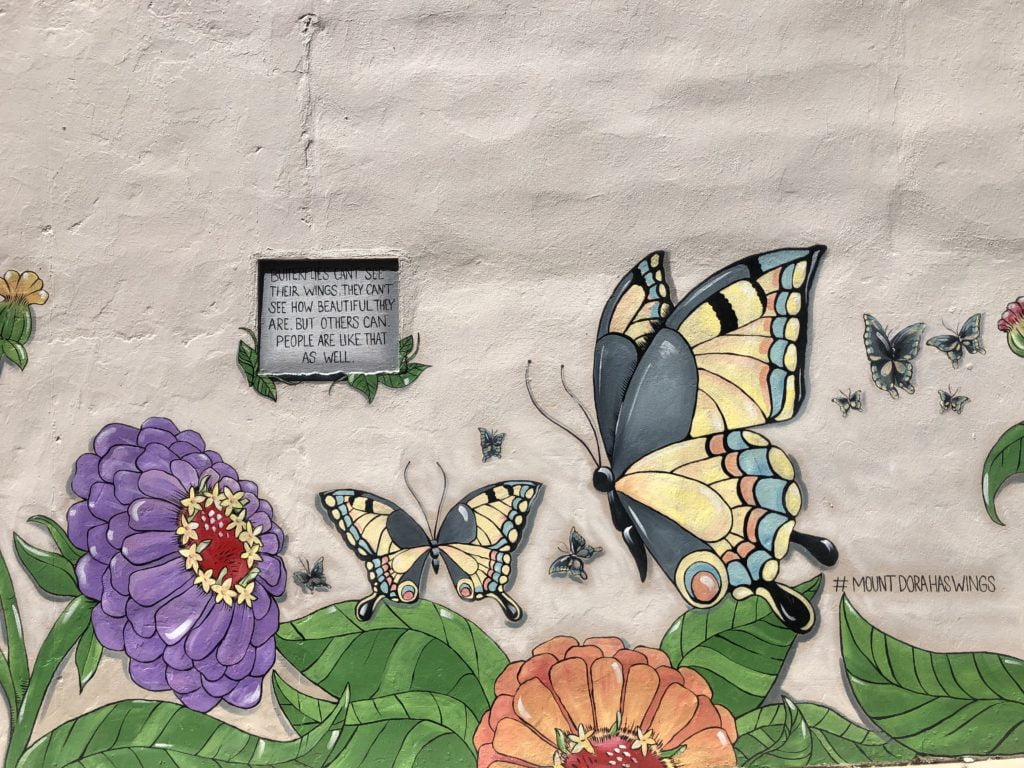 Overall Review of our AmazingCo Mystery Picnic

We loved exploring Mount Dora on our AmazingCo mystery picnic date. I'm a major overplanner, and it was refreshing to let AmazingCo do all the legwork this time around. I didn't have to worry about researching the best spots in town, making reservations, or arriving at a set time. We just showed up, smartphone in hand, and had a blast exploring the city and enjoying a romantic waterfront picnic.

I loved the relaxed change of pace and the opportunity to really talk, laugh, and connect with my husband. Since neither of us planned the details of the date, we could easily savor the day's surprises without distraction.

Our complete picnic spread included a nice variety of savory and sweet items. I especially loved the brie platter with fruit and crackers! Yes, we could have taken our $90 experience fee and purchased our own picnic ingredients. We probably could have added a nice bottle of wine to the mix. Considering all that AmazingCo does behind the scenes to coordinate such a fun, stress-free date, however, I think $90 is more than a fair price to pay for this experience.

Know Before You Go

AmazingCo can accommodate common food allergies and dietary restrictions, including vegetarian, vegan, or gluten-free diets. Just let them know of any restrictions when you book your mystery picnic experience.

Bring a cooler to keep food chilled as you complete your tour of the city. Bring plates, cups, and silverware, if desired, or you can eat directly from the to-go containers provided at each location.

Wear comfortable shoes, bring a pen and paper to help solve clues, and download an offline map of the area. Be sure to eat a snack or small meal before setting off on your adventure.

The entire experience, including active picnic time, is typically completed in 3-4 hours.

If you love this date idea, let us know! You can book your own Orlando mystery picnic date here.
All images by Beth Bell