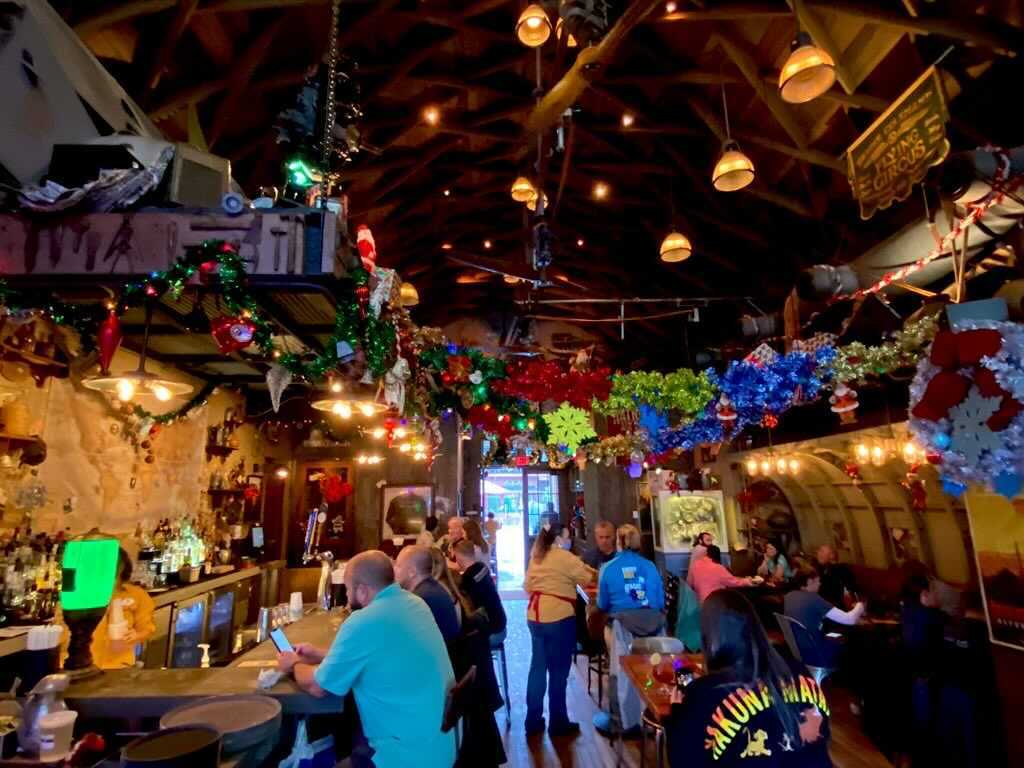 It's time to eat, drink, and be merry together! Make the most of this magical time of year and head to Disney Springs for a DIY holiday pub crawl. All of Disney Springs is full of festive decor, jolly music, live entertainment on select nights, and nearly every restaurant and bar has seasonal food and drinks. Best of all, this Disney experience doesn't require a theme park ticket, and parking is free.
Here's our guide to a holly jolly holiday pub crawl at Disney Springs.
Disney Springs Holiday Pub Crawl Itinerary
Stop 1: Jock Lindsey's Hangar Bar
I suggest starting your pub crawl at Jock Lindsey's Hangar Bar because it is the most festive spot in Disney Springs. In fact, during the holidays it is renamed to Jock Lindsey's Holiday Bar. The interior is reimagined with retro Christmas decorations, and even the outdoor patio sports festive garland. The menu also features three exclusive holiday cocktails and four holiday small bites.
Sip on the ClausMo, which is made with Absolut Citron Vodka, Cointreau, and cranberry and lime juices. The shimmery liquid glitter and the red sugar rim of this festively dressed drink definitely put me in the holiday spirit. I can't wait to return with my husband to try the Elf Elixir made with Bols Crème de Cocoa White Liqueur, Bols Crème de Menthe Green Liqueur, and cream.
Jock Lindsey's selection of holiday-themed light bites aren't overly filling and will give you some festive fuel to be able to enjoy your holiday pub crawl.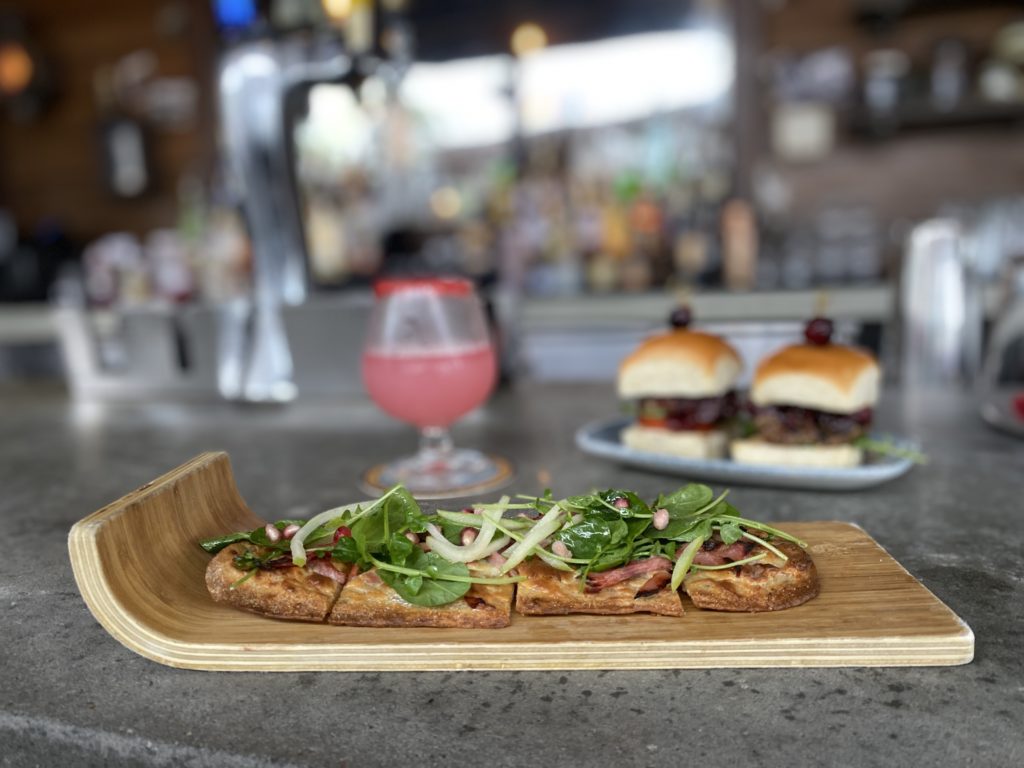 Returning this year are the Grandma's Favorite Sliders which are made with Venison Sausage Patties, Arugula, Tomato, and Cranberry Aïoli on House-made Buns. Each order comes with two sliders, and they are flavorful and hearty.
My favorite holiday food item at Jock Lindsey's is new this year, the Holiday Ham and Brie Flatbread. With the ham and brie, I was worried this would be overly heavy. It isn't, thanks to the complementing flavors from the pomegranate seeds, watercress, and Granny Smith Apples.
The C9 Light Deviled Eggs didn't impress me that much, and it's hard to beat the amazing Deviled Eggs available at Homecomin' Kitchen, also in Disney Springs.
Tip: Jock Lindsey's is very popular during the holidays and can get packed, especially on weekend nights. You'll need to check in with the greeter out front, even if you just want to grab a seat at either bar. If there is a wait you can usually supply your phone number to receive a text once a spot is ready, thus enabling you to stroll around — just stay within a few minutes' walk of Jock Lindsey's so you don't lose your spot.
Stop 2: Dockside Margaritas
Over at the Marketplace of Disney Springs you'll find mostly stores and shops. Dockside Margaritas is a great place to continue your holiday pub crawl. If you can get there around sunset time you'll be treated to sugar plum-colored skies at this outdoor, waterfront bar at Disney Springs.
As a Florida native, I love a tropical spin on the holidays. If you do too, you'll definitely want to try the Snowman on the Beach margarita. This tropical treat is made with silver tequila, key lime juice, crème de coconut, sweet and sour, and garnished with graham cracker rim, chocolate pearls, and carrot sugar piece. I was there on day one of Disneys Springs' holiday festivities, but sadly they didn't have one of the ingredients and couldn't make it. Another reason to go back.
If this seasonal margarita doesn't appeal to you, there is no shortage of other delicious margaritas and tropical cocktails at Dockside Margaritas.
Related: The Complete Guide to the Holidays at Walt Disney World
Stop 3: Continue with Festive Eats at Disney Springs
After a round or two, you may be ready for some carbs to balance out all those drinks. During the holidays, quite a few Disney Springs restaurants have holiday food or drinks. Both The Daily Poutine and D-Luxe Burger are budget-friendly options if you want quality eats without going overboard on dollars.
The Daily Poutine is a kiosk near World of Disney that serves delicious poutine creations year-round. The Gobbler Poutine with turkey, brown gravy, cranberry chutney, and cheese curds is hearty and great for sharing. If you want to keep the spirits going, pair it with a Canadian Apple Slushy made with Crown Royal Apple.
Near the center of Disney Springs is D-Luxe Burger, a casual spot for gourmet burgers and boozy gelato shakes. The Holiday Turkey Burger with butternut squash risotto cake, bacon-cranberry jam, lettuce, and tomato topped my list last year. The "Oh Deer" Cookie Shake blended with Hazelnut liqueur, vanilla gelato, cinnamon syrup, topped with whipped cream, cinnamon, and sugar dusting also sounds sinful.
Tip: Save time by placing a mobile order in advance via the MyDisneyExperience app. D-Luxe Burger is one of the few locations at Disney Springs where you can mobile order.
Although the menus have not been released yet, I've been told that holiday items will soon be available at Homecomin' Kitchen, Splitsville, and one or two other locations.
Stop 4: Christmas Tree Stroll with a Cocktail in Hand
As you stroll through Disney Springs, take time to notice the highly-detailed Disney Christmas trees. The Christmas Tree Stroll takes place throughout Disney Springs, so explore on foot with a drink in hand (Disney Springs is open container) to pick a favorite together.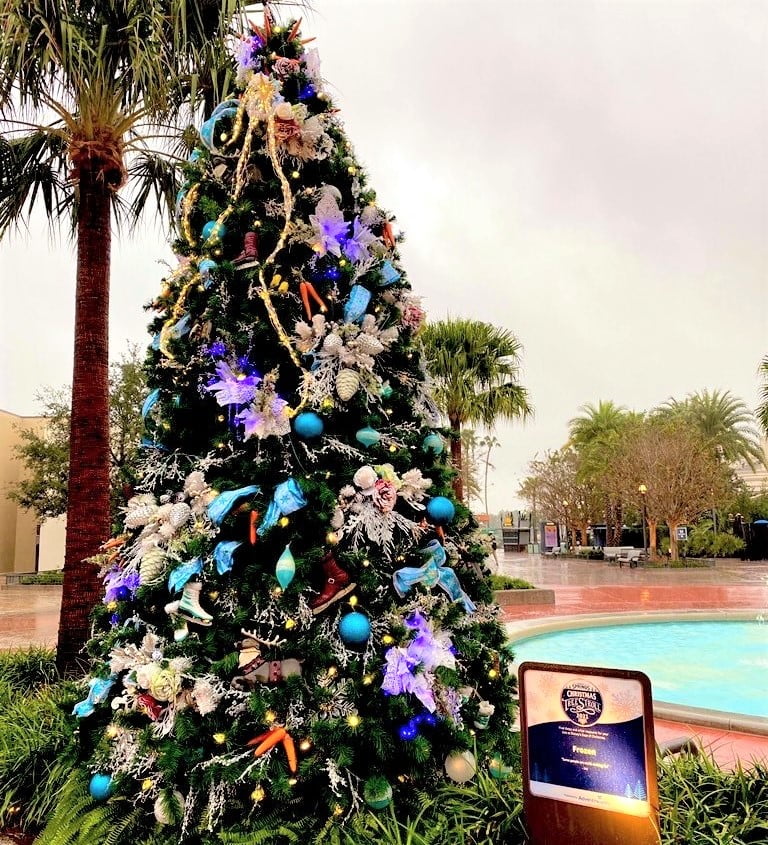 Speaking of festive cocktails, there are multiple food and beverage carts located throughout Disney Springs. This year there are three holiday cocktails available at these carts.
Since vodka was the prominent spirit in my first cocktail, I chose the Fireside Cider as my next drink because it is made with cinnamon whiskey, vanilla vodka, white cranberry juice, grenadine, and ginger ale. Talk about holiday spirit! The cinnamon flavor is loaded in this drink, so only order this if you're a big fan of cinnamon.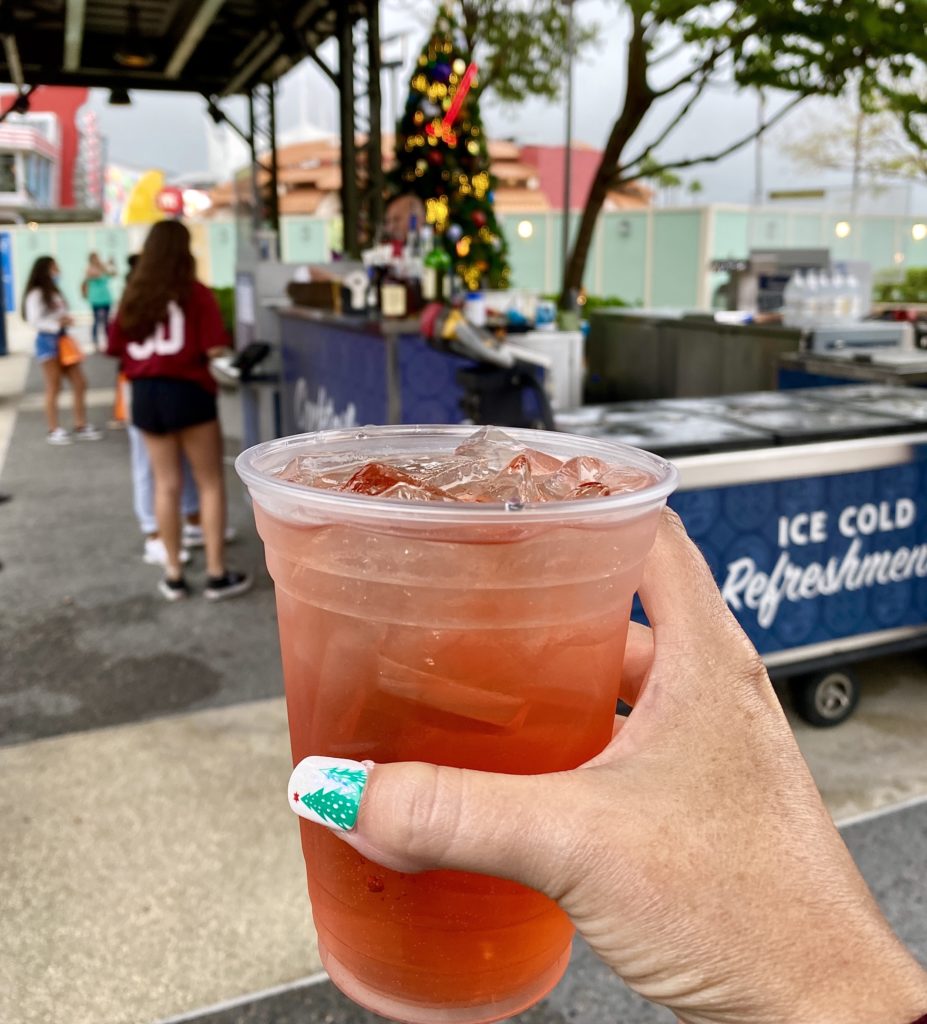 Stop 5: Holiday Desserts at Amorette's Patisserie
Give your Disney Springs holiday pub crawl a sweet boost with a dessert stop. Amorette's Patisserie is a French-inspired bakery that consistently turns out delightful little desserts. There are a few holiday treats available here as well sparkling wines and wine slushies.
The display case is always a feast for the eyes. I selected the White Chocolate Peppermint Éclair with White Chocolate and Peppermint Mousse, as well as the Holiday Parfait. The peppermint flavor of the Peppermint Éclair was overpowering. My preference is the Holiday Parfait layered with bourbon white chocolate mousse, cranberry cherry panna cotta, maple chocolate ganache, and chocolate chiffon cake. The bourbon flavor in the white chocolate mouse was very prominent and helped stay within the pub crawl theme.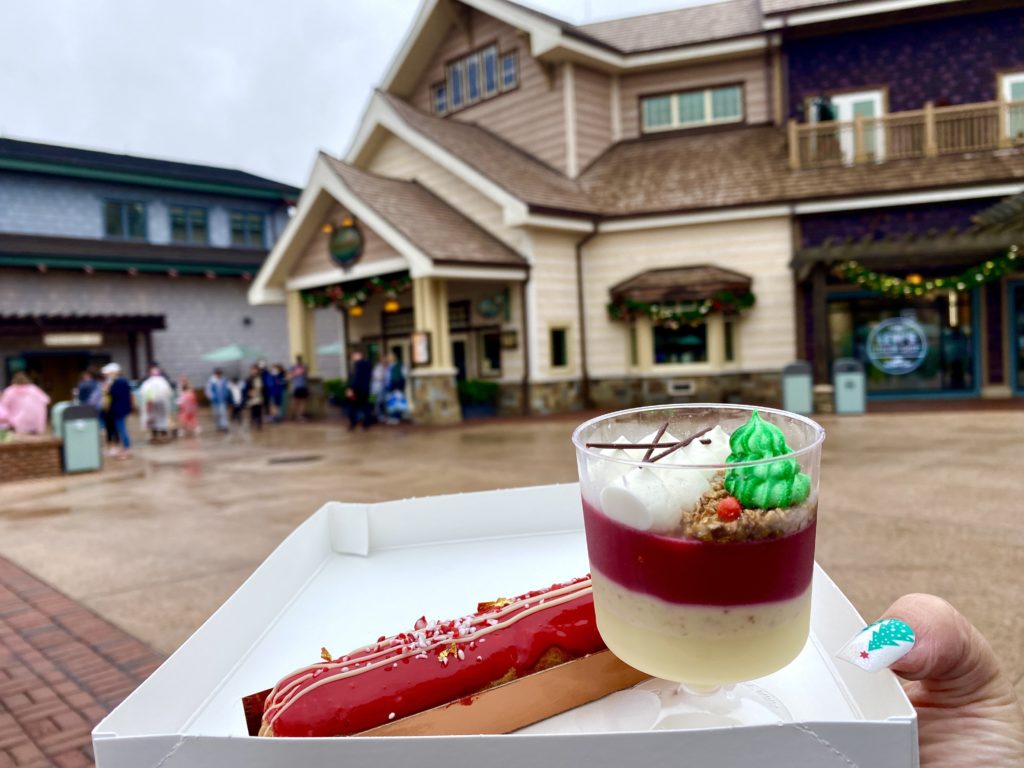 Stop 6: Enzo's Hideaway Tunnel Bar
End your holiday pub crawl with a bang at Enzo's Hideaway Tunnel Bar. Currently, there are two holidays cocktails and a Holiday Cocktail Flight on the menu. These are slated to stick around for the month of November, but I am sure we'll see some festive options in December too.
I would have a hard time deciding between the Pumpkin Mudslide and the Apple Cider Aperol Spritz. Thankfully the Holiday Drink Flight includes the pumpkin mudslide, the apple cider Aperol spritz, and a smoked maple old-fashioned. Each drink is a 2 oz. pour.
Disney Springs Holiday Pub Crawl Reminders and Information
Disney Springs is very busy during the holiday season, especially Friday – Sunday evenings. Try to go earlier in the evening to avoid crowds.
Ask for a glass of ice water with each cocktail or alcoholic beverage to stay hydrated.
Please be safe and utilize a ride share service, taxi, or consider an overnight stay on property. Disney Springs Hotels are a great option if you'd like to extend your experience overnight, many are budget-friendly and all are walkable to Disney Springs.