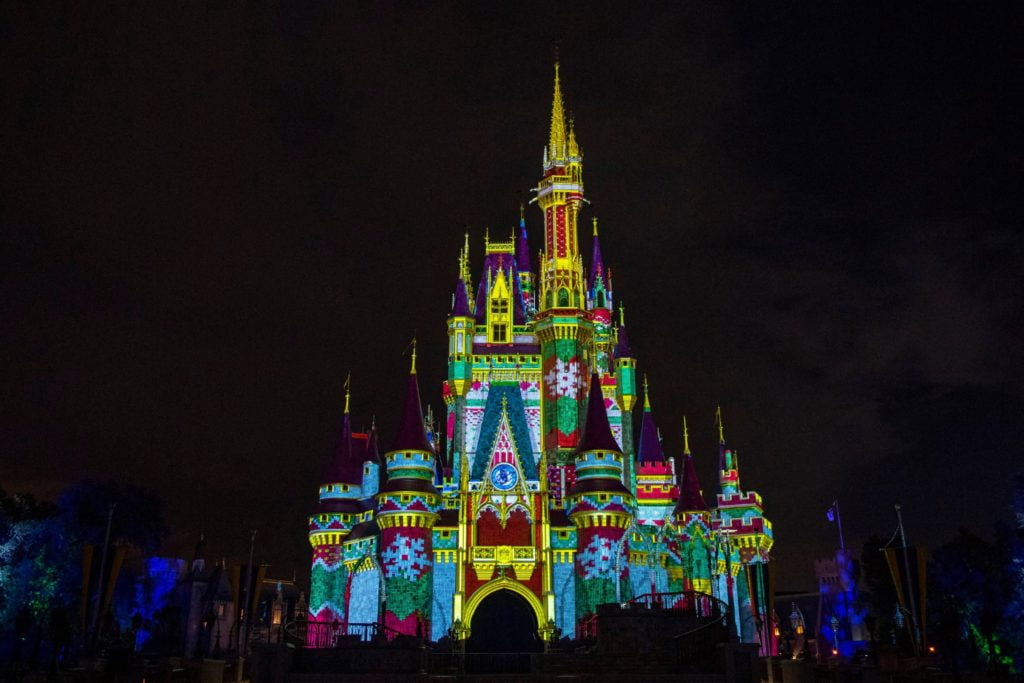 Meet your honey under the magical mistletoe of Disney. This year marks a special time to celebrate the holidays at Walt Disney World. With the 50th anniversary celebration already underway, the merriest time of year is even more special, plus this year marks the return of some traditions that weren't available last year.
No matter which holidays you celebrate and no matter your traditions, you're sure to find lots of magic during the holidays at Walt Disney World. Here's everything you need to know.
Our guide is broken down into the following sections:
Basics of the Holidays at Walt Disney World
Disney World Christmas Decorations
Magic Kingdom Holiday Events
EPCOT's Festival of the Holidays
Holidays at Disney's Hollywood Studios
Disney's Animal Kingdom Holiday Events
Disney Springs Holiday Events
Disney Resort Hotels During the Holidays
Planning Ahead For Your Holiday Visit
There are two big takeaways I want you and your Santa Baby to gain from this guide.
First, book your visit as soon as possible — Christmastime at Walt Disney World is one of the busiest times of year. That means book your Disney Park Pass, any dining reservations, and hotel (if you're having a jolly staycation) as soon as you can.
Second, budget about $50 per person for holiday eats and drinks — this is above and beyond any regular meals. Besides being the jolliest time of year, it is also the tastiest. There are special holiday treats at every park, every resort hotel, and at Disney Springs. We'll have a list of our favorite Disney holiday treats very soon.
Read on for all of the information you need to have a holly jolly Disney date.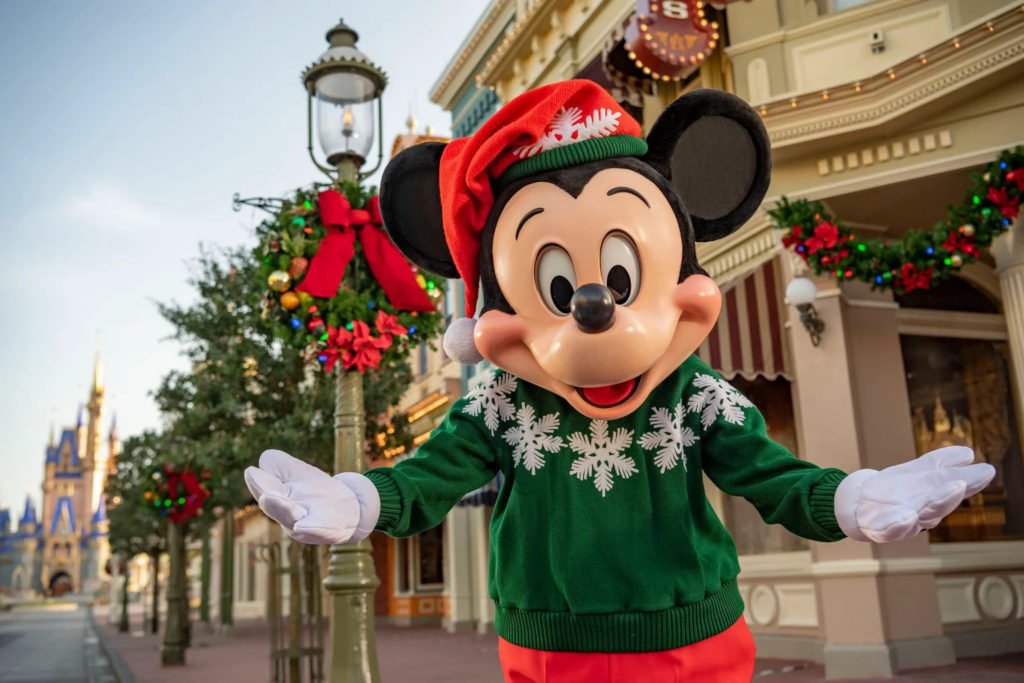 ---
Basics of the Holidays At Walt Disney World
Let's start off with the basics of what you need to know about celebrating the holidays at Walt Disney World.
The holidays at Walt Disney World kick off November 12, 2021 and run through early January 2022. EPCOT gets a later start on November 26, 2021.
If you plan to visit on Christmas or any dates close to it, book your Disney Park Pass Reservation now. These will book to capacity very quickly.
Other things to know:
Each theme park and Disney resort hotel is decorated
Special holiday food and beverage is available at each Disney theme park
Most Disney resort hotels have special holiday treats
Disney Springs has decorations and special treats
Everywhere at Walt Disney World is very busy, especially closer to Christmas week
Christmas week and New Year's week are two of the busiest weeks at Walt Disney World
Now, let's dive deeper into each of the traditions and holiday experiences at Walt Disney World this year.
---
Disney World Christmas Decorations in 2021
Each of the four Walt Disney World theme parks is decorated for Christmas and the holidays. It's hard to pick a favorite.
If you and your honey are traditionalists… then head to Magic Kingdom and EPCOT. Everyone thinks of Magic Kingdom when they think of the holidays at Disney — rightfully so. Main Street USA during the holidays is classic Disney, with decorations and garland everywhere. And EPCOT's decorations showcase some of the holiday traditions around the world.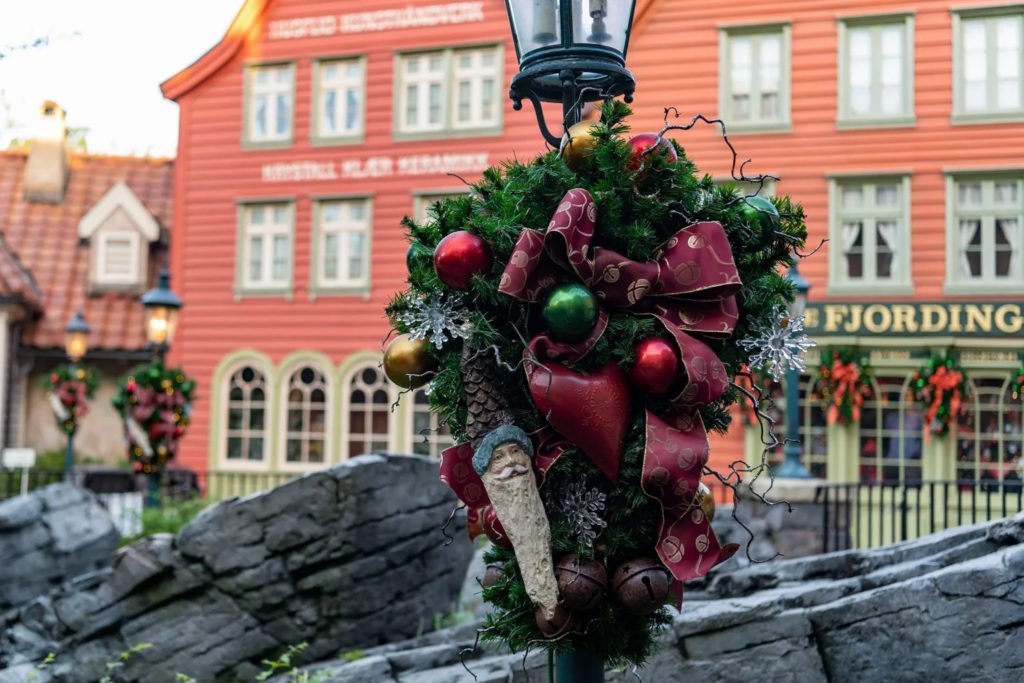 If you're more adventurous… Disney's Animal Kingdom's holiday decorations are sure to fascinate. Every land in the park has decorations that fit the theme of each area. As you arrive in Disney's Animal Kingdom you'll notice the decorations inspired by the animal world. And as you explore further into the park, look for the handmade decorations made of recycled material at Harambe Village, the Africa section of the park.
If you love decorations… For many, Disney's Hollywood Studios has some of the best Christmas decorations at Disney World. This is Tinsel Town, after all. The 1930's-era inspired decorations on Sunset Boulevard and near the front of the park are truly special. Don't miss the park's towering Christmas tree, complete with giant floating ornaments in the Echo Lake area. Toy Story Land has noteworthy larger-than-life holiday decorations.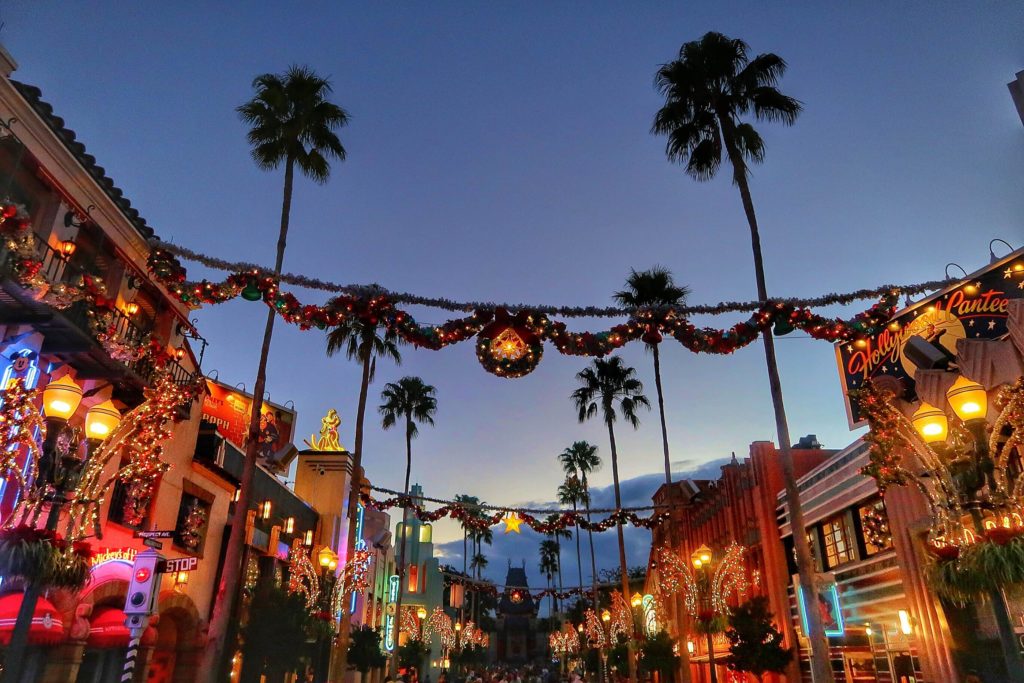 ---
Magic Kingdom Holiday Events
Best for: Disney characters, classic decorations, meet and greets with Santa
Most of the festivities at Magic Kingdom this year take place during Disney's Very Merriest After Hours, which is a separately ticketed event debuting this year. This after-hours event takes place select nights November 8 – December 21, 2021. Because it costs extra, the crowds aren't nearly as big as they are at Magic Kingdom during the day.
The two weeks of Christmas are a very special time at Magic Kingdom. Usually, the special entertainment that is only available during the Very Merriest After Hours event becomes available during regular park hours. It appears that Minnie's Wonderful Christmastime Fireworks will kick off on December 15, 2021 for regular park guests, because Disney Enchantment (the regular fireworks show) does not have any performances scheduled past December 14, 2021.
Typically, the Christmas parade takes place during regular park hours during the two weeks of Christmas as well. We'll keep an eye on the official schedule.
It is expected that Goofy's Scrumptious Cavalcade, Santa's Christmas Cavalcade, and Mickey's Holiday Cavalcade will return this year as well.
My favorite part of the holidays at Magic Kingdom is The Jingle Cruise. This holiday makeover of the classic Adventureland attraction, The Jungle Cruise, is adorable and silly.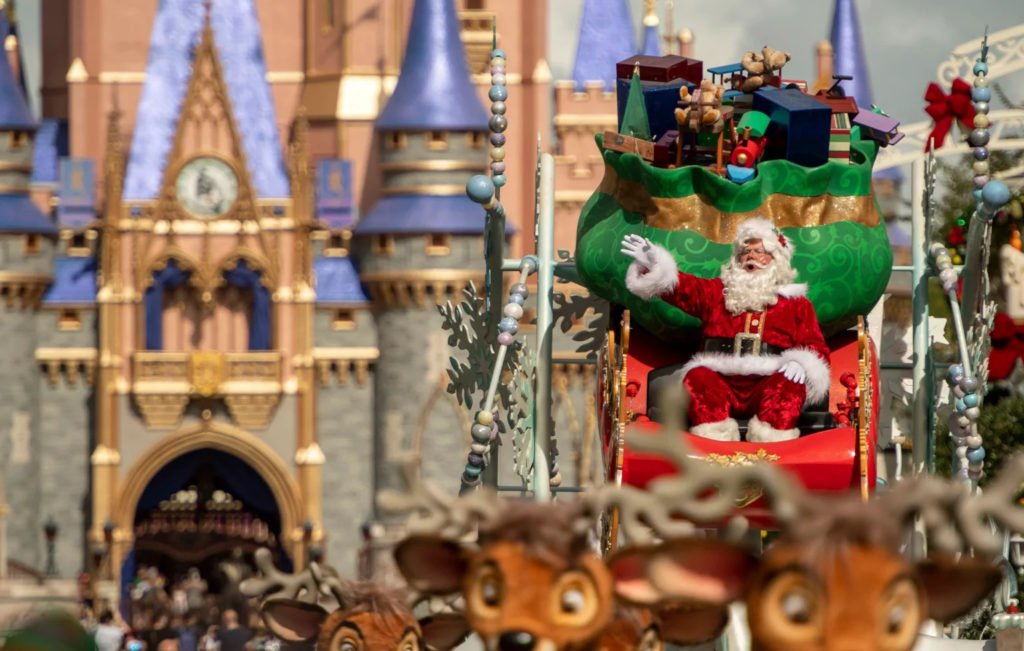 Holiday Date Ideas at Magic Kingdom
Relax on Main Street USA with a special holiday treat from the Main Street Bakery, Main Street Confectionary, or the Ice Cream Parlor and view the festive character cavalcades
Get in touch with your inner child and go visit Santa Claus on Main Street together
Take the boat from Magic Kingdom to Disney's Fort Wilderness Campground, then hop on the campground bus to view the incredible displays that many guests put up at their campsites. You can also book a Holiday Sleigh Ride at Fort Wilderness during the month of December 2021.
---
EPCOT's Festival Of The Holidays
Best for: Entertainment, holiday eats and drinks, romantic ambiance
EPCOT is known for its festivals throughout the year, and The Festival of the Holidays at EPCOT is my favorite. It's like the Food and Wine festival, but with holiday flavors, holiday decorations, and heart-warming traditions from around the world.
EPCOT is the best park for a festive Disney date. The romance of the World Showcase pavilions decorated for the holidays is hard to beat. Plus there is entertainment everywhere, and delicious holiday eats and drinks.
I am so excited to see that the Holiday Storytellers will return to EPCOT this year after not being a part of last year's limited festivities. Each World Showcase pavilion has a different storyteller that shares some of the history and traditions of the country represented. And, a classic EPCOT attraction, Living with the Land, is adorned with Christmas lights and other decorations.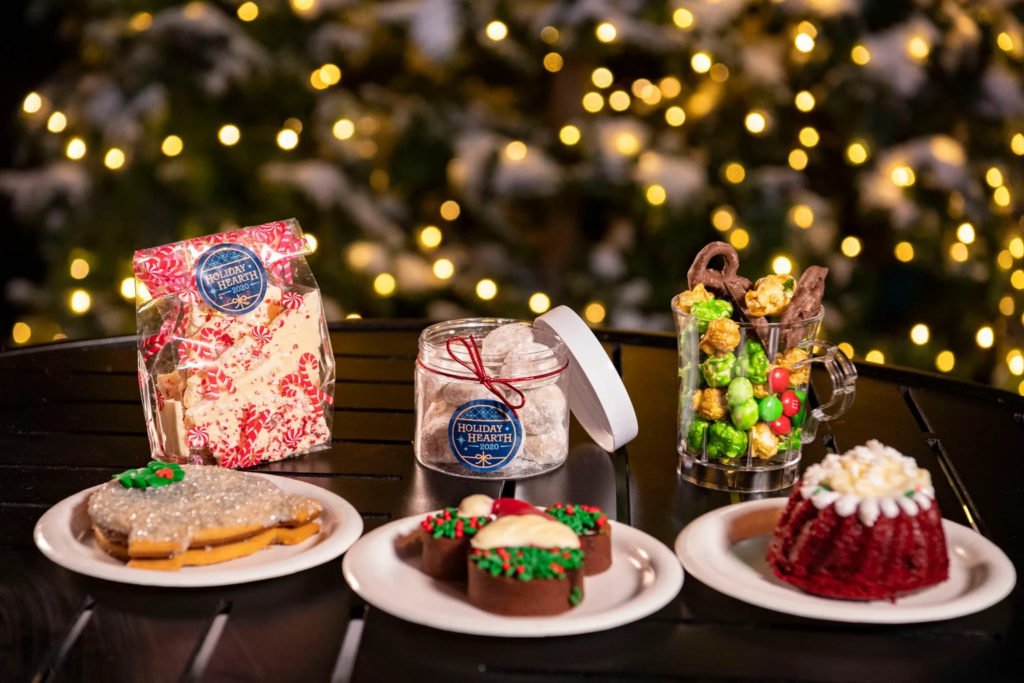 EPCOT's Annual Candlelight Processional
For many, the main event of EPCOT's festival of the holidays is the Candlelight Processional. This special experience took a break last year, like many other offerings, and is making a triumphant return for 2021.
A live orchestra, a live chorus (comprised of Disney Cast Members as well as local organizations), and a celebrity narrator dramatically tell the story of Christmas. Each celebrity that is selected to host the Candlelight Processional usually hosts for 2-3 days.
Date Ideas at Epcot's Festival of the Holidays
View the menus of the Holiday Kitchen Booths together ahead of time and pick items to try together
Participate in the Holiday Cookie Stroll and earn a free cookie (Pro-tip: you do not need to complete the Cookie Stroll in one visit; you can do so anytime throughout the festival)
Visit a Holiday Storyteller at a World Showcase pavilion to learn something new or share favorite traditions
Book a Candlelight Processional Dinner Package so you can enjoy a festive meal together and guaranteed seating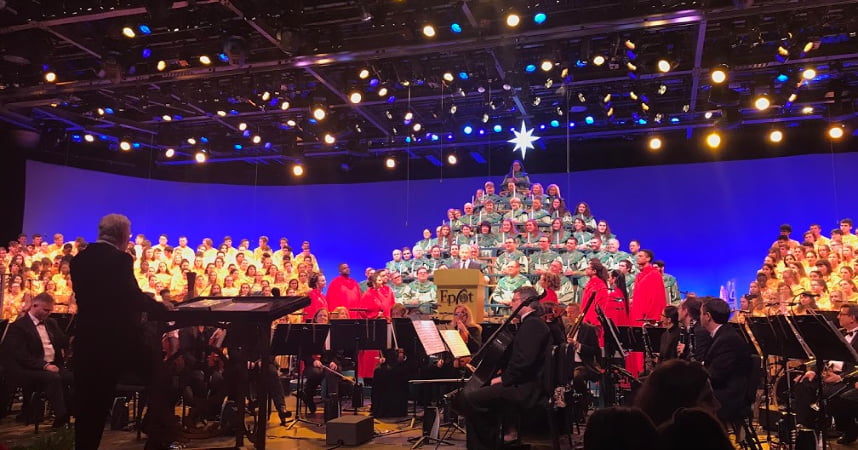 ---
Holidays at Disney's Hollywood Studios
Best for: Festive decorations, Santa sightings
Disney's Hollywood Studios is sometimes overlooked when it comes to this festive time of year. But there are lots of festive enhancements to enjoy. As mentioned, there are decorations throughout the entire front half of the park as well as Toy Story Land and Grand Avenue.
Sunset Seasons Greetings returns this year to Disney's Hollywood Studios. Each evening, holiday magic transforms the famous Hollywood Tower Hotel into a Muppets gingerbread showpiece, a "Toy Story" toy hotel, a snowy scene from Arendelle, and a Dickensian village from "Mickey's Christmas Carol."
New this year is a festival finale to "For the First Time in Forever: A Frozen Sing-Along Celebration" show. Everyone's favorite snowman, Olaf, will end the show singing celebratory songs.
Lastly, catch sight of Santa cruising down Hollywood Boulevard in his candy-apple red convertible during the Santa Claus Merry Motorcade.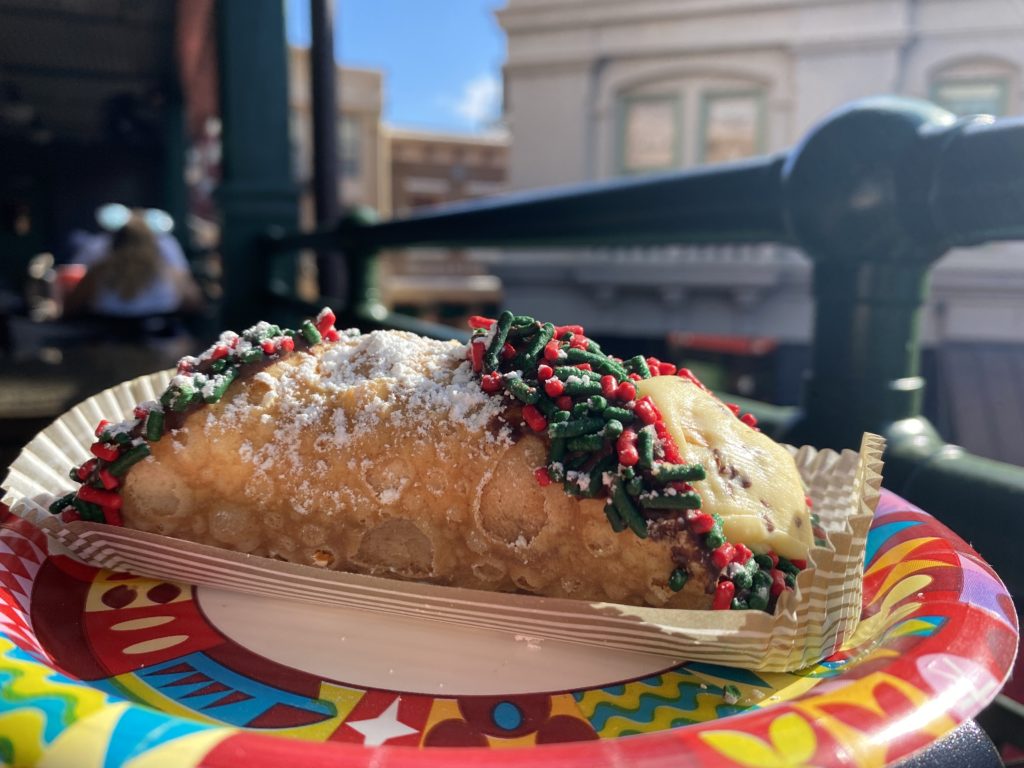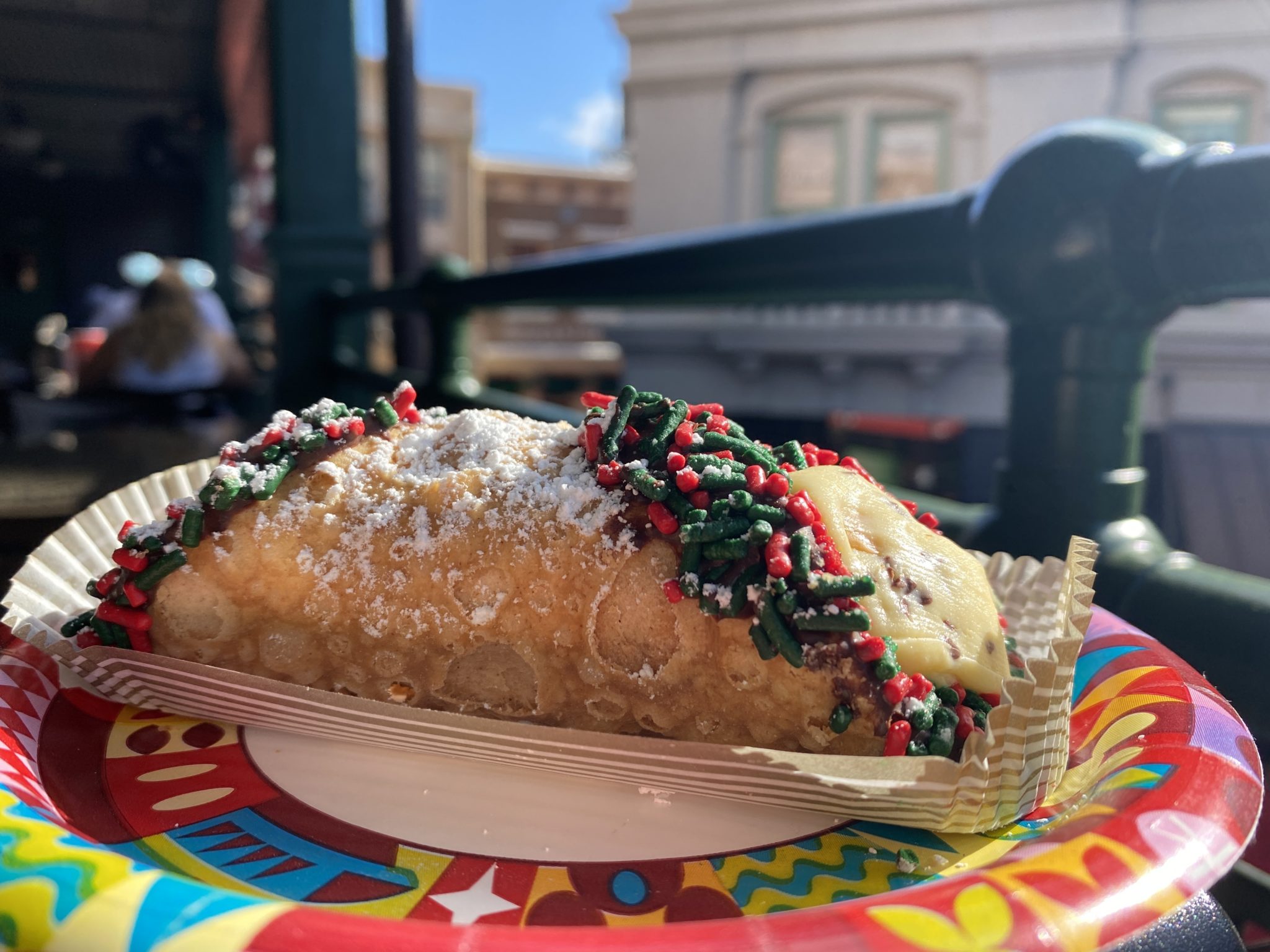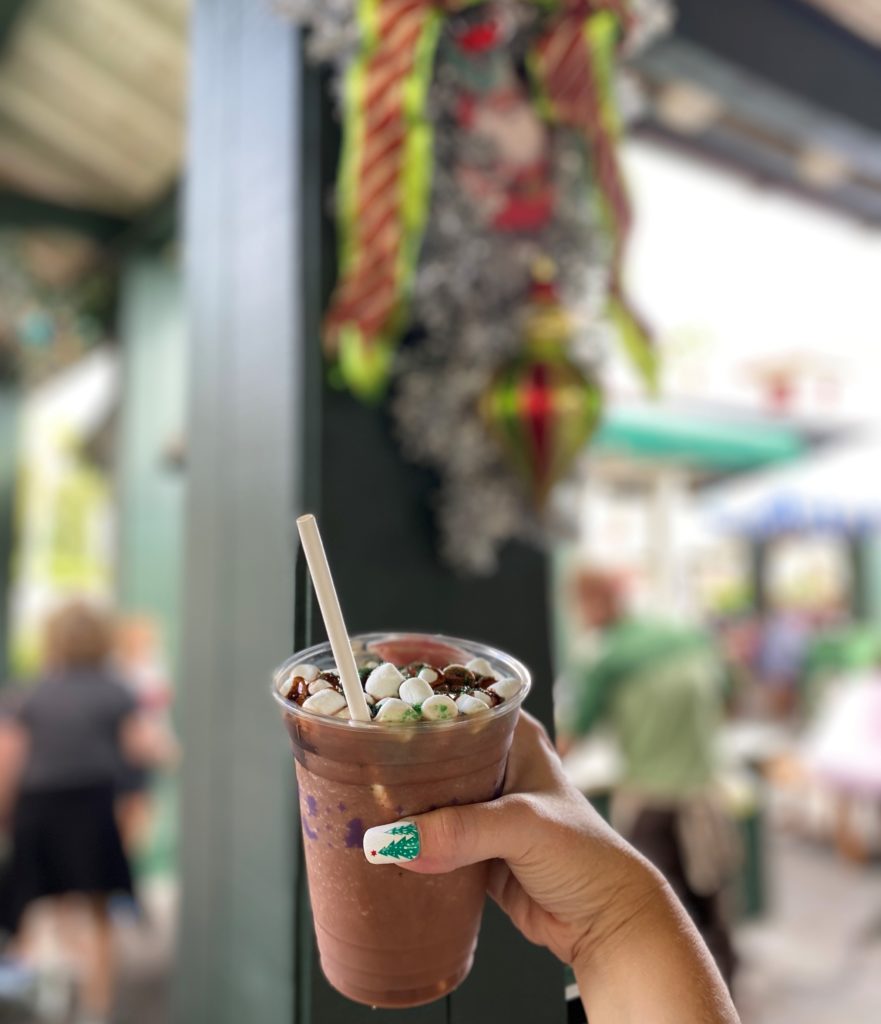 Holiday Date Ideas at Disney's Hollywood Studios
Pop into the Trolley Care Cafe, the park's Starbucks location, and enjoy a festive treat as you stroll around admiring the decorations
Grab a cocktail from Brown Derby Lounge and enjoy the Sunset Seasons Greetings mini-show on the Hollywood Tower Hotel (Tower of Terror)
Frozen Hot Chocolate with, or without, alcohol is available at most quick-service locations and it's quite yummy
The Butterscotch Caramel Cheesecake Cannoli from PizzeRizo is a must for any cheesecake or cannoli fan
This park has some of the best merchandise thanks to themed gifts featuring Star Wars and the park's many wonderful attractions, so do a little holiday shopping together
Hop aboard the Disney Skyliner for a Skyliner crawl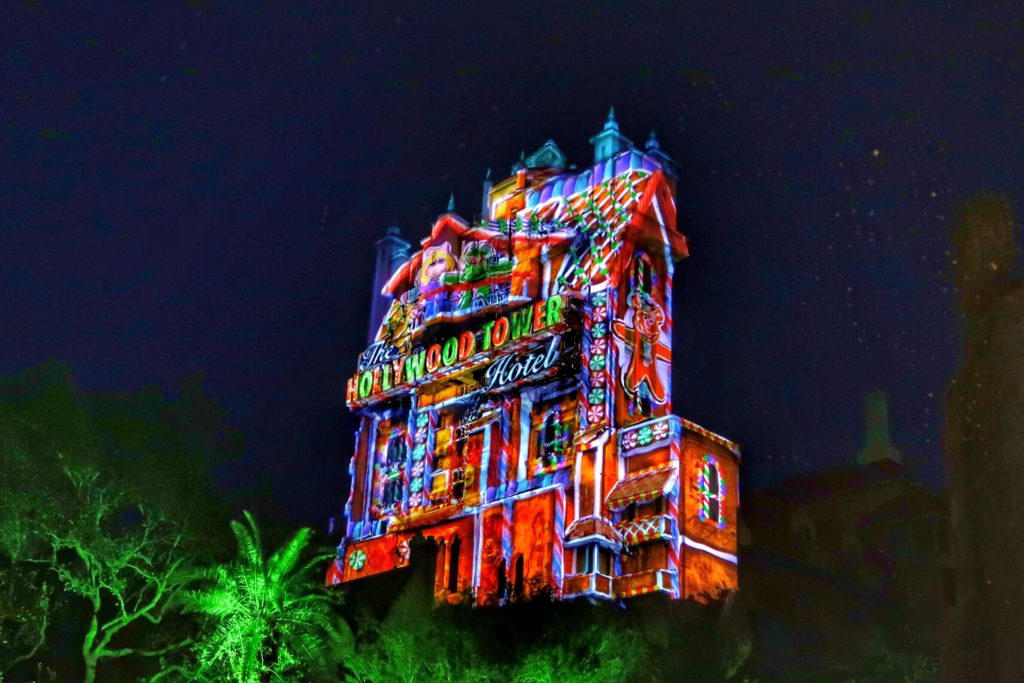 ---
Disney's Animal Kingdom Holiday Events in 2021
Best for: Unique decorations, nighttime experiences
Over the years, Disney's Animal Kingdom's holiday events have increased.
My favorite holiday experience in all of Walt Disney World is making a return this year. Merry Menagerie features winter animals realized as life-sized, artisan-sculpted puppets. Reindeer, foxes, polar bears, penguins and more interact with guests, accompanied by musicians.
Goofy, Chip 'n' Dale and other Disney character friends journey along the park's Discovery River aboard boats with festive flair and cheerful music — Santa is a part of the fun too!
And on nights when the park is open after dark, the Tree of Life dazzles guests. Wintry tales are told through lovely animations projected onto the park's icon accompanied by a holiday-inspired musical score.
Holiday Date Ideas at Disney's Animal Kingdom
The Merry Menagerie on Discovery Island is full of adorable moments that will warm your heart
Get to Nomad Lounge early, around 11am, and see if you can snag a table outside to enjoy hand-crafted cocktails as the festive character cavalcades pass by along Discovery River
Go in the evening to witness the wintry projections onto the Tree of Life and the dazzling lights in Dinoland USA and Harambe Village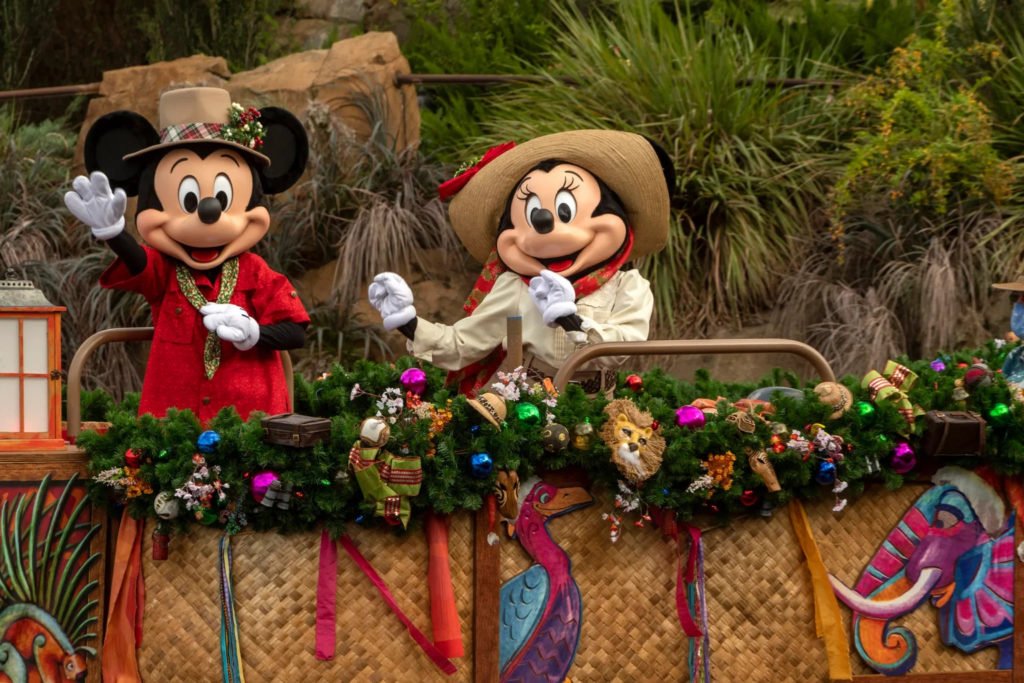 ---
Disney Springs Holiday Events for 2021
At Disney Springs, Christmas and holiday cheer can be found around every corner. The holiday season is my favorite time to visit Disney Springs. Highlights include loads of decorations, great music, live entertainment, and festive food and drink.
The Disney Springs Christmas Tree Stroll brings elaborately decorated Disney Christmas trees to the neighborhoods throughout Disney Springs. This stroll used to be a trail in one section of Disney Springs, but as of last year it is now spread throughout all of Disney Springs. You can pick up a guide to the Christmas Tree Stroll at the Welcome Center in the heart of Disney Springs.
Practically every Disney Springs restaurant has at least one holiday drink or a holiday treat. Jock Lindsey's Holiday Bar has returned with yuletide touches alongside festive food and craft cocktails. This is another one of my favorite holiday experiences in all of Walt Disney World.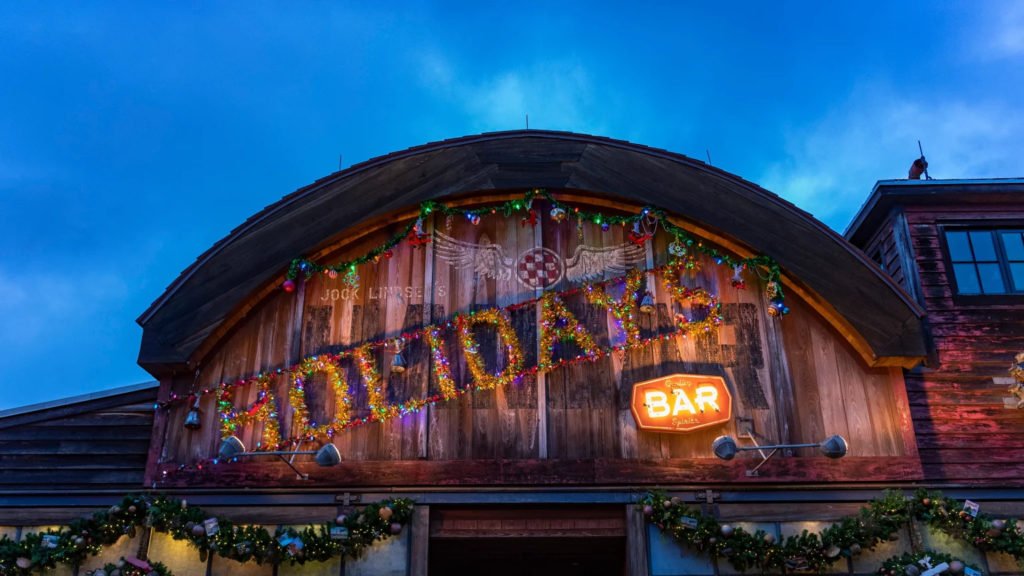 ---
Disney Resort Hotels During the Holidays
Every Disney Resort Hotel decorates for the holidays. There are three main categories for the Disney hotels: Value, Moderate, and Deluxe. The Deluxe resorts offer the nicest grounds and amenities, so naturally, the Deluxe resorts have the best decorations. We'll have a complete guide on the best decorations at the Disney hotels very soon.
Technically speaking, parking at Disney hotels is restricted just to guests with confirmed hotel reservations or dining reservations. However, every Disney hotel has transportation from each theme park and Disney Springs. We recommend utilizing resort transportation if you plan on visiting without confirmed reservations.
If you truly want a romantic, festive Disney date then consider spending a night or two at one of the Disney hotels. Besides whimsical holiday decorations, you can enjoy festive food and drink at each hotel, and often there are character appearances at the hotels. There is often additional entertainment, especially at the Deluxe hotels, the closer it gets to Christmas.
Plan your next Disney date with Our Top 5 Disney Hotels with the Best Holiday Decorations.
Feature image credit: Disney Photographer, David Roark