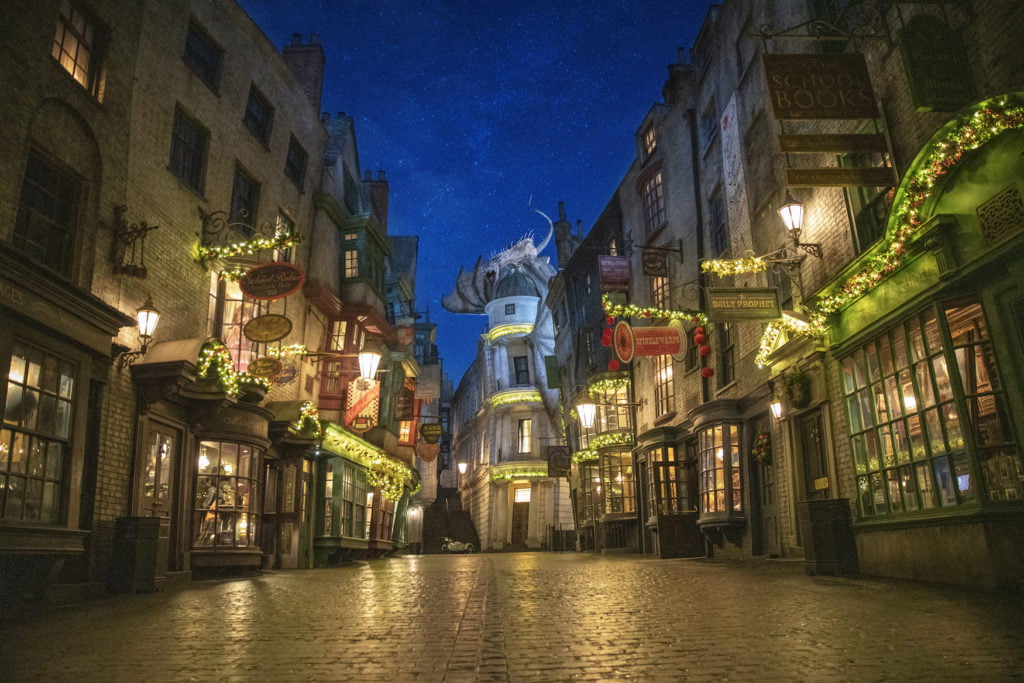 The Wizarding World of Harry Potter at Universal Orlando is magical at any time of year. But it is especially enchanting during the holiday season. Dressed in twinkling lights and festive themed garland, the Wizarding World is a dream date night spot for anyone who wants to create a little holiday magic. Enjoy dazzling holiday shows, cozy beverages, thrilling rides, and plenty of opportunities to snuggle up to your date with these fun ideas for a winter date night in the Wizarding World of Harry Potter.
Note: In order to experience the entire Wizarding World of Harry Potter you'll need a Park-to-Park ticket. This grants you access to both Universal Studios (home to Diagon Alley) and Islands of Adventure (Hogsmeade).
Cuddle Up With Some Hot Butterbeer
No visit to the Wizarding World is complete without a mug of delicious Butterbeer. Reminiscent of shortbread and butterscotch, this specialty beverage is best enjoyed hot during the holiday season. Snag a table at The Three Broomsticks, or take your drink to go as you wander the festive streets of Hogsmeade, Muggle London, and Diagon Alley.
Find hot butterbeer in Diagon Alley at The Hopping Pot and The Leaky Cauldron. Find it in Hogsmeade at the Three Broomsticks, The Hog's Head, and the Butterbeer street carts.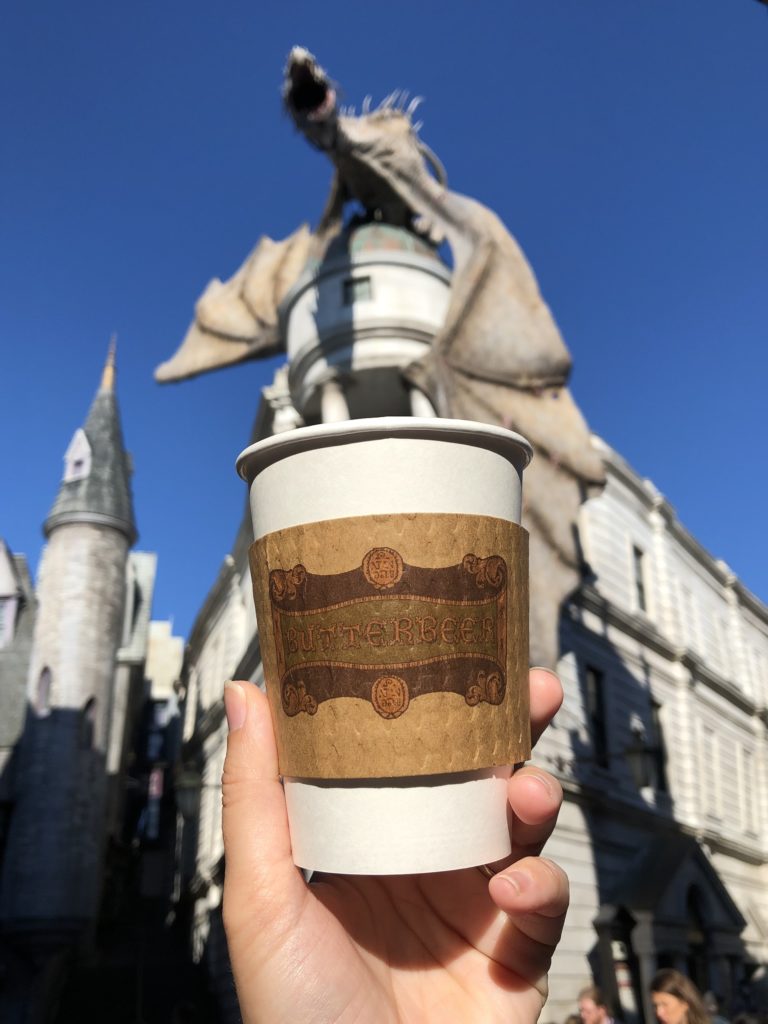 Marvel at the Festive Décor
Every festive detail in the Wizarding World is themed to suit a specific location. The Quidditch supply shop is decked out in golden snitch ornaments, for example, while the knitting shop features colorful balls of yarn in its wreath.
Take the time to appreciate all the enchanting little details that make the Wizarding World such a unique holiday date night spot. Make a friendly competition out of finding the most unique holiday décor. Loser buys a round of drinks at the Hog's Head!
Enjoy The Sounds of the Season
Live music? Check! Cuddle up and enjoy special holiday performances from Celestina Warbeck and the Banshees and the Frog Choir throughout the holiday season.
Past seasons featured showstopping Celestina hits like "My Baby Gave Me a Hippogriff for Christmas" and "Nothing Like a Holiday Spell" over in Diagon Alley. In Hogsmeade, past shows from the Frog Choir put an a Capella spin on wizarding classics like, "Christmas at Hogwarts," "The Most Magical Yule Ball of All," and "I Cast a Spell on Father Christmas."
If you're lucky, you might also catch a holiday-inspired performance from the buskers in Muggle London's King's Cross station on your way to or from Hogsmeade.
Warm Up By The Fire
Dragon fire, that is! When temperatures drop, head over to Diagon Alley for a toasty little pick-me-up from the dragon atop Gringotts bank. A little blast of dragon fire is just the thing to warm your toes on a cold day.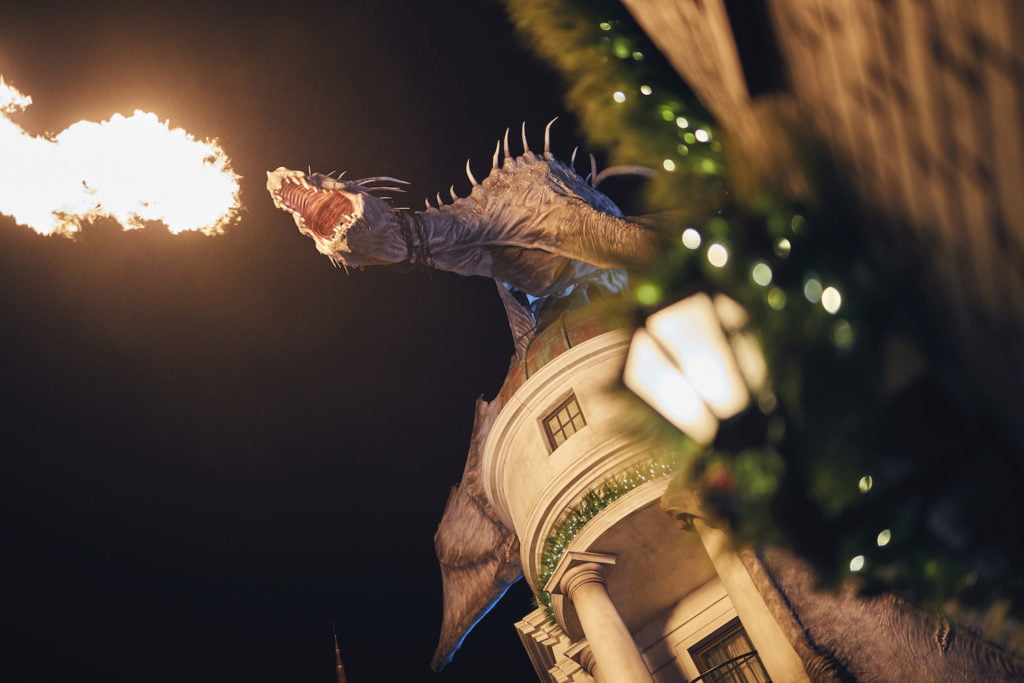 Do Some Holiday Shopping
The Wizarding World—Diagon Alley in particular—is packed with unique shops where you can pick up one-of-a-kind holiday gifts. From magic wands to rare magical creatures, there truly is something for everyone. Whether you're buying a gift or simply browsing with your date, these shops will give you plenty to talk about.
In Diagon Alley, Madam Malkin's sells fine collectible objects like replicas of the Sorcerer's Stone, or Hermione's Yule Ball earrings. Borgin and Burkes is beloved by Dark Arts-loving witches and wizards, with towering glass cases full of fascinating dark objects. Wiseacres Wizarding Equipment is the most beautiful shop in Diagon Alley, with a ceiling painted to match the celestial sky.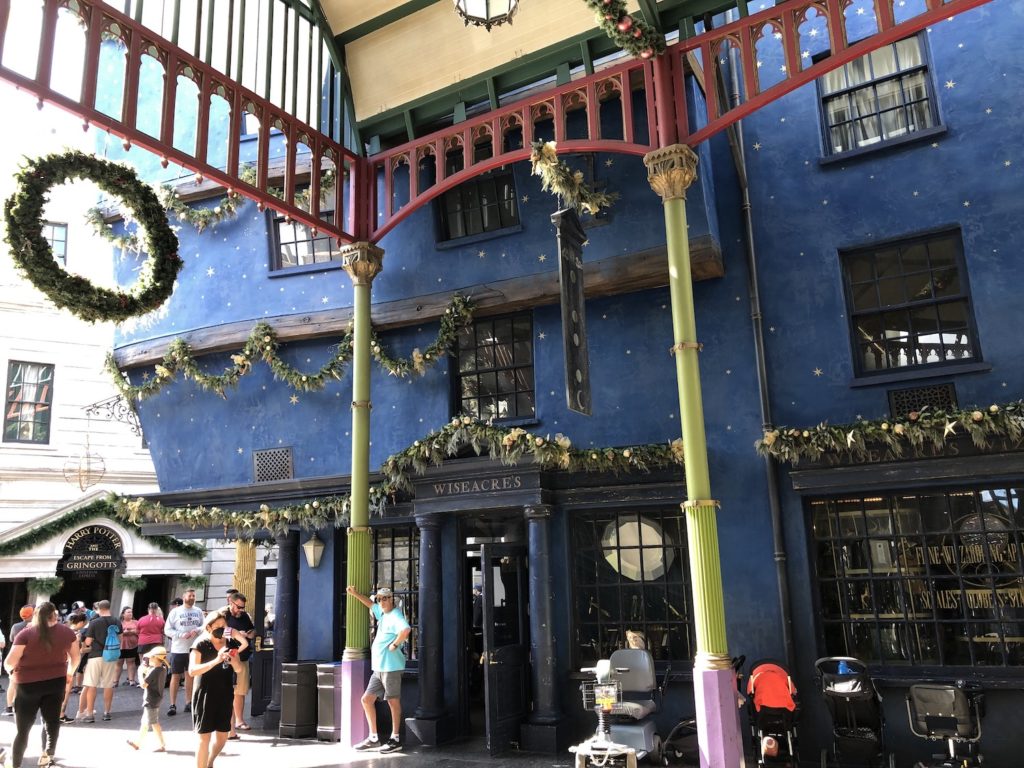 In Hogsmeade, Filch's Emporium has an incredible lineup of Christmas ornaments and holiday décor, along with clothes, housewares, and collectible items. At the Owl Post, you can mail postcards and letters officially postmarked from Hogsmeade. And of course, you must stop into Honeydukes sweet shop for Chocolate Frogs, Pumpkin Juice, Peppermint Toads, and more.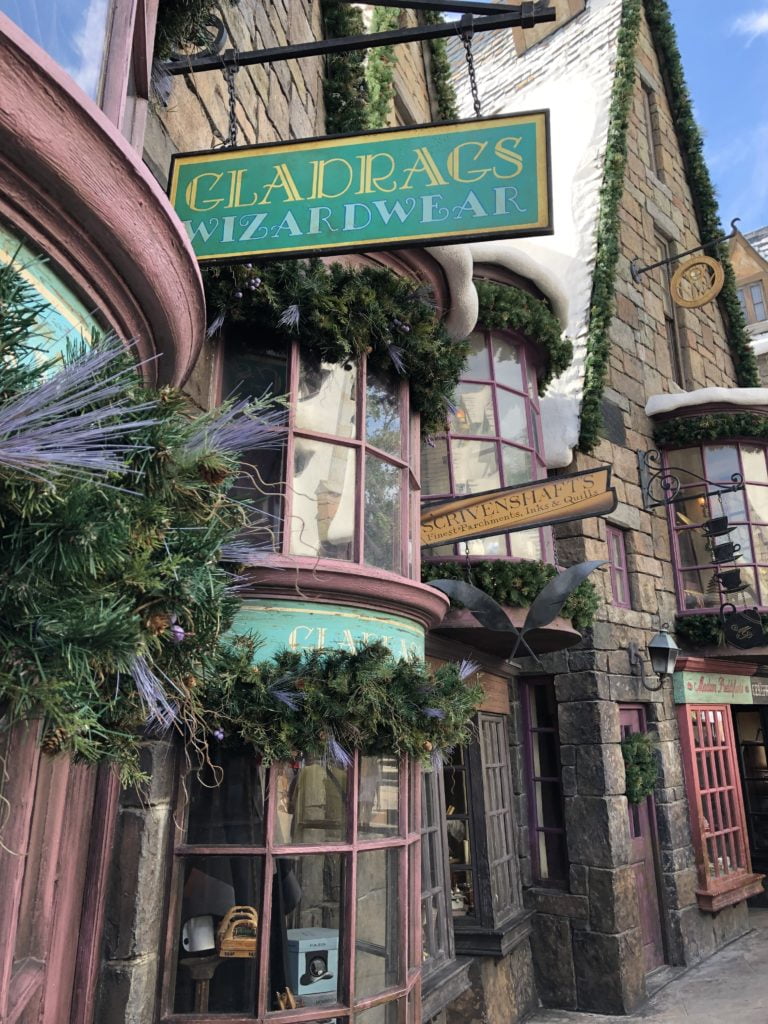 Let the Sparks Fly
Create a little magic—literally—with the purchase of an interactive wand. There are 27 enchanted locations hidden around the Wizarding World where guests can try their hand at a little magic. You might, for example, make it rain, levitate an object, or ignite a fire. Simply swish and flick, and let the sparks fly.
Experience The Magic of Christmas at Hogwarts Castle
A yuletide spell settles over Hogwarts Castle in the evening, blanketing it in a lovely holiday glow. Celebrate the season with a viewing of The Magic of Christmas at Hogwarts Castle. This enchanting nighttime spectacular features projection mapping and fireworks set to stirring music from the Harry Potter films. This is the standout attraction of the holiday season in the Wizarding World, and should not be missed.
Share some hot butterbeer and savor a fantastic finish to a magical winter date night in the Wizarding World of Harry Potter.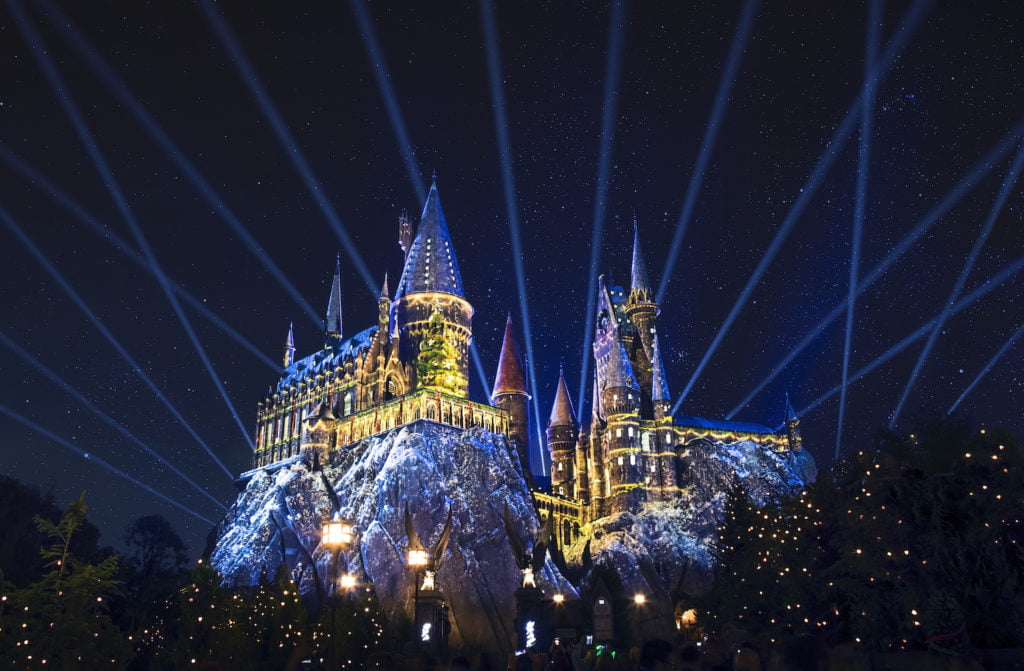 Enjoy a Full-On British Pub Date
If you want to warm up inside and out, head indoors and try some of the specialty brews created exclusively for the Wizarding World.
In Hogsmeade, cozy up to your date at The Hog's Head, an intimate, moody pub with a full bar. Try the exclusive Hog's Head Brew (a red ale), specialty mixed drinks, and fun layered drinks like the Triple, unofficially nicknamed the Deathly Hallows. The Triple is comprised of Strongbow Cider, followed by Hog's Head Brew, and finished on top with Guinness.
In Diagon Alley, head over to the Leaky Cauldron for two exclusive themed beers from Florida Brewing Company. The Dragon Scale is an amber lager, while the Wizard's Brew is a sweet stout with flavors of chocolate and coffee. Feeling bold? Try a shot of cinnamon Fire Whisky on its own or dropped into a chilled glass of Strongbow cider.
Bonus: You can also find Dragon Scale and Wizard's Brew at The Hopping Pot, an outdoor bar in Diagon Alley. You might find shorter lines there, and the walk-up window is located next o the performance stage in Carkitt Market! Catch a performance by Celestina and the Banshees as you sip your drink.
Extend the Magic
The magic doesn't have to end when you leave the Wizarding World! Extend your enchanted date night by exploring all that Universal Orlando has to offer. Grab dinner at one of the restaurants in CityWalk—we love BigFire's cozy fireside patio and fire-kissed cuisine.
Alternatively, check out the other major in-park holiday offerings, including the Macy's Holiday Parade and The Grinchmas Who-liday Spectacular. During Holiday Harbor Nights at the Loews Portofino Bay Hotel, you can enjoy festive bites and sips in an Italian-inspired harbor. Finally, consider spending the night at one of eight spectacular onsite hotels for an unforgettable weekend.
Feature image credit: Universal Orlando Resort