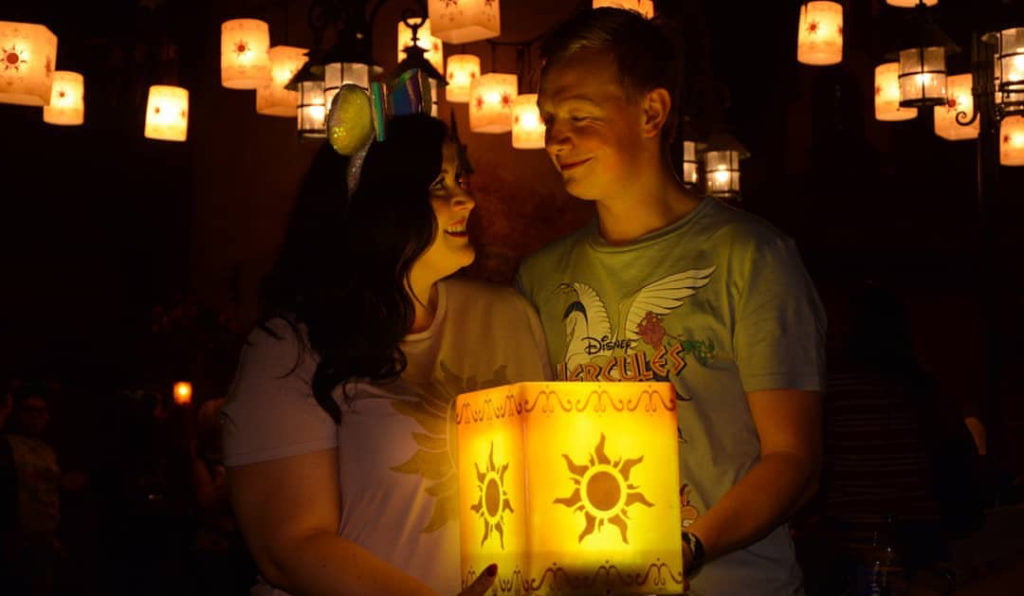 Did you know Walt Disney World's Magic Kingdom is one of the most Instagrammed places in the world? If you and your honey share a love for Disney, don't miss out on capturing some memorable photos. Disney offers a fantastic photo service called Disney's PhotoPass which offers professional-quality photos taken by friendly Disney photographers.
Using Disney's PhotoPass enables you and your sweetheart to have a professional photo snapped in some of the most scenic locations in Walt Disney World. Plus, you can download the photos at home or have them printed in the park.
If you're heading to the theme parks and want to capture some great photos together, check out our list of the best Disney PhotoPass locations for couples.
Originally published in 2018, and updated December 2021
Magic Kingdom
Behold the Most Magical Place on Earth, and the most attended theme park on Earth. Here there are far more PhotoPass locations than the other three WDW theme parks. Share your happily ever after with our picks of the best PhotoPass locations for couples in the Magic Kingdom.
Train Station entrance
As soon as you pass through the turnstiles at the entrance to Magic Kingdom you'll see the Main Street Station. There is usually a PhotoPass photographer stationed in front of the center of the train station. A Mickey Mouse face made of flowers and the train station serve as the backdrop. This location is conveniently located and often overlooked. Best of all, you most likely won't have any other guests in your shot because of the train station background.
Note that the Walt Disney World Railroad is currently not in operation. No reopening date has been announced. This is still a PhotoPass location, you just won't have the train in the background.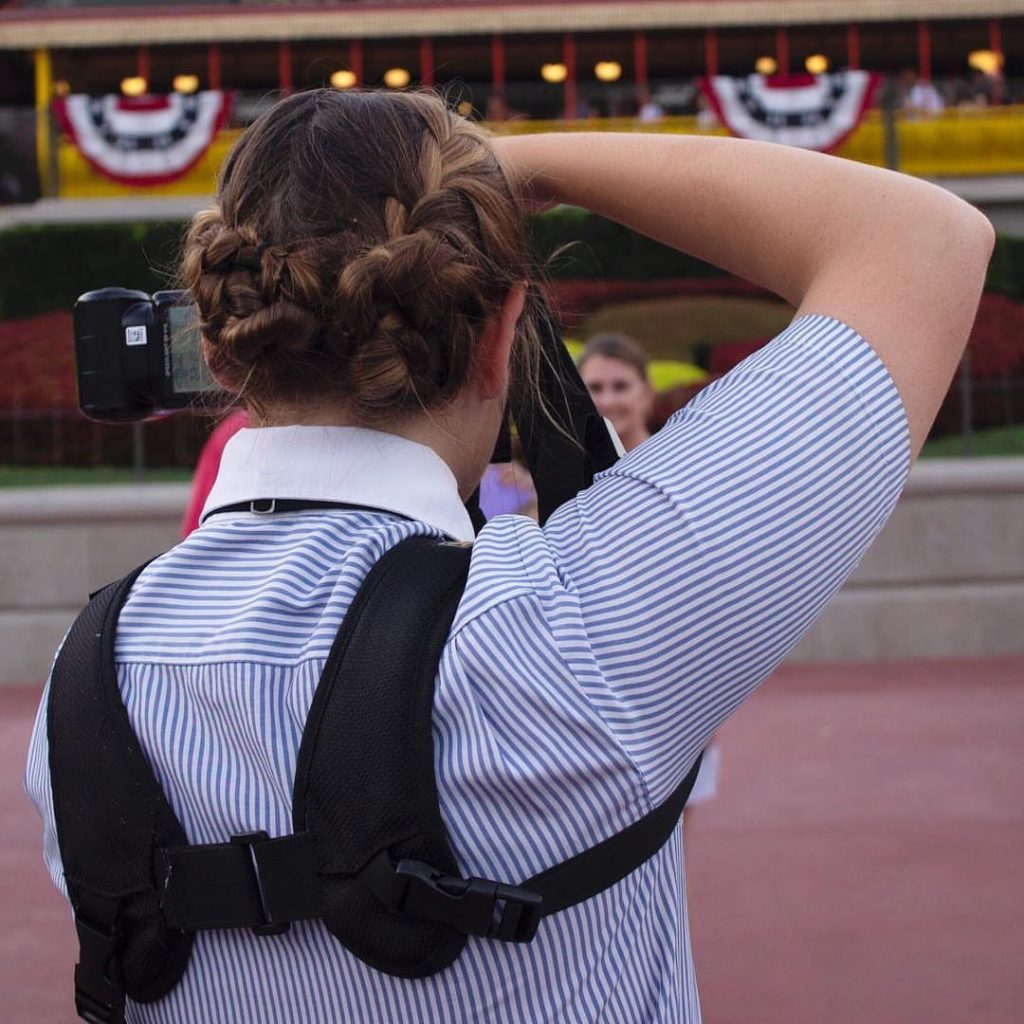 Cinderella Castle
Naturally, there are lots of PhotoPass photographers up and down Main Street USA. These photo locations make for the quintessential Disney photo because of the classic buildings flanking either side of you and the magical Cinderella Castle behind you. I recommend heading up Main Street USA and getting your photo taken near Casey's Corner. This way you'll still have the classic Main Street USA in your shot and the Castle will be larger in the background.
Now is a great time for such photos because of Walt Disney World's 50th Anniversary. The Castle has special anniversary decorations and a new color scheme.
Plaza Garden aka Hub grass
For a beautiful photo with Cinderella Castle in the background (without the congestion of Main Street USA), the Plaza Garden–also known as the hub grass–is a perfect spot. You might have to search around for a photographer here as it is not a well-known location and not always staffed. It is worth the effort as this location makes for one of the best photos in Magic Kingdom.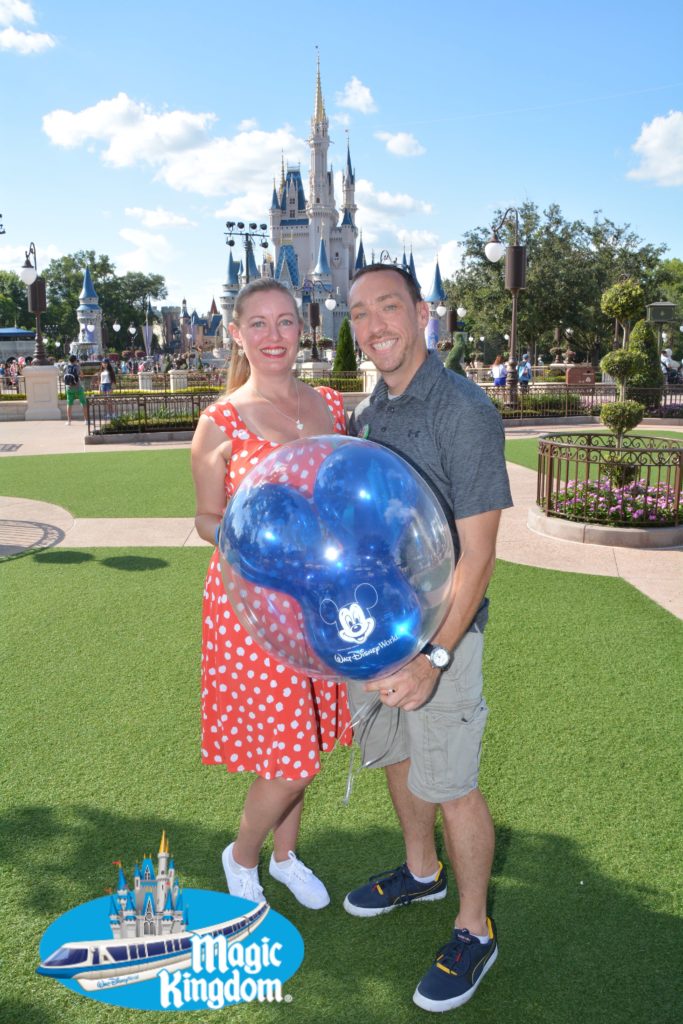 Haunted Mansion
Welcome foolish mortals, to the Haunted Mansion. This spot is not always staffed by a PhotoPass photographer, but don't miss it if it is when you visit. Have fun and be creative with this location! Which one of you is the scaredy cat? Which one of you is courageous and brave? Maybe you're both scared and holding on to each other. We're dying to see what you come up with!
Fantasyland
There are photographers stationed throughout Fantasyland at character greeting locations and at scenic spots. If you spot a photographer behind Cinderella Castle, don't miss out. This shot shows off the regal side of the castle with stained glass windows overlooking the kingdom. Sometimes there are photographers near the bridge that leads to the Beast's castle where Be Our Guest restaurant is located. How enchanting!
Special event photo: Tangled lantern
You'll find this location tucked at the edge of Fantasyland near Liberty Square in the courtyard that is themed after the movie Tangled. During special events in the evening, you can sometimes find a photographer here snapping photos with a glowing paper lantern prop. This special photo op has proven to be a favorite among friends, families and couples alike.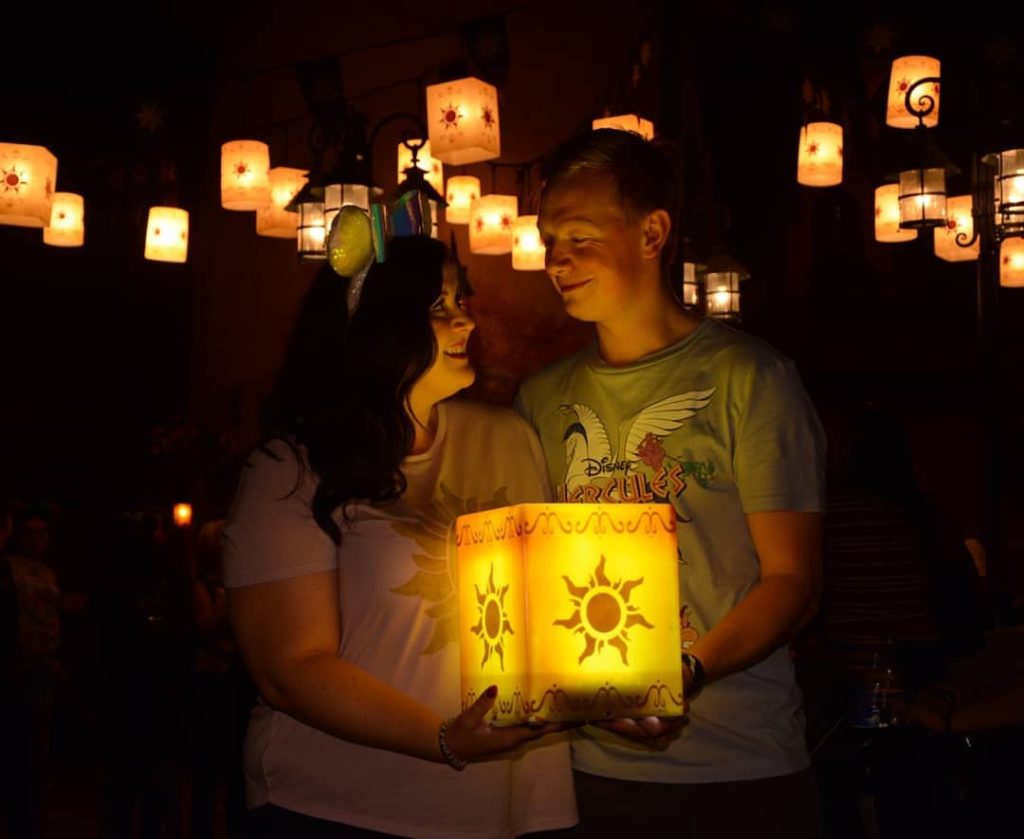 Epcot
Many couples consider Epcot to be the best Disney park for date night. Surprisingly, the vast majority of PhotoPass locations here are based on character meet and greets. But there are a few scenic spots that make for a romantic photo opportunity.
World Showcase Plaza
Most guests go for the photo location in front of Spaceship Earth as soon as they arrive into the park. For a less-busy alternative, head behind Spaceship Earth to the Fountain of Nations. This spot enables you to get Spaceship Earth in the background plus the majesty of the large, often dancing Fountain of Nations. Fun fact: when Epcot opened in 1982, water from the countries represented in the World Showcase was poured into this fountain.
Japan Pavilion
You can often find a photographer near the front of the Japan Pavilion. Usually their camera will be pointed toward the Torii Gate out on the lagoon. With this shot you'll get Spaceship Earth in the distance, with a tranquil, international touch in the background.
France Pavilion
Taking a photo at the France Pavilion fountain has become a tradition for me and my husband each time we visit Epcot. It is a beautiful location surrounded by Parisian-inspired architecture and details. The best time for a photo here is right at dusk, when there's just a hint of sunlight left in the sky and the lights of the fountain and surrounding buildings are aglow.
Sadly we do not see a photographer in this exact spot much anymore. Seems the new location is near Remy's Ratatouille Adventure.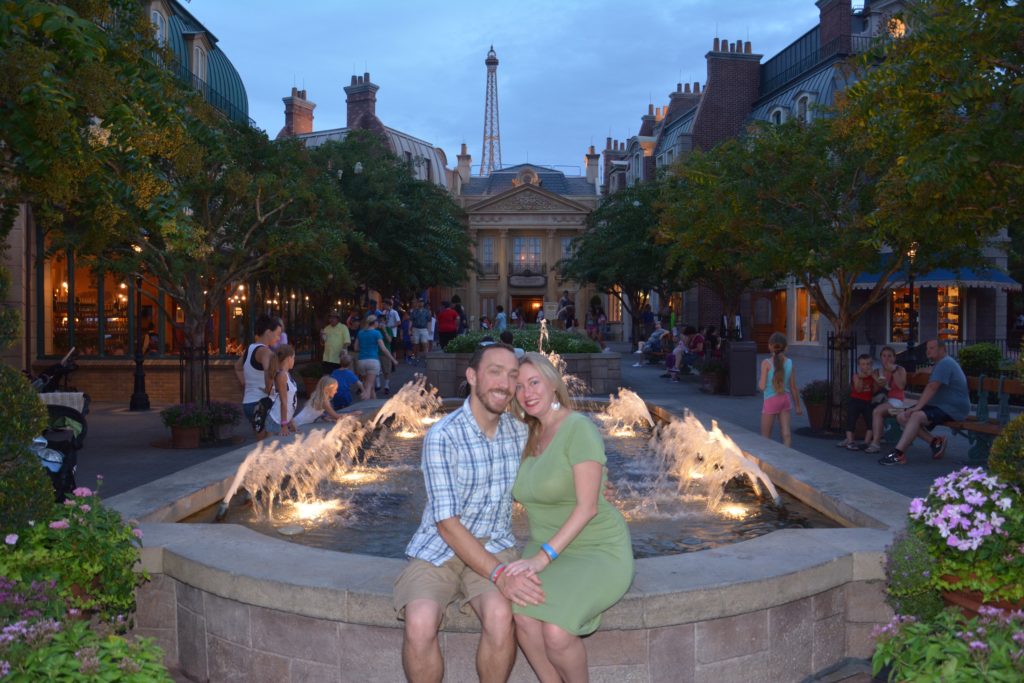 Disney's Animal Kingdom
Many consider Disney's Animal Kingdom to be the most beautiful of the Disney parks. With its lush landscaping and authentically-detailed buildings, you'll feel worlds away from Orlando when in this park.
Tree of Life
The park's icon, the Tree of Life, is splendidly detailed with intricate animal carvings. It creates a wow moment as you arrive out of the Oasis and into the park's central hub. There are multiple PhotoPass photographers stationed at various distances. The most popular spot is at the top of the hill, which is the first location you'll encounter as you make your way through the front of the park.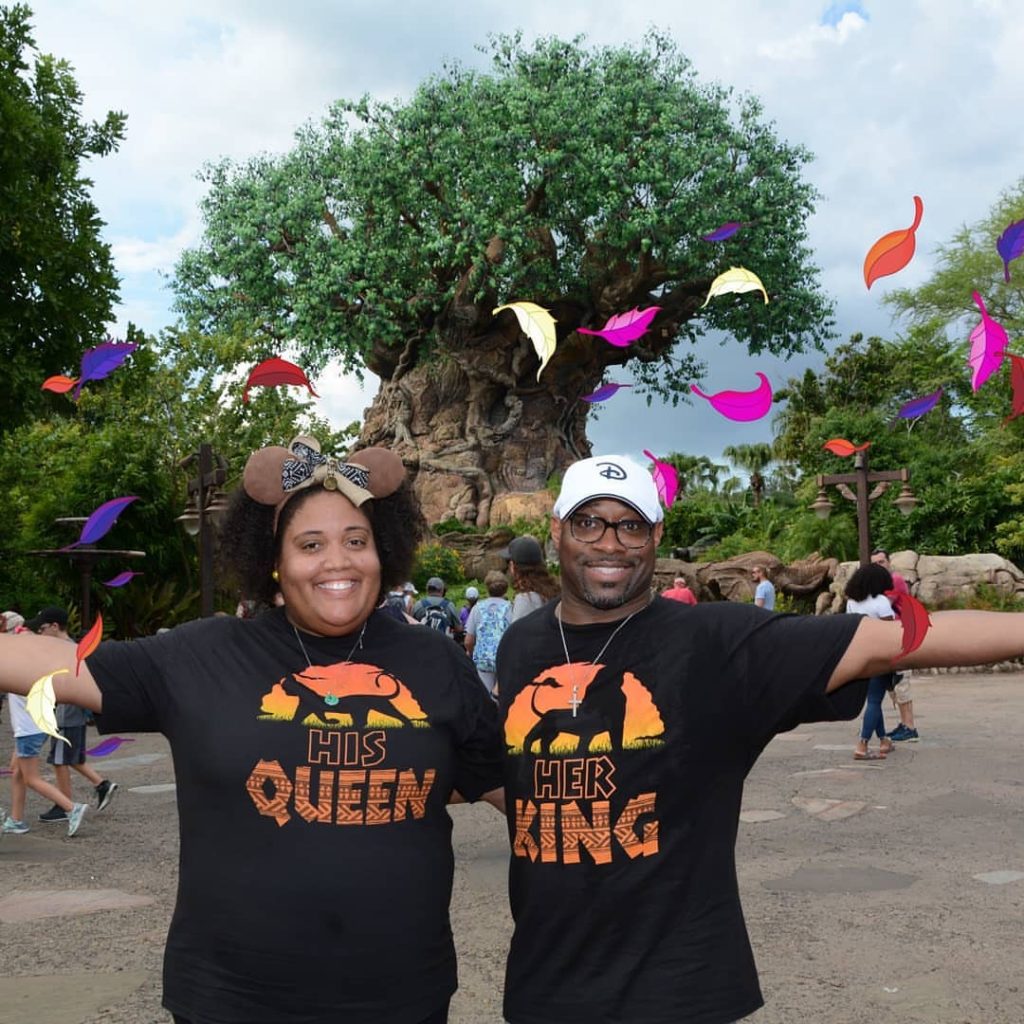 Expedition Everest
Here's another chance to show off your personality as a couple. Are you both adventurous? Is one of you braver than the other? Look for a PhotoPass photographer in the Asia area along the walkway leading to Expedition Everest.
Pandora – The World of Avatar
Exotic and fascinating, the new Pandora – The World of Avatar land is unlike anything else in the park. Explore this otherworldly land and capture the beauty of Pandora with a PhotoPass photo.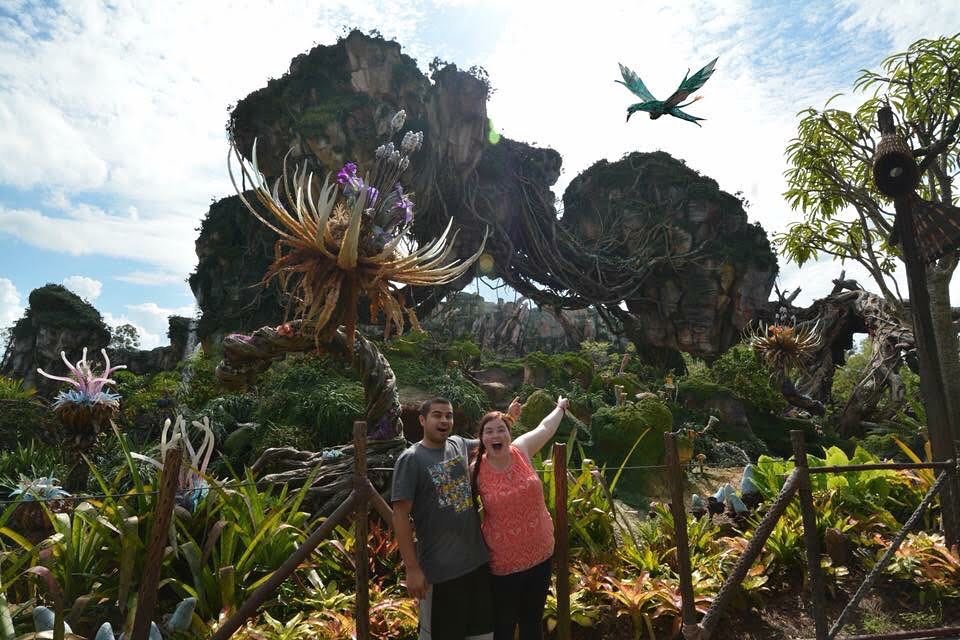 Disney's Hollywood Studios
Hooray for Hollywood! This park has gone through more changes in recent years than any other, and with the land of Star Wars Galaxy's Edge coming soon it's about to be the most attended park. Here you'll find photo opportunities to capture your own Hollywood romance.
Tower of Terror / Sunset Boulevard
Sunset Boulevard is a beautiful street leading to Tower of Terror. There are some wonderful photo opportunities on this street, and you can have fun with the looming Tower of Terror in the background.
Star Wars Galaxy's Edge
The newest land at Disney's Hollywood Studios is the most popular and can be overwhelming. Star Wars Galaxy's Edge is often crowded most of the day, and it can be hard to spot some of the PhotoPass locations. In front of the Millennium Falcon is a very popular location, of course. And if you two are Star Wars fans it is worth waiting in line to get your photo.
I also encourage you to head towards the First Order area of the land, near the Milk Stand. There use to be a Tiny World Magic Shot location in this area, but it seems it has moved to in front of Star Tours. However, there is often a photographer near Kylo Ren's ship. This location looks pretty cool at night.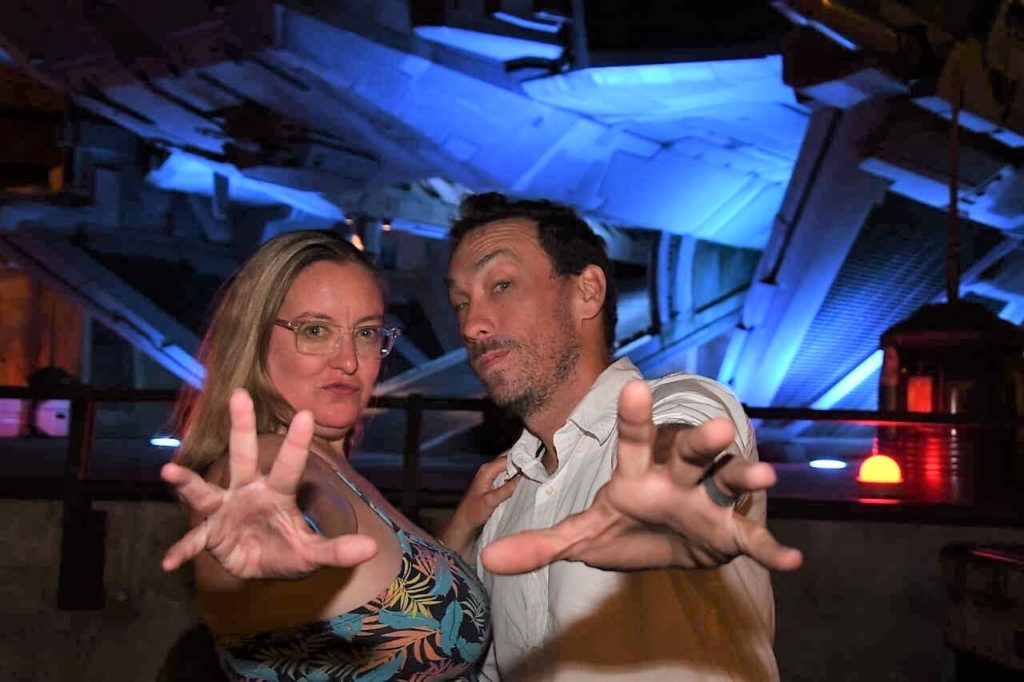 Hollywood Boulevard with Chinese Theater
The park's centerpiece is a replica of the legendary Mann's Chinese Theater. With this in the background you've got a photo that Hollywood dreams are made of. Are you Hollywood's next dynamic duo? Show the world you're ready for your close up!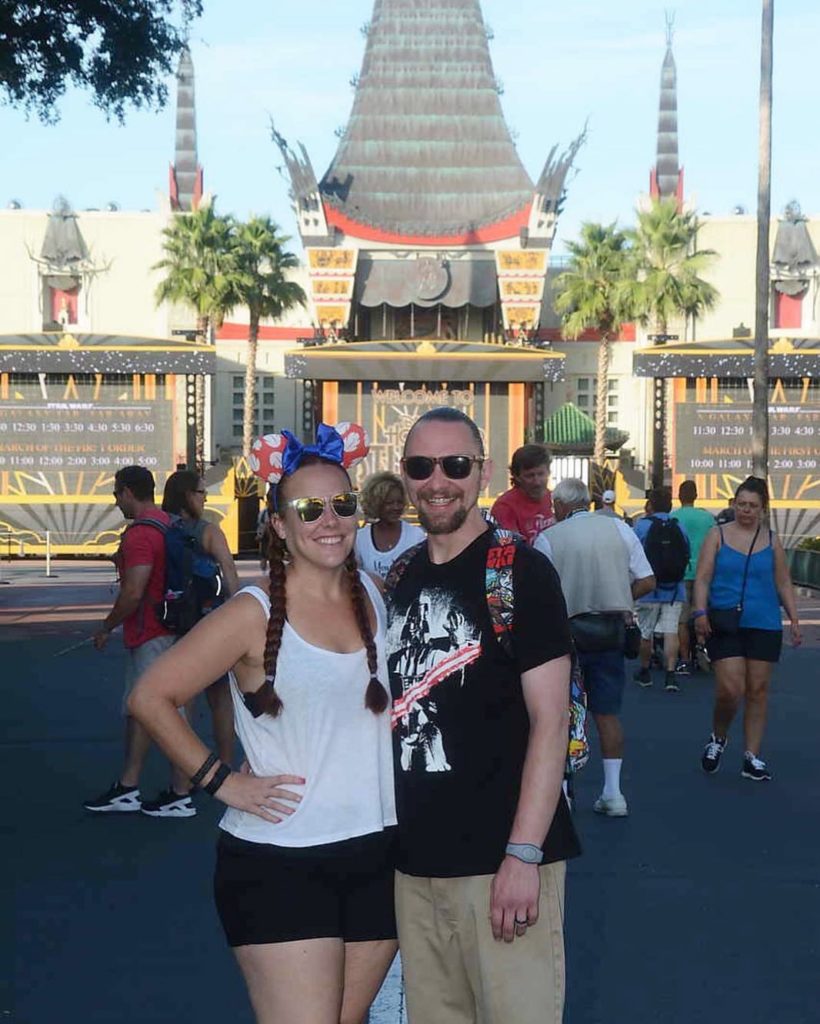 Tiny World Magic Shots
See your love from a whole new angle with a 360-degree capture photo. Get photos of the two of you in the middle of the action with Tiny World Magic Shots—available near Star Tours at Disney's Hollywood Studios, at the Tree of Life in Disney's Animal Kingdom theme park and in front of Spaceship Earth at Epcot.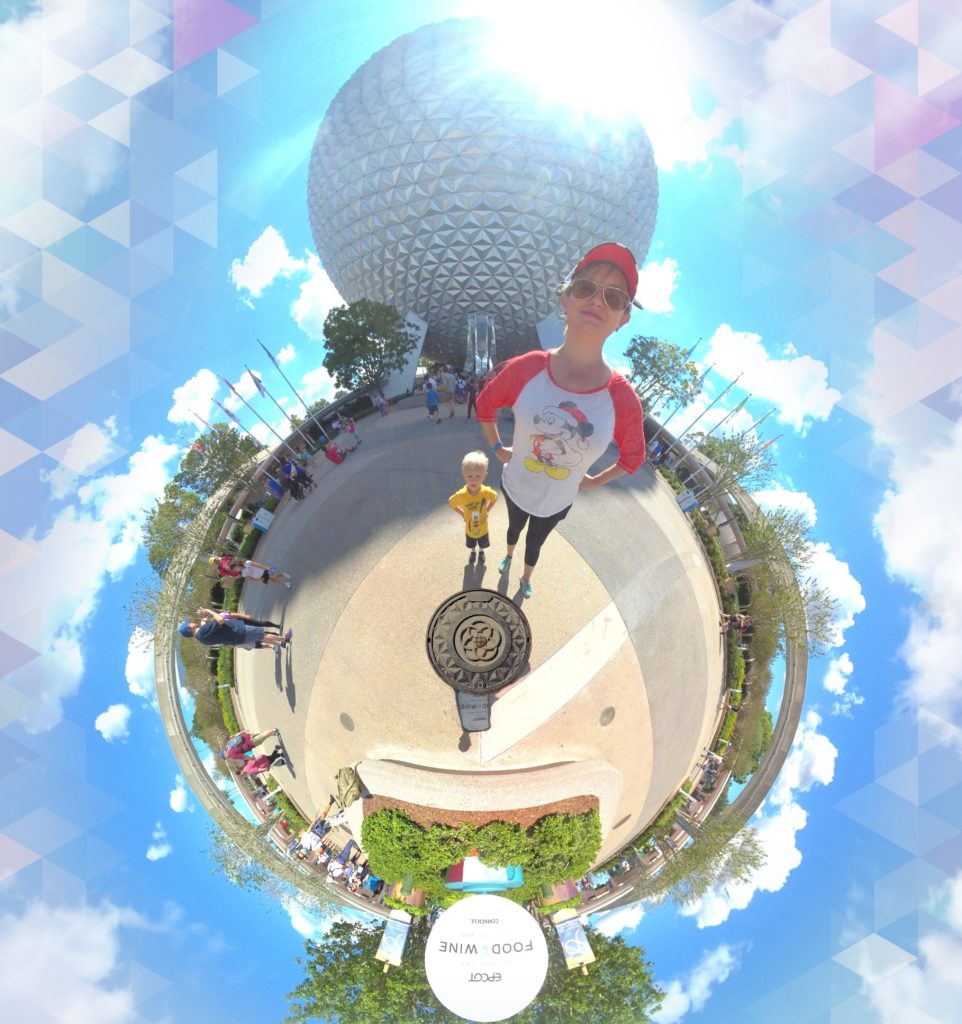 Super Zoom Magic Shots
A burst of photos comes together as a dynamic video of you two in iconic locations. These locations include:
Cinderella Castle at Magic Kingdom park
Star Wars: Galaxy's Edge at Disney's Hollywood Studios
Everest Riverside Theater at Disney's Animal Kingdom theme park
Spaceship Earth at EPCOT
These locations can be tough to find so if you have any trouble find the nearest PhotoPass Photographer and ask if they can help you find the Super Zoom location.
Personalized PhotoPass Photo Sessions
Reserve a personalized 20-minute photo session available at Magic Kingdom Park and  Disney's Animal Kingdom theme park. You can also book two Capture Your Moment sessions back-to-back. You'll get 40 minutes with your photographer and the chance to visit at least two different photo locations.
With one of our theme parks as your backdrop and our Disney PhotoPass photographers snapping the shots, it's a picture-perfect way to remember your:
Photos are not included in the price of the session. But if you purchase Memory Maker, Memory Maker One Day or a qualifying Walt Disney World Annual Pass with a Disney PhotoPass benefit can download these Capture Your Moment photos at no extra cost.
Please note, valid theme park admission and park reservations are required and not included in the session price.
Lastly, a few Disney PhotoPass tips…
Be sure to let the PhotoPass Cast Members know of any special occasion you're celebrating or that you simply want to capture some photos that show your love for each other. Most Cast Members love to oblige and will orchestrate a mini photoshoot. However, if there are long lines for a photographer, he or she may not be able to dedicate as much time as you would wish, so keep that in mind.
Don't forget to dress for the occasion. Try something dapper or coordinated, or wear matching t-shirts. You could even dress in outfits inspired by your favorite Disney couple.
You can also add borders and stickers to your PhotoPass pictures digitally, through the My Disney Experience app. There are usually a few stickers and borders that are specific to the location of the photo, and a few to celebrate Walt Disney World's 50th Anniversary.
Disney's PhotoPass locations are subject to change. Some locations may not be available based on staffing and demand. Disney's list of PhotoPass locations is not fully listed any longer, but you can still get an idea of where to find some photographers.
Image credits:
Feature image credit: @the_disninja