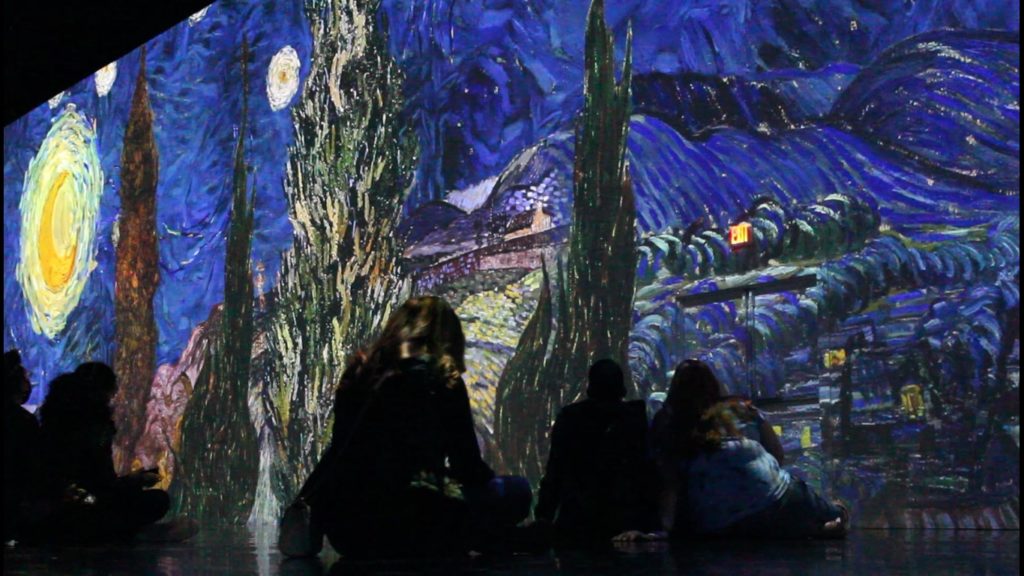 Immersive Van Gogh has arrived in Orlando! This unique new date night option can be found at the Orange County Convention Center through January 15, 2022. With tons of dining options nearby on International Drive, this is the perfect location to inject a little culture into your next date night. Lose yourself on an immersive creative journey celebrating the life and works of Vincent Van Gogh.
About Immersive Van Gogh Orlando
Designed by Italian installation artist Massimiliano Siccardi, with a stirring soundtrack from composer and pianist Luca Longobardi, Immersive Van Gogh ignites the imagination and provides an intimate new way to experience art and creation firsthand. It goes way beyond the typical museum visit and offers a fully immersive digital art experience.
Van Gogh's paintings blossom out of the darkness using a unique blend of art, music, cinematography, and immersive theater. It takes 67 projectors, 450 amps of power, 8 miles of cable, and 119,000 frames of video to bring over 400 of Van Gogh's images to life in a 360 degree digital viewing space.
Of course, this is not Siccardi and Longobardi's first digital art exhibition. Their original immersive Van Gogh show, "La Nuit Étoilée," debuted in 2019 in a historic Parisian iron foundry. Brushstrokes exploded and swirled across walls, silos, staircases, and even floors, as Longobardi's dramatic and poignant soundtrack filled the room.
I was lucky enough to experience La Nuit Étoilée firsthand in May 2019, and it remains one of my most treasured memories of our trip to Paris. The installation stirred up emotions, offered new perspectives on the life and art of Van Gogh, and encouraged repeated viewings to catch every angle. It also spawned a wave of copycat shows across North America. Only one production comes close to the original installation in Paris, however, and that's Siccardi and Longobardi's latest collaboration, Immersive Van Gogh.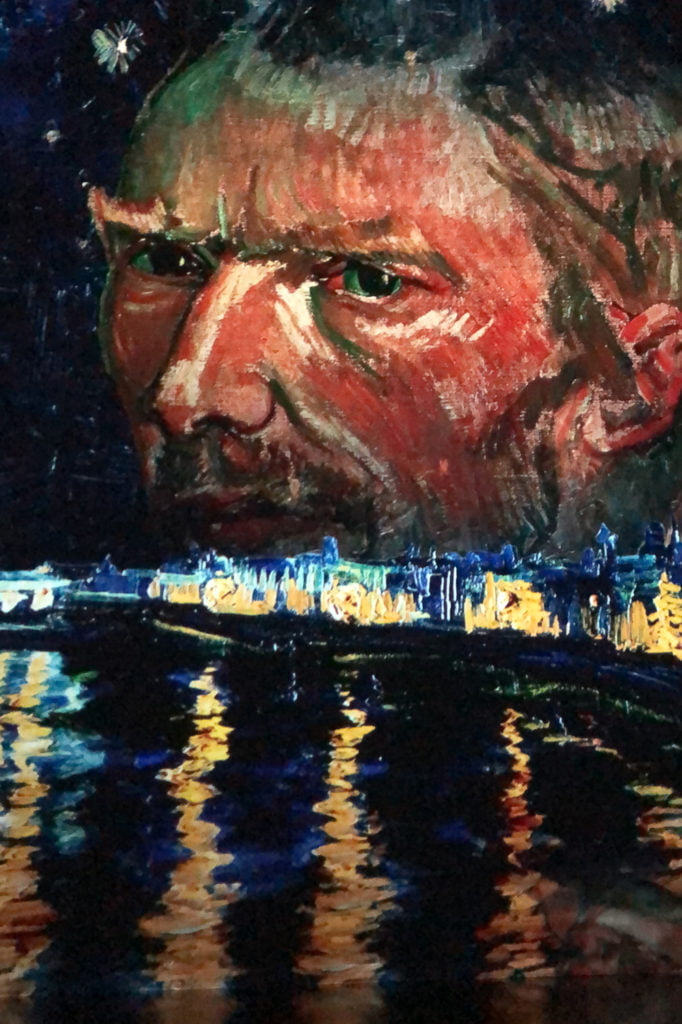 Artistic Vision
Siccardi has a true artist's understanding of how Van Gogh may have felt while creating his now-celebrated works of art. Van Gogh once told his brother Theo that "the canvases will tell you what I cannot say in words." Siccardi highlights this concept with heartbreaking clarity.
The show takes viewers on a emotional journey through key places and works in Van Gogh's life, from his early days in Antwerp to the colorful landscapes of Paris, Arles, St. Remy, and Auvers-sur-Oise.
It goes back to the beginning with The Potato Eaters, a summation of the first 32 years of Van Gogh's life, a time he called "austere, cold, and sterile" in a world without color, joy, or pleasure. It celebrates the bright colors and artistic technique picked up while in Paris, then hints at a slow deterioration of structure and mind while living in Arles. The color yellow "breaks forth like an epiphany, appears and disappears," says Siccardi. Occasionally, "a thought breaks forth like a kaleidoscope – multiplying the color, the matter, the spaces." Finally, the leaping, swirling, brilliant bursts of color and dark, frenzied splashes of paint that characterized Van Gogh's final years dominate the exhibition space.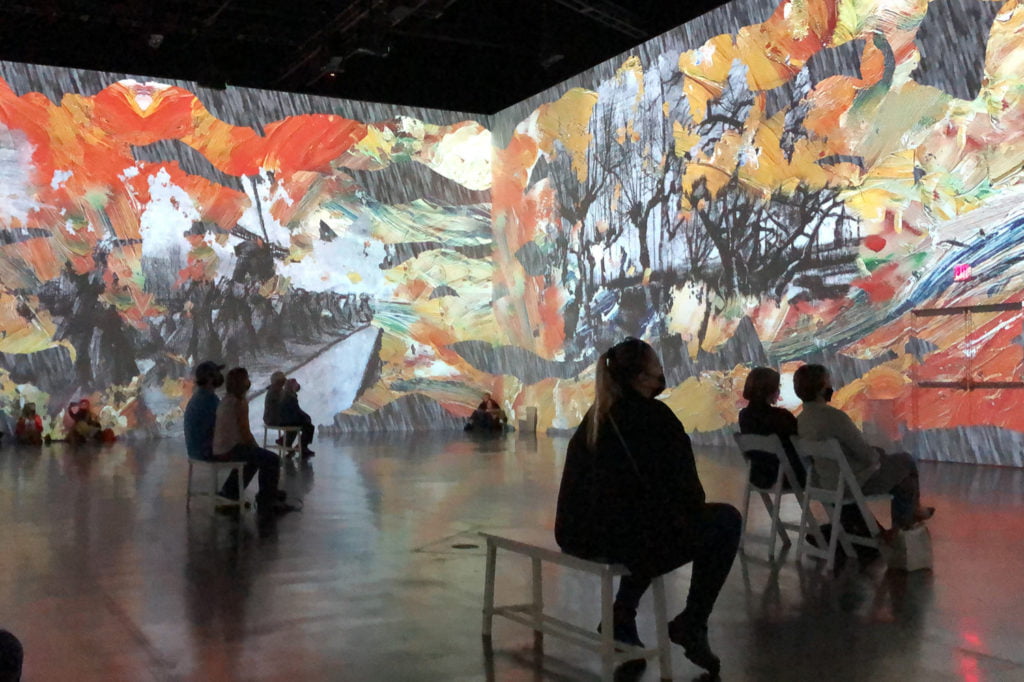 Show Experience
After falling in love with La Nuit Étoilée in Paris, I was initially bewildered by the Orlando iteration of Immersive Van Gogh.
Compared to Immersive Van Gogh shows in Los Angeles, Toronto, and Chicago, the setup in Orlando is relatively simplistic. The show itself is contained within four temporary walls at the Orange County Convention Center, with a couple of small mirrored structures in the center of the room. The visual appeal of these refracting structures was evidently lost on Orlando visitors, who used them as makeshift show seating after the half-mile walk from the convention center's west parking lot. There were very few benches available, and most guests sat on the hard concrete floor for the entire show.
Still, it didn't take long for me to let go and become "immersed" in the experience. The show is visually stunning, with a soundtrack to match. Siccardi wants viewers to feel what the act of creation might have been like for Van Gogh, and Longobardi's eclectic soundtrack perfectly underscores that point. His original tracks are ethereal, hypnotizing, and often unexpected, blending contemporary electronic music with classical tracks.
It's easy to imagine Van Gogh's creative process as he leaps from one idea to the next, gathering momentum as new colors and scenes burst onto the screen. One of my favorite things about Van Gogh's work is how alive it feels, as if the artist were still there, furiously working to get all his thoughts out on canvas. Experiencing Immersive Van Gogh, I felt once again as if Van Gogh was there, just waiting for me to reach out and touch him.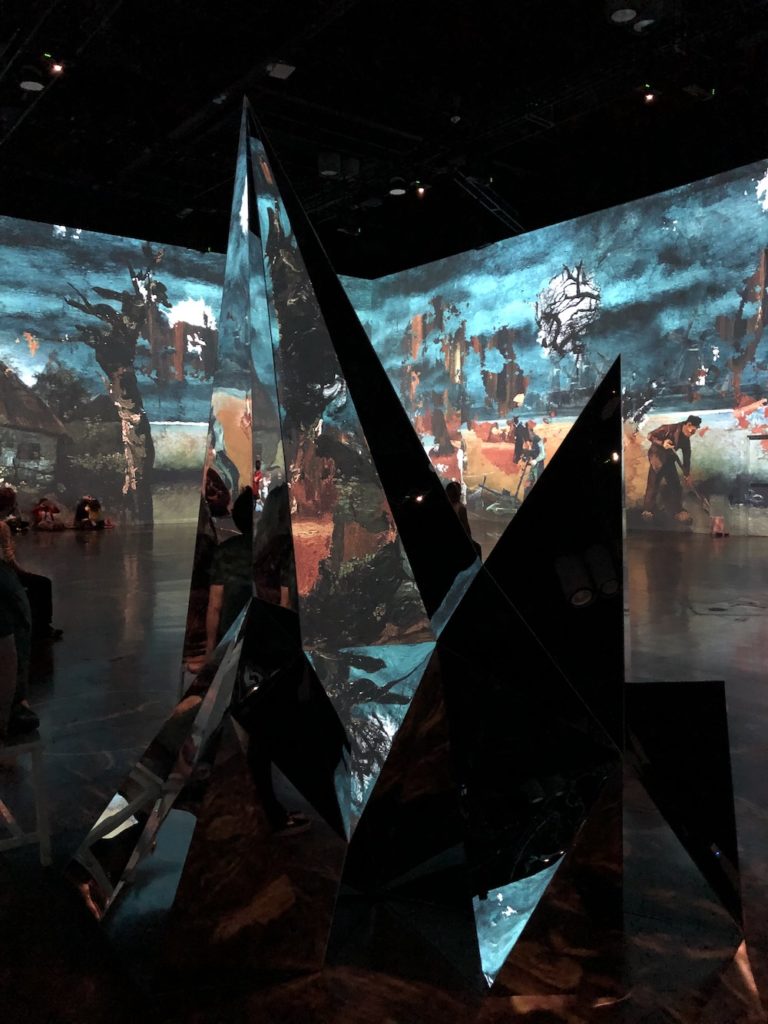 Date Night Tips for Immersive Van Gogh
Stay comfortable! Premium Flex tickets ($49.99+) include a cushion rental for sitting on the floor. You can also bring your own cushions or a blanket, provided that they fit inside your bag.
Grab dinner or drinks at Pointe Orlando, then walk or Uber to the Convention Center. The exterior entrance closest to Immersive Van Gogh is at the West E/F Lobby. Book a Flex ticket so you don't have to skip dessert. Flex tickets allow flexibility to arrive up to two hours earlier or later than your selected ticket time.
Don't skip the pre-show installations in the lobby! They provide interesting background on Van Gogh's life, letters, and art over the years. There is also an excellent pre-show audio guide on Van Gogh's life and the creative inspiration behind Immersive Van Gogh. Download the audio guide or read a transcript here. Plus, access bonus material like augmented reality engagements and notes on the individual paintings by downloading the Lighthouse Immersive app. Having a little background knowledge makes the show infinitely more enjoyable and meaningful.
Stay as long as you'd like. The show is about 35 minutes long, but you can stay and watch as many times as you like. Sit up front or try to snag a bench as the show wraps up and crowds start to disperse. You'll get better viewing that way.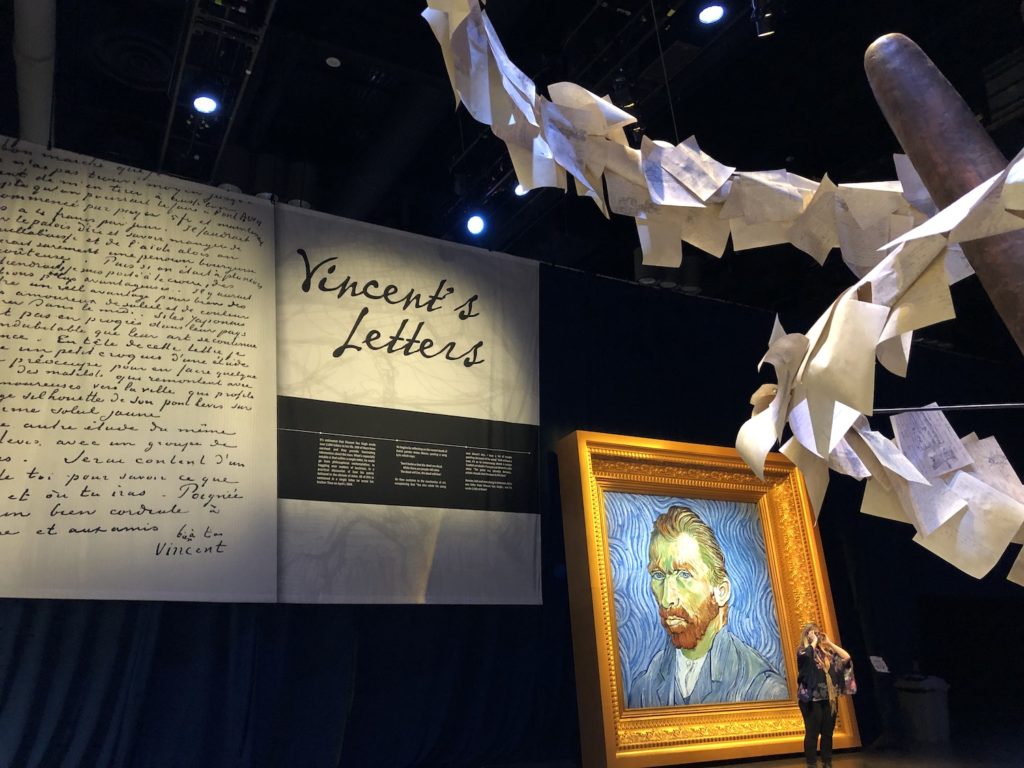 Details
Venue: Orange County Convention Center – West Concourse (9800 International Drive, Orlando, FL 32819)
Cost: Tickets start at $39.99 per person.
Parking: Parking is available in the West parking lot at a discounted rate of $10 per vehicle.
Visit the Immersive Van Gogh website or call the Box Office at 844-307-4644 for ticketing, FAQs, and more.
All images by Beth Bell