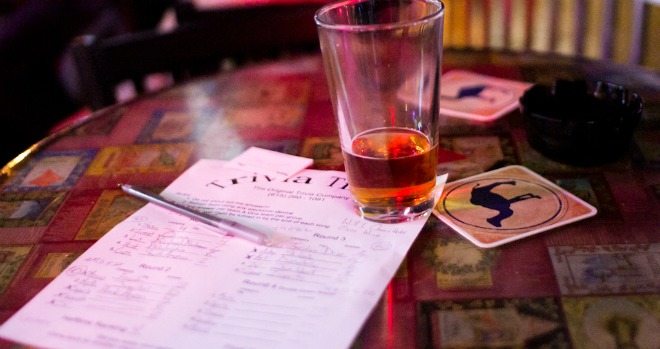 Visiting a local bar or restaurant for a trivia night is a fun opportunity to get competitive and test your sometimes-too-niche knowledge. We've put together this list of trivia companies that host events all around Central Florida, so bring your date and maybe a few friends for backup! Here's where to play bar trivia in Orlando every day of the week.
*Note: This list is current at the time of publication, but trivia dates and times are subject to change. Please check each trivia company or bar's website and social media for the latest info before making your plans.
Tasty Trivia
Tasty Trivia has been around since 2011, providing fun trivia entertainment to many local Orlandoans. They host a variety of themed nights from Disney to Friends and Harry Potter to Marvel. The company was started by UCF students and has boomed within the last couple years.
LOCATIONS
Castle Church Brewing (6820 Hoffner Ave, Orlando): Mondays at 7pm
Hourglass Brewing – Hourglass District (2500 Curry Ford Rd #4, Orlando): Tuesdays at 7pm
Gatlin Hall Brewing (4721 S Orange Ave, Orlando): Tuesdays at 7pm
City PUB Orlando (861 North Orange Ave Orlando): Tuesdays at 7:30pm
Toll Road Brewing Co (101 W McKey St, Ocoee): Wednesdays at 7pm
Persimmon Hollow Brewing Company – Lake Eola (227 N Eola Dr, Orlando): Wednesdays at 7pm
Duffy's Sports Grill (Altamonte Springs, Lake Mary and Waterford Lakes locations): Thursdays at 7pm
Full list of Tasty Trivia locations
Earth Trivia
Orlando's most established trivia team, Earth Trivia sends its trivia aficionados to locations across the city each week. Games are usually played in two or three rounds, each with ten questions and varying topics from sports to history to current events. These games are expertly prepared and wonderfully hosted.
LOCATIONS
Bikes, Beans & Bordeaux (3022 Corrine Dr., Orlando): Mondays at 6:30pm *outside and inside available
Aloma Bowl: Tuesdays and Sundays at 6:30pm *hosted by Simon Time Trivia
Grape & The Grain (1110 Virginia Drive, Orlando): Wednesdays at 7pm *outside and socially distanced
Motorworks Brewing (131 N Orange Ave Ste 106, Orlando): Thursdays at 6:30, 6 and 6:30pm *this location has a special "happy hour format" where new mini games are played every half hour
Full list of Earth Trivia locations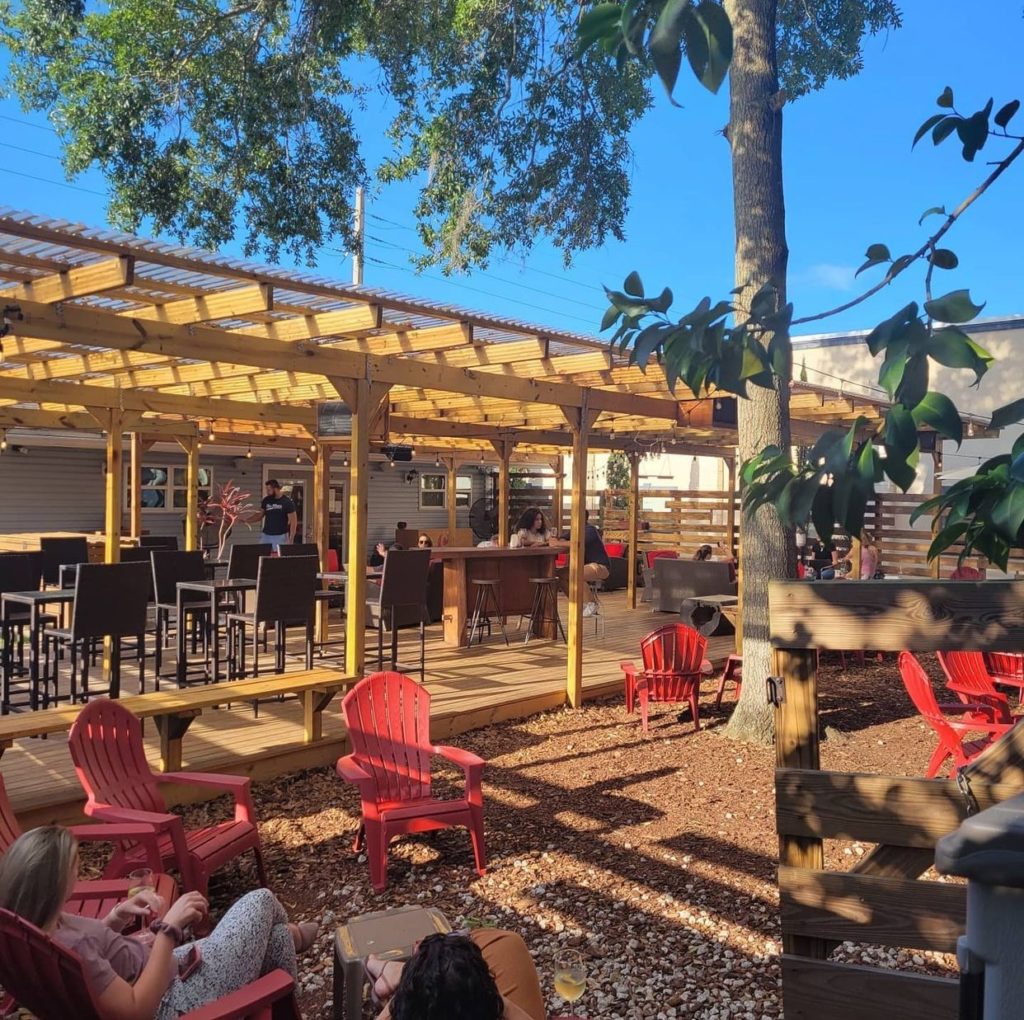 Think Tank Trivia
This local trivia company hosts several weeknight trivia events around Central Florida. Want to get a leg up on the competition? Check Think Tank Trivia's website or Facebook page each week for a topic hint that will come in handy during the fifth round.
LOCATIONS
Redlight Redlight (2810 Corrine Dr, Orlando): Select Mondays at 7pm; check calendar here
Gator's Dockside (SoDo and Lake Mary locations): Wednesdays at 7pm
Rosati's Pizza (550 South Hunt Club Blvd, Apopka): Wednesdays at 7pm
Lil Indie's (Dirty Laundry – 1036 N. Mills Ave, Orlando): Thursdays at 8:30pm
Full list of Think Tank Trivia locations
Trivia Nation
Steve Howard started Trivia Nation in 2004. Trivia Nation hosts a general trivia night, but they also have specialized theme trivia nights.
LOCATIONS
Liam Fitzpatrick's (951 Market Promenade Ave, Lake Mary): Mondays at 7pm
Hagan O'Reilly's Irish Pub (16112 Marsh Road, Winter Garden): Mondays at 7pm
Teak – Metro West (6400 Time Square Avenue, Orlando): Tuesdays at 7pm
Roque Pub (3076 Curry Ford Rd, Orlando): Wednesdays at 7:30pm
Full list of Trivia Nation locations.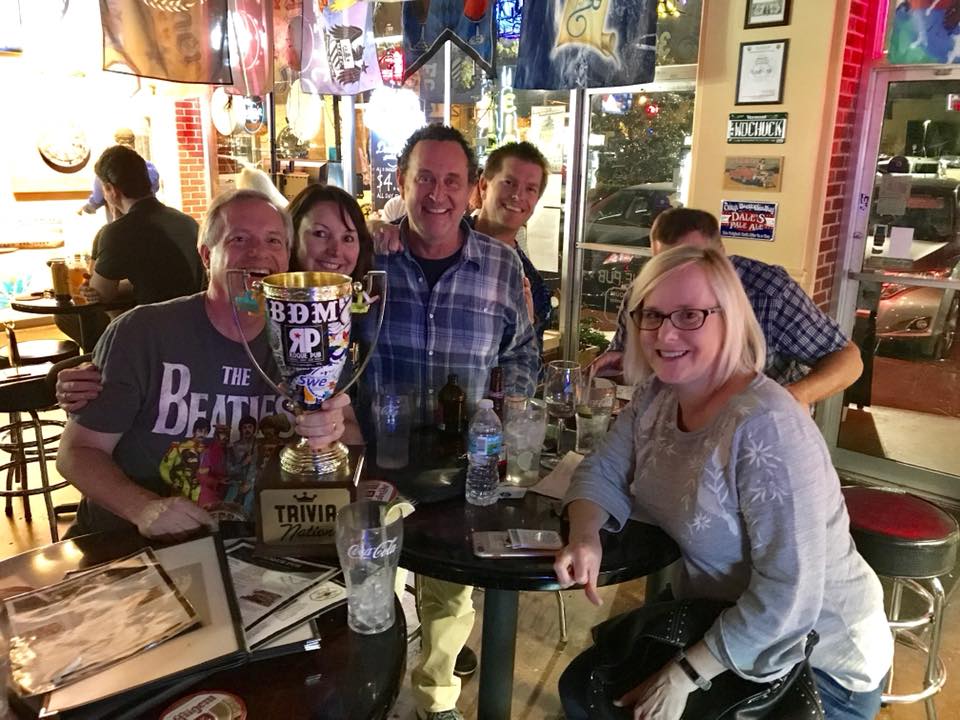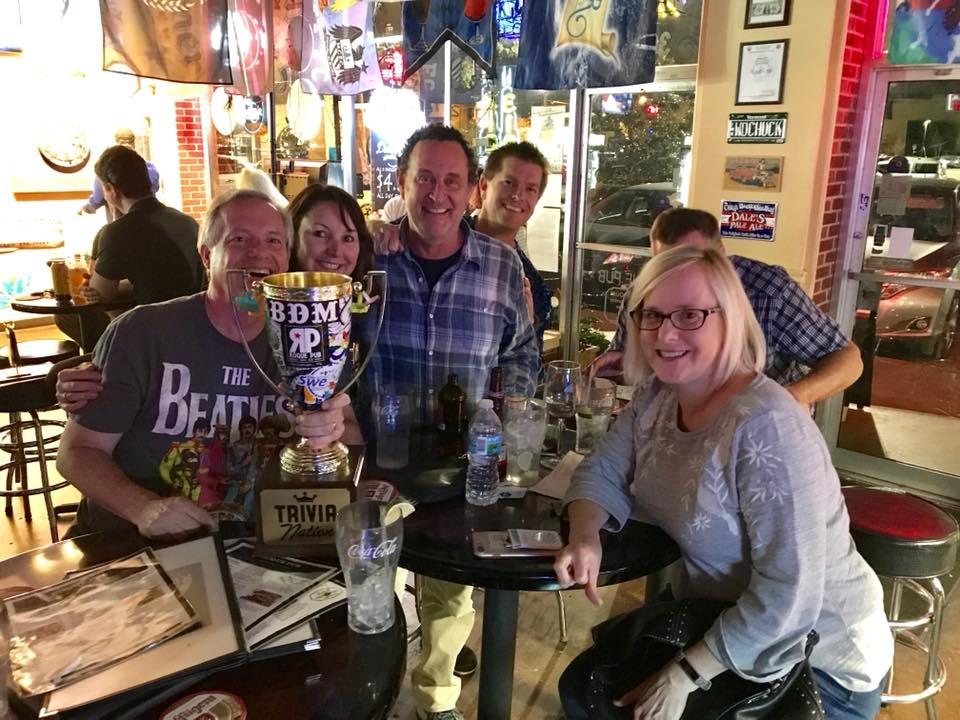 Nerdgasm Trivia
Looking for a nerdy night out? Nerdgasm Trivia hosts regular trivia nights at local bars dripping in comic and nerd culture. Most events are focused on a specific theme, such as Jurassic Park, Harry Potter, The Office and more! Celebrate your fandom and stretch your knowledge by joining in on this unique spin on trivia night.
LOCATIONS
Hourglass Brewing – Longwood (480 S Ronald Reagan Blvd Ste 1020, Longwood): Tuesdays at 7:15pm
Player 1 Video Game Bar (8562 Palm Pkwy, Orlando): Tuesdays at 8:15pm
Full list of Nerdgasm Trivia events
More Places to Play Bar Trivia:
Á La Cart: Tuesdays at 6:30pm; check Instagram stories for details on the special theme round each week
Fiddler's Green: Wednesdays at 7pm with Orlando Trivia Nick
Big Trivia Show: Multiple times and locations throughout Central Florida; Big Trivia Show shares a free question of the week on their website to guarantee yourself a point!
Feature image credit: sundayassemblyla.org