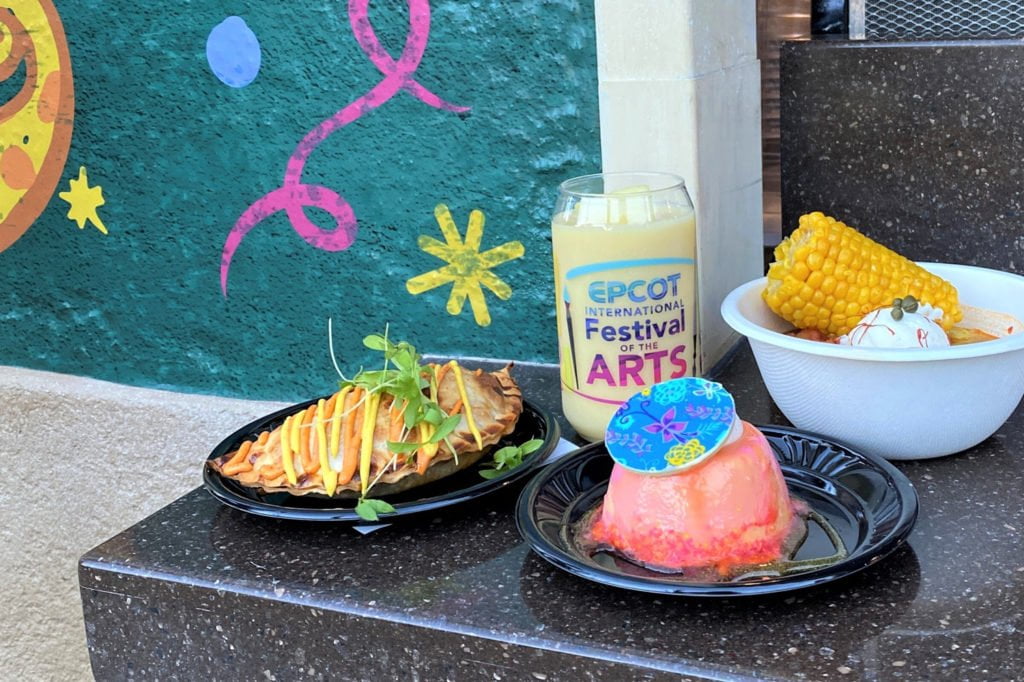 The annual Food and Wine Festival at Epcot is the most well-known festival, but is it the best? For many guests, the Epcot International Festival of the Arts takes the top spot. This art festival at Epcot has the most creative and visually stunning food. Each year the menu outdoes the previous year.
Besides the amazing food and drink at Epcot, there is breathtaking art. This must-visit event grants you the chance to meet some of the artists themselves while enjoying live entertainment and some of the best photo opportunities at Disney World.
The Epcot International Festival Arts runs from January 14 – February 21, 2022. While it is a shorter festival, it takes place during one of the best times of the year to visit Walt Disney World. Let's take a closer look at this masterpiece.
Top Food Picks for Adults at The Epcot Festival Of The Arts
You and your muse will have the most fun at the Epcot Festival of the Arts if you're willing to explore unique tastes. The food at the 2022 art festival at Epcot is some of the most creative we've seen in the festival's five-year history.
Here are our top food picks for adults at the festival of the arts (starting near the Canada Pavilion and working your way around to Mexico Pavilion):
Cast Iron-seared Steelhead Trout with parsley salad, grape tomatoes, Kalamata olives, capers, and lemon aïoli – The Craftsman's Courtyard (Near Disney Traders – new booth for 2022)
Decadent Valrhona Chocolate with dark chocolate mousse, chocolate brownie, and cassis mousse – Deco Delights (Near Port of Entry – new booth for 2022)
Deconstructed BLT: Crispy pork belly, soft-poached egg, brioche, watercress espuma, and tomato jam – The Deconstructed Dish (Near Port of Entry)
Gnocchi Poutine with red wine-braised beef, cheese curds, basil, and burrata – Refreshment Port stand (Near Canada Pavilion – new dish for 2022)
Tomato Soup with Bacon, Apple, and Brie Grilled Cheese – Pop Eats (Near Port of Entry – new dish for 2022)
Roasted Bone Marrow with onion marmalade, pickled mushrooms, mache lettuce, and bone marrow snow – Gourmet Landscapes (Canada Pavilion – new dish for 2022)
Carrots Three Ways: Berbere-spiced grilled carrots, pickled carrots, and carrot ginger purée (Plant-based) – Flavors of the Medina (Morocco Pavilion – new dish for 2022)
Sushi Donut: Donut-shaped sushi featuring salmon, tuna, shrimp, cucumber, and sesame seed over a decorated plate of wasabi aïoli, sriracha, and eel sauce – Goshiki (Japan Pavilion)
Wild Boar Cassoulet with duck confit, ham hock, and wild boar sausage – Pastoral Palate (Germany Pavilion – new dish for 2022)
General Tso's Chicken Shumai – The Painted Panda (China Pavilion)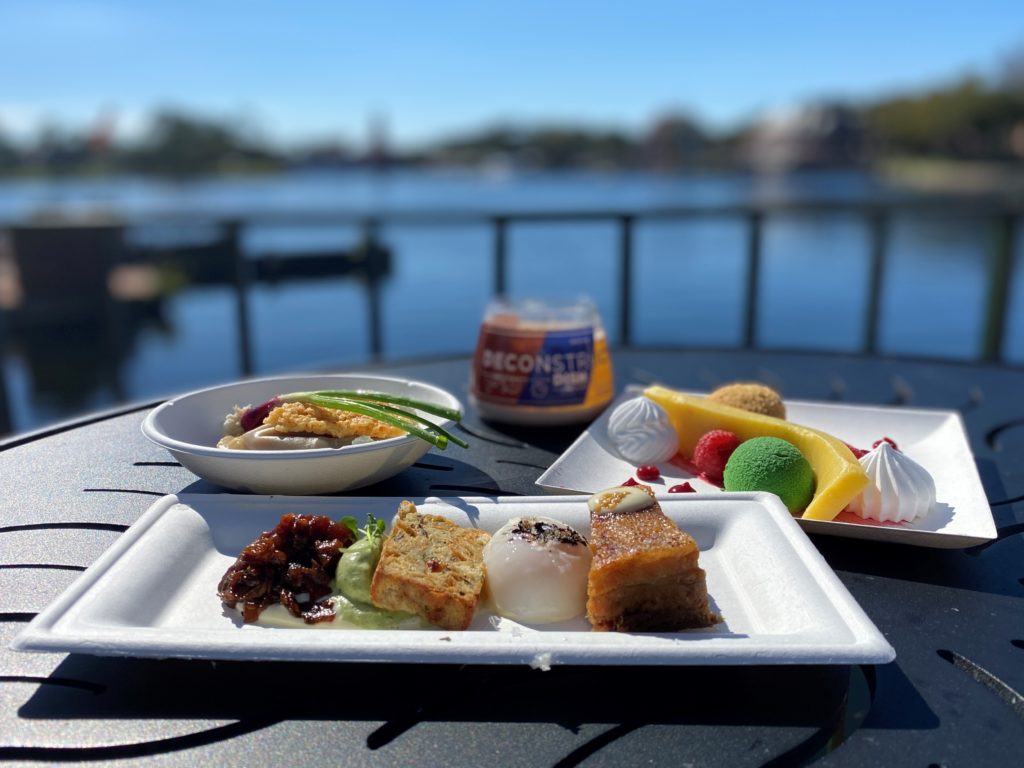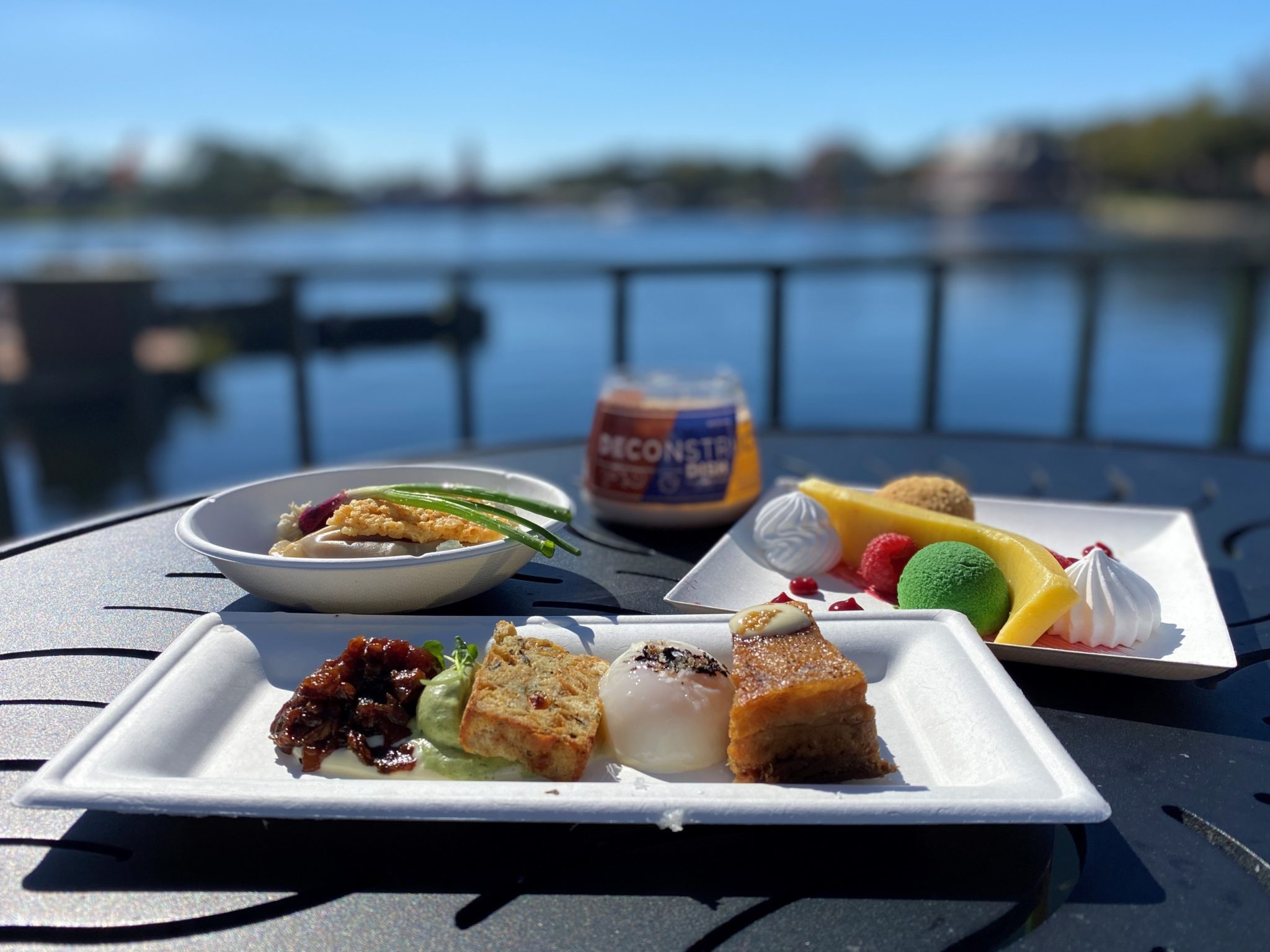 During our Disney date at Epcot's art festival, my husband and I agreed that the Deconstructed Dish booth is the best. We tried every food item, plus the non-alcoholic Apple Pie a la Mode drink (which comes in a reusable cup), and loved every bite. The Deconstructed BLT is a returning favorite while the Deconstructed French Onion Soup is new – it's a large ravioli with broth inside, and I loved it. This booth is located near the entrance to World Showcase, known as Showcase Plaza, so it's a great booth to kick off your festival experience.
The Decadent Valrhona Chocolate from Deco Delights is a delicious chocolate dessert that feels perfect for Valentine's Day. Deco Delights is also near World Showcase Plaza. All of the desserts at this booth are great, so no matter which one you choose, you're sure to enjoy. This is a good booth to save for last so you can end with a sweet treat.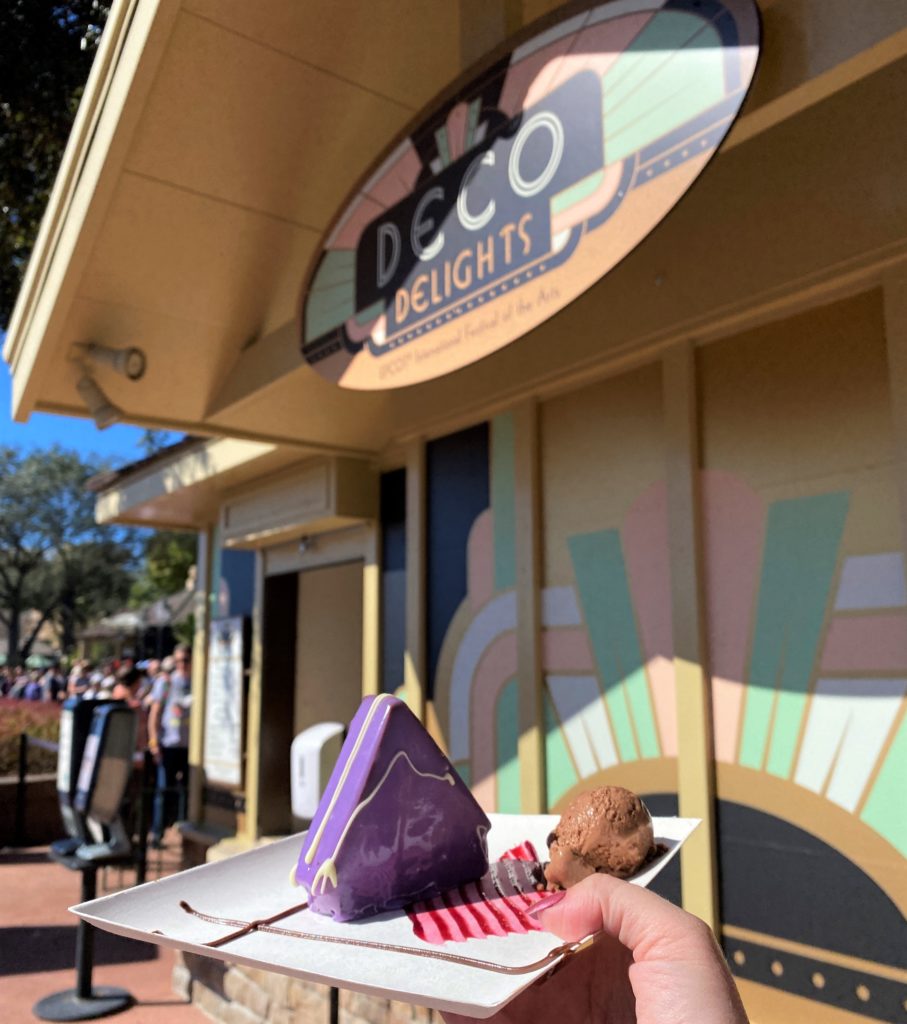 Wonderful Walk of Colorful Cuisine
Did you know you can participate in an official art festival food crawl at Epcot? This special experience is called the Wonderful Walk of Colorful Cuisine. Just pick up a Festival Passport and look for the food items that are part of the Wonderful Walk of Colorful Cuisine. Each one represents a color of the rainbow. After you collect all five stamps, you can pick up your prize — an Artist Palette Cookie, available at Deco Delights.
Here are this year's food items:
Deconstructed Key Lime Pie: Flexible Key lime curd, "Key lime" mousse, graham cracker cake, and meringues (represents green) –  The Deconstructed Dish (Near Port of Entry)
Vanilla Donut with strawberry sugar, strawberry ice cream, fresh strawberries, and strawberry gele (represents pink) – The Donut Box (Near Test Track)
Blood Orange-braised Beet Carpaccio with mustard vinaigrette, pickled clamshell mushrooms, golden beets, and crostini (represents red / plant-based) – Gourmet Landscapes (Canada Pavilion)
House-made Chorizo and Potato Empanada with turmeric aïoli and annatto aïoli (represents yellow) – Vibrante & Vívido: Encanto Cocina (Between Morocco & France Pavilions)
Pan-seared Scallops with vanilla-butternut squash purée, brown butter cauliflower purée, and lime foam (represents orange) – The Artist's Table (American Adventure)
Need a break? Head to the Flavors of the Medina "booth" inside the Tangerine Cafe in the Morrocco Pavilion. Normally this space is a quick-service restaurant, but it is currently acting as an Epcot Art Festival food booth. It is the only food booth that has indoor seating. Between the indoor location, the atmosphere, music, and food, this a great spot to relax together and rest your feet.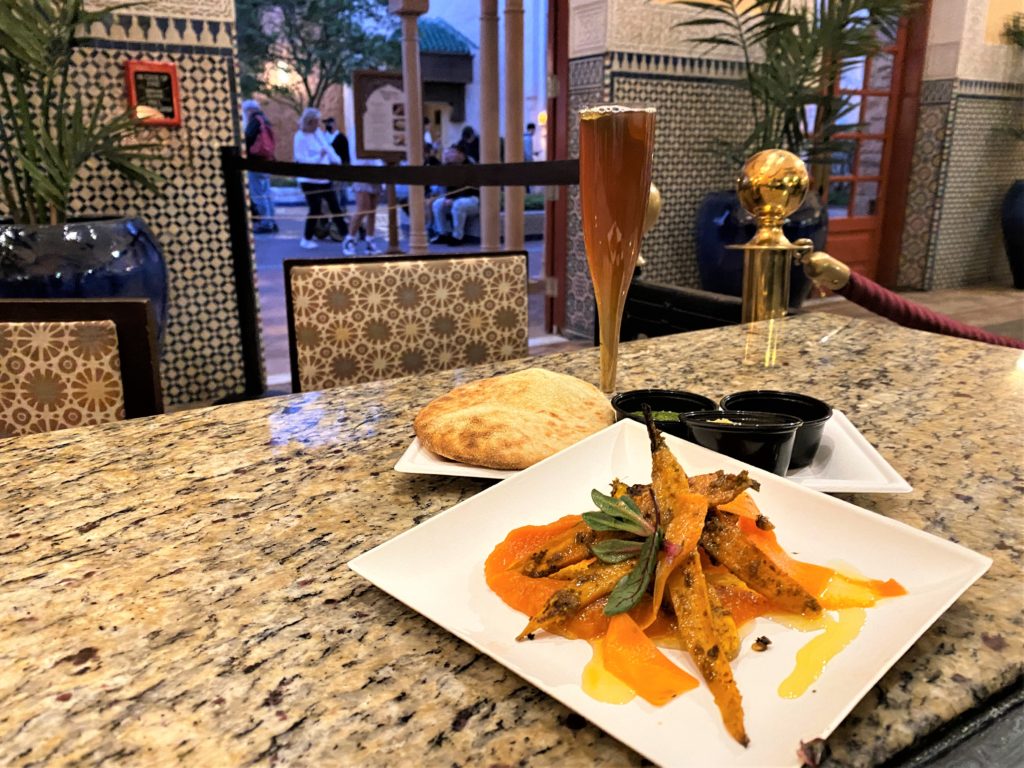 Disney's Encanto at the Art Festival at Epcot
The breakout hit, "Encanto" is taking Disney fans by storm. To celebrate, there is a food and drink booth inspired by Colombia and "Encanto." This booth is one of the most popular of the 2022 Festival of the Arts. It is located between the France and Morocco Pavilion. The Chorizo Empanada and the Spicy Ajiaco Soup are both hits.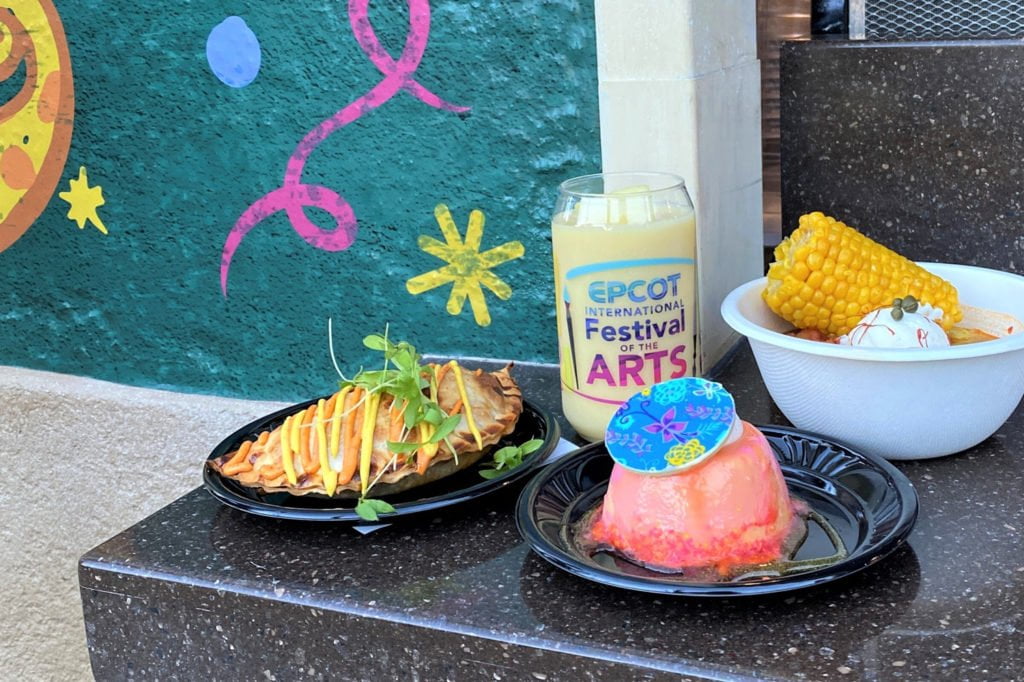 If the Encanto booth is on your list, head there as early in the day as you can. If there is a long line, you can enjoy the music and decorations, or have one person go and secure one of the tables and chairs next to the booth. Be sure to take a few moments to admire the signs, behind the scenes info, and concept art of the film, on display in this area.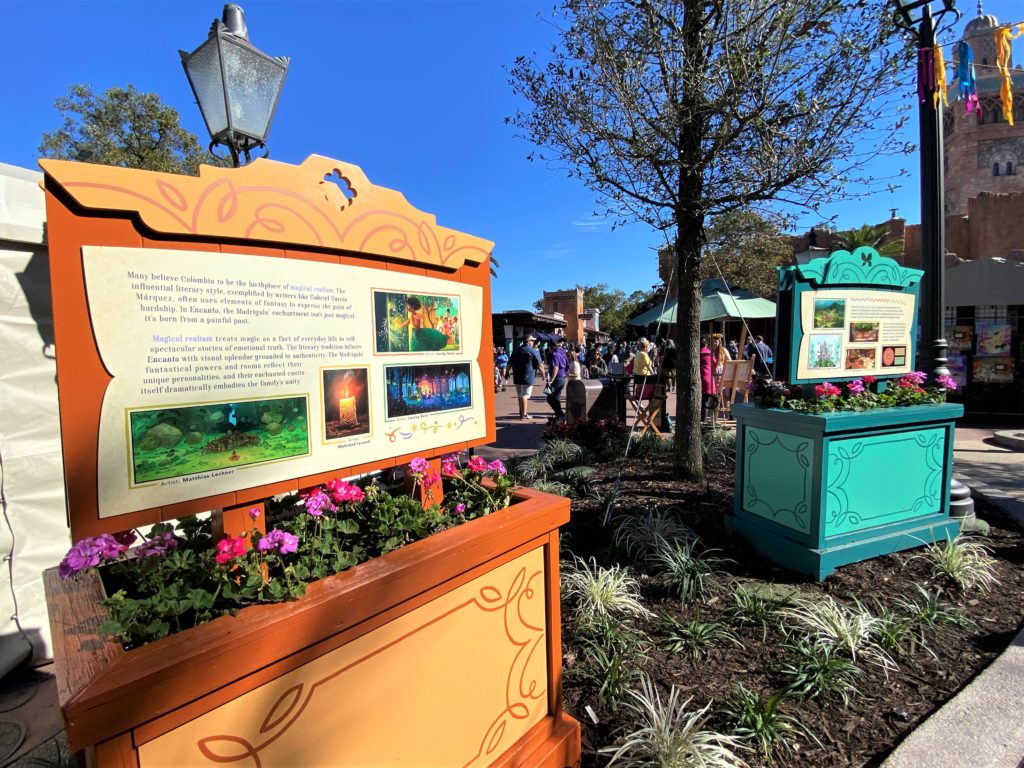 Best Drinks at Epcot's Festival of the Arts
There's no doubt that drinking around the world at Epcot is a favorite pastime among Disney adults. The drinks at Epcot's Festival of the Arts warrant appreciation over mass consumption. Raise a glass and enjoy the festival, and give these creative cocktails their due.
Here are some highlights:
Neapolitan Beer Flight with Strawberry Blonde Nitro, Vanilla Porter, Milk Stout – Deco Delights (Near Port of Entry – new booth for 2022)
Cold Fashion Coffee Cocktail – The Donut Box (Near Test Track)
Smoky Raspberry: Blanco tequila, rosemary-infused mezcal, ginger cordial, lime juice, and rosemary aroma – El Artista Hambriento (Mexico Pavilion)
Niseko Flurry: Sake, rum, white cranberry juice, blue curaçao, and lime juice – Goshiki (Japan Pavilion)
Frozen French Martini: Vodka, black raspberry liqueur, pineapple, orange, and grape juice with lemon-lime foam – L'Art de la Cuisine Francaise (France Pavilion)
Cider Flight – Sangria Hard Cider, Chai Hard Cider, Berry Hard Cider – Flavors of the Medina (Morocco Pavilion)
Sea Butterfly: Butterfly pea flower-infused cocktail with vodka, light rum, lychee syrup, magic boba pearls – The Painted Panda (China Pavilion)
Sipping Chocolate Flight: White, milk, and dark chocolate (available with and without alcohol) – The Artist's Table (American Adventure)
Don't miss this cute keepsake: At the Japan Pavilion's booth, you can enjoy Sake in a traditional personalized wooden cup. When you order you'll provide your name to the Cast Member who will write your name on the traditional wooden cup in Japanese. This wooden cup is called a masu and it is a traditional vessel for drinking sake tracing back hundreds of years. The wooden masu cup is said to complement traditionally brewed sake since it's brewed in wooden casks. Hold the cup at a diagonal, with the corner facing you, this will make it easier to drink.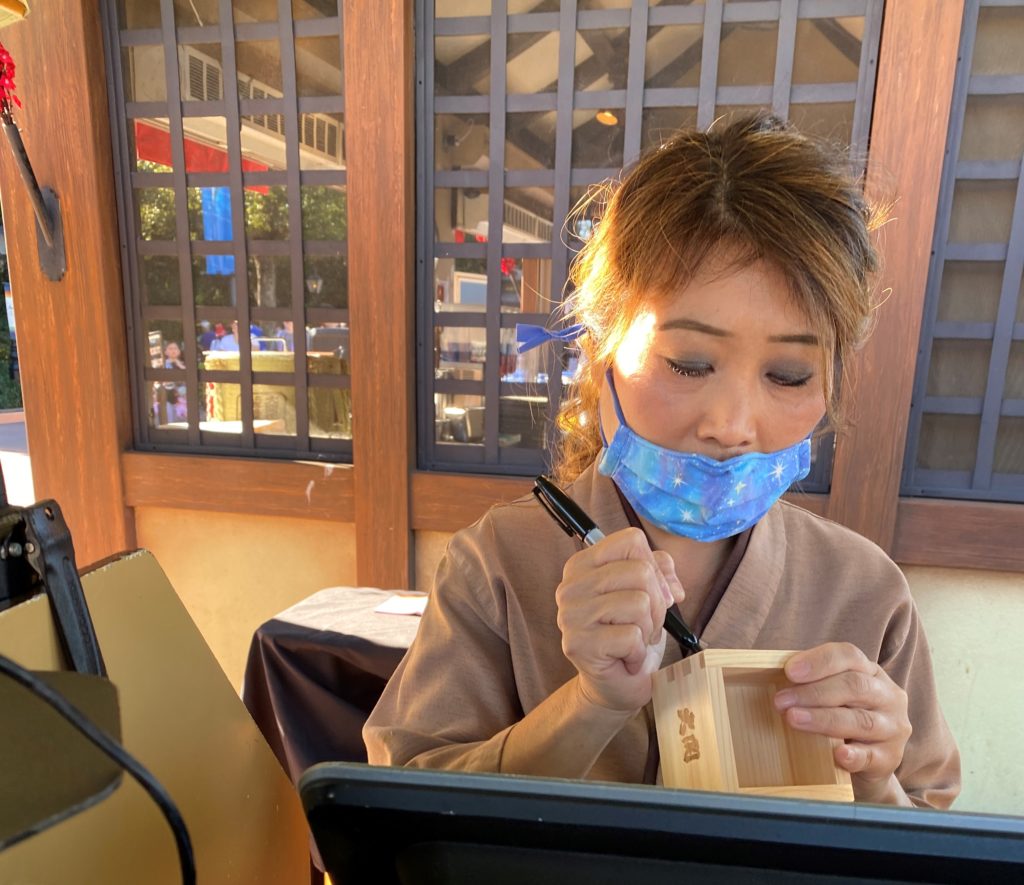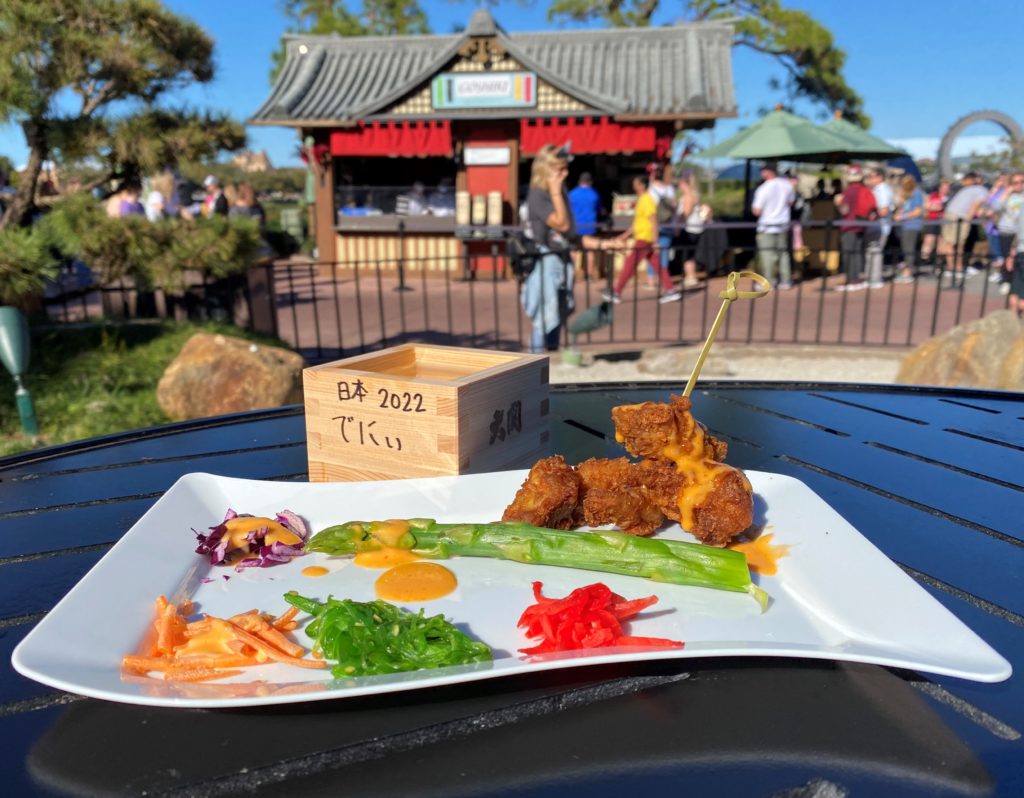 If you need a pick me up as you sip on the best drinks at Epcot's art festival, then make a pit stop at one of the four Joffrey's Coffee and Tea locations. Each one has a different creamy cold brew coffee topped with whipped cream and childhood favorite cereal.
Locations:
World Discovery (Near Mission: SPACE) – Mocha Masterpiece Cold Brew: A sweet creamy cold brew topped with whipped cream and chocolate puffs
Canada Pavilion – Colorful Canvas Cold Brew: A sweet creamy cold brew topped with whipped cream and fruity cereal
World Showcase (Near Disney Traders) – Cinnamon Swirl Cold Brew: A sweet creamy cold brew topped with whipped cream and cinnamon squares
The American Adventure – Rainbow Dreams Cold Brew: A sweet creamy cold crew topped with whipped cream and colorful marshmallow crunch
Activities for Adults at Epcot's Festival of the Arts
There's no doubt that food and drinks are the highlight for a Disney date at Epcot's Festival of the Arts. And yet, you'd miss out on a lot if you two don't have some fun together with these great activities.
The Epcot Art Festival highlights the visual arts, the culinary arts, and the performing arts. Each festival offering highlights one of these areas.
Don't miss out on these best activities for adults:
Stop by the paint by numbers mural as soon as you arrive so you both can add your own artistic touch a Disney mural
Get your camera ready, there are multiple photo opportunities, many that allow you to step inside a work of art
Speaking of art, take time to browse the artist tents and be prepared to fall in love with a piece or two. My husband and I have ended up buying a piece of art at each annual art festival.
You can also chat with the artists. Each day of the Epcot Art Festival different artists are available at certain tents for meet and greets, and to sign any work of theirs you may have purchased.
Each World Showcase pavilion has at least one Disney or Pixar character "painted" on a building. These are actually details, but they really do look like paintings. See how many you can spot, make it into a game to play together.
Don't miss the live music on the Showcase Plaza stage, it's a great way to kick off the festival before you head into World Showcase.
DISNEY ON BROADWAY Concert Series
Each festival at Epcot offers live entertainment. The Festival of the Arts has live entertainment in multiple places, but the main event is at the American Gardens theater. Here you can witness singers straight from Broadway sing powerful versions of Disney hits. Any Disney fan is going to love this DISNEY ON BROADWAY Concert Series.
There is a dining package available in which you purchase a meal at a participating Epcot restaurant and then enjoy reserved seating for the performance. To me, this package is not worth it, considering the show does not have many visual elements and doesn't tend to fill up.
You'll need to be in the American Gardens Theater at least 15 minutes before showtime to at least get a seat.
Here is the schedule of Disney on Broadway performers:
Arielle Jacobs (Aladdin) and Adam Jacobs (Aladdin)
January 16 through 17
January 20 through 21
Kerry Butler (Beauty and the Beast) and Telly Leung (Aladdin)
January 18 through 19
January 22 through 23
Heidi Blickenstaff (Freaky Friday, The Little Mermaid) and Robert Creighton (Frozen)
January 24
January 26 through 27
January 30 through 31
February 3 through 4
Kara Lindsay (Newsies) and Dan DeLuca (Newsies)
January 25
January 28 through 29
February 1 through 2
February 5 through 6
Ashley Brown (Mary Poppins) and Josh Strickland (Tarzan)
February 7
February 9 through 10
February 13 through 14
February 17 through 18
Kissy Simmons (The Lion King) and Michael James Scott (Aladdin)
February 8
February 11 through 12
February 15 through 16
February 19 through 20
Special Performance – February 21, 2022
On February 21, give a standing ovation for an extended finale featuring Ashley Brown, Josh Strickland, Kissy Simmons and Michael James Scott.
Know Before You Go…
Park reservations are required
Epcot's hours are typically 10am – 9pm during the Festival of the Arts
Arrive 15 minutes early for any entertainment and activities
Weekends are especially busy and crowds build as the day goes on
Pop Art is the busiest booth thanks to the popular popcorn bucket featuring Figment
Make a getaway of it and stay at one of the most romantic Disney hotels
Read up on important information about the newest ride, Remy's Ratatouille Adventure
All images by Dani Meyering