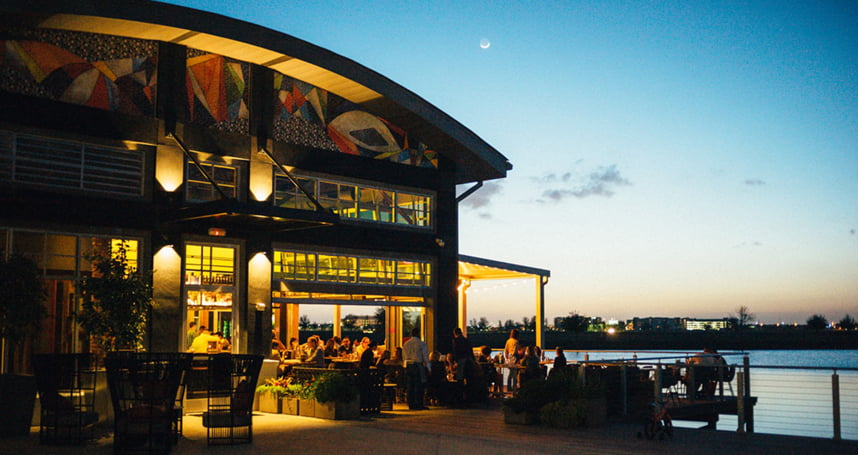 Lake Nona is one of Orlando's hottest neighborhoods, with a diverse culinary scene that's perfect for date night. Lake Nona was designed with community, innovation, and wellness in mind. Today the area is packed with vibrant spaces and awesome Lake Nona restaurants.
Whether you're planning your next date night or going out with the girls, we have you covered with a map and guided culinary tour of the best Lake Nona restaurants.
Originally published in 2018, updated by Beth Bell in March 2022.
Map of Lake Nona Restaurants
Browse our map of Lake Nona Restaurants to plan your next night out. Scroll down for our listings of the best Lake Nona restaurants that should be on your must-do list.
Chroma Modern Bar + Kitchen
6967 Lake Nona Blvd, Orlando
chromalakenona.com
This vibrant Lake Nona restaurant in Lake Nona Town Center serves up colorful small plates, shareable platters and playfully-named cocktails in a space cleverly designed to foster community.
Grab an Insta-worthy drink (we love the citrus-based Bottled Sunshine!) in the lounge, then move into the dining room for mouthwatering small plates like guava and goat cheese flatbread, corned beef brisket empanadas, and whipped ricotta crostini with Sicilian pistachio butter and slow-roasted tomatoes. Don't sleep on their Sunday Funday brunch, available weekends starting at 10 AM. Chroma's patio is the perfect place for people watching, a smoked salmon board or molten french toast, and cheeky cocktails like the Skinny Dipper, Hot Mess, or Exes and Ohs.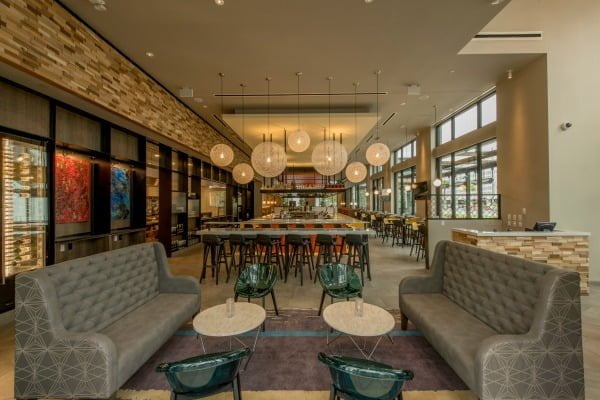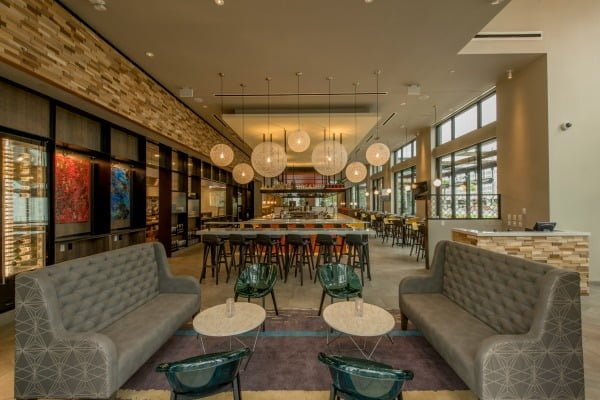 Canvas Restaurant & Market
13615 Sachs Avenue, Orlando
canvaslakenona.com
Speaking of Instagram-worthy restaurants, walking into Canvas is an experience all in itself. Stop by this modern waterfront restaurant and market for new American cuisine with an emphasis on fresh seafood and seasonal ingredients.
Snag the roasted PEI mussels in coconut broth or the sherry-braised octopus to start, and drink in the lakeside views through floor-to-ceiling windows as you dine. Not a big seafood fan? You'll find plenty of alternatives here, like cumin-rubbed steak frites or wild boar bolognese. Canvas also has an excellent weekend brunch for a boozy day date, and the market is open seven days a week, selling a variety of home goods, coffee, and fresh-baked treats. Round out your date with a stop at the dazzling Glass House sculpture outside.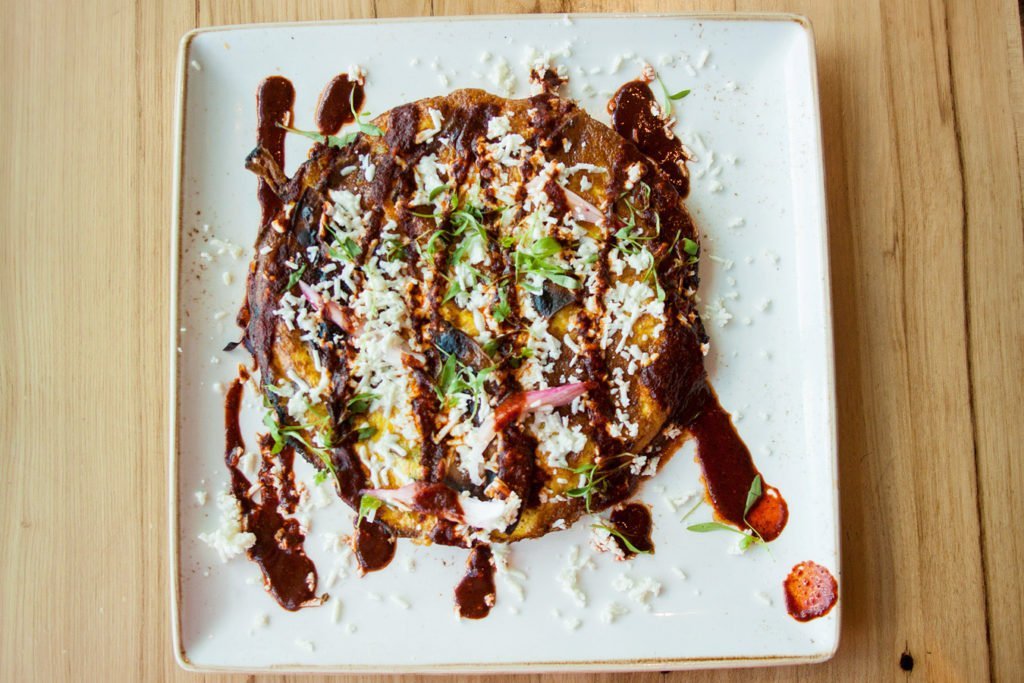 Park Pizza & Brewing Co.
6941 Lake Nona Blvd, Orlando
parkpizzalakenona.com
Park Pizza brands itself as Lake Nona's "home away from home," with a bright, communal dining space and a state-of-the-art brewery. Stop in for a creative selection of home-brewed craft beers, like the Honeymoon Suite (dark chocolate stout, also available in nitro form), Second Brunch (coffee lager), and You're So Cool (hibiscus lime gose).
Of course, you can't forget the pizza! Park Pizza is one of the best Lake Nona restaurants for a satisfying pizza pie, ranging from a classic margherita to bold creations like the mushroom-and-cream based Truffle Shuffle or the hot-wing-inspired Bleu Bird.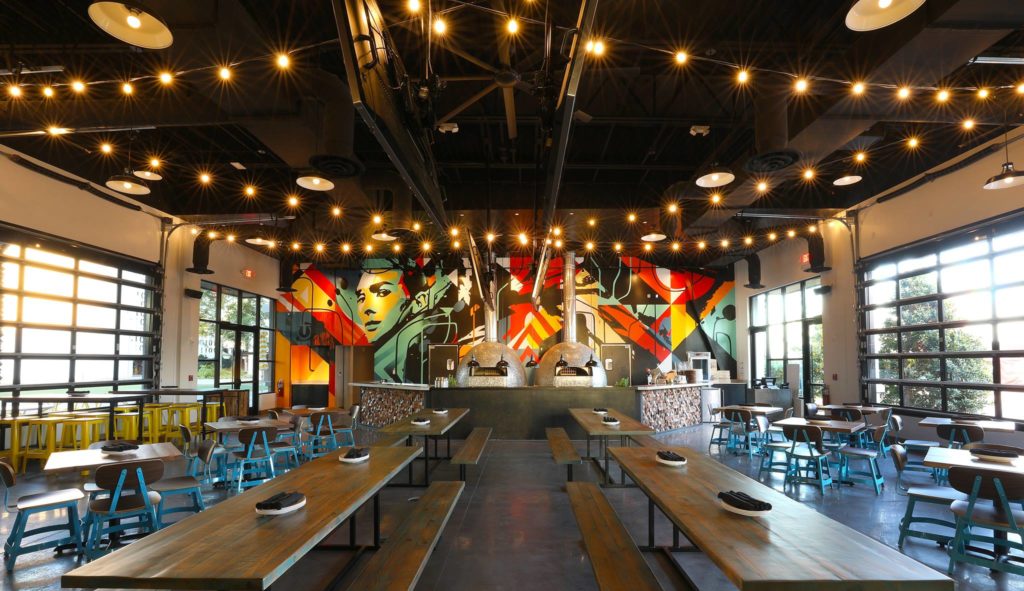 BACÁN Restaurant
6714 Tavistock Lakes Blvd, Orlando, FL 32827
lakenonawavehotel.com/restaurants-lake-nona/bacan
The Lake Nona Wave Hotel, which opened in late 2021, is a high-tech luxury hotel in the heart of Lake Nona Town Center. Its signature restaurant, BACÁN, features elevated yet approachable cuisine in a dramatic jewel-toned dining room. The menu is heavily influenced by the flavors of the Americas, with creative dishes like charred octopus served with Argentinian chimichurri, smoked feta, aji amarillo, and black olive dust.
You absolutely must start with the Lobster and Burrata Tostadas. A perfect plate for sharing. Two blue corn tostadas are stacked with lobster meat chunks, pickled tomato, burrata, herbs crema, and toasted pepita.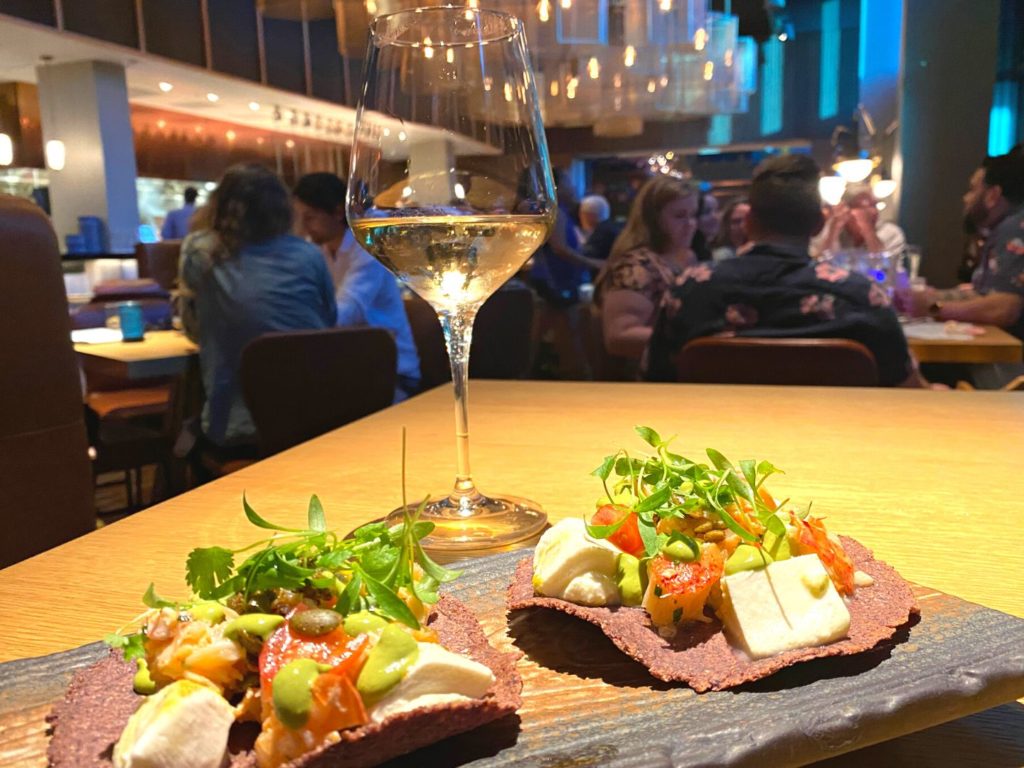 In keeping with the hotel's high-tech atmosphere, you might even spot Rosie, the retro-styled robot server, delivering drinks and apps throughout the dining room. After dinner, step outside to stroll through the hotel's 50,000 square foot sculpture garden. It's breathtaking – day or night.
Haven Kitchen
6714 Tavistock Lakes Blvd, Orlando, FL 32827
lakenonawavehotel.com/restaurants-lake-nona/haven
Upstairs at the Lake Nona Wave Hotel, meanwhile, is Haven, a botanical oasis that blends Mediterranean cuisine with classic Florida flavors. Try the pickled beet root with homemade ricotta, Florida orange, toasted pistachio, avocado, and orange vinaigrette, or dive into eccentric picks like crispy cod served with smoked tomato, cauliflower rice tabbouleh, and mint salsa.
Sip on inspired cocktails like the Robin's Nest, a tropical drink colored with blue spirulina, or the Aphrodite's Chariot, a vodka-based drink featuring Pamplemousse, agave, and Mad Tasty Sparkling CBD Grapefruit. The Lake Nona restaurant is open for breakfast, lunch, and dinner, making this a perfect date spot for any time of day.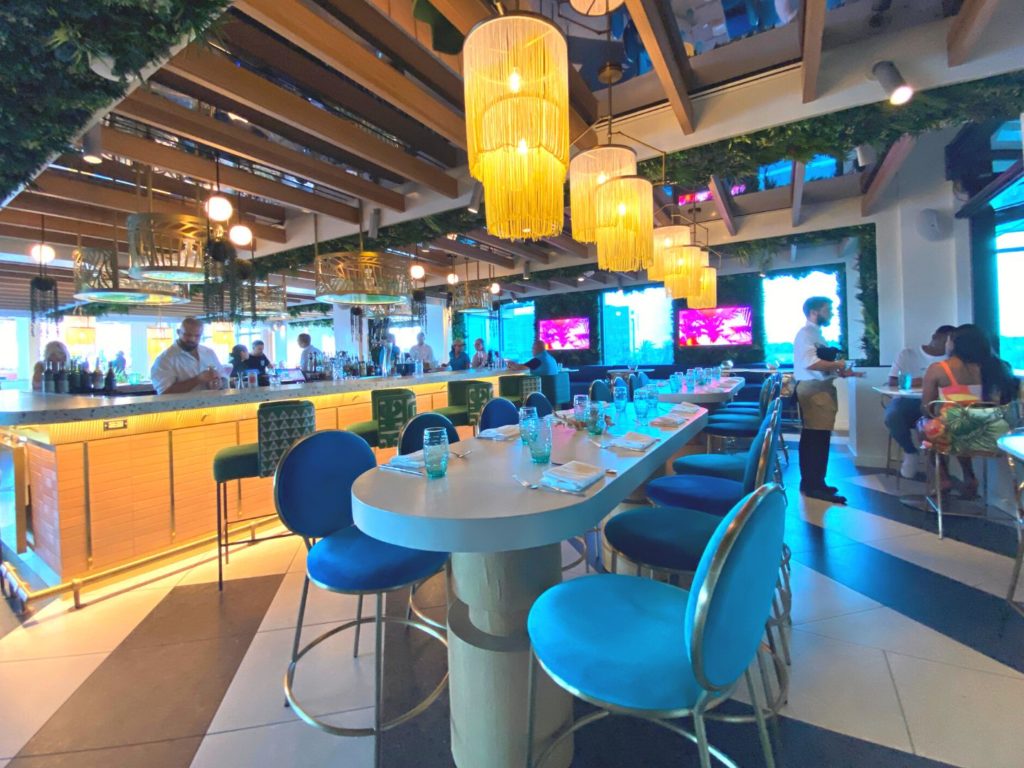 Bosphorous
6900 Tavistock Lakes Blvd, Suite 100, Orlando
bosphorousrestaurant.com
Named after the famed international waterway that divides Turkey across two continents, Bosphorous serves up fresh Mediterranean cuisine and legendary Turkish hospitality in the heart of Lake Nona Town Center. The interior is accented with Turkish ebru paintings, handmade glassware, and silk carpets for a feel that is both cozy and exotic. Dine on traditional specialties like muhammara, falafel, and lahmacun (a "Turkish style pizza" topped with freshly ground lamb), and don't forget to save room for dessert!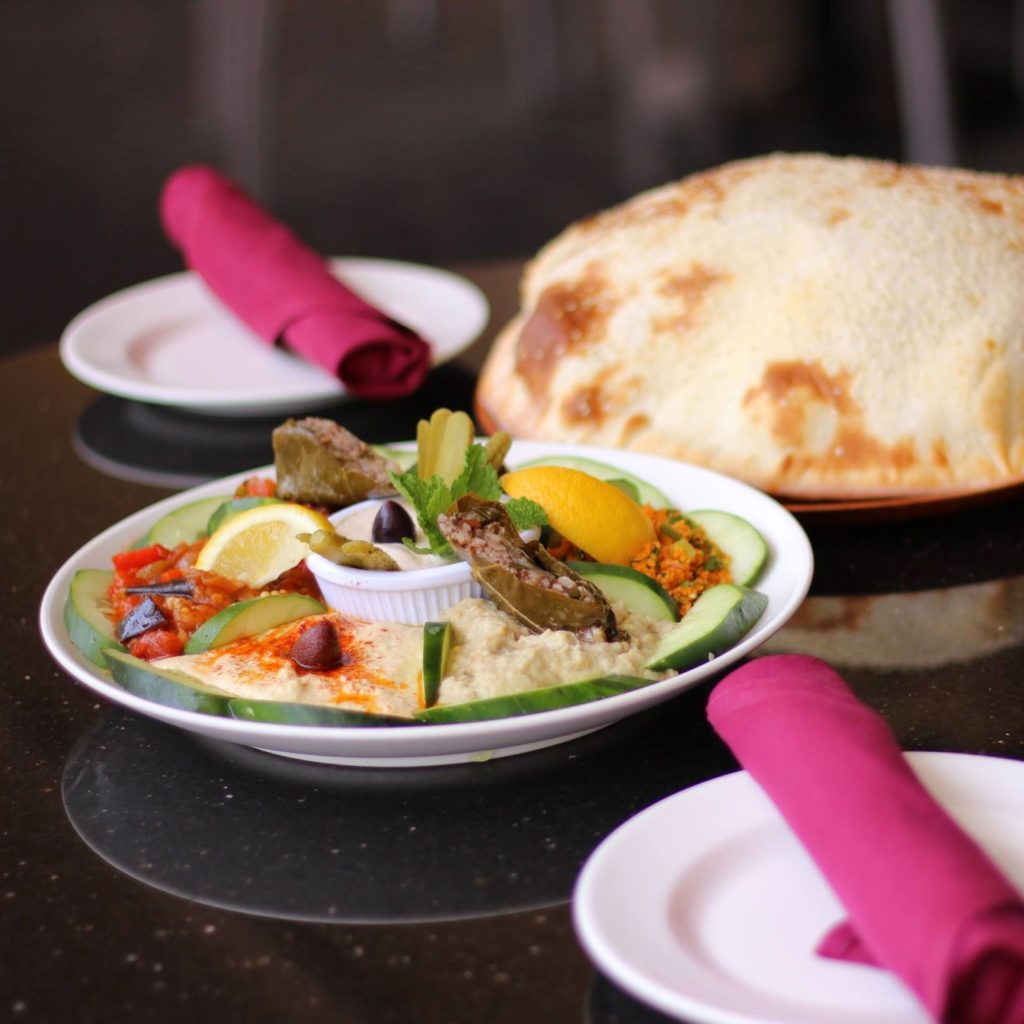 Boxi Park Lake Nona
6877 Tavistock Lakes Blvd, Orlando
boxiparklakenona.com
Explore all that Lake Nona has to offer in one spot, Boxi Park, an outdoor event venue where you can enjoy live music and entertainment and an ever-changing lineup of fresh culinary concepts. Located in Lake Nona Town Center, Boxi Park gets its name from the repurposed shipping containers that house up-and-coming names in the culinary world. One of our favorite picks right now is the wonderfully-named Claw & Order, which serves up succulent lobster rolls, lobster fries, lobster mac, and more. Grab a cocktail and enjoy live entertainment on Thursday-Sunday evenings.
Bonus: this spot is dog-friendly (they even have a dog park called Barxi Park!) so feel free to bring the whole family on your next night out.
Related: Plan a Getaway with Your Pup at These Dog-Friendly Hotels
Nona Social
9145 Narcoossee Rd, Orlando
nonasocialbar.com
This laid-back neighborhood bar is open until 2AM seven nights a week, making it the perfect Lake Nona restaurant to wind down over handcrafted cocktails and bites. Soak up the casual upscale ambiance and live music as you dine on made-from-scratch pub fare like carnitas tostones, goat cheese and warm tomato basil dip, and premium pub burgers like the mac-and-cheese topped "Hot Mess." Nona Social has weekly trivia nights, a special late-night menu, and a lively weekend brunch, plus enjoy drink specials during Happy Hour from 3-7PM on Monday-Thursday.
Nona Blue Modern Tavern
9685 Lake Nona Village Pl, Orlando
nonablue.com
Enjoy elevated American pub fare like steak frites, firecracker shrimp, and seared ahi tuna in this polished modern tavern. Share a bottle of wine, or sip on enticingly-named specialty cocktails like the Garden of Eden, One Night in Bangkok, or Comfortably Numb. Nona Blue also has one of the best brunches in Lake Nona, with $5 Bloody Marys or bubbles and a selection of sweet and savory dishes to get the day started.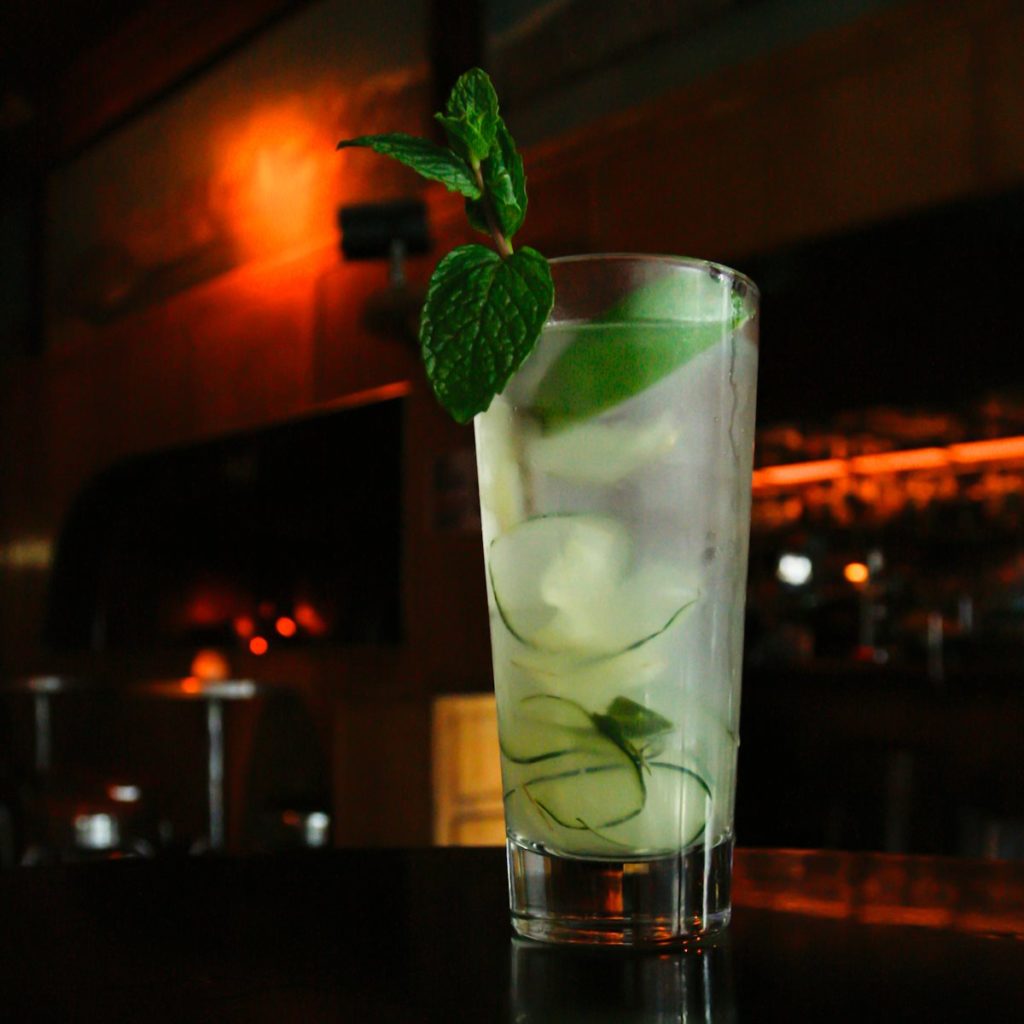 Don Julio Mexican Kitchen & Tequila Bar
9776 Eagle Creek Center Blvd, Orlando
donjuliomexicankitchen.com
Don Julio's is the perfect night-out spot for authentic Mexican cuisine, colorful cocktails, and a spirited, high-energy atmosphere. With nearly 100 types of tequila, a fantastic happy hour (weekdays from 3-6PM), and Tuesday taco specials, there is always something new and delicious to experience at this popular Central Florida chain. Lake Nona is the only Don Julio's location to offer Sunday brunch, with endless mimosas and sangria available starting at $14.99.
Hot Taco Street Taqueria
9680 Narcoossee Rd #103, Orlando
hottacotaqueria.com
This colorful fast-casual taco concept from the team behind Don Julio's serves up a heavenly array of tacos, aguas frescas, and beer and wine-based cocktails in an eye-popping dining space. From the brilliant agave mural, to the bold patterned tiles, to the pops of neon pink, Hot Taco Street Taqueria certainly lives up to its claim that it is "not your average taco joint." Tortillas are prepared fresh daily, and you'll find everything from birria tacos to nopales (grilled pickle cactus) to chorizo and roasted octopus tacos. Adventurous eaters can also try tripe or lengua (beef tongue) tacos. Stop by on Taco Tuesday for $3 mix and match tacos, or snag $5 cocktails during Happy Hour (Monday-Friday from 3-7PM). Don't skip the churros, which are made-to-order and served with three types of dipping sauce.
Tabla Indian Restaurant
9971 Tagore Pl Suite 9, Orlando
tablacuisine.com/location/lake-nona-indian-restaurant
Tabla Indian Restaurant is truly a stellar pick for fine dining in Lake Nona. With its elegant dining space and impeccable service, Tabla Cuisine guarantees a pleasurable dining experience. The aroma of fresh Indian curries, Indo-Chinese delicacies, and Thai spices fills the air at Tabla Indian Restaurant. Take advantage of the nice Lake Nona weather on their patio. Tabla also has three more locations in Florida; Orlando and Winter Park, and they opened a fourth location in Oviedo, near Oviedo on the Park.
Their menu is as creative as it is flavorful, with a mix of Indian Asian fusion cuisine. You absolutely must start with some tasty appetizers like Tabla special mix grill and Kabobs and end with desserts like Gulab Jamun Brule and Mango Tiramisu – the experience will be elite and worthwhile. Moreover, This Lake Nona Restaurant makes no compromises and serves truly healthy, nutritious meals using the best ingredients, nothing frozen, nothing reused!
Maki Hibachi
11954 Narcoossee Rd Suite 1, Orlando
makihibachi.net
Maki Hibachi is one of our favorite date night spots for fantastic food and a sophisticated ambiance. Seafood is imported weekly from Japan, and the restaurant uses fresh, seasonal ingredients grown on local Florida farms. You'll find poke bowls, hibachi, specialty sushi and sashimi, and more, all served up in a sleek, contemporary dining room at Lake Nona Landing.
Bolay
12711 Narcoossee Rd #120, Lake Nona
bolay.com
If you're craving quick, healthy eats before a day of exploration with your love, stop by Bolay for build-your-own "bols" packed with fresh, flavorful ingredients. Start with enticing base options like Asian sweet potato noodles, Forbidden rice, or Kale Yeah Salad. Mix in flavorful veggies andl proteins, like herb roasted potatoes, ginger broccoli, miso glazed tofu, or mojo pork. Top things off with chimichurri tomatoes, avocado, and a selection of bold sauces like cilantro pesto, spicy thai, or creamy garlic and herb sauce.
Overwhelmed by all the variety? We hear ya. Try one of the chef-inspired bowls for ingredients that are designed to play well together. We're partial to the Thai Shrimp and Noodles noodle bowl. Complement your meal with fresh-squeezed juice, local lemonade, or fresh-brewed tea. This Florida-based chain is anything, but basic.
Sus Hi Eatstation
9680 Narcoossee Rd. Suite 102, Orlando
sushieatstation.com
Sus Hi Eatstation is a perfect fit for Lake Nona's healthy, forward-thinking culture. In addition to curated sushi and poke bowls, you'll find a variety of sushi burritos, like the incredible tempura-fried "Fry Me a River," and fresh salads with poke-bowl-inspired toppings. If you're feeling inspired, you can even create your own roll, bowl, burrito, or mini nori. Start with a base of white or brown rice, romaine lettuce, or my personal favorite, seaweed salad. Add in 2-3 proteins, unlimited toppings, and up to three sauces for a custom creation that's made just for you. Best of all? You can get any custom roll, burrito, or mini nori tempura-fried at no additional cost.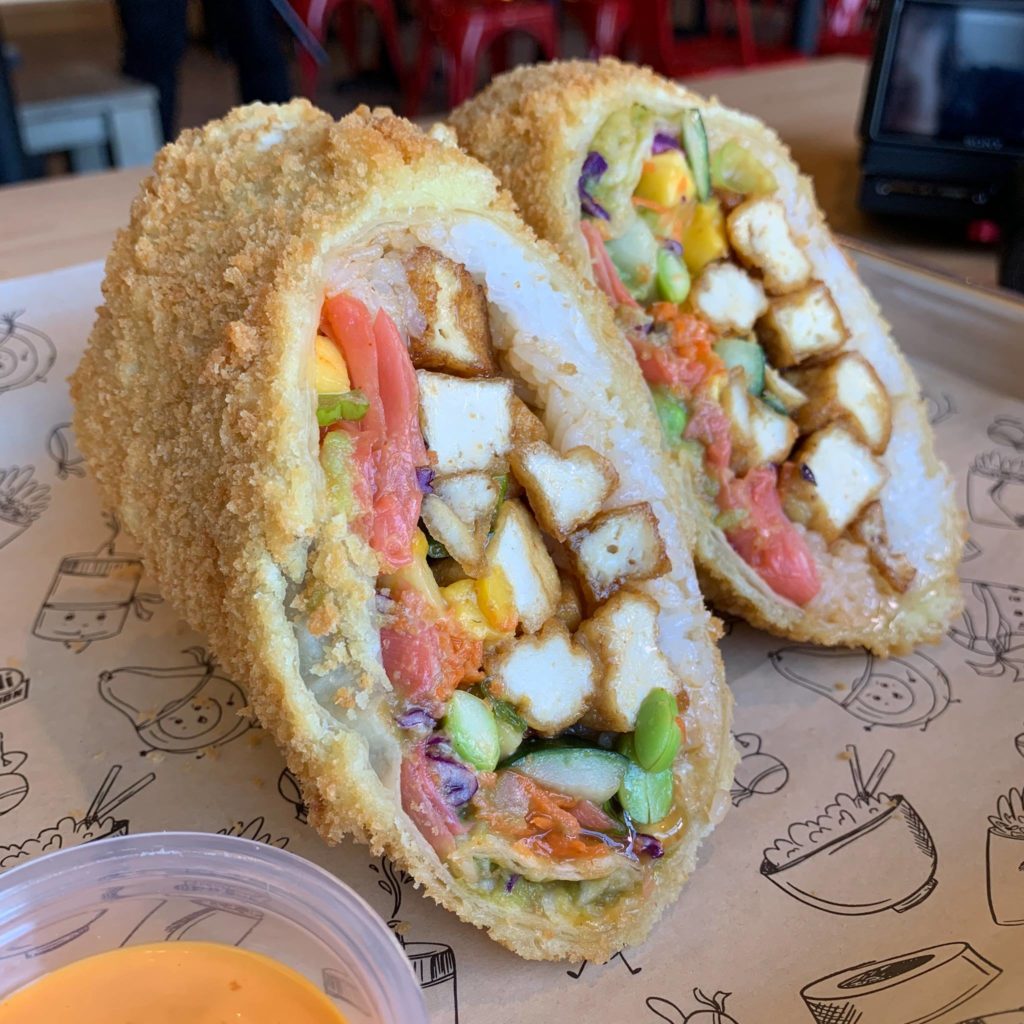 Mecatos Bakery & Café
10783 Narcoossee Rd Suite 125 – 129, Orlando
mecatoscafe.com/lake-nona
For a true taste of Colombia right here in Orlando, you must try Mecatos Cafe, a family-owned bakery dedicated to sharing the culture and flavors of South America. In addition to incredible coffee and mouthwatering pastries, Mecatos makes authentic arepas, empanadas, pan de bono (cheese bread), morcilla, and more. Take your delicious treats out on the patio and enjoy the view.
Piazza Italia Lake Nona
9685 Lake Nona Village Pl Ste 105, Orlando
piazzaitalianona.com
Enjoy date night in this family-owned pizzeria and restaurant inspired by travel and culture. Traditional Italian specialties like Neapolitan-style pizza and homemade pasta steal the show, but you'll also find date-worthy dinner specials like rack of lamb. Branzino, and filet mignon. The desserts are especially noteworthy, with frequent specials like zeppole, panna cotta, and pastiera Napoletana that you won't find on the regular menu. Don't forget a bottle of wine to top it all off!
Armando's
10775 Narcoossee Rd, Orlando
armandosorlando.com
Armando's is a local Italian chain, with established restaurants in Winter Park and College Park. The Lake Nona location has a fantastic covered patio out back, where you can enjoy authentic Italian cuisine, live music, and relaxing lakeside views. The restaurant specializes in wood-fired Neapolitan pizzas, but you'll also find fresh pasta, piatti, and an extensive wine list.
Vanessa's Coffee Shop
9474 Narcoossee Rd, Orlando
vanessascoffeeshop.com
Vanessa's Coffee Shop is the perfect day date or girl's brunch spot in Lake Nona. Chow down on specialty pancakes, omelettes, sandwiches, and more, all served up in Insta-worthy digs. Can't decide what to get? The "Happy Morning" offers the best of both worlds, with a cheesy ham, bacon, or turkey omelette and a slice of classic French toast topped with whipped cream, nutella, and fruit. Vanessa's also has a rotating selection of creative espresso beverages to help you start the day off right. If coffee isn't your thing, try the nutty hot choco or a refreshing tropical smoothie instead. Be sure to snap a photo with the elaborately-decorated telephone box before you head out!
Related: Check out these Unique Coffee Shops for a Low-Key Date
Azteca D'Oro Mexican Restaurant
10783 Narcoossee Rd Suite 201, Orlando
aztecadoro.com
This Florida-based Mexican chain opened a Lake Nona location in September 2021. Stop by for authentic Mexican food, a lively atmosphere, and fun cocktails. We especially love the margarita lineup, which has everything from lychee to watermelon variations. The Mexican Candy margarita, crafted with Dulce Vida Blanco, watermelon puree, Tapatio hot sauce, triple sec, lime and Chamoy, is sure to be a conversation starter. Dine out on the patio for scenic lake views, or dine inside beneath dozens of dazzling lanterns.
Island Fin Poké Company
7004 Tavistock Lakes Blvd Ste 148, Orlando
islandfinpoke.com/lake-nona
Fill up on fresh Hawaiian-style poke bowls at this laid-back eatery. Build your own poke bowl with your choice of base, protein, mix-ins, toppings, and sauce, or choose from a selection of curated bowls if you're not sure where to start. In addition to the usual proteins like ahi tuna and salmon, Island Fin Poké Company has unique Hawaiian-style options like spam. For a sweet finish, order a delicious pineapple Dole Whip to share.
Feature image credit: Canvas Restaurant and Market