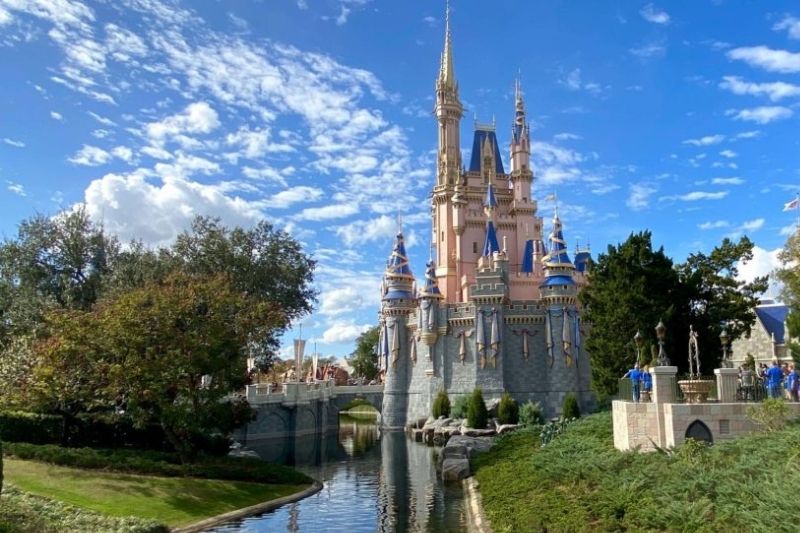 Walt Disney World encompasses 43 square miles of Central Florida. With it being twice the size of Manhattan there are definitely some "secret spots" that you may have never stumbled upon. In this list, I break down some of those spots at Disney World to keep your dates interesting and maybe even impress your date with your knowledge.
I realize that many of these spots are listed on a map or they might be common knowledge for some, but many of these spots go unnoticed by the average visitor because they're off the beaten path. And, many of these secret spots serve as havens from the crowds. Let's explore some of my favorite hideaways in each park, Disney Springs, and Walt Disney World Resort hotels. 
Before we dive in, a reminder that a Park Pass Reservation is required for any of the Disney World theme parks. 
Magic Kingdom
Tom Sawyer Island – In Frontierland you can take a log raft across the Rivers of America to an island that has quite a lot to see. Most people are rushing to Splash Mountain, Thunder Mountain and never take time to head over to the island. But, make sure you do because there is a fort on Tom Sawyer Island, caves to explore, and beautiful views of the Magic Kingdom most don't get to see. Remember that the island has limited hours, so you'll want to check the Walt Disney World website or app for operation time. Generally, the island closes by 3 or 4 pm.
Columbia Harbor House Seating – When you're walking between Liberty Square and Fantasyland, look up. Above you is a tunnel of sorts created by a building that stretches over the pathway. That building is part of Columbia Harbor House and it houses a sitting area where you can enjoy a meal. After you get your food items from the counter head upstairs to find this little nook with windows overlooking the Magic Kingdom – the south side windows of this room will give you views of Liberty Square and the north side windows will give you a view of Fantasyland. This special little nook within Magic Kingdom is a great place to people-watch (with A/C) perched above the crowds. If you're looking for a food suggestion, try the clam chowder bread bowl!
Cinderella Wishing Well – If you're facing the front of Cinderella Castle you'll want to head to the pathway to the right or east of the castle. This path can be accessed from behind the castle in Fantasyland or on the path that leads from the Hub to Tomorrowland/Fantasyland. On this path, you will find a Cinderella Wishing Well. This is a great spot to make a wish with your date and to take some pictures. Generally, the area is not very crowded. Pay attention to all the details on the wishing well and see how many characters you can spot from the animated Disney classic.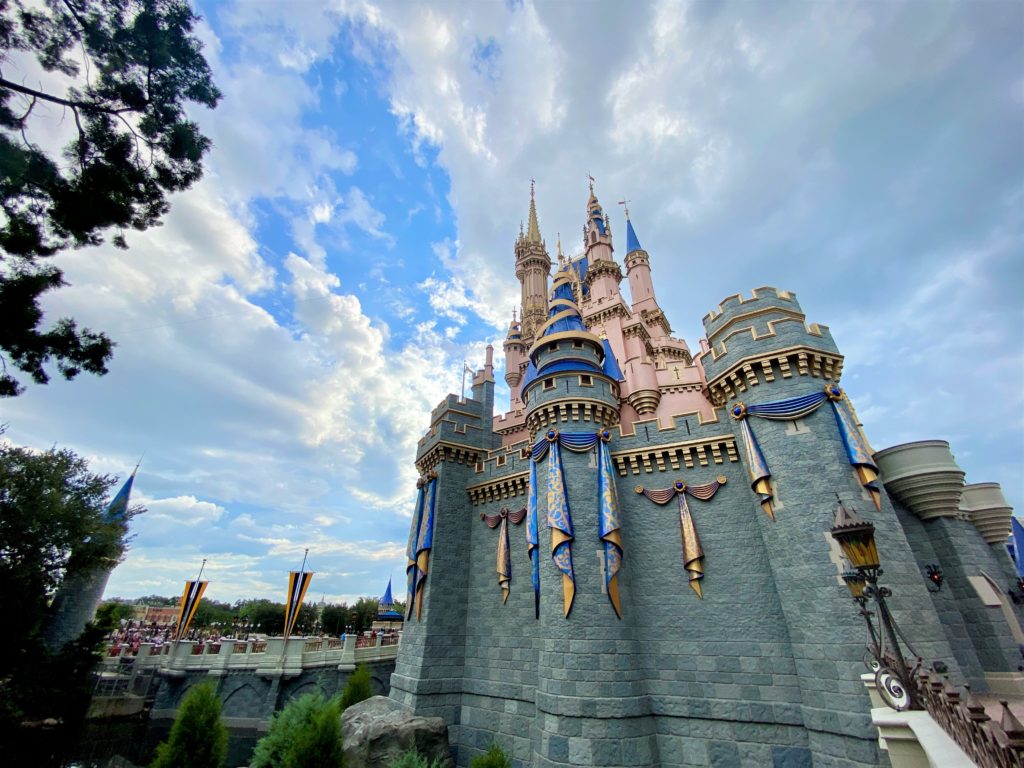 Flag Retreat Ceremony – This is not a place per se but it is an experience that is often missed because you have to be in Town Square on Main Street USA at a specific time. Every day at 5:00 pm there is a Flag Retreat Ceremony that honors a U.S. Veteran. It is a moving ceremony orchestrated by the Cast Members of Main Street U.S.A., the Main Street Philharmonic band as well as the Dapper Dans. A hush comes over Town Square as the ceremony proceeds. If you haven't seen this Walt Disney World tradition, make a point to see it!
Related: Most Romantic Spots at Walt Disney World
Epcot
Morocco Museum – There is a small space in the Morocco Pavilion in World Showcase that is called the Gallery of Arts and History. This small museum-like space is currently housing an exhibit called "Race Against the Sun: Ancient Technique to Modern Competition." Escape the crowds and grab some air conditioning as you and your date make your journey through World Showcase.  Notice the detailed carvings and details of the interiors. When this pavilion was being created, the King of Morocco at the time sent artisans to help. The details and authenticity of the Morocco pavilion are stunning.
Japanese Gardens – Do not miss a quiet moment in the gardens of the Japan Pavilion. This garden features a koi pond, waterfalls, and beautifully manicured plants. There is also a quick-service dining location in this area where you can order ramen or sushi to enjoy in the seating in the garden. The garden is not off the beaten path, per se, but most are attracted to the Japanese department store, Mitsukoshi, or they are securing their next drink. This is a perfect corner of Walt Disney World to make part of your date in the park.
Stave Church – In the Norway pavilion there is another gallery space, similar to the space in Morocco – it is officially called the Stave Church Gallery. This structure is right along the main path around World Showcase but many people pass it without knowing they can venture inside. It is the perfect place to enjoy a break from the humidity of Florida or to escape an afternoon storm. The current exhibit in the gallery features the gods of the Vikings, such as Thor, Loki, and Odin.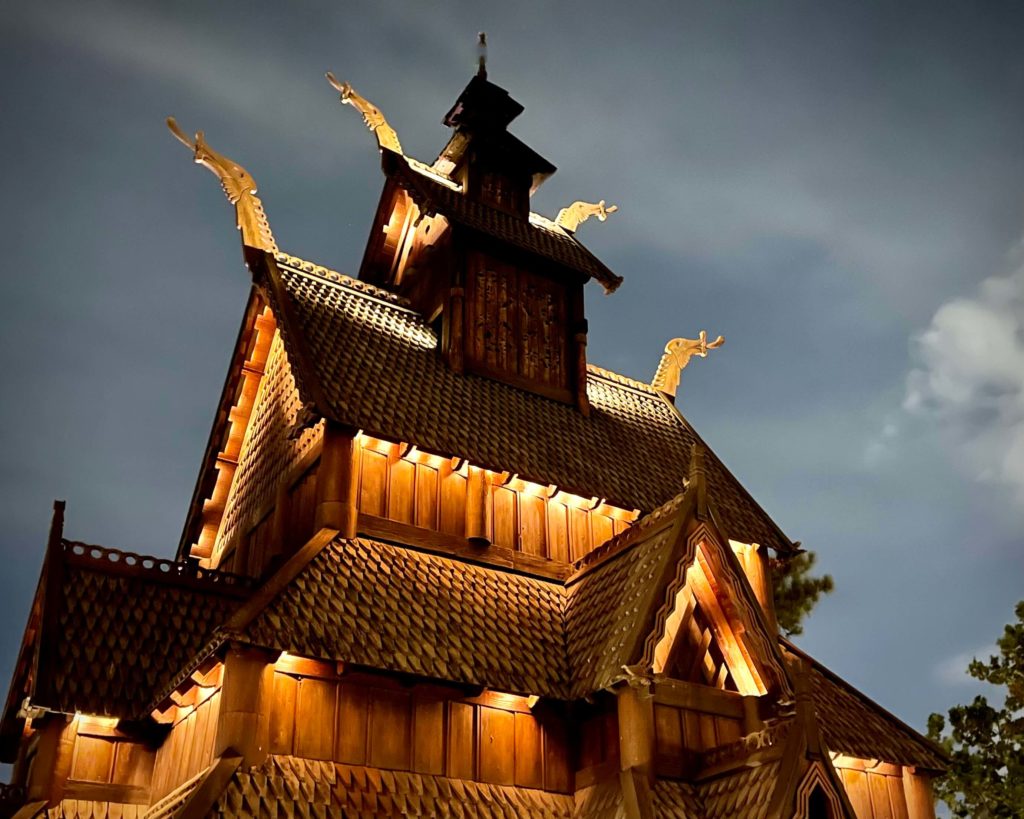 Related: Plan a Blossoming Date at Epcot's Flower and Garden Festival
Disney's Hollywood Studios
Rizzo's Deluxe Supreme Banquet Hall – If you and your date are looking for a bit of nostalgic camp you'll find it on the second floor of PizzeRizzo quick-service restaurant. Rizzo's Deluxe Supreme Banquet Hall is part of the quick-service dining room with plenty of seats for guests to enjoy their lunch. You will eat below disco balls while cheesy wedding music plays. This spot is so fun! This location has limited operating hours so make sure to check the Walt Disney World app for times.
Tune-In Lounge – If you're wanting to travel back in time a bit to the 1950s for a cocktail, look no further than the Tune-In Lounge. This beautifully themed bar is attached to the 50's Prime Time Cafe. It is a small bar with some lounge seating and the perfect spot to end your night at the Studios. The lounge areas feature vintage televisions making it feel like you're in a home of the mid-century. 
Key Under the Mat – This is more of a hidden detail than a spot, but it's still sure to impress your date. As you enter the Muppets 3D attraction you will see a window with a sign that says "Back in 5 Minutes, key is under the mat" – sure enough, there is a mat below. When you lift the mat you will find a key! This is a fun detail fitting of The Muppets!
Walt Disney Presents – Step out of the crowds and into a museum-like space. Walt Disney Presents tells the story of Walt Disney and the company that he built. This is an important space to me because it tells the story of how Walt Disney World came to be while honoring the memory of Walt Disney. There are many artifacts within this museum and if you consumed everything on display here it would take you a good 45 minutes or so.
At the end of the museum, there is a theatre that shows One Man's Dream. This is a 15-minute documentary narrated by Julie Andrews with many audio clips taken from Walt Disney himself. This is a great way to, once again, escape the heat and regain some energy while immersing yourself in a bit of history.
Related: Hidden Gem Bars and Lounges Inside Disney Parks
Disney's Animal Kingdom
Gorilla Falls Exploration Trail – One of the most popular attractions at Animal Kingdom is Kilimanjaro Safaris and right next to it there is a trail that will continue your journey through Africa. Gorilla Falls Exploration Trail features African animals such as gorillas, meerkats, and zebras! While most guests are rushing from Kilimanjaro Safaris to Flight of Passage or Mount Everest I recommend you and your date take it slow and take in this trail along with the others to immediately follow. You could spend half a day exploring these trails and all the beauty that is Animal Kingdom.
Maharajah Jungle Trek – This is my favorite of all the trails at Animal Kingdom. Maharajah Jungle Trek is masterfully designed and even tells a story. You can find this trail in Asia next to Kali River Rapids. The trail features tigers, gibbons, komodo dragons, and more! Look to the walls for murals that tell the story of the Anandapur Royal Forest and how it was once the hunting ground for maharajahs. The detail on this trail truly transports you to another place.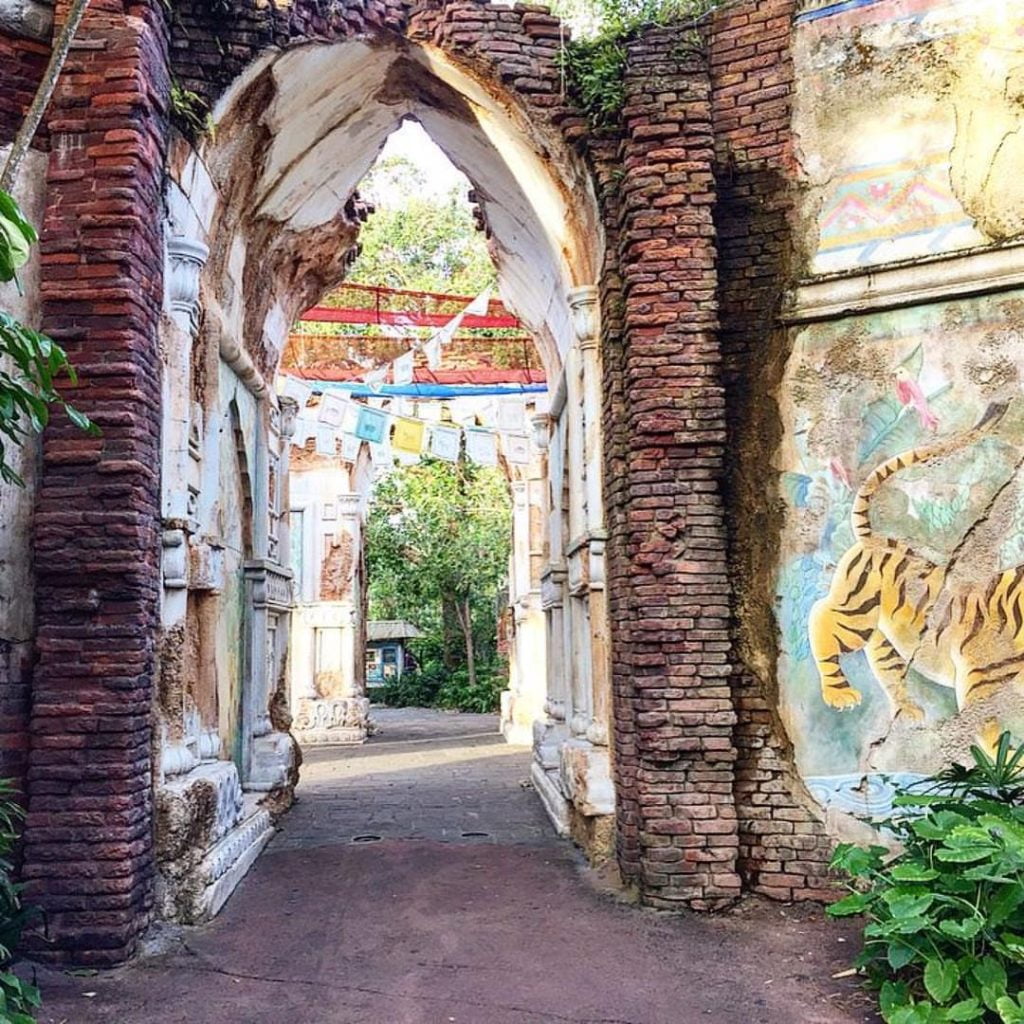 Discovery Island Trails – Most guests will walk right by this gem. But you don't want to miss the Discovery Island Trails as it takes you through winding lush paths that lead you to the base of the Tree of Life. It is to the right as you make your way towards Africa from the front of the park. There are so many great picture spots along the trail and I've never seen more than a couple of other people taking advantage of this trail in all my time on it. This is a great quiet spot to have a nice moment with your date and remove yourselves from the bustle of a Disney park.

Rafiki's Planet Watch – Here is a section of Animal Kingdom that is only accessible by train. Board the Wildlife Express Train near Kilimanjaro Safaris and it will take you to Rafiki's Planet Watch. Within this remote area of the park, there is Conservation Station which features a look into the care of animals that live at Animal Kingdom. Sometimes you can even get a glimpse of live animals being cared for by Disney veterinarians. Within Conservation Station you and your date can also take part in The Animation Experience where you will get a lesson on drawing by a Disney animator. You will draw a Disney character and you'll be able to take your artwork home with you – a great souvenir from your date, which is included with admission to the park!
Disney Springs
Enzo's Hideaway – Escape to a secret, underground, rum-runner's tunnel bar at Disney Springs. It is called Enzo's Hideaway and it serves as a Disney speakeasy. It sits below Maria and Enzo's  Italian Restaurant, across from STK. This restaurant features a gorgeous bar and delicious food and cocktails. Grab a drink here to start your date night or make a reservation for dinner. 
Coca-Cola Store Rooftop Beverage Bar – Journey to the Coca-Cola Store Rooftop Beverage Bar for an open-air bar and a bird's eye view of Disney Springs. This bar is accessible to anyone and is a nice way to get out of the crowds of Disney Springs and sip on a flight of sodas from around the world or order one of their soda-themed cocktails. This is a great way to start date night as there is no food here, so you'll want to have reservations or bar hop to a lounge with some bites.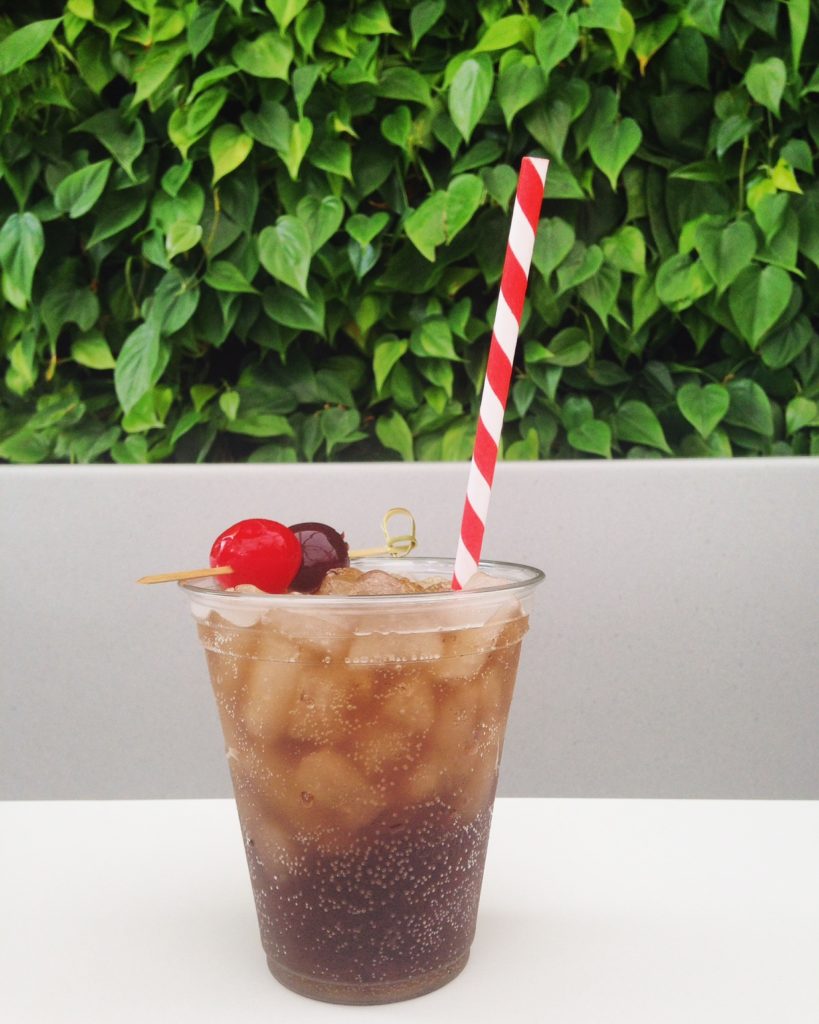 Related: Best Rooftop Bars and Restaurants in Orlando
Dock Bar at the Boathouse – The Boathouse is a popular restaurant at Disney Springs and it is always pretty busy but the Dock Bar located on the water has a decent amount of seating so that you can normally find a spot either directly at the bar or at a high-top table. They also have a marina featuring the largest collection of fully restored "Dream Boats" from the '30s, '40s, and '50s. This is a fun and whimsical spot to bring a date and enjoy a Disney Springs sunset.
Photopass Studio – If you and your date are looking to capture the moment with some photography, stop by the PhotoPass Studio at the Marketplace in Disney Springs. The PhotoPass photographer will take your photos against a green screen and put you and your date against a rotation of various virtual backgrounds. Photos are uploaded to your My Disney Experience account and if you are an Annual Passholder with PhotoPass digital downloads included, the photos are free. No reservation is required for this experience and no upfront fees are required.
Related: Disney Springs Food: 10 Snacks You MUST Try
Walt Disney World Resorts
Important note – The official policy of Walt Disney World Resorts is that parking is limited to guests staying at the hotel or those with confirmed dining reservations. This tends to be enforced the most at the resorts near Magic Kingdom and Epcot. If you do not have a reservation see if you will be admitted when you explain you are heading to the resort's lounge for something to eat and drink.
Tri-Circle-D Ranch – Have you ever wondered where the horses of the Walt Disney World resort are stabled? Head over to Disney's Fort Wilderness Resort & Campground to check out Tri-Circle-D Ranch. This is a huge stable facility to house and care for the horses of Walt Disney World. You will see breeds that include Arabians, Belgians, Clydesdales, and more! Adventuring to Tri-Circle-D Ranch is a fun date idea and you can top it off with dinner reservations at Trail's End Restaurant or Hoop-Dee-Doo Musical Revue (returning summer 2022).
And if it's a date where you have to bring the younger kiddos, they have pony rides at an affordable price of just $8 per child.
Animal Kingdom Lodge Savannah – You don't have to go to the Animal Kingdom park to see wildlife on a savannah. Disney's Animal Kingdom Lodge has its own savannah with wildlife, like giraffes, zebras, and flamingos. If you don't have a dining reservation, no worries, you have options to get food or have a cocktail. After checking out the wildlife on the savannah, continue date night at the Cape Town Lounge and Wine Bar next to Jiko, or Victoria Falls Lounge just above Boma. The entire experience at the Animal Kingdom Lodge will transport you without admission to a theme park.
Pathway between the Grand Floridian and Polynesian – You might decide to do a bit of resort/lounge hopping for date night. Start at either the Polynesian Village Resort or the Grand Floridian Resort. Once you're ready to move from one resort to the other, take the path between the two resorts. This path will take you along Seven Seas Lagoon with beautiful water views and offer you a nice quiet, romantic stroll.
Along the path, you'll come across the now-retired theatre for the Spirit of Aloha Dinner Show as well as Disney's Wedding Pavilion. Near the Wedding Pavilion, there is a wedding shop with display windows you can take a peek at to get a look into what a Disney wedding looks like. If you time it just right you might be able to get a glimpse of the Magic Kingdom fireworks along this path or the Electrical Water Pageant.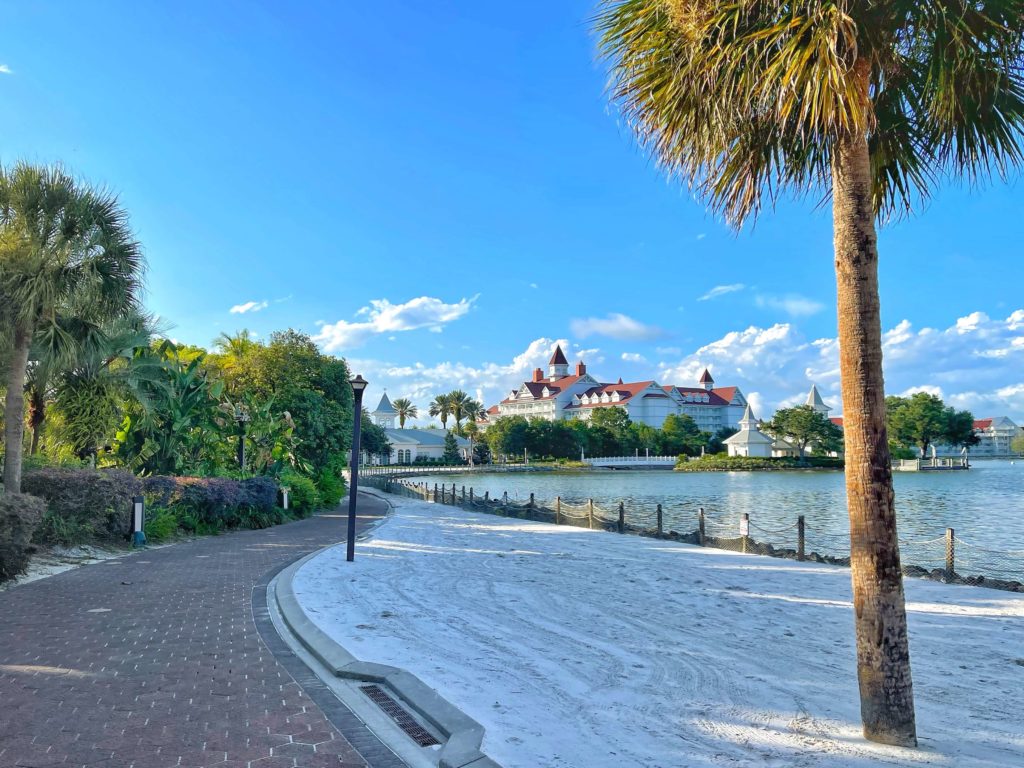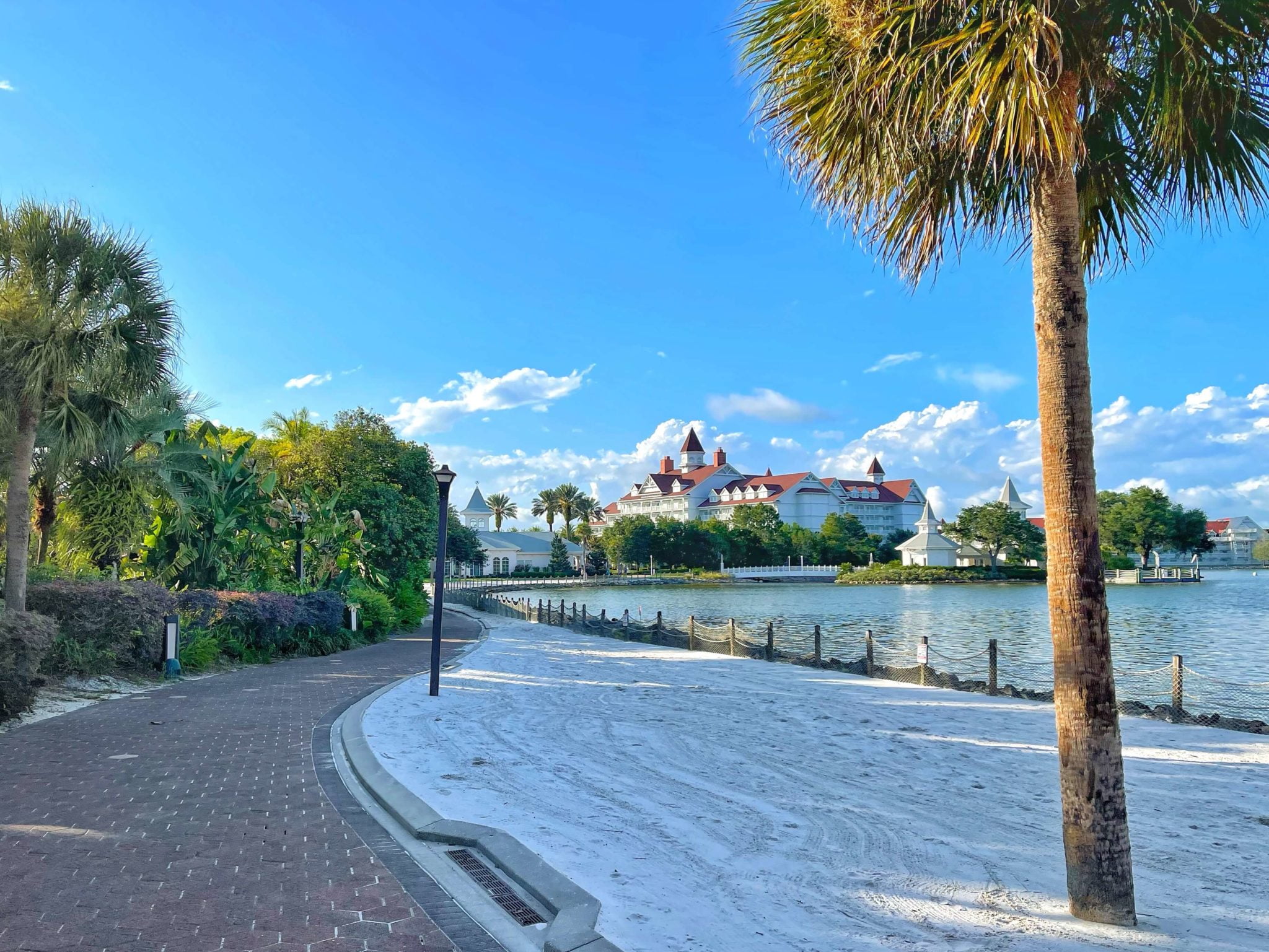 Editor's note – We're happy to have Brian (@briantreks) contribute and provide his Disney expertise.
Just can't get enough romantic things to do at Disney? Check out more of our Disney date guides: