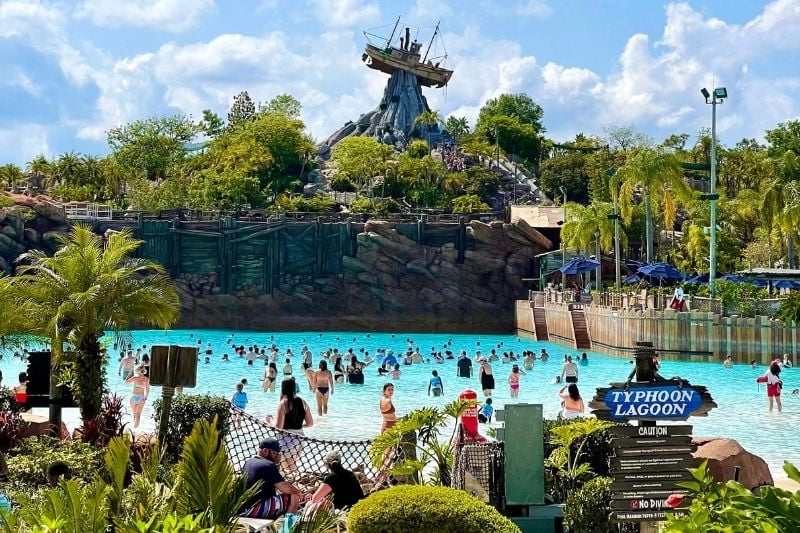 Typhoon Lagoon is one of two water parks on Walt Disney World property and the most popular water park in Orlando. If you're a local it will give you the feeling of getting away to a tropical retreat with many opportunities to cool off during hot Central Florida summers. And if you're visiting, it will give you the tropical escape you for which you traveled to Orlando. These tips for couples will help you relax while sipping cocktails and seeking adventure on water slides.
What is there to do at Typhoon Lagoon?
As you enter the park you will notice Mount Mayday, sitting below the mountain is Typhoon Lagoon Surf Pool. This is the signature attraction at Typhoon Lagoon and it is the largest wave pool in North America. The swells of this wave pool are the largest I've seen at a water park and can be a lot of fun to ride. Experienced surfers can book private surf sessions before or after the park closes. 
If you enjoy thrills, you have got to check out Crush 'n' Gusher! This coaster-like raft ride features a two-person raft, perfect for you and your date! There are three different slides within the Crush 'n' Gusher attraction. My favorite was the Banana Blaster chute.
This water coaster splashes into a calm pool, a great place to relax together. It's a zero-entry pool, nestled by white powdery sand and has a roped-off section just for guests who want to relax in the pool, even without going on the water slide. 
Pro-tip: If you find there aren't many available lounge chairs near the main wave pool, then consider setting up shop at this part of the park, near Crush 'n' Gusher. It is number 12 on the Typhoon Lagoon Map (see screenshot with highlighted areas below).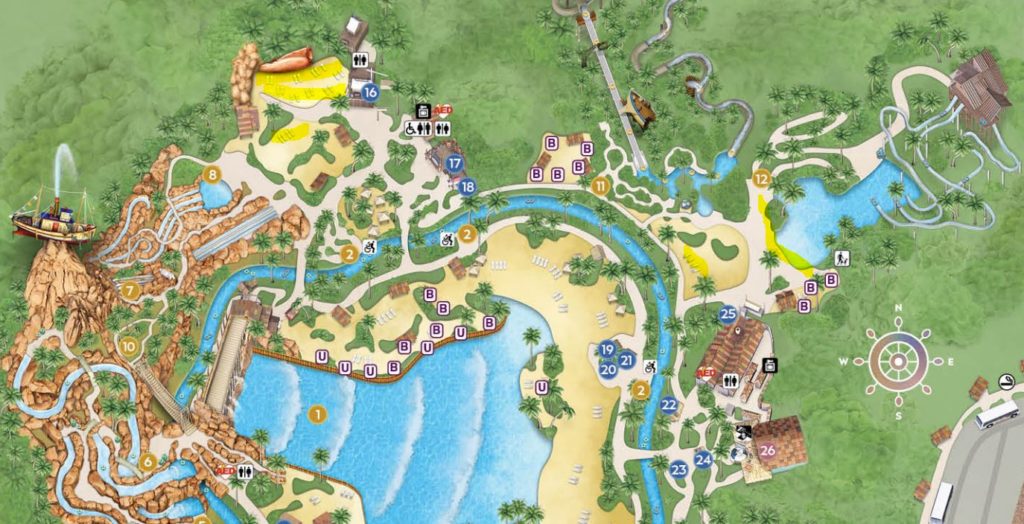 When you're ready to slow down and relax, hop in Typhoon Lagoon's lazy river, which is called Castaway Creek. At 2,000-foot-long, it is a pretty long lazy river. There are plenty of inner tubes to help you float your cares away. 
In addition, Typhoon Lagoon offers the following water slide attractions:
Tips for Couples
Pack and bring a bag with the essentials! Don't forget beach towels. I recommend bringing two per person. If you are visiting from out of town they do have towel rentals within the park.
Bring water with you to stay hydrated throughout the day. Sunblock is essential because there will be many moments when you're in direct sunlight if you're going to be waiting to ride water slides. Pack cheap sunglasses you aren't afraid to lose. I speak from experience, I've lost sunglasses in the wave pool!
I recommend getting to Typhoon Lagoon as early as possible. Park-open is always best to have the best choice of seats. Typhoon Lagoon's hours are typically 10:00 am – 5:00 pm, though closing is sometimes pushed to 6:00 pm during peak holiday weekends. 
I recommend seeking out chairs in shade. You will notice that throughout the beach area there are some open-air structures in the seating areas that offer shade. The shade is limited though, so keep an eye out for the perfect spot. 
If you find the shade has shifted during the day, there is nothing wrong with packing up in search of a different spot. In fact, crowds tend to thin out after 3:00 pm. So change it up and find a new spot if you want more shade.
Related: Have the Perfect Day at Universal's Volcano Bay
Consider Premium Seating Options
If you want to secure yourself a shady, premium spot, grab a Typhoon Lagoon Umbrella. These reserved umbrellas are $40-$70 and include the following:
A beach umbrella

2 reserved lounge chairs

2 beach chairs

A drink table

Towels
If you really want to impress your date grab a Beachcomber Shack, which is Typhoon Lagoon's version of a cabana. These can fit six to eight guests. The cost varies by season and day of the week, ranging from $225–$340. All Beachcomber Shacks include the following:
Towels

Cushioned seating

A locker

Souvenir refillable mugs

Cold water, available all-day
Which is better – Typhoon Lagoon or Blizzard Beach?
You really cannot go wrong with either Disney water park. Both Typhoon Lagoon and Blizzard Beach have about the same amount of water slides, attractions, and places to eat. However, most guests give a slight edge to Typhoon Lagoon thanks to its lush tropical atmosphere.
Those tropical vibes make it even more appealing as the best Disney water park for couples. Blizzard Beach will not disappoint if that's where you decide to splash away the day, and if you have kids with you, most families find it to be a little more fun for kids.
Important note: Disney usually only has one water park open at a time. Typhoon Lagoon is usually open in the spring and summer, while Blizzard Beach is usually open in the fall and winter.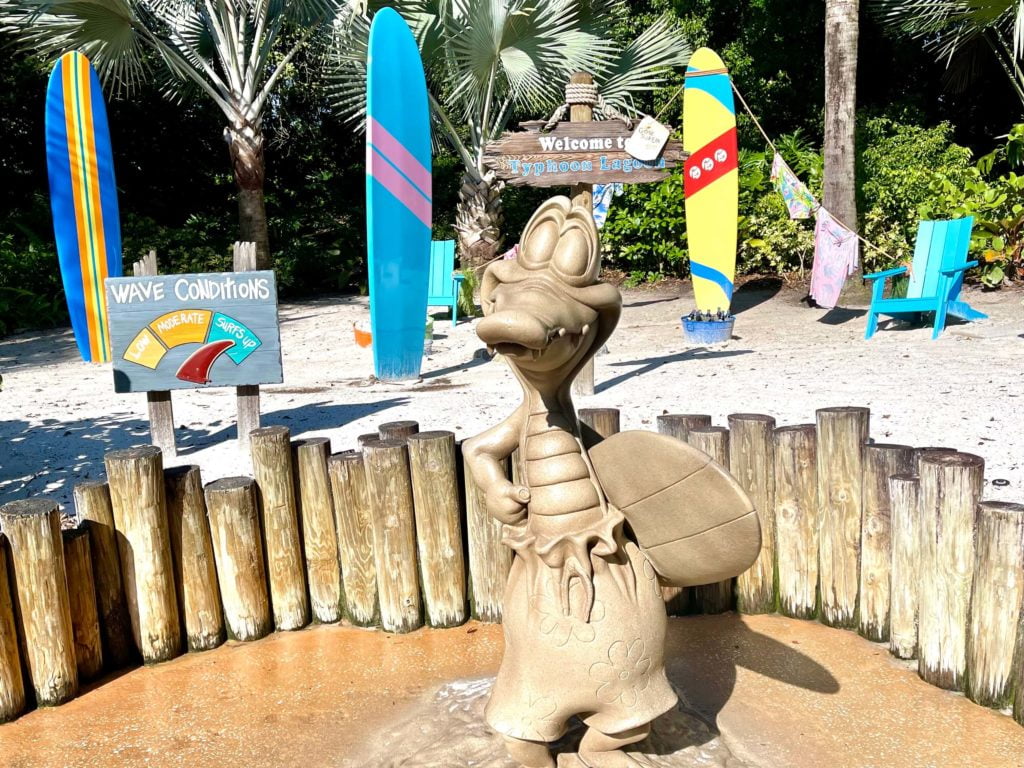 Choosing When To Go
The best time to go to Typhoon Lagoon is on a weekday. And yet, if it is a week with a national holiday then even the weekdays are busy. Avoiding the weekends is best because weekends will bring more locals into the park.
However, if the weekend is your only option I recommend arriving 30 minutes before the park's opening time. It's important to pay attention to park hours and do some research on this prior to your visit. The water parks have shorter hours than the theme parks.

Hot Disney Date Idea – H2O Glow After Hours
During the summer months, Typhoon Lagoon hosts an after-hours event called Disney H2O Glow After Hours. This event happens at night after the park has closed. The park is illuminated for nighttime fun including a DJ dance party and shorter wait times for attractions. Snacks are included in the event ticket, too! If you're looking for lower crowds and to beat the sun this party is a great option.
Since this lively party takes place at night, there are fewer kids around. And the party music and lighting ramps up the fun atmosphere. Consider packing a change of clothes since the sun won't be out to help dry you off. There are changing rooms at Typhoon Lagoon, in the locker area up near the front of the park.
Related: The Most Romantic Spots at Disney World
Eating and Drinking at Typhoon Lagoon
There are two main quick-service restaurants located in Typhoon Lagoon, Typhoon Tilly's and Leaning Palms. On my most recent visit, I dined at Leaning Palms where they offer rice bowls. The bowl was tasty and offered just the right amount of food. Service was quick and it was not difficult to find seating nearby. 
For the Dole Whip fans out there I recommend stopping by the Snack Shack they offer a variety of Dole Whip flavors including pineapple, lime, mango, and raspberry! I tried lime and mango swirled together… yum! 
For those seeking ice cream, you'll want to head over to Happy Landings Ice Cream. On our most recent visit, we satisfied our sweet tooth by trying the 50th Anniversary Sand Pail. This thing was surprisingly delicious, packed with birthday cake-flavored soft-serve, sprinkles, waffle cone pieces, and rainbow cake. It's massive but so worth it!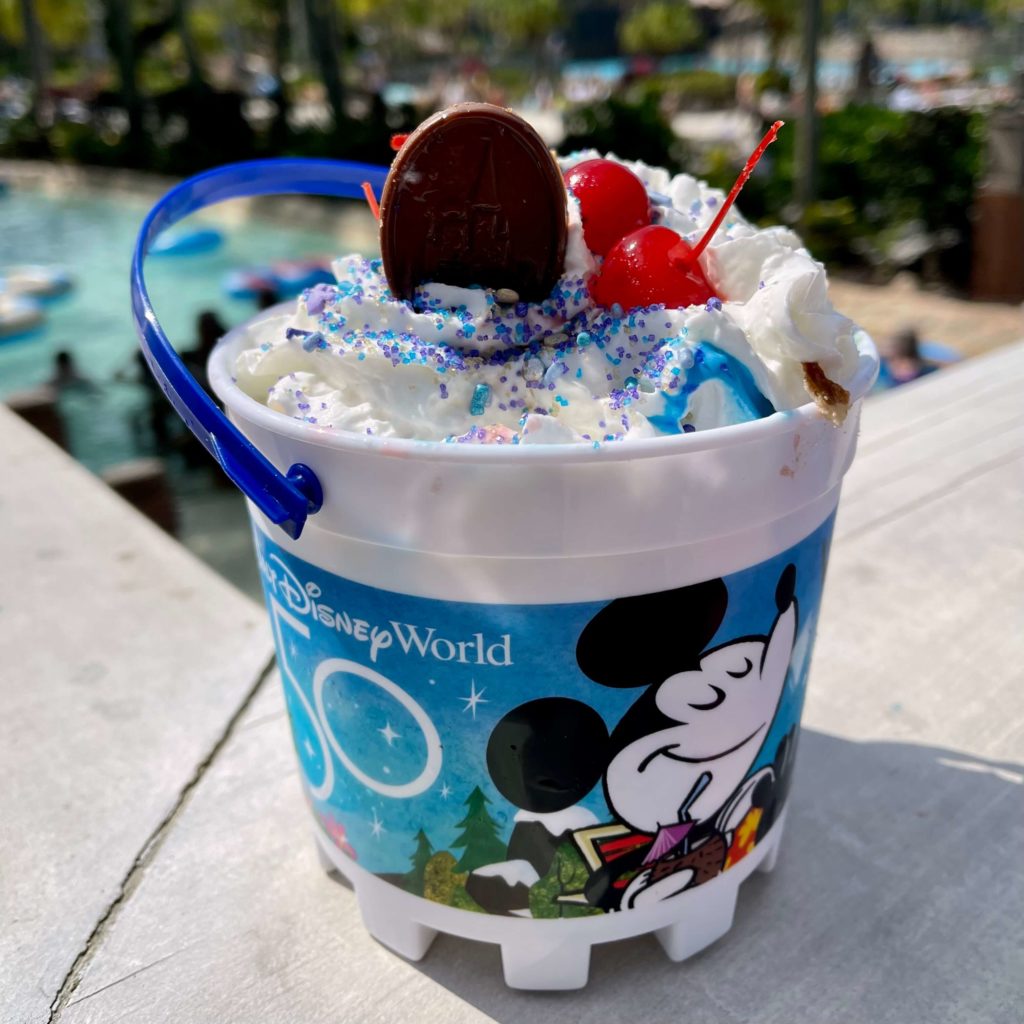 You're never too far away from adult beverages either. I recommend stopping by Let's Go Slurpin'. They offer a variety of cocktails both on the rocks and frozen, plus beer and wine – all with views of the wave pool and Mount Mayday.
Pro-tip – Save time and mobile order your food.  Relax in your lounge chair as you mobile order your meal at Typhoon Lagoon. You'll need to download the My Disney Experience app and have a valid form of payment like a credit card or Disney gift card. There are multiple locations at Typhoon Lagoon that offer mobile order services.
Secret Spot at Typhoon Lagoon
This spot is on the map, but you'll rarely find people in this area. Look on the map for #10 or follow the signs to "Mountain Trail." This pathway will take you up for a closer look at Mount Mayday and the ship, "Miss Tilly" which was thrown up on the mountain by a typhoon – or so legend has it.
The trail will provide amazing panoramic views of the park as well as the opportunity to take amazing photos with no crowds. Kick-off your day here to get the lay of the land, or cap it off as you bid farewell at the end of the day.
There is a suspension bridge and waterfalls. Definitely take the time to explore. On our last date to Typhoon Lagoon, we ventured up there three different times throughout the day!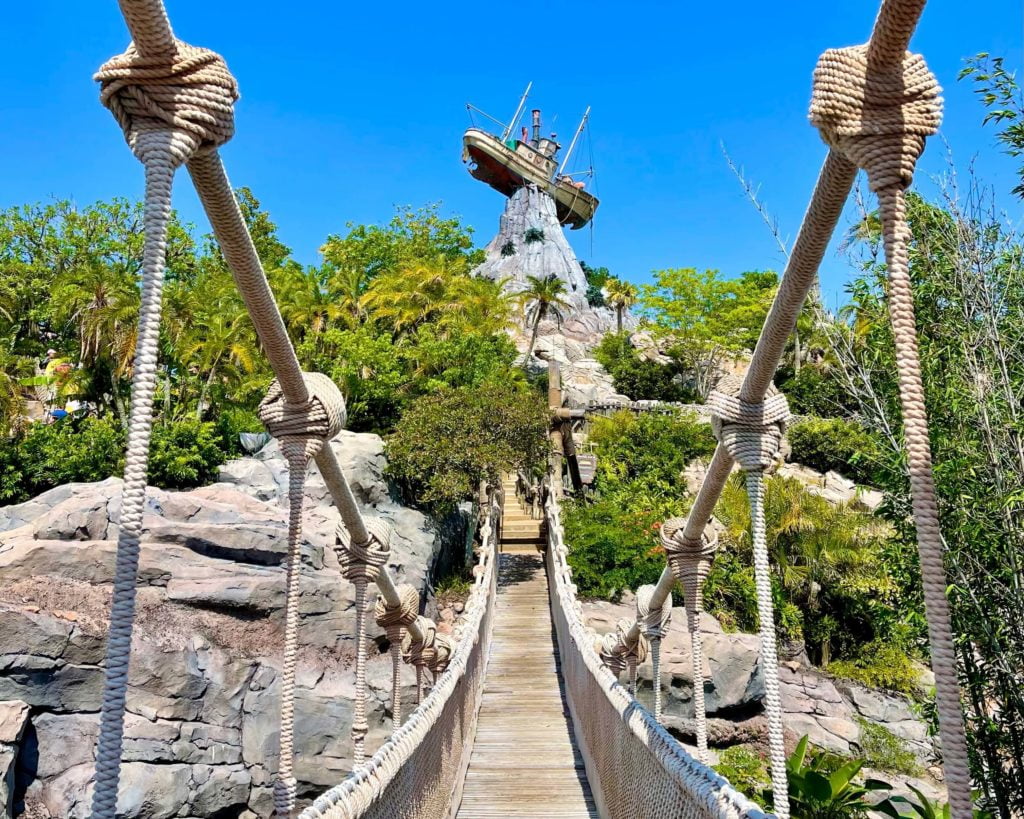 ---
 How much does Typhoon Lagoon cost?
There are a couple of ticket options for Disney's water parks. The most cost effective option is to add it to a multiday ticket.
There are two options for this: Disney Park Hopper Plus option (if you want to visit more than one theme park in a day) or Water Park and Sports Option (one theme park per day plus additional visits to the water park and more). These add-ons cost about $40 – $55 per day depending on the season and day of the week.
Ticket Offer for Florida Residents: Florida residents can purchase a 2-Day Disney Water Park Ticket for just $69 plus tax, through June 30, 2022.
A 1-Day Water Park Ticket for either Disney Water Park is $69.00 plus tax for ages 10 and up.
Looking for more romantic Disney World dates? Check out these date ideas:
All images by Brian Kirkwood (@briantreks)