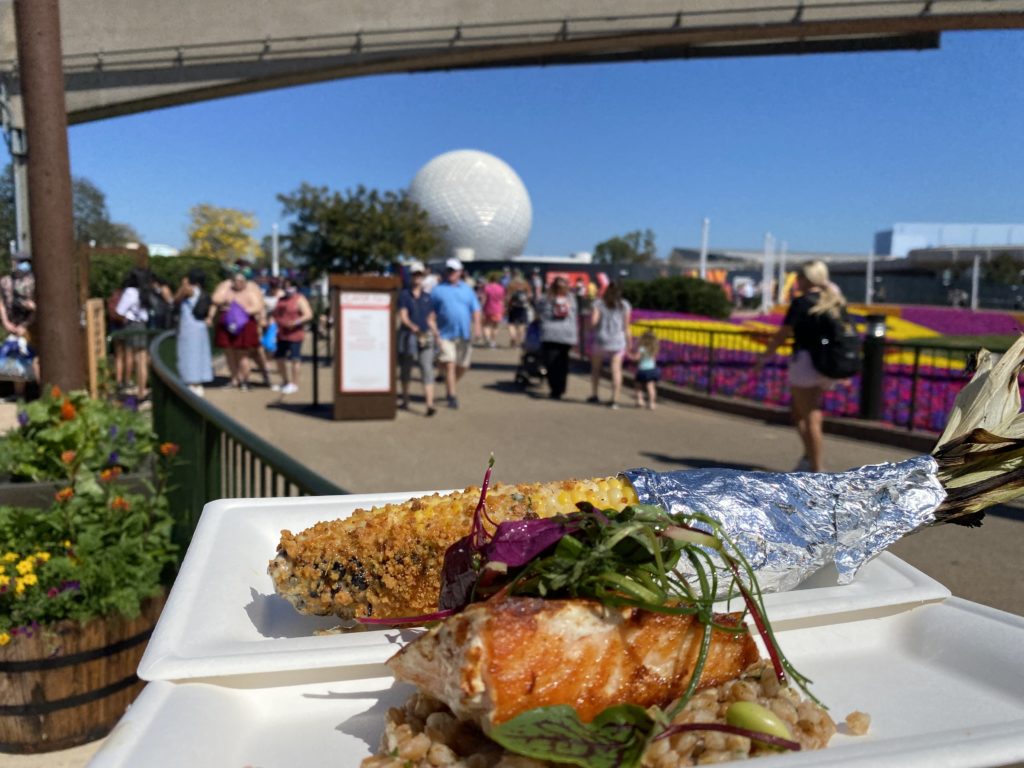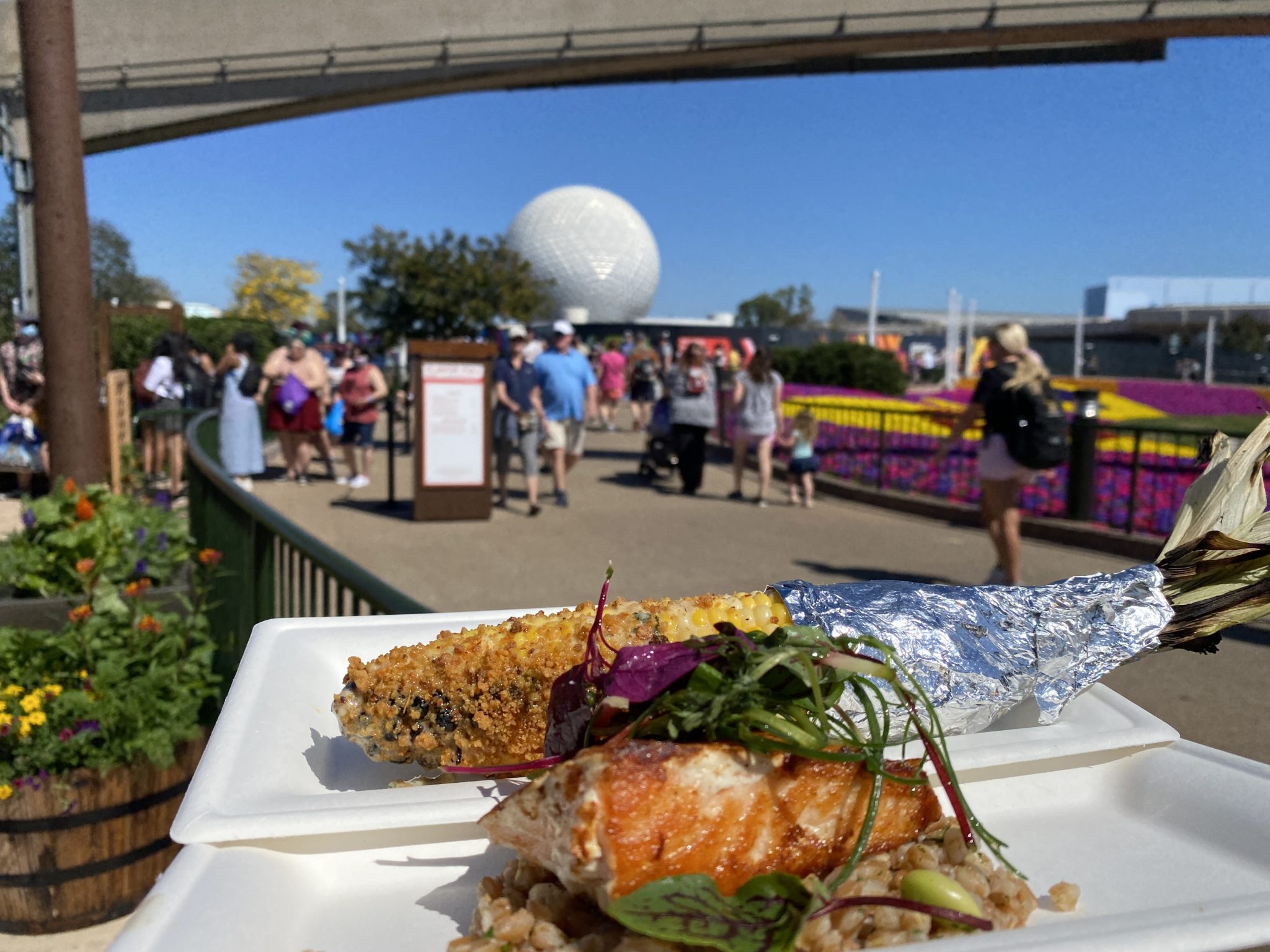 It's time to let your love bloom at the 2022 Epcot Flower and Garden Festival. This beautiful festival runs from March 2 – July 4, 2022.
Our guide to a wonderful date at the Epcot Flower And Garden Festival 2022 includes our picks for the best food and drinks, plus where to find all the captivating Disney topiaries and gardens. And if you want to cap off the night with some live music, we've included the Garden Rocks Concert Lineup and tips on how to make the most of your time.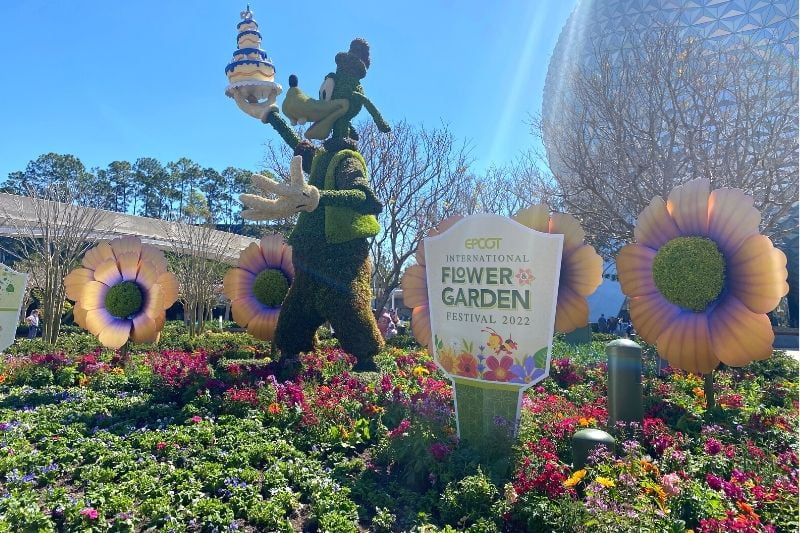 Best Food at Flower And Garden Festival
For many couples the Flower and Garden Festival at Epcot is a beautiful date idea because of the lovely gardens and topiaries, coupled with the delicious food and drink. There are so many choices it can be overwhelming.
Here is the best food at the 2022 Flower And Garden Festival:
Seared Salmon with farro risotto and micro herbs – Flavor Full Kitchen Hosted by AdventHealth (Between Imagination! and Refreshment Port)
Crispy Mojo Marinated Pork Belly, with avocado cream, corn salsa, salsa verde, and plantain chips (Gluten/ Wheat Friendly) – The Citrus Blossom (Near Port of Entry)
Tupelo Honey and Sweet Corn Spoon Bread with jalapeños, bacon, and house-made whipped honey butter (Gluten/ Wheat Friendly) – The Honey Bee-stro
BLT Scone with Nueske's applewood-smoked bacon, sundried tomato, and basil – Cider House (United Kingdom)
Toasted Pretzel Bread topped with black forest ham and melted Gruyère cheese – Bauernmarkt: Farmer's Market (Germany)
Warm Cheese Strudel with mixed berries – Bauernmarkt: Farmer's Market (Germany)
Taco Vampiro: Barbacoa beef in a corn tortilla with crispy grilled Monterey jack cheese, salsa ranchera, and esquites (Gluten/ Wheat Friendly) – Jardin de Fiestas (Mexico)
Important note about EPCOT Farmers Feast booth (Near Test Track) – For 2022 the Farmers Feast booth has a menu that changes throughout the festival. Be sure to check Disney's official Foodie Guide to the 2022 EPCOT International Flower & Garden Festival to see all the menus including the dates of the menu changes at this booth.
Currently, the Summer Solstice menu is in season, through the end of the festival. Tomato & cornbread panzanella with burrata cheese, Barbecue seared pork tenderloin with summer succotash, herb butter, and grapefruit vinaigrette, and A Whole Lotta Melon: feta cheesecake with watermelon curd, pickled watermelon rind, watermelon caramel, and compressed watermelon are all refreshing and delicious. And the Hibiscus lemonade cocktail continues to be a favorite.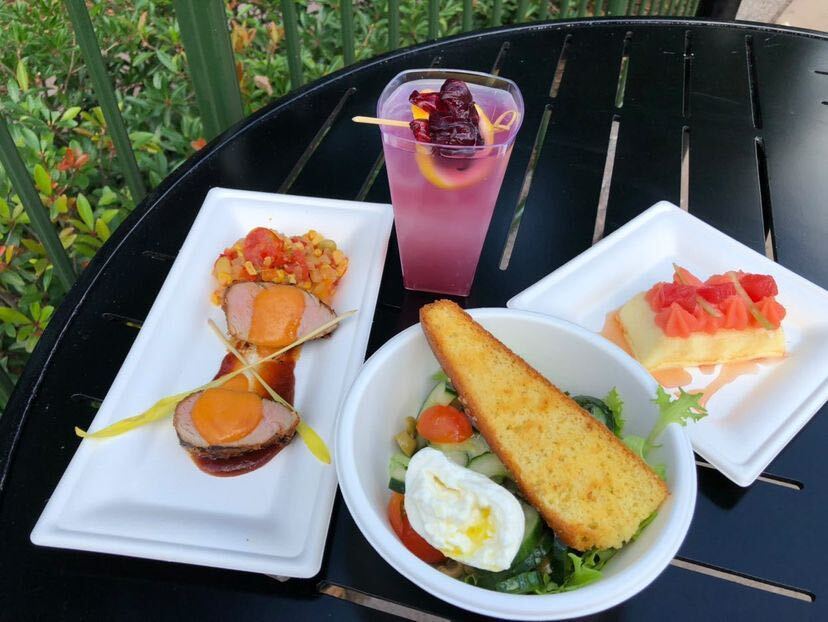 Relaxing Date Idea – head to Tangierine Café: Flavors of the Medina (Morocco) for a relaxing environment. Rest your feet at the many tables and chairs, and it is all indoors. Beautiful Moroccan music can be heard softly over the air as lovely Moroccan art and decor surrounds you. Have some light nibbles and sip on refreshing beverages.
Food Items:
Mediterranean Flatbread with za'atar, artichokes, olives, mozzarella, and feta cheese (New)
Vanilla, Rose Water, and Pistachio Panna Cotta
Beverages:
Pomegranate Mimosa
Ginger and Elderberry Ale
Pomegranate Hard Cider
Blackberry Mint Mead
Plant-Based Food at Epcot Flower and Garden Festival
You might imagine that a festival at Epcot centered around plants and flowers would have some decent choices for plant-based food. Thankfully, you can find lots of plant-based foods at Epcot's Flower and Garden Festival 2022.
House-made Italian Sausage and Peppers Poutine – Refreshment Port (Near Canada)
Boneless Impossible Korean Short Rib with cilantro-lime rice, Danmuji slaw, and Kimchee Mayonnaise – Trowel & Trellis (Near Disney Traders)
Chocolate Cake with whipped cassis mousse, raspberry gelato, and fresh raspberries – Trowel & Trellis (Near Disney Traders)
Tostada de Chorizo: Plant-based Chorizo and black beans on a crispy corn tortilla with avocado mousse and queso fresco – Jardin de Fiestas (Mexico)
But wait, there's more! You can explore an official food crawl at Epcot, and it's all plant-based foods, see below.
Garden Graze Food Crawl at Epcot
Did you know you can participate in an official festival food crawl at Epcot? This special experience is called the Garden Graze, and it's all plant-based foods. Just pick up a Festival Passport and look for the food items that are part of the Garden Graze. After you collect all five stamps, head to Pineapple Promenade to receive your Festival-exclusive treat.
Avocado Toast with marinated toybox tomatoes on toasted ciabatta – EPCOT Sunshine Griddle (Near Test Track)
Grilled Street Corn on the Cob with savory garlic spread – Flavor Full Kitchen (Between Imagination! and Refreshment Port)
Grilled Baby Vegetables with hummus cream and red pepper coulis – Trowel & Trellis (Near Disney Traders)
Potato Pancakes with house-made applesauce – Bauernmarkt: Farmer's Market (Germany)
Coconut Tres Leches: Vanilla cake soaked in oat milk, almond milk, and coconut milk with toasted coconut – La Isla Fresca (Between Morocco and France)
Best Drinks at Flower And Garden Festival
Hibiscus Lemonade Cocktail featuring hibiscus gin – EPCOT Farmers Feast (Near Test Track)
Lavender Martini: Vodka with lavender and lemon – Refreshment Port (Near Canada)
Fresh Pressed Mango, Pineapple, and Guava Wheat Ale – Pineapple Promenade (Near Port of Entry)
Twinings Energizing Matcha Cranberry & Lime Green Tea with lime vodka served in a mason jar – Trowel & Trellis Hosted by Impossible™ (Near Disney Traders)
Honey-Peach Freeze with Blueberry Vodka – The Honey Bee-stro
Cucumber Cooler: Sake, vodka, and cucumber garnished with a cucumber slice – Hanami (Japan)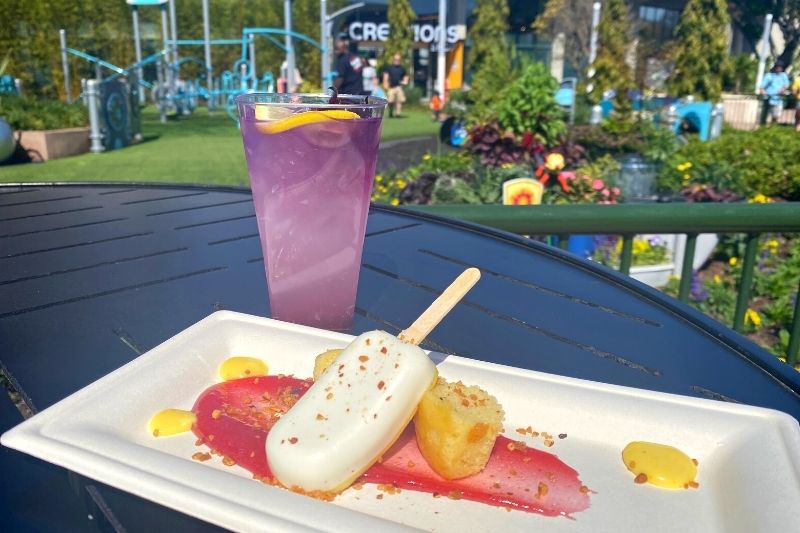 DISNEY'S ENCANTO AT THE FLOWER AND GARDEN FESTIVAL AT EPCOT
The breakout hit, "Encanto" is taking Disney fans by storm. To celebrate, there is a food and drink booth inspired by Colombia and "Encanto." This booth is one of the most popular of the 2022 Flower and Garden Festival. It is located between the France and Morocco Pavilion.
During the Festival of the Arts fans were surprised to see this booth not serving arepas. Anyone who has watched "Encanto" knows the importance of arepas to the Family Madrigal. Fear not! The La Isla Fresca features three different styles of arepas!
Arepas topped with melted queso fresco (Gluten/ Wheat Friendly)
Arepa topped with shrimp, crushed avocado ají, and tomato sauce (Gluten/ Wheat Friendly)
Arepa topped with chorizo
There is also a refreshing drink here called the Tropical Breeze with lemonade, grapefruit juice, and simple syrup – available with and without rum.
Got kids along with you? A Parent's Guide to EPCOT International Flower and Garden Festival 2022
Topiaries at Epcot Flower and Garden Festival
The highlight of the Flower and Garden Festival, besides the food and drink, are the incredible Disney topiaries. These topiaries make for adorable photo opportunities together, especially the ones that feature famous Disney couples.
Here are some of the must-see topiaries at the 2022 Epcot Flower and Garden Festival:
Goofy Topiary and Walt Disney World 50th Anniversary Celebration Cake – Main Entrance
Buzz Lightyear – near Mission: SPACE
Figment – near Imagination!
The Three Caballeros (Jose, Donald and Panchito) – Mexico Pavilion
Anna and Elsa – Norway Pavilion
Dragon – Japan Pavilion near Torii Gate
Simba and Friends (Rafiki, Simba, Mufasa and Sarabi) – Between Imagination! and The Land Pavilion
Pumbaa and Timon – Between Imagination! and The Land Pavilion
Snow White and the Seven Dwarfs – Germany Pavilion
Lady and the Tramp – Italy Pavilion
Beauty and the Beast – France Pavilion
Lumiere and Cogsworth – France Pavilion
Peter Pan, Captain Hook and Tick Tock Croc  – Between the United Kingdom and Canada Pavilions
Tinker Bell's Fairy House Garden – United Kingdom Pavilion
Global Gardens Throughout Epcot
Besides the precious topiaries, there are lovely gardens throughout Epcot. Here are some favorites:
Blossoms of Fragrance Presented by Scentsy (NEW) – World Showcase Bridge. Follow your nose and form lasting memories with the help of fresh, unforgettable fragrances.
Outdoor Escapes – World Discovery. Unwind in refreshing spaces that show just how easy it is to create an outdoor escape that brings family and friends together—no design expertise, huge budget or green thumb required! Closes at dusk. This is near where the Hibiscus Lemonade Cocktail featuring hibiscus gin is served, so stop by the EPCOT Farmers Feast booth then head to this garden to sit and relax.
Bambi's Butterfly House – World Nature near Imagination! View a kaleidoscope of butterflies up close, in all their extraordinary color. Learn about butterfly lifecycles and maybe even see one emerge from its chrysalis. Closes at dusk.
China Zodiac Garden – China Pavilion. Discover your favorite zodiac while visiting clever creations. It is a cute date idea to find out each other's Chinese zodiac as you browse this garden.
---
Trying to decide which Orlando theme park festival to go to? Here's how to Choose the Best Orlando Theme Park Festival
---
Date idea – Browse lots of adorable festival merchandise. Plus, this year Basin has its own booth, with festival exclusive products. So grab a few bath and body items to pamper each other later.
Garden Rocks Concert Lineup and Tips
You'll need to be in the American Gardens Theater at least 15 minutes before showtime to at least get a seat.
2022 Epcot Garden Rocks Lineup:
The Guess Who
March 4 & 5
Rick Springfield
March 6 & 7
Melina León
March 11 & 12
CeCe Winans
March 13 & 14
Mike DelGuidice, currently on tour with Billy Joel
March 18 & 19
Kool & The Gang
March 20 & 21
The Orchestra starring former members of ELO
March 25 to 28
The Spinners
April 1 & 2
The Pointer Sisters
April 3 & 4
Blue October
April 8 & 9
Don McLean
April 10 & 11
Tommy DeCarlo, singer of the band BOSTON
April 15 & 16
Don Felder, formerly of The Eagles
April 17 & 18
STARSHIP featuring Mickey Thomas
April 22 & 23
Claudia Leitte
April 24 & 25
Berlin
April 29 & 30
TobyMac
May 1 & 2
Blood, Sweat & Tears
May 6 & 7
The Commodores
May 8 & 9
Ambrosia with Peter Beckett
May 13 & 14
MercyMe
May 15 & 16
A Flock of Seagulls
May 20 & 21
Collin Raye
May 22 & 23
Thelma Houston
May 27 & 28
Little River Band
May 29 & 30
Simple Plan
June 3 to 6
Herman's Hermits starring Peter Noone
June 10 to 13
Plain White T's
June 17 to 20
War
June 24 & 25
Daughtry
June 26 & 27
Epic
June 28 to 30
M-80's
July 1 to 4
Garden Rocks Dining Packages
There is a dining package available in which you purchase a meal at a participating Epcot restaurant and then enjoy reserved seating for the performance. You may find a performer or band in the lineup above that is a must-see for you. And if that is the case, then I recommend booking the dining package.
Choose from 4 unique eateries at EPCOT offering Garden Rocks Dining Packages at lunch and dinner. Each package includes:
An appetizer, entrée and dessert or one (1) full buffet (where applicable), along with a non-alcoholic beverage, one (1) guaranteed seat per person to one Garden Rocks concert performance on the same day; the concert time will be assigned at the time of booking.
Tips and Reminders
Park reservations are required
Epcot's hours are typically 10am – 9pm during the Flower and Garden Festival
Most of the festival-related activities start at 11am
Hours vary to please check Disney's calendar before making plans
Arrive 15 minutes early for any entertainment and activities
Weekends are especially busy and crowds build as the day goes on
Make a getaway of it and stay at one of the most romantic Disney hotels
Read up on important information about the newest ride, Remy's Ratatouille Adventure