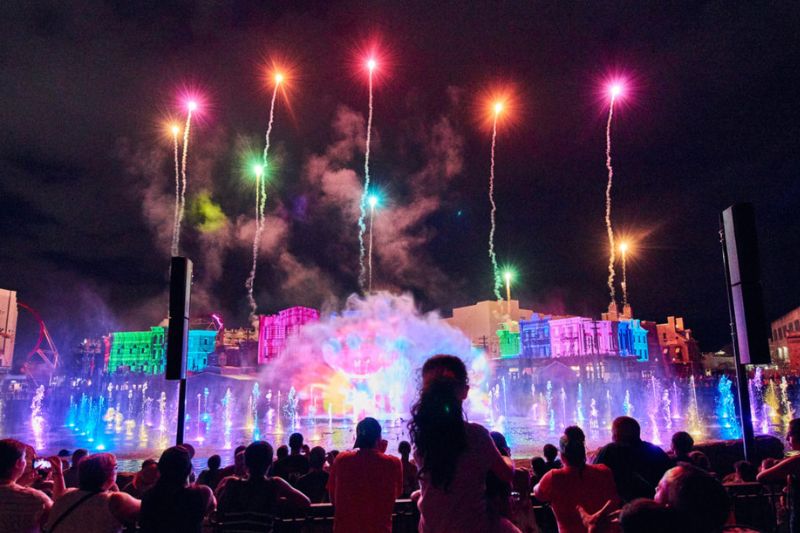 With heart-pounding thrill rides, action-packed shows, and incredible themed lands, Universal Orlando Resort is the perfect place for an adventurous day date. For a picture-perfect finish, stick around to catch a dazzling nighttime spectacular, complete with fireworks. Our guide to viewing fireworks at Universal Orlando has everything you need to plan the grand finale, from what to expect to the best time to visit.
What to Expect
Universal has four major nighttime shows throughout the year, plus bonus fireworks displays for major holidays like Independence Day and New Year's Eve. Keep in mind, that these are not all-out fireworks extravaganzas, likely because Universal is located near a residential area and subject to stricter zoning laws.
Universal's nighttime shows feature projection mapping, synchronized water fountains and soul-stirring music, all topped off with a brief but dazzling fireworks finale. Fireworks typically wrap up by 10pm, and daily showtimes are available on the official Universal Orlando Resort app.
Where Can I See Fireworks at Universal Studios Florida?
At Universal Studios, gather around the central lagoon for an epic journey through some of the studio's most beloved films. Universal's Cinematic Celebration features iconic movie moments highlighted on huge waterfall screens, accompanied by synchronized water fountains, colorful lights and projections, and a sweeping musical score. Let the waterworks flow, and delight in fireworks and pyrotechnics during the last two minutes of the show.
Universal's Cinematic Celebration is about 20 minutes long. You can catch the show anywhere around the lagoon, but the best viewing is in Central Park, located between Café La Bamba and Kidzone. The spacious park has three tiered walkways for easy viewing, and the waterfall projections are beautifully complemented by building projections across the lagoon. Keep in mind, you might get misted or splashed if stand in the tier closest to the water.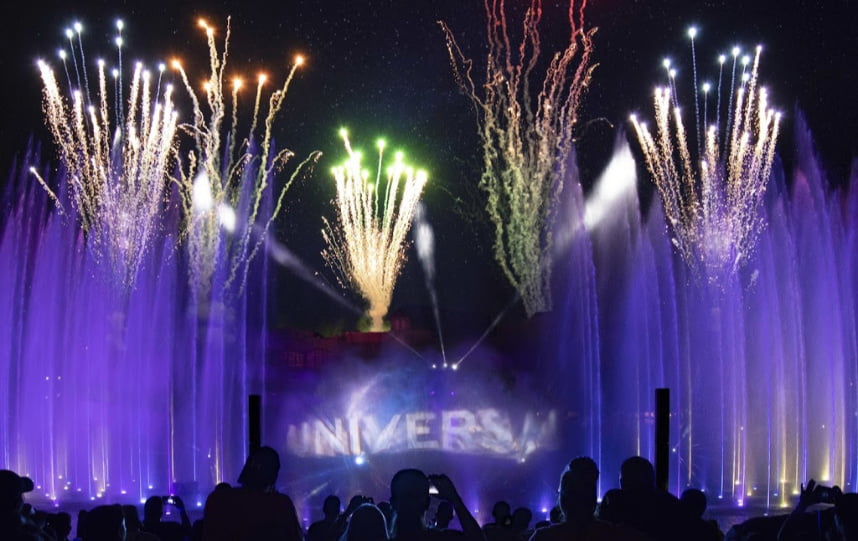 Cinematic Celebration Viewing Tips
You can find daily showtimes for Universal's Cinematic Celebration on the Universal Orlando app. If you'd like to plan ahead, here are a few things to keep in mind.
There is typically no Cinematic Celebration during special events like Halloween Horror Nights or Universal's Mardi Gras, even on non-event weekdays. Likewise, there is usually no show when the park is scheduled to close early, for example, when the park closes at 6pm.

Universal's Cinematic Celebration typically begins right when the park closes. If the park is open past 9pm, shows typically are scheduled between 9-10pm. Check the app for day-specific times.
Where Can I See Fireworks at Islands of Adventure?
There are three nighttime shows at Islands of Adventure, all located in the Wizarding World of Harry Potter – Hogsmeade. All three start at dusk, and feature projection mapping, special effects, enchanting music from the Harry Potter films, and a brief fireworks finale. All shows begin at dusk, with continuous showings every 20 minutes until the park closes. Here's a quick breakdown of the three shows you can see throughout the year.
The Magic of Christmas at Hogwarts Castle is a special holiday offering that usually runs from mid-November to early January. Cozy up by the castle and enjoy festive scenes inspired by the films, like a sweeping recreation of the Yule Ball. The show is about 8 minutes long.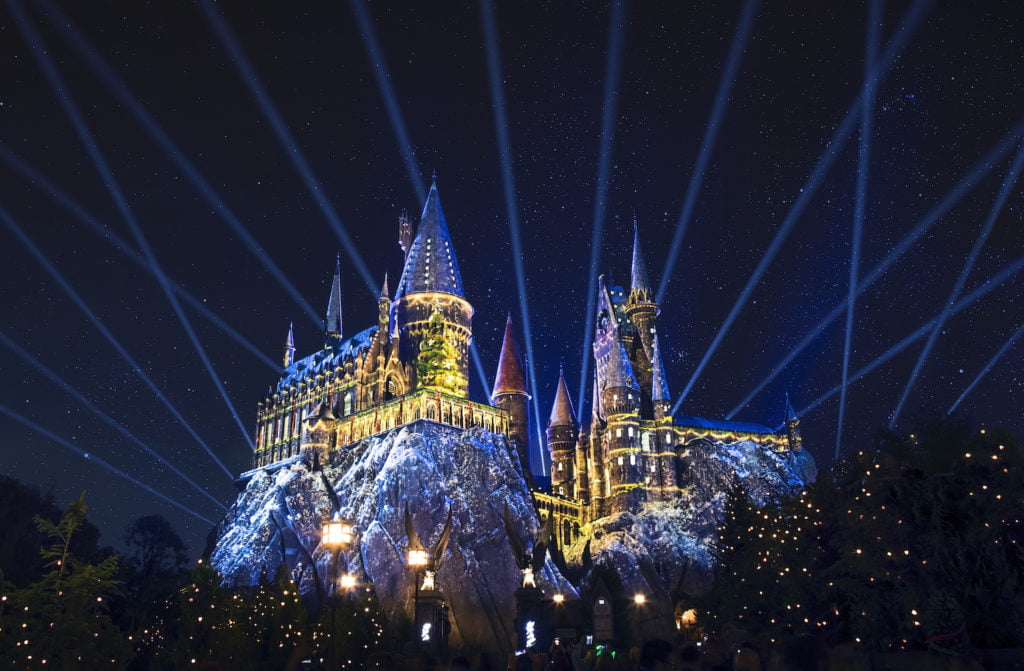 Dark Arts at Hogwarts Castle is a seasonal offering featuring the darkest creatures and villains from the Harry Potter universe. The show is a fun and spooky autumn alternative to the more gruesome offerings next door at Halloween Horror Nights. The show is about 8 minutes long. Plus, keep an eye out for Death Eaters in Hogsmeade Village throughout the day!
At all other times of the year, The Nighttime Lights at Hogwarts Castle celebrates the four houses of Hogwarts. Don your favorite house colors for a little friendly rivalry with your date! The show is about 5 minutes long.
Nighttime Lights at Hogwarts Castle Viewing Tips:
The Nighttime Lights shows are extremely popular, and the viewing area can get pretty cramped. The best viewing is near the Frog Choir stage, facing the front of Hogwarts Castle. If you want a little more space, get there early and watch from the bridge between Hogsmeade and Jurassic Park.

On crowded days, you'll need to enter the Wizarding World near the Hogsmeade train station. The Jurassic Park entrance near the castle is typically exit-only during shows, for the sake of crowd control. My recommendation? See the first show of the evening, then hop over to ride Velocicoaster just before the park closes!

Like Universal's Cinematic Celebration, this show does not take place during special events, early park closures, and other scheduled maintenance.
Does Universal Have any Holiday Fireworks?
If you're looking for a bigger boom, you might enjoy Universal's Independence Day or New Year's Eve fireworks!
For 4th of July, the festivities will kick off on Monday, July 4 at 5 p.m. and run through park close at the Music Plaza, which will be decked out in festive décor and all things red, white and blue. The celebration will culminate with a special pyrotechnics display at 9 p.m. which guests can view throughout the theme park.
Looking ahead to New Year's Eve, it is unknown if EVE at CityWalk will return. This popular New Year's event from years past enabled revelers to enjoy unlimited gourmet cuisine, multiple nightclubs, a champagne toast, and a dazzling fireworks display to ring in the new year.
In the meantime, check out some of the other great fireworks options around Orlando! I highly recommend nabbing a spot at Bar 17, the rooftop lounge at Universal's Aventura Hotel, where you can watch fireworks sparkle all over the city.
Another fun way to watch the fireworks around Orlando is at ICON Park, specifically aboard The Wheel.
4th of July Fireworks at Universal Orlando
Currently, no specific information for 2022 has been released
New Year's Eve Fireworks at Universal Orlando
Currently, no specific information for 2022 has been released