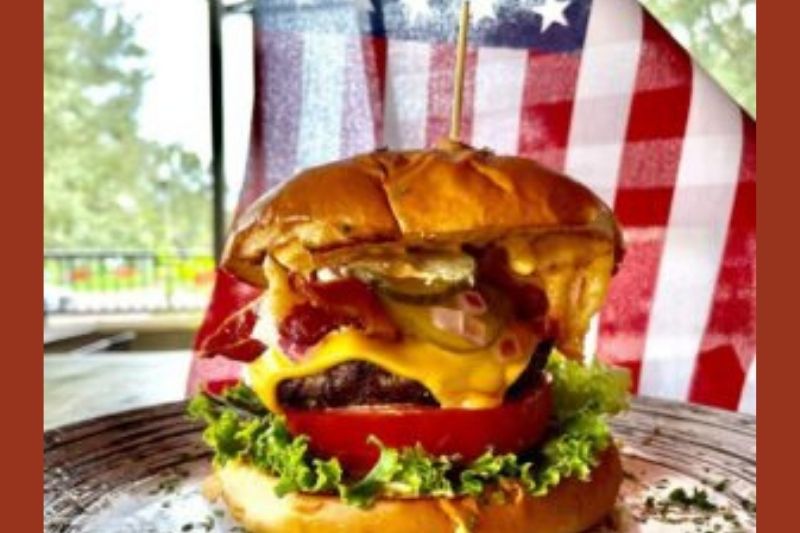 Orlando's Best Memorial Day Food Ideas
Summer eats just hit differently. With the extra heat and humidity, fresh and light food is where it's at. Summer is kicking off soon and we're ready to indulge in the best things to eat in Orlando on Memorial Day weekend.
If you're shaping up your Orlando Memorial Day Weekend plans, make time to fuel the fun with some of the tastiest food in Orlando.
fresh yummy seafood
juicy burgers
tasty tacos
plant-based bites
yummy hot dogs
finger licking bbq
and don't forget the craft beer
[Related: Making a quick trip over to Tampa Bay, Clearwater or St. Pete this Memorial Day? Tampa Bay Date Night Guide has some great Memorial Weekend eats that are worth checking out!]
Order Memorial Day Food To-Go
If your idea of the ideal Memorial Day food is by showing off your grilling skills then order the Fogo Grilling At Home Experience Package To-Go, from Food de Chão. For $130.00 you'll receive Top Sirloin (4) 5oz steaks, Bottom Sirloin (1) 16oz steak, Marinated Chicken Legs 2lb, Prime Lamb Picanha (2) 5oz steaks, Brazilian Sausage 1.5lb, plus ready to heat sides: Mashed Potatoes and Sautéed Asparagus.
Best Yummy Seafood for Memorial Weekend in Orlando
Most Floridians agree that the epitome of summer food is yummy seafood! We all love to spend more time at the beach in the summertime. Whether we can make it out to the coast or not, some delicious seafood just feels like summer, and it's the perfect way to celebrate Memorial Weekend's unofficial start of summer.
A local favorite seafood spot is The Waterfront Orlando. This casual lakeside spot is the perfect place to enjoy Memorial Day Weekend. And a seafood brunch at Reel Fish Coastal Kitchen is a great way to slow down and savor this meaningful weekend.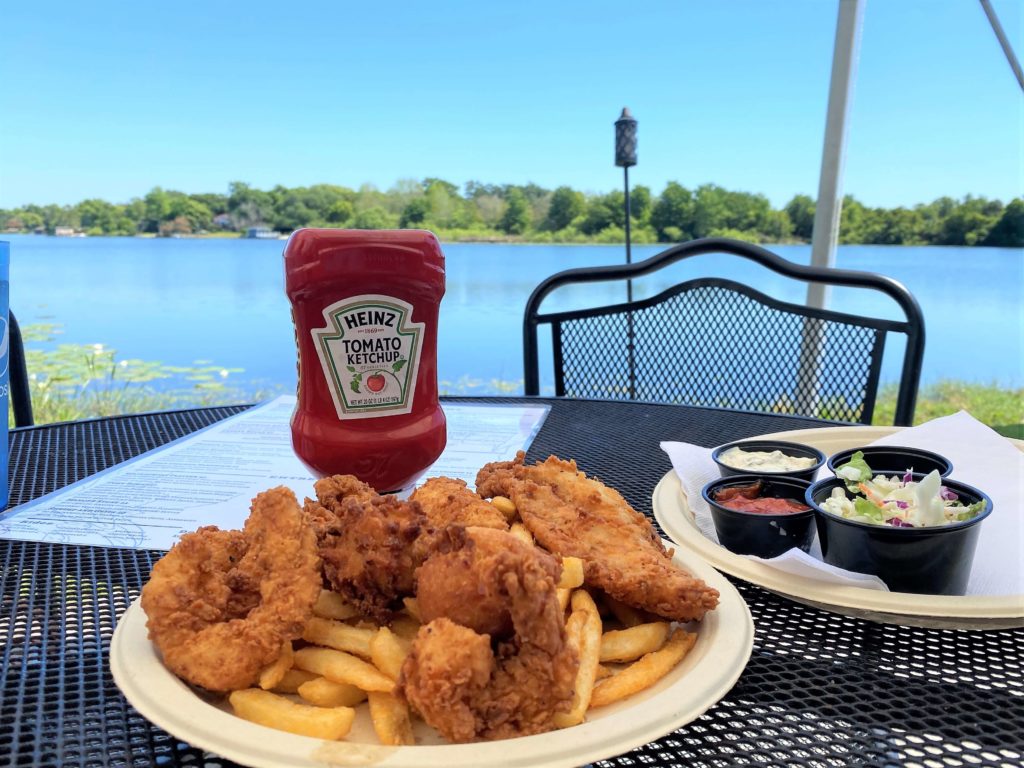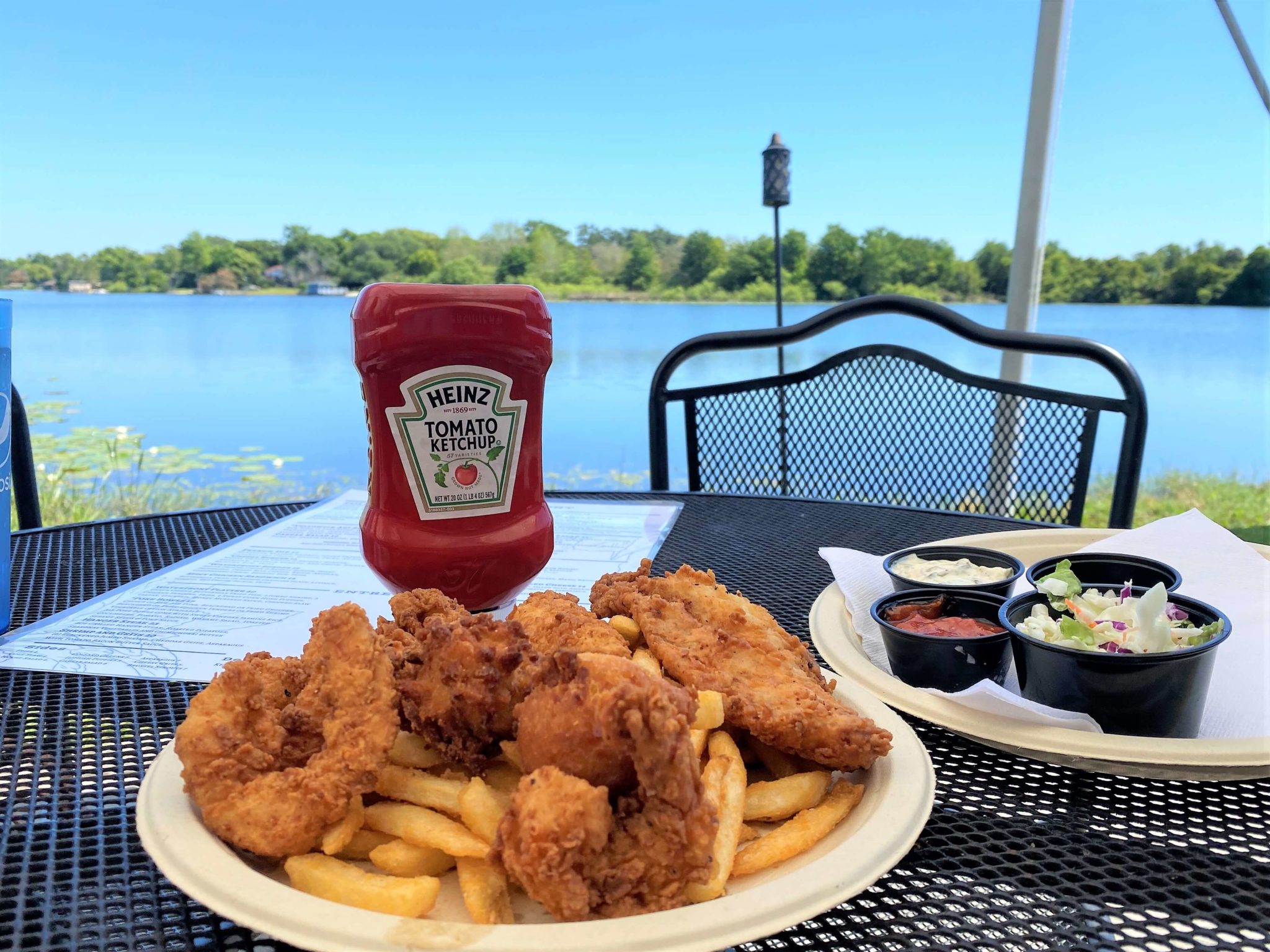 Sink your teeth into some burgers
Fire up the grill on Memorial Day weekend or enjoy the long weekend by exploring Orlando. Either way, it's the perfect time to sink your teeth into a juicy burger.
If you're planning on spending some of Memorial Day weekend at Walt Disney World then consider dining at Raglan Road Irish Pub and Restaurant. Their OMG Burger is a blend of dry-aged prime short rib and beef brisket, crowned with Irish Dubliner cheese.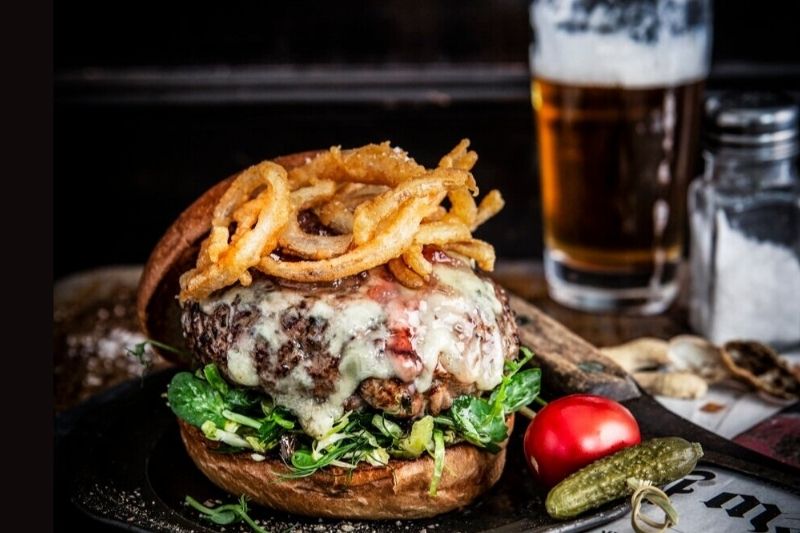 Memorial Day Weekend Brunch
STK Orlando is pulling out all the stops for brunch during Memorial Day weekend. Brunch lovers can enjoy in-house DJ, an expansive outdoor patio, bottomless mimosas and bloody marys, paired with breakfast classics like cinnamon brioche French toast, topped with decadent cream cheese icing and maple syrup on hot chicken & waffles.
As an added bonus, STK Orlando is offering 20% off for all veterans, active-duty military, and reserved throughout Memorial Day Weekend. The offer is available between Friday, May 27, and Monday, May 30.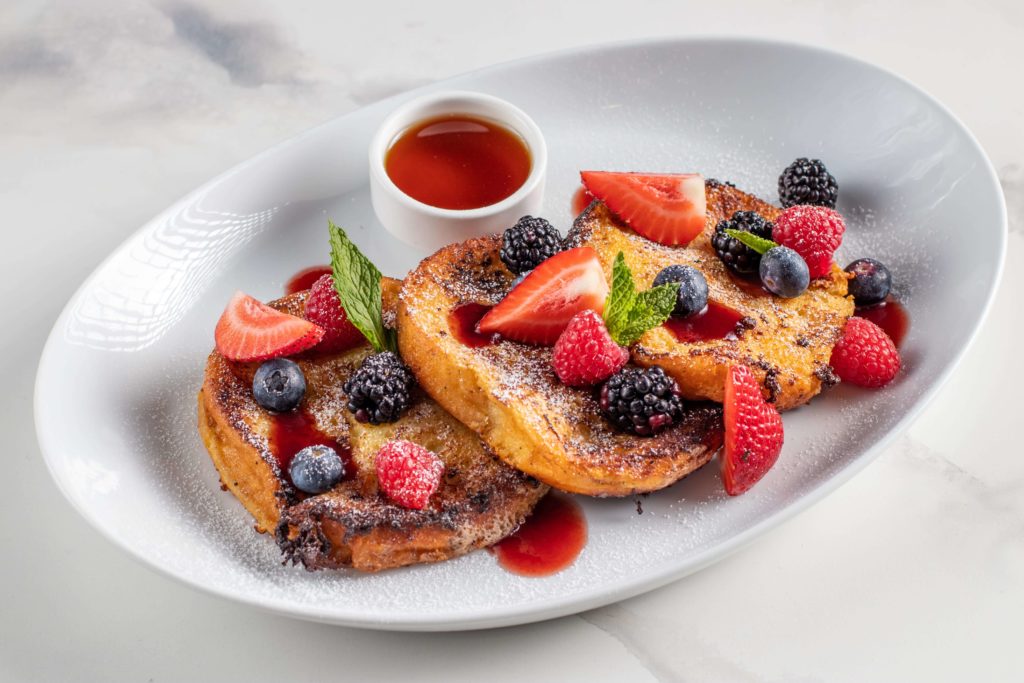 Savor some tasty tacos this Memorial Weekend
Memorial Day Weekend and the start of summer call for fresh eats, including tacos. It just feels right to savor some freshly prepared tacos, perhaps with a cold Cerveza in hand.
Enjoy the sunshine and relax at one of the many great taco spots Orlando has to offer. From the traditional tastes of Black Rooster Taqueria to the totally out-there creations of Tin & Taco, and everything in between, Orlando is stuffed with options.
Memorial Weekend Tacos at Black Rooster Taqueria
Take Black Rooster Taqueria for instance. Every taco love affair has to begin somewhere, and for me, that place was Black Rooster Taqueria in the Mills 50 District. Here, the tacos are dressed simply (cilantro, onions, salsas, shaved radishes and the like) because the flavorful meat and homemade tortillas are so amazing you really don't need all the extras. The restaurant is helmed by husband and wife duo John and Juliana Calloway.
Inside, Day of the Dead décor contributes to the vibrant and artsy interior, while the open kitchen and steady stream of patrons contribute to the lively atmosphere. Favorite tacos include the crispy fish, chicken tinga and signature Black Rooster asada. Several vegetarian options are also available. Whatever you do, make sure to order the made to order fresh guacamole. Just a heads up, the restaurant closes daily for a few hours between lunch and dinner, so get your Memorial Weekend taco fix before 2pm or after 5pm.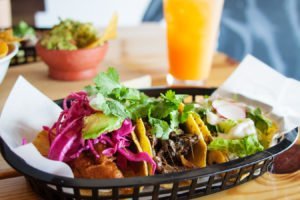 Have a Tin & Taco Memorial Day Brunch
Owned by the owner of Gringos Locos, Robert Bair, Tin & Taco became a fast favorite when it opened its first location in downtown Orlando. Now, this local brand's presence encompasses six locations, and still growing. Cheese-crusted flour tortillas come stuffed with things like craft beer mac & cheese (the Mac Attack—I recommend swapping the ground beef for brisket) and traditional tacos get an upgrade with the addition of crushed Doritos (the Tacosaurus, my personal favorite). Besides a massive variety of taco options, you can place any of the filling combinations on other menu items like rice bowls, nachos, or crispy fries. Some locations even have brunch!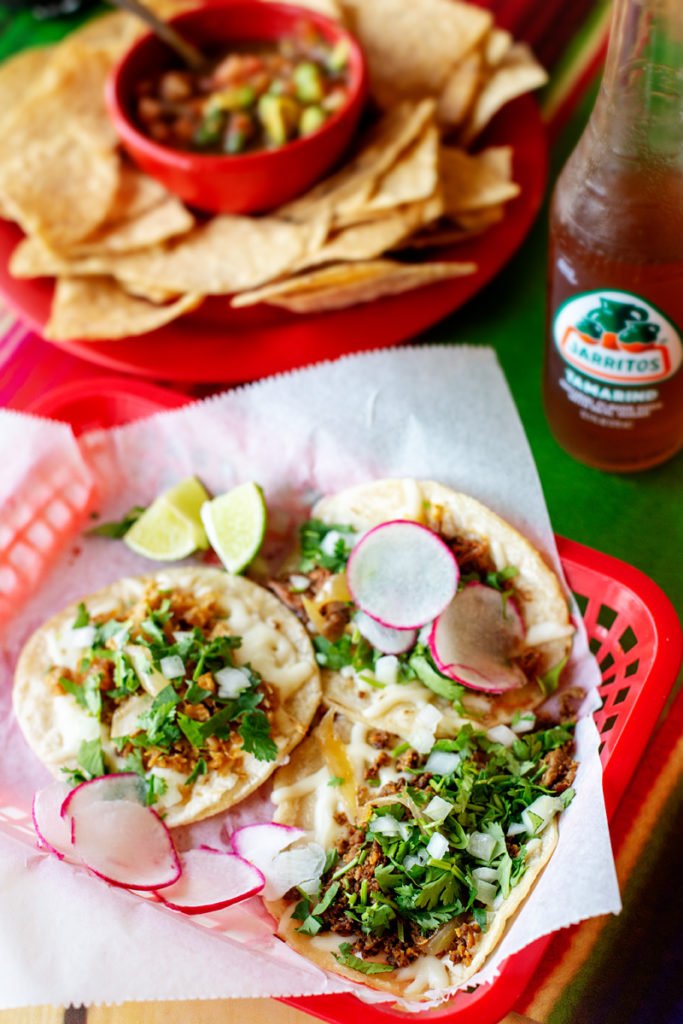 Plant-based Bites and Salads make Great Memorial Weekend dining!
At the beginning of the year, you may have been focused on ways to live a healthy lifestyle. With summer kicking off on Memorial Day weekend you may find a renewed interest in healthful options.
New on the plant-based food scene is Plantee's Burgers and it is receiving rave reviews. Everything from burgers to hot dogs to loaded fries – it's all plant-based. And with it being located in Mills 50 area it is a great date spot.
Explore more plant-based places around Orlando for fresh eats.
Yummy Memorial Day hot dogs around Orlando
Long holiday weekends sometimes mean comfort food. And with Memorial Day weekend kicking off summer you may be craving some hot dogs. People say that nothing says the start of summer like a Memorial Weekend hot dog cooked on the grill – and maybe they're right. For most of us hot dogs take us back to childhood memories that make us feel happy – so maybe it is the perfect Memorial Day food. So when it comes to buying your Memorial Day franks, do you just grab any old brand at the store or whatever's on sale? After all, they're all the same, right?
Not so fast!
For your Memorial Day hot dog, you of course want the best! Believe it or not, there have actually been very scientific-ish studies conducted to decide what the best hot dog brand in America is. Believe it or not…franks are ranked on things like "meaty-ness," texture, bite snap, and more. The Washington Post picked Costco's Kirkland Beef Hot Dogs as the best and Applegate's Organic Uncured Beef dogs as one of the worst…but foodie-authority Delish said Applegate's were the best. At the end of the Memoria Day, it's probably an eye of the beholder thing – but interestingly, ranking near the top of all the studies was Trader Joe's Organic beef dogs. So maybe like good wine, the best hot dog for you this Memorial Weekend might just be whatever one you happen to be eating!
If you really want a great hot dog in Orlando but don't feel like firing up the grill, Chicago-born-but-central-Florida-raised sisters Sandra and Monica recreated their beloved Chicago style hot dog right in Altamonte Springs at Chicago Dog and Company. Their neat menu features Chicago hot dogs to polish sausage to (naturally) the DITKA Dog, a 1/3 pound spicy polish sausage deep fried. They've got plant based hot dogs as well as other Chicago style eats.
And if you want to experiment and try some plant-based hot dogs then Dixie Dharma is a must, and there are multiple locations to satisfy your craving.
Finger licking BBQ for Memorial Day
What's a Memorial weekend to kick off summer without some Memorial Day finger-licking bbq? The great thing about Orlando is we don't have our own style of bbq which means we get to enjoy all the various styles out there.
Explore our picks for the best BBQ in Orlando.
4Rivers Smokehouse started off as a local spot and has grown to a huge brand with locations all over the state, not just Central Florida. And Munchie's Live BBQ is one of our picks for best outdoor dining in Orlando.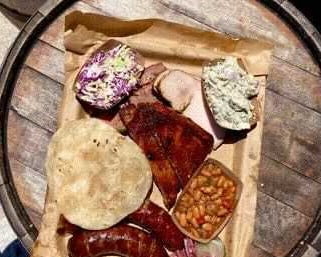 Local craft breweries in Orlando make for a great Memorial Weekend outing because of the approachable atmosphere and variety of options. Plus, many Orlando breweries have live entertainment and special events this Memorial Weekend.
Explore some of the craft breweries located near downtown Orlando including the latest spot to open, Deadwords Brewing. The atmosphere of this place is hard to beat with art and decor evoking the very early days of beer brewing throughout history. There is plenty of space to spread out and relax over the holiday weekend, and the food is unbeatable.
Check out more Breweries in Orlando to Visit This Memorial Day Weekend
Featured image from Teak Neighborhood Grill