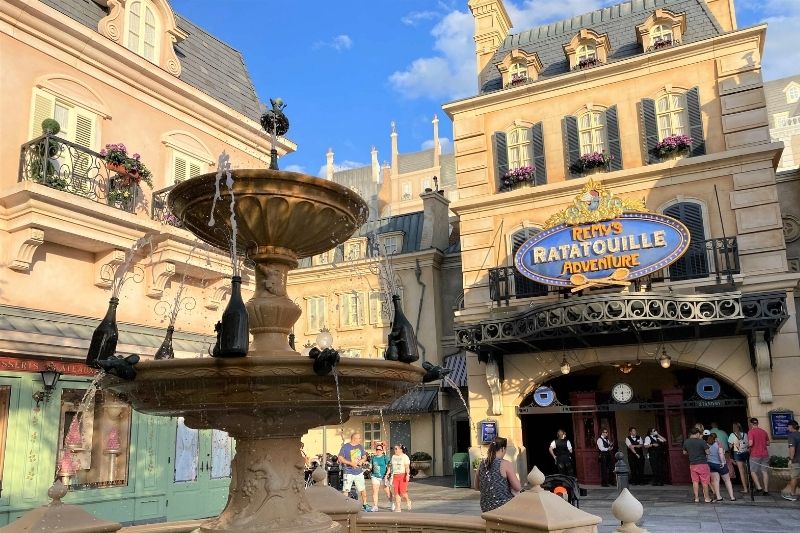 It's not every day a new ride and expansion comes to EPCOT's World Showcase. In honor of Walt Disney World's 50th Anniversary, the France Pavilion at EPCOT is home to a new ride, and an expansion of the pavilion. This marks the first expansion of a World Showcase pavilion in a long, long time. If you're curious about heading to EPCOT for a magical date to discover what's new, here are my top 6 tips for making the most of Remy's Ratatouille Adventure, and the expansion of the France Pavilion.
1. Familiarize yourself with standby and Lightning Lane for Remy's Ratatouille Adventure
When the ride first opened there was no way to just stand in line and wait your turn to ride Remy's Ratatouille Adventure. Instead, boarding groups were used. This is also known as a virtual queue.
Remy's Ratatouille Adventure now utilizes a regular standby queue, and guests wishing to bypass that queue can purchase access to Genie+. If you are unfamiliar with Genie+ and Lightning Lane, read up on ways you can avoid long lines at Walt Disney World.
Remy's Ratatouille Adventure will move from Individual Lightning Lane purchase to be included with Genie+ starting May 31, 2022. This is expected to be the case through August 7, 2022 at which time Remy's will become an Individual Lightning Lane attraction once again.
This means that in order to bypass the standby line you would need to purchase access to Genie+. Even with the purchase of Genie+ your ability to bypass the regular line is subject to the availability of timeslots in Genie+. Your first Disney Genie+ Lighting Lane selection can be made at 7am. Then you make another selection once you've used the first one, or 120 minutes later, whichever comes first.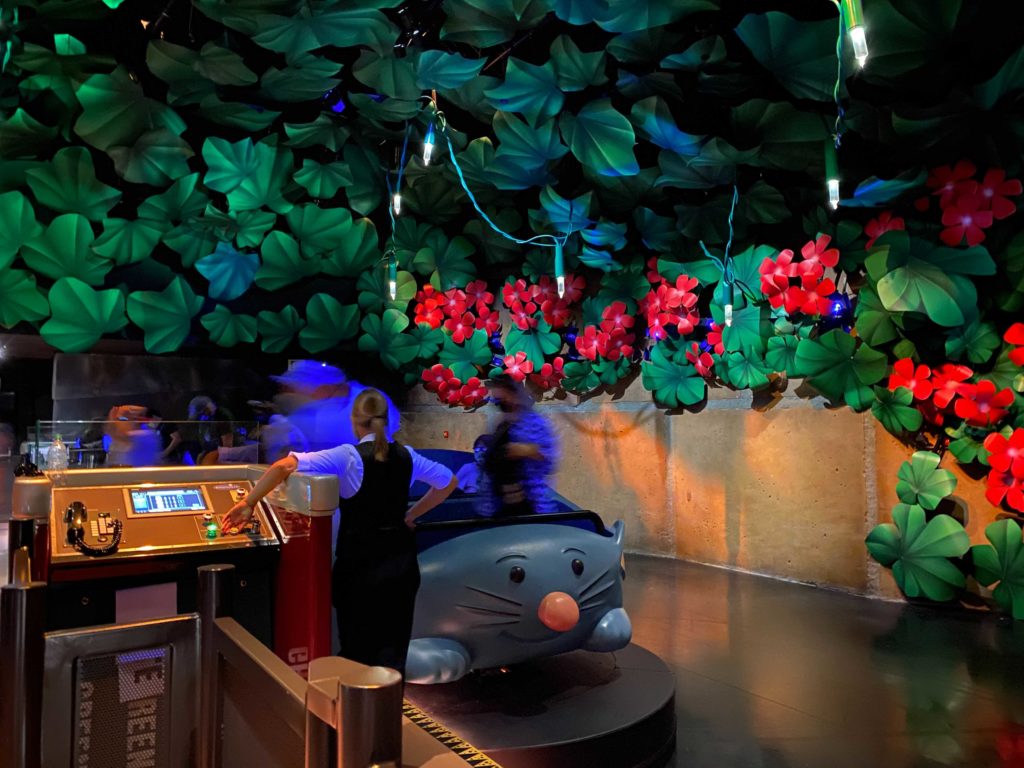 2. Know what to expect while riding Remy's Ratatouille Adventure
With the individual Lightning Lane system, you may be expecting big things on this attraction. However, it's important to note that Remy's Ratatouille Adventure is not a major attraction. It is however loads of fun and uses neat technology, including 3-D effects, a trackless ride vehicle, and large wrap-around screens.
It is also a near-exact replica of Ratatouille: L'Aventure Totalement Toquée de Rémy, also known as Remy's Ratatouille Adventure, in Disneyland Paris, which opened in 2014.
I am prone to motion sickness, especially with 3-D screens. A few times during the ride I looked to the side or down, away from the screen, which is a trick I've learned to help diminish the effects.
3. Choose food + beverage wisely
As part of the expansion of the France pavilion, a new crepe restaurant and snack counter has opened near the entrance to Remy's Ratatouille Adventure. La Crêperie de Paris replaces the crepe kiosk located at the front of the pavilion. The new La Crêperie de Paris has two options: a sit down restaurant or a snack window, Crêpes À Emporter.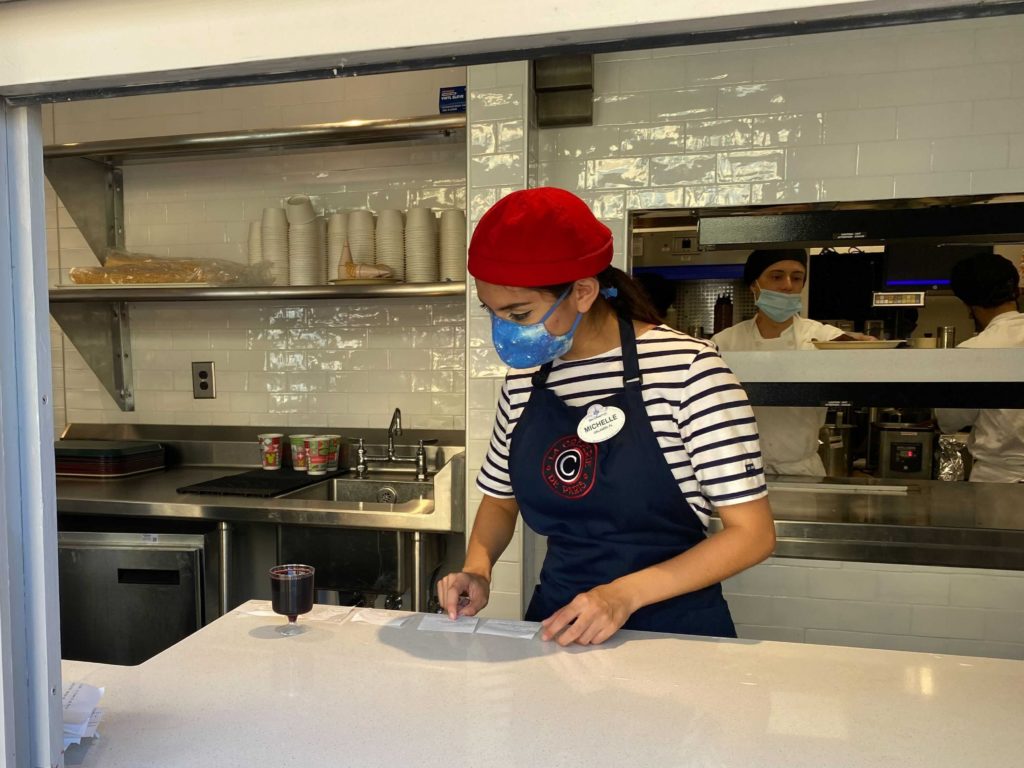 When my husband and I visited Remy's Ratatouille Adventure during an Annual Passholder preview, I just had to try the Ratatouille Savory Crepe at Crêpes À Emporter. This crepe is not Instagram-worthy, nor is it C'est magnifique. It did, however, satisfy my craving for the rich flavors of ratatouille.
Next time we're at the France Pavilion I will go for something from Les Halles Boulangerie-Patisserie instead. It's hard to be the pastries, tarts, and sandwiches at this authentic French Boulangerie-Patisserie.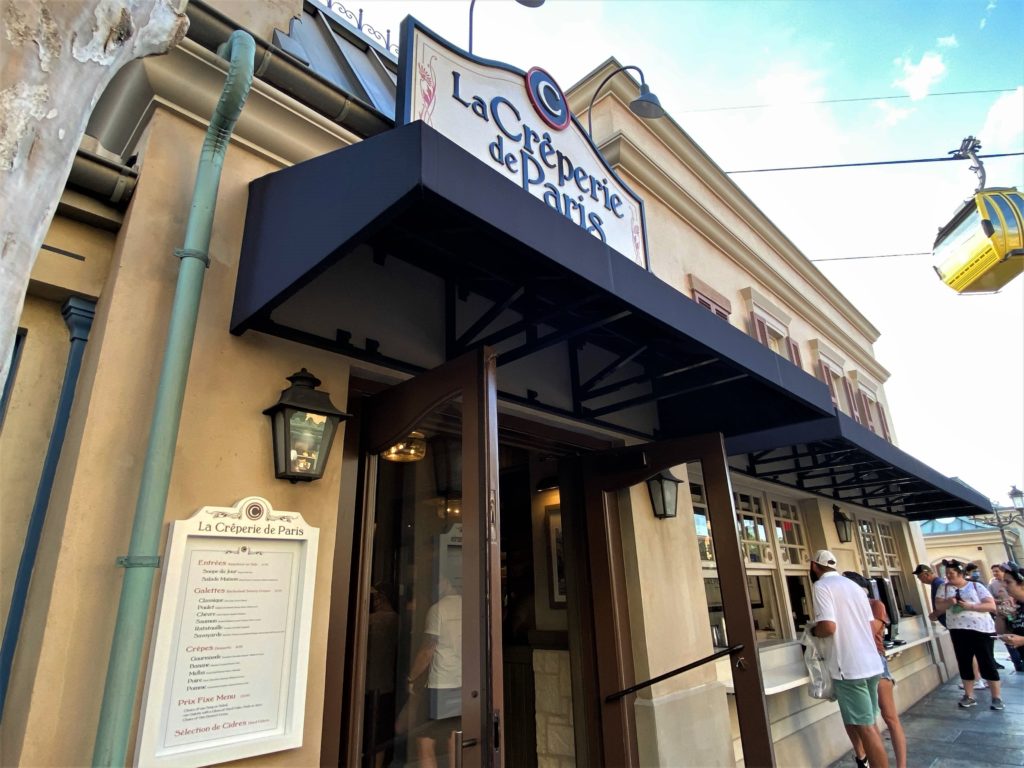 4. Take time to appreciate the details
As you would expect, the Disney is in the details. World Showcase at EPCOT is beloved for its incredible details and authentic representation of multiple world cultures.
The addition of Disney and Pixar characters has broadened the appeal to younger audiences while raising the eyebrows of some Disney loyalists. Either way, the addition of characters throughout EPCOT is here to stay. This expansion of the France Pavilion shows a different style.
The area surrounding Remy's Ratatouille Adventure has a cartoon influence, which is evident by its soft colors and curvy lines. There are also a few nods to the movie itself throughout the area including the motorcycle belonging to the fierce character of Collette. A wine shop near the centerpiece fountain features wine bottles with vintage years that are special to the film and the attraction.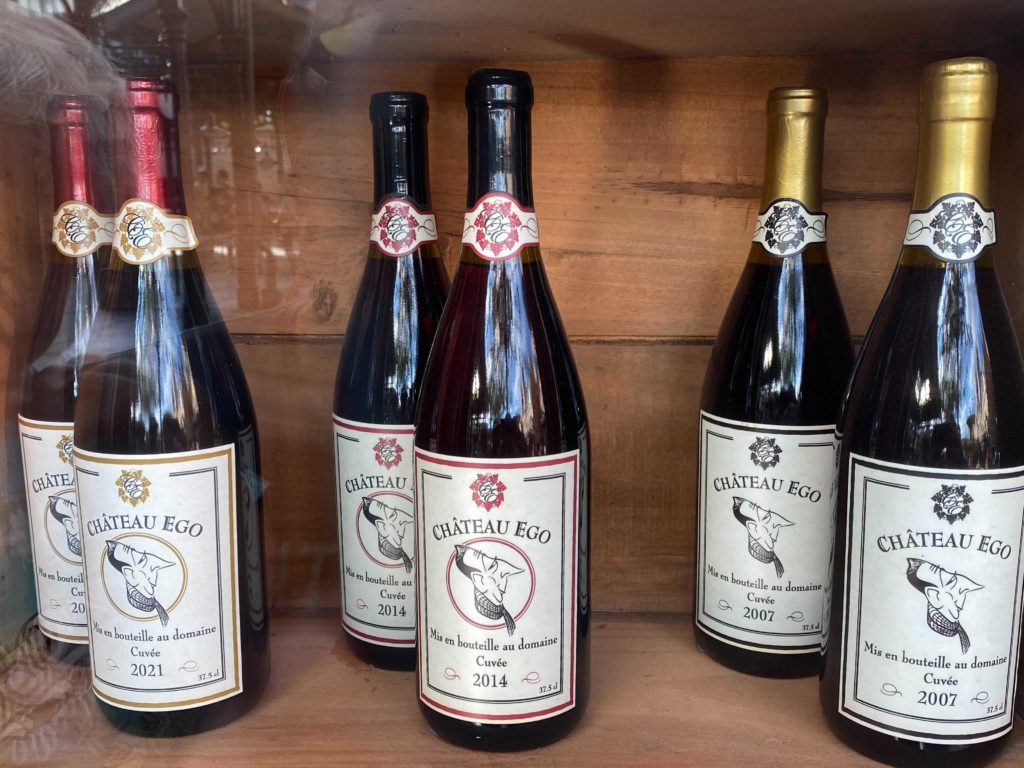 5. Scope out the champagne fountain
Near the center of this new area is an eye-catching fountain. This centerpiece fountain is a replica of the one at Disneyland Paris.
You'll easily spot Remy at the top, but take a closer look. The champagne bottles encircling the main level are beautifully crafted to look exactly like real champagne bottles. What's more, the Imagineers modified the water spouts so that the water spouting out of each bottle flows in the same way that champagne does when poured out of the bottle.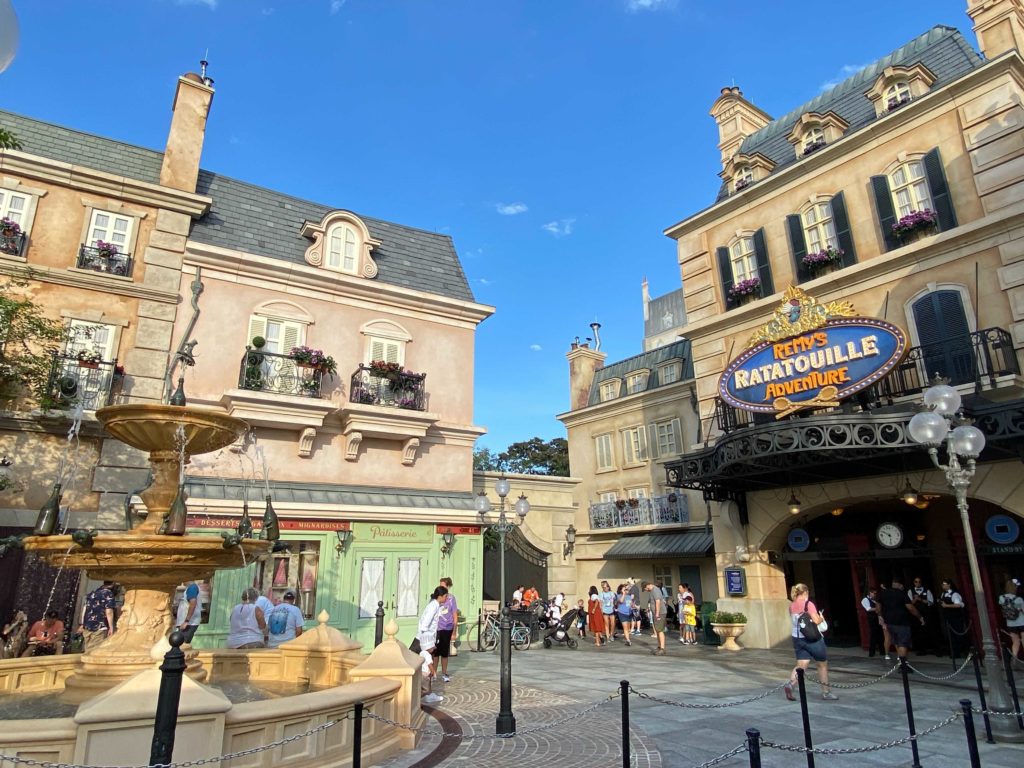 6. Enjoy the nighttime atmosphere
Whether you're sticking around to catch a viewing of the nighttime spectacular Harmonious, or just wanting to enjoy the nighttime atmosphere, be sure to make time to check out World Showcase at night.
Like all of EPCOT, this new portion of the France Pavilion looks lovely at night. Between the fountain and the attraction's marquee sign, the lighting is dazzling. And the Disney Skyliner passing overhead makes it unmistakable that you are at The Most Magical Place on Earth.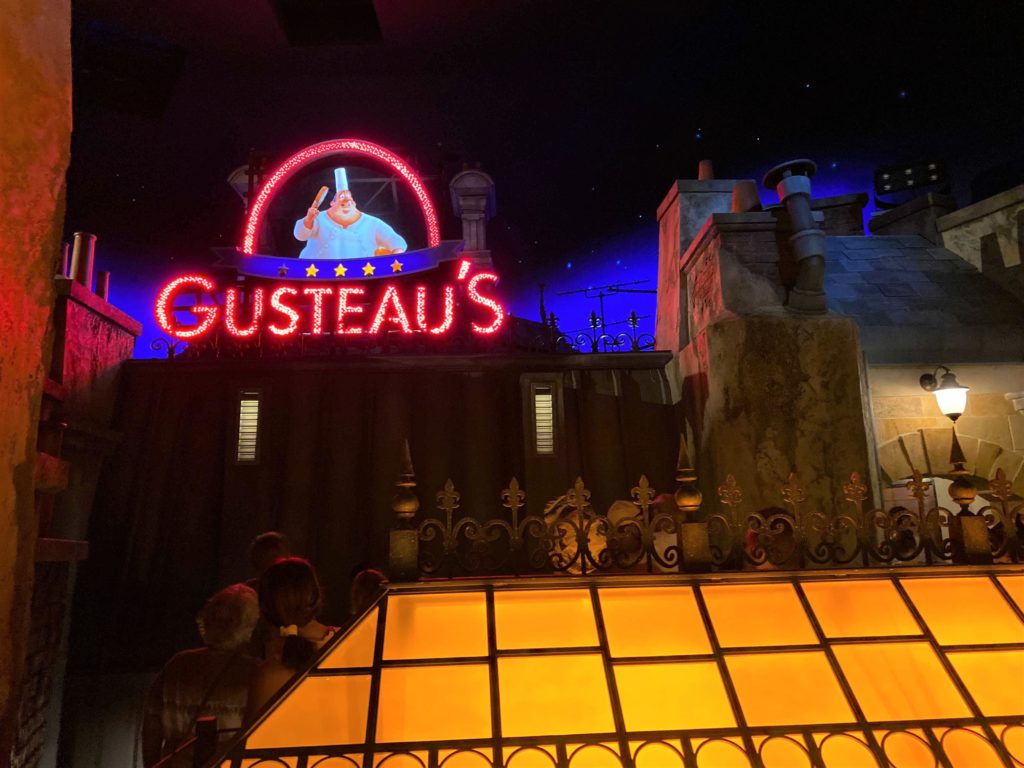 All photos by Dani Meyering