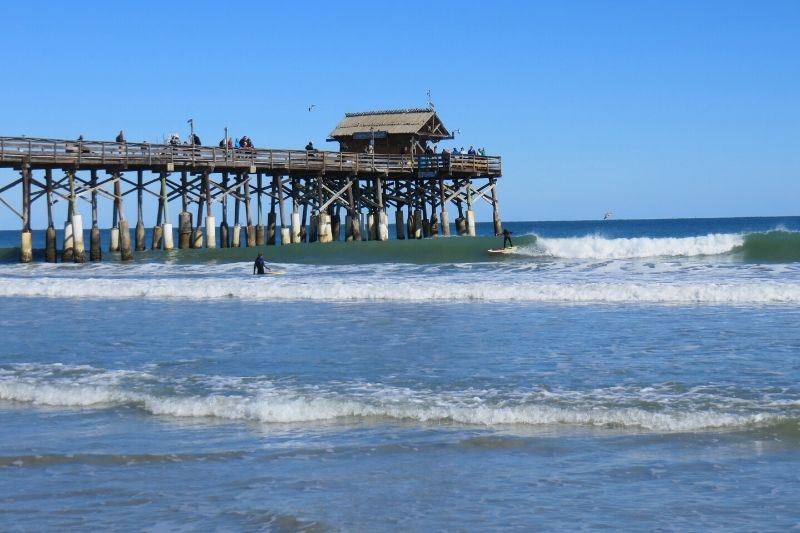 Cocoa Beach is one of the most popular beach destinations on Florida's Atlantic coast, and for good reason. It offers everything from champion-creating surfing and stunning natural scenery to world-class fishing and jaw-dropping rocket launches, making it the perfect place to spend a weekend. The best part is that it's only an hour away, making it the closest beach to Orlando, so you'll feel like you've had a real vacation without the travel hassle.
TAKE A SURF LESSON
If you're considering learning how to surf, there's no better place on the East Coast than Cocoa Beach. After all, it is known as the East Coast Surf Capital. With its consistently warm waters and tons of beach access, it's the ideal location for beginners and experienced surfers alike.
You likely wouldn't think an East Coast surf business would have a name like Pure Aloha Surf School, but when you know the back story, it all makes sense. The owner and lead instructor of Cocoa Beach's Pure Aloha Surf School, Chacy, was born and raised on the North Shore Oahu, Hawaii. He fell in love with surfing at a young age and competed around the world; first as an amateur; then as a professional surfer. Big wave surfing became a passion but an accident put an end to his pro career. He came to Florida to visit a friend, fell in love with the area (and a local) and now he owns and runs Pure Aloha Surf School, one of the most popular surf schools in Cocoa Beach.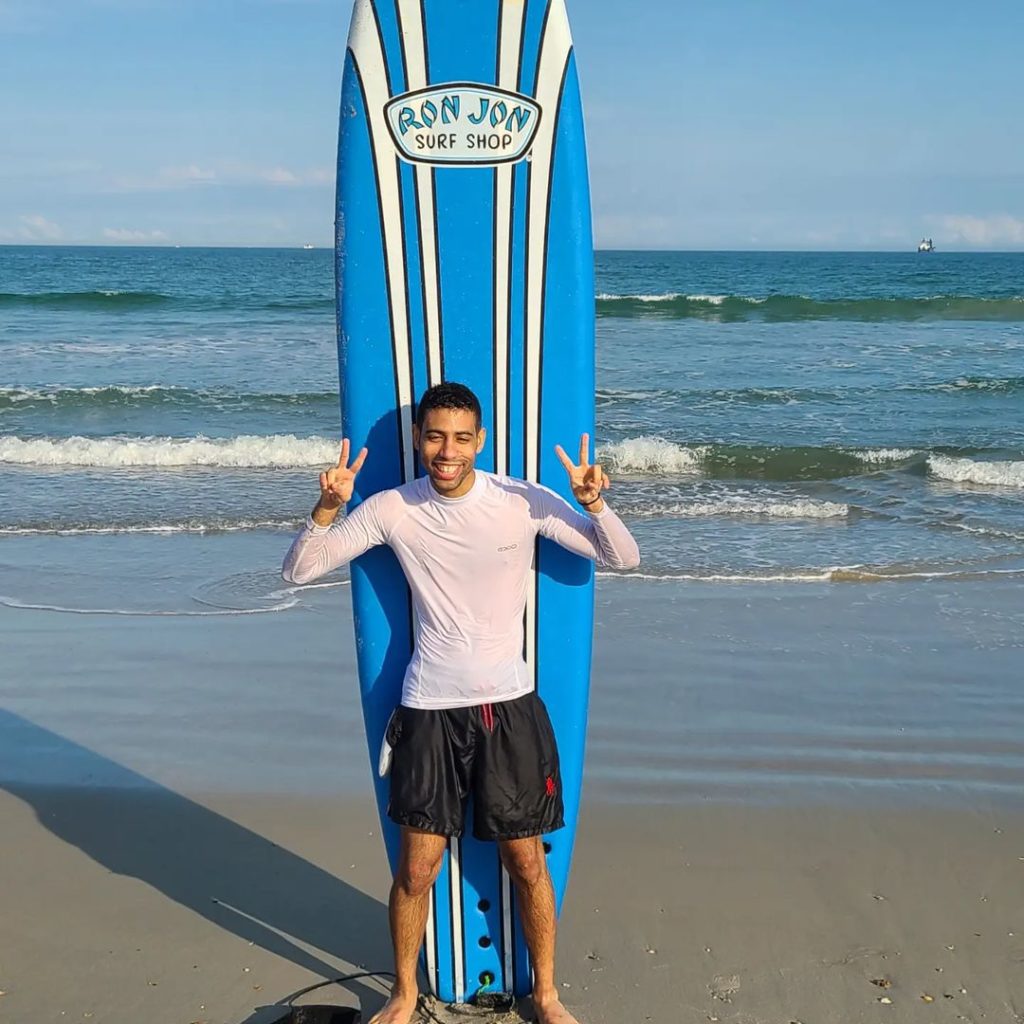 Another great Cocoa Beach surf school is Surfet Surf Lessons. Owned and operated by Miami Springs native, Monica "Moni" Monsalve, Monica learned to surf in Cocoa Beach and began competing when she was a student at UCF, claiming 5th place at the NSSA Nationals as a novice competitor in her first year of competitive surfing.
Surfet built its reputation on "quality surf instruction unique to girls and women of all ages!" But they are quick to add, "Dudes too!" so don't let the name deter you.
Don't Go Out On Your Own if You've Never Surfed Before
We encourage you not to rent boards on the beach and go out on your own; especially if you've never surfed before. Poorly cared for boards and currents can place you in danger. Stick with a reputable surf school that will provide you with well-maintained surfboards and takes you to the safest spots to learn to surf.
COCOA BEACH PIER: THE HUB OF FUN
The 800-foot Cocoa Beach Pier is the hub of Cocoa Beach and the end of the pier is the ideal place to share peel-and-eat-shrimp and enjoy a cold one. If it's a bit too windy, too hot or you want to be a little closer to land, stop at the Boardwalk Bar which is also on the pier, but less exposed to the elements.
Or, if you just want a quick bite on the go Sea Dogs, at the entrance to the pier, sells turkey legs, hot dogs, nacho and cheese, ice cream, and drinks like bottled water, sodas, and beer.
Need some sunscreen, a souvenir, or just a blast of A/C? Stop in the shops on the pier for these items and so much more.
If you like to be on the beach but prefer the sun not to beat down on you all day, you can bring your own beach pop-up and chairs or rent them right at the pier. Or rather, under the pier.
Here's a little locals-secret about parking at the pier. There's a paid parking lot for about 200 cars that charges $15 per car. There are several metered spots before you pull into the lot and, unless you're staying all day, will be the more affordable option.
RELAX AND RECHARGE ON THE BEACH
As Zac Brown Band said, "Put your toes in the water and your butts in the sand." That's an absolute must during a weekend in Cocoa Beach.
Whether you want a "see and be seen", a sense of privacy, or even a nudist spot, there's a beach for everyone. By the pier in Cocoa Beach is the place to "see and be seen." It's the most crowded, the most commercial, and the busiest surf spot.
Lori Wilson Park is arguably the favorite beach in the area. It offers free parking, toilets, outdoor showers, BBQ grills, picnic tables, and pavilions just over the dune crossovers from the beach.
Lori Wilson Park is also where you'll find the I Dream of Jeannie Lane commemorative sign. The 1965-1970 sitcom was set in Cocoa Beach. The premise of the sitcom was that an astronaut finds a genie in a bottle and takes her home with him. The astronaut worked at Kennedy Space Center and lived with the genie, played by Barbara Eden, at 1020 Palm Drive in Cocoa Beach.
But don't go looking for the address. There is no Palm Drive in Cocoa Beach. The house used in the TV show was actually in California. However, the locals have paid homage to I Dream of Jeannie by erecting a street sign in the show's honor.
For more privacy on the beach, go south on the A1A. The further south you go, the fewer people there are. There is a string of beaches and parking lots along the A1a but my personal favorite is about 20 minutes south of Cocoa Beach in a small town called Indialantic-by-the-Sea. At the intersection of A1A and 5th Avenue is the parking for this beach. There are no amenities on the beach and you have to feed the parking meter to park. That may be why it isn't as busy as some other beaches but it's close enough to everything that it isn't a problem.
Did the idea of a nudist beach catch your eye? If so, you'll want to drive north from Cocoa Beach to Canaveral National Seashore. Playalinda Beach, in Canaveral National Seashore, has several sections that are identified by numbered parking lots. The nude portion of Playalinda Beach is at Parking Lot 13; or so I'm told.
COCOA BEACH RON JONS IS THE ORIGINAL RON JONS
Ron Jon Surf Shop, self-proclaimed the "World's Most Famous Surf Shop" is the world's largest surf-themed store. With a sprawling 52,000 square feet on two levels and spanning two acres, you'll be hard-pressed not to find what your heart desires at this iconic store in Cocoa Beach. From clothing and accessories to beach-themed home decor and tchotchkes, there are always new treasures on display at this Ron Jon Surf Shop.
Be sure to stop in the Surf History Museum while you're there. It's super small and easy to miss, so ask anyone in the store and they can point the way.
Want to know more about the history of Ron Jon's? Here's a quick review of 60 years.
EAT ON THE BEACH
The sound of waves lapping onto the beach. The salty breeze seeping into your skin. The sand between your toes in your flip-flops. Eating beachside is more about the atmosphere than the food. But these two perennial favorites deliver both the atmosphere and the tasty food.
Sandbar Sports Grill
Located in Alan Shepard Park and a couple of blocks away from Ron Jon's Surf Shop, Sandbar Sports Grill is considered a "surfer sports bar". With live music by great local bands, arguably the best fish tacos in town among other pub-grub choices, and a super-chill atmosphere, it's the perfect spot to go straight from a day on the beach if you're looking for a tavern-like bar that also serves food. Sandbar has a [paid] parking lot reserved just for its customers across the street from its entrance.
Coconuts on the Beach
Enjoy the most iconic restaurant and bar in Cocoa Beach; Coconuts on the Beach. It's much larger than Sandbar, offering an expansive patio, outdoor bar, and diverse menu. It's likely the #1 tourist bar/restaurant in town so expect to wait for a table and wait for your food. If you check recent reviews, there are many complaints about slow service. Please bear in mind that this is a vacation town and when Covid hit, a lot of front-line workers left because there was no work. As all of the locally owned businesses re-open (like the rest of the world), the labor pool is very limited. Remember you're on a get-away. No need to be rushed. Plan to enjoy the beach, the sun, the sand, and a frozen drink in a souvenir hand-carved coconut "glass"; carved to look like a monkey.
(This is definitely NOT the place to pop in for a quick meal when your hangry, though.)
SAILING
While the Atlantic Ocean provides one way to enjoy the water while you're on the Space Coast, the Indian River offers an entire host of other activities.
Nature lovers will enjoy relaxing atop a catamaran while sailing alongside dolphins in the Intracoastal waterways. Plus you can try your hand at hoisting the sails, trimming the sheet, and steering the helm; supervised, of course.
On the more romantic side, consider a picturesque, sunset sail aboard a catamaran. You'll feel like you are in a storybook as your feet dangle over the bow nets with the Indian River flowing underneath, the friendly crew pointing out photo-worthy spots and wildlife like manatees and dolphins swimming along with you.
Sail Cocoa Beach welcomes you to bring your own food and beverages (wine/beer are allowed to be brought on board but they must not be in glass containers). Complimentary sodas and nuts/pretzels are included in the experience.
ROCKET LAUNCHES ARE A MUST-SEE
I'm not much of a space fan so when I moved here I wasn't quick to run out and watch a rocket launch. Until one day, when I stepped out of my front door at the same time a rocket was lifting off. I "accidentally" caught the launch. WOW! I cannot find the words to express how amazing it was. Now, I'm outside for every launch! It's arguable whether day or night launches are the best. They are both pretty spectacular.
If you're looking to see a launch up close, purchase tickets for the Kennedy Space Center official viewing area. But there are so many other places to watch a launch from that are equally as exhilarating.
Rather than paying to go into Kennedy, there are several free spots where people gather to witness a launch. One of the most popular spots is Jetty Park. With its 1200' long pier and 4.5 acre beach, there's plenty of room for lots of people. However, parking spots are limited and it costs $16 to park so plan to arrive early if you need a parking spot. Canaveral National Seashore is another gathering spot to watch a launch.
My personal favorite place to watch a rocket launch is from a boat on the water and the bow of Sail Cocoa Beach's catamaran is a pretty cool way to do it.
Don't look away too soon or you'll miss the second stage ignition.
Related Day Trip – 8 Great Hours in Titusville, Florida
PADDLEBOARD/KAYAK
Speaking of watching a rocket launch from the water….imagine renting a kayak or paddleboard or connecting with a kayak tour to take you out with a small group to witness the unrivaled wonder of a rocket launching into space.
Kayaking and paddleboarding are a way of life for locals and an attraction for many visitors because it's one of the best ways to get as close as possible to dolphins, manatees, and other water creatures that you otherwise will only see from a distance. Cocoa Kayaking guides every imaginable type of trip from a tour through the mangroves, to nighttime bioluminescent tours (best seen during a new moon May – November) to fishing from a kayak!
Plus, Cocoa Kayaking donates a portion of all its proceeds to feed hungry children. Between their fantastic trips, funny/friendly/knowledgable guides, and their generous donations to children's charities it's no wonder they have amassed over 700 5-star reviews between Google and Facebook AND have earned a TripAdvisor's Travelers' Choice Award each year for the past four years.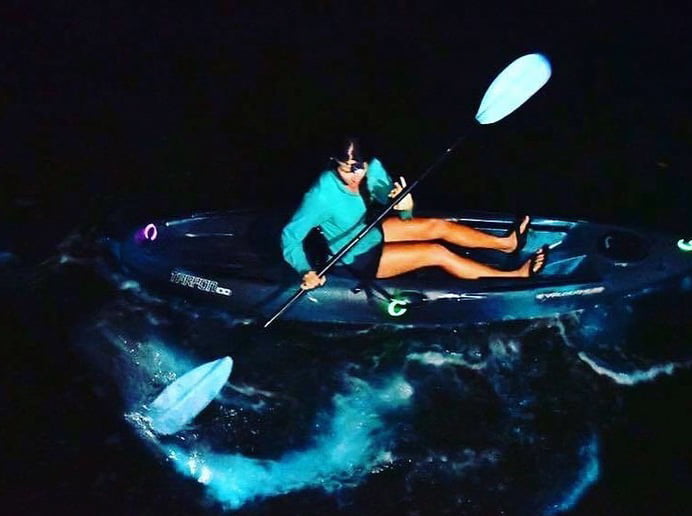 FISHING CHARTERS FOR THE AMATEUR & SERIOUS FISHERS ALIKE
Want the big fish? The one that everyone talks about "getting away?" You can take home a real souvenir to mount on your wall, enjoy the day fishing with "catch and release" or snag a yummy redfish, have your guide filet it, take it to one of the participating local restaurants and they'll cook it for your dinner. Now that's an experience you can't get in the city!
Whether you want a private charter or to go with a group, there are several options. Here's our full guide with information on fishing charters.
RENT BIKES/EBIKES
It isn't difficult to get around Cocoa Beach, but at the height of tourist season, parking can be a problem. Leave the car at the hotel and rent a couple of bikes for the weekend.
If you want to ride directly on the beach, there are several beach cruiser bike rentals. If you're looking more for transportation or want the bike to do a bit of the work for you, consider renting eBikes; you can take those both on the beach and on the pavement. Salty Gator is the newest shop to open in town so you can expect brand-spankin'-new bikes, Plus, they'll let you keep them overnight if you like; just remember to rent a lock too!
CHILL AT THE PORT AND WATCH THE CRUISE SHIPS DEPART
Several restaurants at the Port make for an easy day of whiling away the hours, sipping on your favorite drink, listening to music, and watching the giant cruise ships depart for international waters. As the home port to several cruise lines including Royal Caribbean, Carnival, Norwegian Cruise Line, and, of course, Disney Cruise Line, Port Canaveral is the second busiest port in the nation. But it isn't only the passenger cruise ships that use the port. It's also an active Navy port, which means it isn't unusual to see a submarine. Plus, several fishing charter boats dock in the port, so it's fun to see the day's catch come off the boats.
The best spot to watch the cruise lines is on the patio of Grills Seafood Deck and Tiki Bar. It's also one of the few restaurants that serve gator bites. If you've never had it and you're game to give it a try, go for it!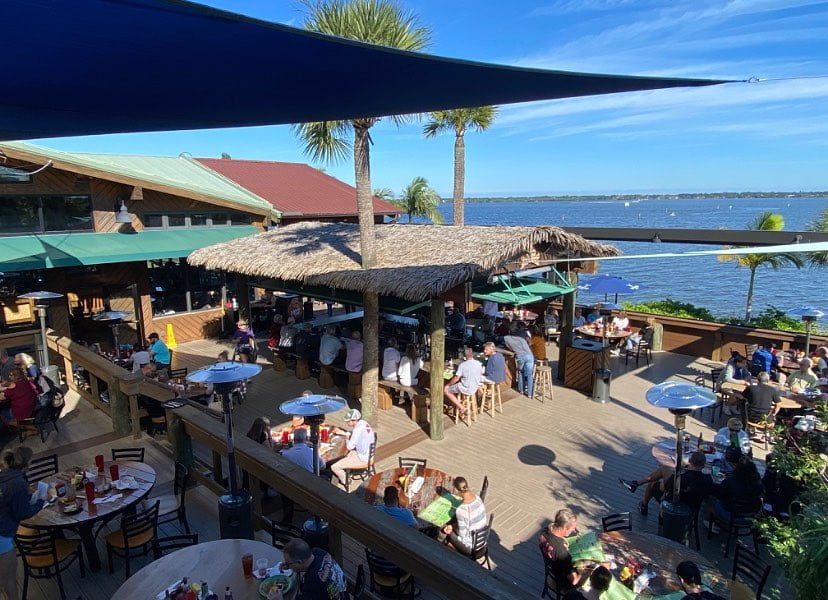 The first time I ever had rock shrimp was at Grills. Not familiar with rock shrimp? They come from the Atlantic side, are the size and texture of shrimp, but have a hard shell similar to a lobster and they have a taste more similar to a lobster than a shrimp. If they have rock shrimp on the menu while you're there (and you like lobster), I highly recommend it.
You may already be familiar with the Grills Seafood Restaurant brand. They have one in Lake Fairview north of Downtown Orlando.
FishLips Waterfront Bar is another port favorite. The upper deck provides a good view of the waterfront and the cruise ships while the beach bar features live music most weekend days. While the everyday menu has plenty of selection and something for everyone, I like FishLips Sundays brunch for the Seafood Crepes; shrimp, lobster, crab and scallops rolled into a crepe then topped with lobster cheese sauce and served with brunch potatoes. Yum.
Rusty's Seafood for raw or steamed oysters, peel-and-eat shrimp or seared ahi tuna, and Gators for wings and ribs round out the dining options in the Port.
Want more ideas for a day trip at the beach? Check out our Guide to the Best Beaches Near Orlando
"VEGAS WITH AN OCEAN VIEW"
The award-winning Victory Casino Cruise dubs itself as "Vegas with an ocean view" and while that may be a bit of a stretch it does have 600 of the latest slot machines and 27 live casino table games, including the only LIVE roulette and LIVE craps tables in Florida.
Other live table casino card games include Blackjack, 3 Card Poker, Ultimate Texas Hold 'Em, Let It Ride, and EZ Baccarat. Plus, Bingo, a Sportsbook lounge and 4 decks, 5 bars, 2 dining rooms, and an entertainment lounge. The ship cruises twice a day Wednesday – Sunday.
And if you're wondering, yes, they serve free drinks while you're gambling.
PUT YOUR FEET IN THE FISH TANK
When I was in Mexico, I encountered a fish pedicure. Have you seen those? You put your feet in an aquarium and fish nibble on your feet.
Well, that's what I thought was happening when I experienced it in Cozumel but when I discovered GarraSpa in Cocoa Beach I learned so much about the process and the fish.
The fish they use are called Garra Ruffa fish. And they actually aren't nibbling on your feet because they don't have teeth. When you put your feet in the water, these fish are attracted to the pulse emitted from your body. As they swim around your feet looking for the source of that vibration, they brush against your skin and you feel the light sensation from their bodies and fins; which I misinterpreted as nibbling.
It can be controversial, but if you go to a reputable spa, like GarraSpa, you can be assured they are following the correct protocol for the well-being of both the fish and the customers.
If you don't like having your feet tickled, this probably isn't for you. Otherwise, give it a try. It's super-relaxing, a little bit ticklish, and truly unique.
Most people enjoy the fish pedicure in one big, open room. The Cocoa Beach location has a private room, though, if you'd like the experience to feel a bit more exclusive and intimate.
Accommodations
If you're overnighting on the Space Coast, why not stay right on the beach? These hotels are perfect for a romantic getaway.
Other accommodations worth considering
Beachside Hotel 3901 N Atlantic Ave; (321) 783-2221 This newly-remodeled hotel is more family-friendly but that doesn't mean couples can't enjoy it too! It's free breakfast, free parking, onsite lazy river and free bike & beach rentals, boogie boards, surfboards, and beach wagons make it a strong contender. Plus it's conveniently located a block-and-a-half from the beach in one direction and a block-and-a-half from Ron Jons Surf Shop in the other direction.