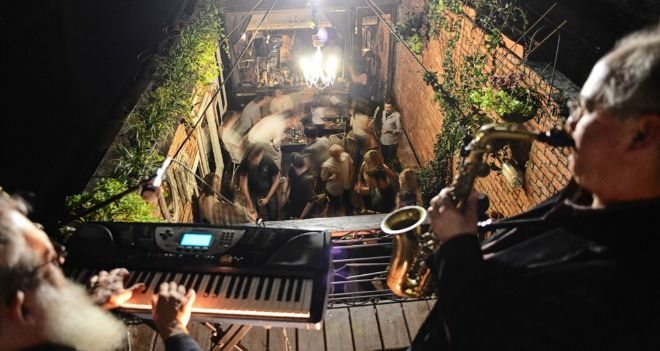 Orlando's bar scene is ever-growing and ever-evolving. From swanky lobby bars to artsy craft cocktail bars to no-frills dive bars, Orlando is packed with places to sip a cocktail or down a beer. But if you're looking for something different, maybe a little off the beaten path, we suggest you give these stellar spots a try.
Updated June 2022 by Sarah Bradley
17 Unique Bars in Orlando for Drinks and Atmosphere
Hanson's Shoe Repair
Tanqueray's Bar
The Woods
The Treehouse Orlando
The Bellhop
The Falcon Bar & Gallery
Cocktails and Screams
Stardust Lounge
Jock Lindsey's Hangar Bar
Oga's Cantina at Disney's Hollywood Studio
ICEBAR Orlando
Player 1 Video Game Bar
Trader Sam's Grog Grotto & Tiki Bar
The Robinson Room
Aku Aku Tiki Bar
Tori Tori Pub
The Neighbors
E Pine Street, Orlando, FL 32801
Love a great speakeasy? Hanson's Shoe Repair is the place to go for a very unique, stylish bar vibe that takes you back in time to the Prohibition-era days.  Check their Twitter account (@hansonsshoeshop) for the daily password, which will be your key to getting into the bar. Once in, enjoy a variety of expertly crafted cocktails all night long on their intimate, rooftop terrace setting. 
100 S. Orange Ave. Orlando, FL 32801
Follow the steps to Orlando's underground and you've landed in the heart of Tanqueray's Bar (usually called "Tanq's" for short). This Downtown Orlando bar always has great drink specials and live music—that's why lots of locals always come back to this unique spot. Tanq's prides itself on being one of the few local dive bars that has live entertainment seven days a week, every night from 10:30pm to 2am. Plus, don't forget Happy Hour every weekday night between 5pm and 8pm. 
N Orange Ave.

Orlando FL, 32801
A boutique bar with an earthy vibe, The Woods is located downtown on the second floor of the Historic Rose Building in Wall Street Plaza. The walls are either lined with wood or brick, emphasizing the rustic feel of the historic building. The entire bar sticks with the "woodsy" theme, with wood paneling carefully placed on the walls of the bar and lights strung up everywhere. Tree wallpapering and dim lighting complete the bar's look, but the drink menu is what keeps the customers coming. Bartenders serve craft cocktails and beer from a menu that changes monthly. 
68 E. Pine Street Orlando, FL 32801
Marketed as a hangout spot similar to the secret treehouse you had or always wanted as a kid, The Treehouse Orlando is a unique bar concept located above The Attic in Downtown Orlando. The entrance to the bar is a flight of steps lined with fake grass. Once you get to the top and in the bar, you enter a small dimly-lit bar that has brick-lined walls and more turf grass on the floor. It has a woodsy, backyard feeling to it, and the cocktails are all served in mason jars. This cozy venue is a go-to space for private parties or group buy-outs in Orlando.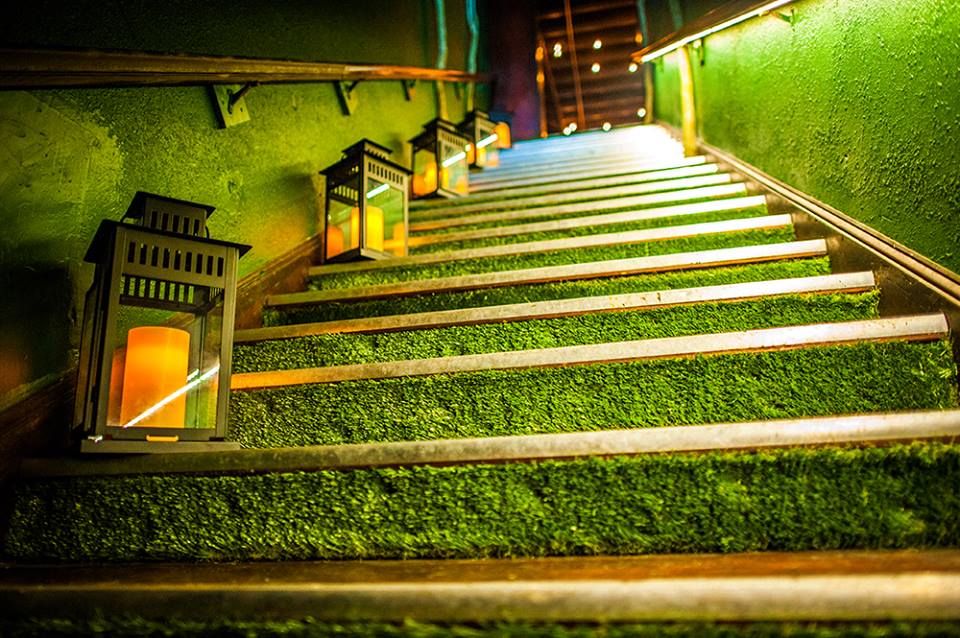 37 N Orange Ave, Orlando, FL 32801
A stunning new bar called The Bellhop is now open downtown, on the bottom floor of the historic Angebilt Hotel. The bar is designed by former Walt Disney World Imagineers and has a glamorous vintage hotel lobby feel, with a gleaming wood bar, glass and feathered chandeliers, leather chairs and plush lounge seating, a display of brass hotel keys, and more. The space functions as a moody coffee bar by day, and an elevated cocktail lounge by night.
819 E. Washington St. Orlando, FL 32801
The Falcon fuses the best of two worlds—music and the art, all in a bar setting. The focus at this bar is combining those two elements into a distinctive experience for customers. Home for many original art pieces, The Falcon hosts themed art shows, open mic nights, trivia, comedy showcases, and live music.
With an ever-changing menu selection of craft beer and wine, The Falcon is a terrific neighborhood-type spot in Thornton Park to visit. You can even pop in while you're taking your pup for a stroll around the community– this casual hangout spot is also dog-friendly.  
39 W Pine St, Orlando, FL 32801
If you are a Halloween enthusiast, you can celebrate the spooky holiday all year long at Cocktails & Screams. This haunting, horror-themed bar and cocktail lounge offers both booze and boos, no matter what season it is. Their drink and food options are so creative and festive, including favorites like the Witches Brew, Frank's Stein, Drunken Pumpkin, or the Cereal Killer Brunch menu. My personal favorite is the Neurotoxin—a gin and strawberry vodka cocktail mixed with their house-made "spider venom" that just might leave you paralyzed. 
431 E. Central Blvd. Orlando, FL 32885
The Stardust Lounge is located adjacent to Lake Eola Park, nestled beneath the downtown area. It is home to some of the best live entertainment in Orlando, whether that's the burlesque show they host on Wednesdays, dirty bingo nights, or the Back to the 80s night. Its underground location flaunts a retro, Vegas-inspired style with red leather booths, chrome lamps, and décor that will make you forget you're not back in the 60s and 70s. 
Unique Bars in Orlando's Attractions Area
Disney Springs – 1486 Buena Vista Drive, Orlando, FL 32830
Disney Springs has so many incredible dining experiences to offer, but Jock Lindsey's Hangar Bar is one of the most immersive and eclectic. Inside this cozy, vintage-inspired dive bar, you are fully transported into one of the greatest action cult movies of all times—Indiana Jones: Raiders of the Lost Ark. The bar is modeled after the 1940s airplane hangar of Jock Lindsay, the ex-home of Indiana Jones' sidekick and pilot. 
Disney really went all out in making this experience as close to the movie as possible, even down to making the drinks Indiana Jones-themed (i.e. Fountain of Youth, Pancho's Margarit,a and The Scottish Professor). You even can pair your exotic cocktails with themed small plates and tapas, from the Snakebite Sliders (the tomato bacon jam is to-die-for) or Air Pirate's Pretzels.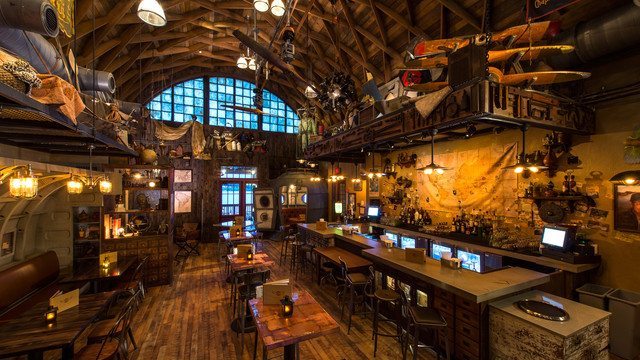 351 S Studio Dr. Lake Buena Vista, FL 32830
Sure, you need a Disney ticket for this bar, but trust us when we say it is worth it for an out-of-this-world bar experience. Fully immerse yourself in Star Wars: Galaxy's Edge at Oga's Cantina. You don't even need The Force to enjoy a Jedi Mind Trick — a fruity, botanical vodka-based cocktail with stellar presentation. The line can get pretty long, so try to make a reservation before you go. Don't forget: in addition to a dining reservation, you will need a theme park reservation to Hollywood Studios through the Walt Disney World app before arriving. 
8967 International Drive, Orlando, FL 32819
This bar is definitely one of the "coolest" Orlando bars, featuring more than 70 tons of hand-carved ice. Guests must begin this one-of-a-kind experience by entering through the Fire Lounge, where you are prepped for your Arctic evening by being provided with thermal coats and gloves. Once you transition to the below-freezing room, you are served perfectly chilled cocktails out of ice-sculpted cups and accompanied with vibrant entertainment, a diverse food menu, and an overall unique atmosphere. If you don't want to stay frozen all night, you can migrate back to The Fire Lounge at any time to warm up with some flaming cocktails.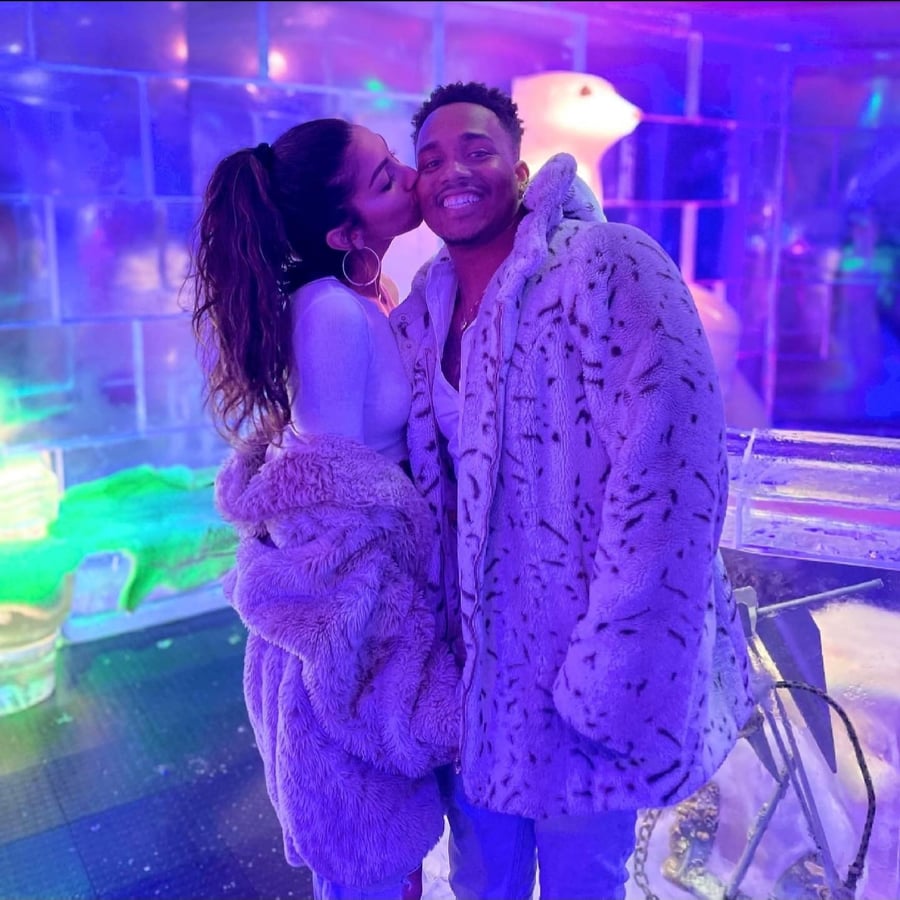 8562 Palm Pkwy, Orlando, FL 32836
Player 1 Video Game Bar is the only spot in the Orlando area that brings video games and craft brews together. What's better than a bar and arcade combined into one? In addition to their diverse draft beer and wine selections (liquor is not served), you have unlimited access to Xbox, Nintendo Wii, Playstation, and old fashioned arcade games. 
To gain entry, it's $5 for Florida residents, $8 for out-of-state guests, and don't forget to always follow their gamer's etiquette. 
1600 Seven Seas Drive, Orlando, FL 32830
If you want to end your day at  Disney World with a drink or two, stop by Trader Sam's Grog Grotto & Tiki Bar nestled in the Polynesion Resort lobby. Trader Sam's has an exotic, tropical theming with a drink menu to match. Their handcrafted cocktails are fruity, refreshing, and island-inspired. You can also grab a bite to eat with some shareable plates like the Kalua pork tacos or famous pan-fried dumplings.
The dimly-lit lounge definitely has an exclusive feel to it. It can be pretty tricky to get in, so arrive early and be prepared to wait. You can hop upstairs to Tambu Lounge or out to the pool bar if you need some refreshment while you wait. 
RELATED: Our guide to a monorail pub crawl
More Unique Orlando Bars
The Robinson Room

63 E Pine St.,

Orlando,

FL

32801

Aku Aku Tiki Bar 431 E. Central Blvd., Orlando, FL 32801
Tori Tori Pub 720 N Mills Ave, Orlando, FL 32803
The Neighbors at East End Market 3201 Corrine Dr STE 201, Orlando, FL 32803
Ann Teague's Lamp Supply, 22 S Magnolia Ave, Orlando, FL 32801
Mather's Social Gathering, 3 Phoenix Building, 30 S Magnolia Ave, Orlando, FL 32801
The Courtesy Bar new location on 1288 N Orange Ave Winter Park, late Summer 2022
The Lodge 49 N. Orange Ave., Orlando, FL 32801