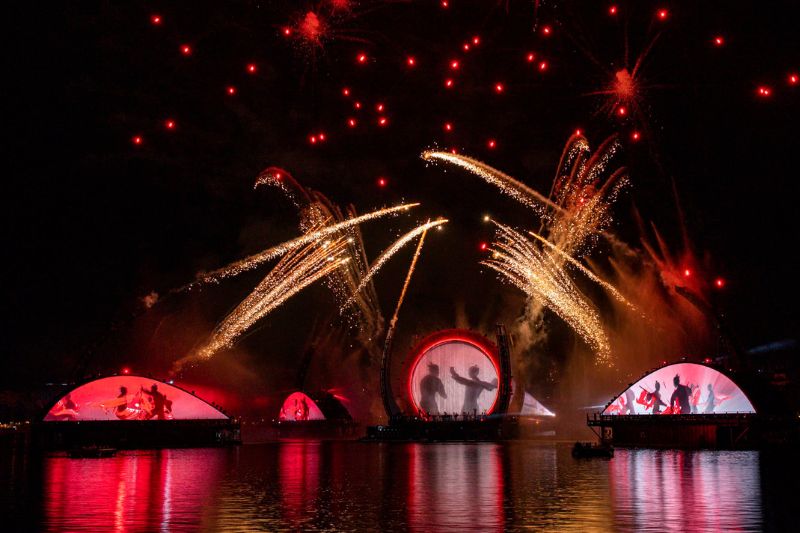 Harminous is the new EPCOT fireworks show, with stunning moments. Guests who have viewed this new show without any prior information may be a little confused by the production. This unique show requires advance planning, here's what you need to know.
EPCOT will receive a different nighttime show after the conclusion of the 50th anniversary celebration. In the meantime "EPCOT Forever" returns while the Entertainment team preps the Lagoon, including a phased removal of fireworks platforms following the final "Harmonious" performance on April 2, 2023.
Since Epcot's inception in 1982, the vision of Walt's idea for the park was to create a 'community of tomorrow' that would never be completed. If you ask any recent park-goer, that is still the case. It seems like Epcot will be under construction for the foreseeable future. Something that underwent a huge change after 20 years was the end-of-the-night fireworks and light show around the World Showcase.
The previous fireworks show, IllumiNations: Reflections of Earth, ran from 1999 to 2019 and cost approximately $25,000 each night to show. It ran for 20 years as a part of The Walt Disney World Millenium Celebration and became a family favorite. In 2019 Illuminations was replaced with an extremely short run of Epcot Forever. It only lasted a year before being replaced by Harmonious, the show that is currently running each night.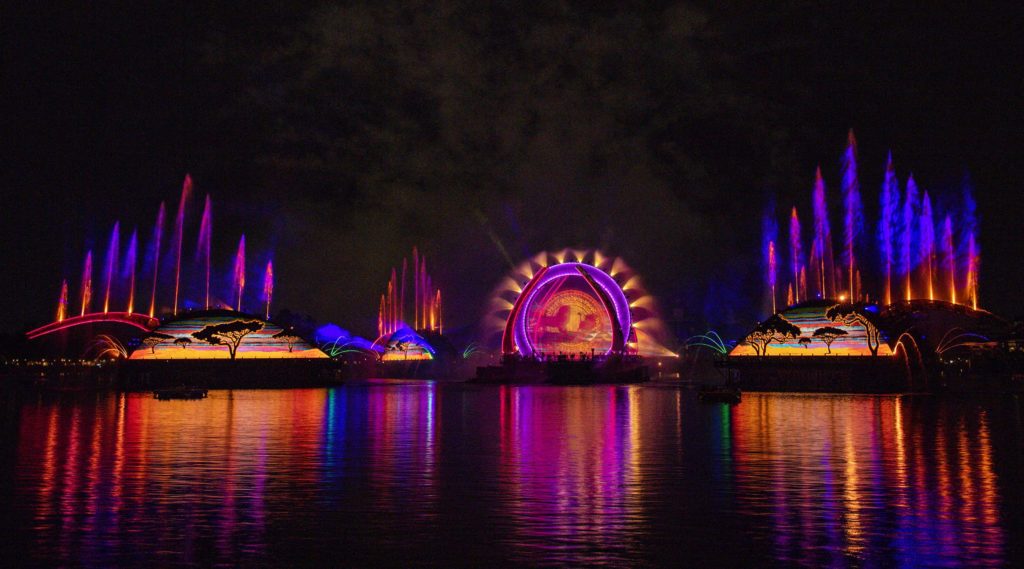 As you visit the World Showcase during the day, it is hard to miss the odd-shaped black structures in World Showcase Lagoon. I was there last month with someone who hasn't been to EPCOT in 10 years, that was the first thing he asked about. Because the structures are so large, they stay visible on floating barges in the lagoon throughout the day. 
There is much debate among Disney fans as to if these barges are worth the strange view on the lagoon during the day. Once you see Harminous at night, you can judge for yourself. There are so many varying effects during the show, it can be overwhelming – in a good way.
Where is the best location to see Harmonious?
As showtime gets closer each night, most people will start to gather in between the Port of Entry Stores. This is right at the entrance to the World Showcase. Be mindful of the tape markings on the ground. The tape is there to show the areas where you can and can not sit for the show. If you select a spot outside of those tape marks a cast member will ask you to move for safety reasons.
I have never been one to sit and hold a spot for an hour (or more) before showtime. If that is something you want to do or have someone in your party to do the Port of Entry stores and its courtyard is a popular choice. It will be the most crowded and compact but overall seems to be the most recommended spot.
Japan Pavilion is another popular location, but somewhat less crowded, and will have a little more room. It will result in a long walk to exit the park, but it does give you a more peaceful stroll to end the night. I promise, no matter where you might be around the World Showcase Lagoon, you will be able to see the show.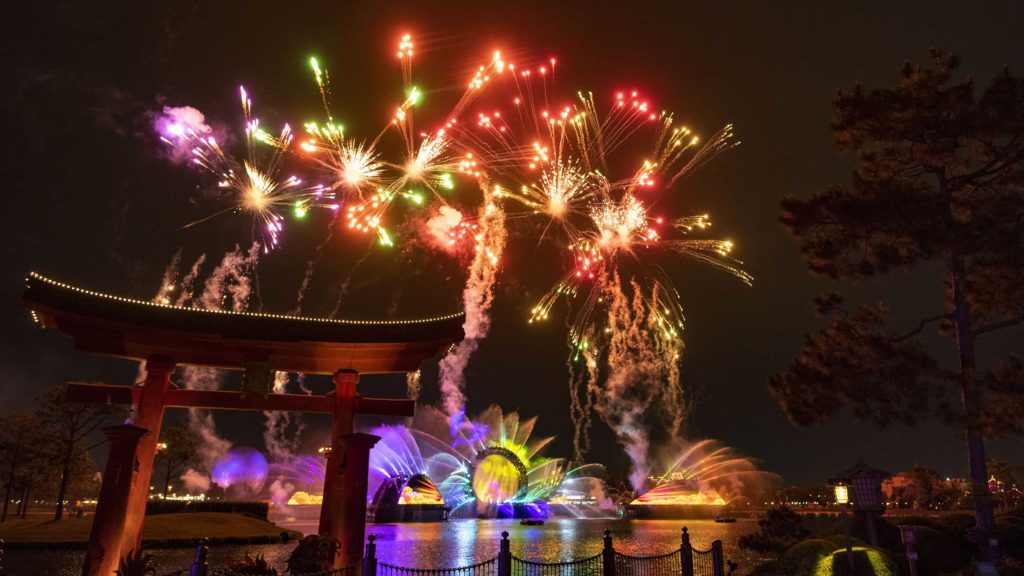 My youngest son tends to get bored quite easily sitting for any period of time, even for fireworks, so most times we will gather beside the miniature trains in the Germany Pavilion. He can watch the trains while we wait for the show to start, and there is an easily accessible bathroom in that area.
Even though the show is visible from anywhere around the World Showcase Lagoon, there are view obstructions. Speakers that play the music, flags, and lights. It is a fair trade-off for us. There tend to be fewer people in these areas too.
How long does Harmonious last?
Harmonious is actually the longest-lasting night show that Epcot has had, running at approximately 23 minutes each evening.
What characters or songs will I be able to see and hear in the light show?
This new show is great for kids, and kids at heart. The difference with Harmonious compared to Epcot's previous night shows is that your kids will hear some of their favorite Disney songs and see characters projected on the LED light screens throughout World Showcase Lagoon. In case your kids are like mine and want to know what will be included in the show: Lion King, Frozen, Hercules, Moana, Aladdin, Jungle Book, Mulan, Beauty and the Beast, Hunchback of Notre Dame, Brave, Coco, Princess and the Frog.
Harmonious uses lasers, searchlights, choreographed water fountains, water curtains, LED screens, and fireworks as well as music to create a multisensory experience.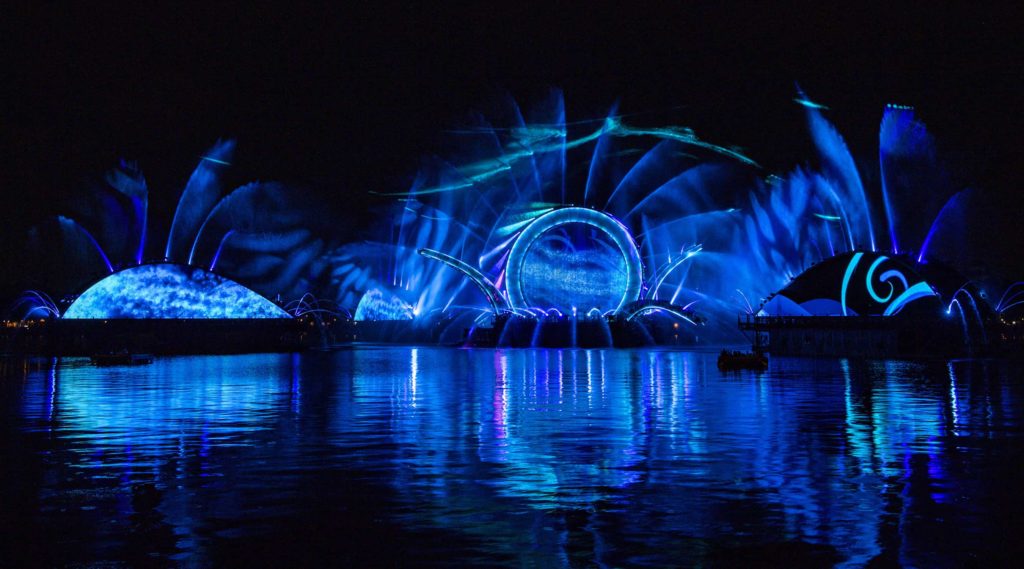 Interesting facts about Harmonious, provided by Walt Disney World Entertainment Team:
The five floating platforms you see in World Showcase Lagoon are positioned like a compass.
The show's central water curtain is five-stories high.
The show employs hundreds of programmable moving fountains and lights, plus lasers and pyrotechnic effects.
"Harmonious" tells a story of global connection, with a world tour of familiar Disney songs performed in more than a dozen languages by a cast of nearly 240 vocalists and musicians.
Can I order food and drinks during the show?
Not really. When Harmonious starts, the lights around the pavilions will dim and many of the quick service locations will close for the evening. It is always best to order your last food and drink options a little before the official park hours end.
There are a few options if you want a dining experience during the show. Log into your MyDisneyApp to book advanced dining reservations at either Spice Table Road in Morocco or Rose & Crown in the United Kingdom Pavilion. Both locations are directly on the lagoon and have wonderful unobstructed views of the show.
The Spice Road Table Dining Package includes two small plates, a dessert platter, and unlimited beverages. The Rose & Crown Dining Package includes one appetizer, one entrée, a dessert platter, and unlimited beverages. While these dining options boast an amazing experience, they can be a bit pricey and start at around $70 per person.
When is the show?
Make sure to check your MyDisneyExperience app or a Disney Resort Front Desk agent for showtimes on the day of your visit. Because it is an outdoor show, it can be canceled due to extreme Florida weather, though it is rare. There are also occasional private events that can close EPCOT to the public before showtime. If this is a must-see for you, make sure there are no private events the day you schedule your EPCOT ticket.
How to view Epcot fireworks without a park ticket…
Nothing beats seeing a Disney fireworks show inside the park itself. The music is better, the lighting effects are more impactful, and you are truly enveloped in the experience. However, if for whatever reason you'd like to see the fireworks without having to go into one of the theme parks, there are plenty of options. Our guide to viewing Disney fireworks outside of the parks gives you locations and tips.