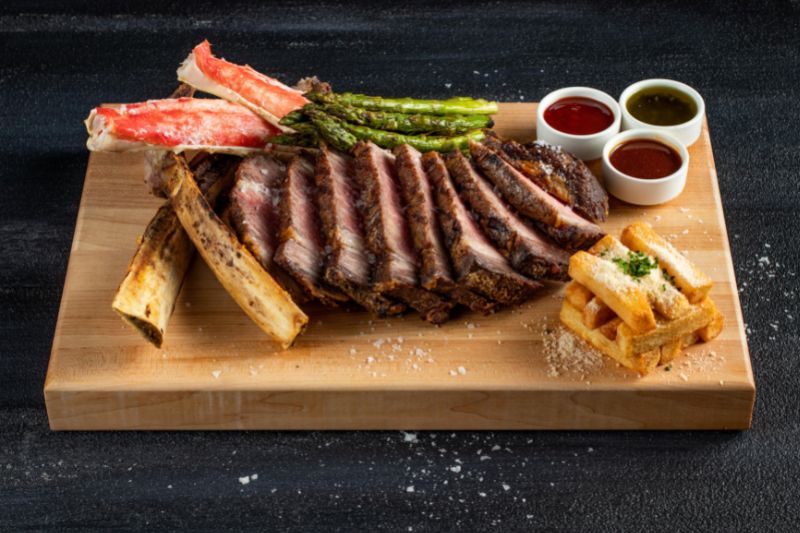 orDad deserves a great meal. Whether you're honoring your father, your partner, or the father figure in your life, it's time to celebrate. And a special holiday is a great reason to enjoy a great meal together. There are plenty of places to eat on Father's Day in Orlando, and we've put together a full list.
Whether you're looking for a takeout restaurant for Father's Day, someplace with his favorite food, or a restaurant with Father's Day specials, this list has it all.
This list will be updated frequently leading up to Father's Day, feel free to check back as new specials are added.
Some dads may want to show off their grilling skills, and if that is the case, check out our ideas for a gourmet date night at home. Or pick up some fresh produce and other goodies at one of the many farmers markets in Orlando. But, if you want to treat him to a nice meal out there are plenty of options.
Bite30, Orlando's restaurant week, is now multiple weeks from June 1 – July 10, 2022. Participating restaurants have curated a special 3-course prix fixe menu for just $33/person. This year's lineup includes 40 local restaurants.
We love celebrating special occasions and holidays at the Grande Lakes Resort near SeaWorld Orlando. Enjoy Father's Day at Knife & Spoon with New American steak and seafood conceived and led by award-winning chef, John Tesar. Á la carte menu.
Father's Day at Knife & Spoon
Dinner 5:30pm – 10:00pm.
Reservations are required, please call
407-393-4034.
Also at the Grande Lake Resort is Highball & Harvest. This southern-inspired restaurant pays legacy to its namesake, both the cocktail and the way that trains transported Florida's harvests. The menu features ingredients from local farms and the resort's own garden. Á la carte menu and special menu.
Father's Day at Highball & Harvest
Lunch 11:30am – 2:30pm
and Dinner 5:30pm – 10pm.
Reservations
required, call 407-393-4034
A favorite way to celebrate Father's Day in Orlando is with a special screening at Enzian Theather. This year's event features a Father's Day BBQ and a screening of "Airplane." Enjoy a delicious BBQ buffet, FREE beer, and a fun flick at Enzian!
Father's Day at Enzian Theater
Sunday, June 19, 11:30am
Doors open at 11:30am
Film Starts at 12:30pm: Airplane
$70 – $200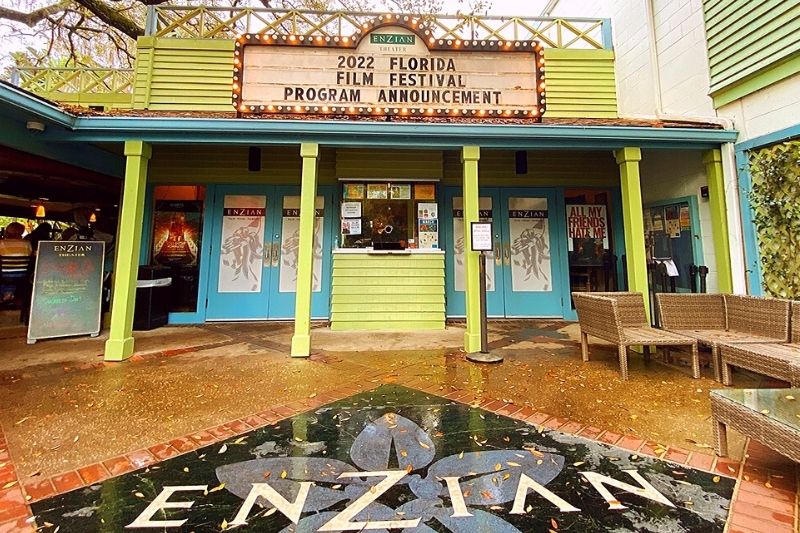 For many dads, nothing beats a dinner out at a steakhouse. Del Frisco's Double Eagle Steakhouse has a Father's Day special with an exclusive 32 oz Prime Porterhouse topped with Alaskan King Crab Truffle butter.
STK Orlando is serving up Wagyu specials all month long in honor of National Steakhouse Month and Father's Day on Sunday, June 19th. Throughout the month of June, diners can celebrate with premium steak selections from near and far with Japanese A5 Wagyu Spinalis or A5 Kumaou Wagyu, an Australian hanger steak, or tomahawk, a classic Rosewood Ranch Gold Ribeye from Texas, and much more. As if that wasn't enough, steak lovers can add toppings, including tallow caramelized onions, bourbon bacon marmalade, or Umami A5 butter.
Those looking to impress can treat dad with Wagyu + Whiskey pairings with a selection from the National Steakhouse Month menu, a Not Your Daddy's Manhattan made with Woodford Reserve Bourbon, Angostura Bitters, brown sugar & vanilla bean, or a classic STK brunch selection like cinnamon French toast or smoked pork belly benedict paired with Bloody Mary. Dads will also receive a complimentary bottle of STK Bold Sauce in honor of Father's Day.
---
Enjoy Father's Day Brunch at Tapa Toro on International Drive will feature paellas and lamb dishes, and other delectable Spanish flavors. The fun really kicks off when the Flamenco dancers comes in. Father's Day Brunch – 11 a.m. to 3 p.m. Flamenco dancing begins at 12 noon. Or make it an evening affair with Father's Day dinner at Tapa Toro where dads get a free beer with their entree.
Also in the attractions area is Wine Bar George at Disney Springs. Just for Father's Day, they will offer Pistachio Crusted Lamb Rack with tomato risotto and marinated artichokes.
One of our favorite spots in Lake Nona is Canvas Restaurant and Market. This year they're serving a special Father's Day dinner with savory flavors and a few sweet treats.
If super casual and easy going is his preference then Bar Louie is inviting guests to celebrate Father's Day with a variety of boozy staples including $2 mimosas until 3 p.m. Pricing and participation may vary, see your local Bar Louie for details.
What's more perfect for Dad than sipping on a rum flight with Papa in the name? Papa's Pilar Rum Flight at Sloppy Joe's Orlando features three rums from the Ernest Hemingway inspired brand. This Father's Day Sloppy Joe's Orlando at ICON Park Orlando is offering the flight for $20. The flight includes Papa's Pilar Blonde Rum, Dark Rum, and Sherry Cask Rum.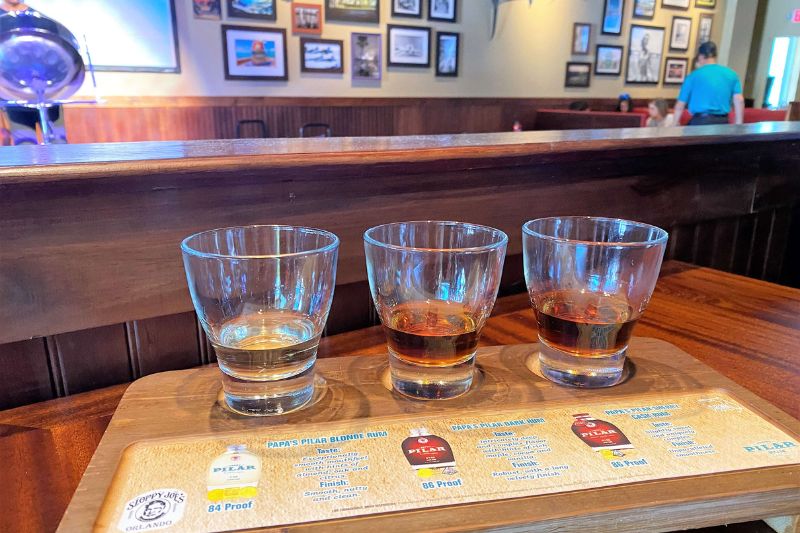 You can also enjoy a nice meal at home with the Father's Day Feast Pick Up from Ravenous Pig. The feast includes a 48oz dry-aged porterhouse steak, loaded potato hashed browns, roasted carrots, truffle ciabatta loaf, and a dessert of stonefruit bourbon crisp. Plus, you can add on cocktails to-go.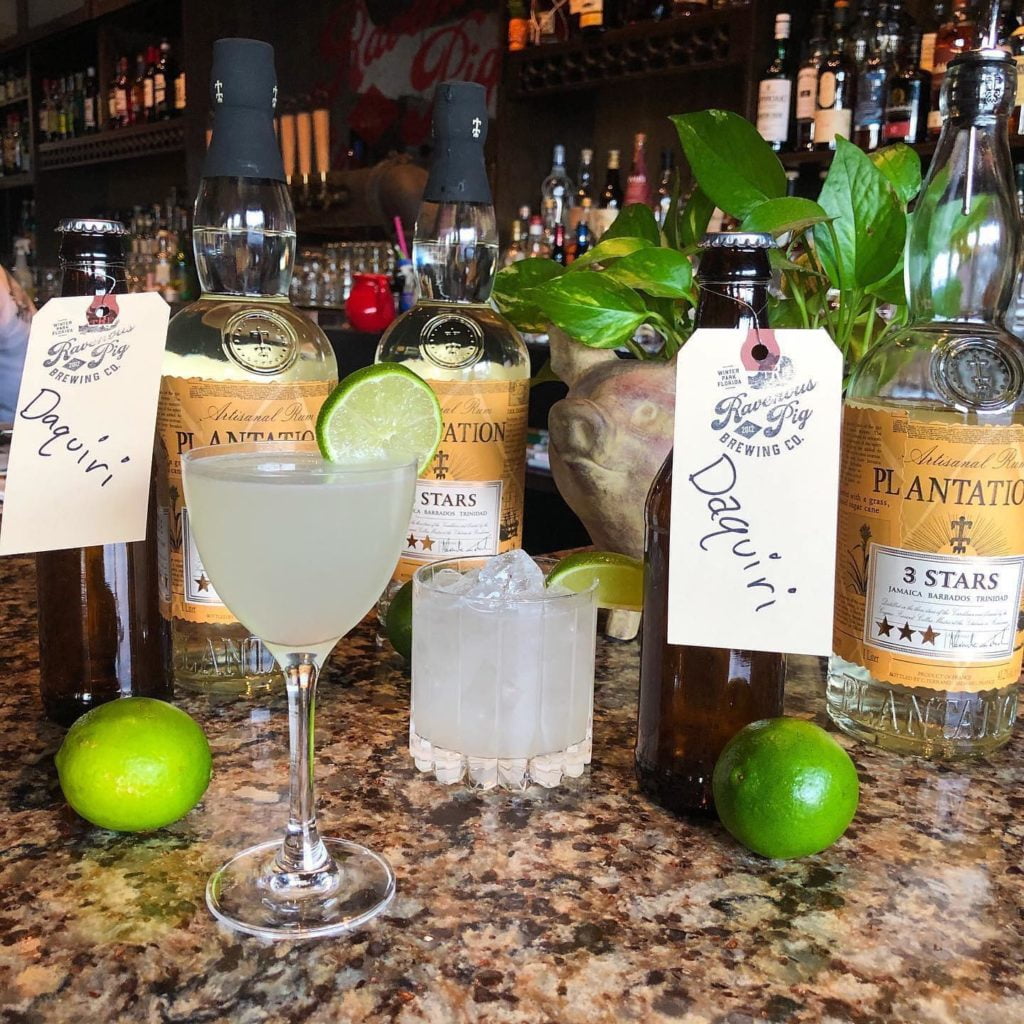 Relax at home with Spanish cuisine from Tapa Toro which offers takeout for Father's Day.
Pick up a "green box" the day before Father's Day for dinner on the go from Seasons 52. Each box is freshly prepared, and under 595 calories per serving (one of the reasons we love Seasons 52), and chilled so you can warm and serve when you're ready. It also includes six complimentary Mini Indulgences desserts.
Grab a feast from 4Rivers Smokehouse. Priced at $54.99 the Happy Herd feeds 4 and comes with your choice of 4 Meats, 2 Classic Sides, 4 pieces of Cornbread or Slider Buns. To treat the entire gang, the Savory Sampler is the way to go. Priced at $60 (serves 4 – 6) or $109 (10 – 12) the party package comes with Brisket, Pulled Pork, Texas Sausage, 4R BBQ Beans, Mac & Cheese, Coleslaw, Slider buns and sauce. Place your platter orders in advance or 844-474-8377 for pick up on Saturday, June 18th.
---
---
Besides special events, there are lots of places to take dad out for a great meal. Make a weekend of it and try a few places. It's hard to say no to a great burger, and we've got a round up some of the best burgers in Orlando – from casual to gourmet.
There's something special about dining on sumptuous seafood. Whether you want to get messy with a seafood boil or have an elevated experience, these are our picks for the best places for seafood in Orlando.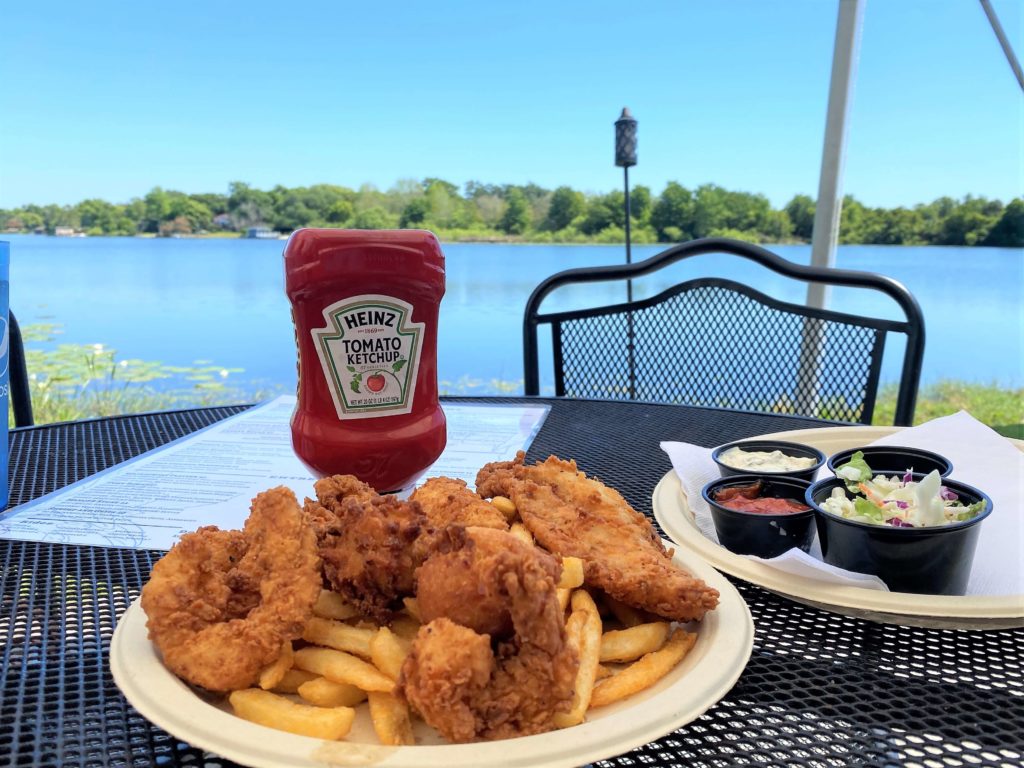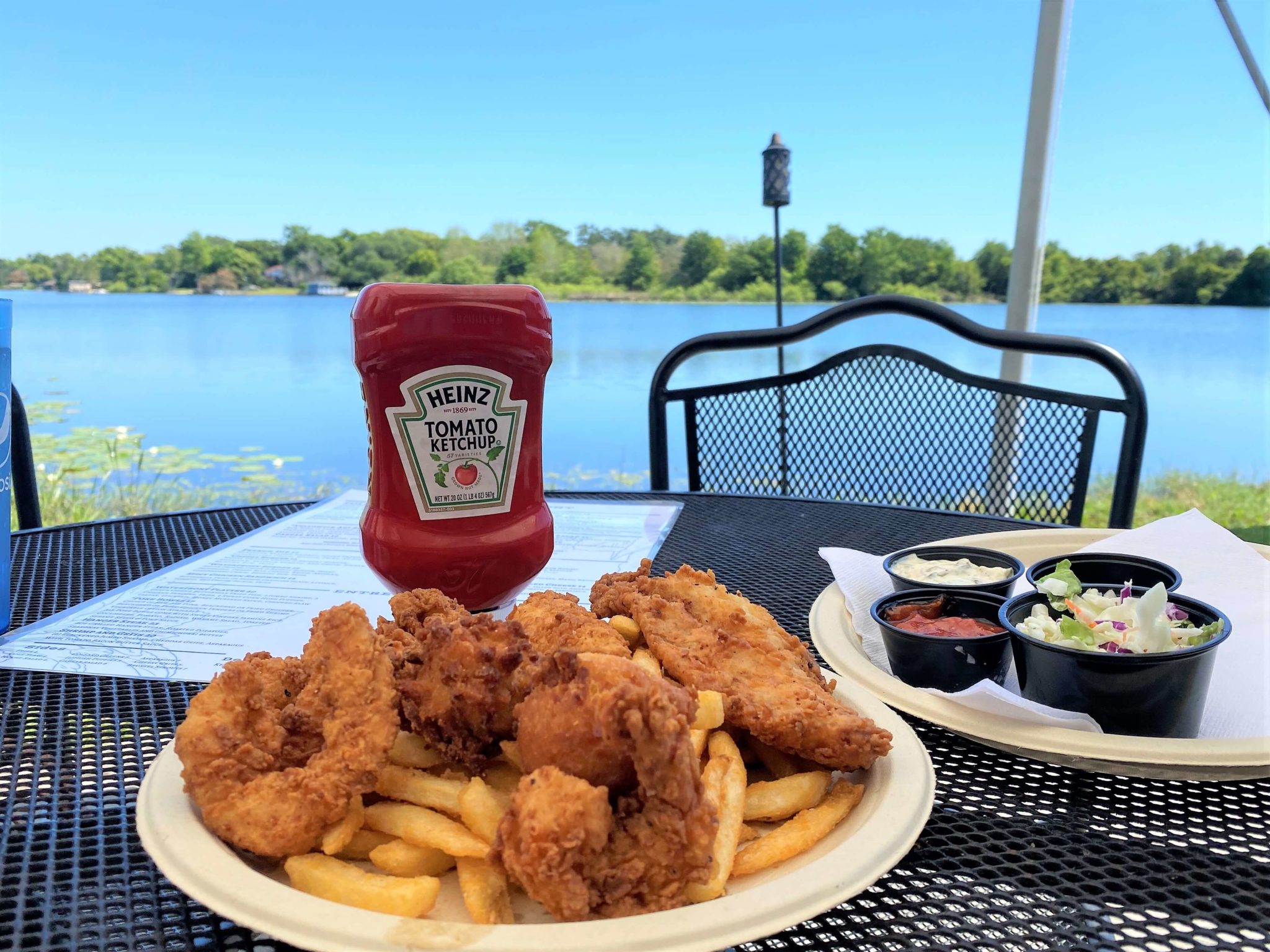 The Waterfront Orlando – fresh seafood
Perhaps something a little smoky and saucy is more his speed. There are plenty of places for BBQ around Orlando and we've got a list of our favorite places for BBQ in Orlando. Of course, there's something so satisfying about a cheesy pizza. Whether it's something casual and tasty or a little upscale, check out our favorite places for pizza in Orlando.
For the ultimate indulgence, make plans at one of Orlando's best Brazilian steakhouses, where you can indulge in sumptuous, fire-kissed meats served "rodizio-style" right at your table.
---
 Check out our guide to the Best Restaurants for Brunch in Orlando for spots for a memorable Sunday brunch.
Feature image provided by STK Orlando