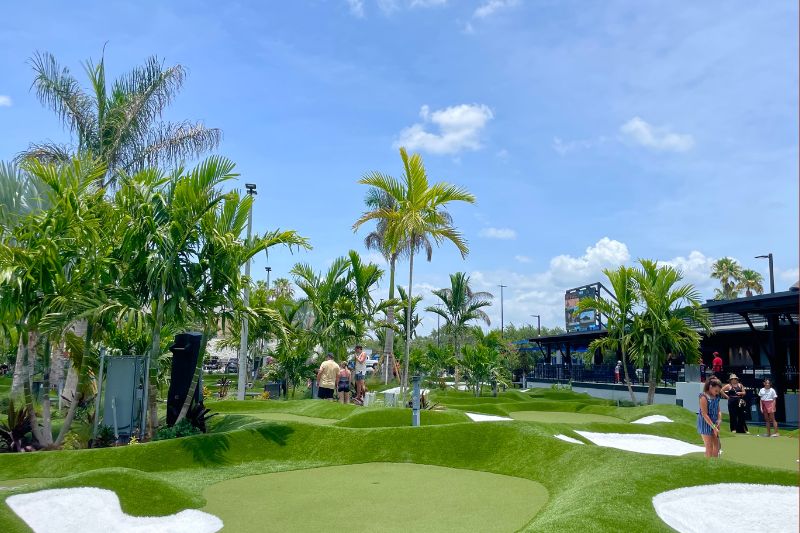 Tired of the same old date ideas?  Orlando's newest attraction is a fun activity with good eats, drinks, outdoor games, and miniature golf. PopStroke Orlando is just what you're looking for. And with it being an expertly designed putt putt golf course by Tiger Woods, it is a welcome addition to the Orlando area fun! 
What is PopStroke?
Located in Orlando's Waterford Lakes area, PopStroke is a mostly outdoor venue that offers food, drink and putting greens. It is a new and experimental setup for a day of miniature golf.
The putting greens are Tiger Woods designed and are more like your traditional golf than an obstacle filled mini-golf would be. There are two courses offered (36 total holes) which are all included in a day pass, to play how much or as little as you desire. 
The Venue offers two full bars, an ice cream counter and plenty of outdoor seating. It's very near the University of Central Florida, so we imagine that it'll be quite the hang out when classes return in the fall. Chill with your friends or on a date for something active, and a tad challenging. Watch whatever football, baseball, and other sports events are on big TVs, and enjoy some yard games.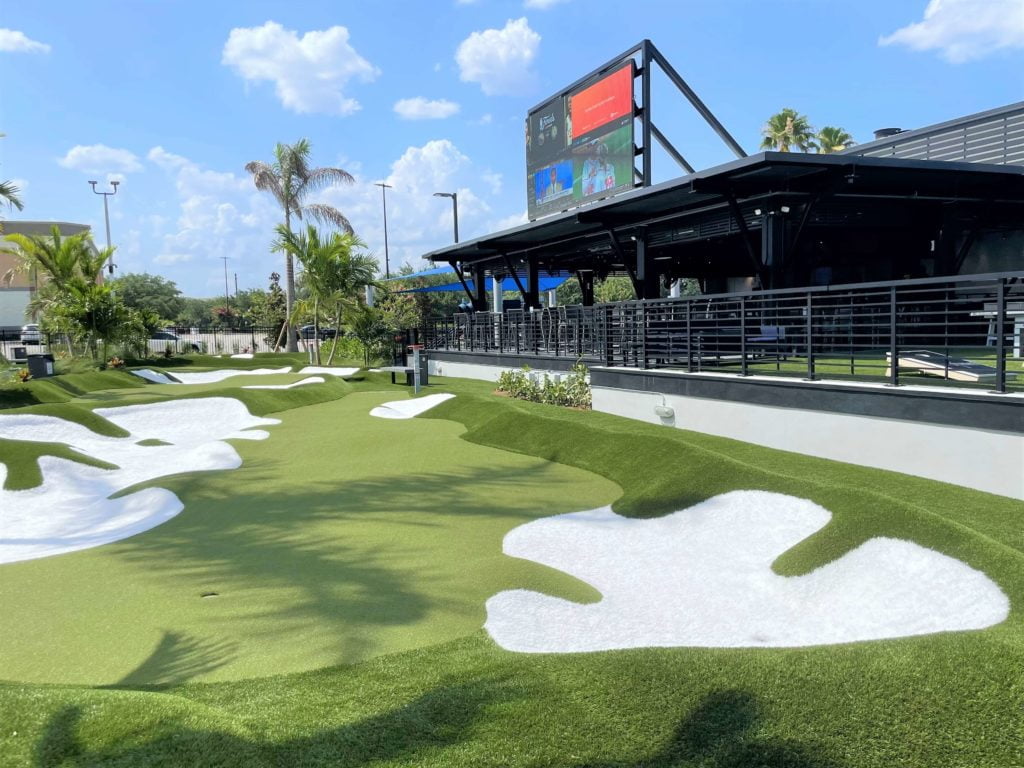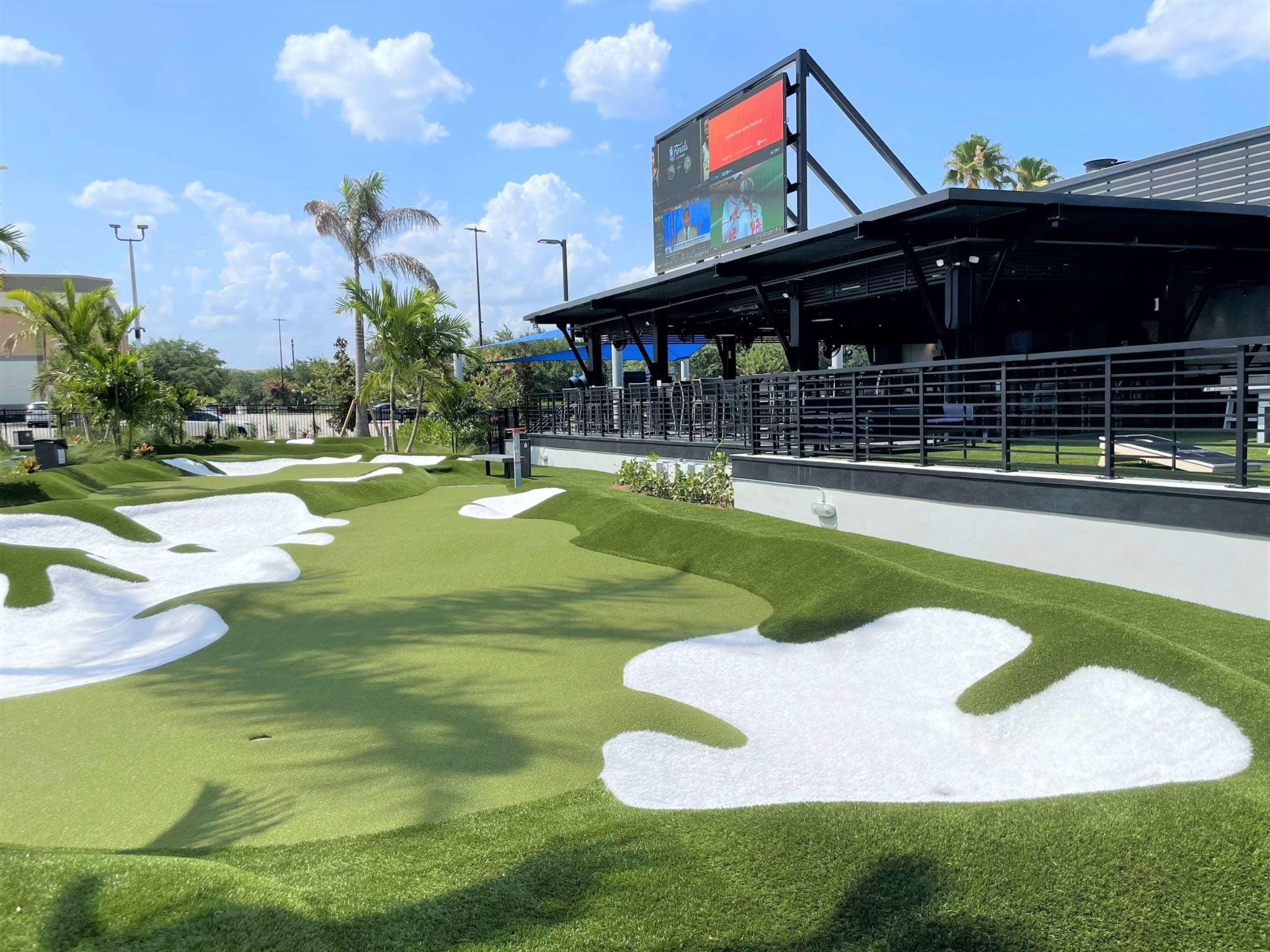 PopStroke Orlando – How it works
The PopStroke phone app is the key to unlocking all things PopStoke. It requires a registration that will be explained once you enter the main room, "golf shop" like area. Once you purchase your day pass and activate it in the app the PopStroke employee will scan your QR code and explain which course is which.
At the Orlando location, the Black Course is deemed easier and more family-friendly but we were told that plenty of guests find the Red Course to be lots of fun.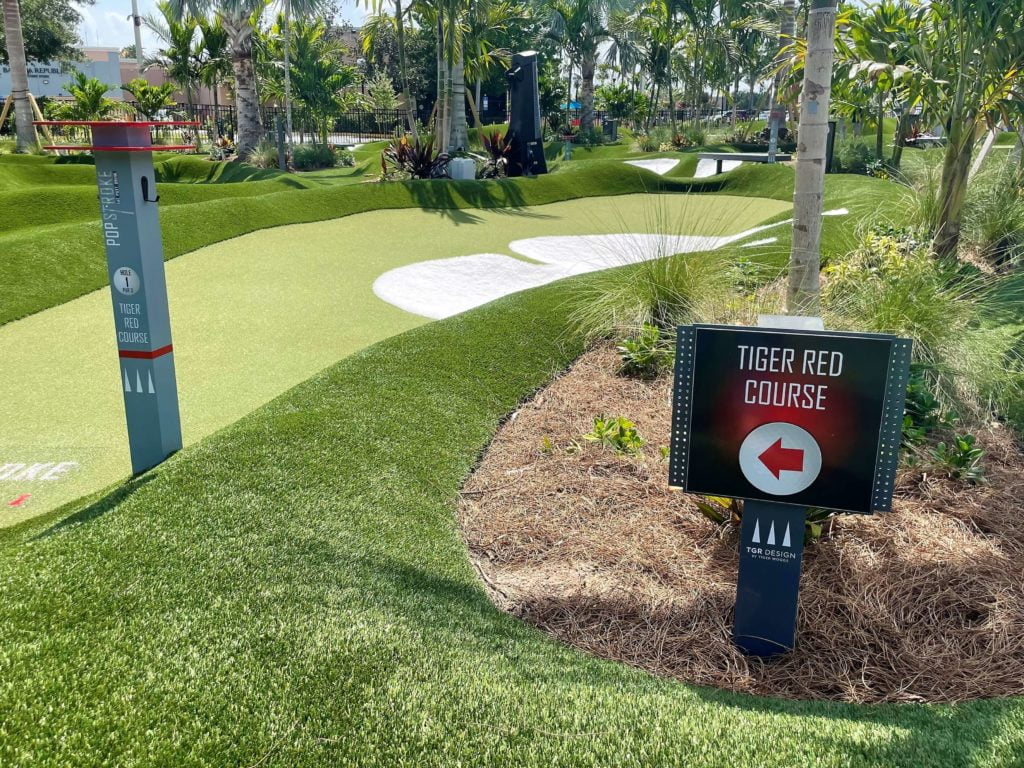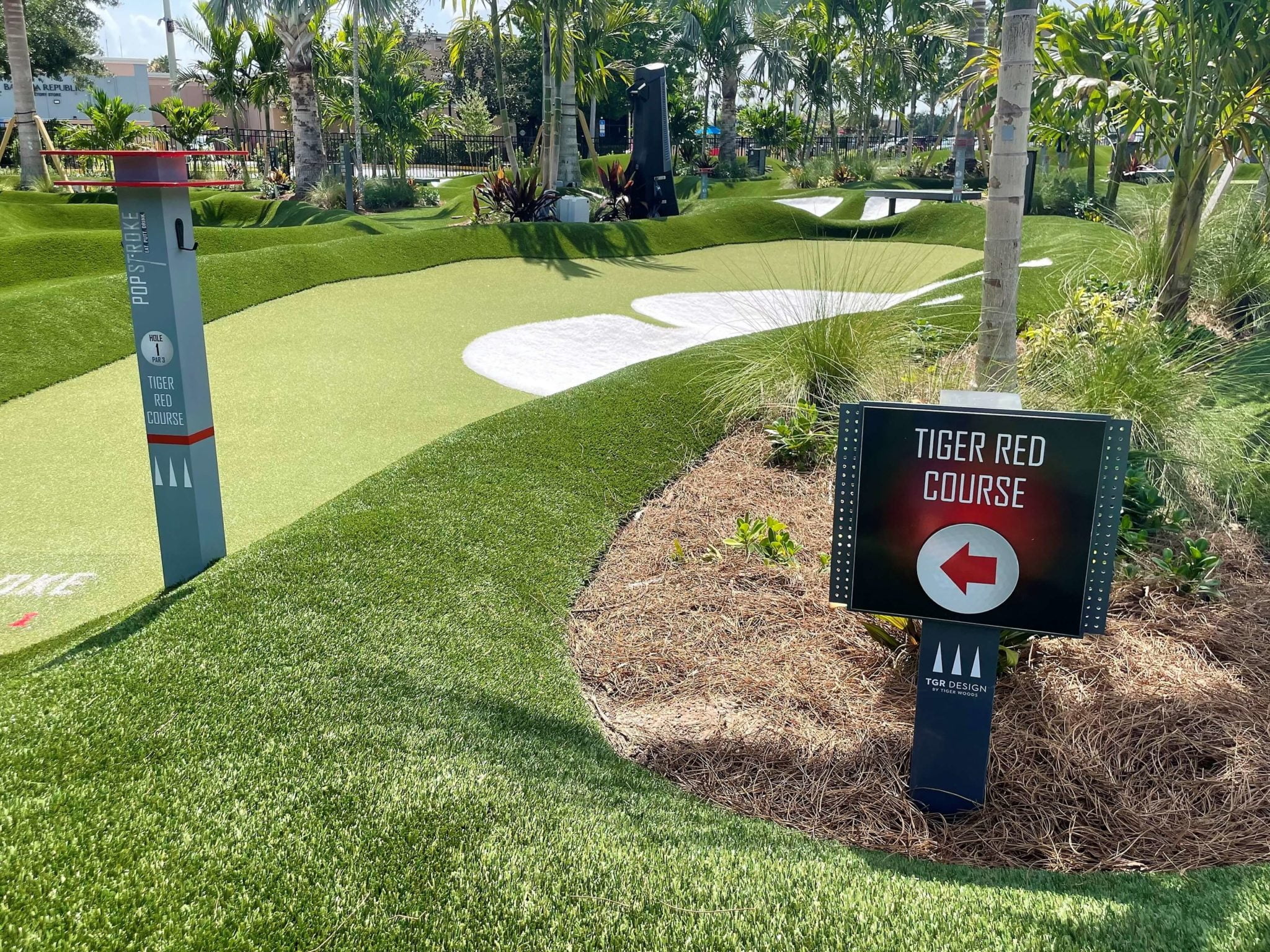 The courses are designed with "sand pits" and there are slight elevations or dips in the greens, similar to your standard golf course. Each hole is different. A souvenir golf ball for each paid guest is yours to keep!
We found it was easier to have a person play until they finished each hole as the balls are all a similar color and the putting greens are kind of small. You keep score on a traditional scorecard but the PopStroke app also allows you to enter your scores in the app and tracks your scores to see how you held up against the other players. There's a large TV screen over the venue that shows the current standings. 
While golfing, each course has a pole with hooks for purses or bags and cup holders. To add some extra flair, PopStoke offers the ability to order drinks, using the app. Drinks are delivered to the putting green hole at which you are currently playing. Service is pretty quick and definitely convenient, however, it will be interesting to see when it is full of people. 
This could be a fun birthday idea if you're looking for something active.
RELATED: Birthday Ideas for Adults
Eats and Drinks
Once you enter into the venue you can freely walk around the space outside. Relax at either of the two bars, or the variety of seating to grab some good food and drinks. The app has a full menu. To eat in the restaurant area, you'll be sat by a hostess and order from the PopStroke's lovely servers, but you can walk up to the bartenders and order a drink on your own.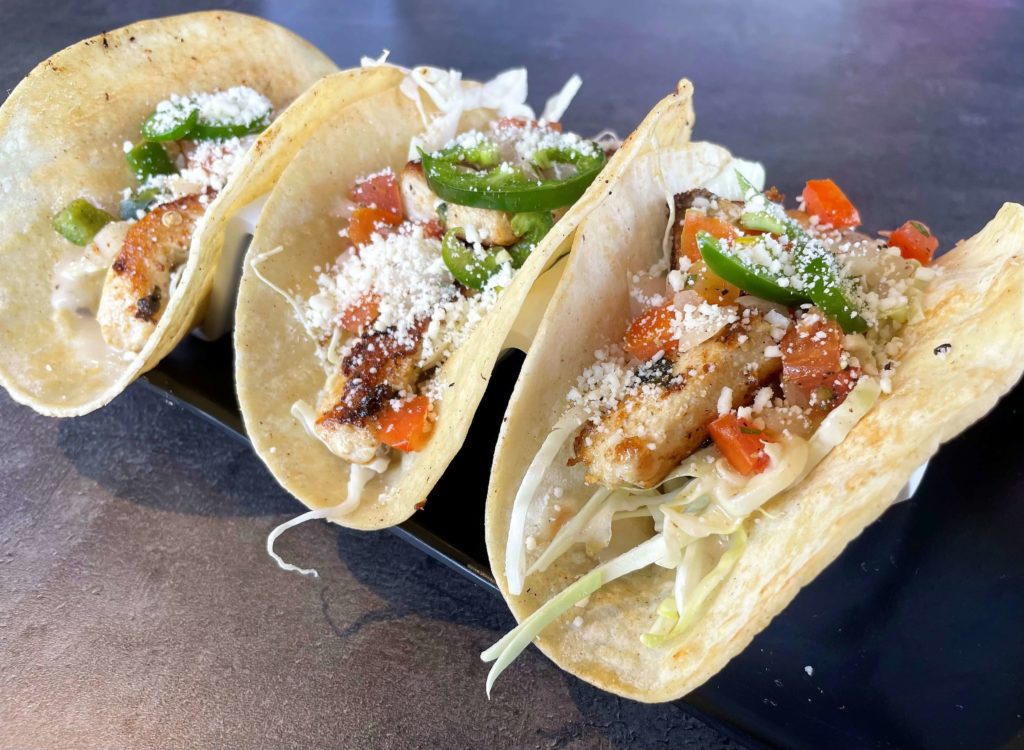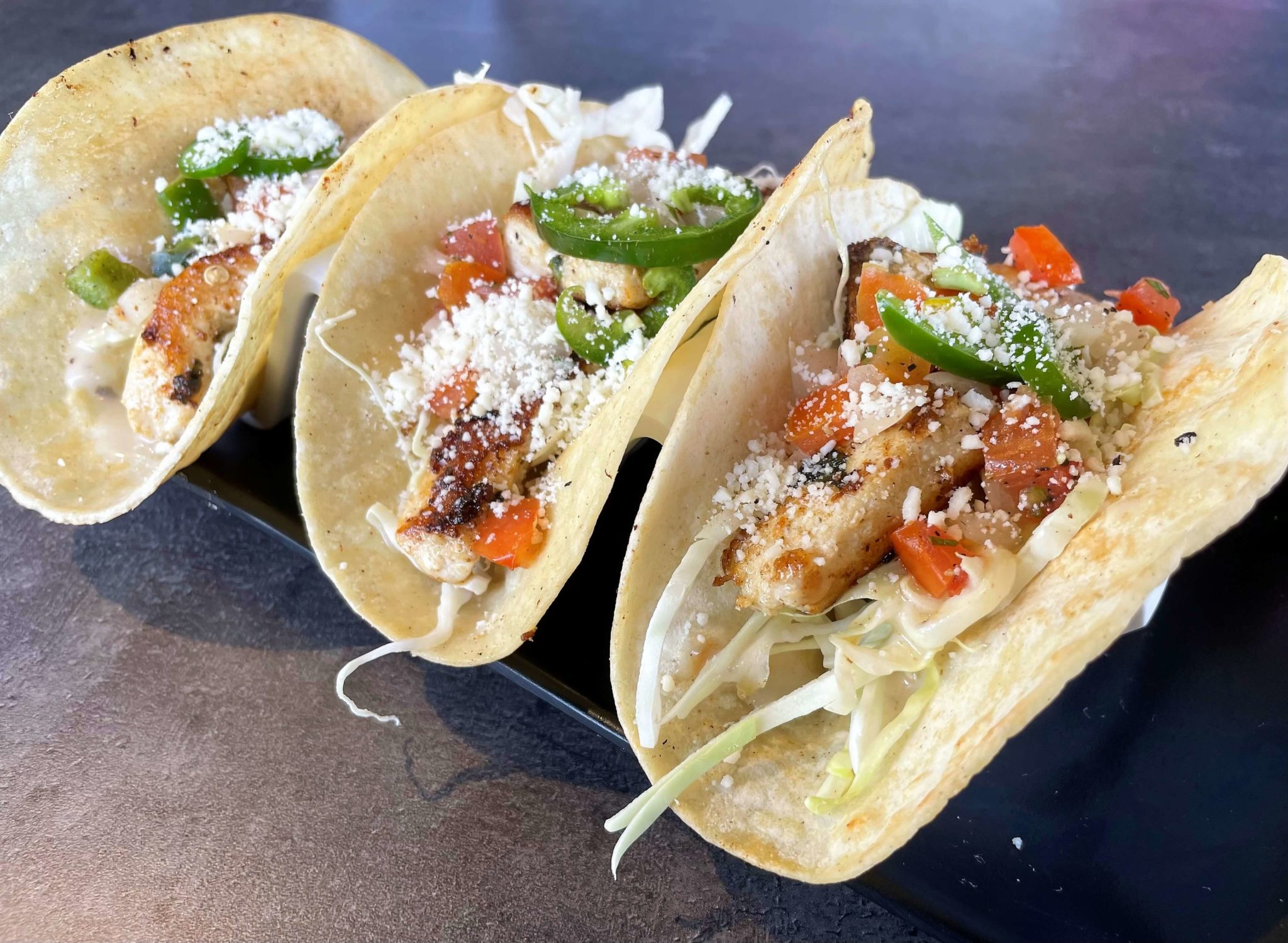 We sat in the restaurant and tried the Blackened Mahi Taco. They satisfied my craving for something light and flavorful. Their menu offers a range from wings, flatbreads, burgers, sandwiches, tacos, salads, churrasco skirt steak, fish and chips, and many more.
It is family friendly sports food, and a full kids menu is available too. A handful of beers are on tap and the offerings may change as we saw plenty of brewers meeting with the management team when we were there.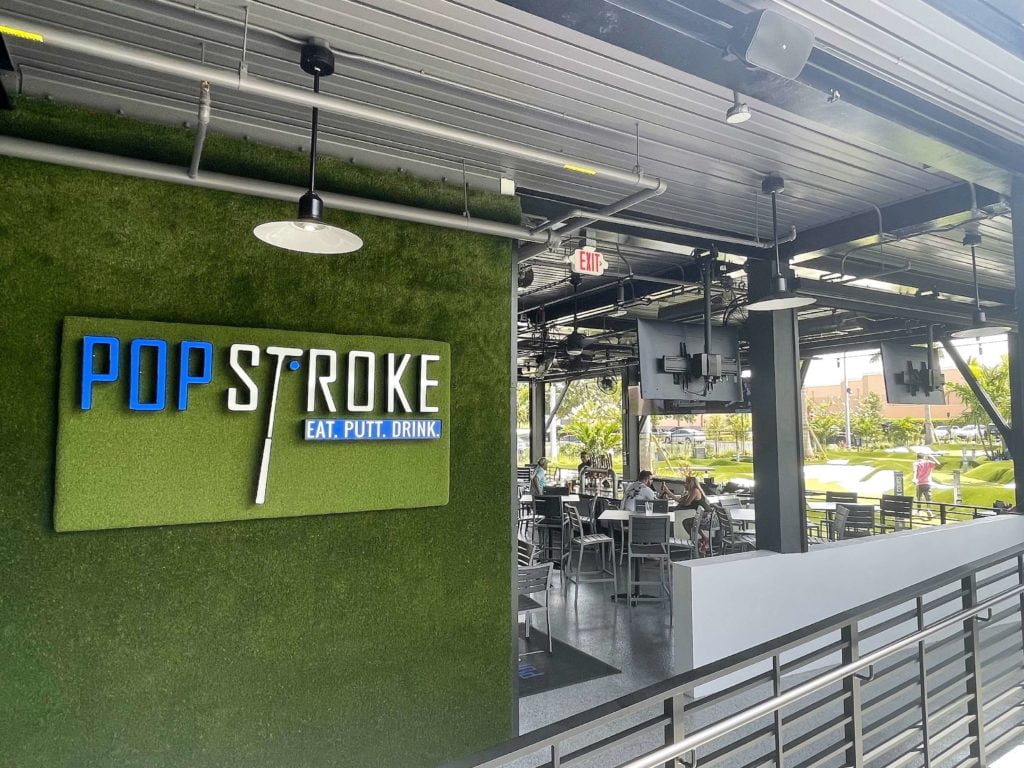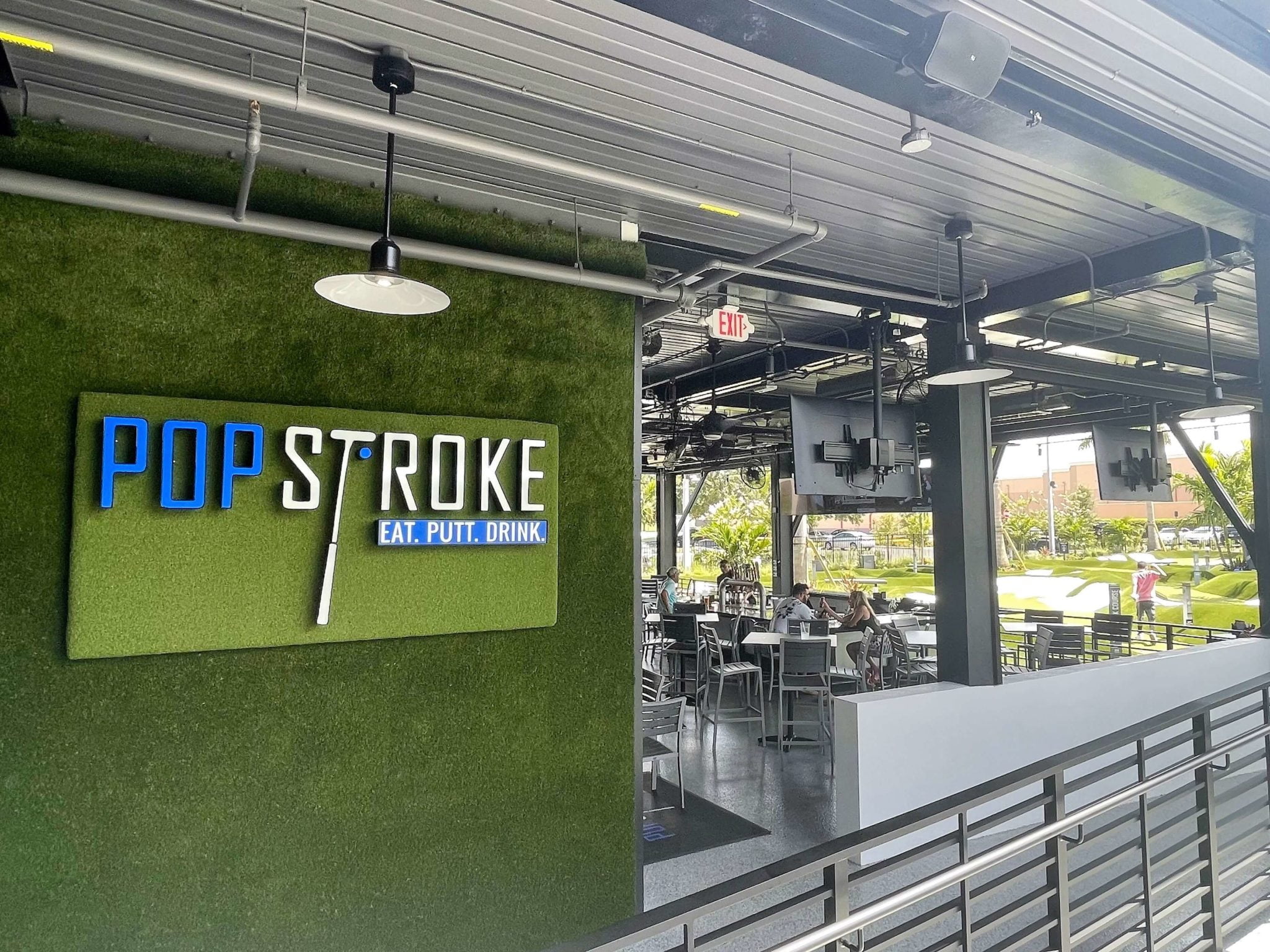 RELATED: A Beer Lover's Guide to Breweries in Orlando
PopStroke also has a full ice cream bar with tons of flavors, which is great for the kiddos and adults alike, especially on a hot summer day of putt putt. The ice cream bar is located inside the golf shop. Try the Cappuccino Chip ice cream, it's the perfect treat!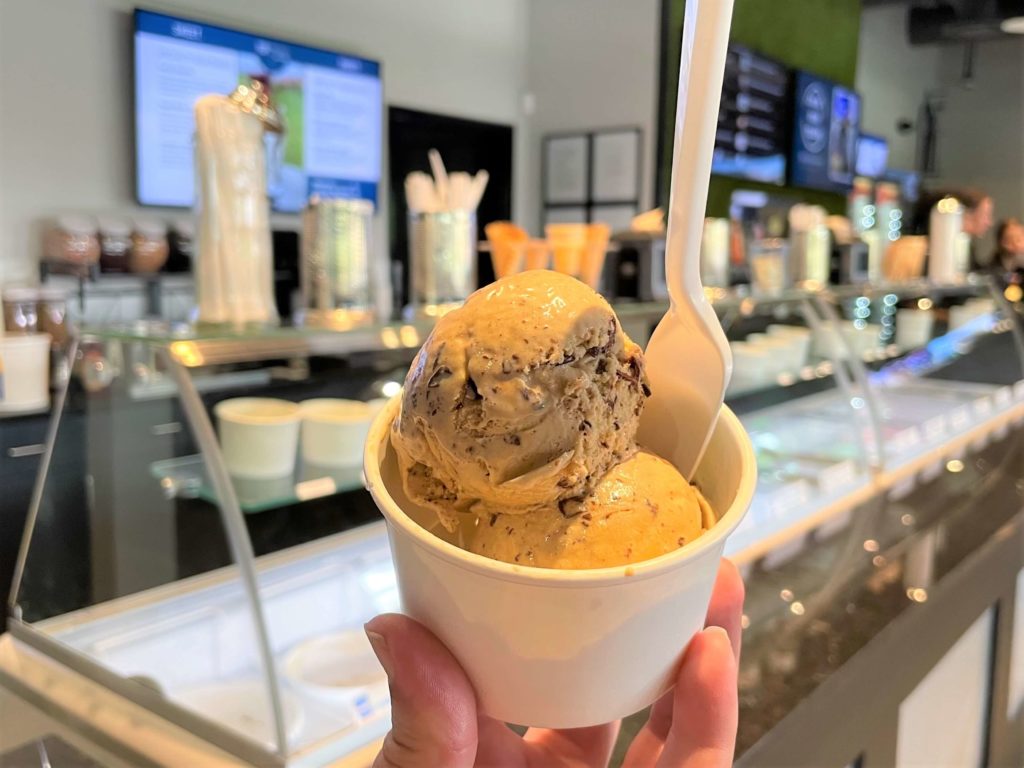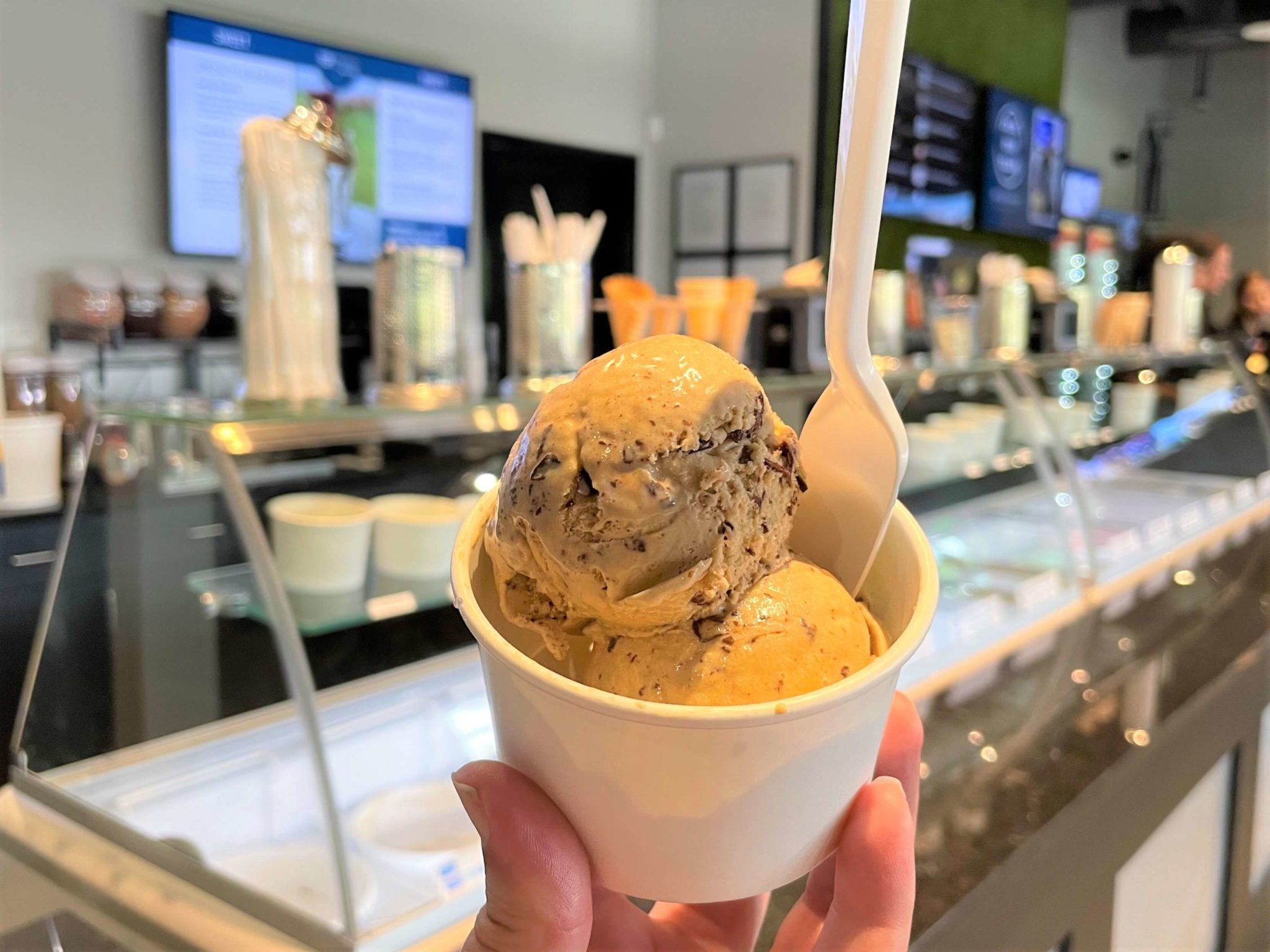 Tips and Information 
As you can imagine, a mostly outdoor venue in Florida is quite warm. The putting courses are extra warm. Make sure you dress lightly, much as you would for traditional golfing or visiting a theme park. We suggest a hat or umbrella for some extra sun coverage, and sunscreen, if you're playing during the day.
Some of the holes offer fans and misters, we think more of those will pop up over the summer. They also have coolers full of ice and towels throughout the courses. 
A Day Pass allows you to play both courses, all day, you can even leave and return in the same day, and it is priced at $25 per person. The venue is open fairly early at 9:00 a.m. and closes late at 12:00 a.m. So, a good tip is to arrive as soon as they open, take a break in the afternoon for food and hanging, and play more in the evening. Currently, PopStroke does offer a twilight discount if you come at 10:00 p.m. and you can play until close.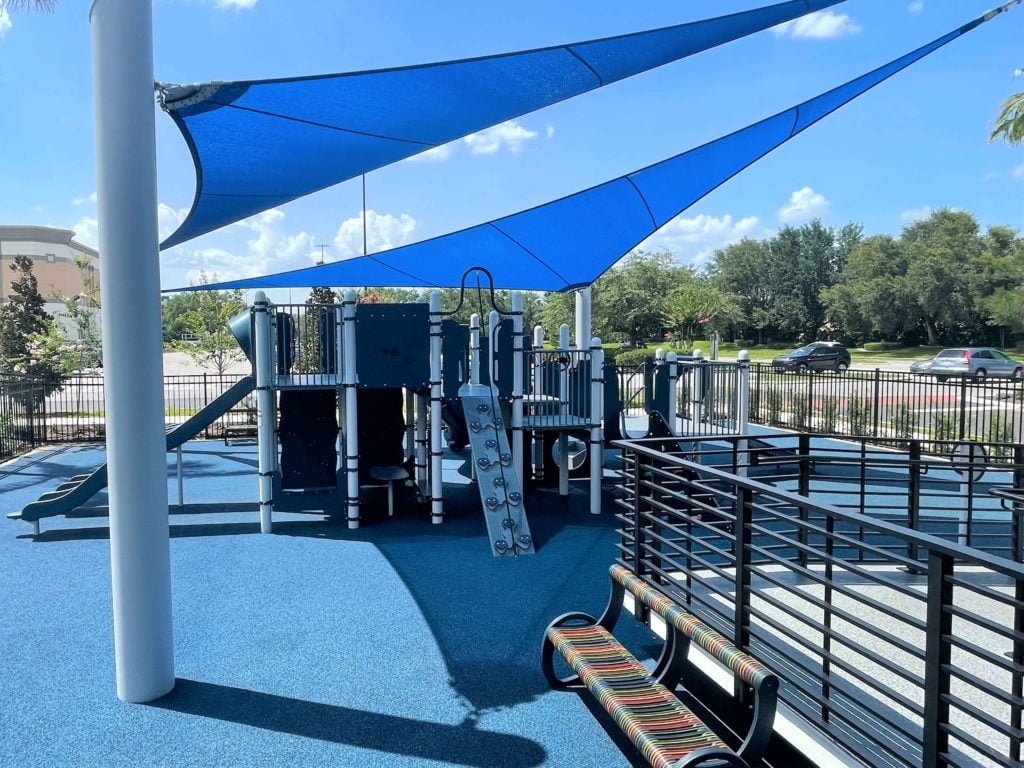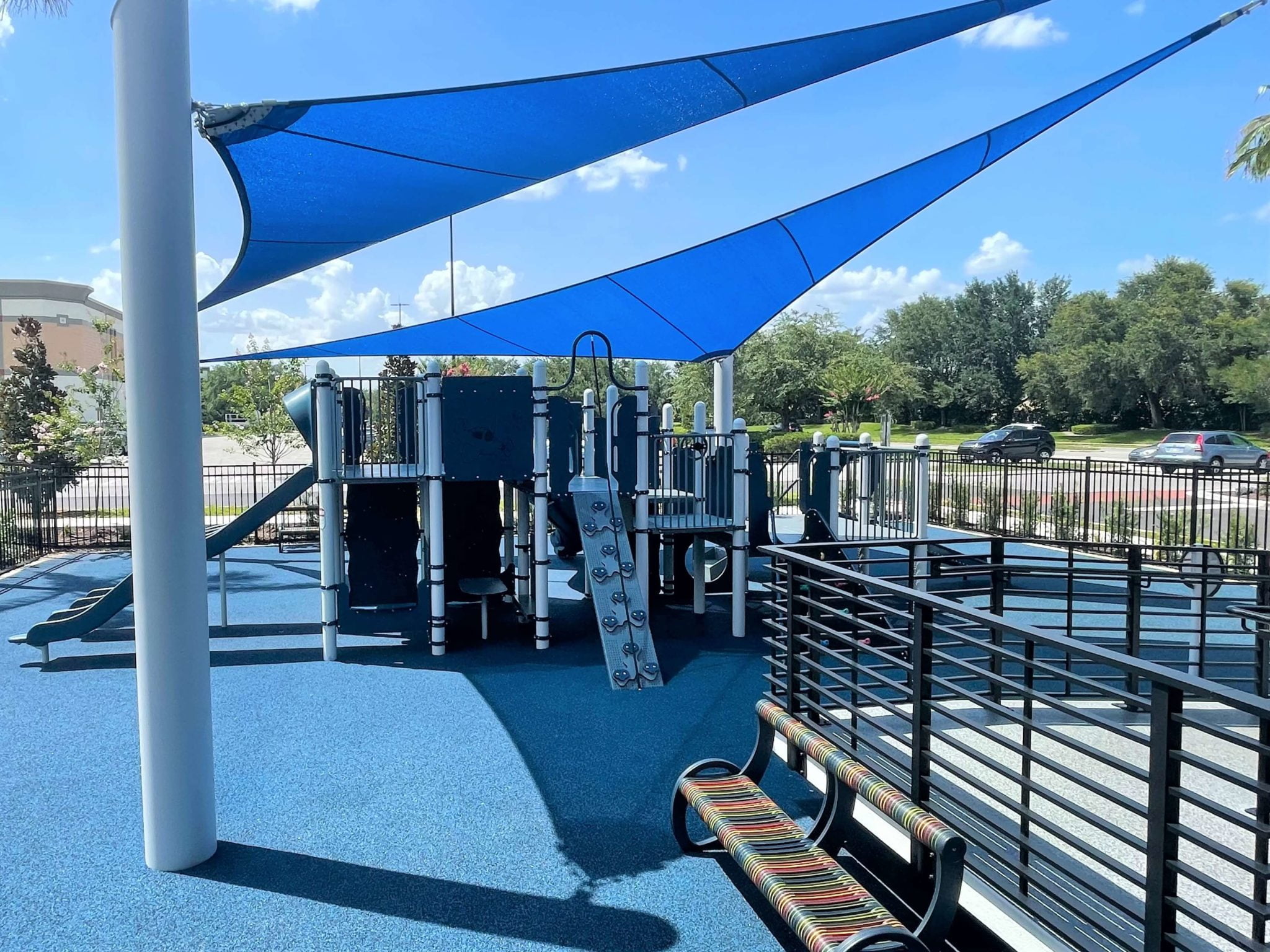 A semi-shaded playground for the kiddos, foosball tables, ping pong tables and a couple of other yard games make for a good break in between your games.
This place will definitely be a popular hangout for the locals and the UCF college students so be prepared for it to be busy. The Winter Garden, Hamlin area will receive its own PopStroke location, but there is no opening date as of yet. Swing in and check out PopStroke!