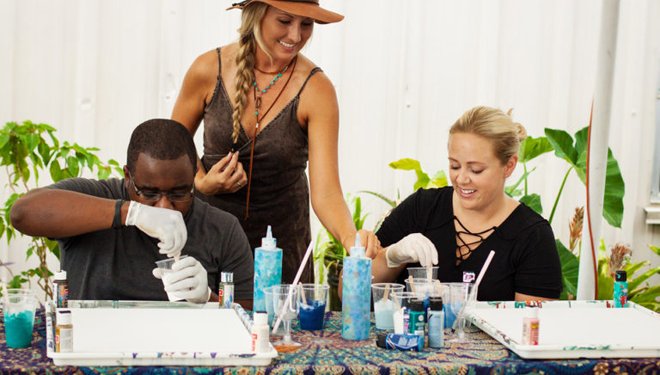 In addition to the theme parks and blossoming food scene, Orlando also boasts a thriving arts community. Annual events like the Orlando Fringe Festival and Immerse are paired up with unique venues, art workshops, museum happenings, and stellar performances. Each offers a wonderful opportunity for a date night that will enrich your mind (and your relationship!) Explore the arts in Orlando and spark dialogue and introduce yourselves to our incredible local talent.
Updated July 2022 by Dani Meyering
10 Must-Have Art and Performance Experiences in Orlando
Orlando Museum of Art
Enzian Theater
The Dirty Pour Project
Sak Comedy Lab
Dr. Phillips Center for the Performing Arts
Charles Hosmer Morse Museum of American Art
Orlando Shakespeare Theater
Orlando Fringe Festival
Florida Film Festival
Creative City Project
Year-Round Arts in Orlando
Heading to the nearest museum is a no-brainer for a budget-friendly date night. However, if you're willing to invest a few more dollars, you can experience the Orlando Museum of Art in interactive and unexpected ways. In addition to the curated galleries and rotating exhibitions, there are monthly events at Orlando Museum of Art including the new Art Distilled night for adults and Art Night Out.
The new Art Distilled program for adults follows similar events for adults done in the past. Enjoy an art appreciation presentation, facilitated discussions, gallery connections, and a themed cocktail. Beer and wine are also available. Tickets are $25, and series tickets are also available.
1st Thursdays said farewell in November. For over 20 years, this recurring event has brought the Orlando community together to celebrate local artists and talent. The showcase is an open theme, meaning that artists are encouraged to submit their work without limitations! In 2023, 1st Thursdays will evolve into an even better version of itself, keeping the original core values of the event under a new name and bigger, more exciting opportunities to highlight Orlando's artistically driven community.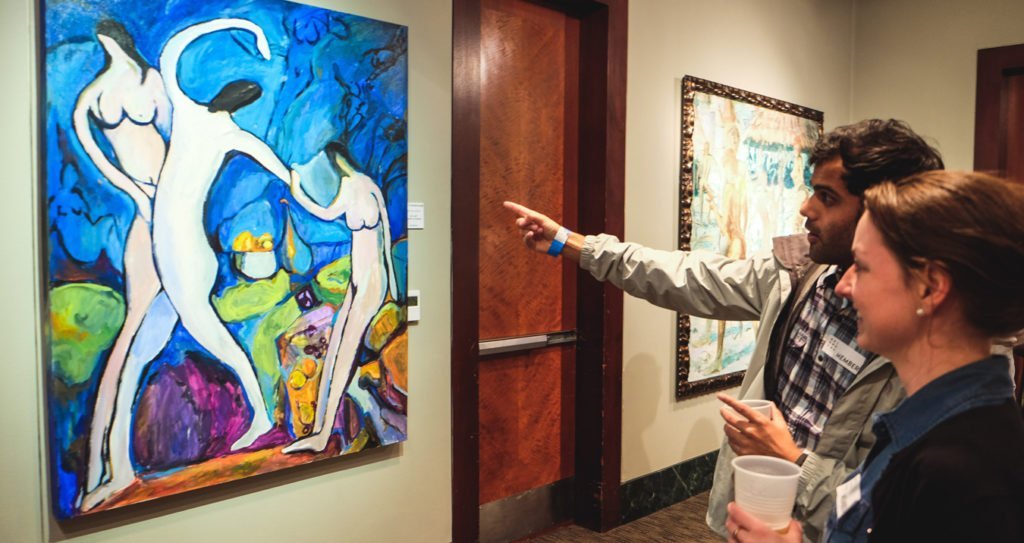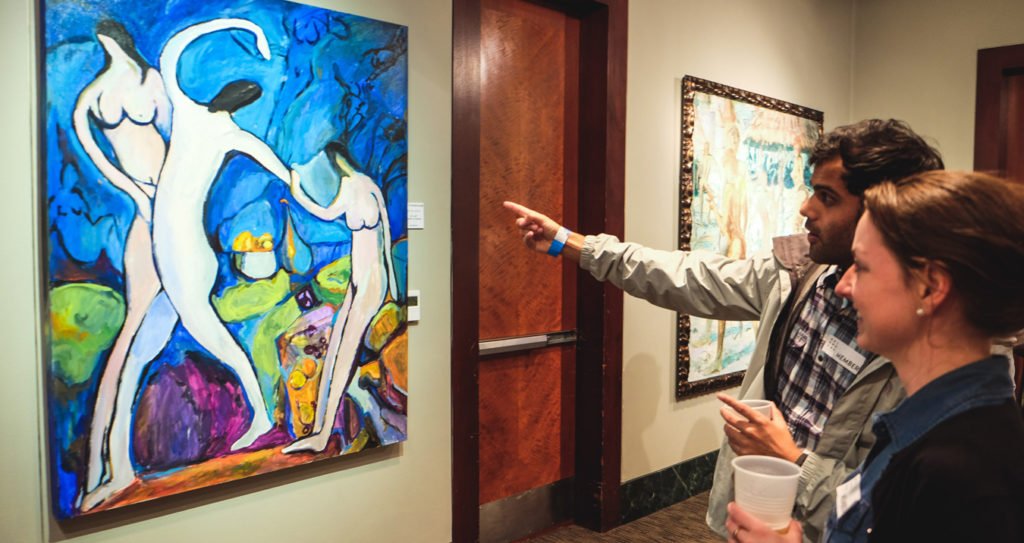 A well-known and loved movie theater among locals, Enzian is hardly a hidden gem. But it is a gem for date night and a definite must do, preferably more than once. Enzian is not the place to go to catch the latest blockbuster; the non-profit theater screens classic and independent films. It is, however, a place to go in order to expand your mind, experience new films you may never have known about otherwise, and immerse yourself in a creative, inviting environment, unlike any other movie theater you've ever visited.
Inside the theater, there's tons of plush, retro-inspired seating. And, bonus: it's a dine-in theater! Outside, Eden Bar is one of Orlando's best outdoor spaces for grabbing a bite and cocktail before or after the show. (And the bartenders make a mean mojito.) Check the theater's website for upcoming films, cult classics, special programs, parties, and more. Film buffs won't want to miss the annual Florida Film Festival.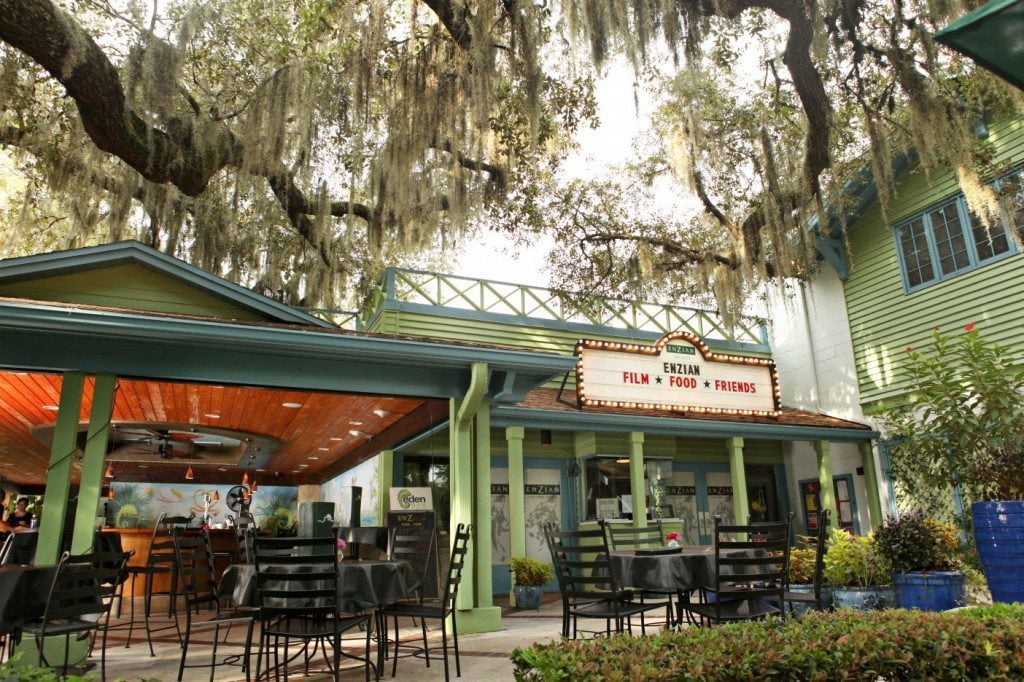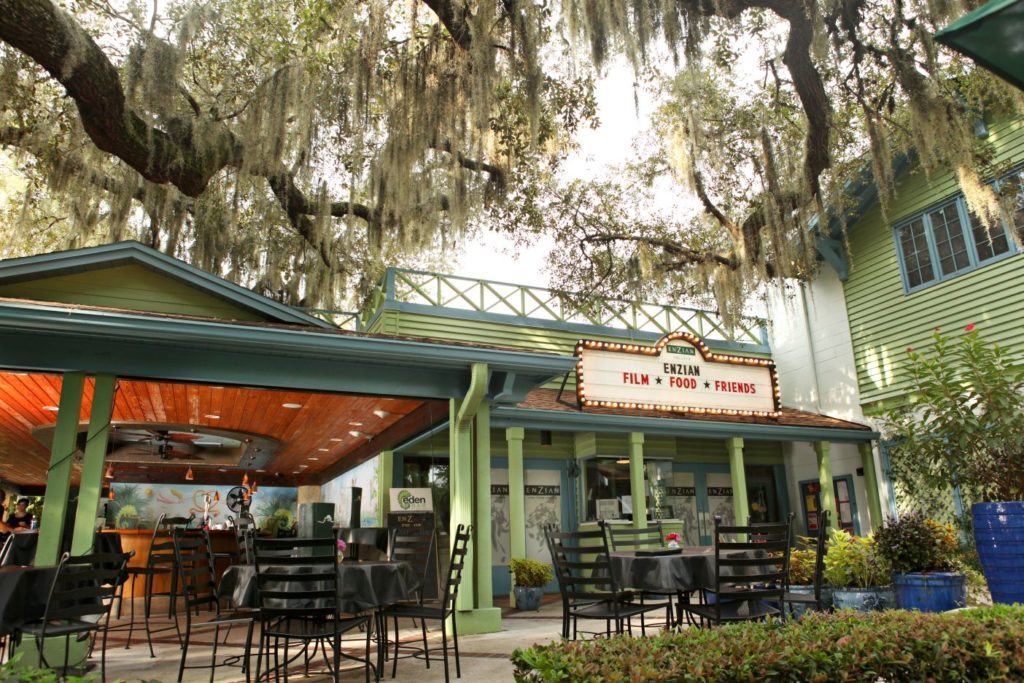 Held at different breweries and other venues around Orlando, pour parties are perfect for date night, a solo night out, girls' night, and everything in between. The painting method taught in each class is fluid painting, a method in which you mix and layer paints (thinned with water and pouring medium and blended with silicone) and dump them onto the canvas in order to create a truly original work of art.
To newcomers, the result is unpredictable, and that's what makes it so fun. Coordinate color selections with your date to make two complimentary paintings or unleash your creativity to create distinct paintings. Public pour parties are usually held monthly, but check Facebook for details and upcoming events.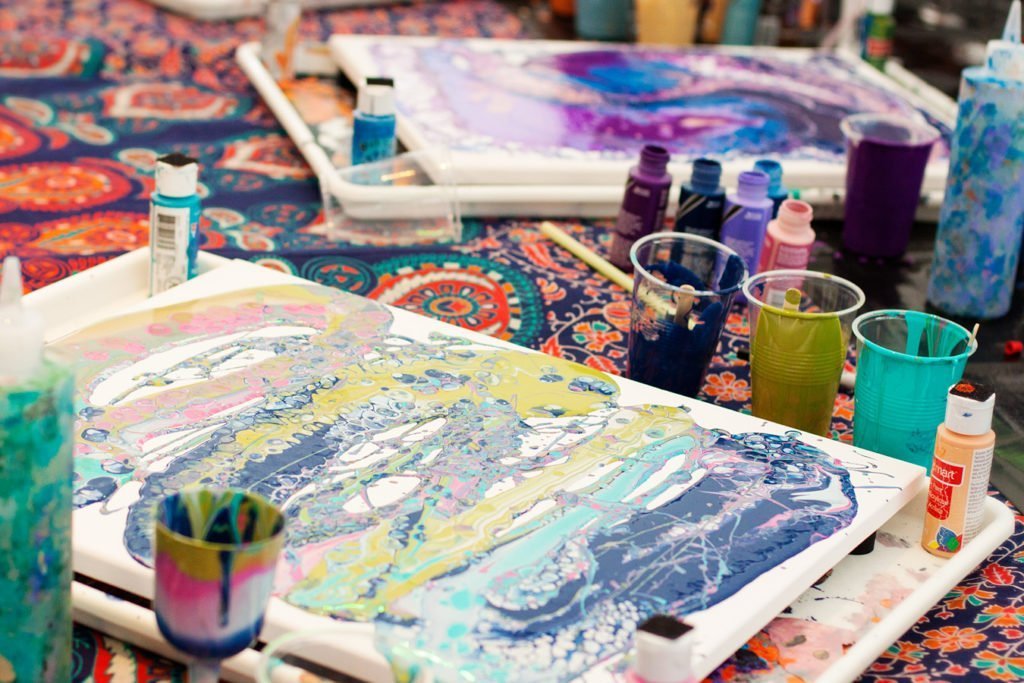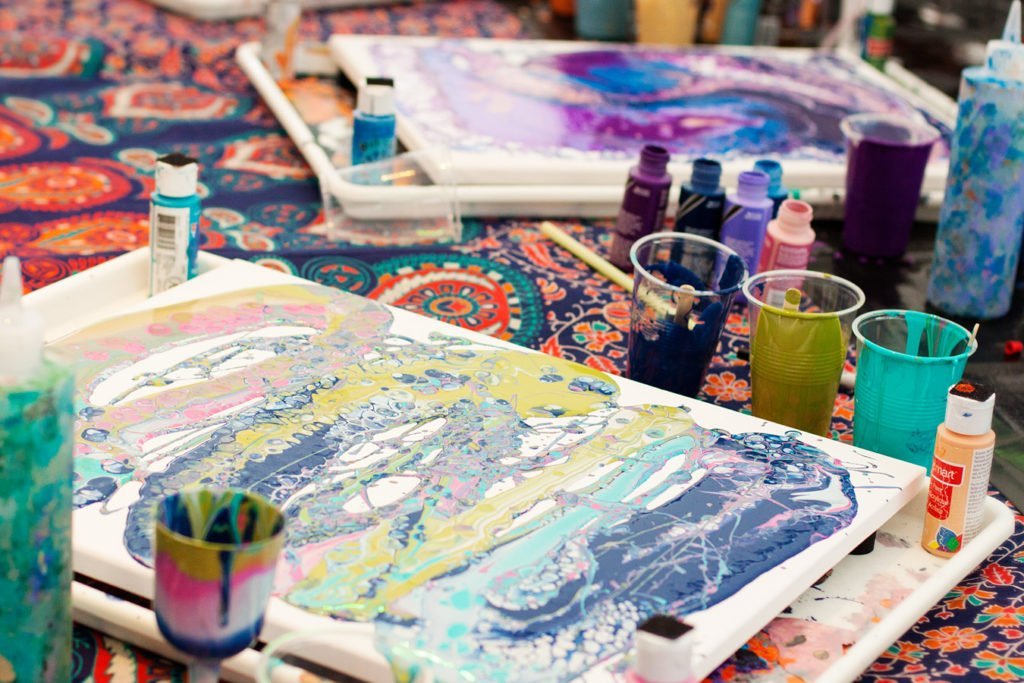 Similarly, Abstract Orlando is another great date idea involving the arts in Orlando. This fluid art class in Orlando is a fun experience for couples, friends, or family. And its location on International Drive makes it a fun destination.
Also, Pinspiration is a painting and arts company with multiple locations around Orlando. A variety of experiences are offered including Pinspiration private sessions for date night.
---
 If you enjoy the arts, you may want to consider a membership or annual pass at a variety of Orlando venues.
---
SAK Comedy Lab
Prepare to be entertained at SAK Comedy Lab. Located amidst the excitement of downtown Orlando, SAK is the place to be for a night of laughter and fun with your date.
SAK's oldest and signature show, Duel of Fools, takes place every weekend featuring two teams of improvisers and audience judges. The audience helps dictate the direction of each show with the actors onstage improvising characters, songs, and scenes along the way.
Shows are $20, and Florida residents get a discount. You can save money by attending a showcase performance. Each features SAK class graduates showing off what they've learned in improv training school.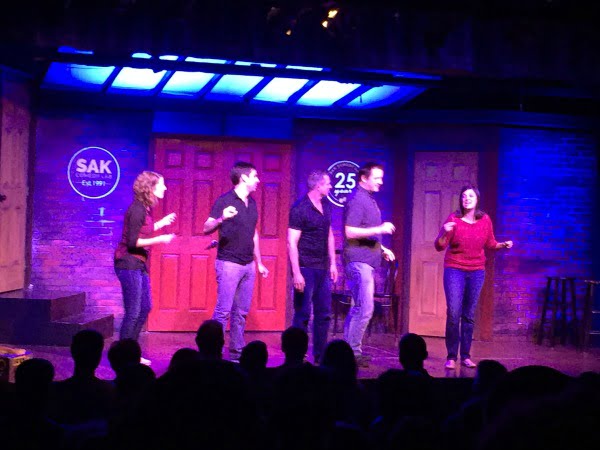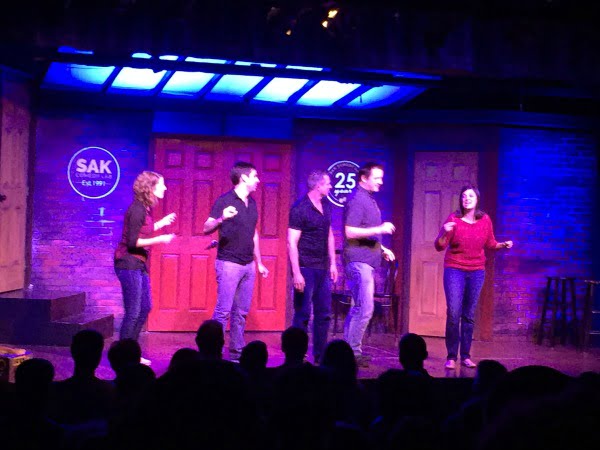 SAK Comedy Lab is one of our picks for budget-friendly downtown Orlando date ideas.
Dr. Phillips Center for the Performing Arts
Dr. Phillips Center for the Performing Arts, opened its doors in late 2014. Even from the outside, the multi-story space is a sight to behold. The event and performance lineup includes a host of Broadway in Orlando musicals, ballet performances, concerts, entertainers, and more.
Before the show, plan a date night meal at a nearby swanky restaurant, like Kres Chophouse or The Boheme. Arrive early to relax a bit and enjoy the stunning grand lobby space before the theater doors open.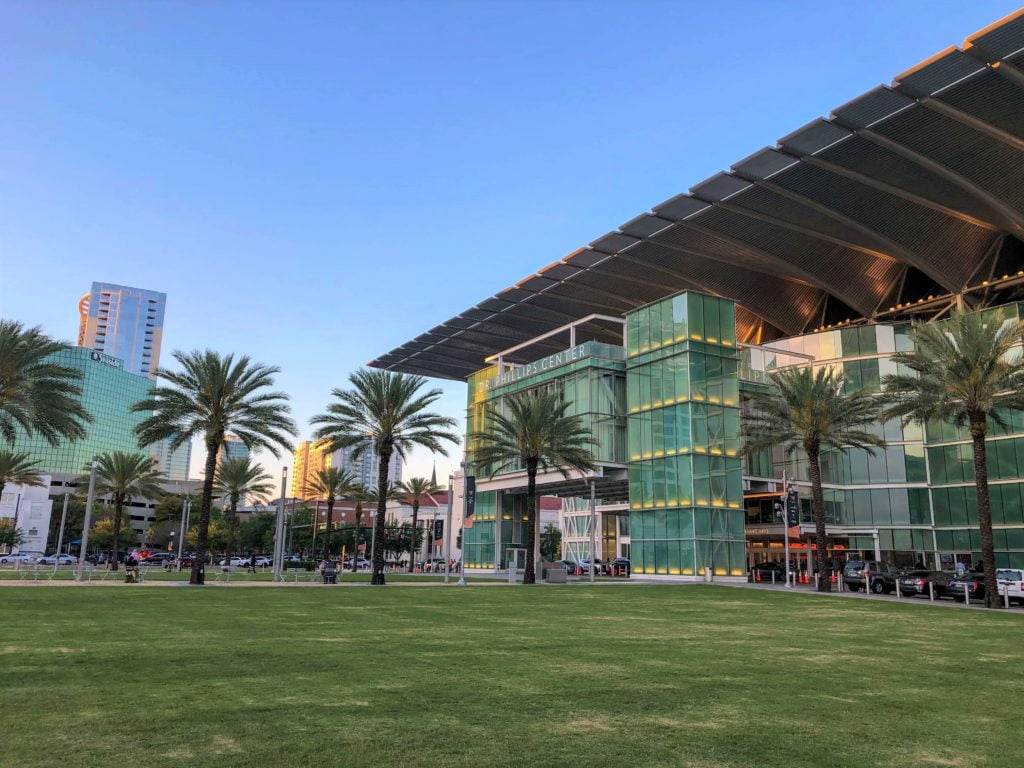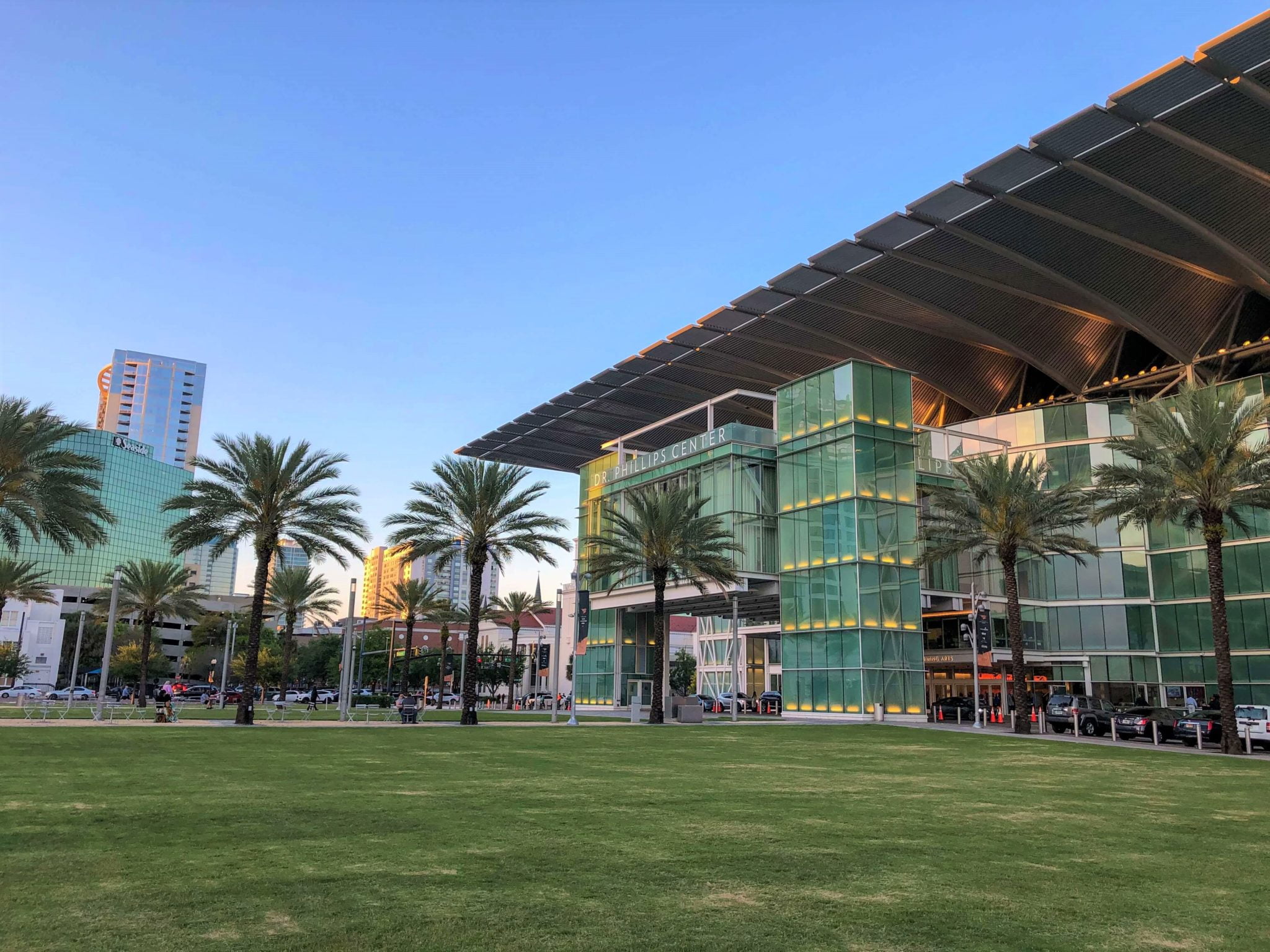 If you want to see what's happening in the local art scene right in our backyard, the 3rd Thursday Gallery Hop is the place to be. The monthly event hosted by the Downtown Arts District grants you access to multiple local gallery spaces including CityArts Factory, Grand Bohemian Gallery, and many more.
Almost all of the galleries are within easy walking distance of one another, so wear comfy shoes and set out to explore at your leisure. The event is from 6-9pm on the 3rd Thursday of each month. Keep up with Downtown Arts District on Facebook for upcoming event details and gallery locations.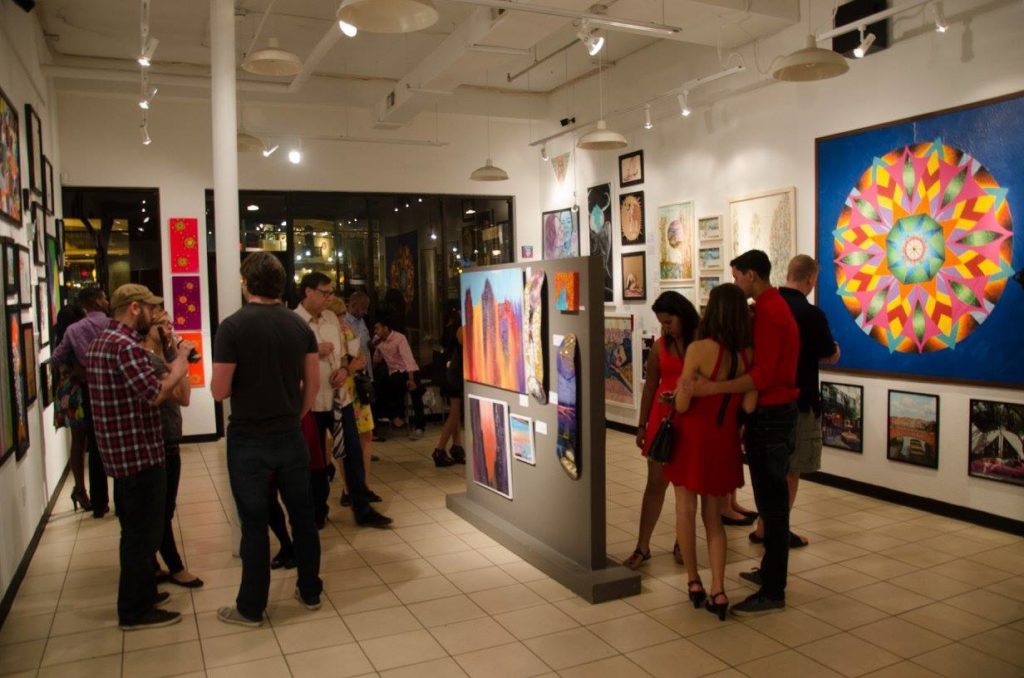 Nothing comforts quite like an art museum on a rainy day, or an afternoon when you just want to escape for a while. Hiding in plain sight on a quieter corner of Park Avenue in Winter Park is The Charles Hosmer Morse Museum of American Art.
The museum's founder, Jeanette Genius McKean, along with her husband, Hugh F. McKean, grew the collection and furthered the museum's mission of making art accessible to everyone. Inside, you'll find a stunning and diverse collection of work by Louis Comfort Tiffany alongside paintings, sculpture, and more by American artists.
The chapel interior designed by Tiffany features both stained glass and glass tiles for an impressive display of art and attention to detail. The quiet, peaceful space is the ideal place to pause for a moment and sit with your beau as you watch the lighting change every few minutes to mimic different times of the day.
Admission to the museum is normally $6, but on Friday evenings November-April from 4-8pm, admission is free. The museum also hosts family events periodically.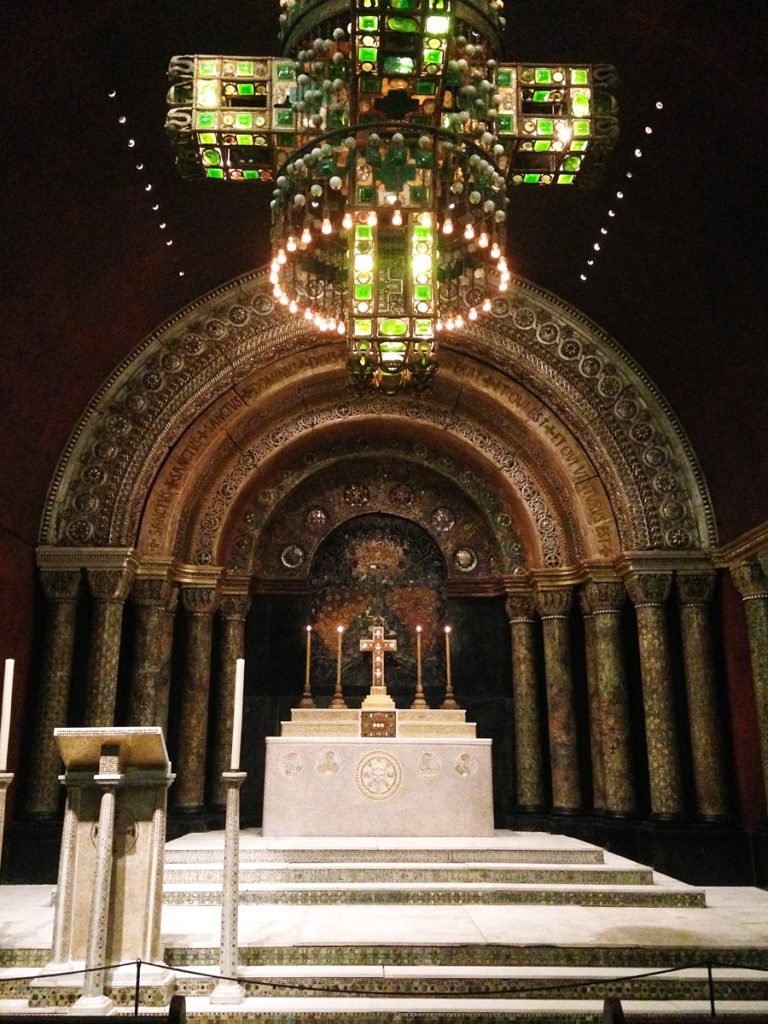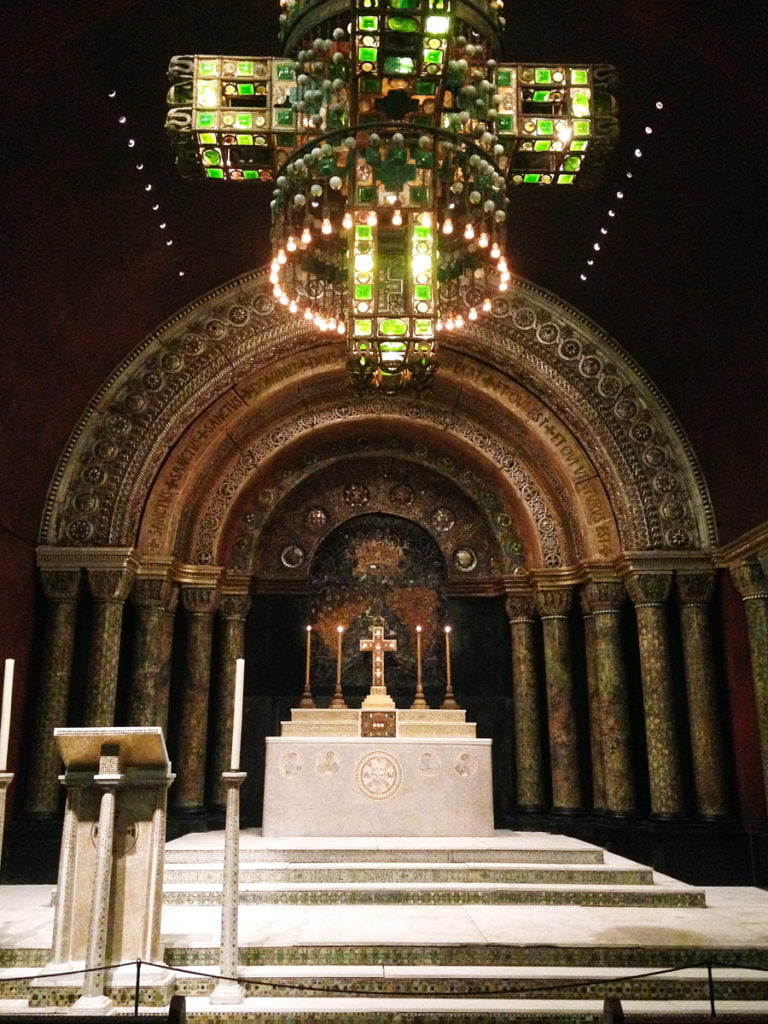 The Orlando Shakespeare Theater, aka Orlando Shakes, is a mainstay of the local arts community. Featuring multiple shows throughout the year including Shakespeare's works interspersed with new plays, the theater remains committed to honoring the legacy of William Shakespeare and producing top-notch quality performances.
The theater is located within Loch Haven Park, just a stone's throw from Orlando's vibrant and artsy Mills 50 district. The cultural park also houses the Orlando Science Center, Orlando Museum of Art, Mennello Museum of American Art, Orlando Repertory Theater, and Orlando Ballet, so consider visiting multiple museums while you're in the area.
More Year-Round Ideas:
Timucua Arts Foundation White House
Mennello Museum of American Art
Faith Arts Village Orlando
Maitland Art Center
Mad Cow Theatre
Orlando Ballet
Opera Orlando
Faith Arts Village Orlando on East Colonial is known for its on-site artist studios and galleries. FAVO Cares supports local community outreach efforts in Central Florida. This year FAVO Cares is teaming up with FAVO First Friday and FAVO Artisan Market to create one massive event weekend on September 2nd and 3rd, 2022 where the community can come out to donate school supplies to underserved area children and enjoy 2 days of free events at the FAVO facility.
Another great museum to check out is in Maitland. A&H's Maitland Art Center was founded as an art colony in 1937 by visionary American artist and architect, André Smith (1880-1959). It's actually a national landmark! How cool is that?!
Seasonal Programs for the Arts in Orlando
CREATIVE CITY PROJECT
Creative City Project, is nearing its tenth year in existence. With a mission to make Orlando the premier destination for performance and installation artists from all over the world, Creative City Project creates pop-up performances and art installations around Orlando. There are annual events as well as new events each year. Here are some of the highlights.
Dazzling Nights Presented by AdventHealth
November 25, 2022 – January 1, 2023
Harry P. Leu Gardens
Back for its third year and bigger and more interactive than ever! Orlando's 50-acre Harry P. Leu Gardens transforms once again into a stunning winter wonderland featuring a million dazzling lights, shining forests, magical displays, music and beautiful sculptures during "Dazzling Nights" – a family-friendly adventure that gives guests the opportunity to embark on an unforgettable, interactive holiday experience.
NEVERLAND: The Lost Adventure
(January through March 2023)
Harry P. Leu Gardens
Follow the second star to the right and straight on 'til morning and learn to fly in an all-new immersive experience for imaginations both young and old. Explore the wilds of Neverland and come face-to-face with the characters who call it home encountering surprises along the ¾-mile theatrical journey. Discover what it truly means to become one of Peter Pan's "Lost Boys"… and Girls. From the creators of Dragons and Fairies and Down the Rabbit Hole, comes a new adventure that brings you into the classic tale of Neverland.
RE: CHARGE
(April 7-8-9, April 14-15-16, 2023)
Returning for its third year, Re: Charge is an ambient, relaxing event meant to rejuvenate with amazing sounds and soft lighting. Guests will leave feeling refreshed as they bring their own pillow and blanket to lay down in an individual 6'x8' square for this restorative night of live music. Harpist Timbre Cierpke will lead a live ensemble of orchestral musicians playing a 60-minute concert of peaceful and reflective music.
IMMERSE will return in 2023. "As we approach the 2022-2023 season, Creative City Project is taking a moment to reflect on the last decade of innovative, creative and immersive experiences," says Evans. "As we navigate the 2022-2023 season, the event known as IMMERSE will be put on pause and brought back during our 2023-2024 season, in order to make room for Airplay in 2022. We look forward to collaborating with existing and new community partners throughout our 2022-2023 season and look forward to spending a year envisioning how we can serve our community through new programming while producing IMMERSE 2023 and beyond."
Florida Film Festival
The Florida Film Festival usually lasts 10 days all centered around unforgettable films, shorts, scrumptious food and drink, and fabulous parties. This incredible festival usually takes place in April each year. The Enzian Theaters acts as the main venue for the festival, but a few other local spots get into the action too. To get a taste, check out our Couple's Guide to the Florida Film Festival.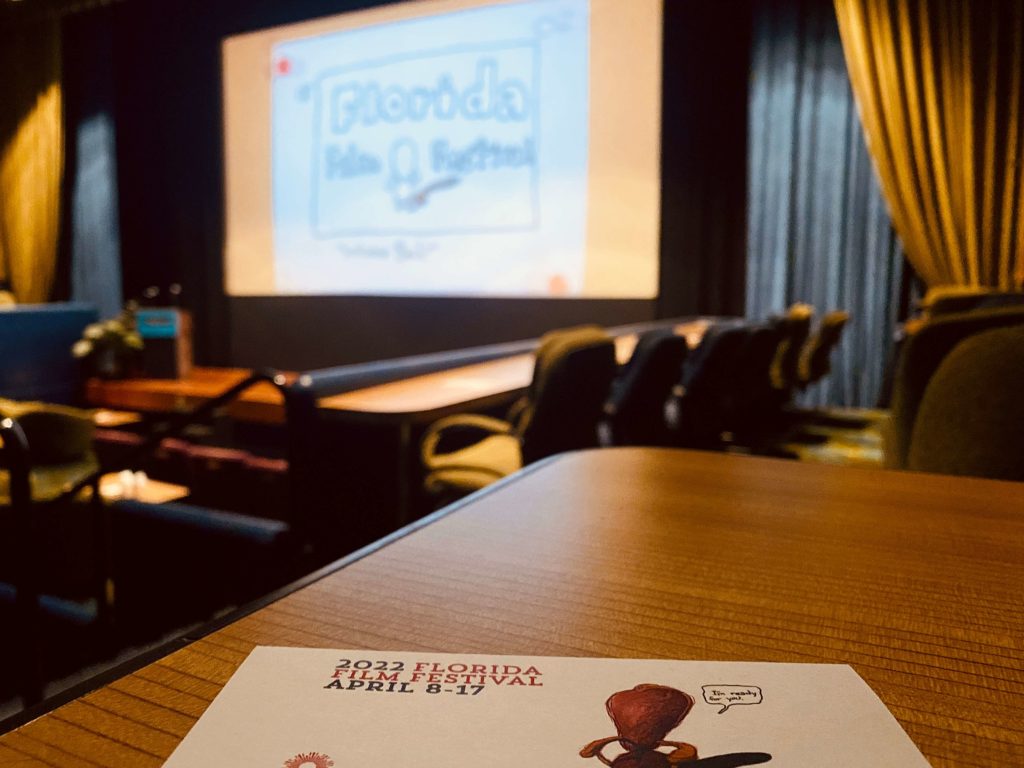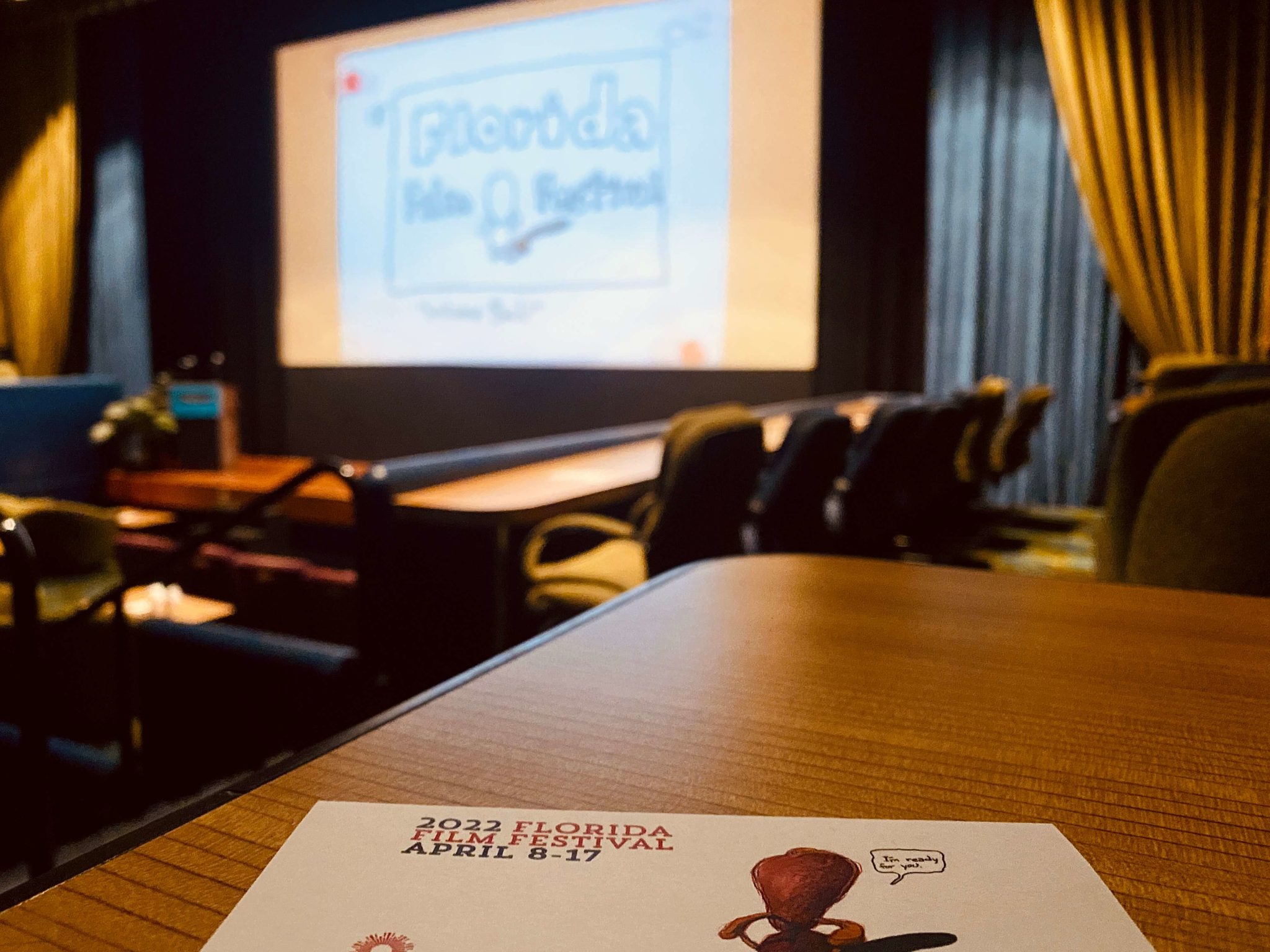 Orlando Fringe Festival
Perhaps the greatest example of the arts in Orlando is the Orlando Fringe Festival. Throughout the world, fringe festivals are held, and Orlando is home to the longest-running fringe theater in the world! That proves just how strong the arts are in the City Beautiful.
This multi-day festival takes place in multiple venues around Orlando. The main hub is Loch Haven Park which itself is a beautiful destination any time of the year. Live performances and other artful experiences run throughout the Orlando Fringe Festival which usually takes place in May every year.
Keep up with monthly date ideas and the Best Things to do in Orlando each month.