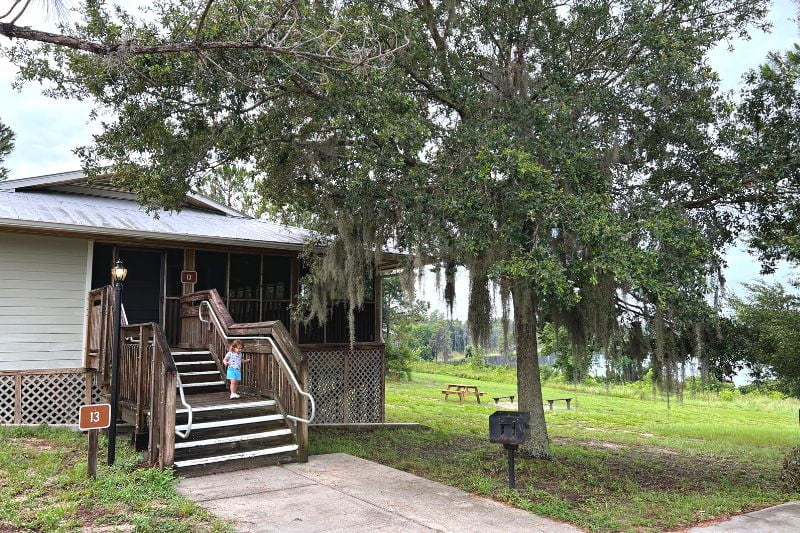 Looking for a unique place to escape into nature with your love? Book an intimate weekend getaway at Lake Louisa State Park cabins. Camping and glamping are possible here. You can rent a private two-bedroom cabin with stunning lake views and plenty of room to relax.
Located just 35 minutes from downtown Orlando, Lake Louisa State Park is the perfect place to unwind, explore, and reconnect with loved ones. Hit the trails, take a guided horseback ride, or just drink in the views from your spacious front porch. The cabins are super versatile, making this an ideal getaway for outdoor enthusiasts and casual nature lovers alike. Here's everything you need to know before you book your stay at Lake Louisa State Park cabins. 
How much is a cabin at Lake Louisa State Park?
Cabin rentals at Lake Louisa State Park are just $120 per night. There is a minimum two-night stay required on weekends and holidays, with single-night stays available on all other days. Reservations open 11 months in advance, and weekends book up quickly, so be sure to reserve your spot right away! We booked our June stay, for example, five months in advance. Book online or call 800-326-3521.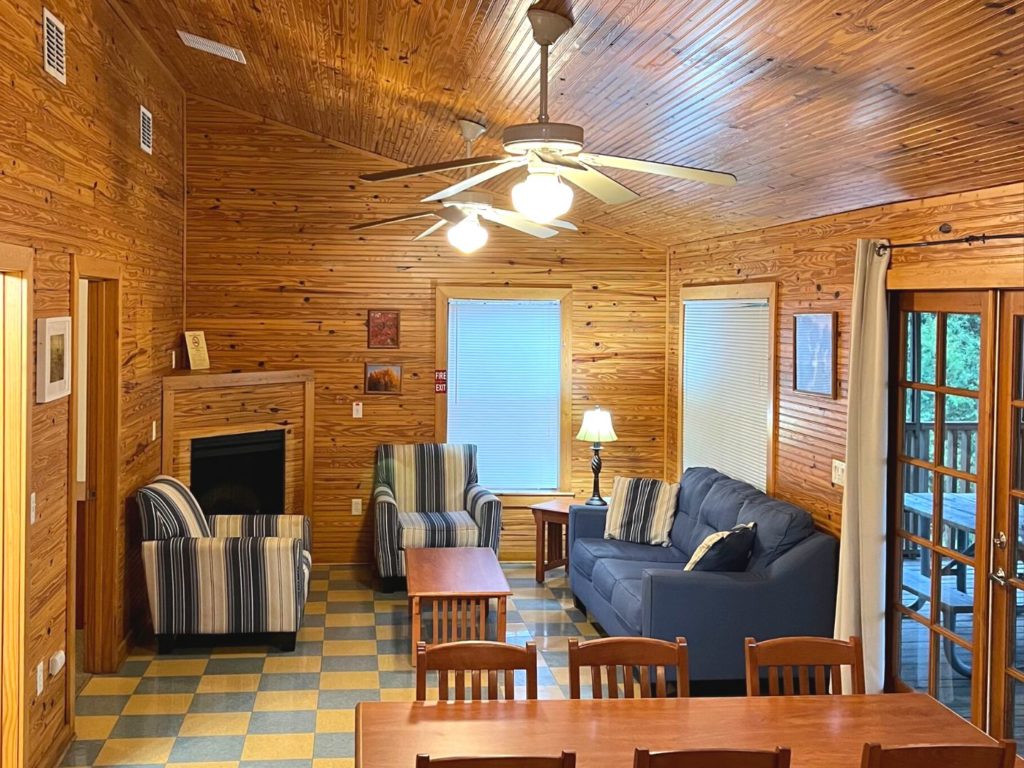 What is included?
Comfort, flexibility, and peace of mind! No need to stress about setting up a tent in sweltering heat or pouring rain. Just show up, unlock the door, and settle into your own air-conditioned oasis.
Every cabin has the following features:
two bedrooms

two bathrooms

screened-in porch

spacious living area

six-person dining table

a cozy fireplace

fully-equipped kitchen
The kitchen offer an oven, microwave, and fridge/freezer combo. The shelves are well-stocked with plates, glasses, cookware, and more. If you'd like to do a little cooking during your stay you'll have all you need.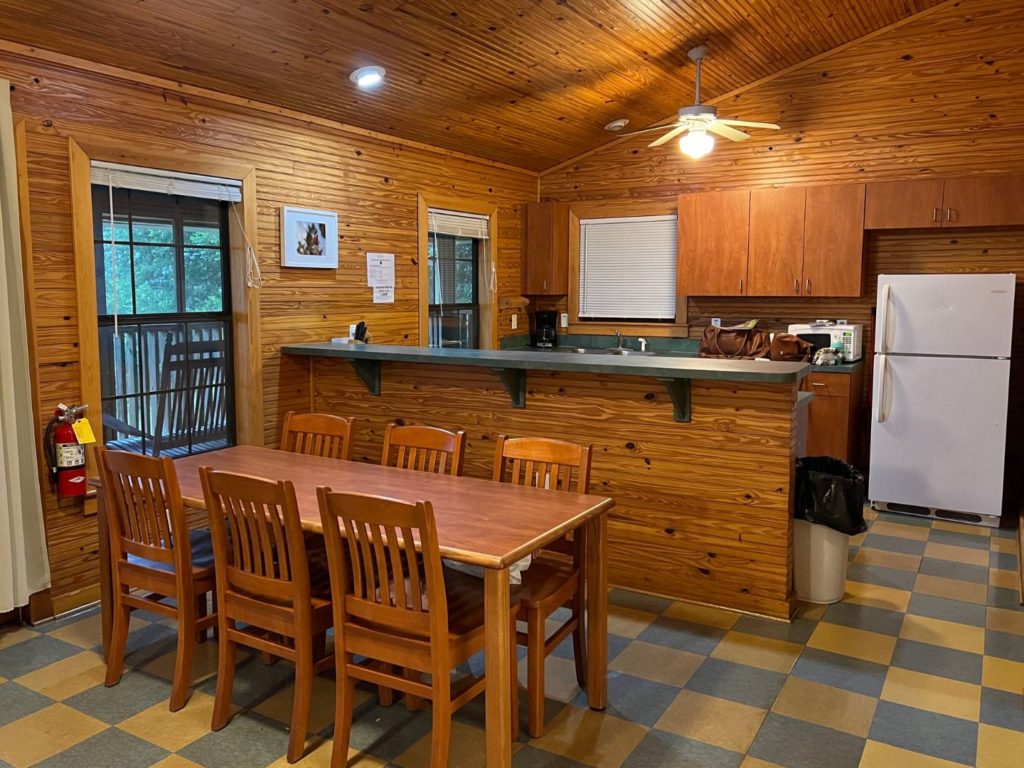 All bedding, towels and linens are provided–just put all your used linens in the laundry bag before you check out. Almost every room has a ceiling fan, so you can come in on a hot day and immediately feel that crisp cool air on your face.
You also get a ton of outdoor space with a private fire pit, a grill, picnic bench seating, and two parking spots. Some cabins even have paths leading directly down to the nature trail that wraps around Lake Dixie. My favorite feature is the panoramic front porch – it's nearly as wide as the shared living areas, with cozy rocking chairs, a picnic table for outdoor dining, and lake views for days. It's the perfect place to snuggle up and watch a storm roll in or catch an awe-inspiring sunset.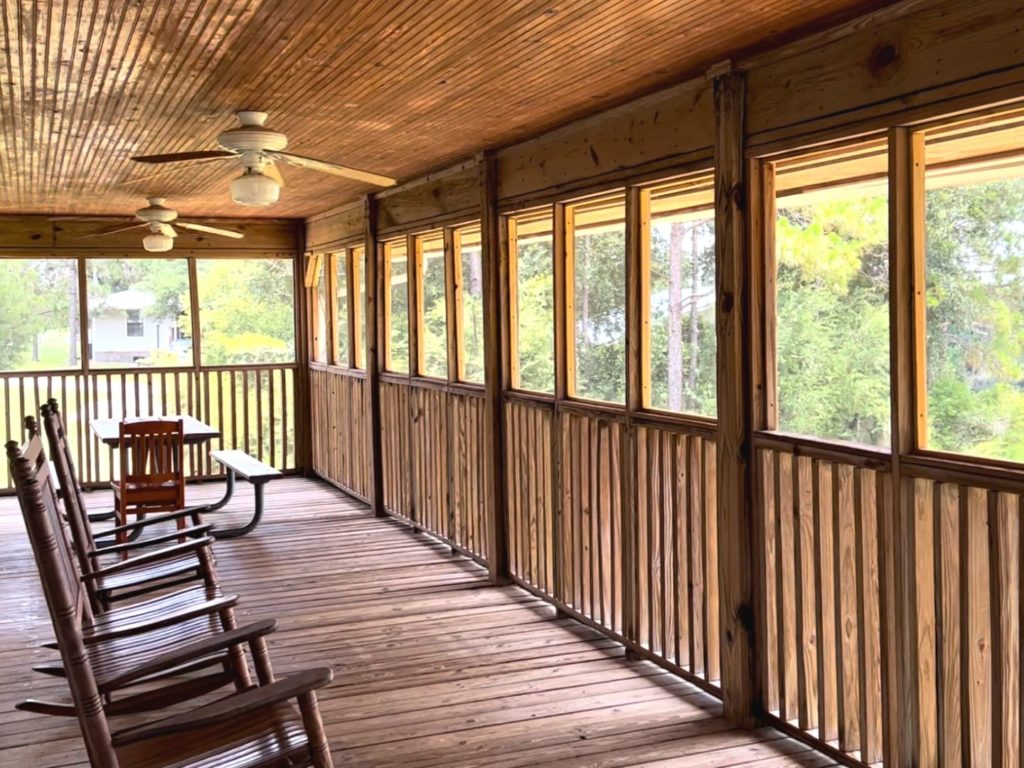 Glamping more your style? A Weekend Getaway Glamping at Lake Louisa State Park
Recreation at Lake Louisa State Park
While you could easily spend the whole weekend cuddled up in your own personal oasis, we recommend venturing out for a little outdoor fun! Lake Louisa has 20+ miles of unpaved trails, plus fishing, kayaking, horseback riding, and more. Here are some of the romantic activities you can enjoy together at Lake Louisa State Park.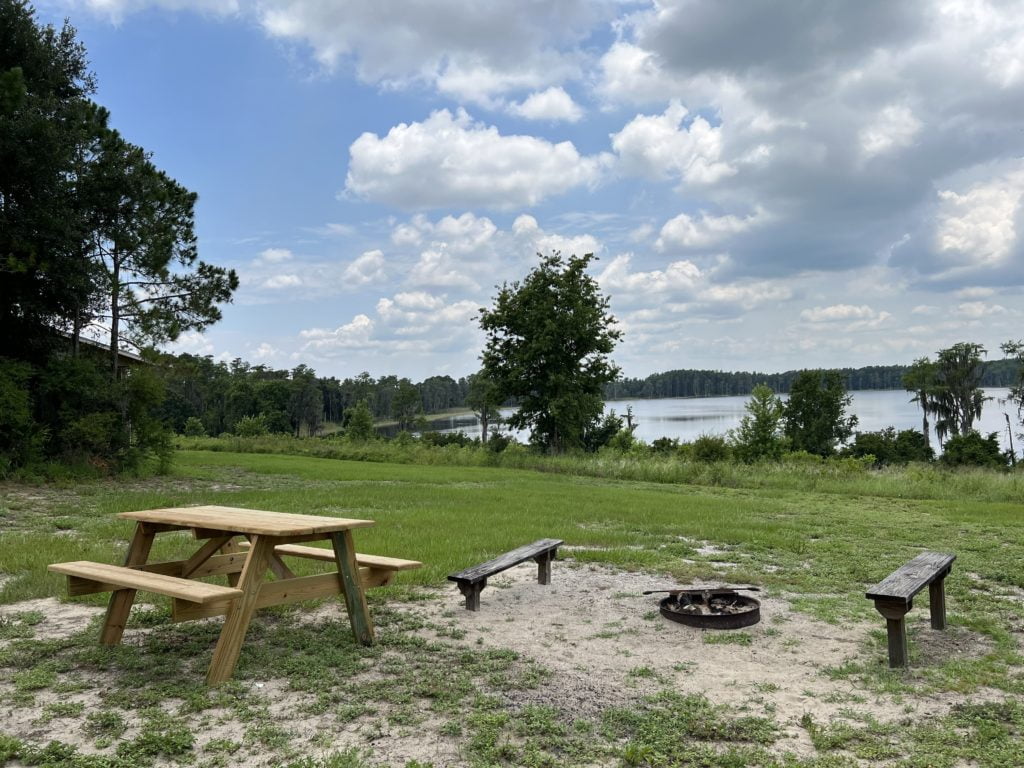 Hit the trails on a guided horseback ride. Small group tours range from one hour to two hours in length, and cover up to six miles of wild Florida wilderness. This is an awesome way to see Lake Louisa without breaking a sweat. Note that for the horse's safety, riders must weigh 275 pounds or less, with a BMI of 31 or lower. Check availability and book online here.
Hit the Beach
Take a short boardwalk trail to Lake Louisa's southern shore, where you can soak up the sun, take a leisurely walk, or even go for a swim in the lake. There are signs warning of gators in the area, but we didn't see any when we stopped by. If you don't want to swim, there are several other ways to relax at this beachside retreat. Turn right once you arrive and you'll find plenty of picnic tables nestled along a romantic waterfront trail. Keep an eye out for birds and other wildlife as you dine beneath a canopy of Spanish moss. Back at the beach, you can spread out a beach towel, check out the World War II memorial, or explore a lovely lakefront nature trail. There are restrooms and changing rooms on the boardwalk, so you can comfortably spend several hours exploring the area.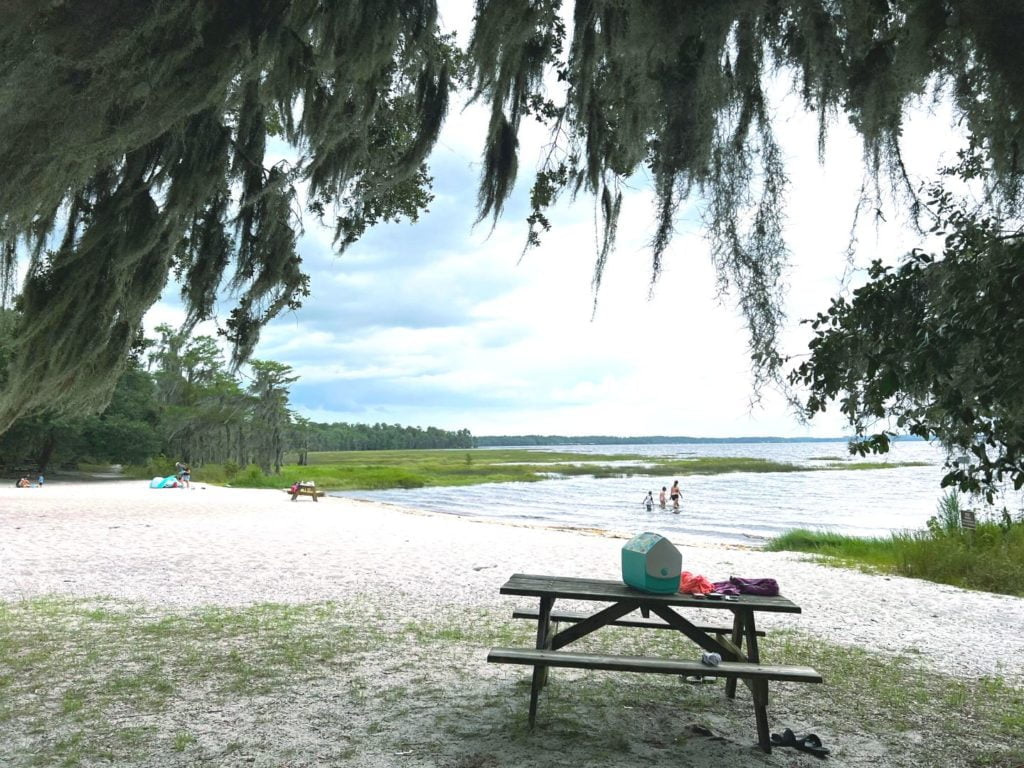 Kayaking
Kayak, canoe, and paddleboard rentals are available at the Camper Canteen, or you can take your own watercraft out on the water for a nominal fee. Don't sweat it if you've never kayaked before. Try the guided kayak tour, which includes 15-20 minutes of instruction followed by a guided expedition around Hammond Lake. More experienced paddlers can up the romance factor with a special full moon paddle beneath the stars.
Hiking
With over 20 miles of trails covering 11 ecosystems, there's something for every type of camper at Lake Louisa State Park. Trail maps are available at the ranger station, with options ranging from short nature walks to long stretches over hills and swamplands.
For a quick, easy hike, just take the trail from your cabin down to Lake Dixie Loop. We saw dozens of colorful butterflies and heard birdsong on our short but sweet hike, and it was a great warm up for longer hikes found elsewhere in the park. If you're worried about getting lost, venture out on a guided eco-hike. The tour lasts about one hour, and you'll learn more about the native plant and animal life at Lake Louisa State Park.
Of course, these are just a few of our favorite things to do at Lake Louisa State Park! There is plenty more to do, including geo-seeking, boating, fishing, mountain biking, segway tours, and wildlife viewing. Find more information on Lake Louisa State Park experiences and amenities.
Explore Downtown Clermont near Lake Louisa State Park Cabins
If you want a break from camping, hiking, and general outdoorsy activities, check out some of the great things to do in downtown Clermont and beyond. Check out our Historic Clermont day trip guide for recommendations, including some of our favorite breweries, restaurants, coffee shops, and more. Lakeridge Winery is also close by, with complimentary wine tours and tastings, and live music on the weekends.
What Should I Bring to Lake Louisa State Park Cabins?
Food
Firewood
Toiletries
Cleaning supplies
Entertainment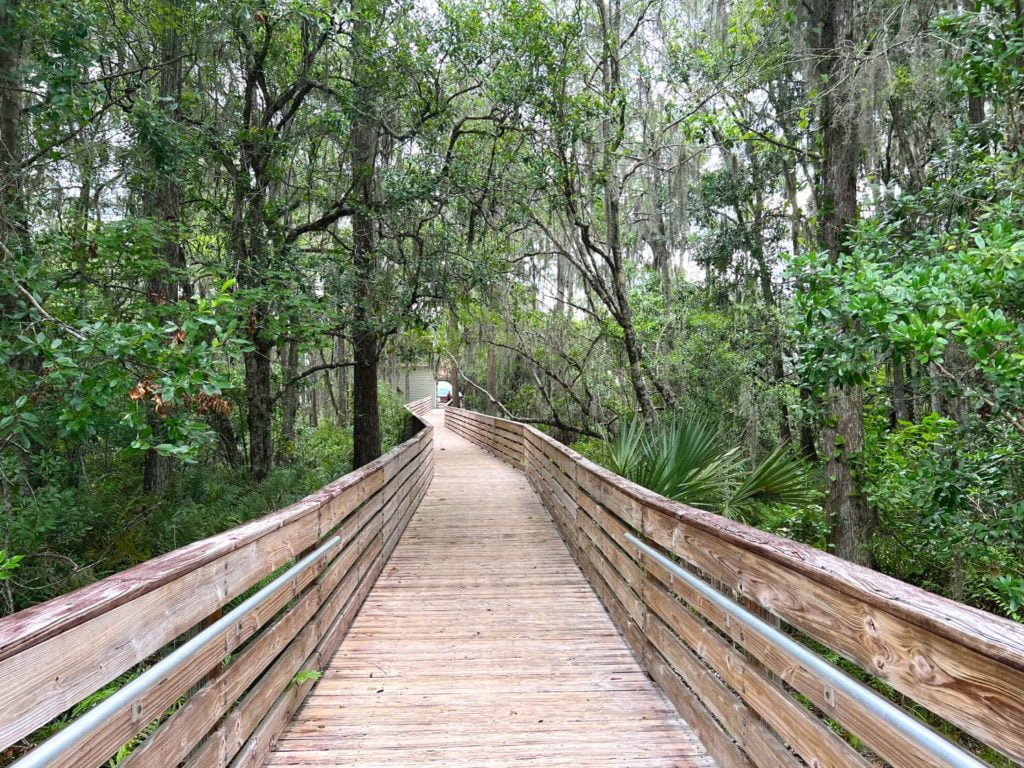 Food & Firewood
Stash burgers and beer for laid-back weekend vibes, or amp things up with cheese, wine, and charcuterie. There is a Publix just a few miles away from the State Park entrance, so you can load up on the fly and store everything in your cabin's full-size refrigerator. You can even fish onsite and cook your fresh catch for a satisfying evening meal. Remember to bring firewood and a lighter for your campfire! If you forget, you can also snag firewood, snacks, and water from the Camper Canteen during the day. I also recommend bringing s'mores sticks if you have them, since there was only one provided among our kitchen utensils. 
Toiletries
No toiletries are provided, not even hand soap! Bring your own soap, bug spray, sunscreen, shampoo, and so forth.
Cleaning Supplies
Basic cleaning supplies are provided, including trash bags, a broom and pan, a fresh, individually-wrapped sponge, and one dishwasher pac per day. Our cabin was very clean, but if you want to do any further cleaning during your stay, bring your own wipes, cleaning spray, and paper towels.
Entertainment
There is no WiFi at Lake Louisa State Park, and our cabin did not even have a TV. I personally loved this little digital break and was happiest just sitting on the rocking chairs out on the front porch between activities. That said, it's a good idea to plan ahead and bring books and games, or download a few episodes of a favorite TV show before you arrive at your cabin.
Join the Wanderlust Club
If you love your getaway at Lake Louisa State Park, check out the Wanderlust Club, a special membership program which includes unlimited bike and kayak rentals, two annual guided tours, discounts on luxury glamping and additional guided tours, and early access to seasonal date-night fun like full moon paddles and sunset trail rides. Lake Louisa's Wanderlust Club is perfect for keeping an adventurous spirit alive in your relationship! $149 per person.
Lake Louisa State Park Cabins
Know Before You Go
Pets are allowed at Lake Louisa State Park, but they are not allowed inside the cabins.

To conserve energy, the cabin fireplaces are out of service from March 1 to October 31

Cabins 16 and 17 are fully accessible

Cabins can sleep up to six people, which is perfect for families, but the bed situation isn't great for multiple couples on a group getaway. There are two twin beds, one double bed, and a pull-out sofa bed.

Book online to see photos and locations of each individual cabin. I also recommend checking out an aerial view of Google Maps to compare lake views, lot size, and trail access.

Lake Louisa has a variety of campsites available. The cabins are perfect for couples, but we also love the luxury glampsites–read our glamping review here!
More Camping and Glamping Ideas