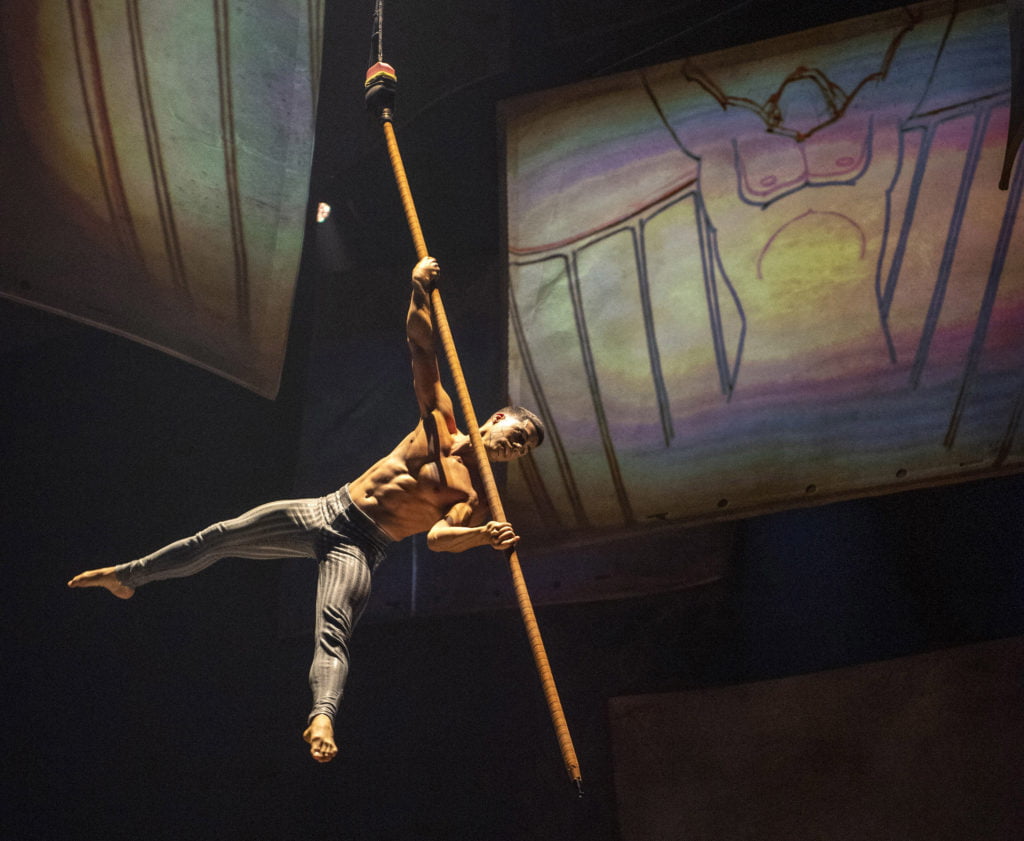 After much anticipation, "Drawn to Life" at last made its triumphant debut on November 18, 2021 and you've just got to see it to believe it. Our writing team was invited to attend the Grand Opening celebration for a complimentary viewing of the new show. As stunning as this show is, it may not be right for every couple. Read on for tips and the information you need to plan the perfect date at Cirque du Soleil at Disney Springs.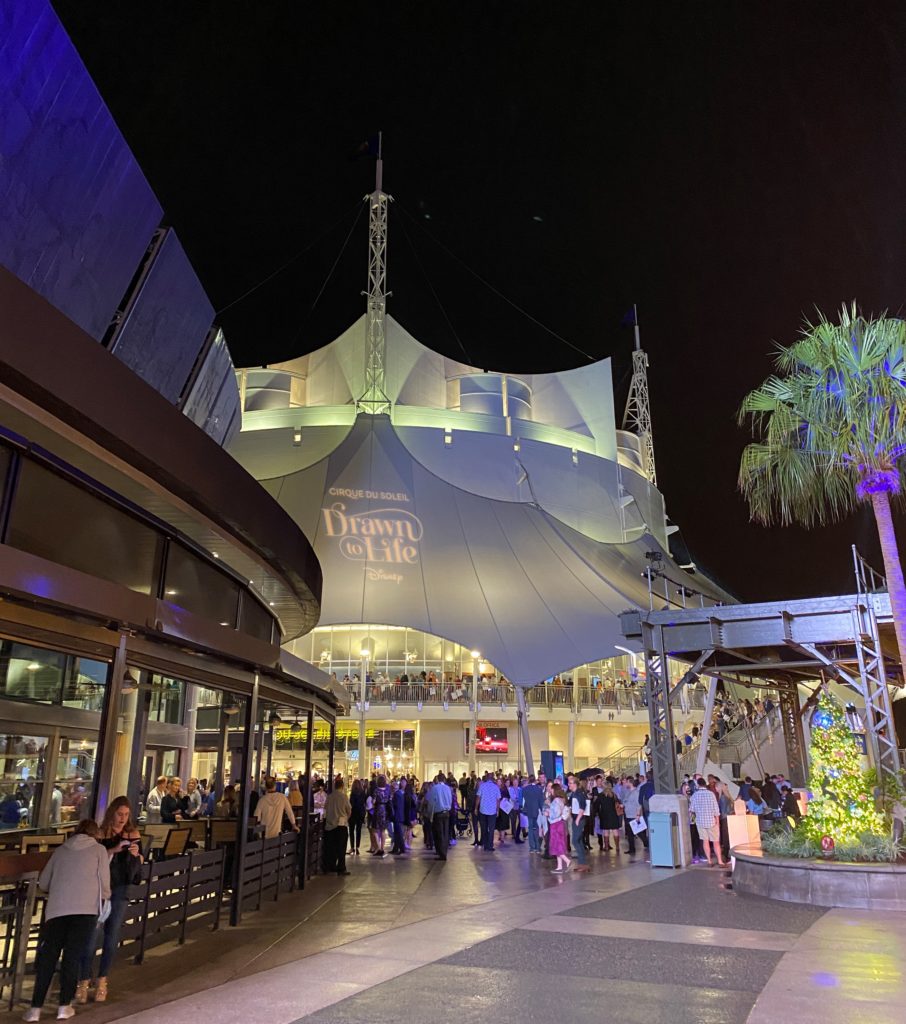 What's special about a Cirque du Soleil show?
No other live performance company produces shows that are as awe-inspiring as Cirque du Soleil. Not only are the Cirque performers incredibly talented, performing feats that will take your breath away, but there is also an artistic element.
Some Cirque shows, such as some of the shows in Las Vegas, can be a little too abstract. For some couples the high level of artistic and creative influences is just fine, for others, the concept may go over their heads.
That's where "Drawn to Life" at Disney Springs comes in. Although its predecessor "La Nouba" was touted as the most kid-friendly Cirque du Soleil show in the company's lineup, its storyline was hard to follow. This new show still features much artistic expression, but in a way that is more approachable.
This is the first-of-its-kind creative collaboration between iconic memory-makers Cirque du Soleil and Disney. It is one of the most well-done creative projects I've ever witnessed.
A Cirque du Soleil show with an artistic touch
Going on a date to see the best live entertainment experience at Disney Springs is sure to be impressive and memorable. But the show's storyline may not be the best fit for all couples.
Without giving too much away, the show follows the journey of a young girl following in her father's footsteps. It is about a married couple's child, and the love that the passage of time and loss cannot dim. This topic is lovely and heart-warming. For some couples, it may not be the right topic to enjoy together. I suggest reviewing the show's website to help you decide.
That said, "Drawn to Life" has something for everyone. It is an absolute must-do for Disney fans. The show is described as "a love letter to the art of Disney animation" and this mission is certainly accomplished. The show doesn't just incorporate Disney characters in artistic ways, it highlights some of the techniques and disciplines that go into animation itself.
If you're a lifetime Disney fans with deep knowledge of the history, you may find some treasures as you watch the show. There was a quick moment that used some choreography from a Disney animated short that came out in 1929. When I caught it, I giggled with delight.
And if you're more of a casual Disney fan, you will absolutely love it, too. It's hard not to get enthralled by the colors, the pageantry, and the use of a variety of effects throughout the show.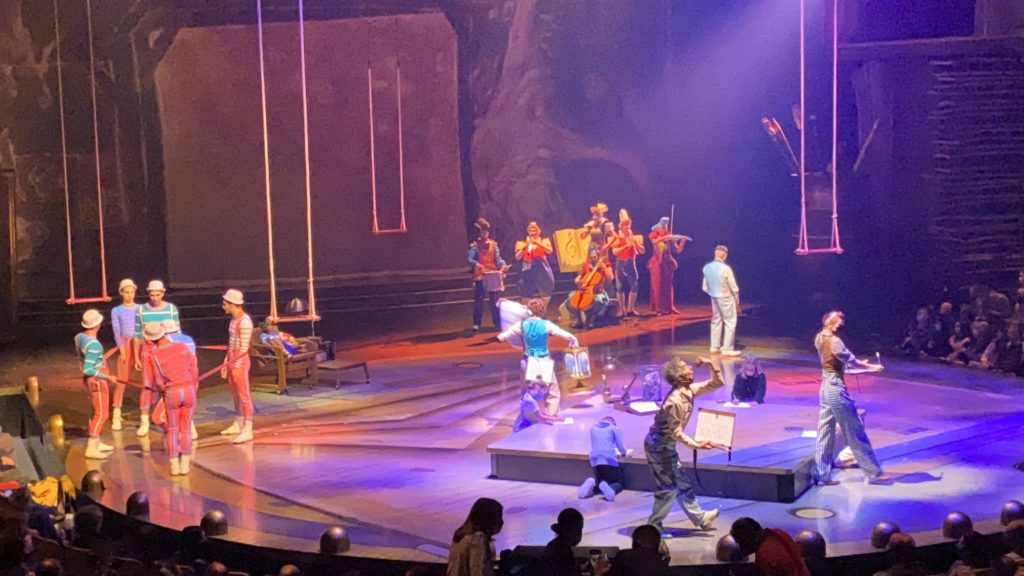 Cirque du Soleil Disney Springs Date Night Itinerary
Performances of "Drawn to Life" take place on most nights at 5:30 and 8:00pm. Go for the later show if you prefer to potentially have less kids in attendance. Additionally, it will give you more time to enjoy Disney Springs before the show.
However, the later showtime is generally going to be more popular, so you will need to plan ahead and book tickets well in advance. Be prepared for crowds when entering and exiting the theater.
The Cirque du Soleil theater is located on the very edge of Disney Springs, at the end of the West Side area. The closest restaurants to the theater are House of Blues, Jaleo, City Works, and Splitsville.
Here's my suggested itinerary:
Drinks, sushi, or flatbread at Splitsville's Bamboo Lounge before the show.
Alternatively, Jaleo by Chef José Andrés is utterly delightful for sangria and tapas before the show.
Once inside the Cirque du Soleil theater you can purchase beer, wine, limited cocktails, and soft drinks. There is no food inside the theater.
After the show enjoy desserts and coffee or a cocktail at House of Blues, right next door.
Or, stroll through Disney Springs for a bit before ducking into Enzo's Hideaway Tunnel Bar for Italian desserts and craft cocktails. It's a great spot to discuss the show.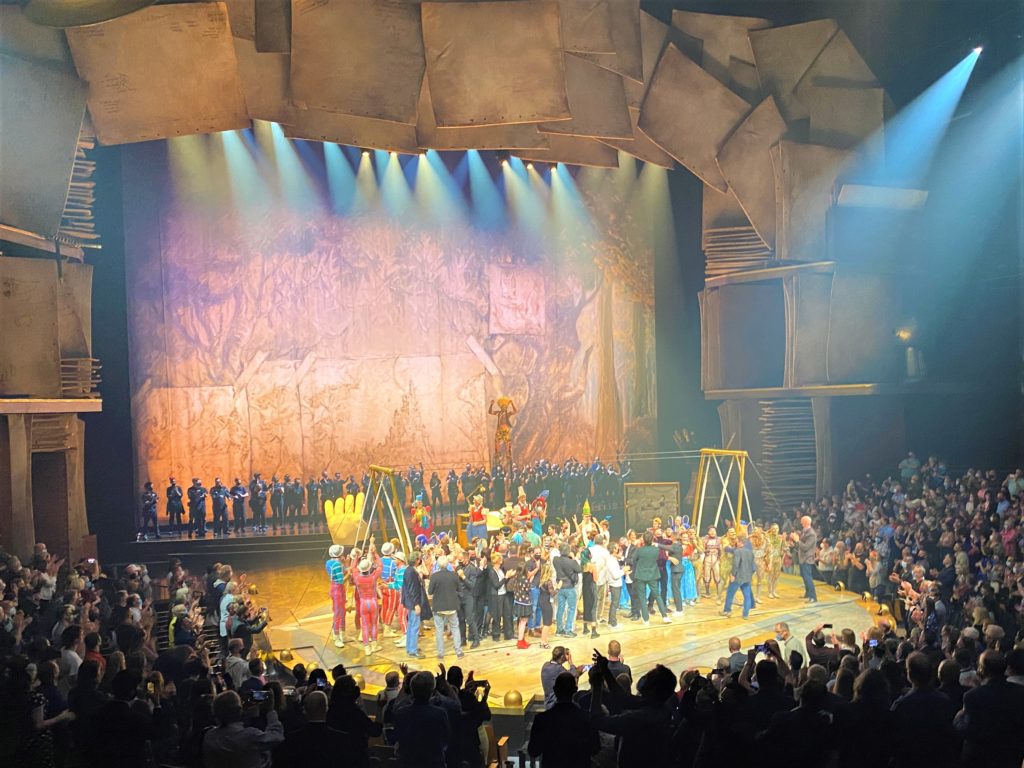 Things to Know About "Drawn to Life" Disney Springs Cirque du Soleil
Arrive 30 – 45 minutes before showtime to allow for security check and time to relax during the preshow.
Photos and videos are not permitted during the performance. All photos in this post were taken before and after the performance.
The performance lasts 90 minutes, with no intermission, so plan a restroom stop before entering the theater.
Tickets range from $80 – $174, plus tax and fees.
Every seat in the theater has a great view and the show makes use of the entire theater.
Weekends are very busy at Disney Springs, if you have to attend on weekend arrive with plenty of time to find parking.
Feature image credit: Cirque du Soleil / Disney press photo