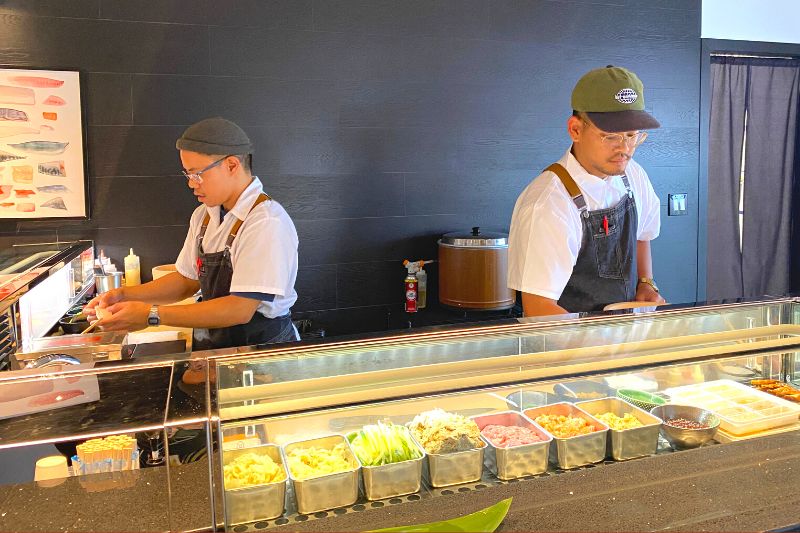 There is no other way to describe EDOBOY standing sushi bar other than "next level." Orlando's culinary scene continues to grow and elevate as if there is no end to the greatness that can be achieved. EDOBOY brings something that's never been done in Orlando before: a standing sushi bar. I didn't understand the significance of a standing sushi bar until I set foot inside and experienced EDOBOY.
Here's what you need to know about EDOBOY and the concept of a standing sushi bar.
What is a standing sushi bar?
A small sushi bar restaurant
All patrons stand around the bar
An intimate setting that allows for a personal experience
Nigiri and hand rolls are the main sushi options
Guests order directly with the sushi chef
Items are ordered and presented individually
Beverages are ordered with a host or hostess
Sushi came about as a sort of street food during the Edo period in Japan. Standing sushi bars allow diners to get close to expert sushi chefs. The standing concept also allows for more diners to come in and out of the restaurant, making it possible to serve more guests and keep prices reasonable while preserving the high quality.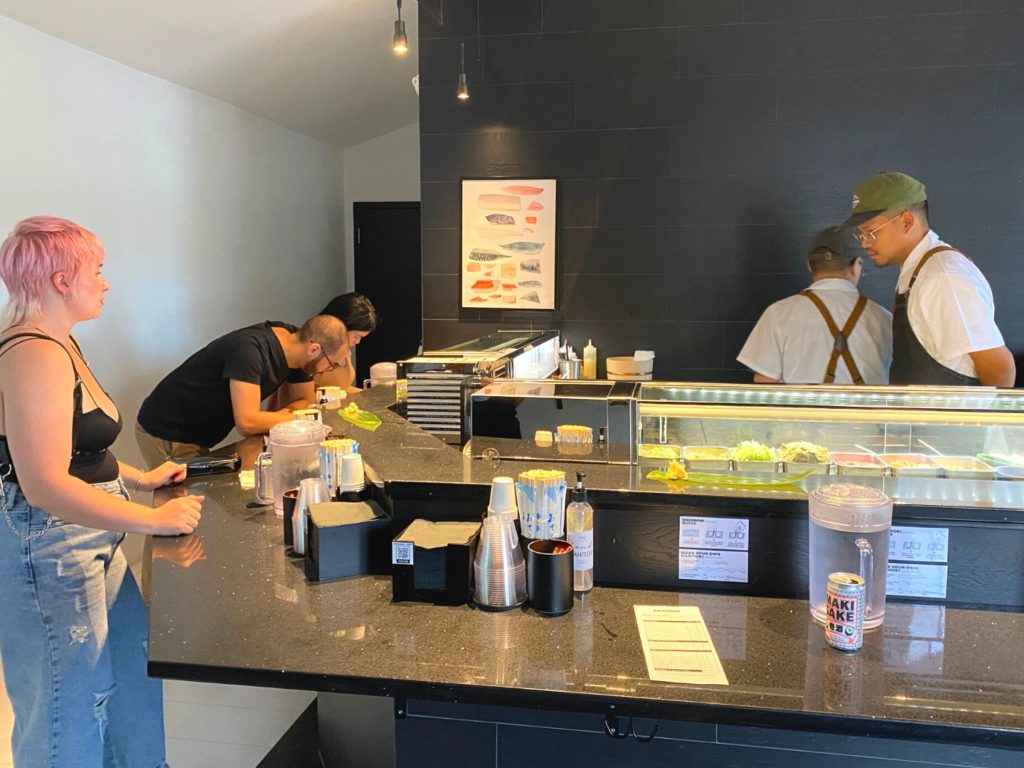 In the case of EDOBOY there is room for eight guests at a time. It is casual, but feels intimate and special. This small concept makes for a truly special date night. And if you're still in the early stages and getting to know each other, dining at this standing sushi bar will provide a social environment, yet one that allows for connection and conversation.
Each item is presented individually. That's your cue to eat it immediately. One of the main benefits of a standing sushi bar is quickness. Not that you are rushed, but rather you are meant to eat each item right away to preserve maximum freshness. The flavors are fresher, cleaner, and brighter this way.
Eating sushi with your hands is perfectly acceptable. However, it is improper etiquette to not wipe your hands between each piece. A cleaning wipe is presented at each station with helpful instructions on how to set it up so you can easily clean your hands in between each course.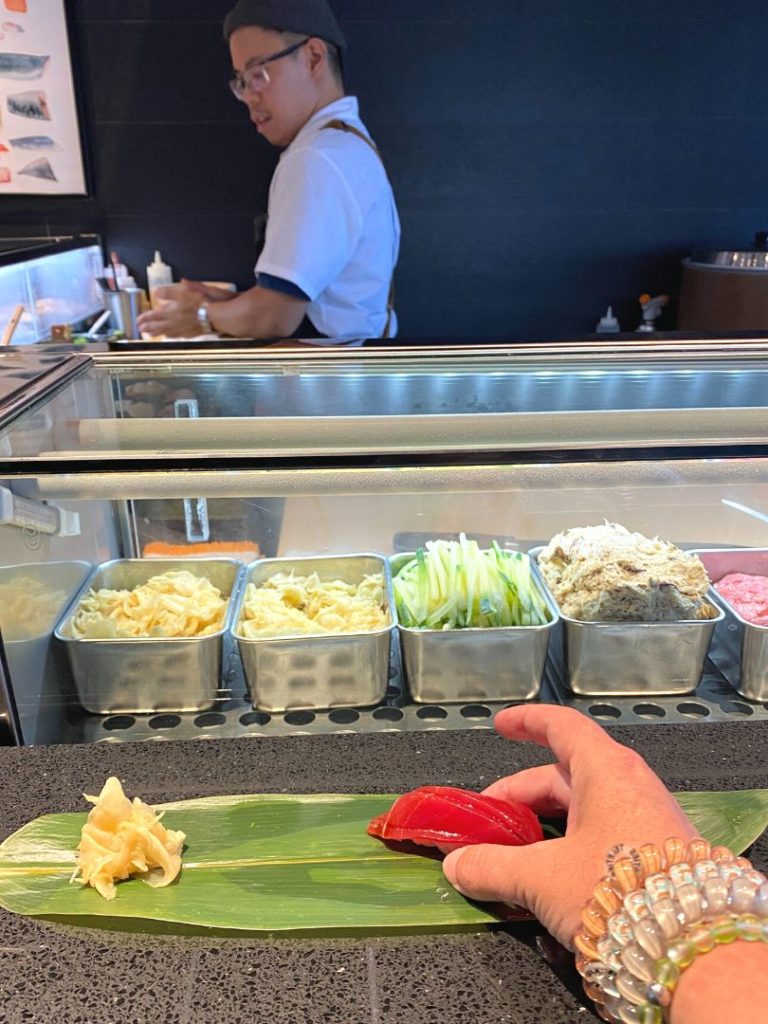 Chopsticks are also provided at each standing station. And there is an easy guide on how to turn your chopsticks wrapper into a stand on which to place your chopsticks when not in use.
Water cups and napkins are available at each station too. The setup of each individual standing station put together perfectly.
The Experience at EDOBOY
Our dining adventure at EDOBOY felt like an Omakase experience, except diners are in the driver's seat. However, the talented sushi chef is right there with you, like a co-pilot. And an Omakase experience is akin to a chef's table dining experience. In the case of EDOBOY the quality is there but without the formality of Omakase and a more approachable price tag.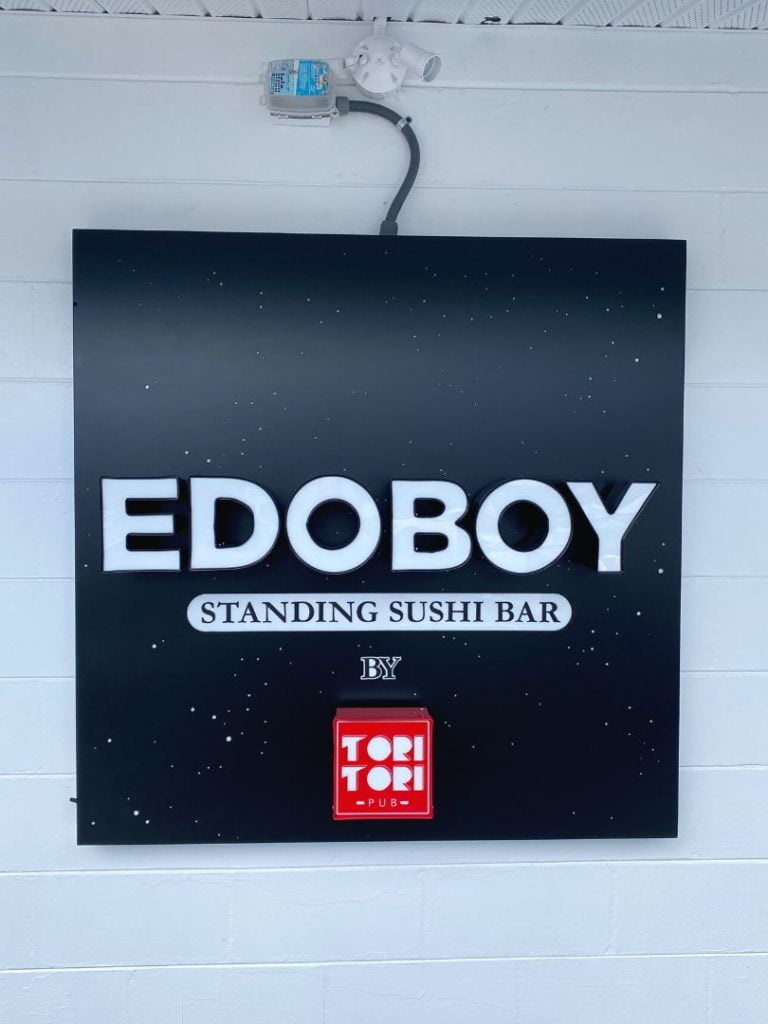 My biggest piece of advice is to trust the chef's recommendations. And if they recommend a certain nigiri or hand roll then roll with it. Of course, let them know of any allergies or dietary needs.
Being the teacher's pet that I am, I had viewed EDOBOY's menu before arriving for my timeslot. Armed with screenshots in hand I made my selections on the paper ordering form with confidence.
Our chef recommended the Yellow Tail nigiri and the Blue Crab hand roll – both already on my list. Then he recommended the Torched Salmon nigiri and I quickly added it to my list without hesitation.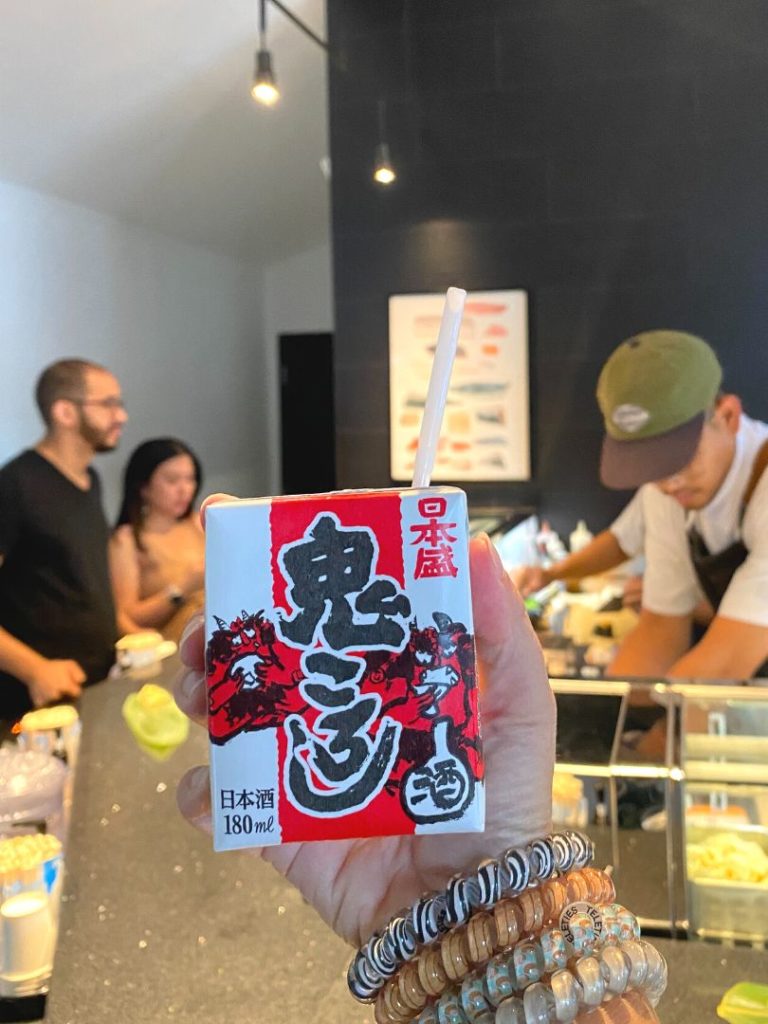 While I waited for my first item I sipped on sake… in a juice box! A curated selection of craft beer and sake can be enjoyed at EDOBOY.
As the chef finished each item he presented it individually to each diner – giving them a quick moment of personal attention as he explained the components of what he placed before them. I gazed at each item for one brief moment before placing it in my mouth to savor.
This is no ordinary sushi. It is impeccably fresh and enhanced with things like fresh lemon zest and sea salt. Forgot the all-you-can-eat sushi happy hours or plastic packs bought at a grocery store. This is the real deal. This is how sushi should be served.
And do not leave without ordering the Blue Crab handroll. It is so divine that I immediately ordered a second after just one bite.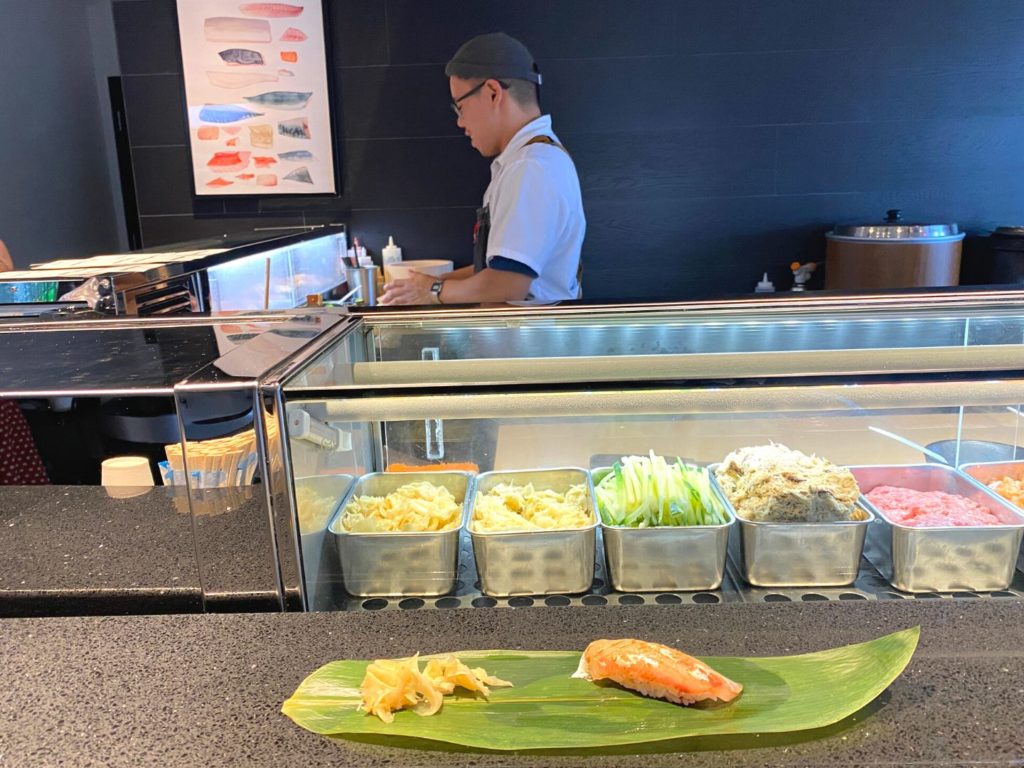 The chef also recommended finishing with a cup of miso soup. I hesitated, I've never been impressed with miso soup. He kindly explained that the soup is made each morning with fresh fish bone stock and that it helps with settling your stomach. I am so glad I followed his recommendation.
As I sipped and savored the miso soup I looked around the intimate space. Clean and modern, and yet EDOBOY is a comfortable experience. I enjoyed conversation with each of my fellow diners, and while the experience only lasted an hour, I felt transformed. Quality food with a dash of culture can be so soothing and invigorating. And I am willing to bet EDOBOY will make for an unforgettable date night.
Know before you go
Timeslots must be booked
There is a cancellation fee
Arrive before your timeslot
There is a parking lot for EDOBOY – though it is small, so allow for extra parking time
Wear comfortable shoes since you'll be standing
View the menu before you arrive or while you wait outside for your turn
Finish with a cup of handcrafted miso soup, it is better than any miso soup you've ever had
We attended a media preview, however, we did pay for our meal at a discount. EDOBOY's grand opening is September 8, 2022.