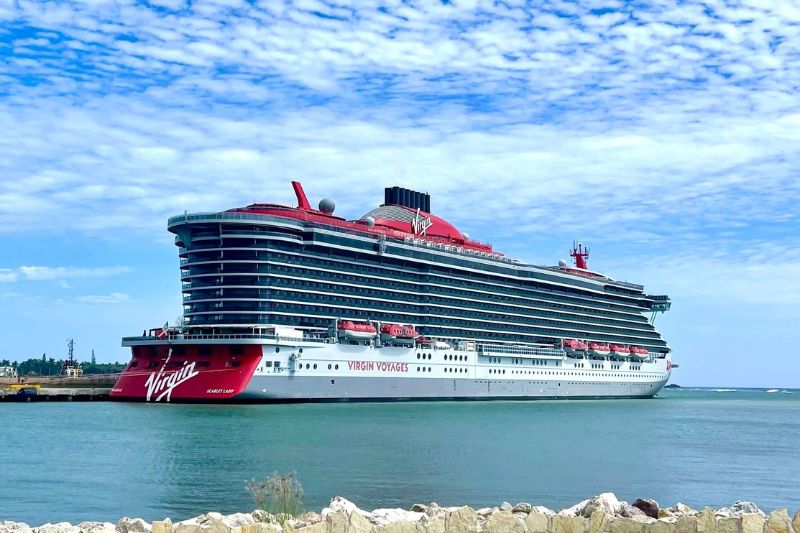 If you've been looking to get away I'm sure you've noticed hotels and vacation homes near the beach are more expensive than ever. My suggestion for Central Floridians looking to get away without booking airfare or driving too far is booking a cruise. Cruises offer you the opportunity to see one or more countries and they provide an all-inclusive vacation with food included. One of the best cruises in Florida for adults is Virgin Voyages Scarlet Lady.
This year Virgin Voyages invited me to experience a voyage aboard the Scarlet Lady. Virgin Voyages was supposed to have their inaugural sailing as a new cruise line in April of 2020, but of course, it was postponed and they began sailing in August of 2021. This cruise line is adult-only (18+). There are currently two ships in their fleet with two more coming in 2023. Virgin Voyages has built a new terminal at the Port of Miami, appropriately named Terminal V.
I'm going to guide you through what to expect on a Virgin Voyages cruise and share insights into making the most of your voyage. While I was hosted on this cruise all opinions are my own.
Virgin Voyages Itineraries from the Port of Miami
The following Virgin Voyages Scarlet Lady itineraries sail from the Port of Miami. I did the Dominican Daze which features two port days and two days at sea.
Dominican Daze

, 5 nights  – Puerto Plata, Dominican Republic, and Beach Club at Bimini, Bahamas

Fire & Sunset Soirées

, 4 nights  – Key West, United States, and Beach Club at Bimini, Bahamas

Mayan Sol

, 5 nights – Costa Maya, Mexico, and Beach Club at Bimini, Bahamas

Riviera Maya

, 5 nights – Cozumel, Mexico, and Beach Club at Bimini, Bahamas
You'll notice that all of Virgin's Caribbean itineraries stop at Bimini and that's because they have their own private beach club on Bimini. Trams head from the port directly to the beach club. These trams are exclusively for Virgin Voyages sailors.
It's a quick 5-minute tram ride to the Beach Club. A pool at the Beach Club and of course a beach with beautiful blue water await. Food at the Beach Club is included in cruise fare – I highly recommend the rum cake! There is plenty of seating available and for those who want to splurge, they have cabanas.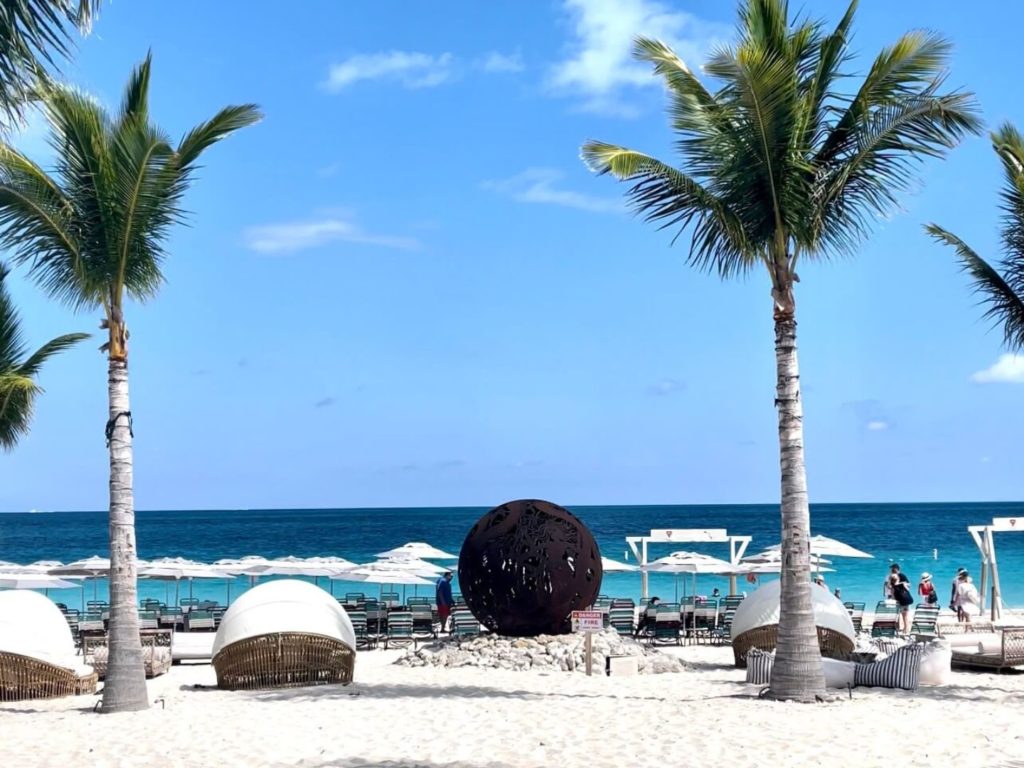 Dining Aboard Virgin Voyages Scarlet Lady
Virgin Voyages does dining differently than many cruise lines. They have over 20 locations on board with food to satisfy your hunger. There is no traditional buffet, but instead, a food-hall style area called The Galley that features hamburgers, ramen, sushi, all-day breakfast, and much more.
There are no large dining rooms on the ship. Virgin Voyages restaurants offer amazing food included in your cruise fare. You do not sit with other parties, except at one restaurant, Gunbae Korean Restaurant. You make a reservation for the number of people in your party and you'll be seated at a table for those number of people.
I had no issues making reservations at all of the restaurants. I made reservations at about the same time each night to make it easier to remember, but all your dining plans are in the Virgin Voyages app that should be utilized while sailing. 
Virgin Voyages does not have specialty restaurants you need to pay extra to enjoy, instead, they offer premium dishes or add-ons you can order in the restaurant such as a seafood platter in their steakhouse, The Wave. There is no upselling from the servers though – it's totally up to you.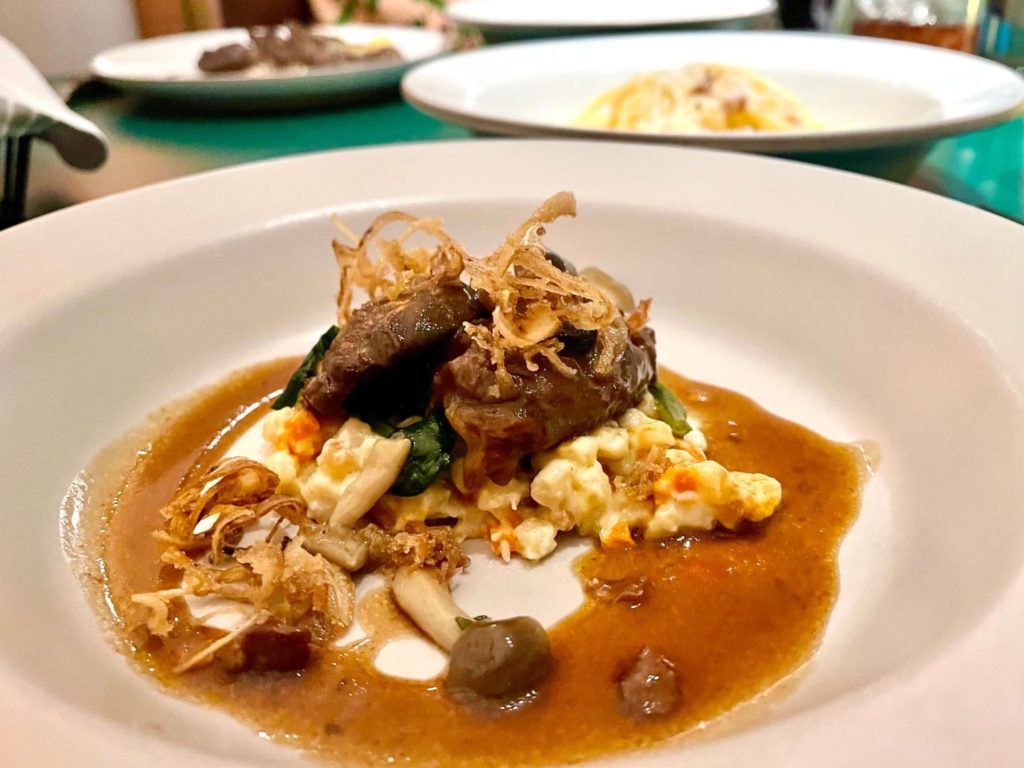 Best Scarlet Lady Restaurants
All the restaurants were good, but here are some highlights.
Extra Virgin is an Italian restaurant. They hand-make the pasta served here on the ship! The menu is so large it will take you several cruises to taste everything on the menu. Everything was great here, but the stand-out was the affogato cart they bring around when it's time for dessert. You choose your flavor of ice cream, the server pours over espresso and you choose from several toppings to top this delicious after-dinner treat. Genius!
Gunbae is the first Korean barbecue restaurant at sea! The tables at this restaurant seat six and this is the only restaurant on board where you will sit with other parties. The server walks you through the entire experience. Our server brought everything on the menu – and it was a lot of food! Your meal is cooked right in front of you as well as plays drinking games with everyone. It's a lot of fun and I recommend doing this on your first night of the sailing because you might meet some cruise friends you'll run into throughout your sailing.
RELATED: Korean BBQ Restaurants in Orlando For a Tasty Date
The Wake is in the aft of the ship. Like a traditional steakhouse, you pick your cut of beef and order sides to be shared at the table. The chefs cooked my filet to my liking and the twice-baked potatoes were perfection. Make your reservations around sunset time. There are large windows that look out over the wake created by the ship. When you check-in for this reservation request a table by the windows.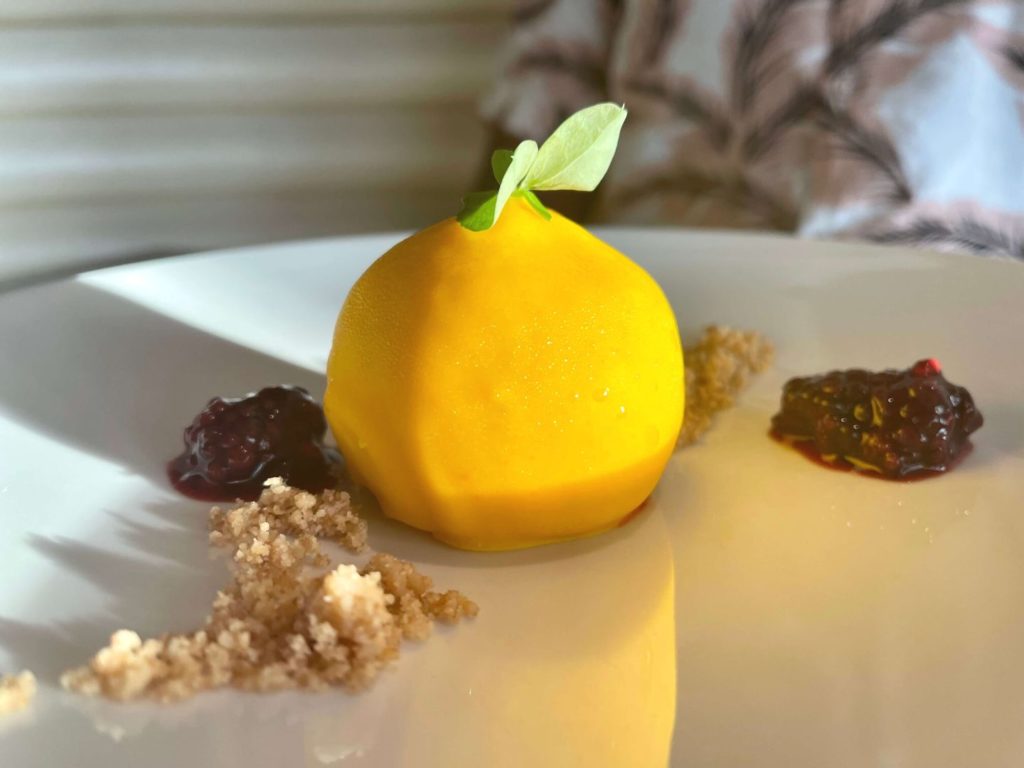 Staterooms Aboard Virgin Voyage's Scarlet Lady
Virgin Voyages ships have four categories of staterooms which include, Insider, Sea View, Sea Terrace (balcony), and RockStar Quarters (larger, suite-like rooms).
We stayed in a Sea Terrace which offered a perfectly sized balcony featuring two chairs, a side table, and a hammock. Yes, that's right, a hammock on the balcony. This hammock was so comfortable and relaxing. All of the staterooms feature a tablet that controls the lights, automatic curtains, and television. You can also order room service through the tablet. The color of the lighting can be adjusted to set the level of romance you desire. Virgin Voyages has not missed a beat in creating fun, sexy, high-tech rooms for the next generation of cruising.
Entertainment Aboard the Scarlet Lady
There are two venues where most of the entertainment takes place. The Manor and The Red Room are the main places for entertainment on the Scarlet Lady.
The Red Room is the larger of the two and can be set up as a theatre in the round or a more traditional theater. The Manor is an intimate space and also acts as the nightclub of the ship.
Use the Virgin Voyages app to check on showtimes for shows. Entertainment is something I did not plan while on board. After dinner we would head to The Red Room to see what was happening and we were always pleasantly surprised by the show. Fear not, there are no corny musical reviews on Virgin Voyages.
Excursions at Ports of Call
Each port of call offers shore excursions curated by the Virgin Voyages team. For our day in Puerto Plata, we selected the Jungle Buggy excursion. This was booked directly through the Virgin Voyages app and while I could have arranged it before travel, I waited and booked it once on board the ship. I would absolutely recommend this excursion.
At three and a half hours to four hours, the Jungle Buggy excursion made for an adventurous date. We were on ATVs through the jungle and then enjoyed a beach of a private resort.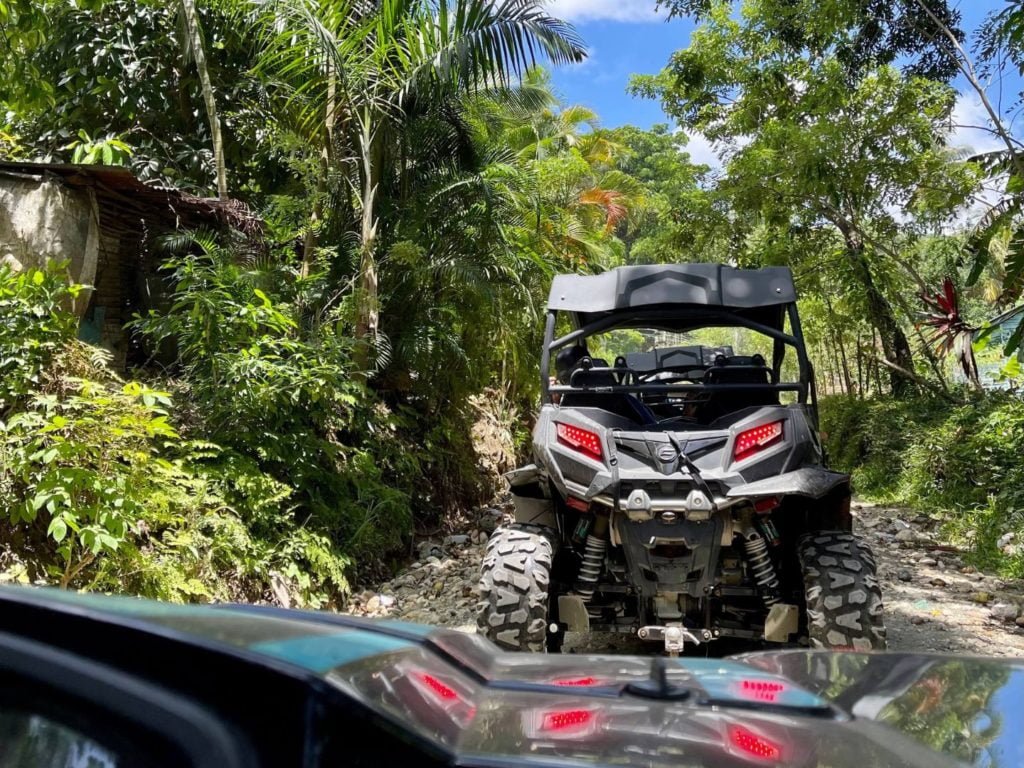 Bimini, where Virgin Voyages offers a private beach club for its guests, also has excursions. However, with a gorgeous beach, private pool, and included food we couldn't find any reason to leave. All we needed for a day in paradise could be enjoyed right here.
Is it worth it?
Virgin Voyages offers beautiful, new ships that feel luxurious but relaxed, modern yet comfortable. Aboard the Scarlet Lady, we encountered a good mix of fellow cruisers from groups of 30-somethings traveling together to middle ages couples. This cruise is for everyone 18 and older – adults only! If you think cruising is for grandparents – this is definitely not your grandparent's cruise. 
I found a well-rounded ship. You can easily find the party if you want it, but if you're looking for a vacation to disconnect and spend your days at the spa and evenings experiencing a bottle of wine and fine dining, you can find it on Virgin Voyages.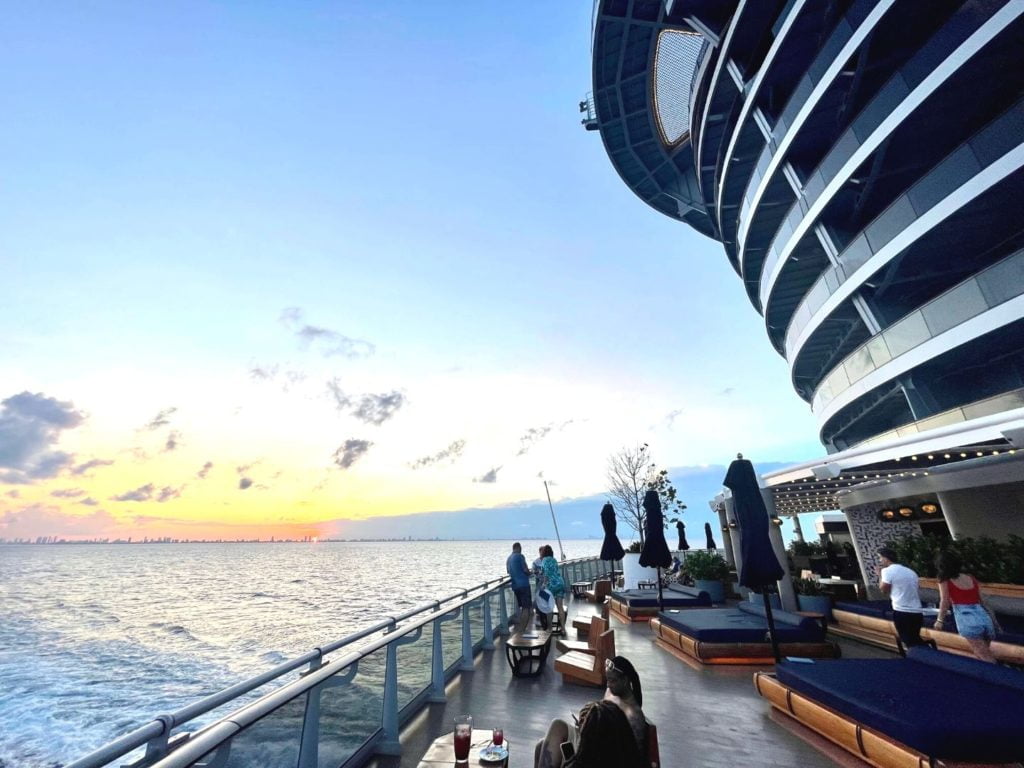 This is definitely the time to cruise as ships are not yet at full capacity. Our sailing had just under 1,000 guests on a ship that can hold 2,700. It's absolutely worth it.
Curious about other cruises?