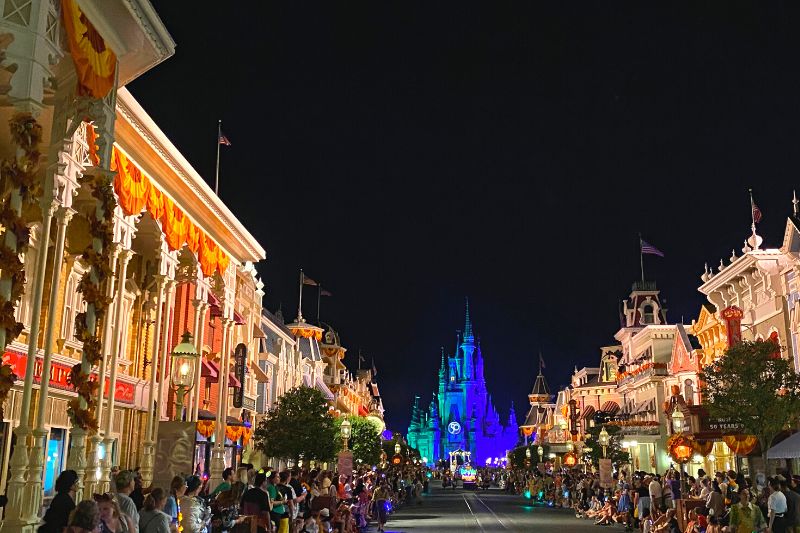 The Halloween season starts in August at Walt Disney World. Can you believe it? Mickey's Not So Scary Halloween Party 2022 dates are August 12 – October 31, 2022. This awesome after-hours Disney Halloween party is offered on select nights. With a price tag averaging $140 it's quite the expense – and yet if you're a Disney fan or love Halloween, it's hard to beat.
So to maximize your Disney dollars and give you the spookiest time ever, read over our Mickey's Not So Scary Halloween Party Tips and Guide. We'll go over tips to save time and make the most of the party, must do experiences, good treats to try, and ideas just for couples looking to have a spooky date night.
Mickey's Not So Scary Halloween Party Tips
Get there at 4:00pm
Eat a good meal before loading up on Halloween candy and treats
Hit some rides during the first parade
Rest your feet while you watch the Not-So-Spooky Spectacular Fireworks
See the second parade
See the last performance of Hocus Pocus Villian Spectacular at midnight
Monsters Inc. Comedy Laugh Floor – a double trick or treat station, with ongoing performances and seats
Try at least one party exclusive food – the Sweet Corn Almond Cake was our favorite
Stop for at least one Halloween photo opportunity with special Disney's PhotoPass effects
Pace yourself so you can stay all the way to the end of the night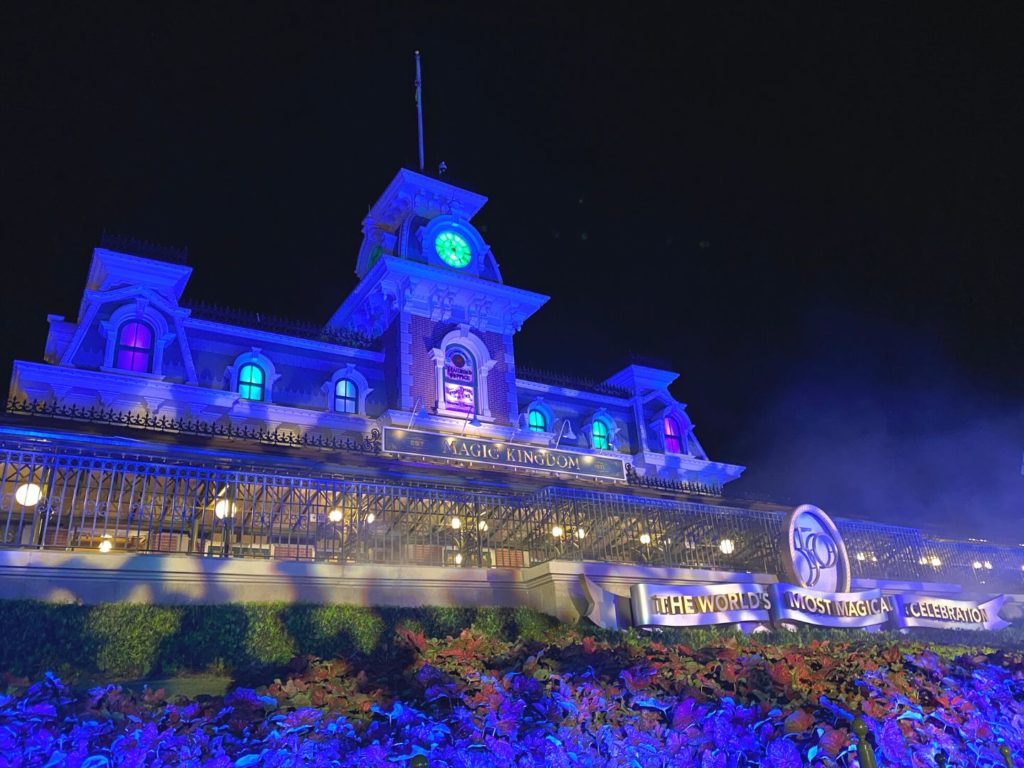 Trick or Treat Stations
As you can see from our tips above, we recommend some trick or treating during the party. Yes, adults can trick or treat without kiddos along. It's totally okay. And costumes are totally encouraged so come up with a cute couple's costume or at least wear something festive.
The candy is provided by Mars Wrigley company so stop by the trick or treat stations anytime you see one. Your bag will be filled with treats like Snickers bars, Milky Ways, Starbursts, M&Ms, and more.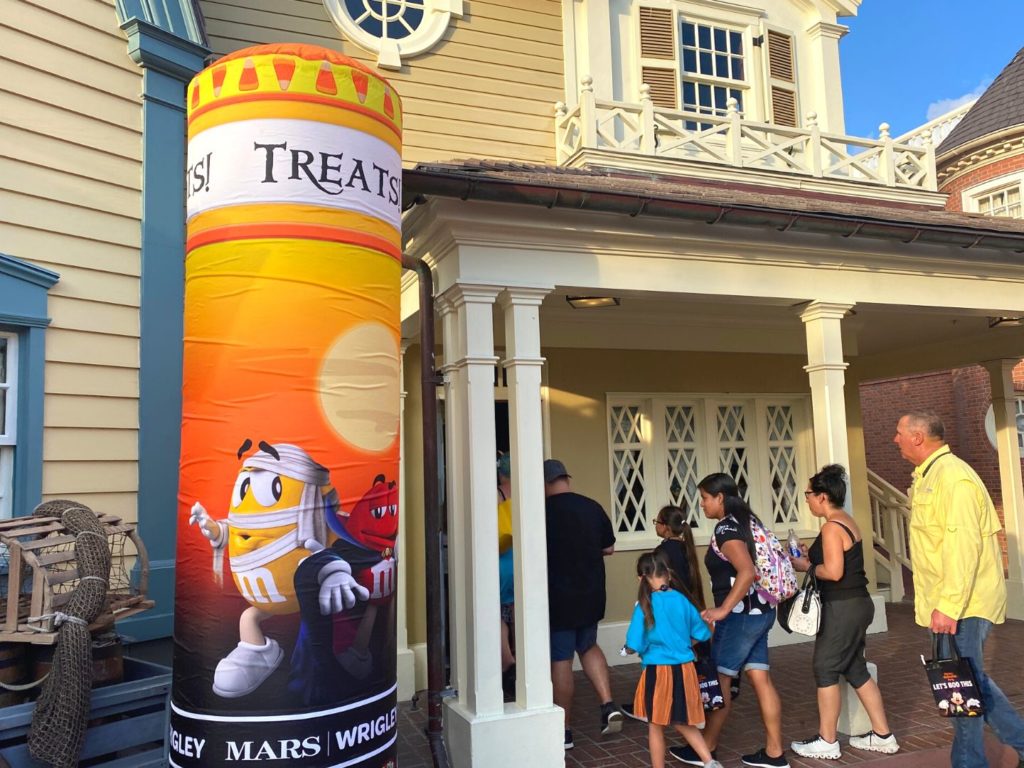 There are 14 stations throughout Magic Kingdom. Each land has at least one. Frontierland and Adventureland have the most trick or treat stations and are close together. The stations are marked on the Halloween Party Guide Map with an orange lollipop.
Allergy-friendly: If anyone in your party has food allergies and would like allergy-friendly treats, ask for an allergy-friendly treat bag when you arrive. During the trick or treating these guests will receive a teal allergy-friendly token to redeem for allergy-friendly treats.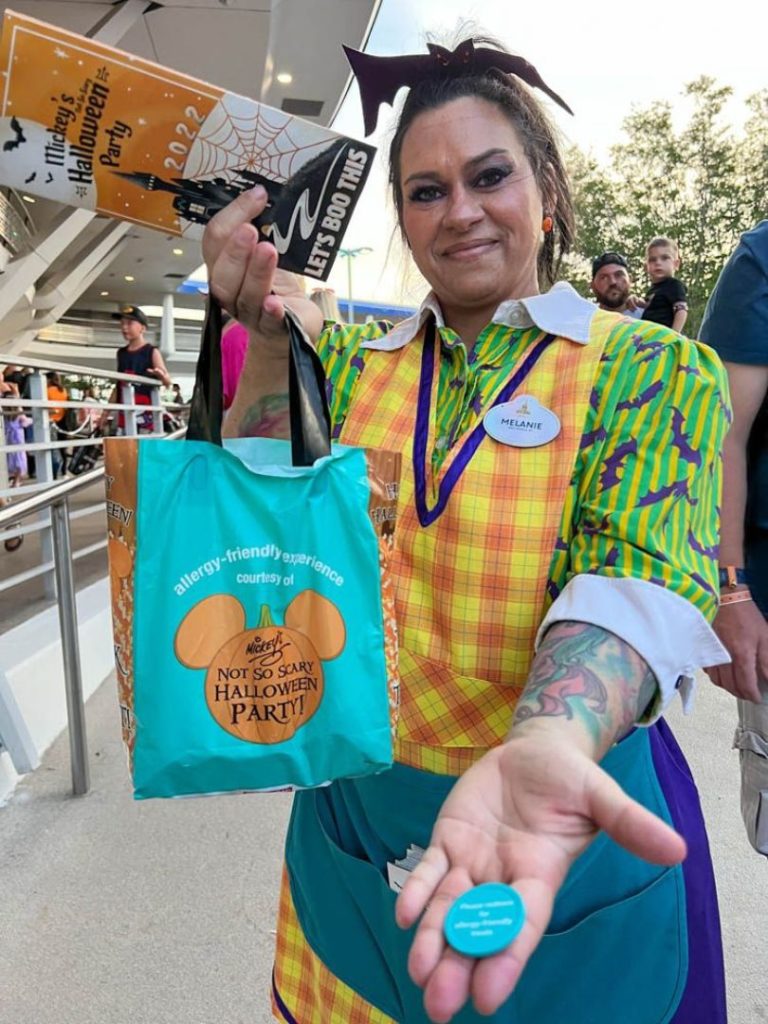 There are two redemption locations one in Liberty Square (which closes by midnight) and another on Main Street USA near the front of the park, inside the Chamber of Commerce building.
Guests can tell the Cast Members which options they would like, which include allergy-friendly gummy bears, lollipops, sunflower butter and chocolate cups, and much more. My son has multiple food allergies and I really enjoyed this process with him. Just be sure to visit the allergy-friendly centers before the party is over.
Disney Halloween Attractions with the Longest Lines
Jack Skellington and Sally characters at Town Square Theater
Pirates of the Caribbean (live actors for a Halloween touch)
Space Mountain (in complete darkness for a Halloween touch)
Most Halloween character greetings have super long lines, consider the dance parties as an alternative
What time does Mickey's Not So Scary Halloween Party start?
Officially Mickey's Halloween Party starts at 7:00pm and goes until midnight. However, you can actually get into the Magic Kingdom for Mickey's Not So Scary Halloween Party as early as 4:00pm. For the best date night we recommend taking advantage of the extra time.
Just pay very close attention to the signs at the Magic Kingdom entrance to be sure you use a designated entrance for the Halloween party itself. And you must get a wristband after entering.
When you get into the park at 4:00pm with your Halloween party ticket, get your wristband, then go get your trick or treat bag and enjoy being in the park early. The Halloween festivities will not take place until 7:00pm, but you can ride some rides or get something to eat before the party begins.
Tip – Consider making a dining reservation at one of the table service restaurants before the party begins so you've got some good fuel to keep going for the whole party.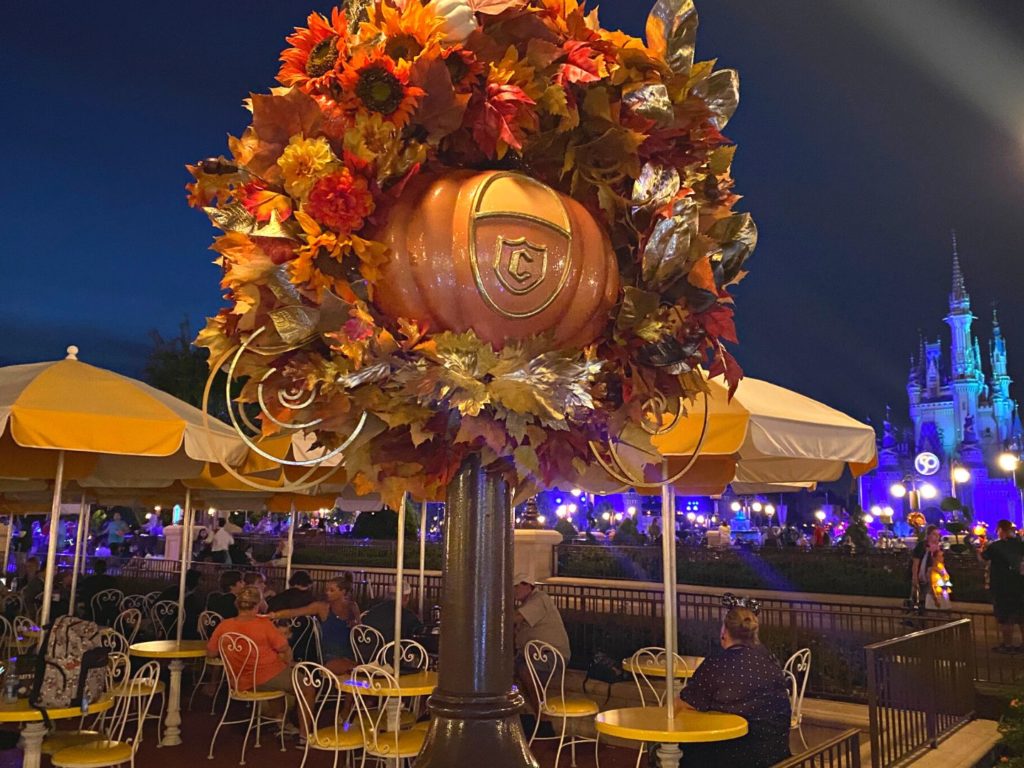 Jack Skellington and Sally characters at Town Square Theater are by far the most popular greeting of the party. The line actually begins forming at 4:00pm and the characters usually start greeting around 6:30pm. Personally, that's too much for me and I would rather go enjoy other activities in Magic Kingdom. So be sure to discuss this with each other and decide what you prefer to do.
Rides with Special Halloween Effects
Pirates of the Caribbean
Mad Tea Party (aka the "tea cups")
Monsters Inc Comedy Laugh Floor (continuous interactions)
Space Mountain
Something super fun to do together is to ride at least one of the rides with special Halloween effects. These special effects only happen during Mickey's Not So Scary Halloween Party. The lines for Pirates of the Caribbean and Space Mountain get pretty long because of their respective effects.
You can encounter a few live actors adding an extra thrill of adventure at Pirates of the Caribbean. And over in Tomorrowland, you can go into deep space as Space Mountain is in complete and utter darkness. The projections and lights that are normally shining within Space Mountain are turned off. Do you dare give it a try?
If the lines are too long then Mad Tea Party is a great choice. Special Halloween songs and party lighting are used to make the tea cups a little spooky. Remember to decide beforehand just how much you do, or do not, want to spin the tea cups. Personally, I find the ride to be pretty mild if I don't spin the teacup myself and just ride it out as it swoops around the platform.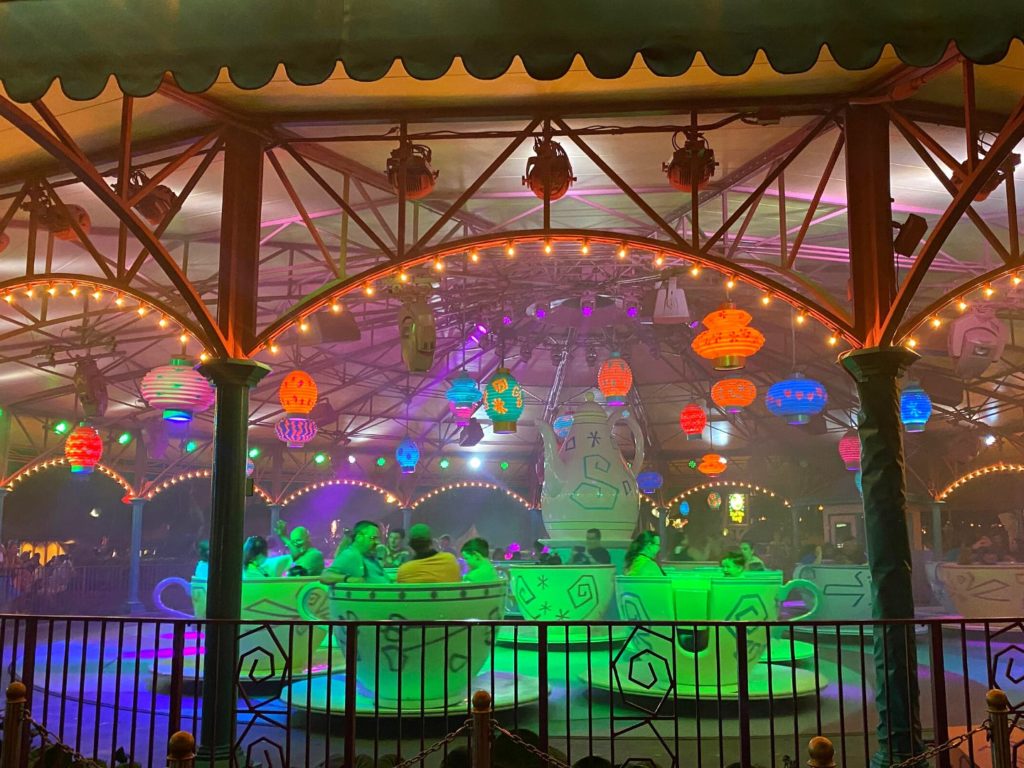 Must do – Maybe I like corny jokes too much now that I am a mom, but I love Monsters Inc Comedy Laugh Floor during the Halloween party. It's actually a trick or treat station with not one, but two doses of treats. And you can sit and rest your feet for a few minutes while the monsters interact with the audience telling Halloween themed jokes. You can get up and walk out anytime you wish. I enjoyed resting my feet and nibbling a few bites of the Halloween candy I had earned.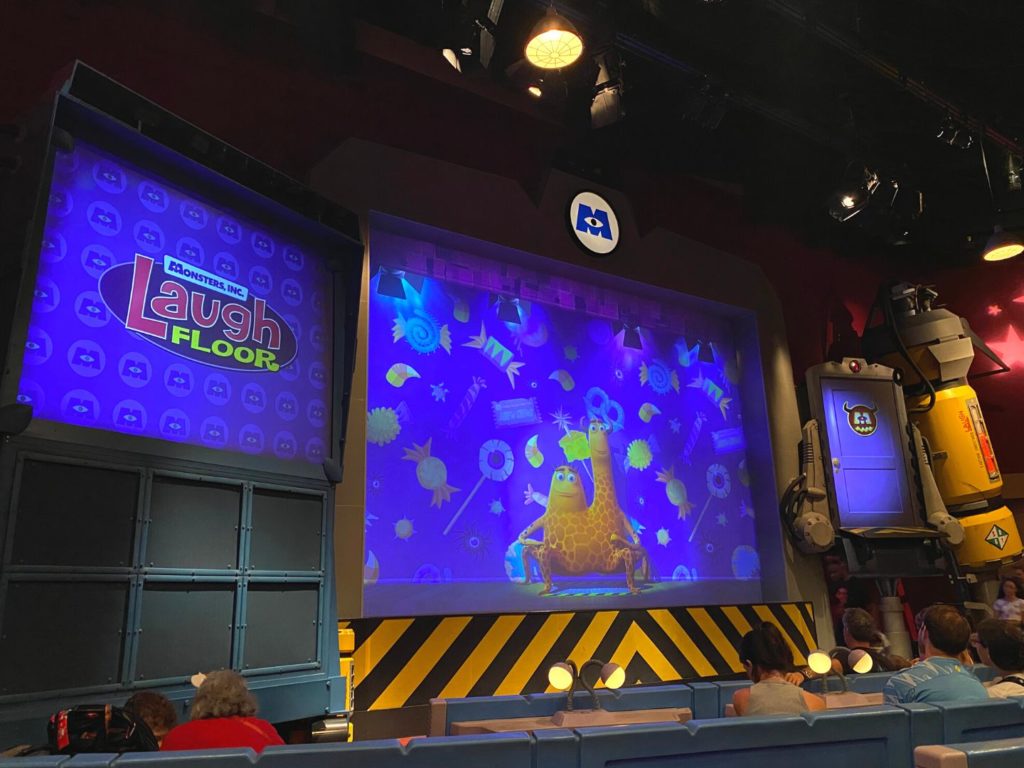 Mickey's Halloween Party Exclusive Food
Speaking of corny, our favorite snacks we purchased during the party are both corn flavored. The Almond Sweet Corn Cake at Pecos Bill Tall Tale in Frontierland looks just like roasted corn on the cob. It's uncanny. And yet it is a light, sweet cake topped with sweet frosting. The edges of the cake could have been moister for our liking, still, this is a great treat for a sugar boost.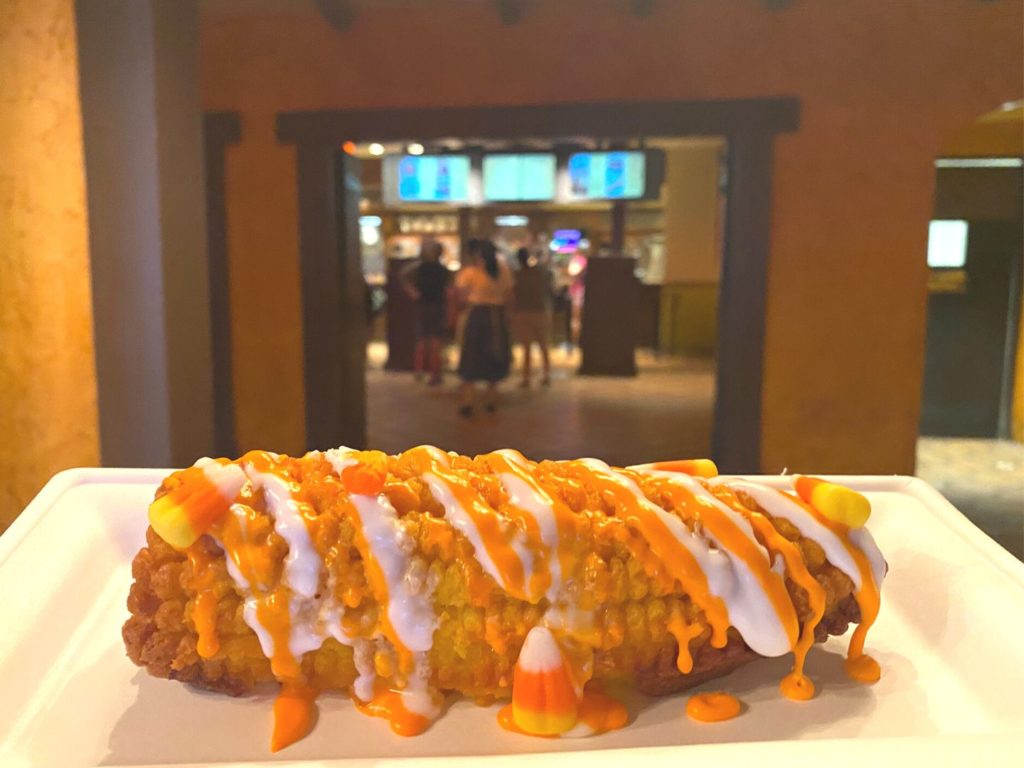 Another sugar boost is actually available during the day this time of year, not just during the party. The Candy Corn Soft Serve ice cream at Auntie Gravity's in Tomorrowland is quickly becoming the hit of the season. It may not be a Halloween party exclusive food, but it is worth ordering because of its sweet corn flavor.
Other guests have said the Pain and Panic Hot Dog at Casey's Corner is a great savory indulgence. And the Worms and Dirt Funnel Cake at Sleepy Hallow Refreshments is a fun sharing sweet snack. And the Hot Coco Brownie found at the popcorn cart near Cinderella Castle is a sweet and spicy treat to share while you wait for the fireworks and parade.
Watch this video below to get more details on the delicious Halloween Party FOOD AND DRINKS 
Disney's PhotoPass is a great way to capture some magical photos together on your spooky date. There are five main Halloween magic shot opportunities during Mickey's Not So Scary Halloween Party.
Our favorite Halloween photos spots should be on your to-do list during the party:
Hitchhiking Ghosts Magic Shot
Oogie Boogie Magic Shot
Headless Horseman Magic Shot
The Hitchhiking Ghost Magic Shot is perfect for Haunted Mansion fans. It is near the exit of Haunted Mansion as well as behind Sleepy Hallow in Liberty Square. You'll also find the Headless Horseman Magic Shot near Hall of Presidents at Liberty Square. The lines may seem long, but they usually take less than 10 minutes and you can entertain yourselves by watching other guests get their photos and practice your poses.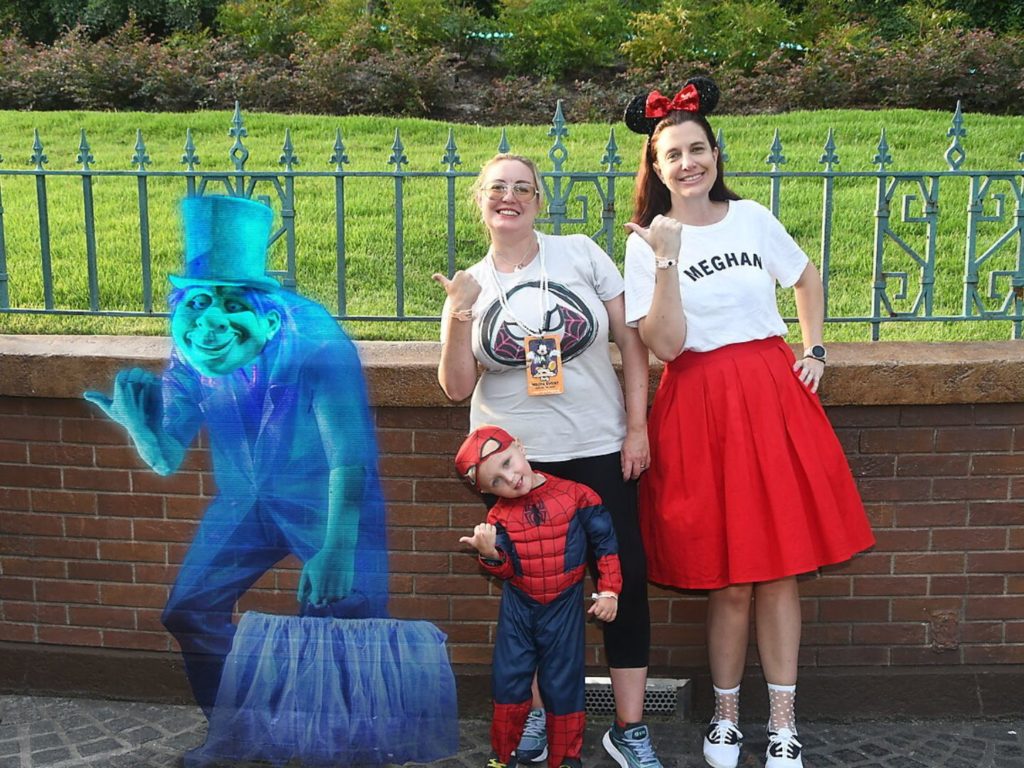 Near Cinderella Castle we found a PhotoPass Cast Member and asked for a photo. Little did we know when the photo showed up in our My Disney Experience app that Oogie Boogie from The Nightmare Before Christmas would show up as a spooky moon in our photo.
Whether you attend the party with friends, family, or on a date these fun photos will be the perfect keepsake of your spooky night.
Halloween Fireworks and Parade
The Halloween fireworks are an absolute must-see! Do not skip this, and do not settle for a view off to the side of behind the castle. The entire show is more than fireworks. There are super cool projects and effects on the castle plus special fireworks effects. The finale is not to be missed.
I suggest viewing the fireworks near Casey's Corner or the Ice Cream Parlor. Watching the fireworks with a good view of the castle without being too close is the sweet spot.
I suggest watching the second performance of the Halloween parade at 11:15pm. Just stick to the same spot you where you watched the fireworks on Main Street. Then after watching the parade at 11:15pm stick around near Cinderella Castle for the awesome Hocus Pocus Villian Spectacular performance at the stroke of midnight.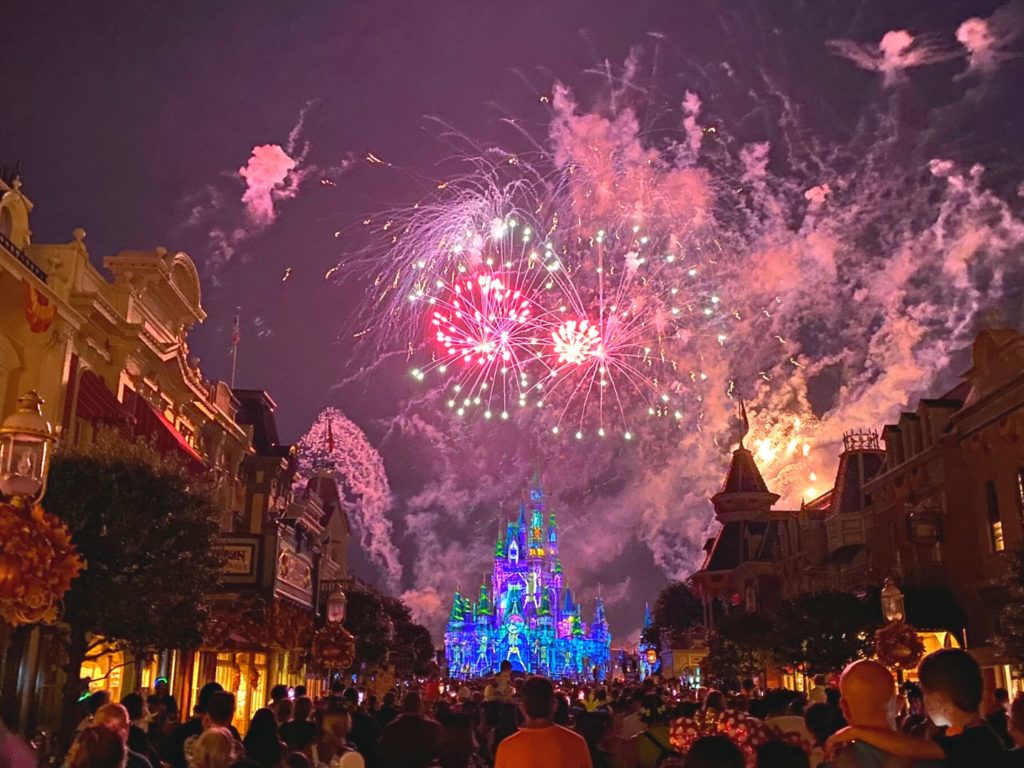 Get your spot for the fireworks on Main Street USA about 15 – 20 minutes before showtime.
10:10pm Not-So-Spooky Spectacular fireworks
11:15pm Boo to You Parade
12:00am Hocus Pocus Villian Spectacular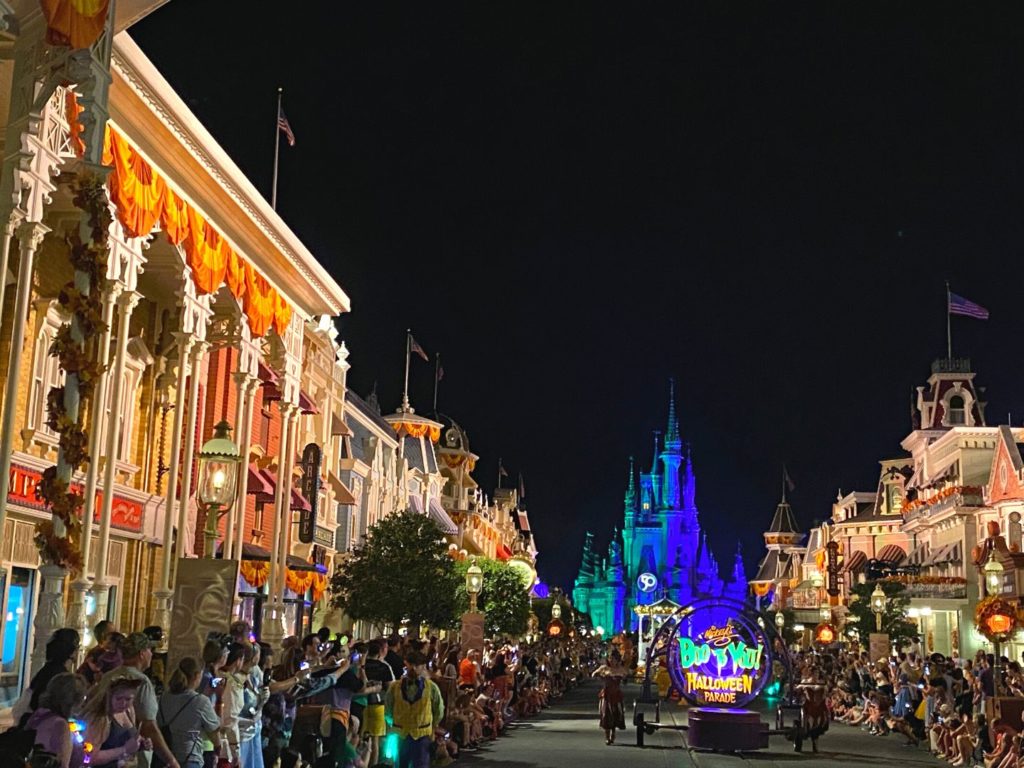 Attending Mickey's Not So Scary Halloween in 2022 is very special. It is currently the Walt Disney World 50th Anniversary celebration. And to commemorate this special occasion, you'll receive a special 50th anniversary reusable treat bag on your way in. And, on your way out you'll be given a special 50th anniversary print featuring Cinderella Castle and spooky Halloween party decorations. What a perfect way to cap off a magical, spooky night together.
Please note, we attended Mickey's Not So Scary Halloween Party 2022 complimentary. Our group of publications received an invitation to attend the event by Disney Parks.
Attending with kids? Head to Tampa Bay Parenting for A Parent's Guide to Mickey's Not-So-Scary Halloween Party 2022