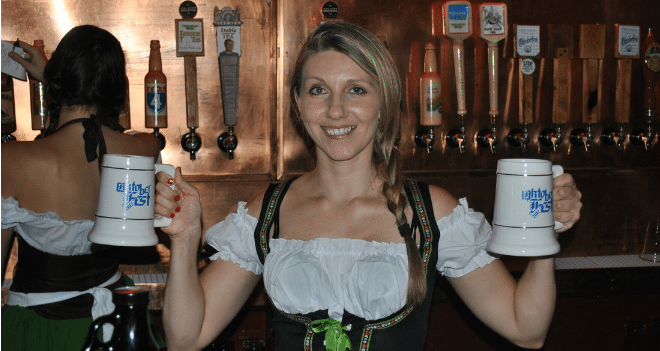 Oktoberfest is held annually in Munich, Germany to celebrate Bavarian culture with a 16-day folk festival (running from late September to early October). Sure, a date night abroad would be awesome, but you can easily enjoy German-inspired brews at one of the many Oktoberfest events in Orlando.
And thankfully these events in Orlando span from late September all the way to the end of October. Prost!
Oktoberfest Events in Orlando
Oktoberfest Weekends at ICON Park
Fridays – Sundays 2pm – 10pm, Sept. 16 through Oct. 2, 2022
(Fridays start at 5pm)
ICON Park
Beer flights featuring four seasonal brews will be available at The Lawn Bar for $16. If you're looking for a nice souvenir, a commemorative 32 oz glass stein filled to the brim with your favorite selection can be purchased for $22. Plus live music and special promotions for The Wheel at ICON Park.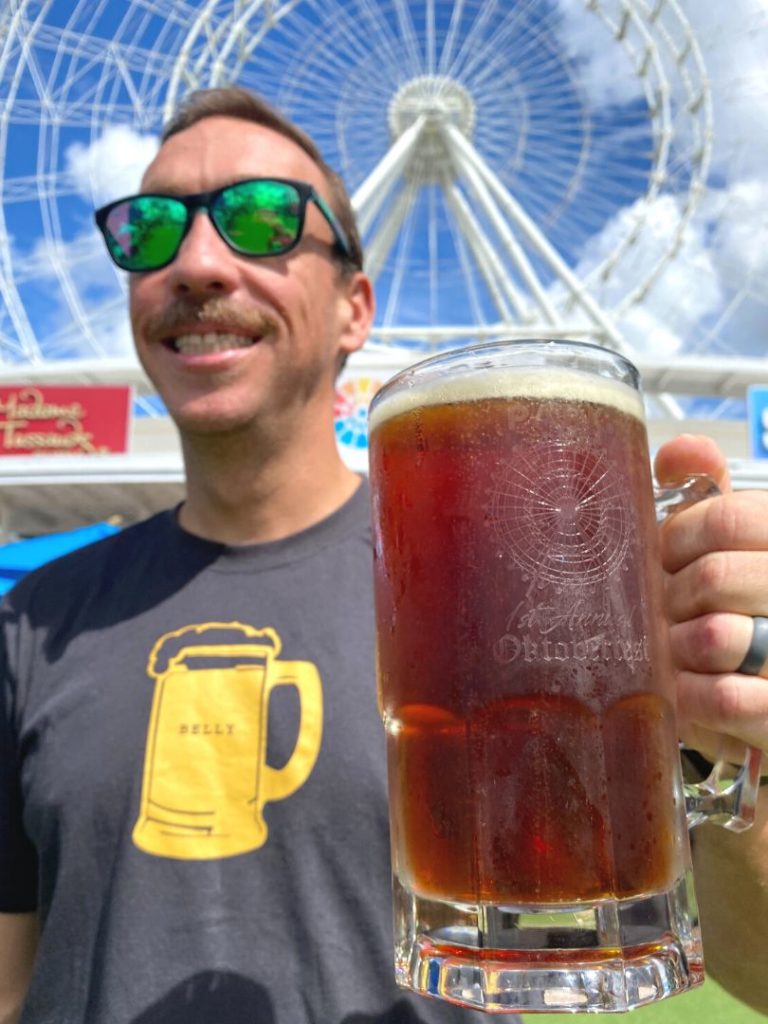 We tried a sampler of the Oktoberfest food offerings. The Chicken with Potato Pancakes and the sausages surpassed our expectations. The German Chocolate Cupcake is an absolute must! We did receive a complimentary beer stein as part of our media visit and we love the design. The Wheel at ICON Park etched into it is a special Orlando memento.
Kissimmee Oktoberfest 2022
September 16 – October 30, hours vary
Krush Brau Park
Oktoberfest themed park
Wristbands and "Krush Cash" prices vary
2nd Annual Varktoberfest
Saturday, September 17, 11am – 11pm
The Ardvark Orlando
Several Florida Beer Vendors (Green Bench, Ivanhoe Park, Olōgy, Ravenous Pig, 26º Brewing Co, Walking Tree, and Tampa Bay Brewing Co), German Food, German Wine Tasting & German Punch.
This is a family & pet friendly event.
Oktoberfest! at Ellipsis Brewing
Saturday, September 17, 1pm
Ellipsis Brewing Orlando
German street food, special beer, and special merch. More details to come.
Oktoberfest at À La Cart Orlando
Saturday, September 17 – 30
Each one of the vendors is cooking up a German-themed special that will pair exquisitely with one of our Florida-brewed German beers.
Please visit the À La Cart Orlando Facebook page for important parking information.
Deviant Wolfe Oktoberfest
Saturday, September 24, 12 – 8pm | Sanford
Indulge in German-style beers, food, and merriment. Come dressed to impress in your dirndl or lederhosen, pick up your mugs, and celebrate! Delicious German-style food, live music, Oktoberfest games, and best of all, German-style beers brewed in-house especially for the event.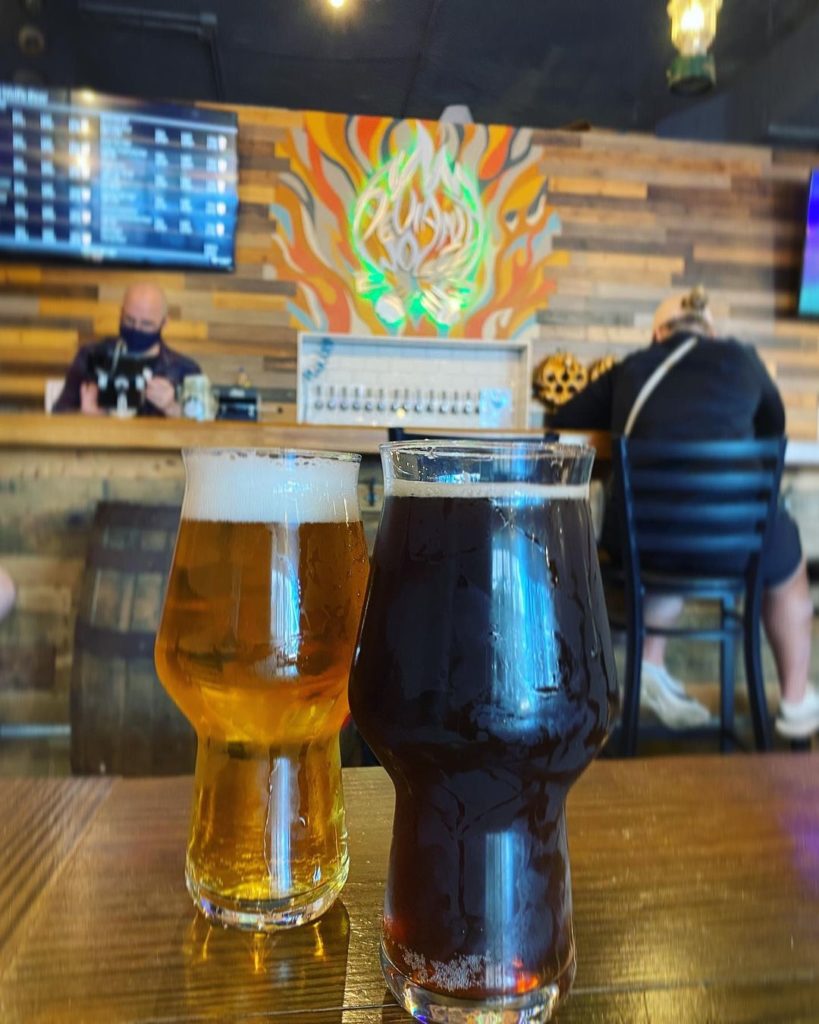 Hourglass Brewing Longwood Oktoberfest
Saturday, September 24, 11am – close
Hourglass Brewing Longwood
Live authentic Polka Music from 4:00 pm – 8:00 pm and a swath of german beer offerings available all day.
For the best fest experience, Pre-order your Oktoberfest package now and lock in your 20oz HG Stein + 2 German offering Draughts + 5 entries into the Oktoberfest Landbier YETI 45 giveaway.
$20
BONUS! Oktoberfest Celebration at Alestone is also on Saturday, September 24, right down the road from Hourglass Brewing Longwood.
And the city of Oviedo has an Oktoberfest event on Thursday, October 22 through Saturday, October 24, with punch cards to suit different budgets and thirsts.
Dezerland Orlando Oktoberfest
September 30 – October 30 (every Friday, Saturday, and Sunday)
Dezerland Orlando
Savor a one-pound Bavarian pretzel, German-style roasted chicken or bratwurst – a quarter-pound German sausage cooked in beer and onions served with German potato salad or mac & cheese. Dezerland's Oktoberfest celebration will feature Samuel Adams. The company's fan-favorite Oktoberfest draft beer will be available for $7 for a 16 oz pour.
Plus, the world's largest Volkswagen collections and custom Volkswagen buses will be on display!
German American Society of Central Florida Oktoberfest
Saturday, October 1 & 22, 2022
German American Society Casselberry
With TWO celebratory dates, the "biggest and most authentic Oktoberfest event in Orlando" will pour out double the beer-inspired entertainment.
Enjoy real Bavarian beer on tap, home-cooked German food, German bands, Alpenrose Schuhplattler dancers, a flag parade, vendor booths and a Bavarian biergarten.
Advanced tickets: $5, free for ages 11 and under
Suntoberfest at Suncreek Brewery
Saturday and Sunday, October 1 – 2, 2022
Suncreek Brewing Clermont
Full-street event with live music, and special German-inspired food.
1st Annual Swinetoberfest
Saturday, October 1, 2022, 12-5pm
The Ravenous Pig
Check out thisannual celebration happening in The Ravenous Pig's spacious beer garden. Highlights include a German style roast menu, the brewery's seasonal Oktoberfest lager, live DJ, and more.
Menu prices vary
Avalon Park Oktoberfest
Friday and Saturday, October 7 & 8, 2022
Avalon Park, East Orlando
This free, family-friendly affair, from 5-10 pm on Friday and Saturday, invites adults to "prost" in the beer garden while kiddos sip on root beer.
Highlights include games, contests, and German music.
Oktoberfest Mount Dora 2022
Saturday, October 8, 3pm – 10pm
Sunset Park – 4th & Alexander, Downtown Mount Dora
Experience Local Craft Beers and German Food.
Make it an even more memorable experience in the Hollerbach VIP Bierhaus with Hollerbach. They will serve a German Buffet, Beer, and exclusive seating.
General Admission is $10 per person.
Hollerbach VIP Bierhaus is $100 per person
8th Annual Crooked Can Oktoberfest
Friday – Sunday, October 14 – 16, 4pm – 11pm
Three days of Polka Music, Traditionally Inspired German Food, Live Entertainment
PLUS the insanely popular, Oktoberfest Wiener Dog Race brought to you by Our Cause 4 Paws Rescue is back!
Must try foods:
Curry Wurst & Sauerkraut Empanada with Curry Ketchup – from Empanadas & Co.
Bavarian Pizza – from Michael's Ali Coal Fired Pizza
Grilled Steak Burgers on German Pretzel Buns – The Local Butcher and Market
Apple Cider Moonshine Glazed Donuts – Sir Benji's Donuts
Vegan Apple Pie – Press'd Juice Bar
Celebration Annual Oktoberfest
Friday and Saturday, October 21 & 22, 2022
Celebration
More of a seasonal celebration than a traditional beer guzzling event – though still enjoyable − Market Street will illuminate with autumn colors at this fall festival.
Additionally, Ivanhoe Park Brewing hosts a major multi-day event each year. The Return to Joyland Invitational Beer Fest is not Oktoberfest themed, but is a big beer fest in October worth considering.
Oktoberfest Parking Lot Party
Sunday, October 23, 2pm – 7pm
Citrus City Craft
Enjoy German food from Hollerbach's German Market & Morganic Meats, beer, games and activities as well as live music and a kids zone.
Oktoberfest Block Party & Outdoor Market
Saturday, October 29, 11am – 7pm
Orange County Brewers – Lake Mary
Craft Beer Releases, Live Music, Giveaways, Food Specials, Outdoor Market & Block Party for the whole family.
Hollerbach's Oktoberfest
Friday – Sunday, November 4 – 6, 2022
Sanford Civic Center
This indoor-outdoor festival at the Sanford Civic Center will feature authentic German food from Hollerbach's German Restaurant and Market, German beer, wine, Schnapps and desserts, a Kids Zone presented by Ladies 327 of Sanford, and German-style entertainment including polka music, folk instruments, yodeling, and dancing in traditional costumes.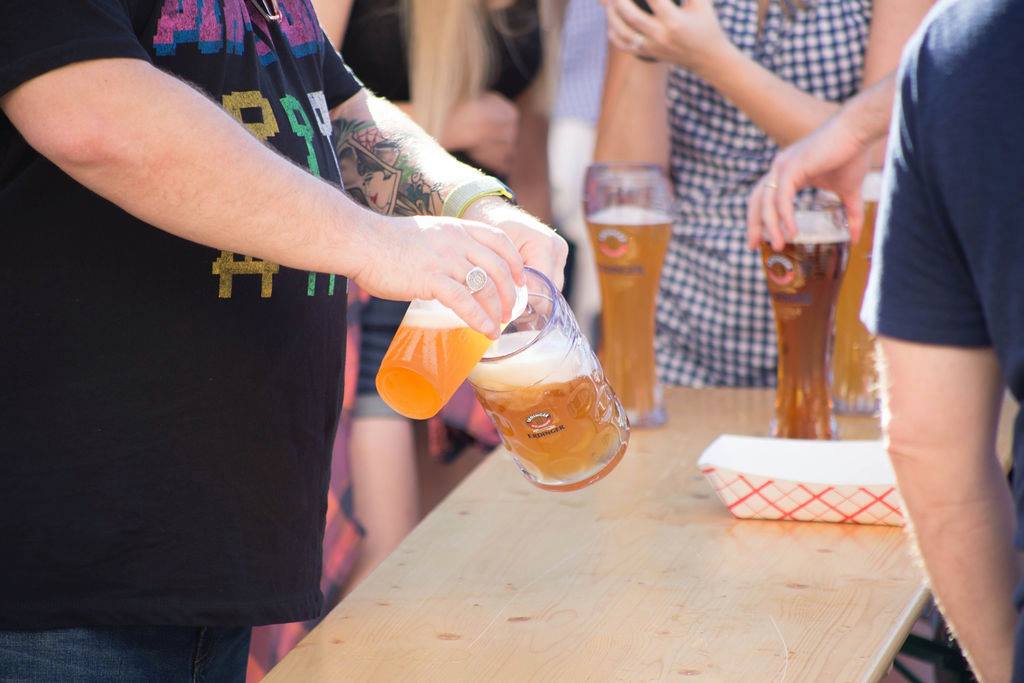 Oktoberfest nearby…
Croctoberfest at St. Augustine Alligator Farm
Saturday, October 1, 2022, 6pm – 9pm
A night out at the Zoo from 6pm to 9pm. Sample beers from Florida breweries as you make your journey through the Alligator Farm. Conservation partners will be on site to share about their work happening along the First Coast. Local restaurants will be dishing out some of their favorites, and live music will be held throughout the park.
$75 regular tickets, $40 designated driver tickets
BEYOND OKTOBERFEST
Why wait for these awesome Oktoberfest Events in Orlando? Discover seasonal selections at other local spots with our Beer Lover's Guide to Breweries in Orlando. And if the kids need to come along, these are the BEST Kid-Friendly Breweries in Orlando.
Photo credit Orlando Beer Guide