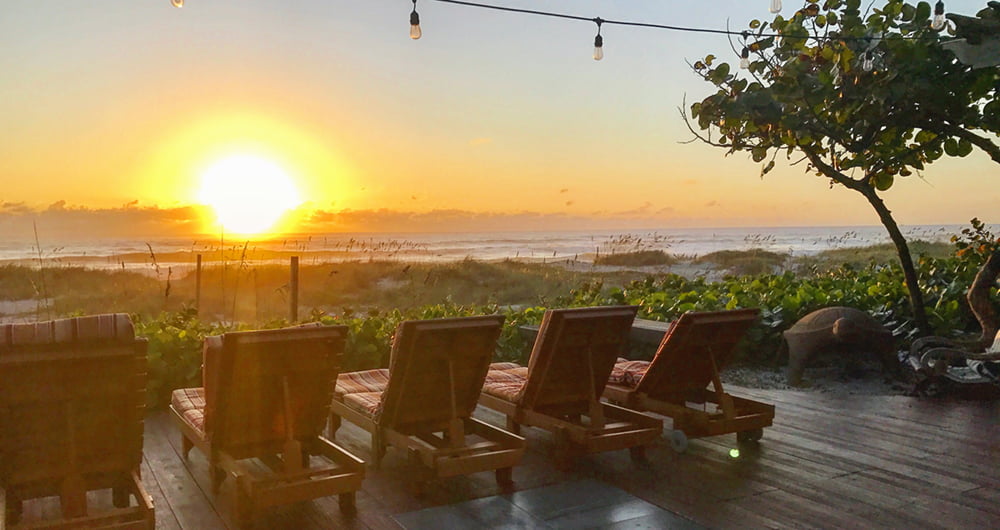 The abundance of things to do and beautiful places to explore are just several of the joys of living in Central Florida. One of the most unique trips any Floridian can embark on is a sunrise to sunset road trip.
Such a trip consists of waking up to the sunrise on the east coast, driving across the state, and ending the day by watching the sunset on the west coast. Orlando's central location makes this trip easier than ever to accomplish with a little planning.
My husband and I dreamed of having such a trip together back when we were dating, but we didn't fulfill that dream until our second wedding anniversary. It was everything we hoped it would be, but it took some planning to make it happen. Read on for our tips and recommended itinerary for planning a sunrise to sunset Florida road trip of your own.
Originally published in November 2019, updated August 2022 
Selecting Your Destination on the East Coast
The key to a successful sunrise to sunset trip is to make it a two-night venture. We booked our first night in Cocoa Beach. We live in Seminole County, so Cocoa Beach and New Smyrna Beach are our two closest beaches. I selected Cocoa Beach for a few reasons: I have fond memories of family trips there, and it is an easy destination to access from Orlando thanks to the Beach Line, toll road 528.
Other recommended locations: New Smyrna Beach, Daytona Beach, and Vero Beach.
Sunrise in Cocoa Beach
In the morning we woke up, put a pot of coffee on, and walked about 100 feet from our room's front door to the beach. Foolishly we had checked the sunrise time on a weather app and set our alarms for 30 minutes beforehand. This was an error because the sunrise is designated by the moment the sun will cross the horizon, thus when we awoke the progression of the sunrise was already in motion.
Set your alarm for 45 minutes before the sunrise.
We wanted to dip our toes in the water so we continued further to the shore. The peace and quiet of this moment took my breath away. Just me, my husband, and our little boy there on the beach, we stood barefoot as the waves came crashing in and the sky changed from purple to pink to orange.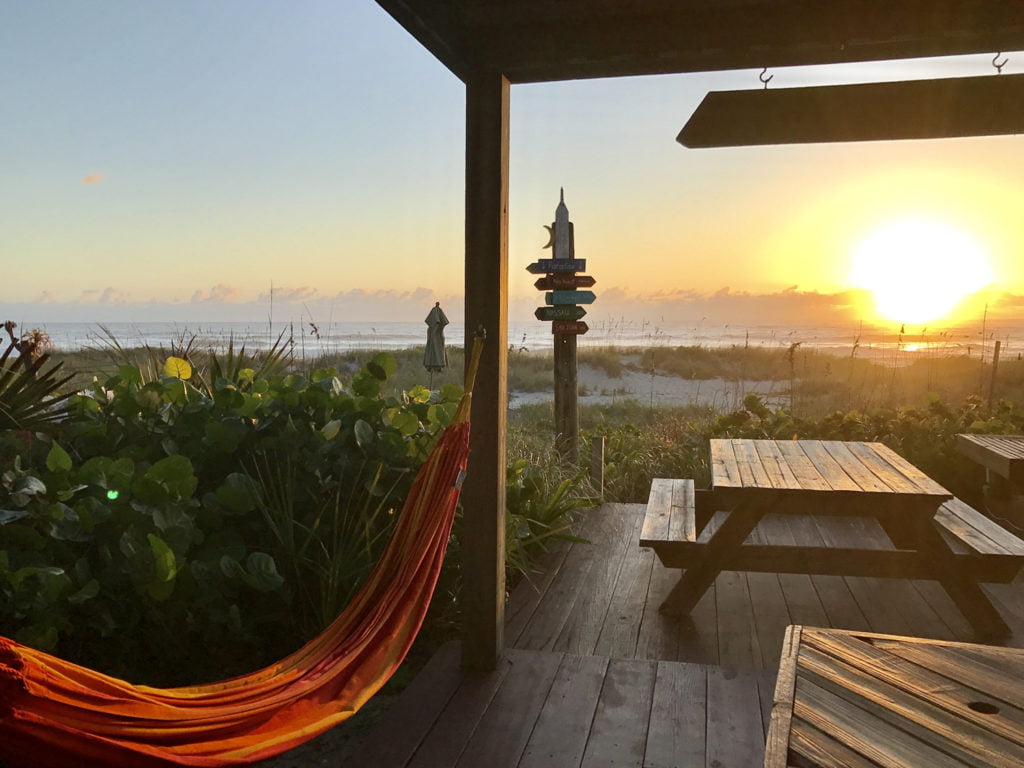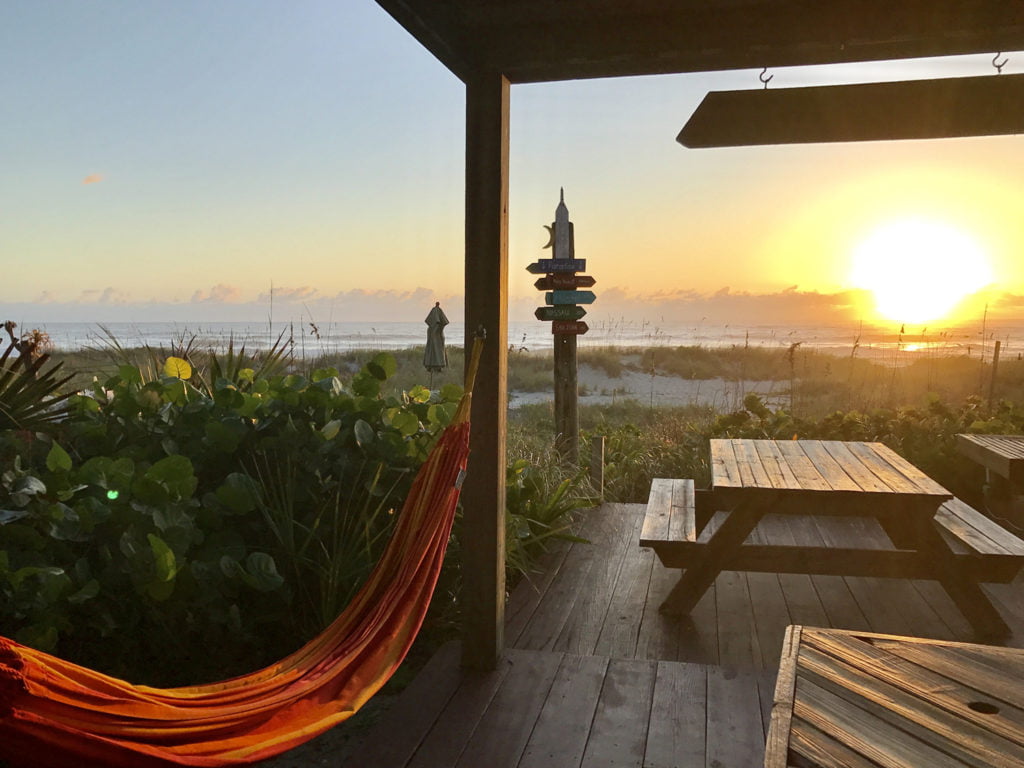 After spending some time on the beach, we headed back to our hotel's outdoor lounge area. I made myself at home in a hammock while my husband sat beside me in a wooden chair and our son conversed with the tiny bunny rabbit beneath our feet. A pure moment. We explored the rest of the sitting area once the sun had fully risen before heading back to our little cottage for breakfast.
Where to Stay
We opted for oceanfront accommodations so that we could simply wake up and either sit on our balcony to watch the sunrise or walk just a few feet out to the beach. After searching a few hotels and Airbnb / VRBOs I came across Beach Place Guesthouses.
What sealed the deal for me was the beachfront and lounge areas suited for watching the sunrise. Perks include comfortable Adirondack and lounge chairs, tables and chairs, a few hammocks, and even firepits and grills with all the necessary components provided.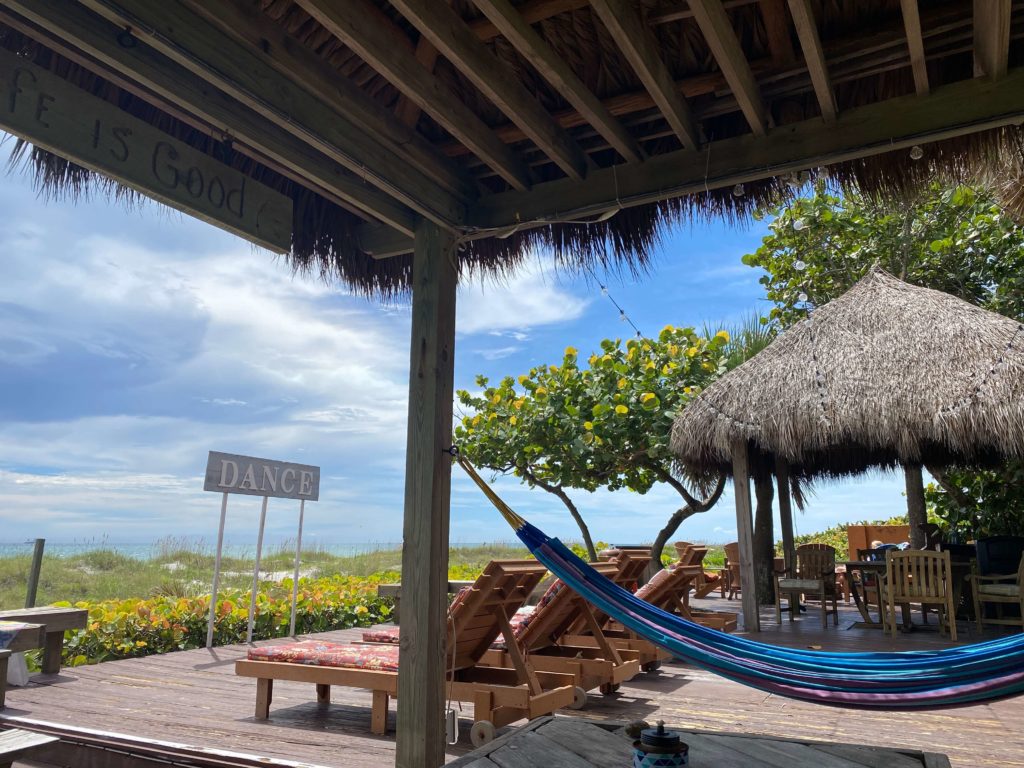 The $15 resort fee includes these amenities plus complimentary yoga in the morning and beach equipment including chairs, boogie boards, and toys. Plus there is a "family room" with a book library, movies, and a large format TV.
Our toddler son came along with us so we needed extra space. Beach Place Guesthouses offers accommodations with multiple bedrooms and full-size kitchens. We selected a one bedroom which was perfect for our family and nicely appointed.
UPDATE AUGUST 2022
I revisited the Beach Place Guesthouses at the end of August 2022. In fact, it became my respite after a very long day at the press site for the Artemis I launch. After three years away, I worried if this place would still hold its charm. I am happy to report that it does.
The accommodations are by no means stylish or trendy. They are, however, clean, comfortable, and full of thoughtful touches. The common areas are just as lovely. Relaxation is easy to find in the many seating areas overlooking the beach. And all the same extra amenities are still offered.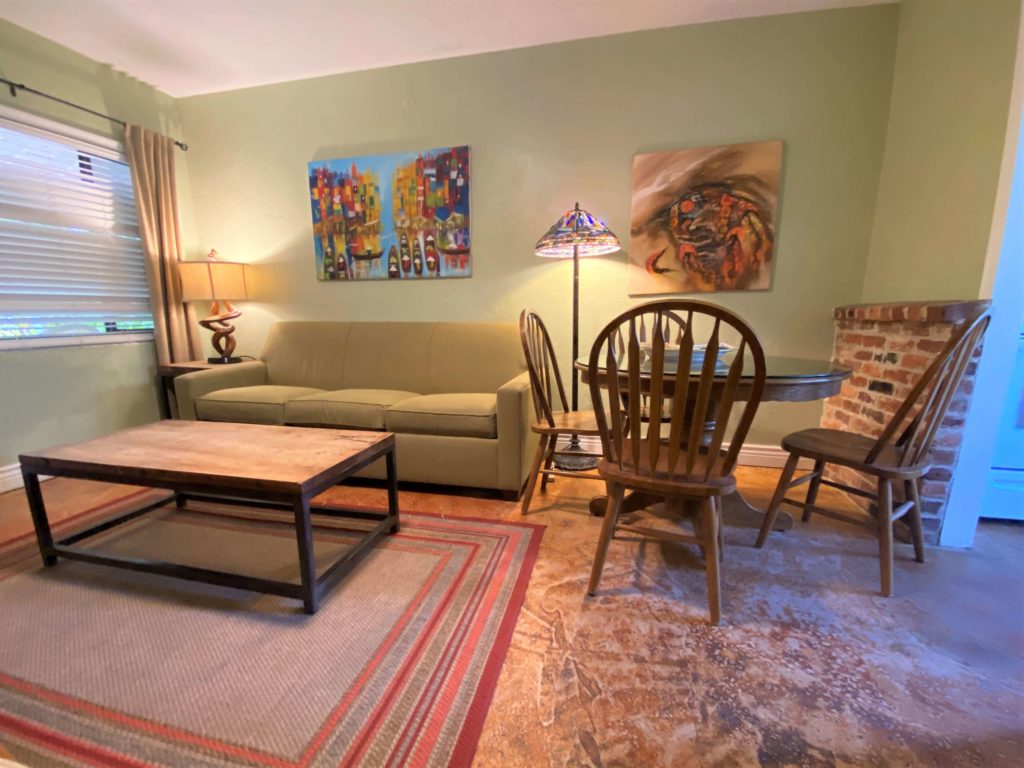 Other oceanfront accommodations for your sunrise to sunset Florida road trip: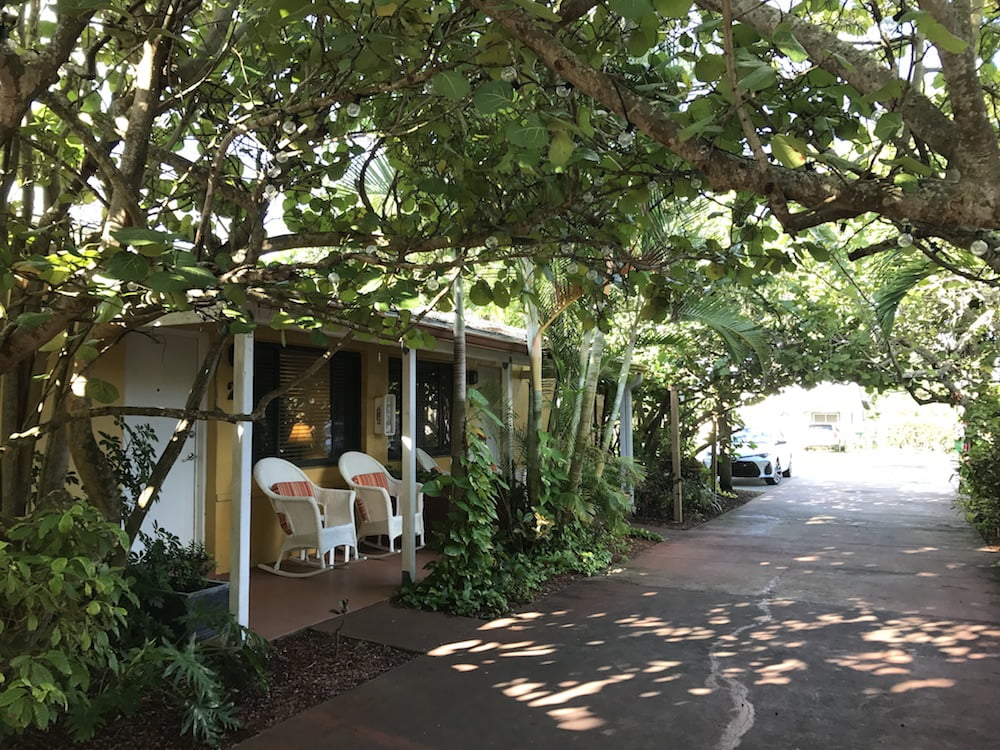 Driving Across the State
After a leisurely morning, we packed up our car and hit the road to drive across the entire state of Florida. We had planned out the perfect pit stop along the way: Walt Disney World. It took just over an hour to get from the resort to our next destination. Having this fun break in the middle of our sunrise to sunset Florida road trip made a big difference.
A few weeks prior to our trip we considered having lunch at Disney Springs. Instead, I decided a resort hotel would be better and, after some deliberating, we decided upon Disney's Wilderness Lodge. I knew the resort had enough interesting details for us to explore and I wanted to introduce one of my favorite dining spots to my husband.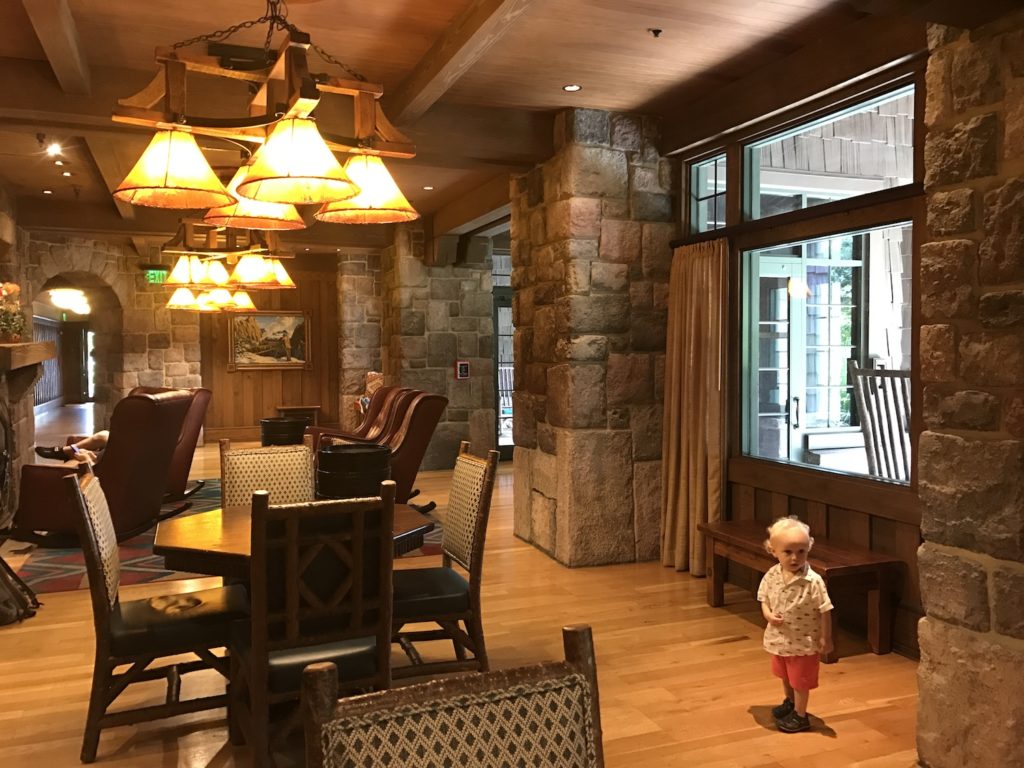 Geyser Point is an outdoor restaurant that is part lounge and part lake house. There is a plentiful selection of craft beer, Pacific Northwest wine, cocktails, mocktails, and great eats. After a delicious meal we were able to explore the entire resort grounds.
Soon we were back on the road. It took just over an hour and a half to get from Walt Disney World to the Tampa area. Even though we were ultimately headed for Clearwater Beach, I booked our hotel in the Tampa Bay area. This way we didn't have nearly two hours to travel from Orlando and we could stop, check-in, get refreshed, then head to the beach.
You could also use this time to explore a Tampa brewery or two!
Sunset in Clearwater Beach
We headed out to Clearwater Beach around 4pm with the sunset's last light slated to be at 7:12pm. Here again, the last light does not mean the experience of the sunset is over, as many of the rich colors and hues come about once the sun is no longer visible on the horizon. Traffic was a bit congested and we opted to park at one of the major parking garages on Coronado Drive ($15 for 3 hours).
I cannot visit the Clearwater area and not eat at Frenchy's, it just feels wrong. This local eatery is known for grouper sandwiches and has blossomed with multiple locations in the Clearwater and Dunedin area. We dined at the Frenchy's South Beach Cafe location so that we were close to Pier 60.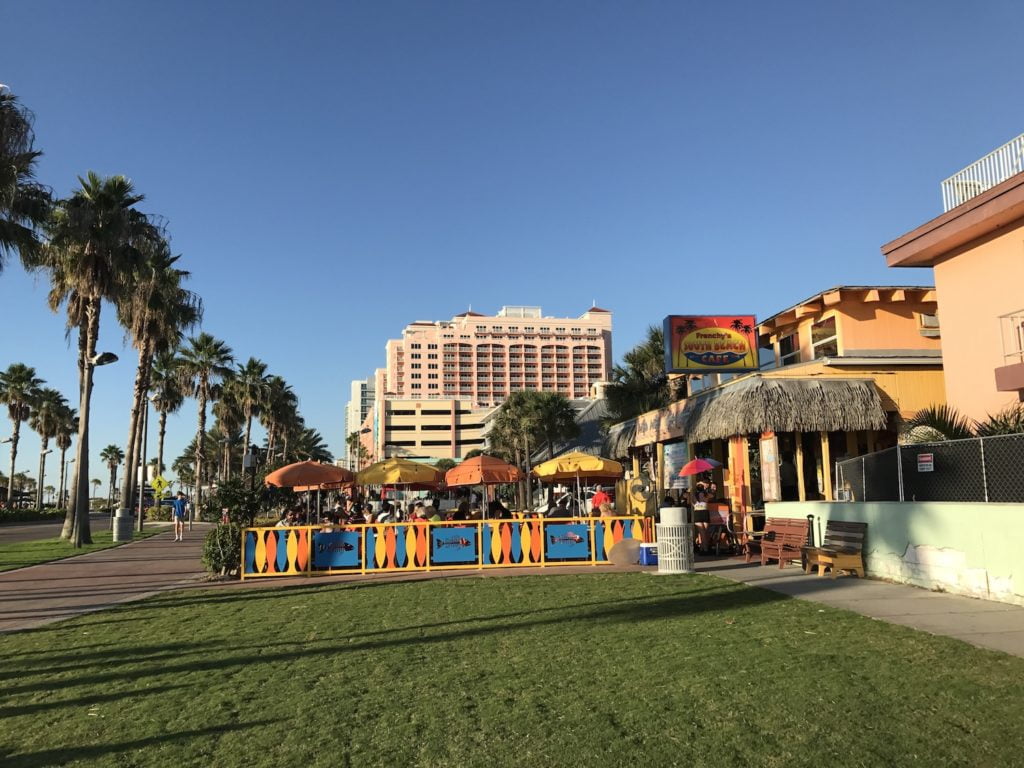 After dinner we strolled along the sidewalk right next to the beach. Cars cruised by as families played on the popular beach. We made our way toward Pier 60 where there is a nightly sunset celebration. Vendors, performers, and other activities line the pier for about two hours before sunset and continue to entertain guests until two hours after sunset.
Upon seeing the crowds on the pier (it was a Saturday night after all) we decided to stay on the beach and enjoy the sugary, soft sand.
Soon on the horizon we witnessed sailboats, yachts, and a pirate ship voyage out on the ocean. I turned around to see the tall hotels, several with rooftop sunset viewing areas that were packed with fellow sun worshippers.
Here we were, we ventured across the entire state, chasing the sun. The contrast between the quiet morning with just the three of us on the beach compared to the commotion of Clearwater Beach stood out in my mind. Still, it was a perfect ending to our sunrise to sunset Florida road trip.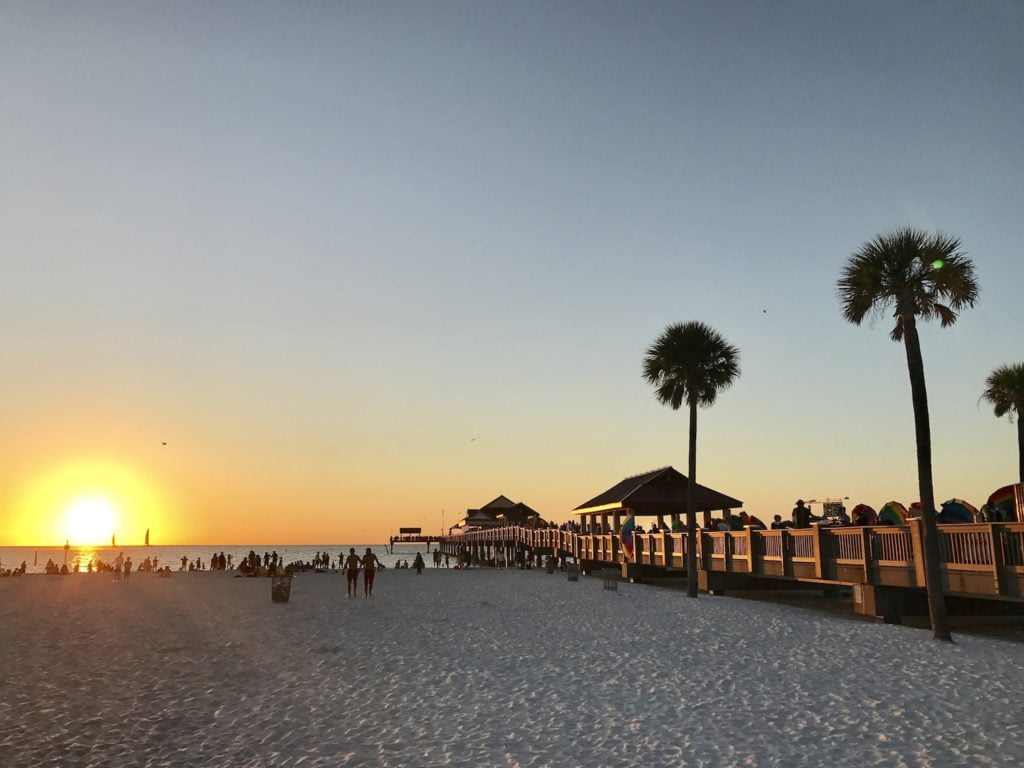 Traffic leaving Clearwater Beach was far from perfect, however. The singular road leading away from the beach was congested and there was an accident on Courtney Campbell Causeway. In the end, it took us nearly an hour to get back to our hotel. But the moon was nearly full so we enjoyed the varying vantage points of seeing the moon shimmer on the water.
Other Florida destinations on the West Coast to conclude your sunrise to sunset Florida road trip:
St Petersburg
Sarasota
Anna Maria Island
Siesta Key
Crystal River
Where to Stay to wrap up your sunrise to sunset Florida road trip
Similar to my experience in Cocoa Beach, my family stayed in the Tampa Bay area frequently when I was growing up. I've developed an affinity for this area, especially the Courtney Campbell Causeway. During my time working in the hotel industry, I developed a love for the Westin brand, thanks to its focus on wellness (the shower and beds are marketed as being "heavenly" and I am disinclined to argue).
The Westin Tampa Bay is an ideal location if you wish to stay in the Tampa Bay area for your sunrise to sunset Florida road trip. It is surrounded by water so practically every room has a water view. There is a full-service Starbucks on site and a nice seafood restaurant and lounge called Aqua.
There is also a tiny little beach for sitting in the sand and enjoying the view of the bay. One downfall is this hotel is now valet parking only, and there is an extra charge for an in-room mini refrigerator. This hotel is a nice choice for couples, but it was rough with a toddler in tow.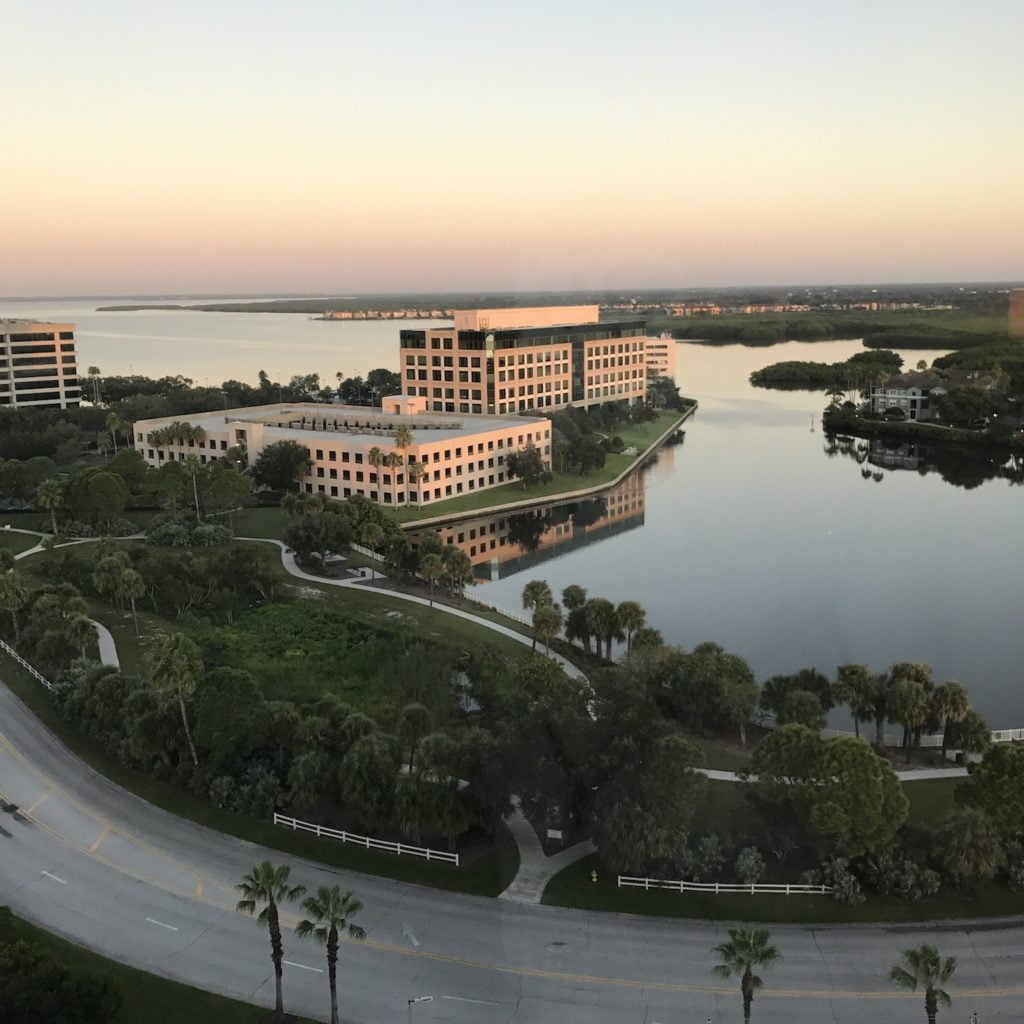 Other accommodations in Tampa Bay and Clearwater Beach:
Sunrise to Sunset Florida Road Trip – Tips and Information
Map out your sunrise to sunset trip well in advance. Make sure your sunrise destination is compatible with your sunset destination. For example, starting the day in St. Augustine would not make that much sense to end the day down in Sarasota.
Fall and winter are better times to do this trip because of the pleasant weather and shorter daylight hours.
Check the exact location of your accommodations so you know if you'll be able to roll out of bed and onto the beach for sunrise and easily get back to your accommodations after a long, but fun day traversing the state.
Plan a prolonged pit stop halfway through your drive from coast to coast. Have a nice lunch, maybe visit a roadside attraction, take a walk.
Hydrate and eat well so you have the stamina to enjoy the day from beginning to end.
Take a deep breath and be as present as possible.
All images by Dani Meyering