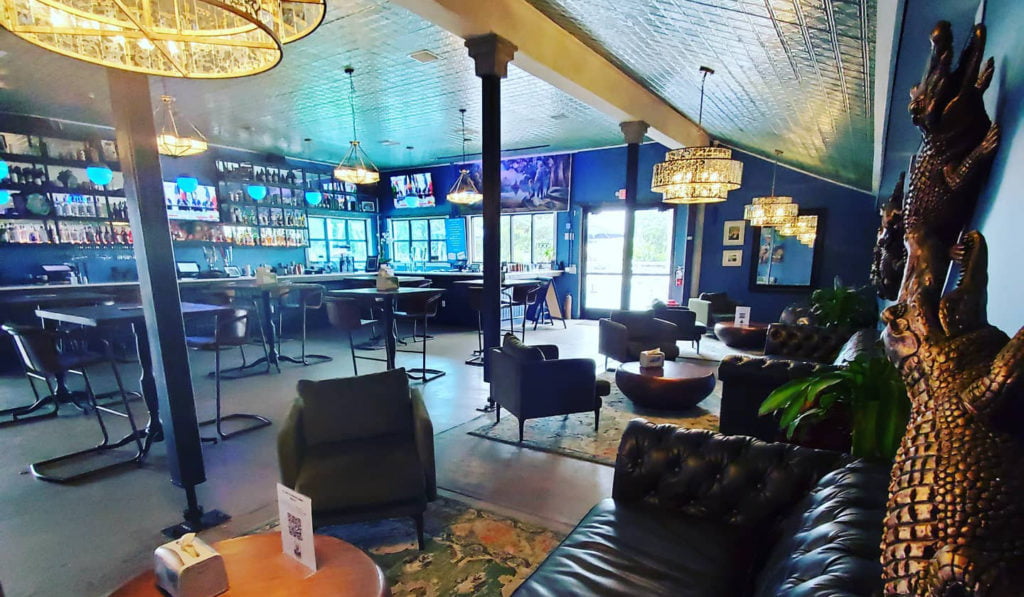 Historic Downtown Sanford is one of my favorite places for date night with my husband. This charming destination has bloomed in the past few years. It has one of the largest collections of breweries in all of Central Florida, plus ice cream shops, antique shops, a bounty of fun bars, unique events and so much more. One of our favorites in this impressive collection is Henry's Depot.
This food hall is home to so many unique spots that it's the ideal place for a progressive food crawl. Even better, you can cap it off with a round of drinks at a Florida-themed bar.
Other fun happenings include periodic events like indie markets and intimate concerts. Sound like a great date spot? It sure is! Here's what you need to know for planning a Henry's Depot food crawl date.
Updated September 2022 
Henry's Depot Sanford Food Vendors
Mahogany Coffee
The Basin
Taglish
Salvatore's Prime Sandwiches
Current Seafood Counter
Git N Messy BBQ
Oak Flame Pizza / Lojax Good Eats
From the list above, there's something for everyone. You can view the menus of each vendor online, and practically every vendor offers online ordering.
NEWS – Yugiri Ramen Project has set up shop and open in Henry's Depot as of November.
Food Crawl Itinerary at Henry's Depot
Snacks + Apps
Mahogany Coffee will give you a jump start on your food crawl. From pour-overs to teas there are lots of handcrafted beverages here. Their specialty lattes with house-made flavoring syrups are truly exceptional.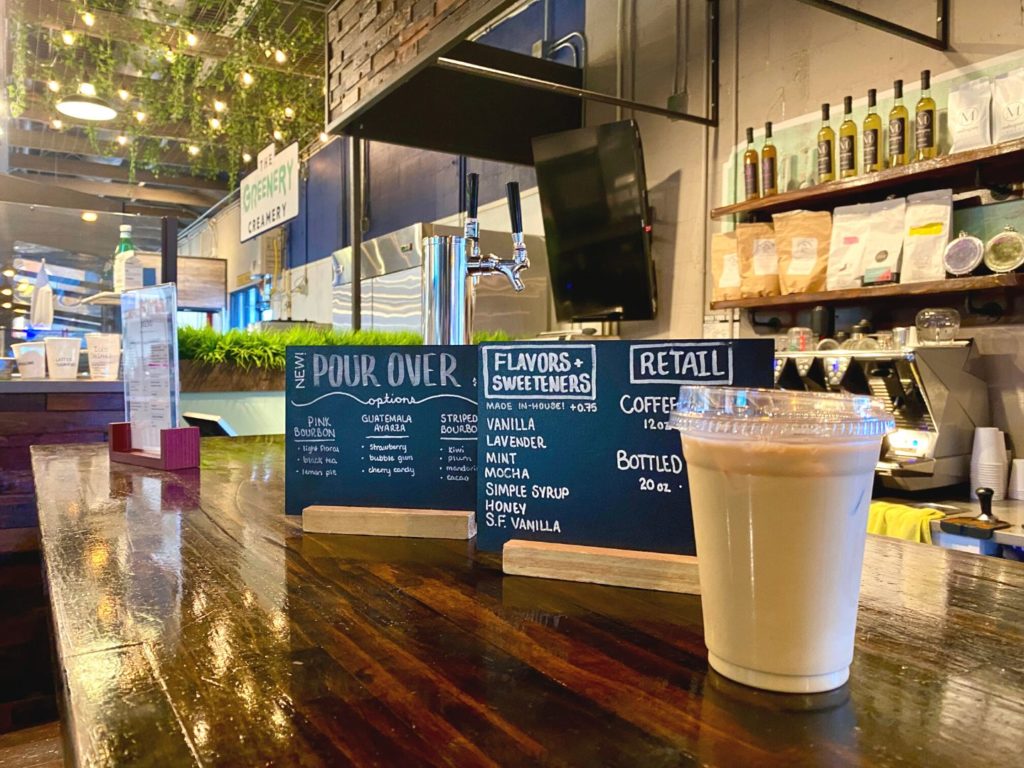 I suggest starting with a snack or appetizer from Oak Flame Pizza (now named Lojax Good Eats), including garlic cauliflower or pizza rolls. Or head to my favorite casual spot for seafood in Orlando, The Current Seafood Counter. The Current is so good it is hard to pass up for the main course. However, if they've got clams or mussels on the menu then consider starting off your food crawl with these little treasures.
Taglish is another one that is hard to resist for the main course because of their incredible burgers. But starting with their Lumpia spring rolls is a great idea too.
Main Course
For the main course, you can't go wrong with Salvatore's Prime Sandwiches, Taglish, Oak Flame Pizza, or Current Seafood Counter.
If you are a seafood lover then The Current Seafood Counter is a must! Over the years I have come to love this place because their seafood is incredibly fresh. It's like dining at an oceanfront restaurant without the drive.
Our son usually comes along with us, and he can't eat dairy, so when I saw that Oak Flame Pizza has multiple vegan options, I was ecstatic. The Vegan Velocity Pizza with plant based sausage, cashew mauxarella, broccolini, tofu ricotta and chili oil is now a staple for our family. It could fool anyone who didn't know this pizza was vegan.
The regular pizzas look and smell delicious. Each pie is made to order. You'll be notified via text when your order is ready, leaving you free to explore while you wait.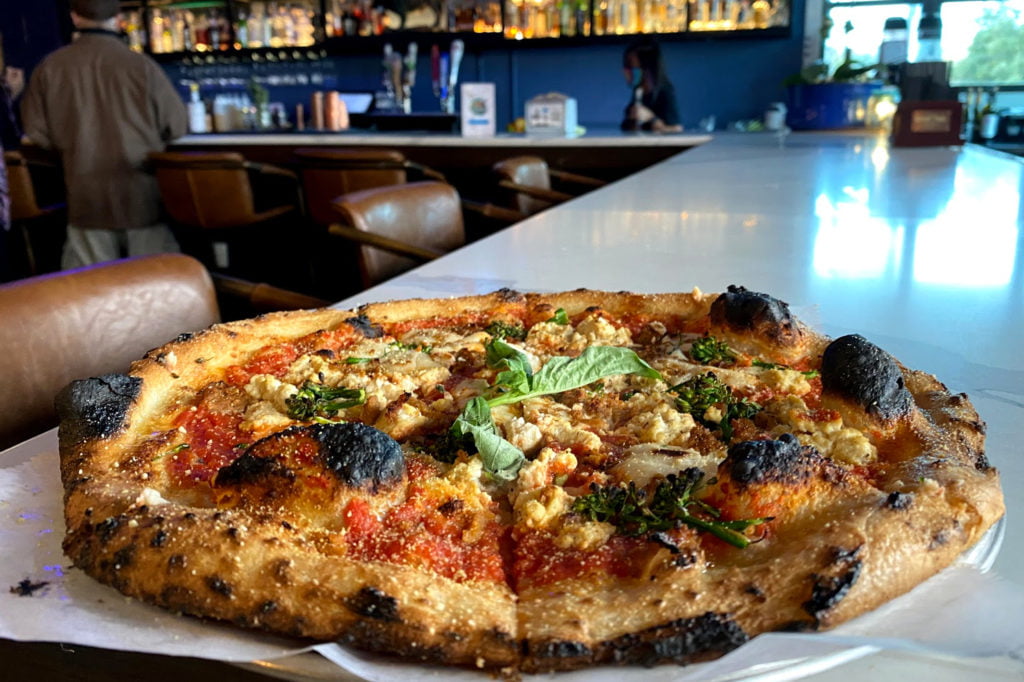 The delicious deli sandwiches at Salvatore's Prime Sandwiches travel pretty well, so if you don't want to miss out on giving them a try, consider ordering one to take home.
On a recent visit, I asked to take half to go. This turned out to be a perfect strategy so I could enjoy one half fresh at the depot and share the other half with my husband as a late-night snack. The Tuscany with fresh prosciutto and fresh mozzarella is delectable if you're craving authentic Italian flavors. And the Blue Bird is a popular lunch choice.
These delectable sandwiches would be for a great picnic at one of the many picnic spots around greater Orlando.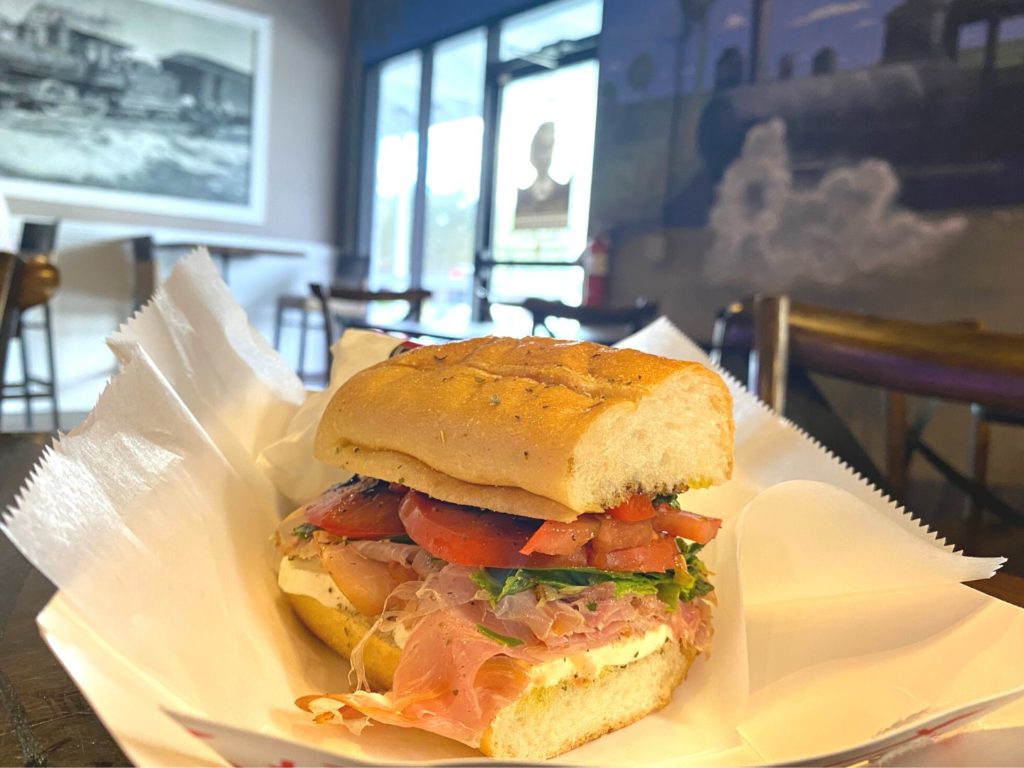 Drinks
Next, take your food and head to The Basin to grab a craft beer or handcrafted cocktail. This beautiful Florida-themed bar is the anchor of Henry's Depot. It is at the back of the building with lots of lounge seating inside and a back porch outside. There's even a build your own Old Fashioned menu starting at $12.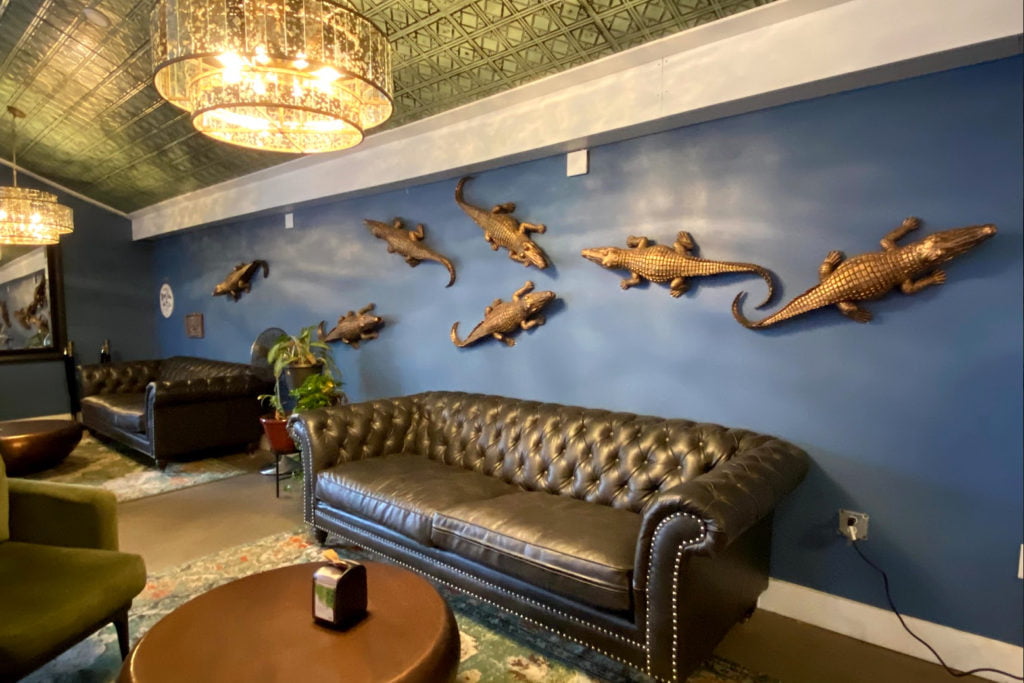 Happy Hour is Monday – Friday, 4pm – 7pm with lots of specials.
$2 Bud Light and Michelob Ultra on draft
$2 off house wine
$5 house Margarita
$6 Moscow Mule with New Amsterdam
$8 Old Fashioned with Old Forrester 86
and more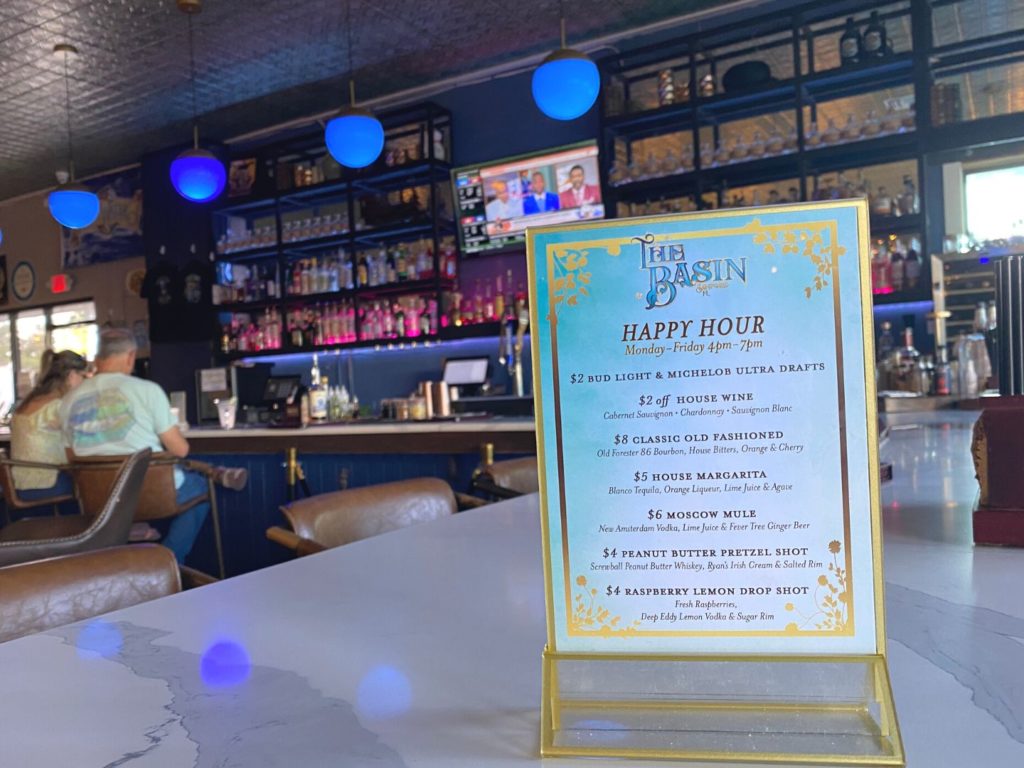 Tip: You can take advantage of the lounge seating to enjoy your food from Henry's Depot vendors with your drink. I opted for the Mermaid Tail with Green Tea Vodka, Lavender, and Lemonade. It suited my desire for a refreshing cocktail that wasn't too heavy or too potent.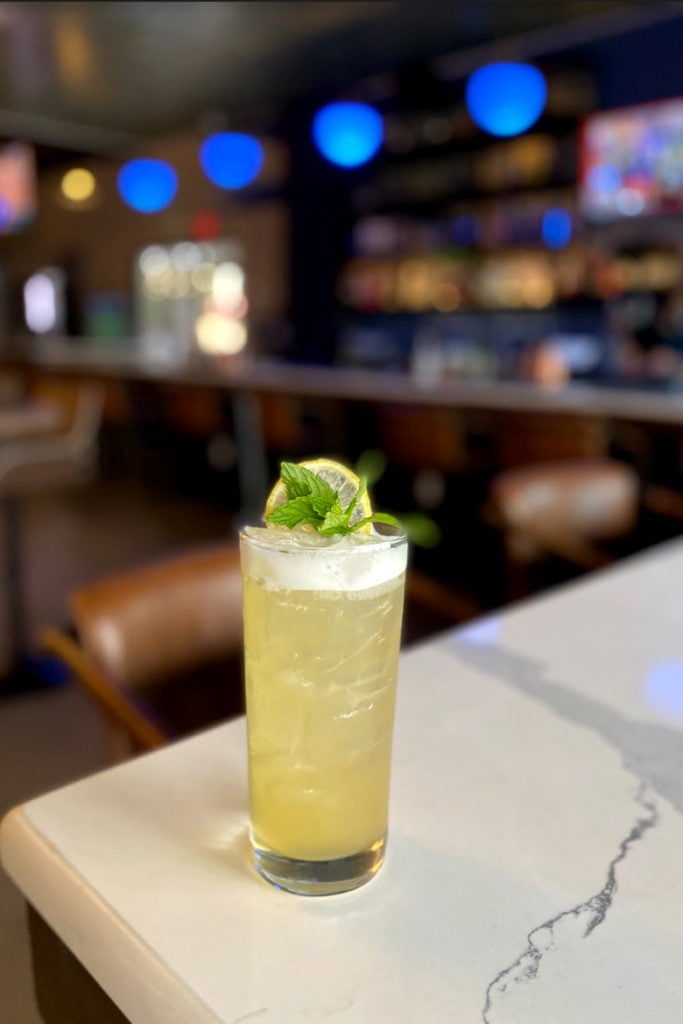 End with Something Sweet
For dessert, we couldn't resist The Greenery Creamery. I've been to the original downtown Orlando location and was excited when I heard the news that they had opened a location in Henry's Depot in Sanford.
The Greenery Creamery offers vegan ice cream as well as dairy ice cream. They are known for their delicious, high quality ice cream in traditional and creative flavors. The vegan Lemon Poppy Seed ice cream and the Blueberry Lavender ice cream were loved by my son and myself. My husband ordered a Cookies n' Dream Milkshake that was vegan as well, but it was so creamy and flavorful that it could easily be passed off as a dairy milkshake.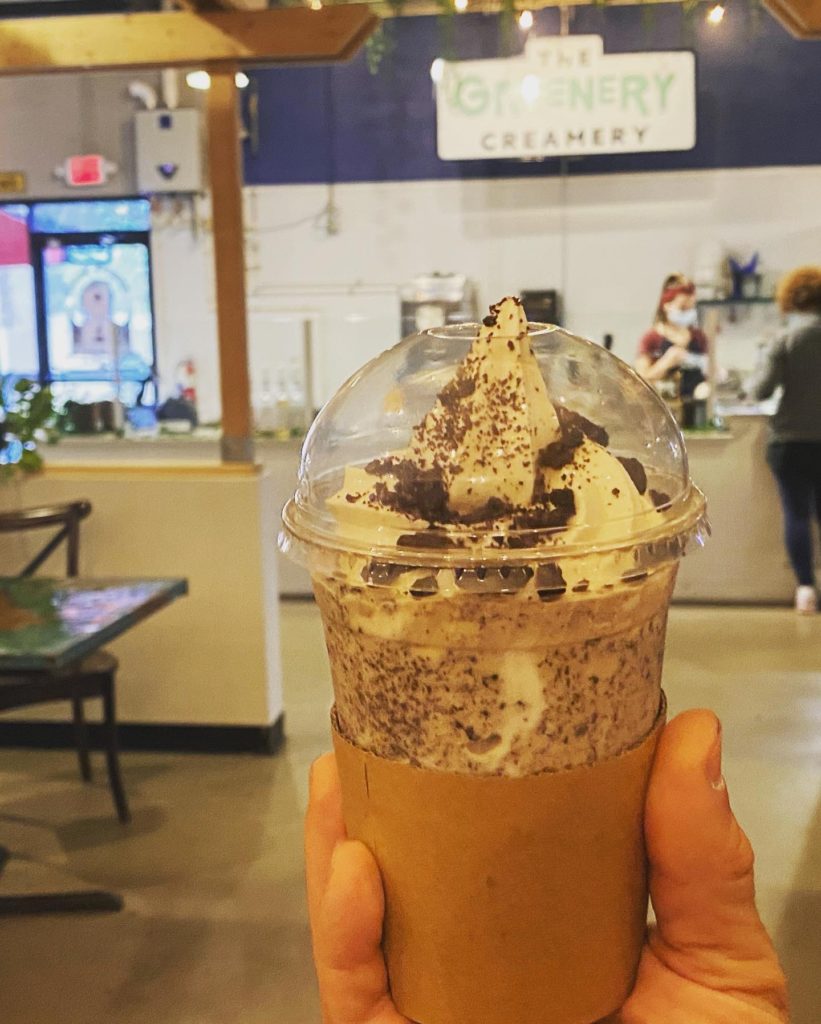 Henry's Depot Details
Henry's Depot is built at the site of the original Sanford train station. Find it at the top of 1st Street, which runs through the heart of Downtown Sanford. There is seating throughout the venue inside. There is also a back porch that is part of The Basin, and there are some tables on the side of the building as well. Restrooms are located near The Basin.
There is live music at The Basin on specific nights, and specials on certain days.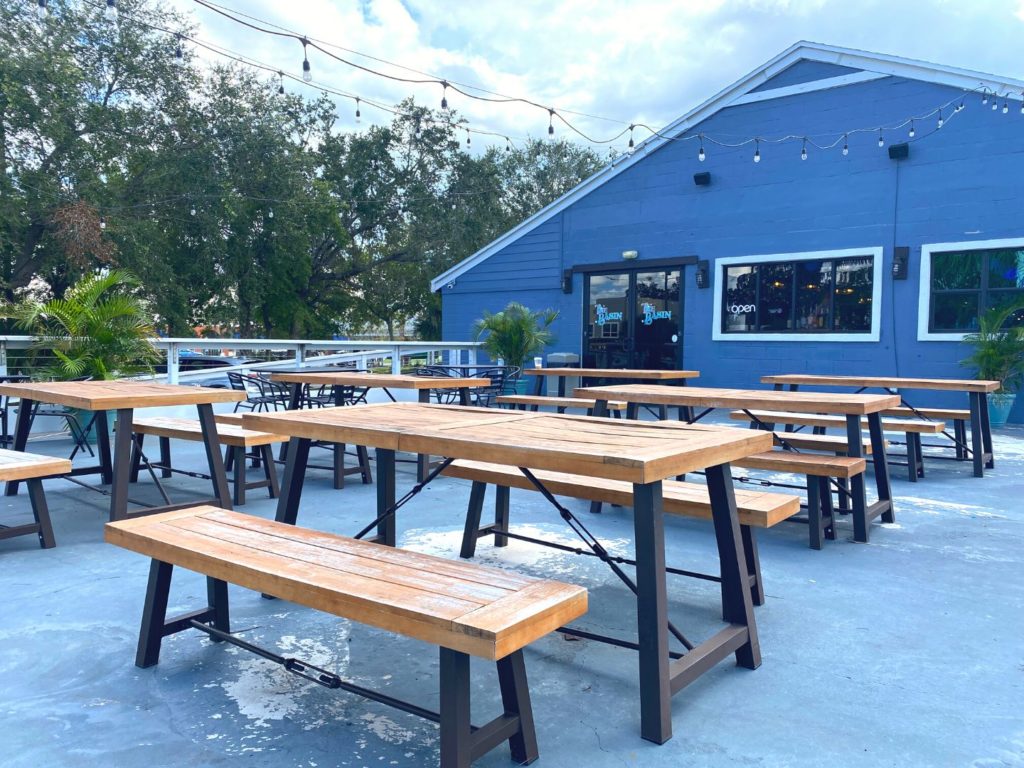 Henry's Depot
212 W 1st St
Sanford, FL 32771
Open daily, visit henrysdepot.com for current hours
Feature image credit: Henry's Depot
All other images by Dani Meyering