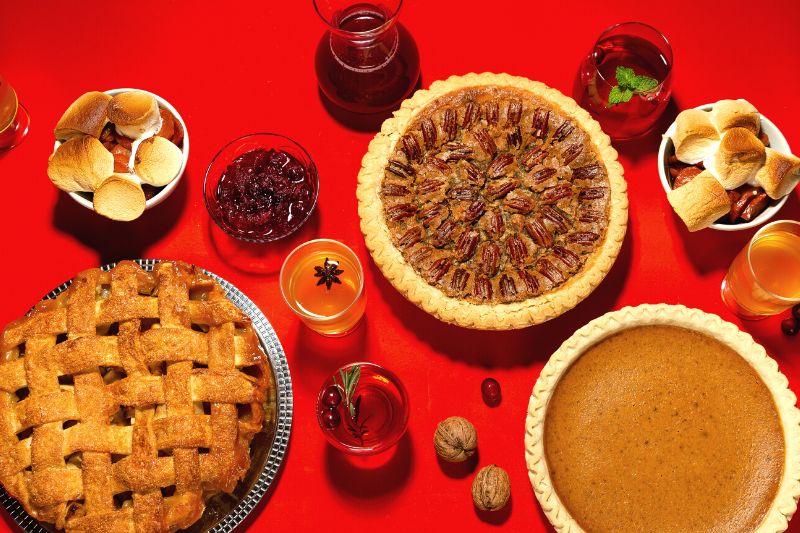 We may call it Turkey Day, but I still think dessert is the most important part of a Thanksgiving meal. What's a turkey dinner without Thanksgiving dessert? A crunchy pecan tart, or warm apple crisp to top it all off is irresistible. 
The kitchen is always bustling on Thanksgiving day, so you might not have the time or space to whip up a dessert course. Luckily, Orlando is saturated with local bakeries that can provide mouth-watering treats for your family and friends to devour after their turkey and stuffing. From homemade pastries to cheesecakes, you'll definitely want to leave room for dessert. 
These are a few must-try bakeries in Orlando to grab your Thanksgiving desserts. 
---
If you're looking to satisfy everyone's sweet tooth with just pies, you've got plenty of choices. Our list of local bakeries in Orlando for Thanksgiving pies focuses just on the spots with delicious pies, including local favorite Sister Honey's.
Keep reading below for a large guide for all things Thanksgiving desserts. Or, head to our list of Thanksgiving pies if you're keeping it simple.
---
Bakeries in Orlando for Thanksgiving Desserts
Address: 2806 Corrine Dr, Orlando, FL 32803
This cozy small-batch bakery in Audubon Park is renowned for its sweet and savory artisanal pies, cookies, cakes, cinnamon rolls and more. All their treats are made daily by hand with local, natural ingredients. This is a go-to spot for Thanksgiving desserts in Orlando, like caramel maple pumpkin, Southern pecan, or classic apple pie. The 2022 Thanksgiving pie menu also includes Chai Sweet Potato Pie and Salted Caramel Apple + Brownbutter Crumb Pie.
Reminder: P is For Pie requires 72 hours in advance to complete an order, and it must be done by phone or in person. Orders are based on availability, so make sure to get it in early. The bakery's menu also changes every day, so check their Facebook or Instagram to see what they're offering.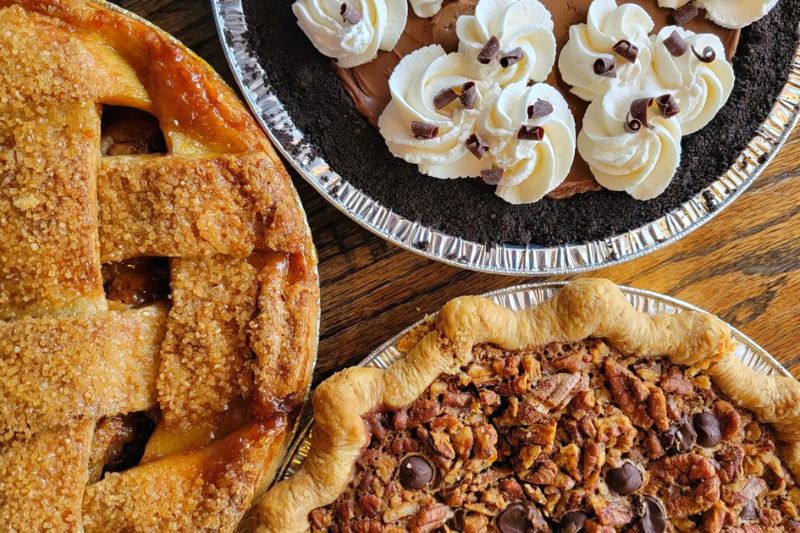 Address: 617 Primrose Dr, Orlando, FL 32803
Se7en Bites is an Orlando staple for Southern flavors and sweet treats. This locally-owned restaurant in the heart of the Milk District offers a bakery counter with pastries and pies made daily by scratch. Their baked goods are so decadent and comforting, especially with their Southern flair. 
Every year, they announce a new holiday-inspired menu of pies and cakes. In the past, they've offered a Mile High pumpkin pie, cranberry apple orange pie, bourbon caramel praline pecan bread pudding, and a moist pumpkin cake with cream cheese frosting.
Keep up with their Instagram to see what Thanksgiving-worthy desserts they're baking this year.
Address: 1198 N Orange Ave. Orlando, FL 32789
Get your order ready starting at 8am each day. The online ordering at Buttermilk Bakery opens up at 8am each day. From delicious cookies to savory pastries that will surprise your tastebuds, the flavors are simple but supremely executed. If you're hosting Friendsgiving this is a great choice.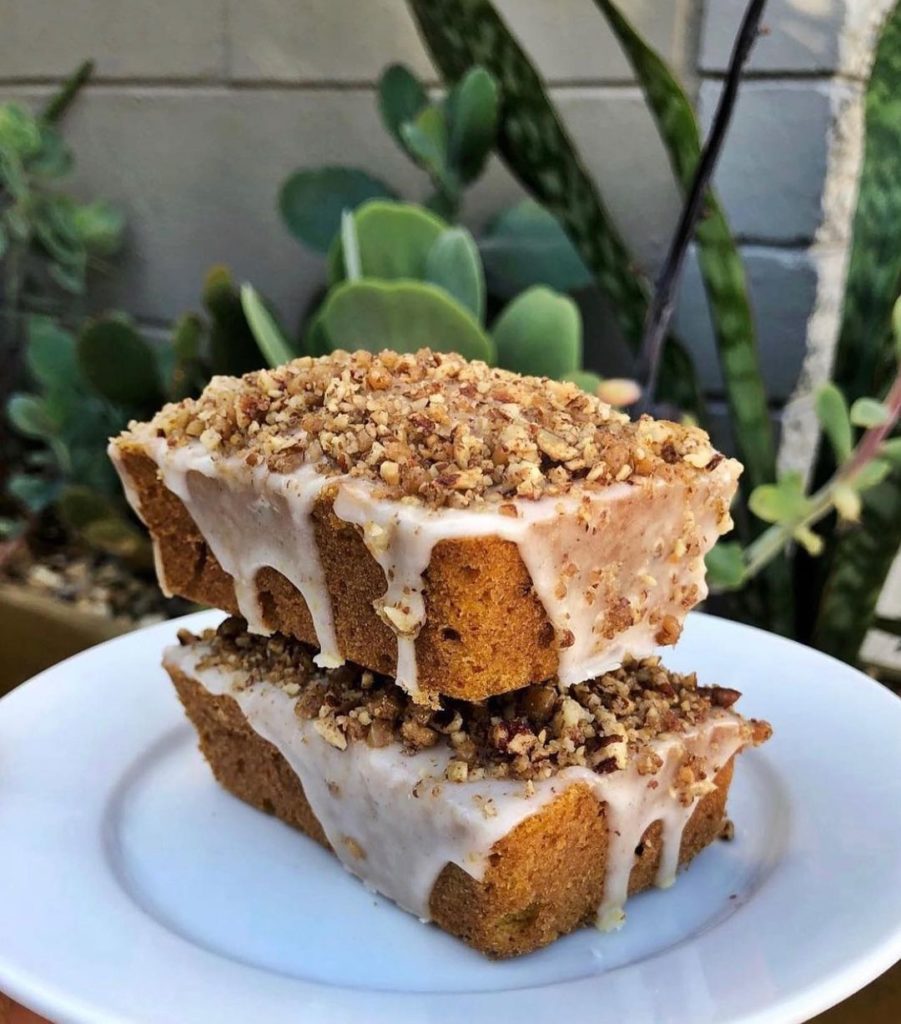 Address: 2603 E South St, Orlando, FL 32803
Thanksgiving can be a bit tricky when you're a vegan or have other dietary restrictions. No worries–Orlando has so many vegan and dairy-free food offerings for the holidays, especially when it comes to dessert. 
Valhalla Bakery, nestled in Market On South is the perfect spot to get your vegan-friendly holiday treats. You can chow down on their pumpkin, Southern sweet potato, mulled apple, or chocolate streusel pie without worrying about dairy, egg, or other non-vegan ingredients.
During the month of November, you must pre-order your pie or pick up one of their grab-and-go (first come, first serve) Thanksgiving pies in-store.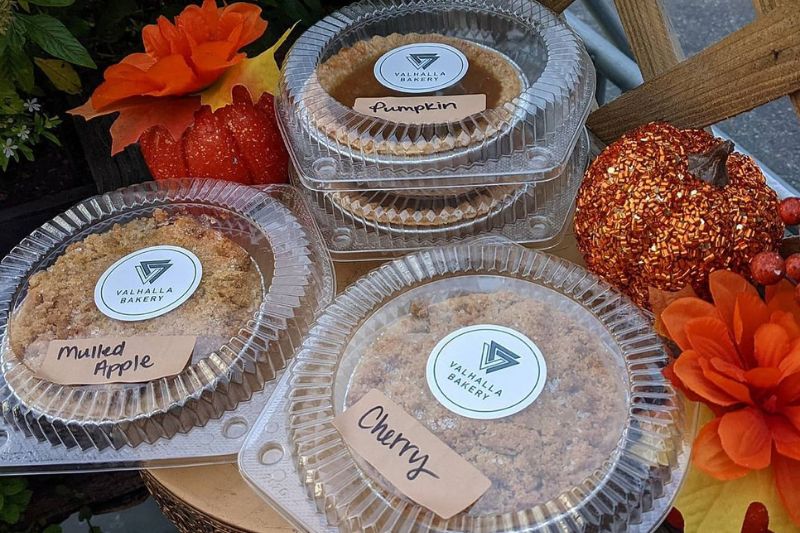 Address: 3213 Curry Ford Rd, Orlando, FL 32806
If you're looking for simple, classic Thanksgiving desserts like pumpkin pie or pecan bars, you have to try Charlie's Bakery and Creamery. This bakery is oozing with rich history and a community-oriented vibe. You can always depend on Charlie's for classic family recipes and decadent flavors. 
They're also infamous for their Parker House rolls, so don't forget to order a doughy batch to pair with your Thanksgiving dinner to go. 
Bakeries Near Orlando for Thanksgiving Desserts
Original location: 4270 Aloma Ave Suite 112, Winter Park, FL 32792
New location: 501 Orlando Ave STE 225, Winter Park, FL 32789
Light On The Sugar is my favorite place to stop by after dinner for a quick sweet. This family-owned bakery and coffeehouse is best if you're looking for a bunch of smaller, individual desserts rather than a whole pie or cake. Their baked goods have an Asian-inspired twist and are always super creative.
These treats will look absolutely adorable in your Thanksgiving spread, from the pumpkin-shaped cream puffs to the turkey macarons. You can even order a Thanksgiving dessert set that includes a variety of cake slices, cream puffs, tarts, and more.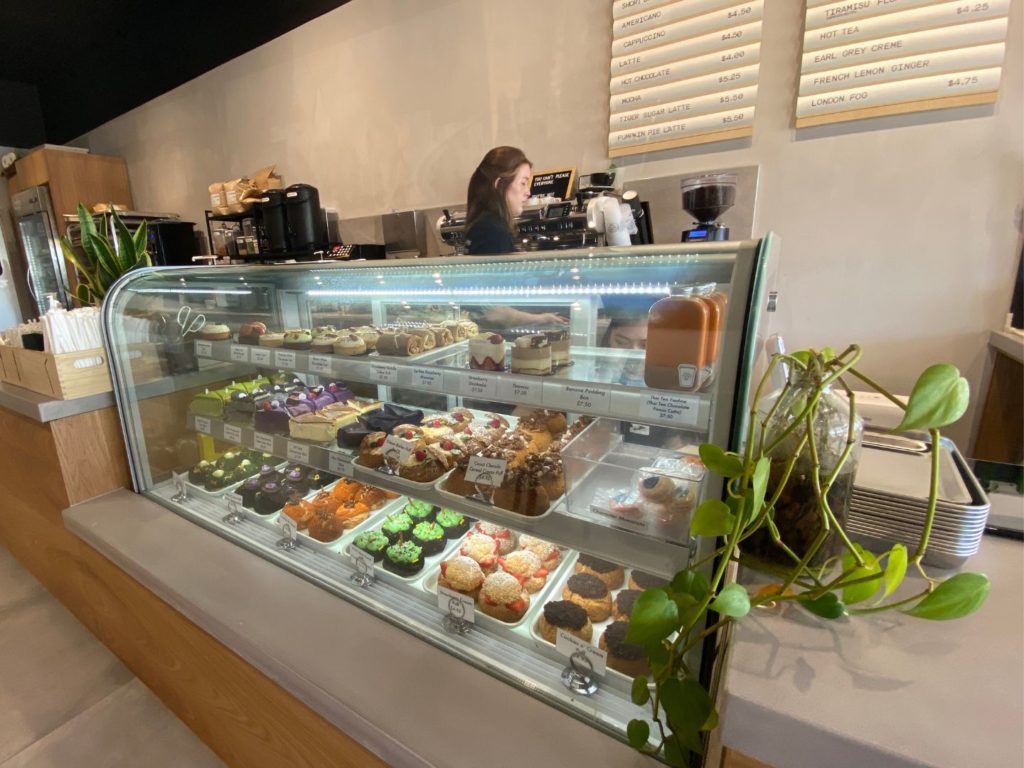 Address: 276 S Orlando Ave, Winter Park, FL 32789
You will absolutely impress your guests with Thanksgiving desserts from The Glass Knife. Why have pie when you can have an extravagant cake? Or get a little something for everyone by ordering a variety of pastries and desserts like Cranberry Pecan Tart, Pumpkin Pastry, Apple Verrine, and Candied Caramel Apple Pastry. Sounds divine, doesn't it?
Address: 113 S Oak Ave, Sanford, FL 32771
Simply Homemade 1913 is located in Downtown Sanford, not quite the Orlando area, but definitely worth the drive for a mouth-watering Thanksgiving dessert. This bakery offers a contemporary dessert option that you truly cannot find anywhere else–a pie-filled cheesecake. Indecisive? Get a whole cheesecake with a whole pie baked inside. 
Their flavors are pumpkin pie cheesecake, sweet potato cheesecake, caramel cheesecake, or apple pie cheesecake. You can reserve a treat for Thanksgiving, to be picked up in store. 
Featured image credit: Tamara Velazquez
---
More ideas for Thanksgiving weekend fun:
Thanksgiving dinner in Orlando: