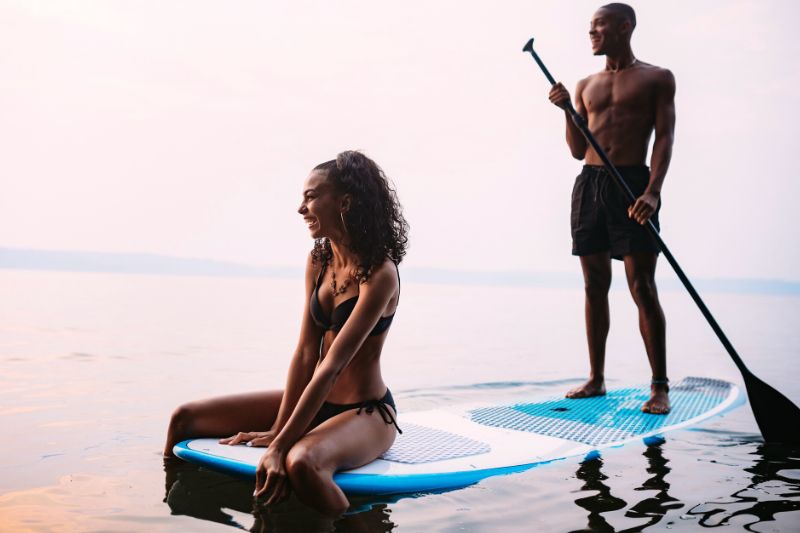 Relationships stay afloat when well-balanced, right? So, listen up couples and comrades… It's time to test your stability – literally – with epic stand-up paddleboard (SUP) adventures. There's no shortage of awesome watersport companies facilitating SUP rentals and/or guided tours throughout Greater Orlando. But, for an even bigger date night splash alongside your first mate, get on board with one of the following uniquely exhilarating Central Florida paddleboarding experiences.
Paddleboarding Tours in Orlando
Wekiva State Park
Wekiwa State Park is home to one of the most popular (and mispronounced) springs. The large, grassy hillside of Wekiwa springs (spelled with a 'w') offers an inviting atmosphere for lazy sunbathers to stretch out on a picnic blanket with access to the kidney-shaped swimming hole. 
Active paddleboarders prefer the peaceful swamp paths of Wekiva River (spelled with a 'v') which connect to Wekiva Island. This party paradise offers river-banas, aka comfortable cabana rentals; a shady, tented picnic area; cold brews and tasty pub grub from The Tooting Otter, the onsite restaurant; a riverside boardwalk; sand volleyball courts; and a fire pit. 
Wekiwa State Park is a mecca for all outdoor activities with Paddle Board Orlando as its go-to guide. On their 2.5-hour Wekiva River Eco Paddle Adventure Tour (priced at $49 per person), Paddle Board Orlando beautifully showcases one of Orlando best gems – the boat-free, crystal clear, shallow depth, slow-flowing spring run of Wekiva River. Along the way, expect to see plenty of birds, fish, turtles and, yes, gators. Plus, if you're lucky enough, maybe also deer, otters and bears. About half-way through the paddle tour, participants can choose to either go for a swim or hike. 
PUPPY PADDLE 
Hey, we're not talking about the formative swim stroke of our youth. We really mean paddling with pooches! Jenny Brown, who co-owns Epic Paddle Adventures (formerly Lake Life Paddle) with her husband Richard shares, "We and our guides have multiple dogs that we 'loan out' for the Puppy Paddle sessions." If preferred, paddlers are welcome to bring their own pup along for the ride (dog life vests are provided). 
The 1.5 to 2-hour tail-wagging time is typically led on Lake Ivanhoe, right by Epic Paddle's new office location within the Ivanhoe District. Paddlers love to feel the wind in their hair while on the open water and, as it turns out, so do dogs. According to Brown, a partner puppy likely feels as though it's sticking its head out of a window, enjoying the breeze. When you're doggoned tired from floating with Fido, guides like to join paddlers at The Hammered Lamb or The Lucky Lure. Both eateries, and other local spots, have dog-friendly porches.  
As the weather cools off a bit, Epic Paddle offers paddles with bunnies! Remarkably, Brown says, the bunnies don't hop off. Plus, this SUP company runs tons of other outings too, such as Night Glow Paddle, Bioluminescence Paddle, and combination tours, like Ponies & Paddleboards (exploring the great outdoors via both horseback and paddleboard).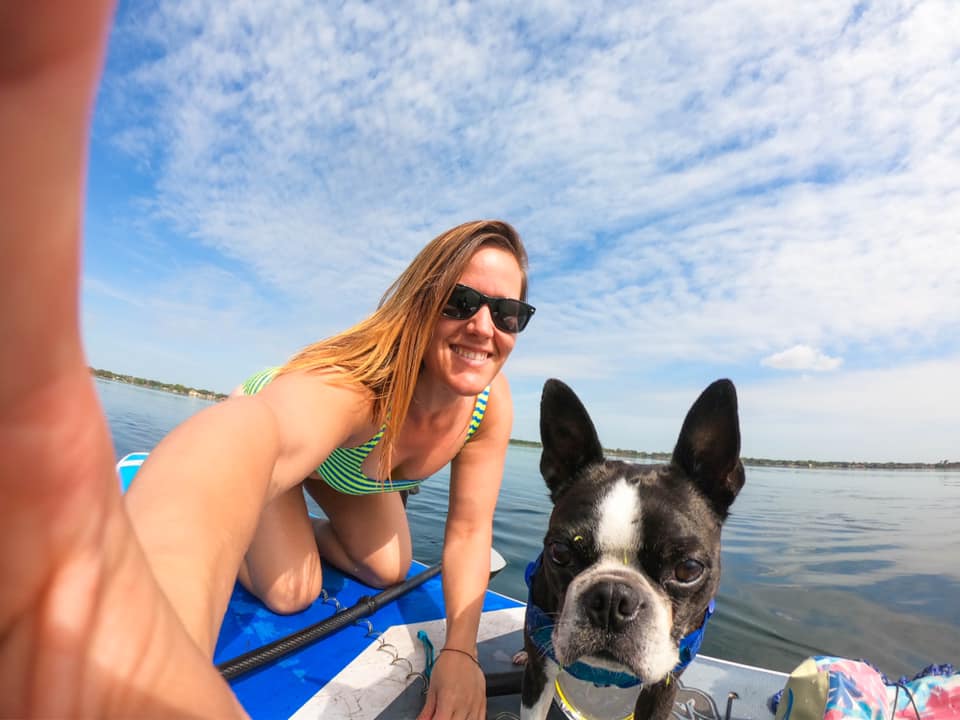 MISSION MANATEE at SHINGLE CREEK
During Florida's winter season (November through March), manatees migrate to the Sunshine State's warmer waters. Manatees can reach up to 13 feet in length and 3,000 pounds – um, holy (sea) cow! You can appreciate these gentle giants while strolling arm-in-arm with your date along boardwalk paths within state parks. But Orlando Date Night Guide recommends you fully immerse yourselves in mission manatee by embarking on a 3.5-hour guided eco-tour led by The Paddling Center. 
The Paddling Center at Shingle Creek leads several onsite tours that glide along Shingle Creek, the headwater of the Florida Everglades. But their Manatee Expedition Tour ($65 per person) explores the offsite destination of Blue Spring State Park in Orange City. You'll paddle to the mouth of the springs for jaw-dropping views, including hundreds of majestic manatees. 
PADDLEBOARD PAIRINGS
As a Lake County native, Katrina Aho believes lake life is the best life. She founded Adventure Outdoor Paddle in Tavares as a way to "connect people with the outdoors and combine fitness with an adventurous activity." As an added bonus, the company seems to exemplify date night by perfectly pairing Central Florida paddleboarding experiences with a secondary activity.
For example, priced at $65 per person, the Paddle and Brü Tour is a popular choice. During the first leg of this adventure, drink up a scenic stretch of Lake Harris Chain of Lakes (for about two to three hours). It's an imaginative paddle route of the Dora Canal, with towering cypress trees and wildlife on either side. Afterward, paddlers can rehydrate with a refreshing beer flight at the Brü Tap House, which has 30 different craft beers on tap. FYI, beer has been praised as a decent post-exercise recovery drink. And when hunger strikes, Brü operates the neighboring restaurant, BTW (short for Burgers, Tacos and Waffles). This eatery conveniently delivers grub to the tap house.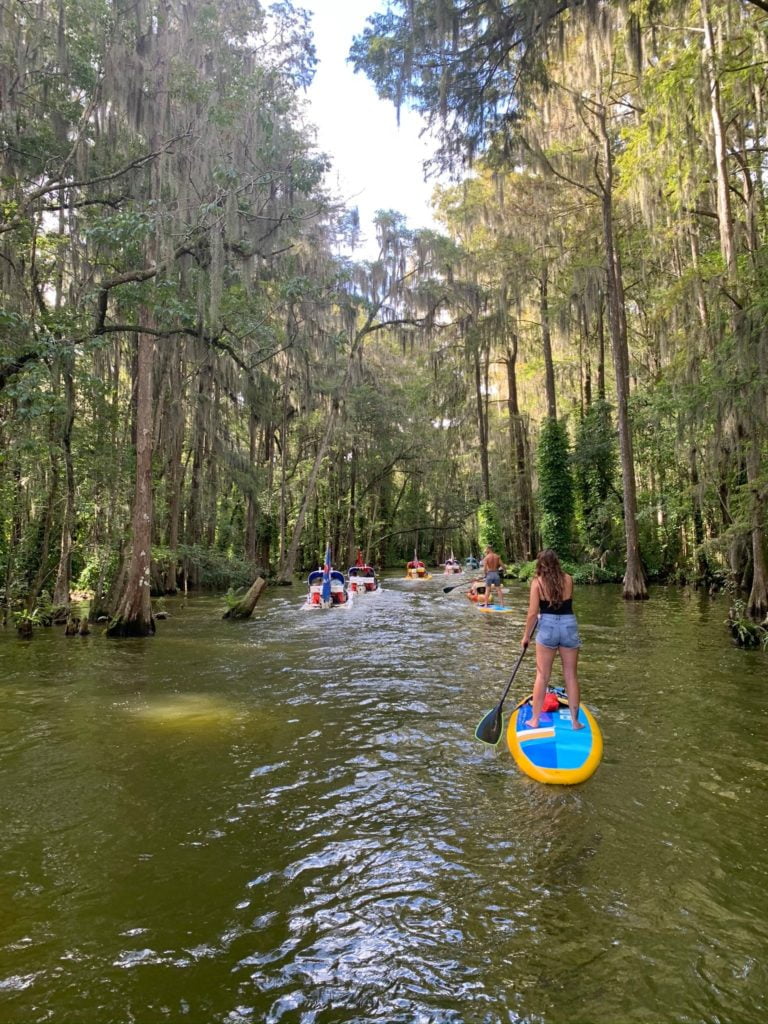 Similarly, Adventure Outdoor Paddle recently revamped its Paddle and Grub Tour (formerly brunch-focused) in partnership with Puddle Jumpers Lakeside Grill & Bar. Also priced at $65 per person, paddle through the canal and then recharge with a fresh lunch near the restaurant's water's edge.
True adrenaline seekers may prefer to dare the Fly Out Paddle In Tour. This unique two-parter operates in partnership with Jones Brother's Seaplanes. It's priced at a lofty $169.99 per person but worth every penny. Lastly, for those looking to commit further to paddleboarding, Adventure Outdoor Paddle offers SUP lessons. 
PADDLEBOARD YOGA
To stretch your SUP skills, get on board with a yoga class. A few Orlando-area SUP companies offer paddleboard yoga sessions throughout Central Florida. However, for a more intimate vibe, book a private SUP Yoga session through H2YO. This unique experience will encourage you and your fellow yogi to master the fluidity of movement within a tranquil floating studio.
Aside from local sessions, H2YO also hosts SUP-themed daytrips, camp-outs and transformative travel wellness retreats. 
SUP SWEAT SESSION in Winter Haven
Once you've mastered the basics of SUP, challenge yourself to a SUP Fit Class. Hosted by Paddleboard Winter Haven on the Winter Haven Chain of Lakes, you'll break a sweat like never before. This "Workout on the Water" session combines interval training through paddling with strenuous core exercises. Gym rats may never opt for indoor exercise again… because this wildlife workout is totally wild (and awesome). And it's affordable too, at just $20 per person or $10 per person if you bring your own equipment.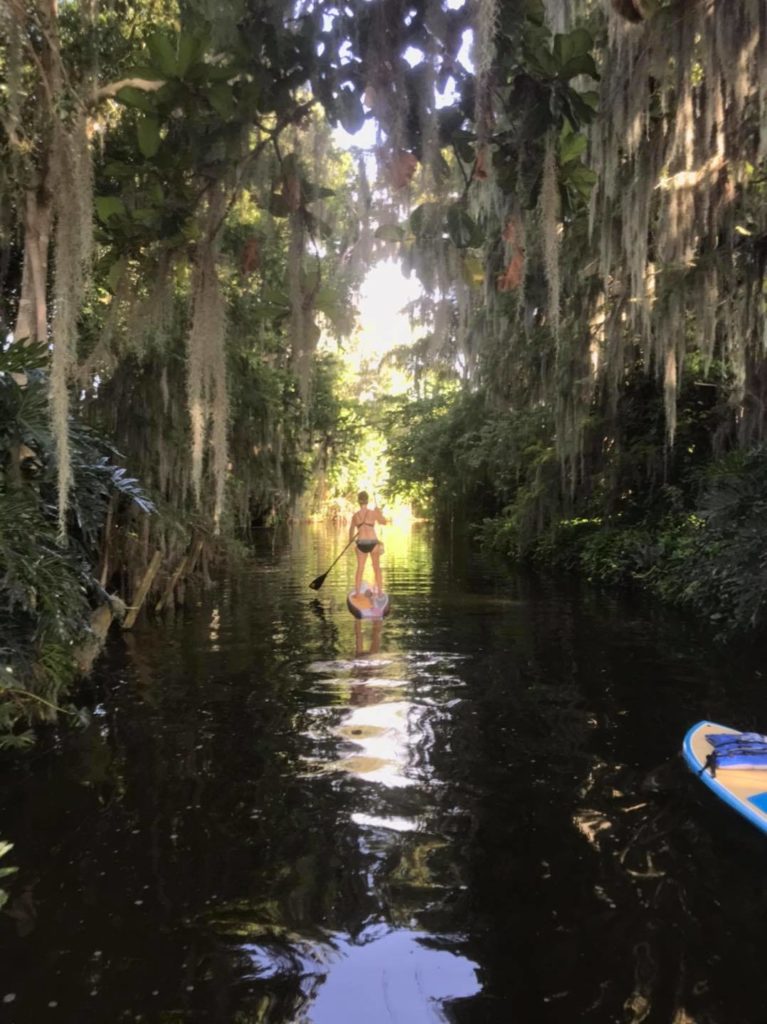 TRAVEL TOUR
Wave of Wellness leads various local tours in Central Florida, such as a Bioluminescence Tour off the Space Coast and a Venetian Canal Tour in the heart of Winter Park. But Wave of Wellness really makes a splash with its Adventure Travel Tours. Picture this: blissful relaxation and thrilling adventures, including SUP of course, while staying in culturally-unique accommodations. Paddlers seeking an epic vacation can venture off to with Wave of Wellness experts to Punta De Mita, Mexico, Maui, Hawaii or staycation in a houseboat on St. Johns River. 
Paddleboarding Events in Orlando
SUNSET & FULL MOON PADDLE
If a romantic getaway to the coast floats your boat, you'll love the paddle events led by Paddle Florida Now. Note that we intentionally describe this opportunity as an event, rather than a tour, because Paddle Florida Now sets their schedules according to full moons and other happenings. The Full Moon Paddle launches from the Seabridge Riverfront Park in Ormond By The Sea, and leisurely coasts to a nearby island for a relaxing session of stargazing and moongazing. You may even get a chance to heat things up a bit with your hottie thanks to an island bonfire. 
WOMEN MAKING WAVES
Grab your gal pals and join this "tribe" of female paddleboarders and kayakers. It's a safe space for gabbing and guzzling wine on the water. Women Making Waves host experiences in New Smyrna, Ormond Beach, St. Augustine and Winter Park. 
Also Try: 
Tips:
Pack snacks/drinks in a water-resistant bag to enjoy a 

picnic

 – on your board or nearby shoreline.

Bring a waterproof speaker, waterproof cellphone case and, if paddling at night, glow sticks or a SUP LED kit.

Consider sunscreen, sunglasses, a hat and, if you're THAT couple (which we love), matching swimwear.

If and when these excursions convert you into a SUP enthusiast, find other board peeps through 

MeetUp – Paddleboard Orlando

.