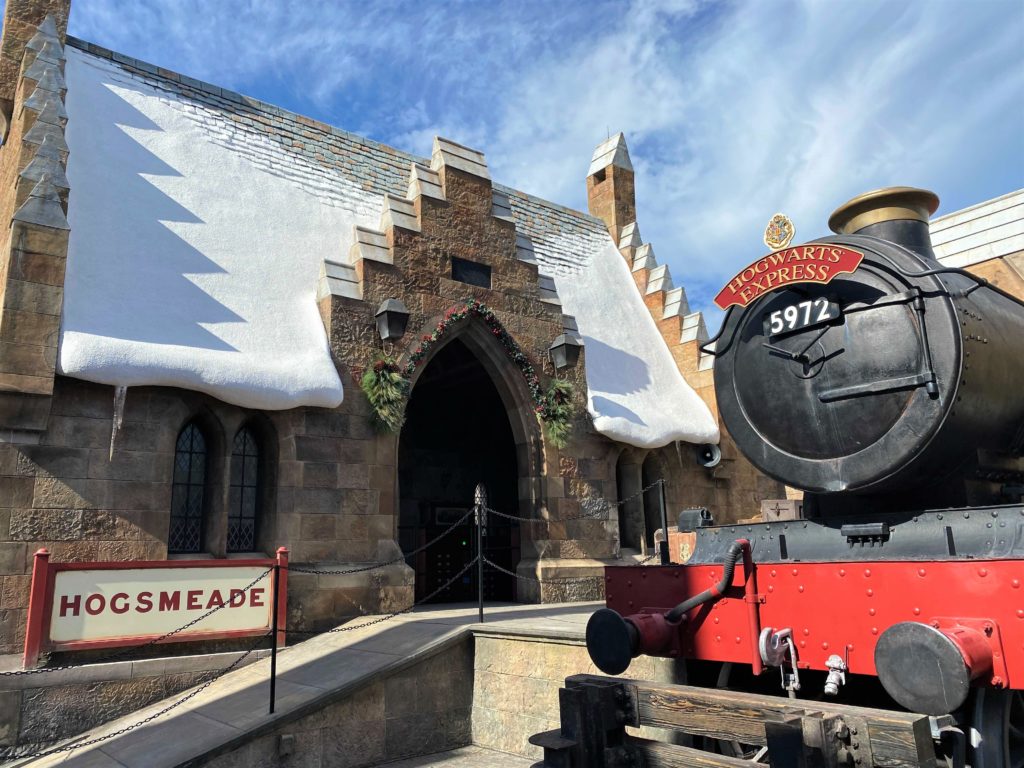 Universal Orlando is loved by many Orlando couples because of the thrills and excitement found around every corner. The holiday season at Universal Orlando takes the joy of the holidays and amps up the excitement. Both theme parks are decked out for the holidays, the Universal Orlando hotels are decorated, and CityWalk gets in on the excitement too!
Here's what you need to know to have the merriest time together during the 2022 holidays at Universal Orlando.
Basics of the Holidays at Universal Orlando
First things first, when does Universal Orlando celebrate the holidays? You can enjoy the holidays at Universal Orlando Saturday, November 12, 2022 to Sunday, January 1, 2023. This is in line with the dates for the holidays at Walt Disney World, in case you are interested.
Each Universal Orlando theme park celebrates the holidays differently. You can choose one park, or purchase a ticket with park-to-park access. Taking the Hogwarts Express train between the two parks is so much fun, and a little romantic too.
I suggest downloading the Universal Orlando app before your visit. The app allows you to browse wait times and plan more efficiently.
If you're looking for ways to enjoy the holidays without needing a park ticket, there are some decorations at CityWalk, and each Universal Orlando hotel is decorated. However, you do have to pay for parking at CityWalk as well as the Universal Orlando hotels.
You can park for free at CityWalk after 6:00pm. Or, plan to see a matinee movie at the Universal Cinemark, show your parking receipt, and get a parking reimbursement at the box office.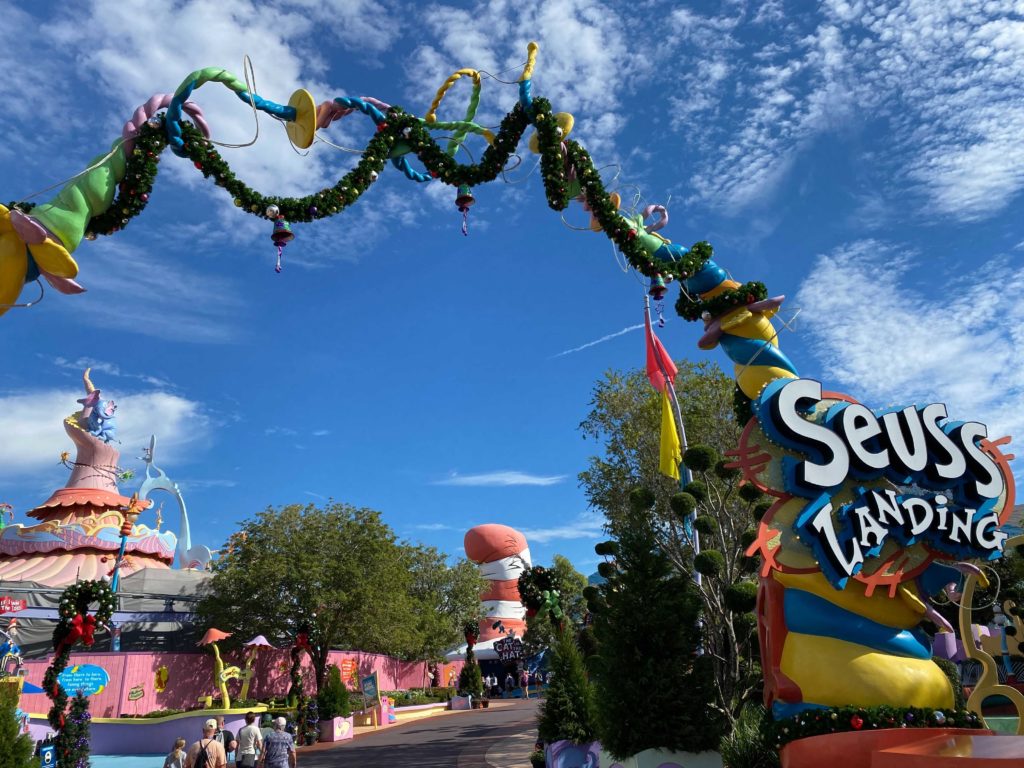 Upgrade your holidays at Universal Orlando with a VIP Tour
Returning 2022: Universal's Holiday Tour. This tour encompasses both parks and comes with serious perks, like hot chocolate with The Grinch, a special meeting with Santa, and reserved spots for Universal's Holiday Parade featuring Macy's and The Grinchmas™ Who-liday Spectacular. And the merriment continues with an exclusive after-hours showing of The Magic of Christmas at Hogwarts™ Castle.
Pricing starts at $79.99 (plus tax) and separate theme park admission with a 2-Park 1-Day Park-to-Park ticket is required. Annual and Seasonal Passholders receive a $10 discount per ticket per passholder with a valid Annual or Seasonal Pass. Tickets can be purchased by calling 1-866-346-9350 between 9 a.m. and 7 p.m. EDT daily or by visiting the UOAP Lounge in Universal Studios Florida. Regular Seasonal and Power Pass blockout dates apply.
---
Christmas in The Wizarding World Of Harry Potter: Hogsmeade And Diagon Alley
One of the best parts of the holidays at Universal Orlando is Christmas in The Wizarding World Of Harry Potter. This celebration spans both parks.
At Universal Studios Florida is Diagon Alley, where beautiful Christmas decorations adorn the magical area in which Harry Potter was first introduced to the Wizarding World. Celestina Warbeck, the resident songstress, gives her show a holiday spin this time of year.
Hop aboard the Hogwarts Express and arrive at Hogsmeade Village in Islands of Adventure. Here the Christmastime festivities continue with more decorations and a holiday spin on the quirky Frog Choir performance.
The main event of Christmas in The Wizarding World Of Harry Potter is the Magic of Christmas at Hogwarts Castle. Throughout the night, Hogwarts Castle is transformed with enchanting holiday projections.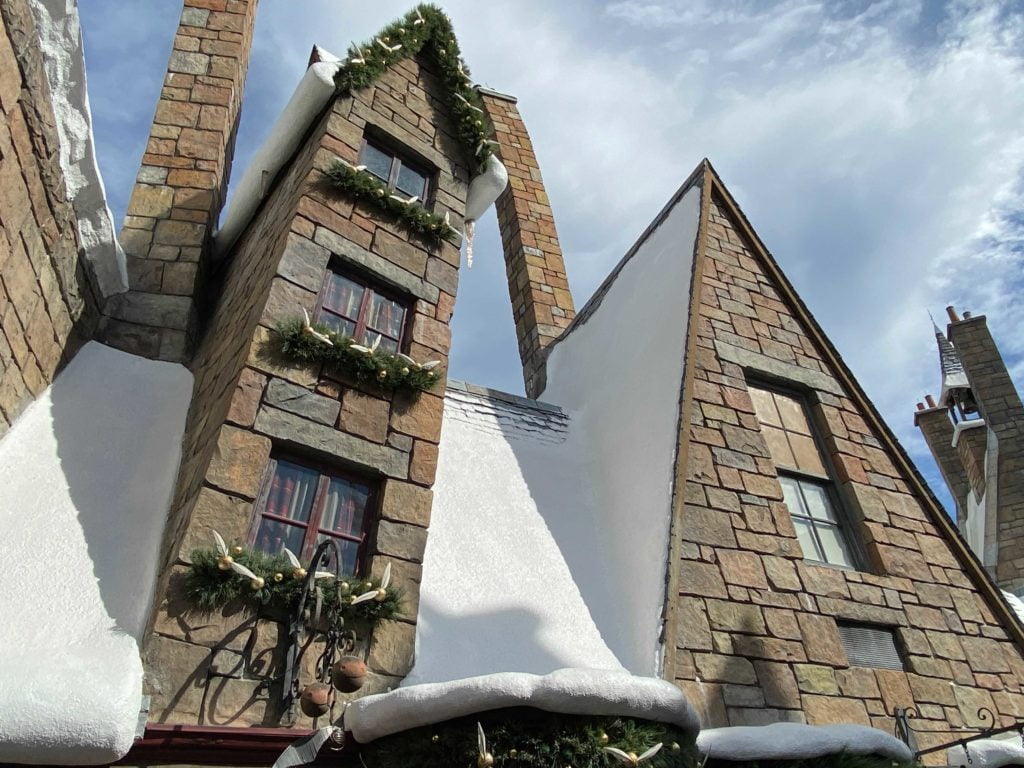 ---
Holidays at Universal Studios Florida
For classic holiday fun, Universal Studios Florida is your park. Thanks to the park's New York area, you'll feel like you're celebrating the holidays in NYC. The main event for most guests is the Universal's Holiday Parade Featuring Macy's. Watching this spectacle gives me goosebumps. The massive, colorful balloons gliding through the air down the parade route make me feel like a child again.
Also in the New York area of the park is the Tribute Store. This store changes themes throughout the year, highlighting the park's current events. During the holidays, the Tribute Store offers immersive holiday-themed rooms, complete with music.
You'll also find live entertainment with a holiday spin this time of year. On Delancey Street in the New York Area, The Blues Brothers perform rockin' bluesy versions of Christmas songs. And over at the Hollywood area, Marilyn Monroe and her dancers make the holidays hot with their sassy moves.
Manheim Steamroller will perform live concerts at Universal Studio Florida on the Music Plaza Stage on December 3, 4, 10, and 11 at 7pm.
Universal Studios Florida is also where you will find Diagon Alley, which is part of the Christmas in The Wizarding World Of Harry Potter celebration.
Holiday Date Ideas at Universal Studios Florida
Grab a drink at Finnegan's Bar & Grill to go and enjoy the Blues Brothers holiday show with refreshments in hand.
Stroll through the Tribute Store and take advantage of its many photo opportunities.
Take an ornament selfie with the massive Christmas tree in the New York area, using your reflection in one of the many large ornaments.
Claim your spot for Universal's Holiday Parade Featuring Macy's near Finnegan's so you can easily access some drinks before or after the parade.
Head to the Hopping Pot in Diagon Alley for one of the many specialty drinks before enjoying Celestina Warbeck's holiday performance.
Insider Tip: To view the show schedule at either park you'll have to use the Universal Orlando app. The showtimes are not usually published on the website. Universal does a pretty good job of setting the show schedule in a way that makes it easy to hop from one show to the next.
Here's a sample itinerary that my husband and I followed recently, each of the three shows we saw had holiday songs and decorations:
10:10 a.m. – Beat Builders show near the edge of the New York area, towards Fast and Furious Supercharged
10:55 a.m. – Blues Brothers show on Delancy Street in the New York area
11:30 a.m. – Lunch at the holiday food and beverage kiosk near Central Park
12:30 p.m. – Celestina Warbeck in Diagon Alley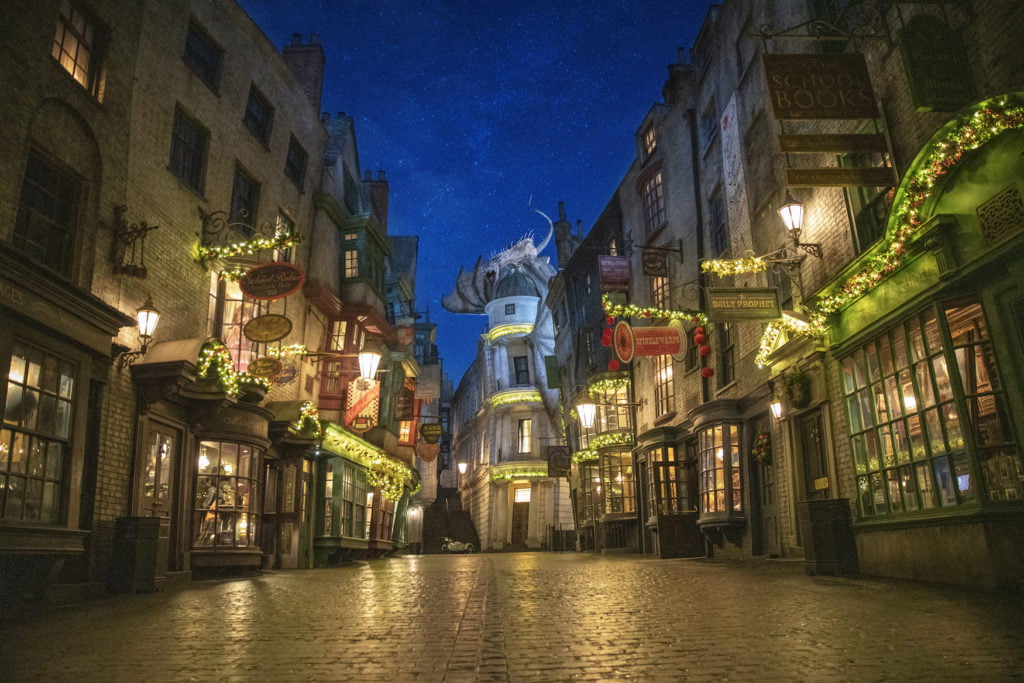 ---
Holidays at Islands Of Adventure
What this park lacks in a holiday parade it makes up for with spectacular decorations. Seuss Landing is one of my favorite places to explore this time of year. No other theme park land has more decorations. Here at Seuss Landing even the snack carts and ride signage are decorated.
Some people overlook the little truffula tree forest with The Lorax, but don't miss it. This little walk-through area is precious at night. Surround yourself in the glow of the holiday lights as you take a quick stroll among the truffula trees.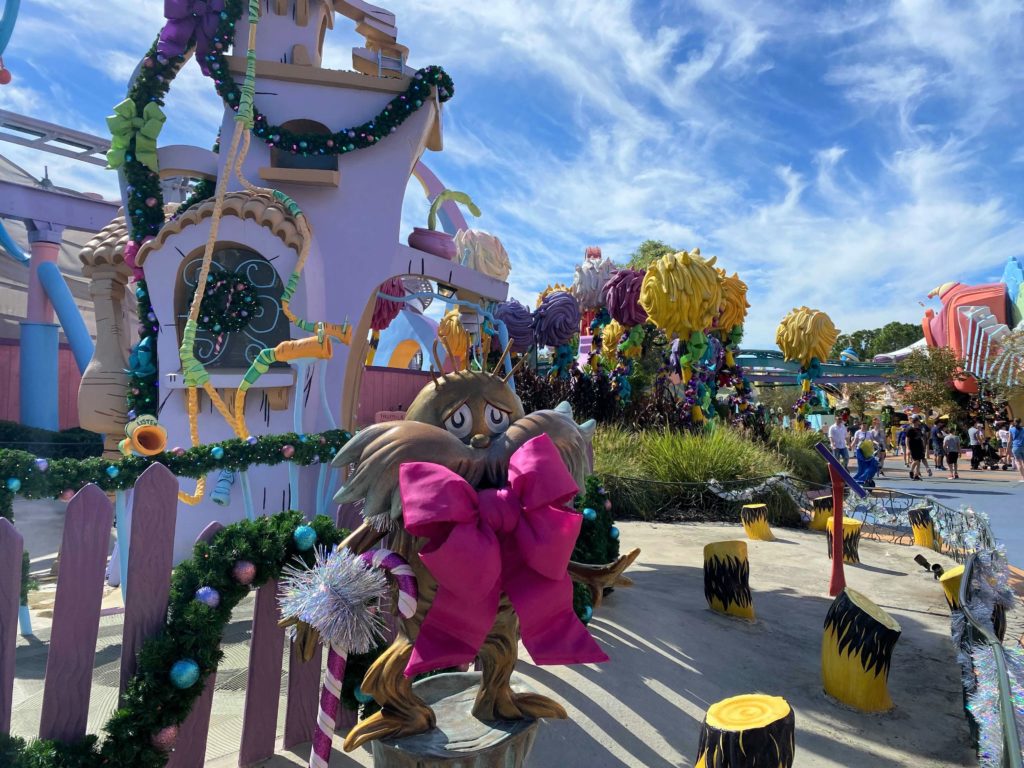 The big highlight here is the live performance of "The Grinchmas™ Who-liday Spectacular." If you and your love enjoy The Grinch or live theater, this is a fun, heartwarming production. Plus it is included in theme park admission. You will need to plan to arrive at least 30 minutes ahead of the performance time to get a seat. Also note that this show has moved to a new location, inside the former Blue Man Group theater.
Just across the bridge and through the Lost Continent, you'll arrive at Hogsmeade Village. The steam of the Hogwarts Express train welcomes you. Each magical shop has decorations that match the theme of the shop. There is garland everywhere and every lampost dons a festive wreath.
Don't miss the Owl Post's covered sitting area, which has a lovely collection of decorations and is a nice place to sit and relax for a spell. Islands of Adventure is also home to the Magic of Christmas at Hogwarts™ Castle.
Seuss Landing and Hogsmeade Village are by far the most festive areas of Islands of Aventure. But don't miss out on the decorations in the rest of the park. The merchandise shops and dining locations each have their own decorations.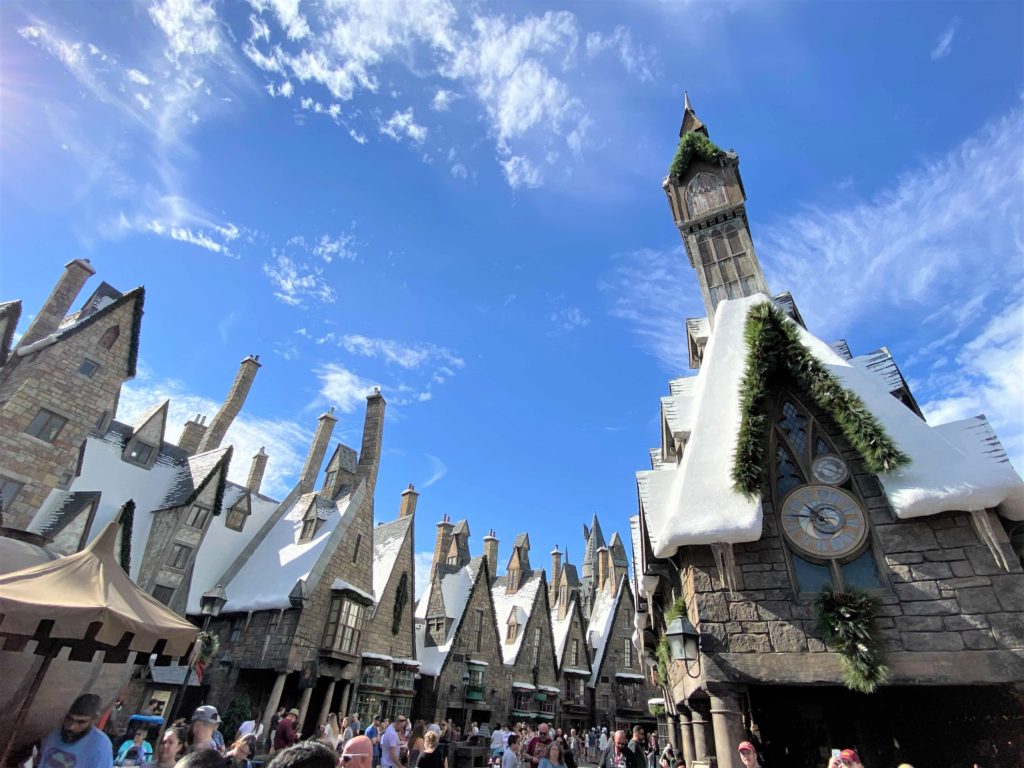 The Grinch & Friends Character Breakfast
The popular dining experience, The Grinch & Friends Character Breakfast, is back for 2022.  Start your day with a delicious breakfast and appearances by some of their favorite Dr. Seuss characters, including the Grinch. Guests also receive access to one digital download photo as a keepsake from their encounter with the Grinch.
The Grinch & Friends Character Breakfast takes place in Circus McGurkus Café Stoo-pendous in Universal's Islands of Adventure on select dates from November 12 through December 29, 2022 and can be booked by visiting www.universalorlando.com/holidays.
Pricing for this experience is $41.99 (plus tax) for adults and $26.99 (plus tax) for children and separate theme park admission is required. Annual and Seasonal Passholders can take advantage of a 20% discount on the dining experience's ticketed price when purchased in person at the front gate or a Guest Services location with a valid Annual or Seasonal Pass. Regular Seasonal and Power Pass blockout dates apply.
Holiday Date Ideas at Islands of Adventure
Give your holiday cards some extra magic by sending them out through the Owl Post at Hogsmeade Village.
Head inside the Hog's Head for a hot butterbeer and stroll Hogsmeade Village together.
Although it is a kids' ride, board the Seuss Trolley Train to see the Christmas decorations at night.
See if you can spot any of the ornaments throughout Seuss Landing that have The Grinch's face on them.
---
CityWalk Holiday Events for 2022
The holiday season isn't complete without holiday shopping and good eats. Universal Orlando's CityWalk is packed with fantastic dining options and unique shops. Though the variety here is not as large as Disney Springs, the energy of CityWalk is exciting, especially during the holidays.
NEW for 2022: The Green and Red Coconut Club offers a jolly place to grab a drink and bask in the decor. Enjoy a silly, whimsical overlay of the classic Red Coconut Club at CityWalk. Sip on festive cocktails and specialty beer as festive music and silly holiday decor surrounds you.
The Green and Red Coconut Club is open most nights around 5pm, Thursday-Saturday and some Sunday evenings.
You'll often find live entertainment on weekend evenings. Every shop and restaurant has its own vibrant holiday decorations. You can also walk over to the Hard Rock Hotel or Royal Pacific Hotel.  Or, board one of the water taxis for a romantic ride to one of the premium hotels. Each hotel will be decorated for the season.
Best CityWalk Restaurants – Book Your Reservation
If you want to make the most of your date night at Universal Orlando, be sure to book a dining reservation. It used to be easy to just walk into any table service restaurant at Universal Orlando, but that is not the case nowadays. Here are my top picks for the best CityWalk restaurants this time of year, with festive decor, menu items, and an overall great experience. Be sure to book your reservation soon.
Bigfire – best for hearty, rustic American cuisine and a cozy atmosphere
Toothsome Chocolate Emporium and Savory Feast Kitchen – with its sweets-inspired menu it is perfect this time of year
VIVO Italian Kitchen™ – cooler weather and the holidays call for delicious Italian cuisine and handcrafted cocktails
Jimmy Buffett's® Margaritaville® – enjoy the holidays with a tropical twist with fun decor, and raise a glass to Jimmy Buffett's birthday, he was born on Christmas day
If you're on a budget then grab a seat at either the Riverfront or Shoreline outdoor bars located in the center of CityWalk near the main stage on the water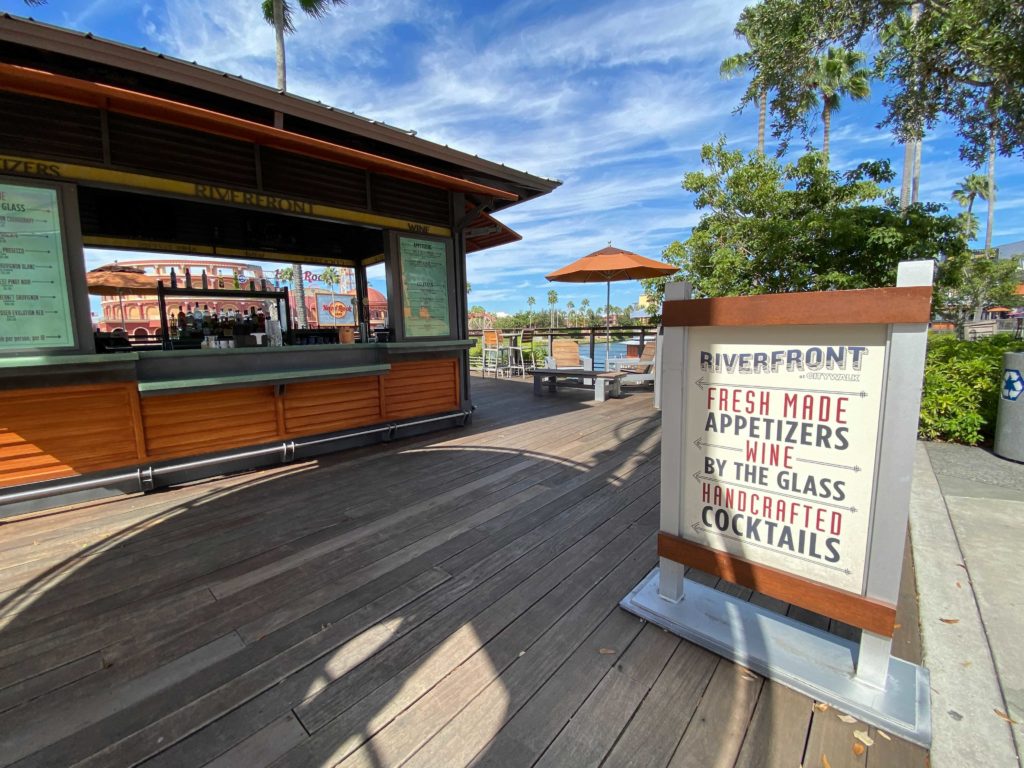 ---
Universal Orlando Hotels with the Best Holiday Decorations
It can be hard to decide which Universal Orlando hotels have the best holiday decorations. The most important thing to know about Universal Orlando hotels during the holidays is that you'll have to pay for parking.
Universal Orlando hotels range from budget-friendly hotels to premium resorts. You can access each Universal Orlando hotel by parking at the main parking structure for the theme parks and CityWalk, and then taking transportation to the hotel of your choice.
Or, you can walk when you're at CityWalk or the parks. The most walkable Universal hotels from CityWalk are Royal Pacific Resort,  Hard Rock Hotel, and Portofino Bay Resort.
Endless Summer Resort
Category: Value
Location: Just off Universal Orlando property, former site of Wet n' Wild water park, accessible by bus
Decorations: Simple tropical flair, only in the lobby
Cabana Bay Beach Resort
Category: Prime Value
Location: Edge of Universal Orlando, Islands of Adventure side, accessible by bus or the Garden Walk
Decorations: Retro and classic with lots of metallics and jewel tones
Aventura Hotel
Category: Prime Value
Location: Edge of Universal Orlando, Islands of Adventure side, accessible by bus or the Garden Walk
Decorations: Minimalist and modern
Sapphire Falls Resort
Category: Preferred
Location: Islands of Adventure side, accessible by boat or the Garden Walk
Decorations: Caribbean and tropical influences
Royal Pacific Resort
Category: Premier
Location: Islands of Adventure side, accessible by boat or the Garden Walk
Decorations: Vintage, Polynesian and golden age of travel influences
Hard Rock Hotel
Category: Premier
Location: Universal Studios side, accessible by boat or walkway along the water
Decorations: Music and rock n' roll, unique style
Portofino Bay Resort
Category: Premier
Location: Universal Studios side, accessible by boat or walkway along the water
Decorations: Romantic and regal, Italian and European influences