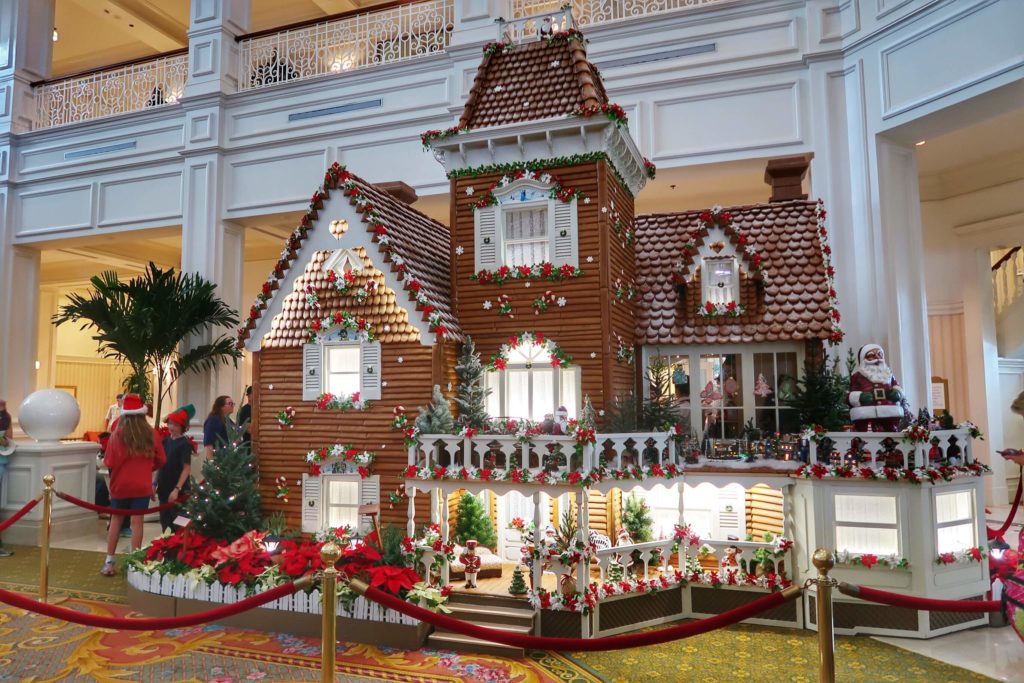 There are over 20 hotels at Walt Disney World. And as you might imagine, each Disney hotel is decked out with decorations during the holidays. So which Disney hotels have the best holiday decorations? They're all pretty great, but to help you have a festive Disney date checking out decorations, here are our top 5 best decorated Disney hotels.
The Disney hotels are decorated for Christmas and the holidays by the second week in November. So, it's time to get ready to deck the halls.
Before we get into our top five list, let's review some of the basics about the holiday decorations at Walt Disney World hotels.
Every hotel, from Value hotels all the way up to Deluxe hotels, is decorated.
 Disney hotels are typically decorated just before the week of Thanksgiving.
And each hotel has at least one main Christmas tree. The higher the category, the more decorations there are.
At each property, you'll also find at least one shop with unique Disney merchandise, great for some holiday shopping at Walt Disney World.
Quick service locations also have a special holiday section on their menus and mobile ordering is available.
Lastly, Parking at Disney hotels is officially just for guests with a confirmed hotel reservation or dining reservation. Sometimes you are able to park with a confirmed mobile order.
Alternatively, you can utilize Disney transportation from Disney Springs or the theme parks.
Top 5 Disney Hotels with the Best Holiday Decorations
Ask any Disney fan what their favorite Disney resort is during the holidays and I am certain their answer is going to be Disney's Wilderness Lodge. This gorgeous, woodsy Lodge is located near Magic Kingdom. It is inspired by the great lodges found in the Pacific Northwest.
The nature-inspired details and decorations are full of warmth, creating a cozy atmosphere. There are decorations all throughout the lobby, which itself is jaw-dropping. The towering Christmas tree is beautiful, as are the garlands draped on the banisters of each level of the resort overlooking the lobby.
Snuggle up with your honey by the Grand Canyon-inspired fireplace, or head upstairs to the second floor to check out the view from higher up.
More holiday decorations can be found by taking a quick stroll over to the second building of the resort, Boulder Ridge Villas. The short walk itself is lovely, with the covered walkway draped in festive garland.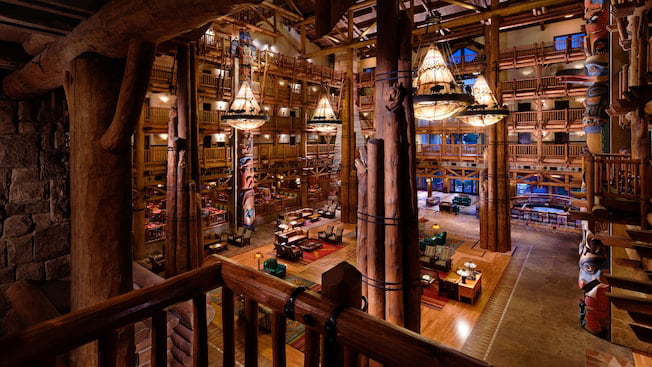 Leave it to the Grand Floridian to have the grandest decorations. Disney's Grand Floridian Resort is known for its life-sized gingerbread house (pictured in feature image). This grand gingerbread house is adorably decorated and houses a bakeshop where you can buy scrumptious baked goods.
Besides the iconic gingerbread house there is a towering Christmas tree and other decorations around the lobby. Take a close look at the ornaments–many are recreations of Victorian-era decorations.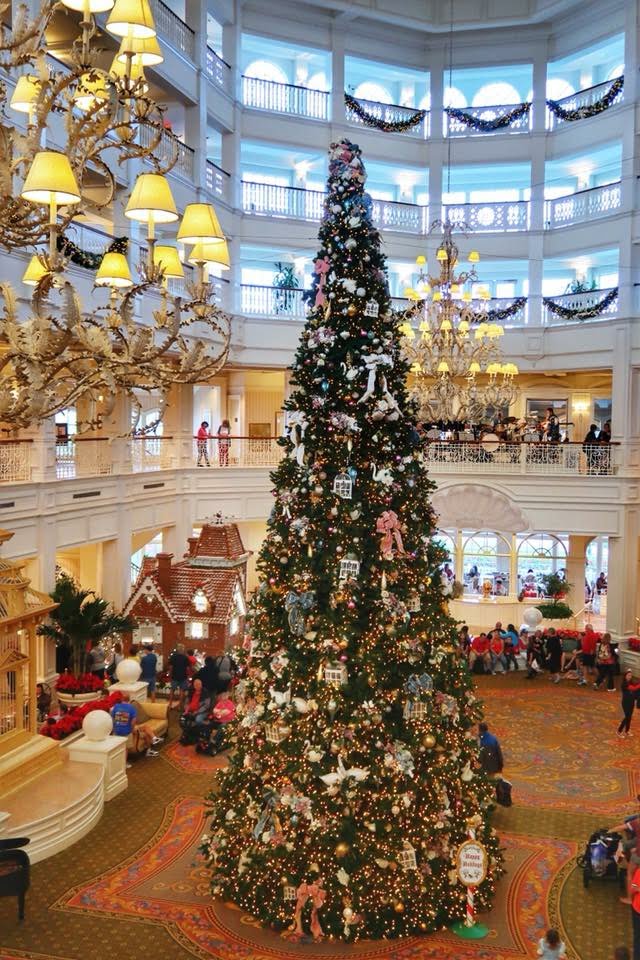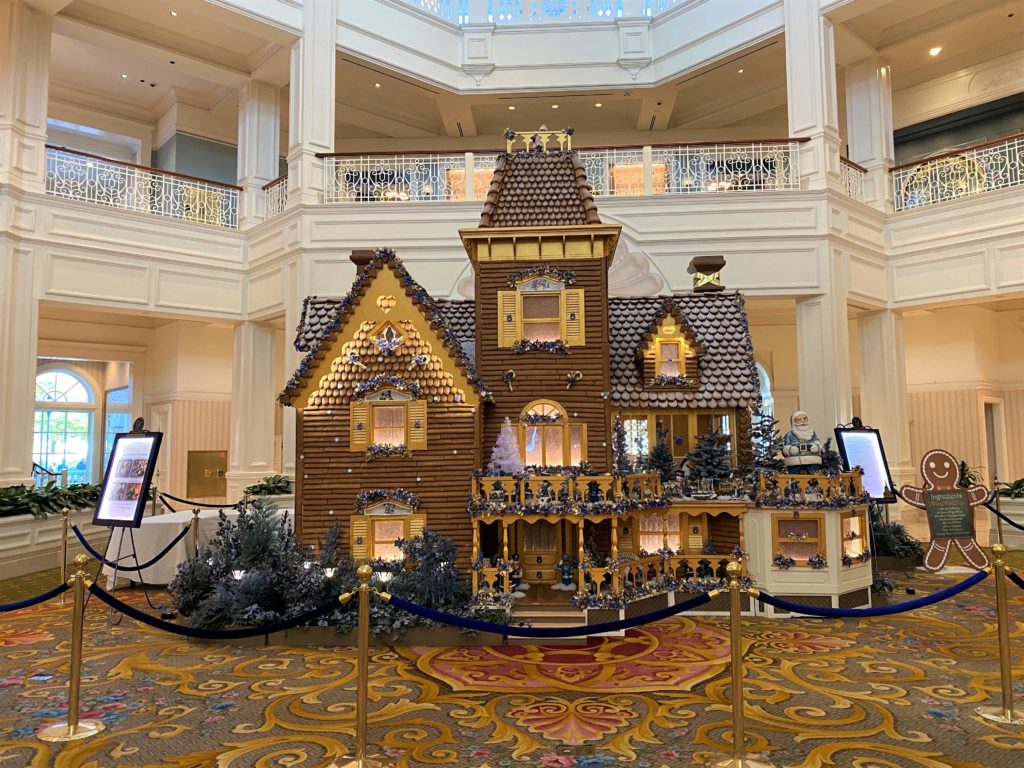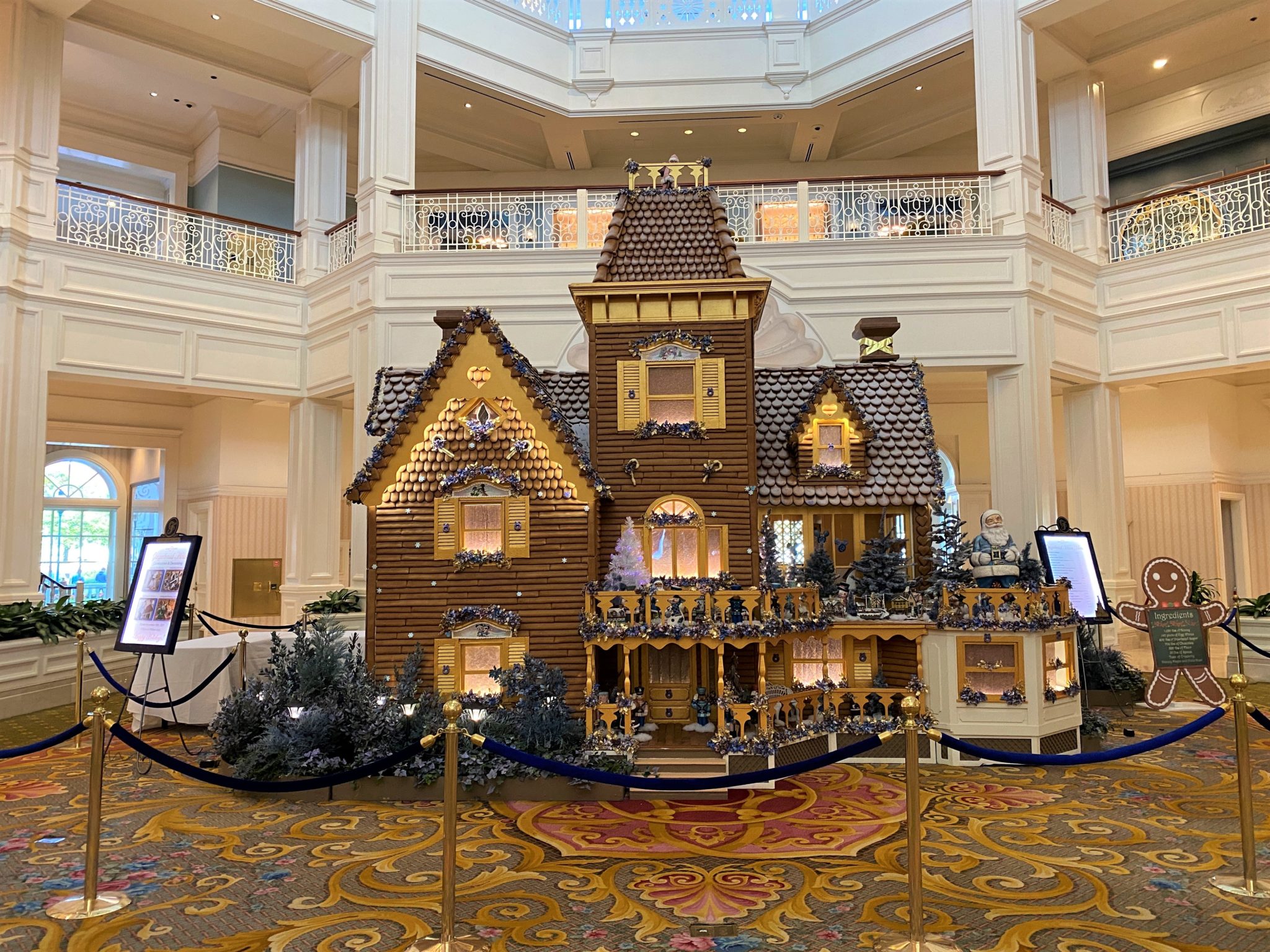 I must admit my bias —  Disney's Animal Kingdom Lodge is my favorite Disney resort, hands down. This one-of-a-kind resort is home to beautiful African animals as well as a massive collection of African art and artifacts.
Disney's Animal Kingdom Lodge and Disney's Wilderness Lodge were designed by the same architect. So they both have jaw-dropping lobbies. Jambo House is the main building of Animal Kingdom Lodge and has an incredible, warmly lit Christmas tree. You can sometimes find a gingerbread or chocolate village here, near the BOMA – Flavors of Africa restaurant. There are two fire pits here too, one indoors and one outdoors. Either one is perfect for snuggling with your sweetheart.
While you're here you can also walk over, or take a complimentary van, to Kidani Village. This is the second building at the resort, built a few years after Jambo House.
READ MORE: 10 Romantic Restaurants at Disney Hotels Worthy of Date Night
Disney's BoardWalk area is a destination all its own. Here you can explore five different resorts plus multiple bars and restaurants in an enchanting neighborhood tucked between EPCOT and Disney's Hollywood Studios.
While Disney's BoardWalk hotel itself is lovely during the holidays, the neighbors across the water have a charm that's hard to beat. Disney's Beach Club and Disney's Yacht Club Resorts are technically two different hotels, but they are connected by multiple walkways and share a pool, the most popular pool in all of Walt Disney World.
Disney's Beach Club is decorated like the beach house of your dreams. It is inviting any time of year, but during the holidays it has whimsical seaside-themed decorations. Plus, at the center of the lobby is a gingerbread carousel that has a different Disney theme each year.
The theme of Beach Club's gingerbread carousel for 2022 is the Disney Princesses. Each horse is themed after a different Disney princess, and the details are glorious. While you admire the darling details, you can snack on holiday baked good, treats, and drinks at the stand towards the back of the lobby.
Next door is Disney's Yacht Club, which is more sophisticated with polished dark wood and brass. The key attraction here is the Christmas village, an impressive sprawling ski resort created in miniature. You're going to want to carve out some time to look at all the details. Maybe play a friendly game of "I spy" together.
Disney's Coronado Springs Resort is a Moderate level hotel, but it is the nicest in the category. This resort caters to convention guests so its restaurants and common areas are more polished than the other hotels in the Moderate category.
If you want to have a magical merry Disney date, make a reservation at Toledo. This rooftop restaurant is breathtaking. And the Spanish-inspired menu is adventurous and dazzling. Be sure to check Disney's website for the fireworks schedule so you can book your dining reservation during a time when you can see the fireworks from this rooftop restaurant.
We've also got a complete guide to viewing Disney fireworks without a theme park ticket.
There are two common area buildings at Disney's Coronado Springs Resort: El Centro and Gran Destino Tower. Both have beautiful decorations inspired by Latin America. Gran Destino Tower's decorations have metallic and jewel tones, adding a regal flair.
If you want a special Disney date, venture over to Disney's Fort Wilderness Campground. You can use transportation from one of the four Disney theme parks, though Magic Kingdom is the most fun thanks to the boat transportation.
Once at Disney's Fort Wilderness Resort and Campground you can board a bus that runs through the resort. The closer you get to Christmas the more decked out the resort is, but not by Disney. Guests of the campground often decorate their campsite for the holidays. The displays are always impressive.
Feature image: Disney's Grand Floridian Resort