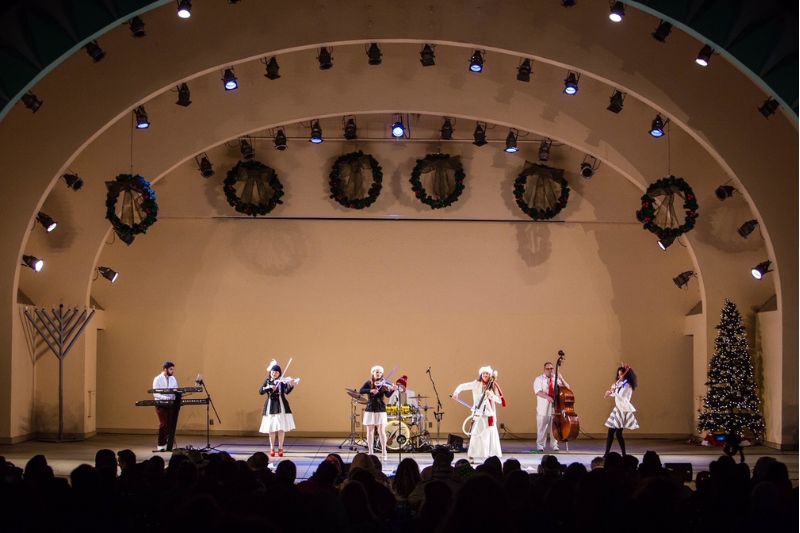 Hark! What is that joyous sound? It seems the holidays are on the horizon – believe it or not! Among the many free holiday events in Orlando and throughout Central Florida, the free concerts in Orlando are some of our favorites!
The musical talent in Orlando knows no bounds. Thanks to our theme parks and other spectacular entertainment offerings, Orlando is full of great singers and musicians. Enjoy the sounds of the holiday season at these 10 Free Holiday Concerts, Plays, And Shows in Orlando.
We've also got over 50 FREE holiday events in Orlando to add to your nice list in 2022.
10 Free Holiday Concerts, Plays, And Shows in Orlando
These free concerts in Orlando for the holidays are listed in chronological order.
Know of another holiday event we should include? Submit an event.
Christmas Eve Celebration
Dec. 14, 9:30 a.m. to 4 p.m.
Enjoy free admission to the Morse Museum galleries with live music by Orlando Violin Music from 1-4p.m.
Cost: FREE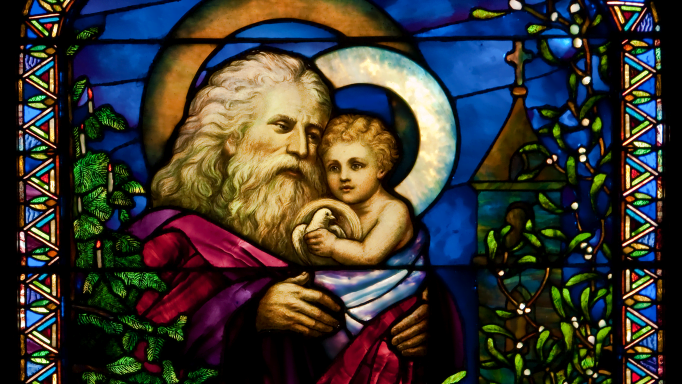 Music Department Holiday Show
Tuesday, November 22, 2022 7:30pm
East Campus, School of Arts and Entertainment, SAE Outdoor Stage
701 N Econlockhatchee Trail, Orlando, FL 32825
Holiday Friday Nights at Morse Museum
Most Friday Nights November 25 – December 30, 2022, 5-8pm
Charles Hosmer Morse Museum of American Art
Receive free admission every Friday night, November through April, and special holiday performances during the holiday season. Live music enhances the gallery experience.
Christmas in the Park
December 1, 2022, 6:15-8:30pm
Central Park, Winter Park
The City of Winter Park and The Charles Hosmer Morse Museum of American Art continue this beloved holiday tradition. Stroll through the park and enjoy the sounds of the Bach Festival Choir.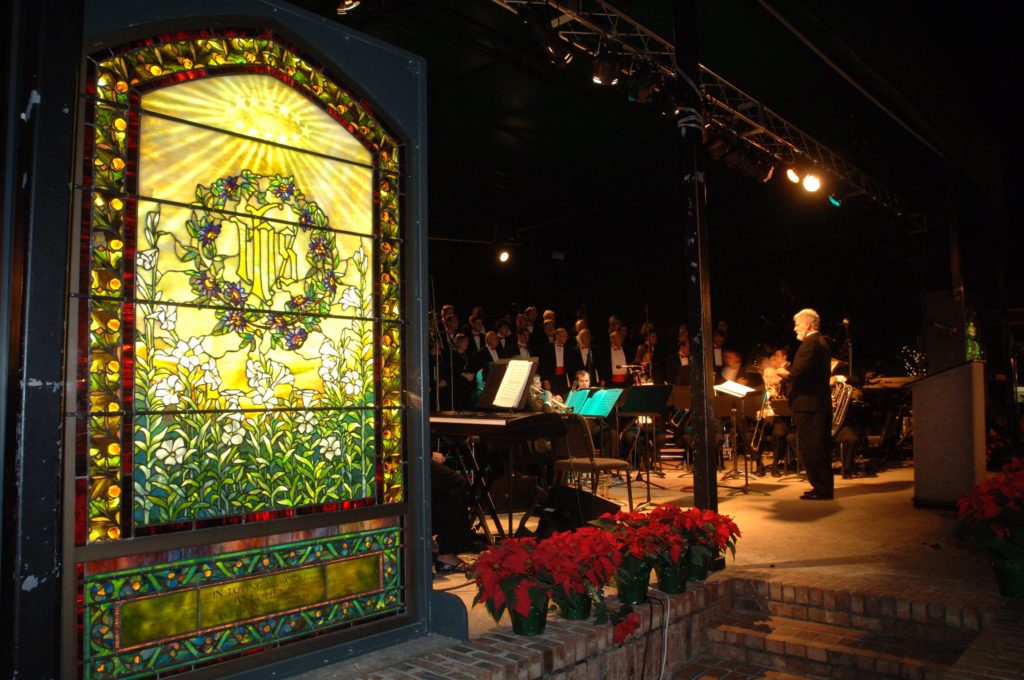 Holiday Pops
December 4, 2022, 5pm – 7pm
Central Park, Winter Park
Featuring the Orlando Philharmonic Orchestra
Holiday Concerts at Cranes Roost Park
December 9 & 16, 2022 7-9pm
Find your groove with live holiday tunes from talented local artists. Admission is free. Food and beverages are available for purchase.
December 9 – Robert Harris Holiday Jazz
Music Holiday Gala
November 29, 2022, 7pm
Lyman High School
Enjoy an evening of holiday classics
Fridays on the Plaza Holiday Music
December 9, 16, and 23, 2022, 7-9pm
Downtown Winter Garden
Enjoy the classic sounds of holidays of old as live music serenades shoppers at the plaza of downtown Winter Garden.
Violectric Holiday Show
December 10, 2022, 7pm
Walt Disney Amphitheatre at Lake Eola Park
Performing together LIVE on stage, renowned "Vinylinist" and Founder of Violectric® Michelle Jones and the talented musicians of the Central Florida strings super-group announce the exciting milestone 10th Annual Violectric® Holiday Show rocking into the Walt Disney Amphitheater at Lake Eola Park on Saturday, December 10, 2022 starting at 7pm.
FREE and open to the public, the 90-minute live concert presented by the City of Orlando Department of Families, Parks and Recreation will feature traditional holiday songs like O Christmas Tree, The First Noel and Hanukkah, O Hanukkah mashed up with classic rock tunes and modern hits like Born to Run, Heroes and Sweet Dreams, delivering a fun-filled, energetic and highly unique holiday show unlike anything seen and heard before and simulcast around all of Lake Eola.
Violectric has also teamed back up with Pet Alliance of Greater Orlando for the pet-friendly show. Attendees are encouraged to bring their pets and a cash donation for Pet Alliance. Santa and Mrs. Claus will also return for meet-and-greets and family and pet photos, plus more surprises.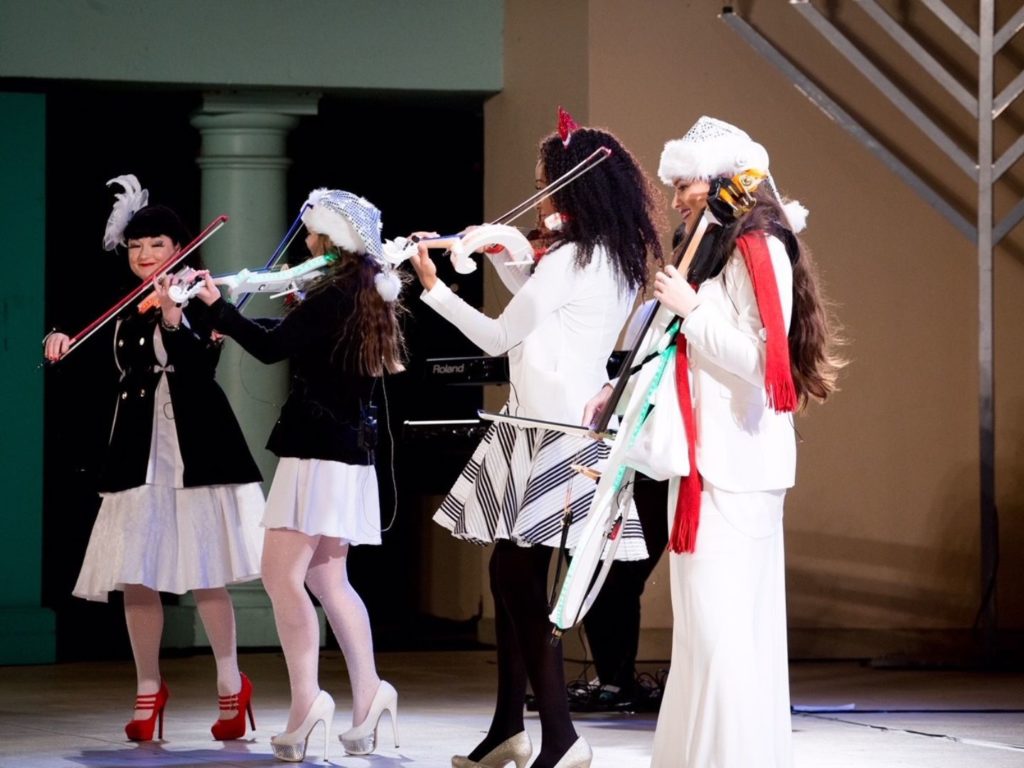 Gracias Christmas Cantata
December 13, 2022, 7pm
Walt Disney Theater – Dr. Phillips
Gracias Christmas Cantata is a show-stopping musical event that has been performed in venues like the Sydney Opera House and Madison Square Garden, as well as many other stages around the world.
The Nutcracker by the Russian Ballet of Orlando
December 17, 2022, 7:30pm
Lake Eola Park
The Russian Academy of Ballet presents a gift to the Orlando Community with a free performance of "The Nutcracker".