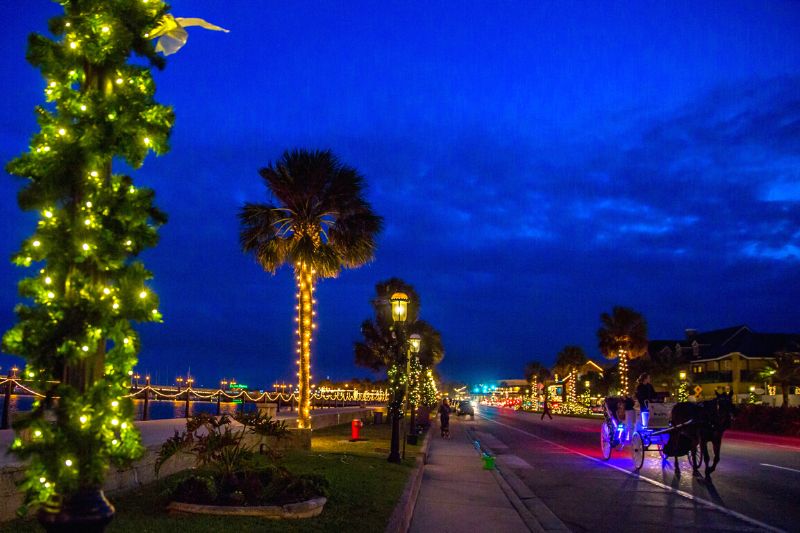 Nights of Lights in St. Augustine, is truly the most wonderful time of the year. Downtown St. Augustine comes alive with over three million twinkling lights, in honor of the holiday season. Our guide to the St. Augustine Nights Of Lights includes parking and transportation info, plus what to see and do.
The Nights of Lights is in its 29th year, and was recognized as one of the top ten Holiday Lights Displays in the world, as designated by National Geographic. Even repeat visitors will marvel at the beauty: it's just the thing to get you in the holiday spirit.
St. Augustine Nights of Lights runs every night from November 19, 2022 – January 31, 2023. This holiday tradition is world-famous, and completely FREE. Here's how to make the most of this magical, city-wide event!
St. Augustine Nights of Lights Expert Tips and Info
Nights of Lights can be overwhelming, but with a little planning, you can mitigate the stress and make the most incredible experience.
Arrive early to secure parking. With so many visitors driving in and out of downtown, parking spaces are a hot commodity. Plan to get to town earlier in the day before the crowds, and you'll have a better chance at a prime spot.
Make dining reservations before you go. This time of year is typically more busy than usual, and favorite restaurants fill up quickly.
Book tours and tickets ahead of time. Again, these reservations fill quickly, so if there's a must-do experience on your list, lock it in, ASAP.
Prepare with your own glow necklaces and festive accessories. There are plenty of street vendors selling glow paraphernalia, especially on Light Up! Night, but you'll save time and money when you bring your own to the party!
Bring your patience. Even with the best-laid plans, Nights of Lights can be busy, traffic-filled and crowded. Don't let it get you down, take your time enjoying the beauty all around!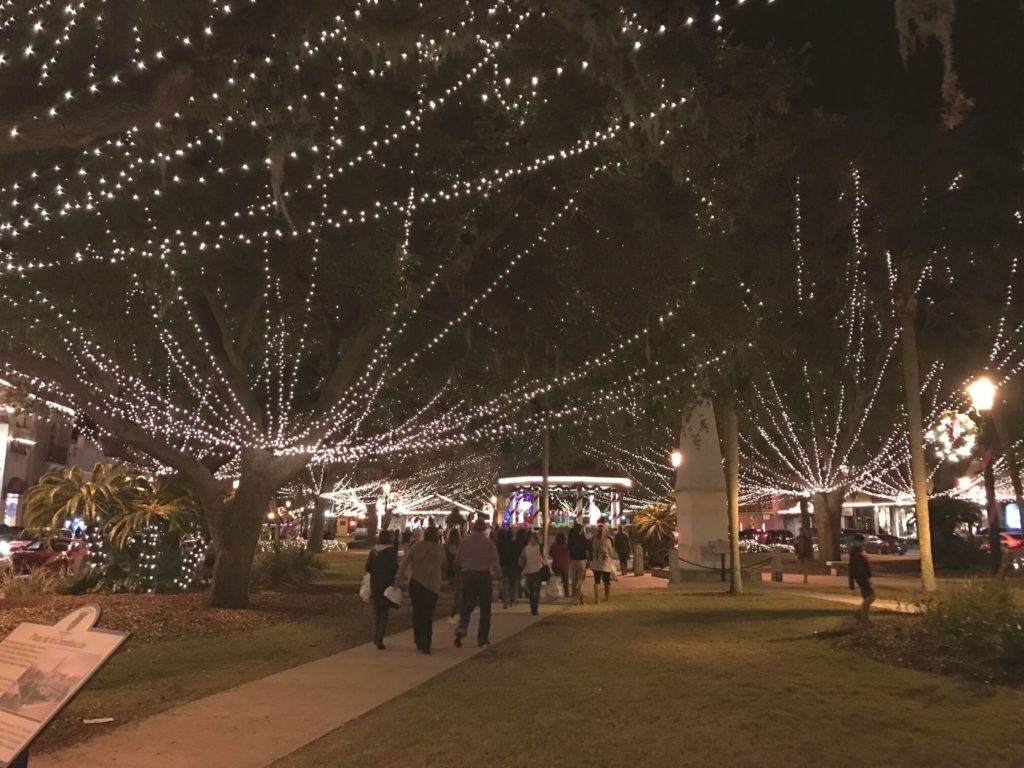 Take advantage of the free, City of St. Augustine Park & Ride Shuttle on select nights. Just park at the St. Johns County Health Department (200 San Sebastian View, St. Augustine; all November dates and only Saturdays in December) or Broudy's Lot (corner of US 1 and W. King, all service dates), hop on the shuttle and get exploring.
Saturday, November 19, Light-Up! Night
Friday, November 25 and Saturday, November 26 (Thanksgiving weekend)
First three Saturdays in December (3, 10, 17)
Monday, December 26 through Friday, December 30
Shuttles will not run on Christmas Eve and New Year's Eve
The Best Time To See St. Augustine Holiday Lights
There is no bad time to see the Nights of Lights. Light Up! Night is always the highlight of the season with music and the official tree lighting, but other nights are just as magical.
Weeknights after the New Year and end of winter break are usually a great bet for a more relaxed pace and fewer people. The weather is typically a little cooler in the second week of January, and the hustle and bustle is not quite as extreme.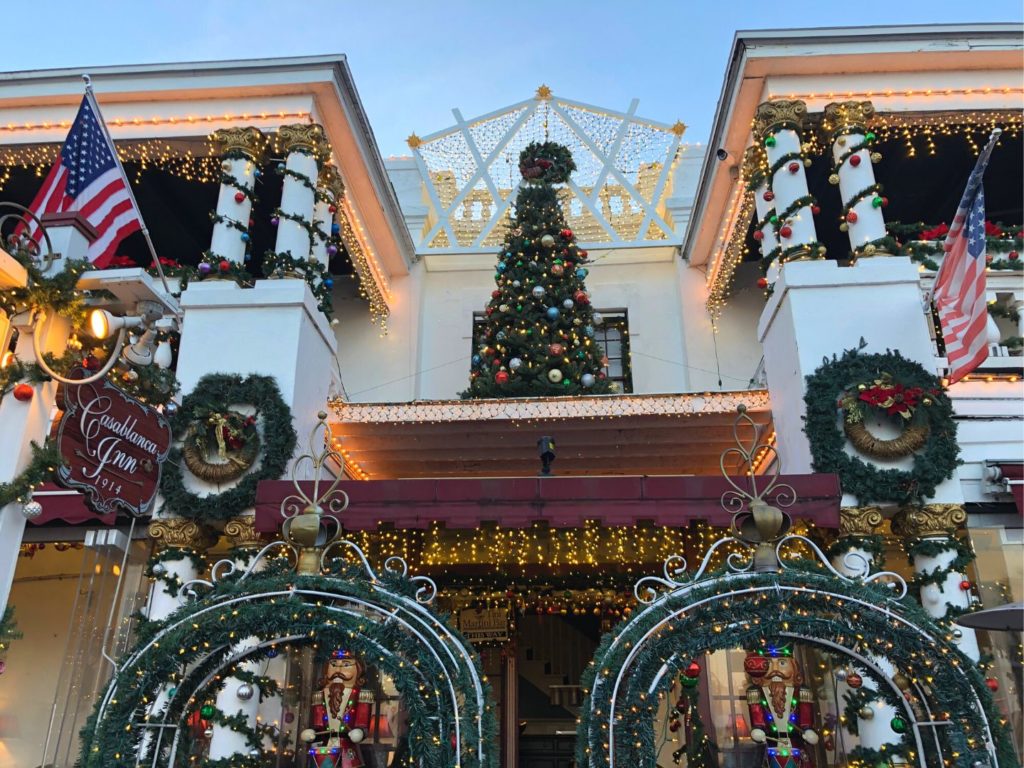 St. Augustine Nights of Lights: Tours and Packages
While walking through Old Town to see the lights is an easy way to enjoy the season's most beautiful light display there are several other ways to enjoy the magic.
Old Town Trolley Nights of Lights Tour: Hop on the Old Town Trolley for a spectacular evening tour of the lights display. You'll get some extra magic with special viewing glasses, get a tour of the town while signing carols, and even enjoy a cider and cookie treat.
Nights of Lights Boat Cruises: The Ancient City lights are beautiful from land, but the lights from the water are exquisite. From private charters to group water tours, you'll experience the magic from a completely different perspective. Check out different options from Florida Water Tours and St. Augustine Sailing.
Holiday Tasting Tours: Tasting Tours is known for their food and beverages tours in open-air, electric vehicles.
For Nights of Lights, Holiday Tasting Tours adds a little holiday dazzle with several themes perfect for couples, groups, and family. Choose from the Grinch, Santa, Mrs. Claus, Scrooge, or just a private wine and carriage tour for a fun way to enjoy the night.
READ MORE: Where to Find Orlando's Best Holiday Lights
St. Augustine Nights of Lights Dates
St. Augustine Nights of Lights runs every night from November 19, 2022 – January 31, 2023. This holiday tradition is world-famous, and completely FREE.
Light Up! Night, the very first night, is scheduled for November 19, with the official lighting ceremony at 6:30PM at the historic Plaza de la Constitución Gazebo. Dance and musical performances begin at 4:00PM and continue to 7:30PM.
No matter how you take on the Nights of Lights this season, you're certain to have the holly jolliest time around!