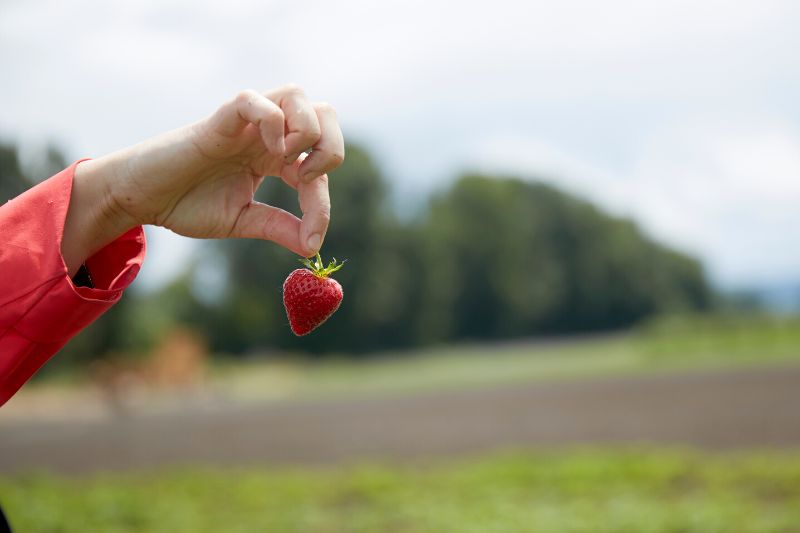 Winter in Florida has lots of advantages. From December to March, Strawberry picking season is upon us! This is one of my favorite outdoor family activities, especially because we get to bake so many delicious treats when we get home. My family recently visited Amber Brooke Farms in Eustis for the first time and it did not disappoint.
This quick review covers what to expect during strawberry picking at Amber Brooke Farms Eustis.
If you're looking for a nice day on the farm, enjoying a day when time moves a little slower and life is simpler, this is for you. Whether you venture out with your sweetheart or bring kids along with you, strawberry picking at Amber Brooke Farms Eustis is a relatively affordable outdoor activity.
Amber Brooke Farms in Eustis is about 45 minutes from the general Orlando area. If you're near Lake County then it will take about 30 minutes to get there. It's one of our favorite u-pick farms in Orlando.
This large u-pick farm also has a lovely sunflower field and you can usually pick your own sunflowers during the same season as strawberries!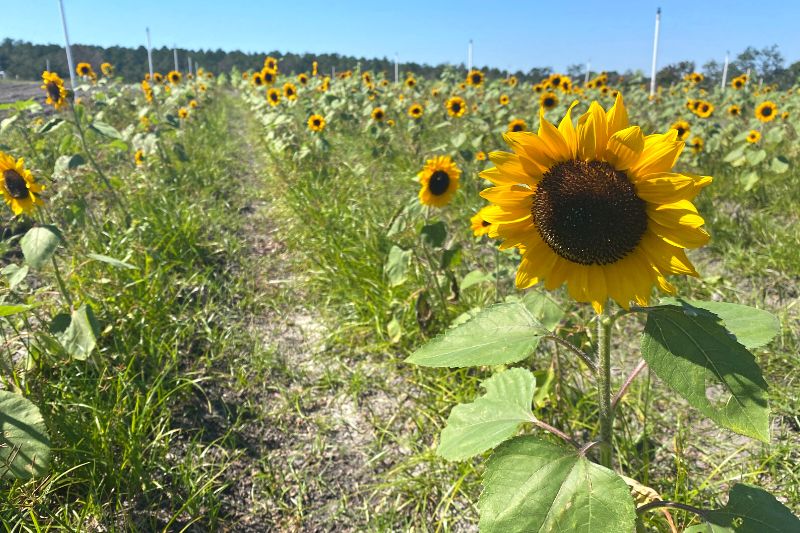 Family Activities on the Farm
Before my family began picking strawberries, we had some fun exploring the farm. My kids ran straight to the slide hill, where you can grab a burlap sack and race to the bottom.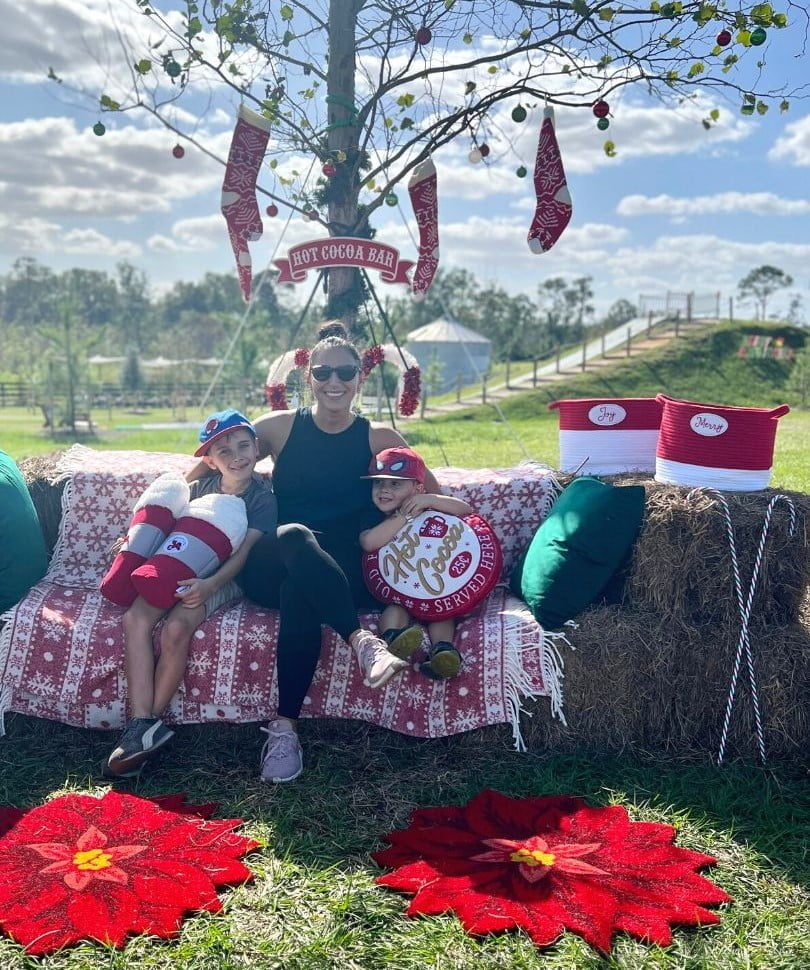 We then took a ride on the cow train which gave us a nice tour of the area.
Make sure to go hop on the jump pads; they're big enough for mom and dad too! In the same area are a few unique playgrounds, and you can also pay extra for gem mining.
There's also a sand pit, spider web ropes course and ball zone. It's easy to spend hours there before even getting to the strawberry fields.
Picking Strawberries
In Florida, the strawberry season typically runs from December through March, so you'll likely experience nice weather during this activity.
Once you're ready to start picking, the crew will give you a container (or a few) to collect your strawberries. The farm is lined with rows and rows of strawberries of different varieties and levels of sweetness.
This experience is great for toddlers who are walking, as all of the berries are low and easy for them to pull. Make sure to snag some family photos or candid videos along the way. The scenery is so beautiful and makes for some great memories.
After you've gathered enough, head over to the checkout to pay. The cost is $5.95/pound and you're responsible for everything you pick.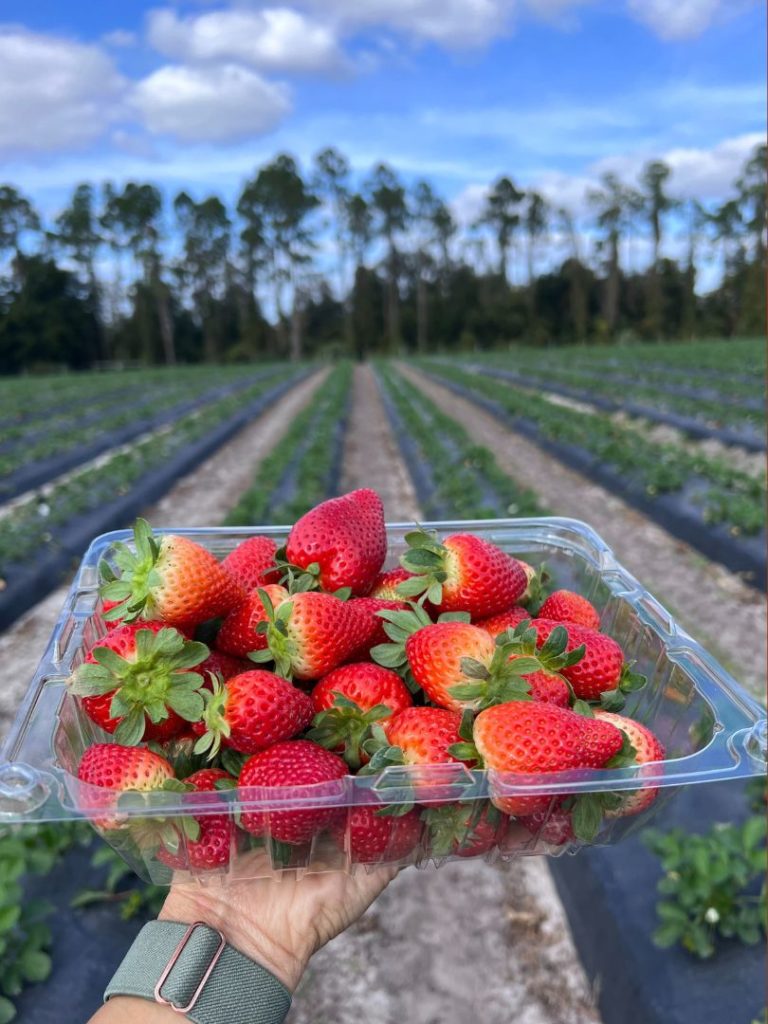 What to Bring
Don't forget to apply sunscreen and pack a hat as you'll spend a lot of time in the direct sun. Make sure to wear comfortable clothing and closed-toed shoes that you don't mind getting a little dirty.
Strollers and wagons are permitted, but if you're bringing a child who is not yet walking, I highly recommend using a baby carrier, since pushing around a stroller can be a little challenging.
The farm does have handicap-accessible bathrooms, and most of the venue is grassy with some paved areas that can be enjoyed in a wheelchair.
Food and Drinks
If you're hungry, don't worry, you can grab lunch, fresh baked goods or a strawberry slushie to cool you down. I highly recommend asking them to add some lemonade to your slushie. It's so refreshing!
You should also stop by the gift shop where you can buy some fresh jams, sauces, and cocktail mixes.
Know Before You Go
There's plenty of parking and admission is free on winter U-pick days. Some special events may require a ticket, however, so make sure to check their calendar for more information.
When you arrive, make your way to the main entrance where you can purchase a farm fun pass for $10 a person to enjoy all of the family activities on the weekends. Amber Brooke Farms is a cashless venue, so you'll need a debit or credit card for payment. 
But wait, there's more! The farm has more than just strawberries. Feel free to check out the sunflower fields, either to pick or as a backdrop for photos, and come back later in the year for blueberry picking as well.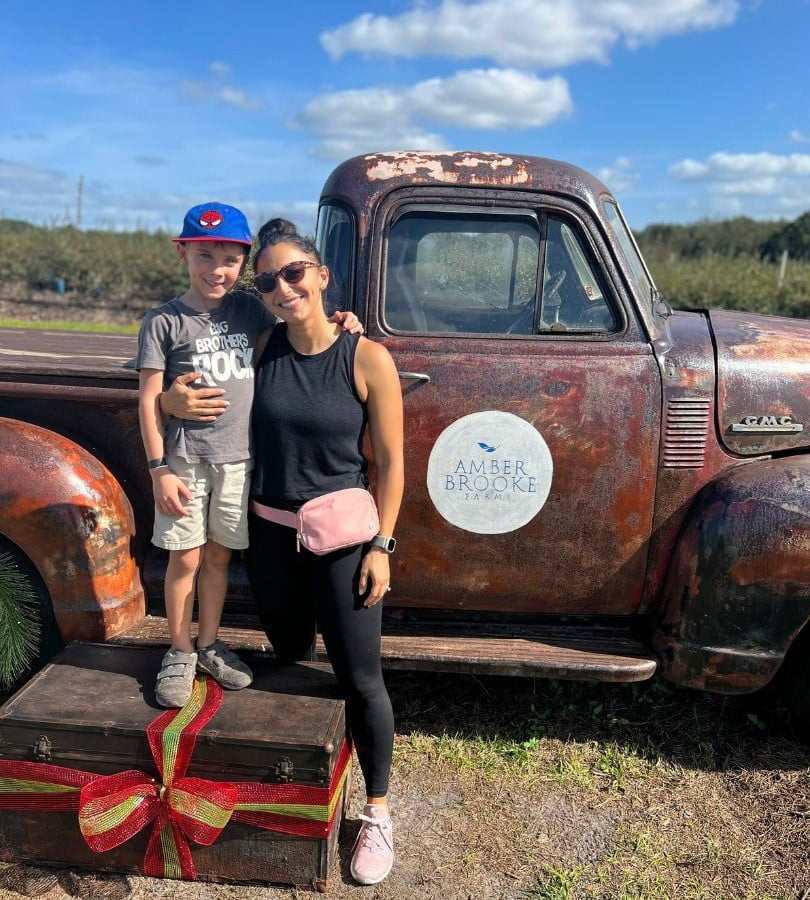 Next is the hard part: what to do with all those strawberries! If you're not going to be using all of them in the next few days, I recommend freezing some to use in the future for baking or smoothies.
Here are a few of my favorite recipes to get the most of out your fresh berries:
READ MORE: Orlando U-Pick Farms – Oranges, Blueberries, Strawberries, Sunflowers, and More
Wondering what's in season?
Here's an overview: