Living in Florida, we're surrounded by luscious citrus groves bursting with fruit ripe for the picking. It's time to go orange picking in Orlando.
Do something different together by visiting u-pick farms in Central Florida to pick your own citrus, flowers, and other produce. These local farmers welcome guests for an authentic Florida farm experience.
Tip: December is the start of citrus season in Florida. The best time to pick your own oranges in Orlando is late December to May. So you've got plenty of time to pick your own oranges in Orlando.
Wear sun protection and closed-toed shoes for tromping around in the Florida scrub and bring a bottle of water.
Where is the best place to pick oranges in Orlando?
Lake Mills U-Pick, Chuluota
Graham's Farm, Umatilla
Showcase of Citrus, Clermont
Bekemeyer Family Farm, Winter Garden
Orange and Citrus Farms
These orange and citrus farms near Orlando will offer you a memorable adventure together.
Lake Mills U-Pick, Chuluota
1701 Lake Mills Road
Chuluota, FL 32766
Explore this small u-pick farm that offers a variety of different fruits. Located on 5 acres at 1701 Lake Mills Road in Chuluota, this small farm makes for a simple and easy date.
Citrus fruits, such as navel oranges and tangerines, are available between October and December. Kumquats are also available through December. Tangelos and grapefruit are available between December and April.
Harvest baskets or net bags are provided after weighing the produce. You'll want to bring your own boxes or bags to transport the fruit home.
U-pick hours vary depending on the month so be sure to check Lake Mills Facebook page for updates.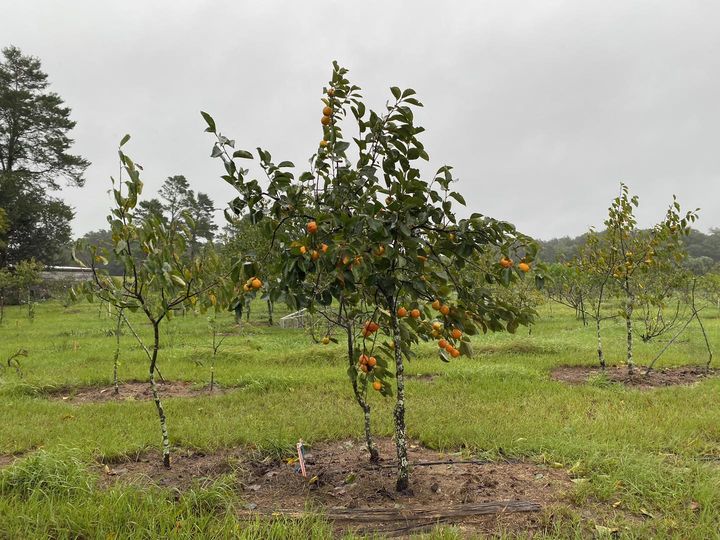 Graham's Farm, Umatilla
14803 Lake Yale Rd
Umatilla, FL 32784
Honey Bells, Red Navels and Sugar Bells are just some of the citrus available at Graham's Farm in Umatilla. Oranges and citrus fruits are available December to late January. Kale and Collards are also available during this time.
Graham's Farm in Umatilla is one of the best places in the Orlando area for u-pick peaches. In April and May, you can pick your own peaches. They often have a bring your own bucket special.
Check their Facebook page for specials and operating hours.
Showcase of Citrus, Clermont
5010 US Highway 27
Clermont  FL  34714
Showcase of Citrus in Clermont is a fabulous day adventure, especially this time of year when the ruby red grapefruit and sweet tangerines are at their peak. (Check out their season chart).
Start your visit with a trip to their sashimi-style tasting bar where you can sample what's in season and map out your picking route for the day. Bags with printed maps of the grove along with lots of helpful directional signs will lead you right to the sweet treasures you seek. About 40 minutes from downtown, Showcase of Citrus is open 7 days a week from dusk 'til dawn.
READ MORE: A Date Day Trip to Historic Downtown Clermont
Bekemeyer Family Farm, Winter Garden
1055 E Story Road
Winter Garden, FL 34787
Strawberries: December – April
Citrus: Winter months
Peaches: April
Orlandoans flock to this 4th generation family farm to enjoy picking oranges. Bekemeyer Family Farm boasts an environmentally friendly hydroponic system, and they only use pest control products when absolutely necessary, so you can be sure that you're getting great quality.
The farm also offers u-pick strawberries from December until around April. Then in April and May you can pick peaches here. Check Facebook for the latest updates and current availability.
Tips for Orange Picking in Orlando
What month is best for orange picking? December is a great time to pick oranges in Orlando and nearby, if you like to get a jump on the season. January is a good time as well, depending on the weather.
Wear comfortable clothes, good for bending and moving
Closed-toed shoes are best and you may get dirty
Wear sunscreen, and a hat, and bring water
Go in the morning before it gets busy and warm
BONUS IDEA – If picking your own citrus doesn't appeal to you, but you still want an outdoorsy date, check out these Outdoor Activities for Couples. Also, Mick Farms in St. Cloud has a great farm stand with fresh citrus, vegetables, and other produce.