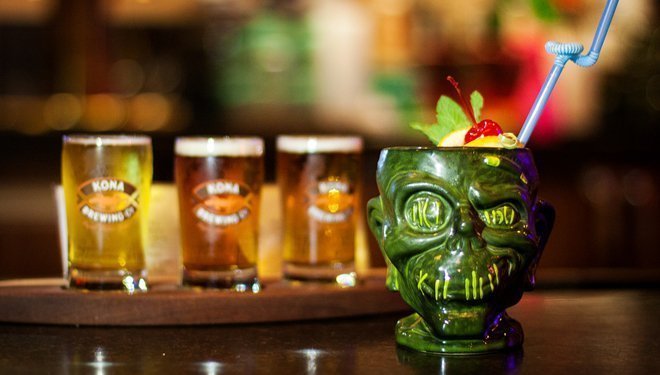 ---
The Best Bars & Lounges for a DIY Disney Monorail Pub Crawl
---
Written by Stephanie Patterson and Hannah Green
Updated by Dani Meyering
Tourists and locals alike have been hopping on the free resort monorail line for years to explore the three resorts linked on the loop. Whether to sightsee or enjoy progressive dining or Disney monorail pub crawl, it's so fun. And, in the name of research, it was high time I experienced the Disney monorail pub crawl for myself.
With date night in mind and your reader recommendations in our notepad (thank you!), we set out to discover the best romantic spots throughout Disney's Grand Floridian, Contemporary, and Polynesian Village Resorts. Below is a guided recap of our adventure.
Note: With one exception, we narrowed our crawl strictly to bars to keep in line with the pub-crawl theme. Please drink responsibly and arrange to stay on property, have a designated driver, or use a rideshare service like Uber or Lyft.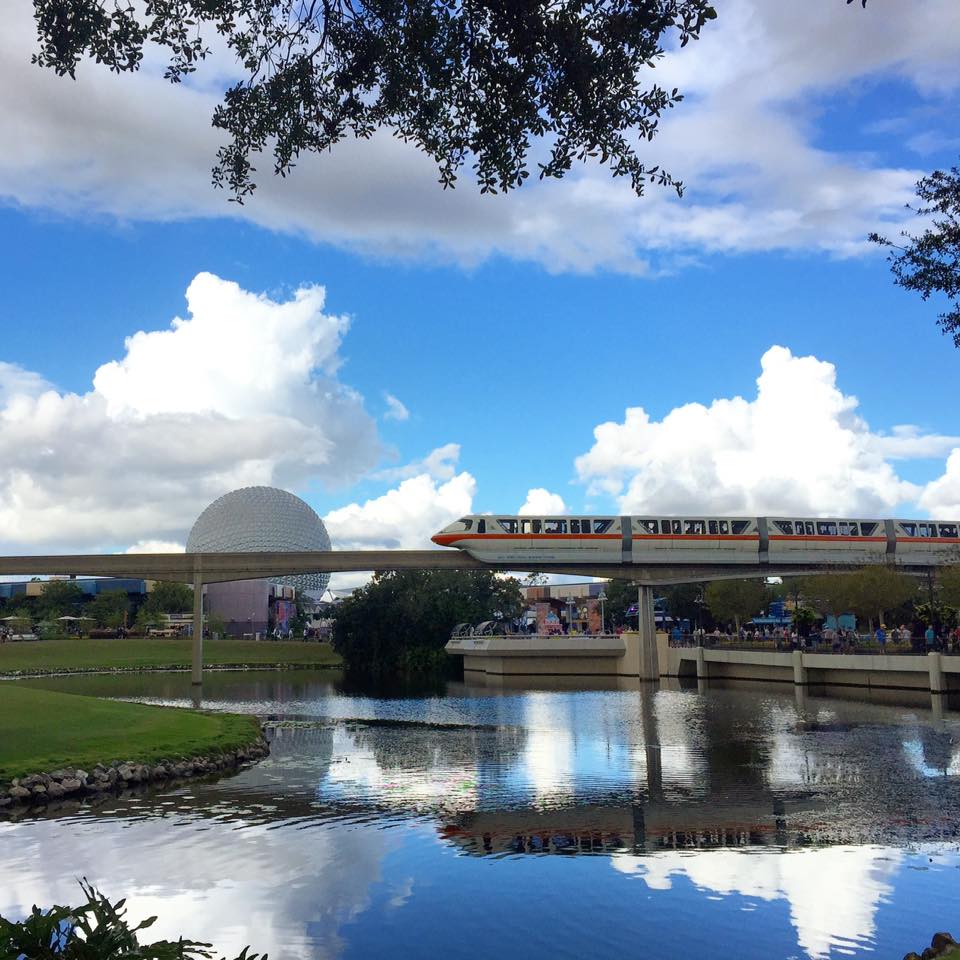 More Disney Date Ideas
Disney monorail pub crawl – DISNEY'S GRAND FLORIDIAN RESORT
This stunning and palatial upscale resort houses several lounges and restaurants worth visiting. Climb the sweeping staircases to wander the resort stopping for drinks, light bites, and music as you please.
Bonus: check out the pool bars during the warmer months, or celebrate a special occasion in over the top style at Victoria & Albert's.
Bonus stop: Citricos Lounge.
The Basics
Tips and tricks: Light bites aren't served until 5:00 p.m., so plan accordingly if you want some food to go along with your sips.
Vibe: Beauty and the Beast elegance with fancy bites and champagne
View menu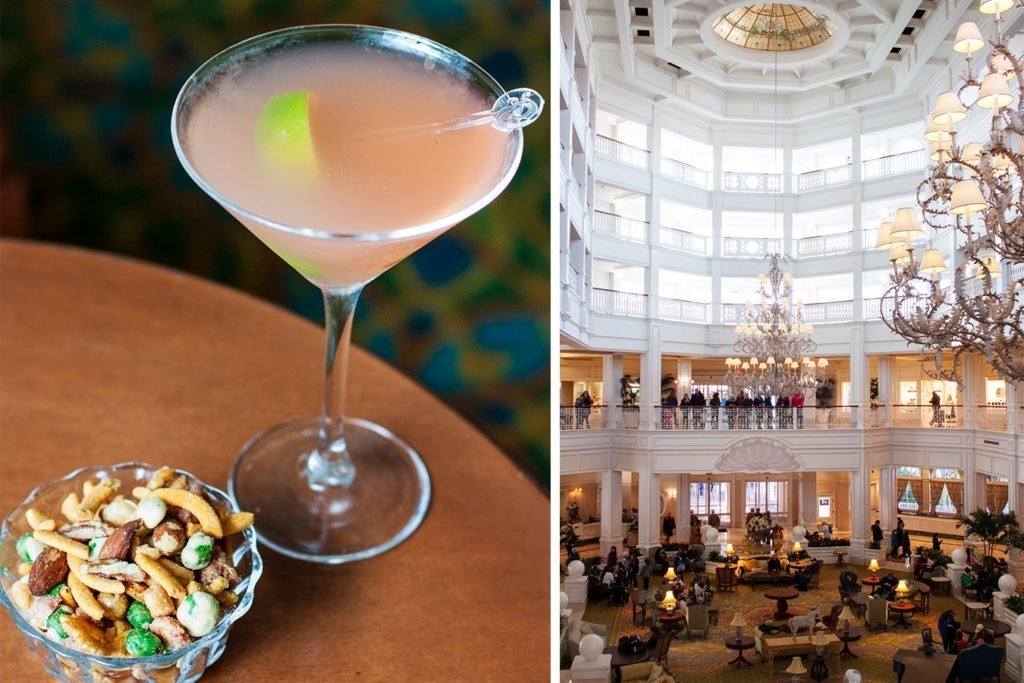 DISNEY'S CONTEMPORARY RESORT
One of this resort's most notable features is the fact the resort monorail line runs directly through the interior of the resort. Head upstairs for sweeping views of Cinderella Castle and the Disney theme parks while dining at California Grill, one of our favorite restaurants for watching the nightly fireworks.
Bonus stop: Outer Rim Lounge (casual vibe great for people watching).
The Basics
Tips and tricks: Get your drink to go! Just ask your bartender for a to-go cup and wander around the resort at your leisure. One of our readers, Michelle, recommends grabbing a drink to go and heading to the outdoor patio under the monorail line for fireworks views.
The Steakhouse 71 Lounge is first come, first serve.
Vibe: Casual sophistication and retro Walt Disney World
View menu
Steakhouse 71 opened as part of Walt Disney World's 50th Anniversary. This casual steakhouse replaces The Wave. The decor pays homage to the early days of Walt Disney World, making it a new favorite spot among Disney fans.
The lounge offers a small, but mighty food menu, so consider taking the time to grab a bite here. The cocktails are modern spins on classic drinks. The Tequila Sunrise for Two is sure to make your eyes go wide and make your tastebuds dance.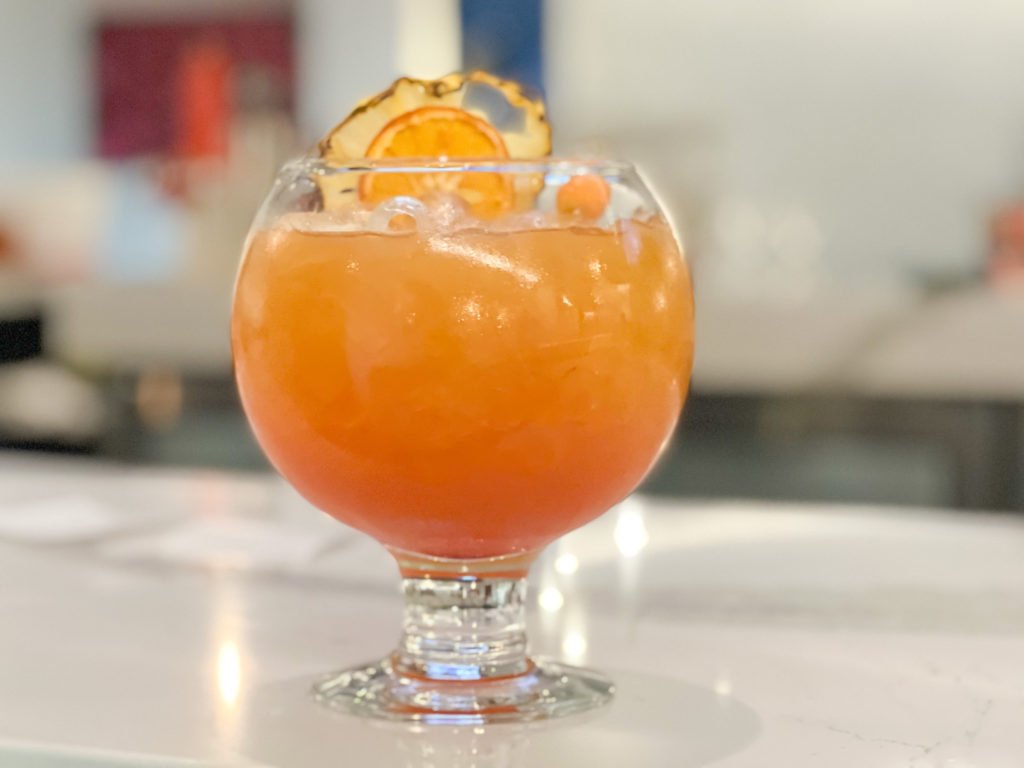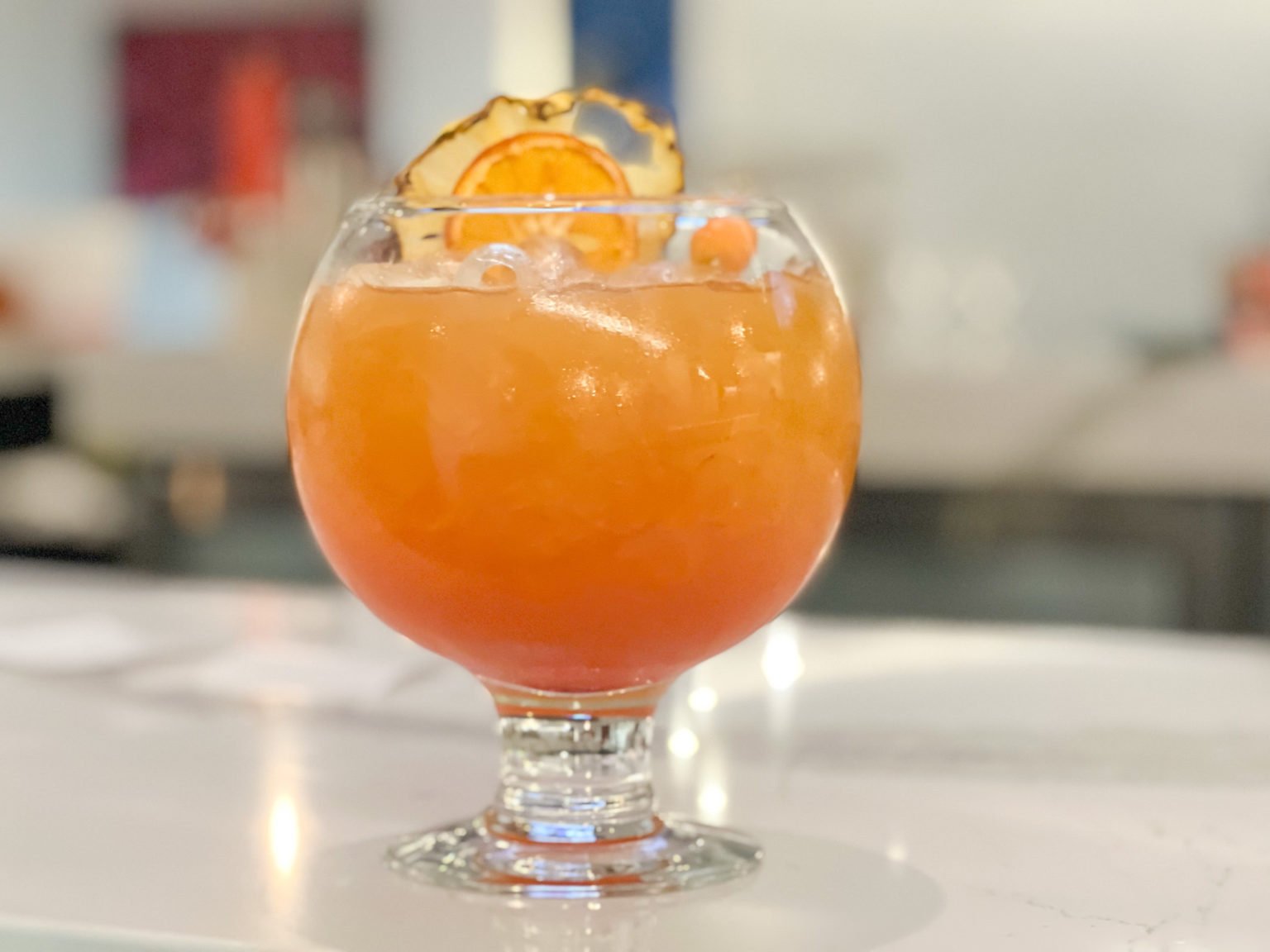 The Basics
Tips and tricks: Check in with the hostess at the elevators to inquire whether or not bar seating is available; there's no reservation needed to sit at the bar. Visit at sunset for magical views!
Vibe: Sophisticated and romantic
View menu
Stephanie's take: California Grill gets a lot of credit for its top-notch cuisine and nighttime firework views, but there's a lot to be said for visiting right at sunset when the entire restaurant is cast in a warm, pink glow. Hannah knew to check in with the California Grill concierge by the elevators for bar availability. As long as there are seats, you can go right up and grab a seat at the bar without a reservation. The poached pear pizza and spicy kazan roll sushi were perfect compliments to my Sake martini (Thanks, Ray!). The service, food, drinks, and setting practically scream date night.
Hannah's take: We got off the elevator and the windows in the restaurant were half-covered with a screen to block the sun. However, as soon as the sun reached a certain spot in the sky, the screens went up, revealing the most stunning view. Easily, the most magical experience I've ever had at Disney. In fact, I'm pretty sure I used the word magical at least ten times while we were sitting there (because really what other word would you use while at Disney?!?). My drink choice was the Tourist Trappe by M.I.A Beer Co. and then I had a Michelob Ultra (#noshame here). The poached pear pizza was the icing on the cake. I will now choose the sunset over the fireworks ALWAYS when dining here.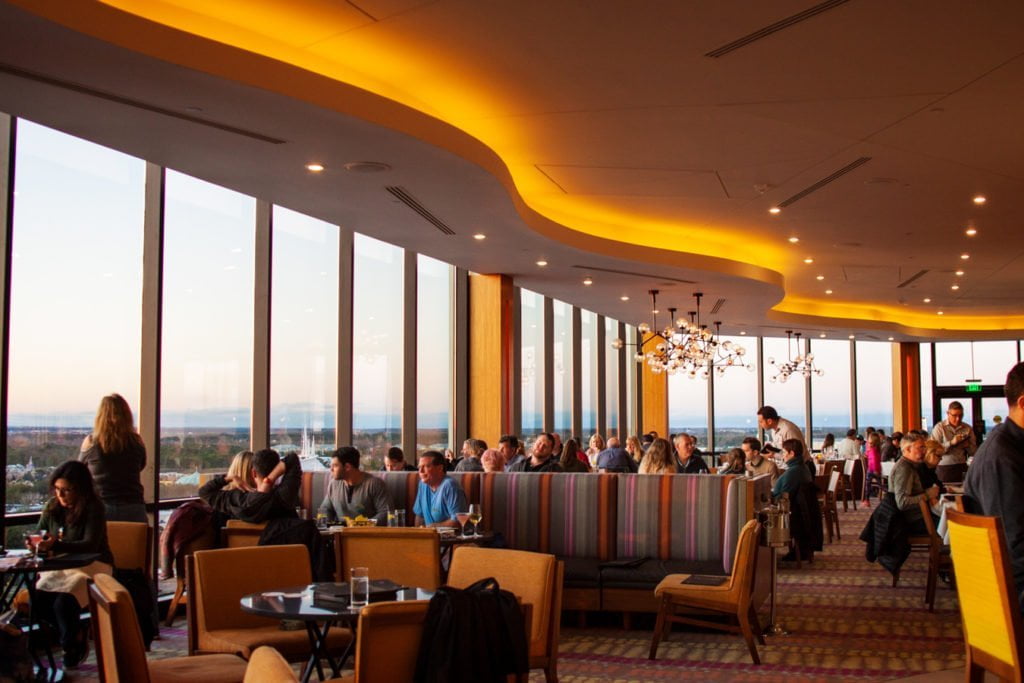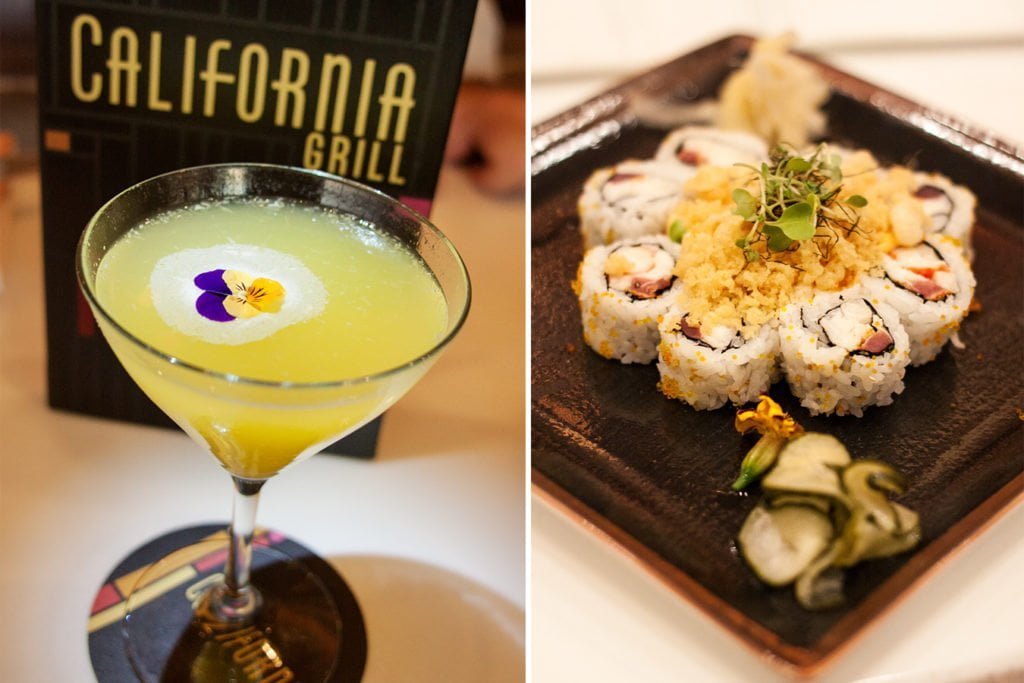 DISNEY'S POLYNESIAN VILLAGE RESORT
Itching for a tropical getaway? Soak up the island flair at this tropical resort complete with beach bungalows, tropical drinks, and beachy eats. By night, head to the pool and beach area where you can plant your bum in a chair and your feet in the sand to watch the Magic Kingdom fireworks from afar.
This is the most tropical stop on the Disney monorail pub crawl.
The Basics
Tips and tricks: Don't miss the pork nachos.
Vibe: Quintessential tropical bar (great mocktails too!)
View menu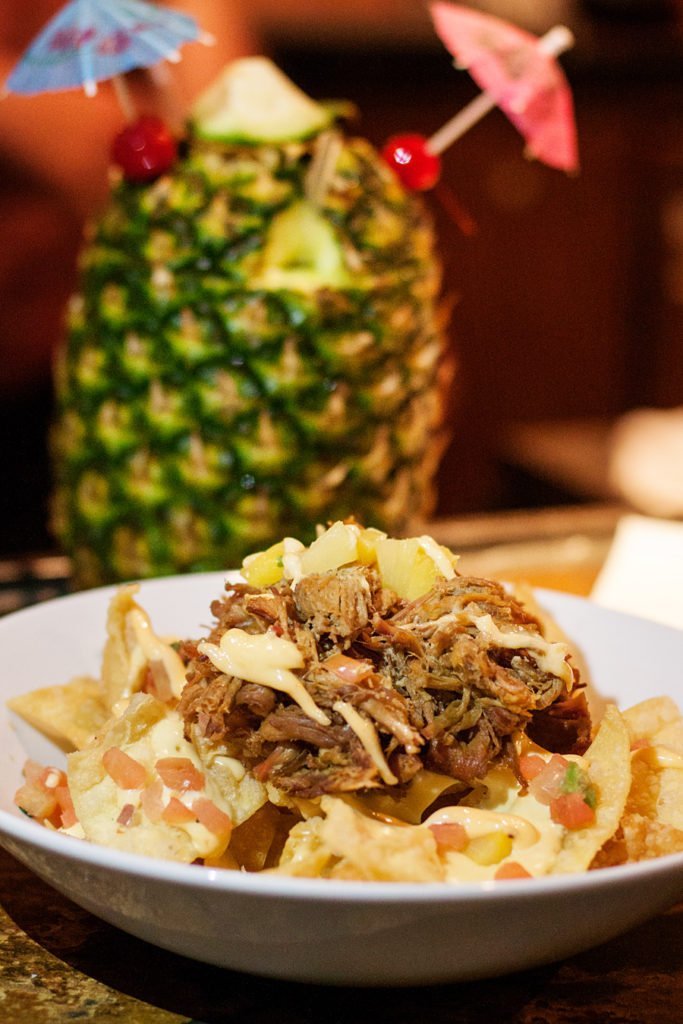 Stephanie's take: Here we shared the festive Lapu Lapu ($14), a tropical and just sweet enough rum drink served in a decked out pineapple.
2023 Update – The Pork Nachos are no longer on the menu, but there are other tropical-inspired sharable plates here.
Hannah's take: Located right next to Ohana, this is an extremely busy spot. So, keep that in mind. However, there are one or two TVs for those of you that might need to watch a game. Great spot for waiting, but not for staying!
The Basics
Tips and tricks: When you arrive, there's a 99.9% chance there will be a wait. So put your name in then wander up to Tambu Lounge to drink and eat to pass the time. There's also an outside bar where you can order a Spikey Pineapple, a boozy pineapple dole whip.
Vibe: Funky, interactive, and the ideal tiki bar (creative mocktails too!)
View menu
Stephanie's take: Yep, the hype for Trader Sam's is totally real. As a beach girl, I loved all of the tropical, islander details from the tiki drink menu to the bartenders chanting when certain drinks were ordered. As soon as one detail captured my attention (like the periodic thunderstorms) another would divert me (like an oyster opening to reveal a "pearl" glass for the Polynesian Pearl cocktail). This place took the bar experience to a level I've never experienced before and I loved every minute of it. I couldn't get enough of the Shrunken Zombie Head cocktail made with three types of rum, tropical juice, Falernum, and cinnamon. Hands down my favorite bar on the crawl and the perfect way to end the evening!
Hannah's take: With this being the most "Disneyesque" bar, I was convinced this would be Stephanie's least favorite. But, apparently, I forgot her love of tiki drinks and the beach. This was my third time here, so I chose to forgo a tiki drink and get a Kona Brewing beer flight (surprise, surprise!). The flight consisted of their Longboard Island Lager, Fire Rock Pale Ale, and Castaway IPA served on a surfboard. If you would like something to remind you of your monorail adventure, some of the cups can be purchased as a souvenir!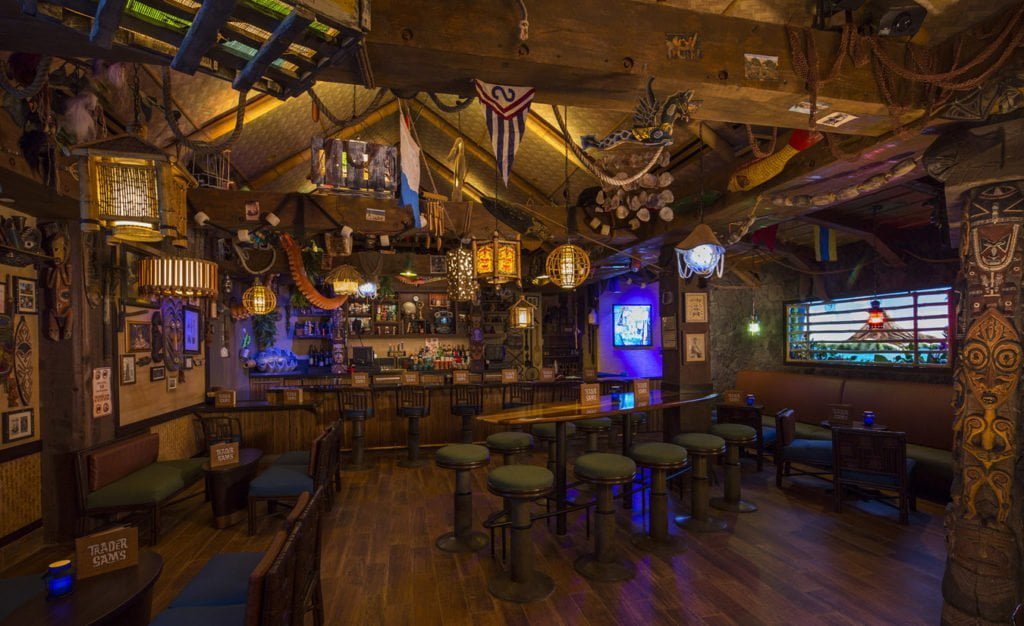 KNOW BEFORE YOU GO
As always, please use a rideshare service or arrange for a designated driver when partaking in this Disney monorail pub crawl. We choose to Uber and it worked out wonderfully! Another alternative is to plan a weekend staycation at one of the resorts.
Bringing bags with you? Cushion a bit of extra time into your itinerary, as security checks are required at all resorts before boarding the monorail. This was a quick, easy, and painless process for us although beware the lines get longer throughout the evening.
The resort monorail travels in this order:
Disney's Grand Floridian Resort
Magic Kingdom Park
Disney's Contemporary Resort
Transportation and Ticket Center
Disney's Polynesian Resort
Feel free to mix up this crawl in any order you'd like in order to align with the Disney fireworks, dinner plans, or a park visit. You can even take a boat to the Wilderness Lodge for a bonus stop. The best part of the Disney monorail pub crawl is that you can craft yours however you want.
Love this post? Check out our guide to a Disney Skyliner Pub Crawl and Disney Springs Pub Crawl.
All images by Stephanie Patterson unless otherwise noted