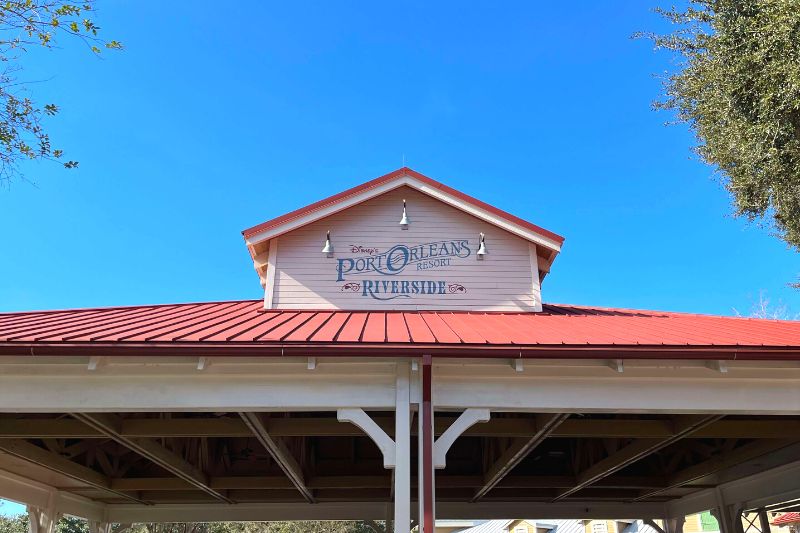 Disney's Port Orleans Riverside Resort exudes charm and a slower pace of life. Built along the Sassagoula River that flows through the property, guests are transported to a romantic feel of rural Louisiana without having to leave Orlando. Continue reading to learn why Port Orleans is one of the best moderate resorts at Walt Disney World, and one of our top picks for romantic Disney hotels for adults.
If booking an overnight stay at a Disney hotel doesn't appeal to you, just visit for dinner. Make dinner plans at one of these 10 Romantic Restaurants at Disney Hotels – no overnight stay or theme park ticket required!
In this review of Disney's Port Orleans Resort we will cover the following areas:
Hotel Layout And Lobby
Resort Layout
Room Features
Boat Transportation to Disney Springs
Pool and Activities
What is the best thing about Disney's Port Orleans Resort?
The best thing about Disney's Port Orleans Riverside resort is its romantic and elegant atmosphere for an affordable price. 
Where is Disney's Port Orleans Riverside Resort?
Disney's Port Orleans Riverside Resort is located in the Disney Springs resort area on Riverside Drive. If you're looking to visit the theme parks during your stay, Epcot is the closest at about two miles away from the resort, followed by Disney's Hollywood Studios, Magic Kingdom, and Disney's Animal Kingdom.
Hotel Layout And Lobby
As soon as you step foot into the lobby at Port Orleans Riverside, you will feel the romance and elegance that the resort has to offer with its beautiful hanging chandeliers, themed artwork, and beautifully patterned rugs. 
This big building with the lobby is also home to the concierge, Fulton's General Store, River Roost, Boatwright's Restaurant, and the Riverside Mill Food Court. 
You can think of this main building as a diamond on a ring, as the rest of the resort sets out as arches connecting to the diamond.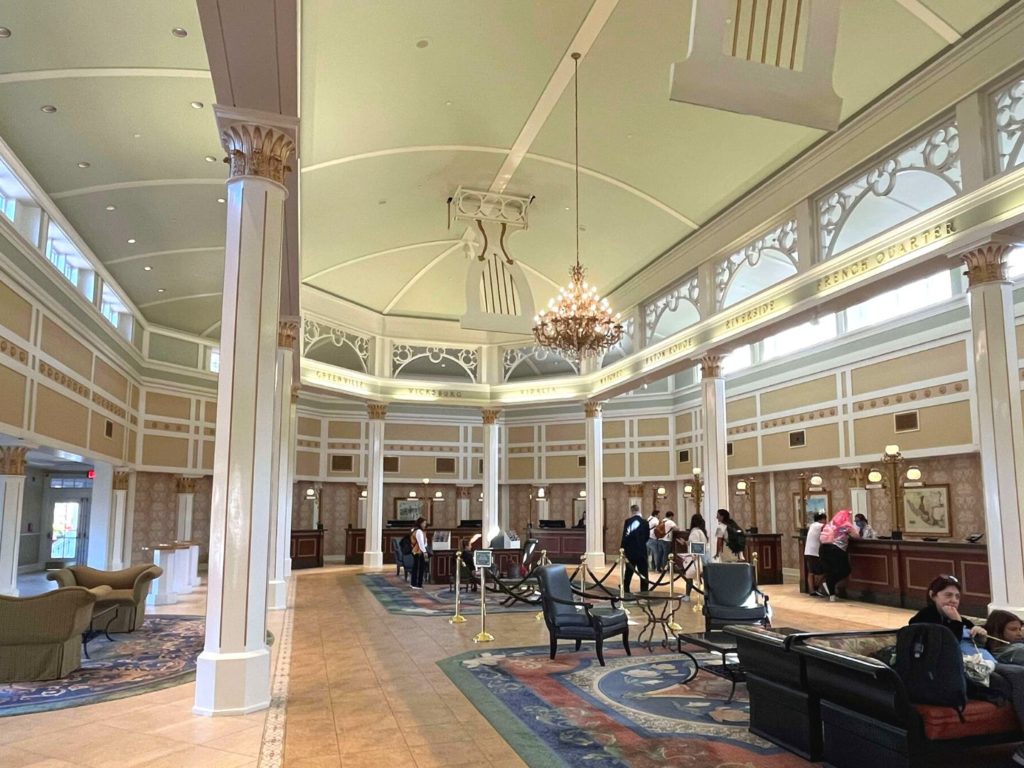 Resort Layout
Directly outside of this building sits rocking chairs where you can relax and enjoy the views of the resort and boats transporting guests to Disney Springs. Whether you're staying overnight for a romantic stay at Port Orleans or visiting for a short bit, it's a great idea to slow down and sit a spell here together.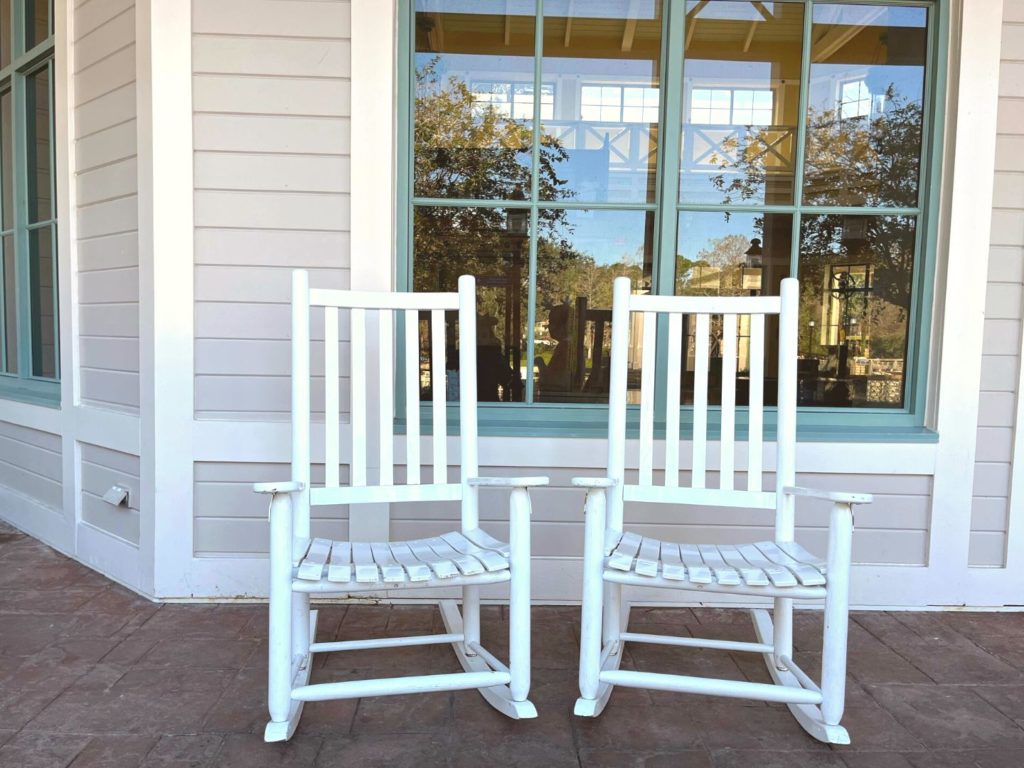 Port Orleans Riverside is a large resort with several areas and multiple bus stops. No matter which building your room resides in, there will be a bus stop near you. The complimentary Disney buses run to the four theme parks and Disney Springs, with connections to the water parks. 
The resort rooms may be found in "mansions" throughout the Alligator Bayou and Magnolia Bend areas. For maximum romance, you may want to request a room in the Magnolia Bend area. This section of the resort has a touch of elegance whereas the Alligator Bayou area is a tad rustic.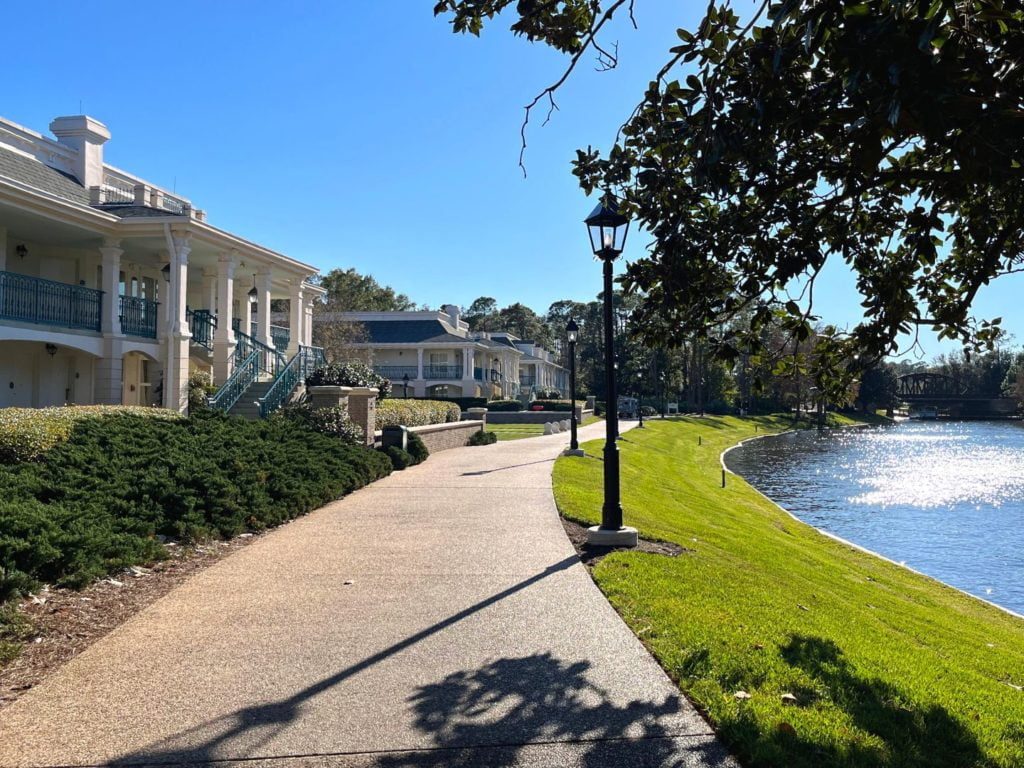 The resort is filled with multiple bridges and walkways overlooking the "mansions" where you can also take romantic walks throughout your visit. Disney's Port Orleans has over 1,000 rooms with one large feature pool and multiple smaller pools near each cluster of buildings. Be prepared to walk quite a bit, but the atmosphere is lovely. 
Room Features
If you want to treat your partner to a truly royal stay, you can book a Royal Guest Room. These rooms are themed after the Disney princes and princesses who star in many beloved films. While these rooms certainly appeal to young kids, if your sweetheart is sweet on Disney consider these rooms. 
The room features two queen beds and a headboard that can twinkle up the night with Tiana themed lights and headboard with the Evening Star. 
Plus, portraits of Belle, Ariel, Cinderella, Jasmine, Snow White, Aurora, and Rapunzel grace the room's wall.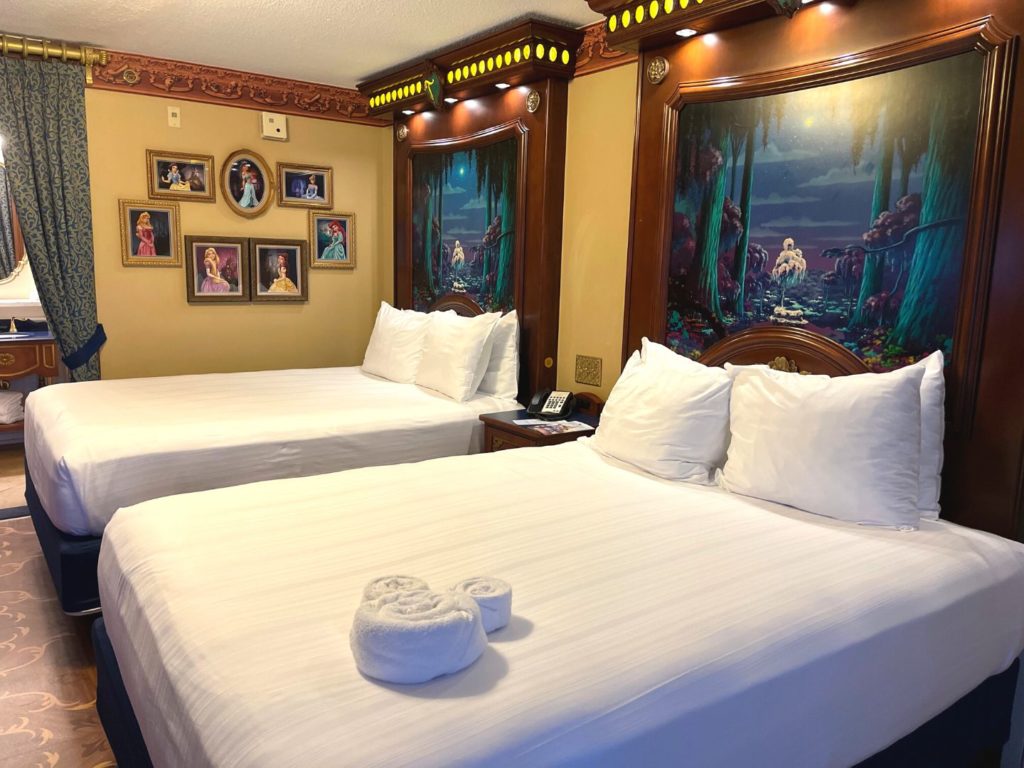 The two sinks are shaped like the lanterns from Aladdin and there are plenty of hidden Mickeys throughout the room. 
The details throughout the room are truly magical and will definitely make you feel like royalty throughout your stay. 
Hotel Boat Ride
One of the best features that make Disney's Port Orleans a romantic hotel for couples is the boat transportation to Disney Springs. We love the Happy Hour deals at Disney Springs as well as the romantic restaurants at Disney Springs, and taking a lovely boat ride to and from makes it even better.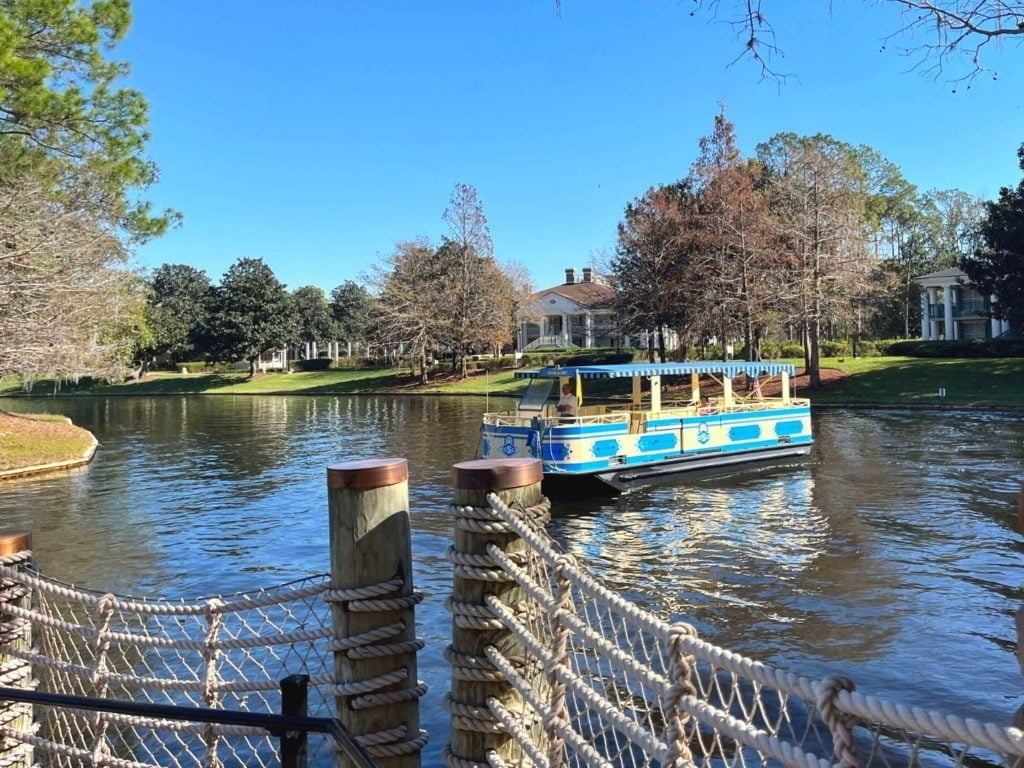 How long is the boat ride from Port Orleans to Disney Springs?
This resort offers boat transportation to Disney Springs. The ride to the shopping hub may take 20-25 minutes depending on whether or not a stop is made to pick up or drop off guests at Disney's Port Orleans French Quarter resort along the way. 
Afternoon Activities
Multiple Pools
How many pools does Disney Port Orleans have?
Disney's Port Orleans Riverside is home to five leisure pools. There are three in the Alligator Bayou portion of the resort and two in the Magnolia Bend area.
The main pool is located on Ol' Man Island. This area also contains a hot tub, hammocks, lounge chairs, and a poolside bar for your enjoyment.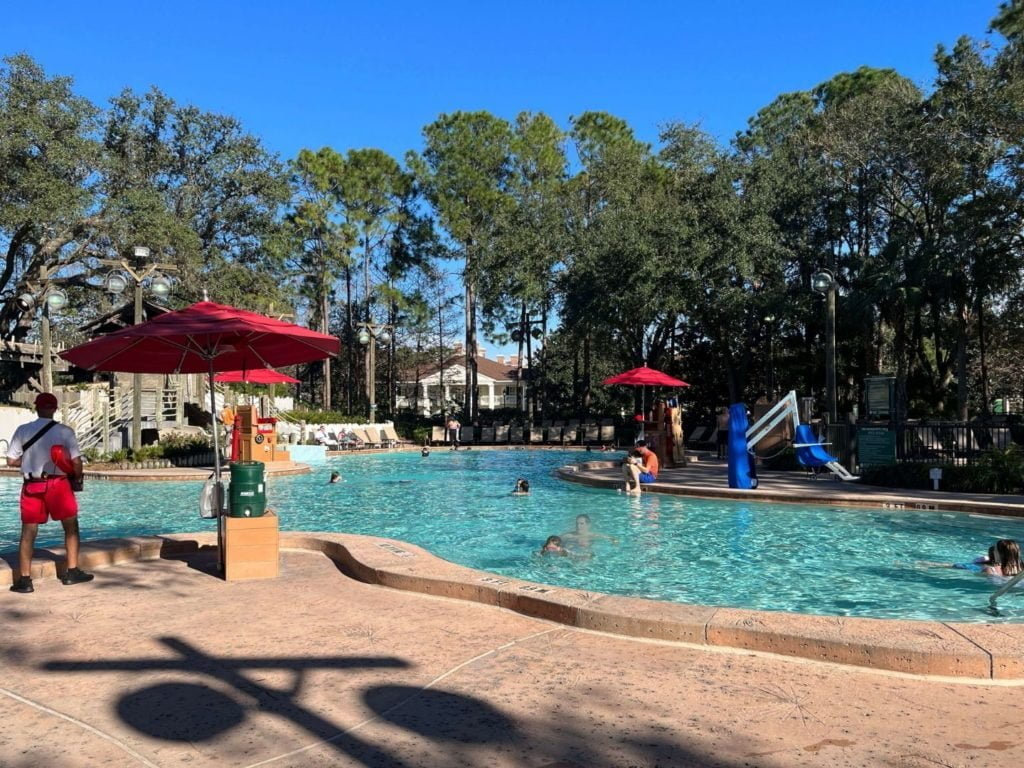 Horse-Drawn Carriage
One of the most popular activities at Port Orleans Riverside is the horse-drawn carriage rides. For $55, you and your partner can take a romantic 25-minute ride at the Riverside Levee Marina. 
Although same-day reservations and walk-ins may be accepted, it is strongly recommended to make an advanced reservation on the Walt Disney World website starting 60 days prior to your reservation.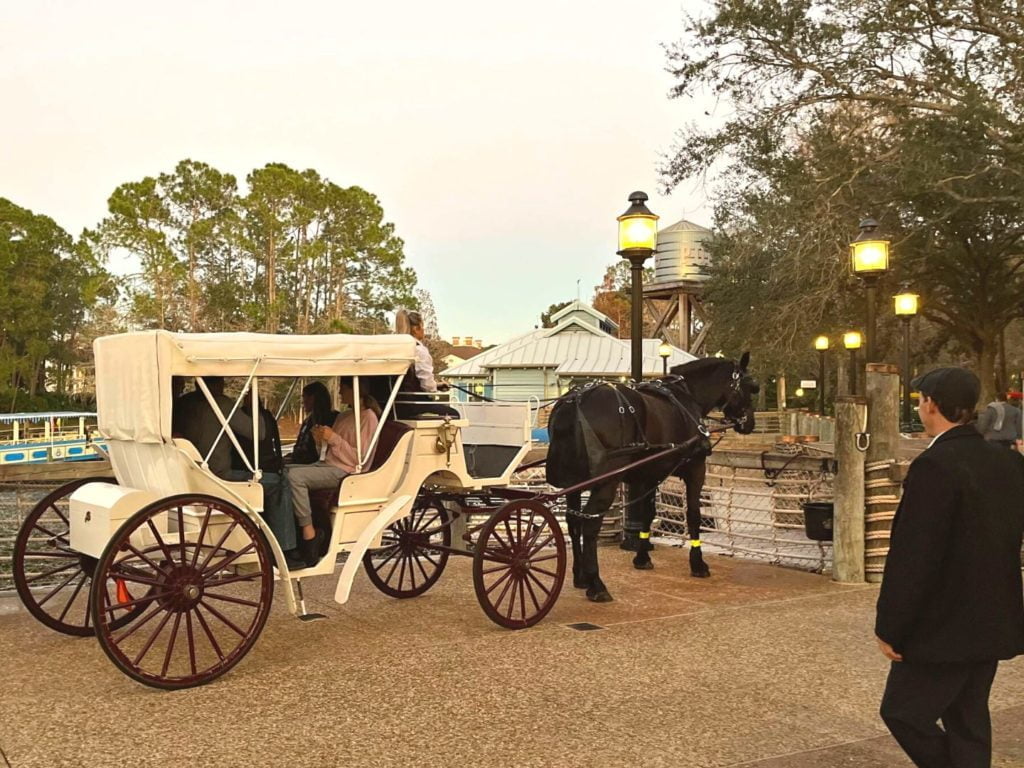 Excluding evenings when inclement weather is present, these excursions are offered every evening from 5:30pm to 9:30pm. 
Dining
Disney's Port Orleans Riverside offers a plethora of dining options. Whether you're looking for something casual or are wanting to have a romantic dinner, Disney's Port Orleans Riverside has it all. 
Boatwright's Dining Hall (table service dinner)
Riverside Mill Food Court (quick service – all meals)
River Roost (nighttime lounge)
Muddy Rivers (pool bar)
Boatwright's Dining Hall
If you're looking for a table-service restaurant to share a meal with your loved one, Boatwright's Dining Hall is the perfect place. This casual yet themed restaurant serving New Orleans-style home cooking will be sure to impress your significant other with a menu including entrees such as Deep South Shrimp and Grits ($26), Crispy Cajun Chicken ($25), and Boatwright's Jambalaya ($26). 
If you're in the mood for a drink, you can delight in some of the restaurant's specialty cocktails such as the Big Easy Whisky Sour ($15.50).
Riverside Mill Food Court
Don't let the "food court" title deter you from enjoying a meal at Riverside Mill Food Court. 
Breakfast options include Pancakes with Berry Compote ($9.99) and a Ham and Cheese Omelet to name a few ($10.99). 
Lunch and dinner offerings include the Bayou Amber Ale Burger ($13.49) and Gumbo ($8.99). 
Whether you choose to dine for breakfast, lunch, or dinner, we recommend taking a photo next to the big water wheel which is located right next to the eatery. 
River Roost
Make your way over to River Roost after dinner to end your night with some southern-style libations and light snacks. This full bar and lounge with its hanging chandeliers and wooden furniture is a romantic spot where you can make some memories with your partner over some delicious drinks and bites. 
If you're lucky, you may even have an opportunity to see the piano player, Yehaa Bob, crank out some tunes while you're spending time together. 
If you're wanting to order some appetizers, the Charcuterie Board ($18) and the Mardi Gras Fritters ($12) are some wonderful options.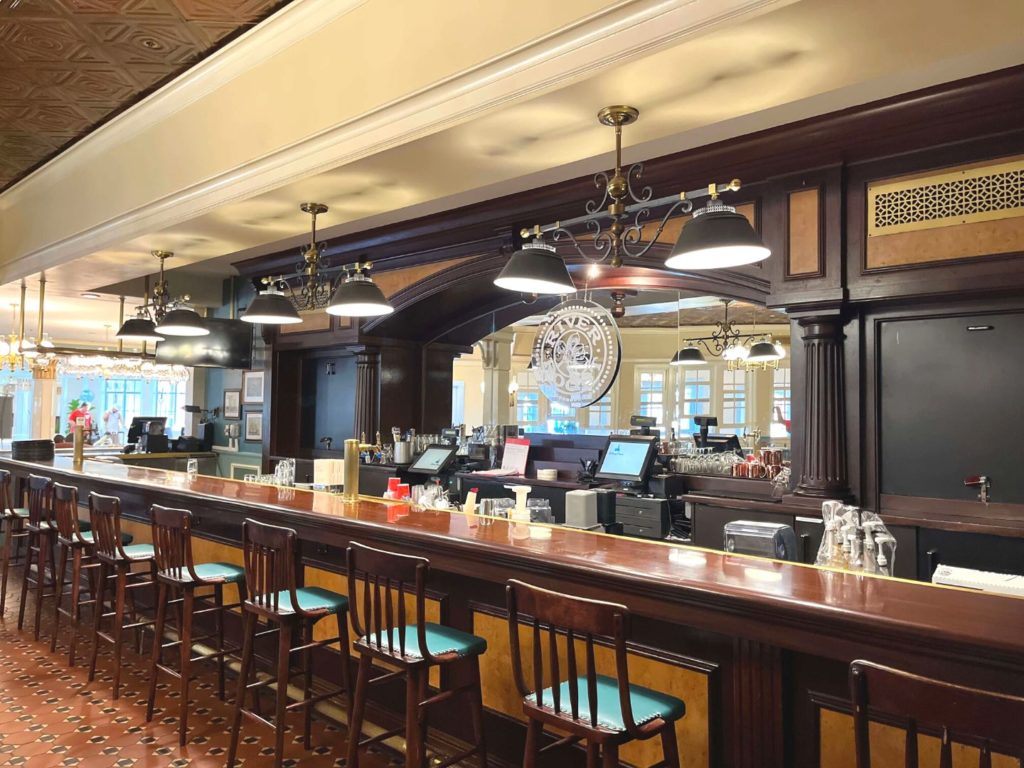 As for drinks, there are several to choose from such as the Magical Beacon Cocktail ($17.50) and Smoked Turkey ($16.50) being some of the more creative cocktails. 
If you're visiting on a colder evening, you can spend some time together by the fireplace on one of the leather sofas. 
Muddy Rivers
Although the name might not sound delightful, you can rest assured that you can find some delicious drinks and eats at this pool bar. 
If you're looking for a cocktail, "All That Jazz" and "Gata-Melon Juice" are some options for drinks and the Chicken Salad Sandwich and Caesar Salad with Grilled Chicken are some available food options.
More helpful guides for a Disney date: