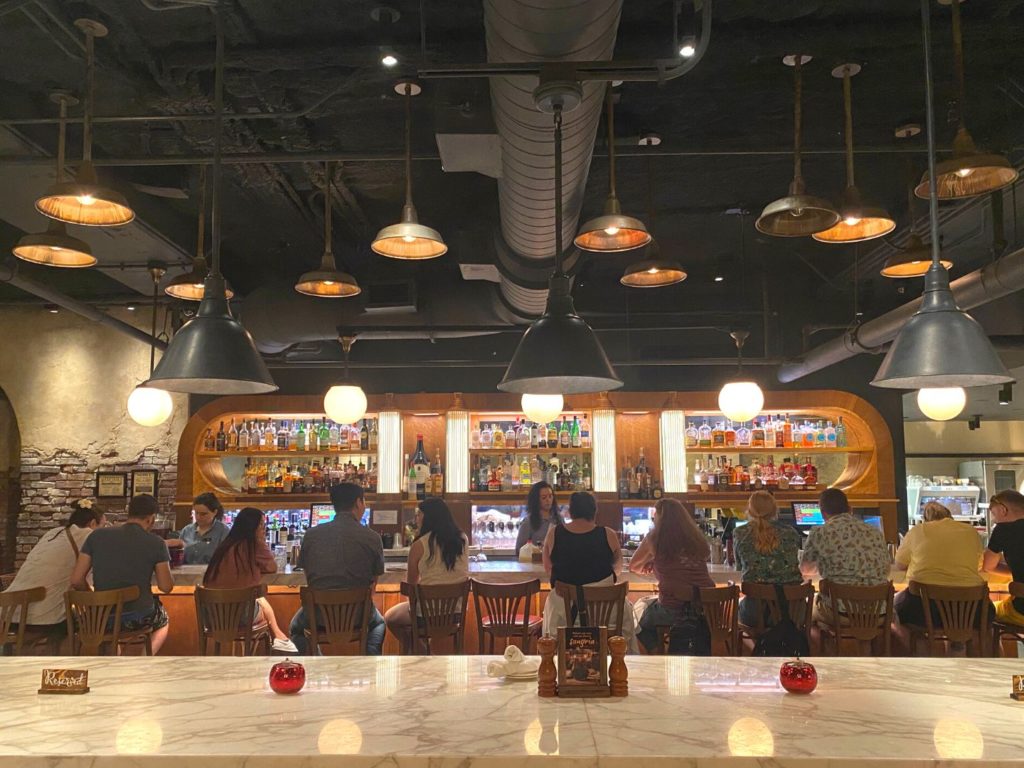 Taking your significant other to Walt Disney World for Valentine's Day will definitely provide them with a memorable day for years to come. It can also be quite costly to visit Disney theme parks. Here's the great news: no theme park ticket is required for Disney Springs. Our quick guide to Valentine's Day at Disney Springs covers the perfect spots for romance.
Keep reading for a local's guide to what you need to know to make the most of your special day, including Valentine's Day restaurants and things to do.
If you want to explore it all, check out our guide to the Most Romantic Spots in Walt Disney World. If Disney Springs is too busy for you, you can still dine at Disney without a park ticket at these Romantic Restaurants at Disney Resort Hotels.
Valentine's Day Special Dinners
The pan-Asian destination by Iron Chef Masaharu Morimoto is offering a special menu on Feb. 14, Valentine's Day, only.
Appetizer-  5 spice candied Ice fish "SHIRAUO AMEDAKI" –  $18 (Japanese ice fish , 5 spice powder, Tobanjan and Ginger)
Entree – Whole lobster lo mein noodle XO sauce –  $50 (Whole lobster, lo mein noodle, Bok choy and Seafood XO sauce)
Entree – Red Miso Glazed Faroe Island Salmon – $39 (Bok choy, Shaoxing gastrique, grilled rice cake and Morimoto duck broth)
This nostalgic 20's eatery with live entertainment nightly is offering a special menu on Feb. 14, Valentine's Day, only.
Entrée- Butter poached lobster linguine – $42 (Sauteed broccolini, blistered, maine lobster, pistachio cream sauce)
Dessert – Chocolate covered bacon –  $22
Restaurants at Disney Springs with Romantic Spots 
The best way to your honey's heart may be through their stomach. And that is especially true with these romantic restaurants at Disney Springs.
If you have any trouble here's What to Do If You Can't Get a Disney Dining Reservation.
Enzo's Hideaway Tunnel Bar 
If you're looking to impress your date with a unique dining experience, look no further than the tunnel bar Enzo's Hideaway located at The Landing portion of Disney Springs. We love the mysterious vibes here. While there are plenty of brightly lit signs to lead you to this romantic restaurant, so many guests overlook it. In fact, it's considered to be a hidden bar at Disney. 
Enjoy Valentine's Day at Disney Springs while sipping on Italian wine or a handcrafted cocktail, and dining on Italian fare.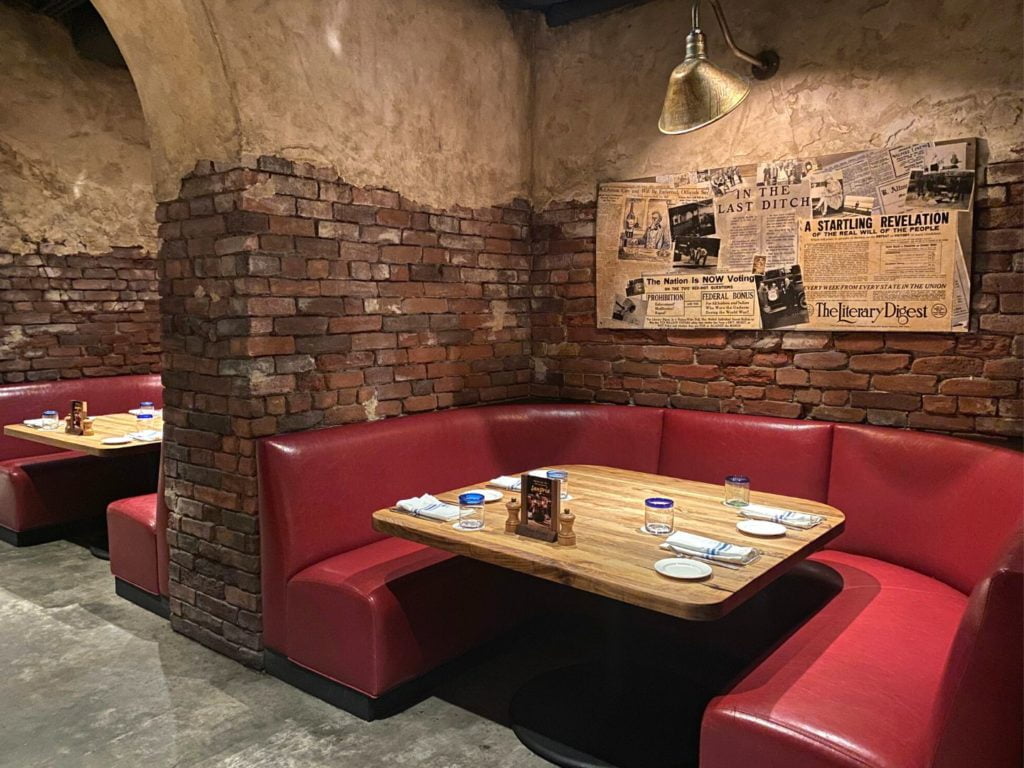 This speakeasy-style bar has some wonderful options for sharing including the Cured Meats & Artisan Cheeses plate (serves two) ($32). You can also treat yourself and your loved one to one of the eatery's specialty alcoholic beverages including Enzo's Rum Punch ($18) or Gentleman's Sour ($19).
There are some great mocktails here too!
Wine Bar George  
 Wanting to celebrate Valentine's Day with some wine? You'll never find a shortage of it at Wine Bar George. Their wine menu is extensive but changes frequently, so head over to their official website, winebargeorge.com for the most up-to-date list before dining.
In addition to wine, you can munch on some delicious small plates such as the Burrata ($16), Crispy Mac & Cheese Bites ($16), and House-Made Hummus ($14). We know your date will love it, and we think you will, too!
Jaleo by Chef José Andrés 
Add some Spanish romance to Valentine's Day with some tapas at Jaleo by Chef José Andrés. This tapas-style restaurant is known for its authentic Spanish cuisine. From quesos (cheeses) to verduras (vegetables), the food is authentic and romantic.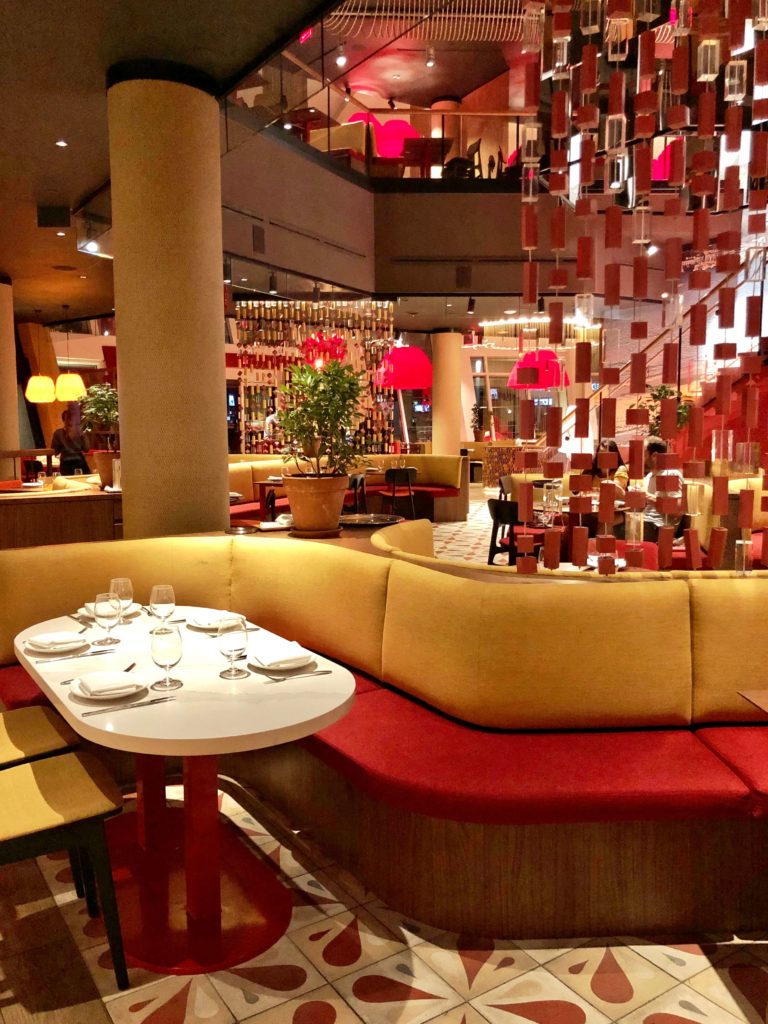 My favorite offerings are Jose's Taco ($21) and Bikini De Jamón Con Queso Manchego ($15). 
Outdoor Bar at THE BOATHOUSE 
If you're looking to enjoy breathtaking waterfront views while enjoying a yummy drink with your loved one, the Outdoor Bar at THE BOATHOUSE is a wonderful spot. There are a plethora of drinks to choose from including the Chocolate Raspberry Martini ($12) and the Strawberry Gin Fizz ($14). 
In addition to the delicious drinks, the menu is filled with a variety of dishes including the "Yacht Club" Club ($19.75) and the Dockside Shrimp Boil ($26) to name a few.  
You may even be fortunate enough to see an amphicar sail by while you're there. 
READ MORE: Romantic Restaurants at Disney World with Outdoor Seating
The Shine Deck at Homecomin' Kitchen  
The outdoor dining and bar area at Chef Art Smith's Homecomin' is covered which will make sure that your date goes well rain or shine.  The menu is full of delicious Southern fare sourced from Florida farms including Art's Famous Fried Chicken ($24) or Shrimp & Grits ($29).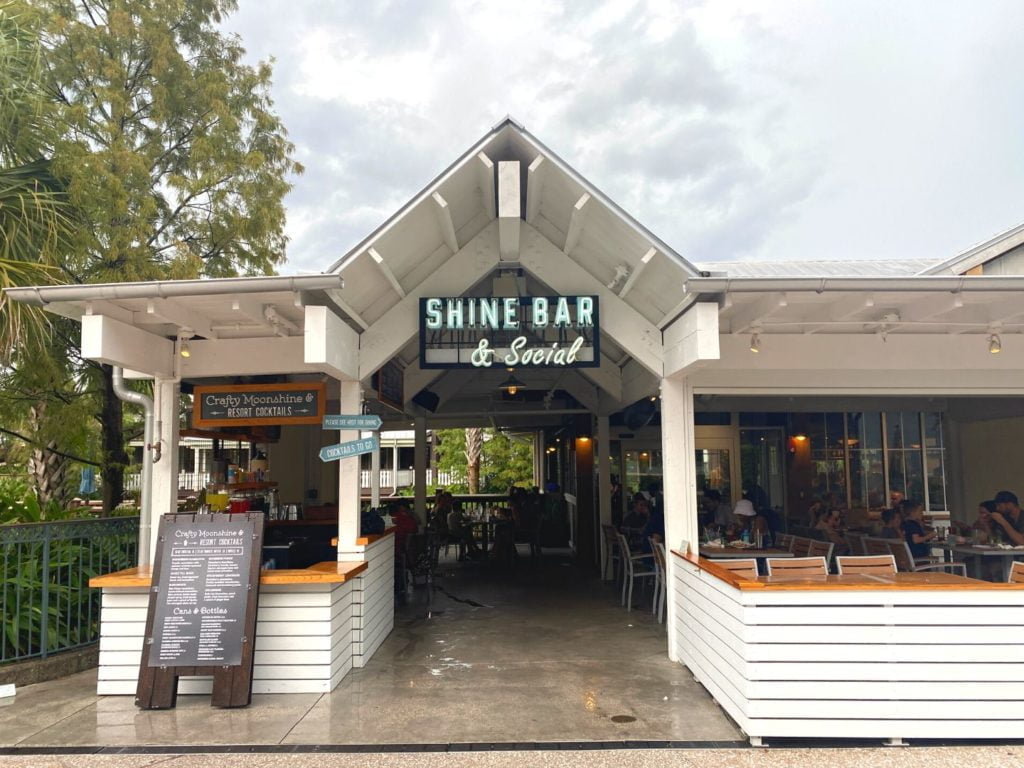 If you're looking to share some drinks with your partner on Valentine's Day, we recommend trying the Shine Flight ($34). You'll get to try all five of the restaurant's Shines on Tap flavors. 
If you're unable to snag a reservation for the indoor restaurant, The Shine Deck is a great alternative. Experience all that the Homecomin' Kitchen has to offer with added views of Disney Springs.
I recommend ending your Valentine's Day dinner with a slice of the Hummingbird Cake and two spoons!  
Outdoor Bar at Terralina Crafted Italian  
If you're looking to impress your date with some Italian cuisine and drinks, the outdoor bar at Terralina Crafted Italian won't let you down. This small outdoor bar is in the middle of the hustle and bustle, where the Marketplace meets the rest of Disney Springs. 
The drink and cocktail menu is extensive with the Limoncello Mojito ($16) and Mediterranean Martini ($16) as some of the many offerings available. 
If you're someone who doesn't enjoy alcohol, but still wants to delight in a tasty drink, this location has plenty of non-alcoholic beverages as well including the Strawberry Basil Refresher ($10) and Acqua Panna ($9). 
 We can't forget to mention some of the menu's Italian favorites. Entrees include the Rigatoni Calabrese ($28) and the Eggplant Parmesan ($27). 
Rooftop Deck at Paddlefish  
Treat your Valentine's Day date to an experience they will never forget by dining on top of a steamboat at Paddlefish. 
The rooftop deck at Paddlefish is stunning, especially when dining at night as it is filled with string lights and sofas you can relax on while enjoying aerial views of Disney Springs. 
If you choose to drink, you will definitely remember them as they have some unique names including Not Everyone's Margarita ($15) and Lili's Steamboat Breeze ($16). 
If you're wanting seafood on your special day, there is no shortage of it at Paddlefish with Shrimp Pasta ($25) and Stuffed Cod ($37) as some of the many seafood menu offerings. 
Valentine's Day Dessert
Head to Amorette's Patisserie for incredible French-inspired desserts. You might even find some seasonal and Valentine's Day desserts.
Or if you'd rather have dessert at home, pick out some handcrafted truffles and chocolates at The Ganachery at Disney Springs. In fact, we count this magnificent spot as one of the best chocolate shops in Orlando.
---
Explore even more dining options in our guide to Orlando's Most Romantic Restaurants for Valentine's Day
---
Things to Do at Disney Springs for Valentine's Day
A reservation is not needed to visit Disney Springs, and it's free to park and walk around. Just be prepared that the parking garages may fill up early in the day. Most of the Disney Springs shops are open 10 a.m. to 11:30 p.m. on Valentine's Day.
Keep reading for some of the best things to do at Disney Springs for Valentine's Day.
Drawn to Life by Cirque du Soleil
If you truly want to inspire romance on Valentine's Day at Disney Springs then splurge on tickets to the new Cirque du Soleil show. Drawn to Life is an incredible live performance from Cirque du Soleil with a special partnership with Walt Disney Animation.
Read our Review of Drawn to Life by Cirque du Soleil so you can decide if this show is perfect for your Valentine.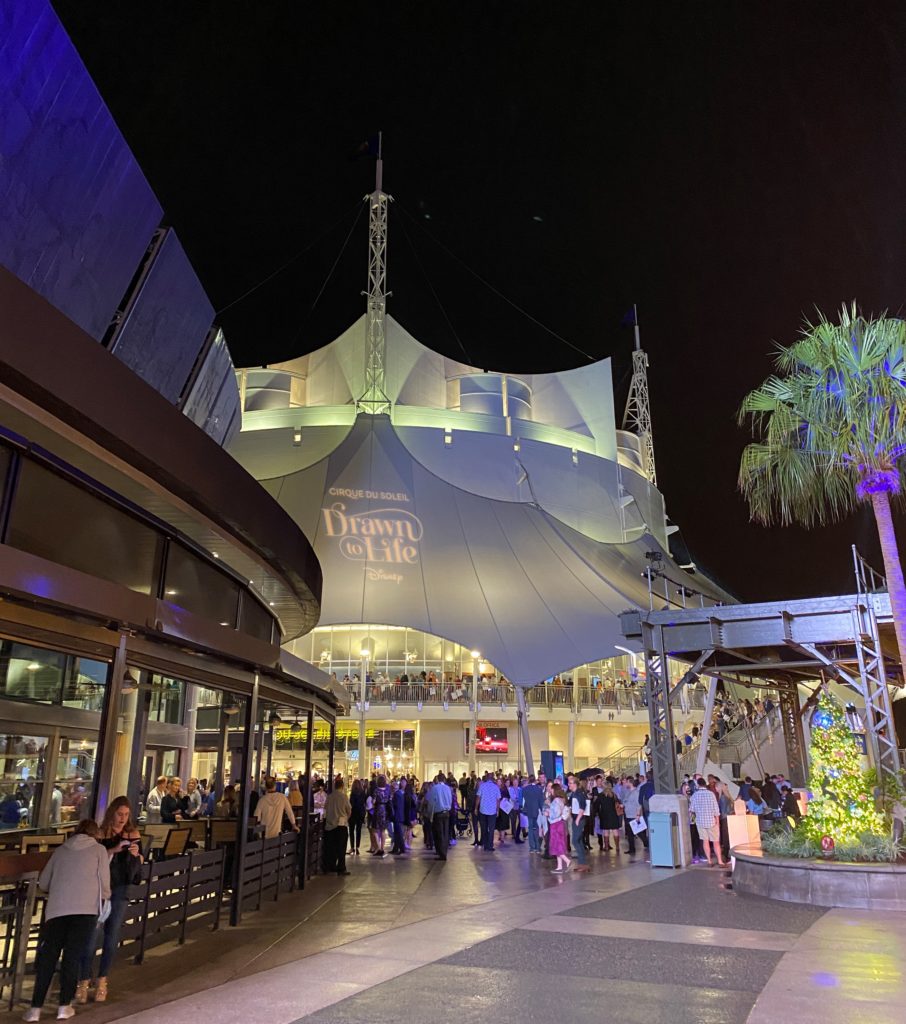 Aerophile Balloon 
Don't just fly, soar with your date with a ride on the Aerophile Balloon ($25 per adult). 
Although food and drinks are not allowed inside of the balloon's basket, cameras are permitted. We recommend taking a couple of photos to remember your special 8-minute experience together along with the view of Disney Springs and the surrounding areas on a clear day. 
The Walkway and Plaza near Disney Aerophile Balloon 
Take your date on a romantic stroll through the walkway and plaza near the Disney Aerophile Balloon. 
If you're not in the mood to take a flight, you can spend some time watching the balloon ascend while you take in the scenery. This walkway is especially gorgeous during sunset.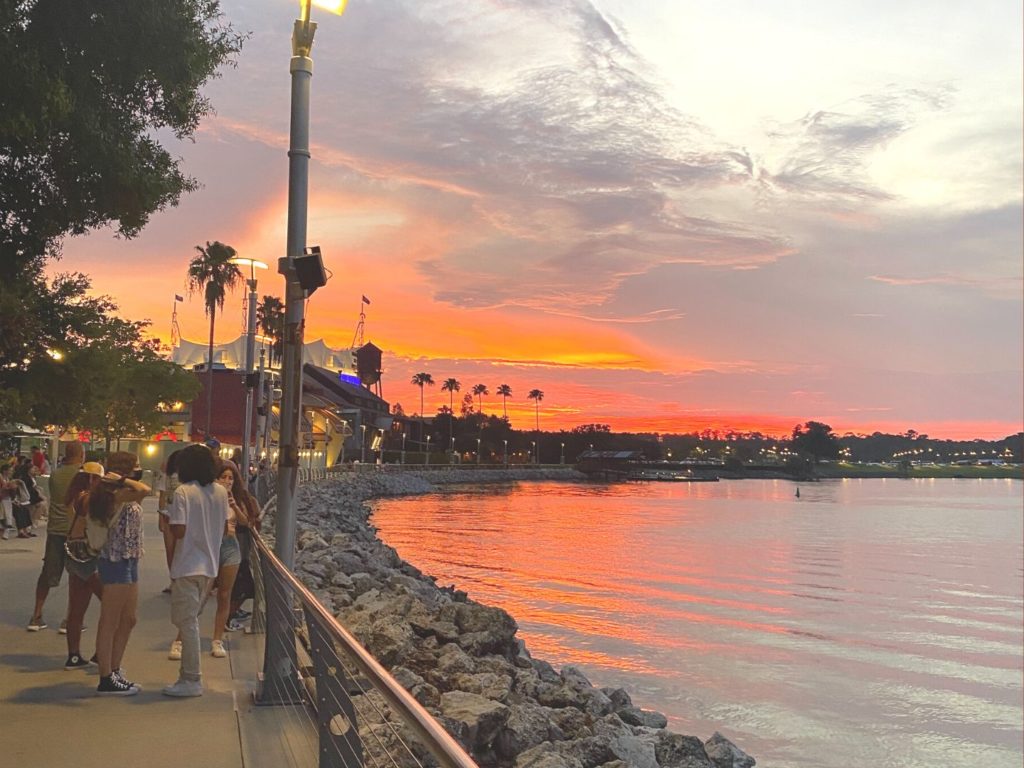 Impress your date without spending a lot of money on Valentine's Day with this romantic stroll.
Salt and Straw Ice Cream Tasting
Getting some sweet dessert is definitely a must on Valentine's Day. And Salt and Straw ice cream is perfect for breaking from traditional ice cream flavors. While you'll find plenty of "normal" ice cream flavors the key to Salt and Straw is to try their creative creations.
The staff at Salt and Straw loves to offer samples, in fact, they encourage you to try everything on the menu. Let them know you're ready to try their seasonal menu and you might just experience an impromptu personalized tasting experience.
Salt and Straw is located at the Westside of Disney Springs, so it is an easy stop before you stroll the aforementioned walkway.
Dockside Margaritas 
If you're looking for a simple yet romantic way to spend your Valentine's Day, look no further than Dockside Margaritas. 
This waterfront lounge is the perfect place to enjoy the company of your partner in the Marketplace of Disney Springs. 
Don't let the produce stand exterior deter you from enjoying one of the establishment's Margaritas including the Lime Select Margarita ($18.50) or the Strawberry Margarita ($17.50). 
DISNEY SPRINGS PARKING
Expect parking garages at Disney Springs to fill up the weekends and Valentine's Day evening.
Lime Garage and Orange Garage are the most popular. Grapefruit Garage is across the street and has a convenient pedestrian bridge. Finally, the surface parking lots near Cirque du Soleil are usually overlooked.
These surface lots are at the far end of Disney Springs and not as clearly marked as the rows in the garage. So, take extra note of your car's location.
Wear comfortable shoes, you can expect lots of walking on this busy evening.