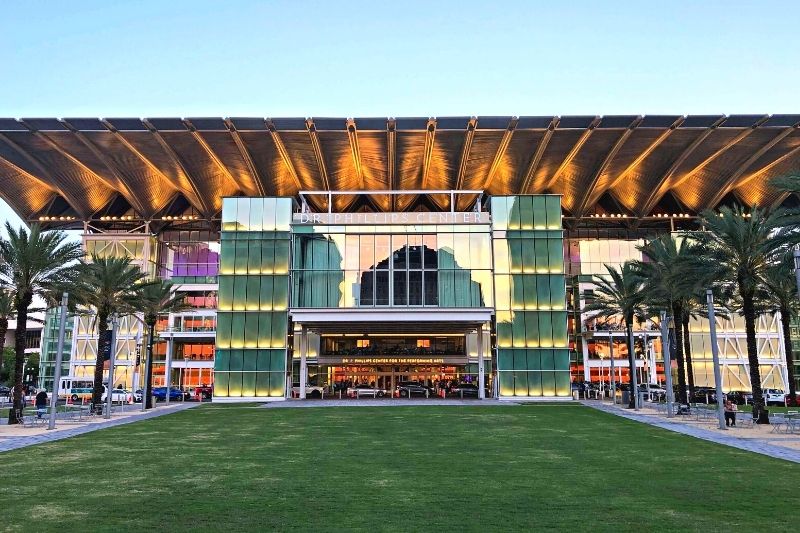 When you're ready for a night at the theater together, either on a date or with friends, you need to be prepared. You can experience Broadway in Orlando and many other amazing shows at the Dr. Phillips Center for the Performing Arts in downtown Orlando. Talk about an awesome date night! Before you head out the door, tickets in hand, get our expert tips.
This blog post will cover what you need to know before going to a show at the Dr. Phillips Center for the Performing Arts.
Updated January 2023 by Dani Meyering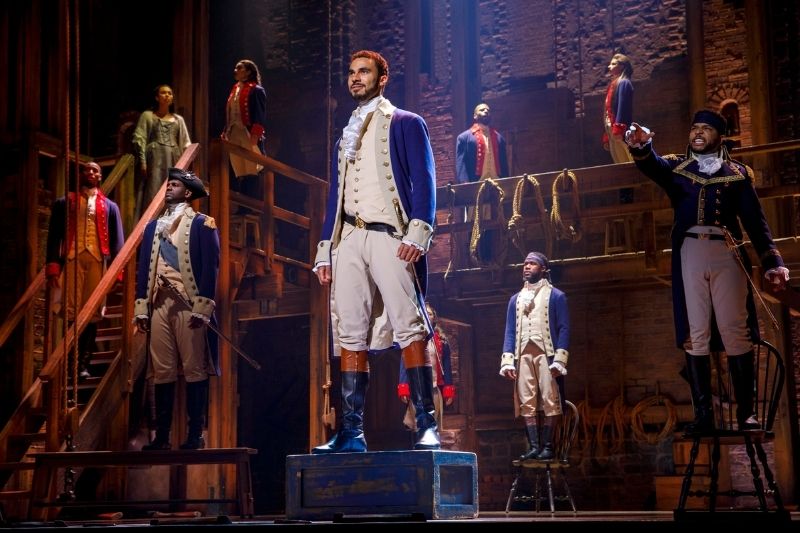 Insider tips for attending a show:
Make dinner plans well in advance
Plan your parking ahead of time
Make sure you've got your tickets ready
Arrive 45 minutes before showtime
Budget $40 – $50 if you plan to purchase snacks and drinks at the theater
Bring a jacket or sweater
Consider drinks or dessert after the show
Here's the essential info you'll find below…
Parking Near Dr. Phillips Center
Inside the Theaters
Dr. Phillips Center Food and Beverage
Restaurants Near Dr. Phillips Center
Where is the Dr. Phillips Performing Arts Center Located?
Dr. Phillips Center for the Performing Arts
445 S. Magnolia Avenue
Orlando, FL 32801
The Dr. Phillips Performing Arts Center is located in the heart of downtown Orlando, directly across from City Hall. The central plaza faces Orange Avenue, flanked by the Grand Bohemian Hotel on one side, and Lake Lucerne on the other.
You'll immediately see why it is a beloved venue.
It's easily accessible from both I-4 and the 408, and located within walking distance of several downtown bars and restaurants. The remarkable architecture of DPAC makes it an icon within Downtown Orlando.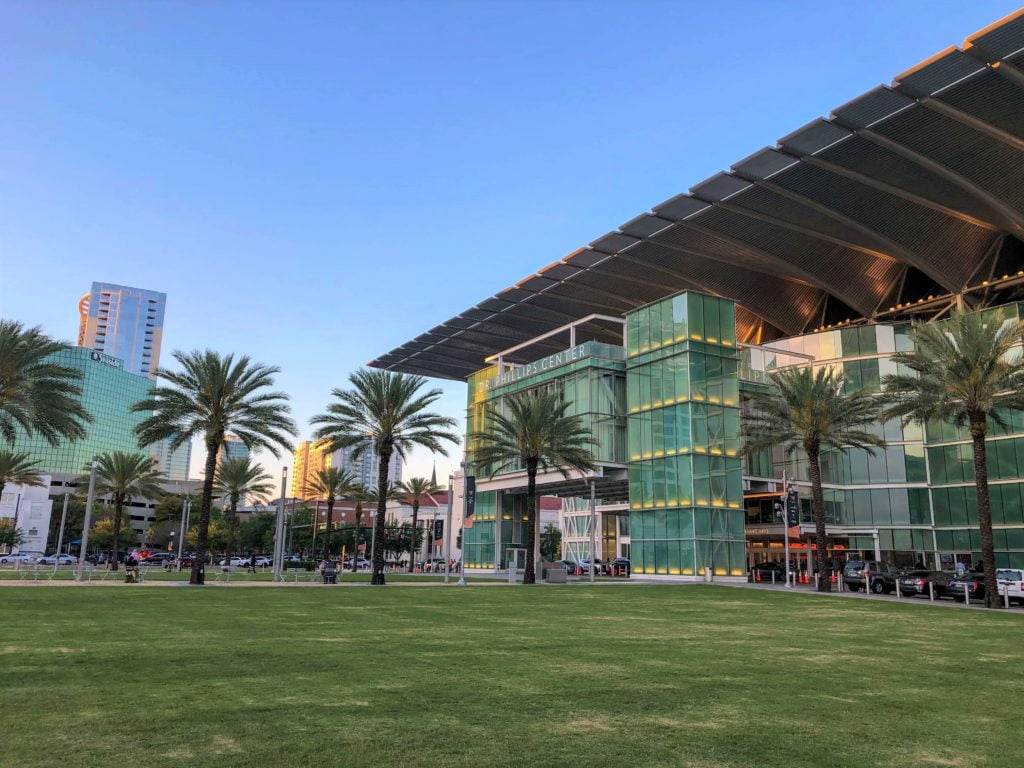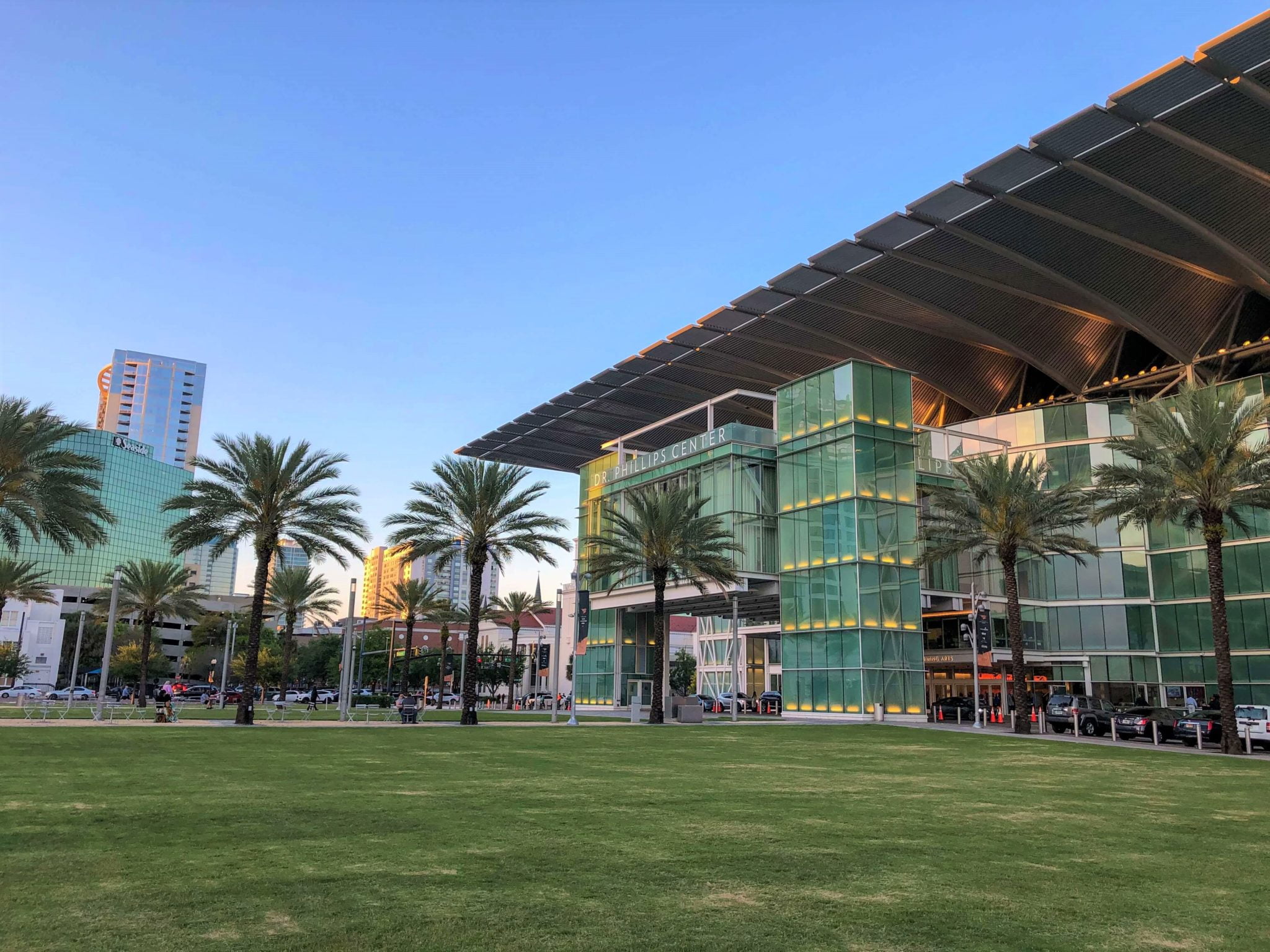 Parking Options for Dr. Phillips Center
Before your date night at DPAC, be sure to read over the Parking and Transportation Options.
The Dr. Phillips Performing Arts Center offers event parking at the City Commons Parking Garage and, for select shows, the Seaside Plaza Parking Garage. Curbside valet parking services are also available on Magnolia Avenue. Parking can be reserved online alongside theater tickets, or purchased separately up to 24 hours in advance through the Bill and Mary Darden Box Office. Same-day parking is also available at a slightly higher rate. Explore Parking & Transportation for maps, walking paths, and alternative transportation options.
The City Commons Parking Garage is located at 460 Boone Avenue, with sky bridge access to CNL Center and out to Orange Avenue. Accessible parking is available at this garage.
Rate: $13 in advance / $15 day of show
The Seaside Plaza Parking Garage is located at 77 E Jackson Street, and is exclusively available for Broadway season shows and other select shows in the Walt Disney Theater.
Rate: $12 in advance / $15 day of show
Valet drop off is located directly in front of Dr. Phillips Center on Magnolia Avenue. Enter via South Street.
Rates: $33 in advance / $38 day of show for premium valet, $24 in advance / $27 day of show for standard valet, $12 in advance / $14 day of show for standard accessibility valet.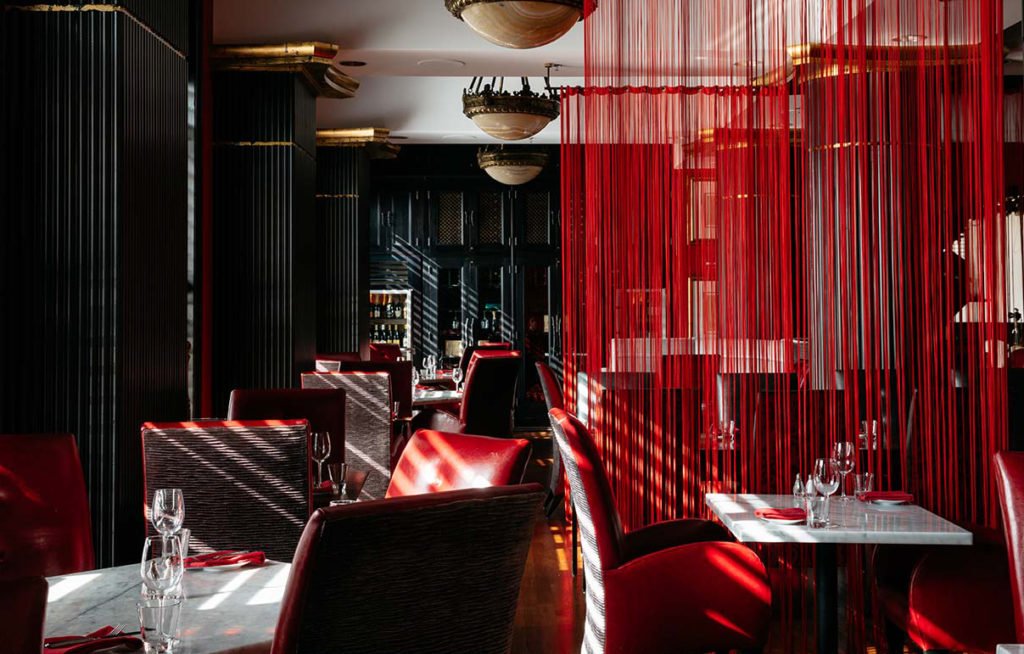 HOT TIP: VALET AT THE GRAND BOHEMIAN HOTEL OR KRES CHOPHOUSE
If you have drinks at Bosendorfer Lounge or dinner at Boheme, valet fees at the Grand Bohemian Hotel are fairly reasonable, considering the convenience. You can also valet park here for 3 hours or more regardless if you dine here. In most cases, you'll need more than three hours to see a show.
Valet Parking is also available at Kres Chophouse, which is an excellent choice to stop in before or after the show. The wait for valet parking here is far less than at Dr. Phillips Center.
Inside the Theaters…
As you set foot inside the Dr. Phillips Center the staff will scan your ticket and direct you to one of the four theaters.
Dr. Phillips Performing Arts Center is a major entertainment complex with four floors and three theaters:
State-of-the-art Steinmetz Hall for many Orlando Ballet performances and Orlando Philharmonic concerts
Broadway shows, comedy shows, and big concerts are typically hosted inside the Walt Disney Theater
Ballets and other dances, concerts, comedians, and more are typically hosted in the Alexis & Jim Pugh Theater.
Steinmetz Hall is one of the most "acoustically perfect" spaces in the world, making it the best place to soak up grand orchestral and choral acts.
A fourth space, Judson's, is expected to open in 2023. It will host intimate events and live entertainment in a cabaret-style space.
Plus, Seneff Arts Plaza out front hosts outdoor events with a laid-back, community-oriented vibe throughout the year.
Restrooms are located near each theater. Seating is comfortable, although some seats can be a little tight and close together. But since we're talking date night, we don't mind cuddling up a little closer.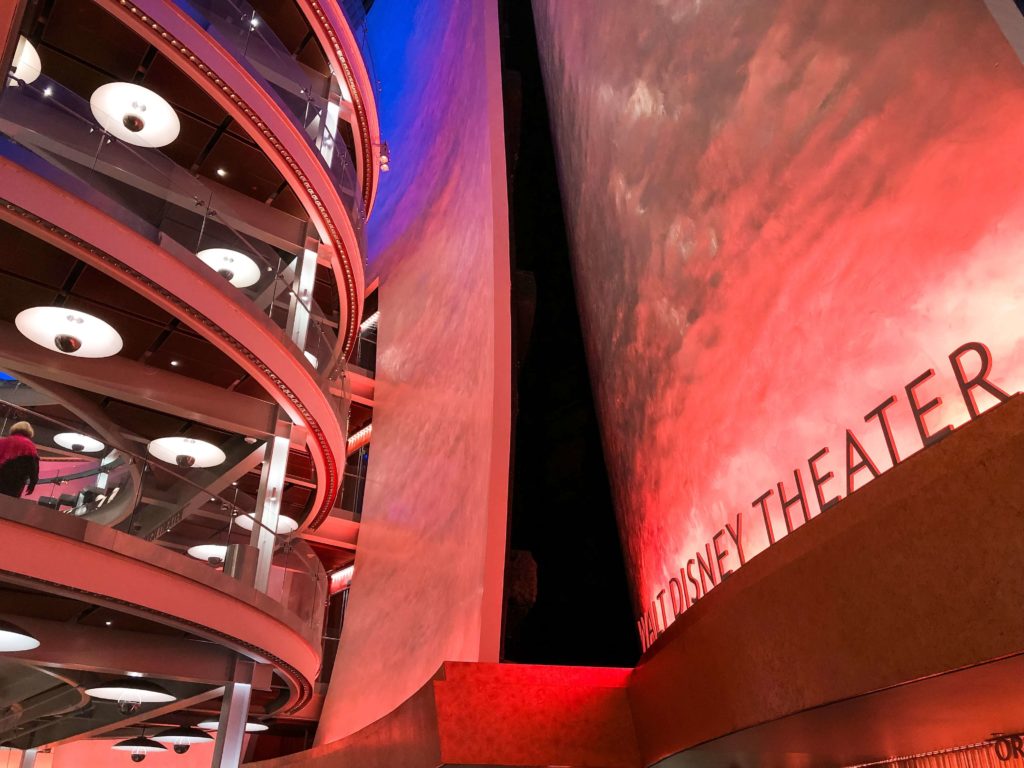 Dr. Phillips Center Food and Beverage
If you don't have time to go out to eat before the show, feel free to grab drinks and prepackaged snacks from one of the multiple theater bars. Snacks like cookies, trail mix, gummi bears, and chocolate-covered pretzels are available at each theater bar.
There is a bar on every floor, making it easy to snag a glass of wine or a cocktail before the show or during intermission. Most people crowded the large bar on the first floor, and overlook the bars on the second and third floor.
Important tip: Plan on arriving about 45 to 60 minutes before the show starts so you're not stressed and don't miss the start of the show. An Orlando theater date night is a special occasion and an amazing experience that should not be rushed.
The Crafts bar on the second level also serves coffee, specialty drinks, and pastries fresh from Le Gourmet Break down the street. Plus, you can take your drink and snacks into the theater with you! Outside food and beverages are not permitted.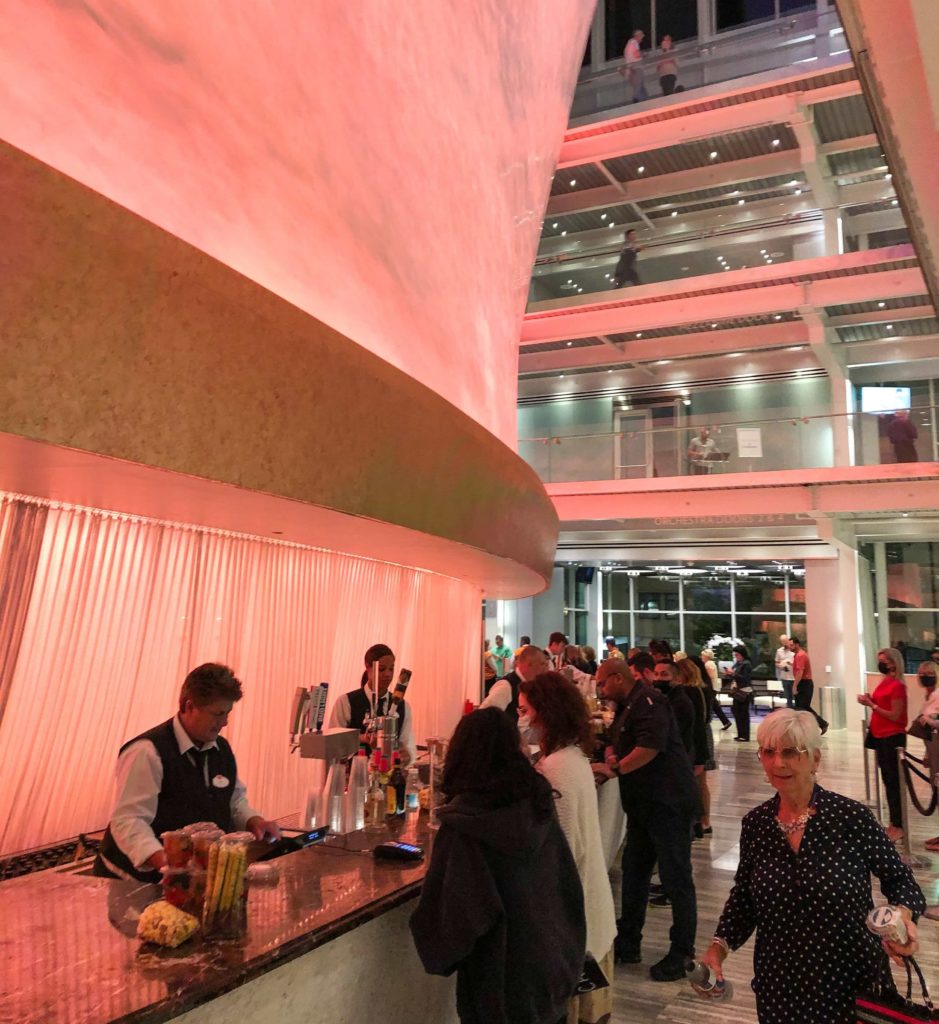 Pro-tip: The bars downstairs are the largest, however, the smaller bars upstairs carry all the same staples and tend to have shorter lines.
As you walk around before heading into your theater you'll probably observe how this awesome facility is a great place for the entire community. Locals love it, and it's great for visitors too.
Restaurants Near DPAC and Date Ideas
For a classic date night pairing, grab dinner or drinks before or after a Broadway in Orlando show. Downtown Orlando is full of energy and creativity.
Here are some of our favorite restaurants near Dr. Phillips Performing Arts Center.
AC Sky Bar
333 S Garland Ave Floor 18, Orlando, FL 32801
Dine on Spanish-inspired tapas and artisanal cocktails with a view at AC Sky Bar, one of our favorite rooftop bars in downtown Orlando.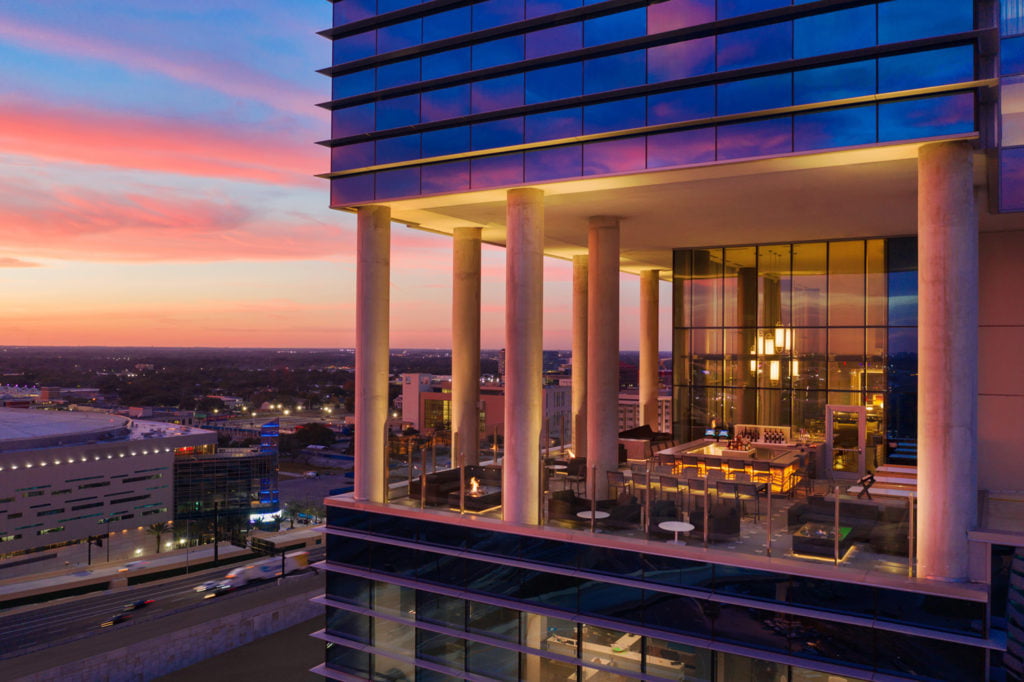 The Boheme
The Grand Bohemian Hotel
325 S Orange Avenue, Orlando, FL 32801
Set the mood at the Grand Bohemian's alluring hotel restaurant, The Boheme, just a few steps from the theater. If you're short on time, grab cocktails at the Bösendorfer Lounge, named for the rare Imperial Grand Bösendorfer piano in the lobby.
DoveCote
390 N Orange Ave Suite 110, Orlando, FL 32801
Sip on sophisticated cocktails and share some delectable bites at this laid-back French-inspired brasserie. DoveCote is just under a mile from the Dr. Phillips Center, and has one of the best weekday happy hours in town.
Kres Chophouse
17 W Church St, Orlando, FL 32801
Savor fresh seafood and hand-cut steaks at this intimate steakhouse, housed inside a 1930s landmark. Share a bottle of wine with dinner, or stop by during happy hour for handcrafted cocktails and half-priced appetizers at the bar.
Artisan's Table
55 W Church Street Suite 128, Orlando FL 32801
Enjoy creative American fare with a global-inspired twist at Artisan's Table. Sip on craft cocktails in the courtyard, or share an innovative meal in the dining room before heading over to the theater.
Here are some more date ideas for your time in Downtown Orlando.