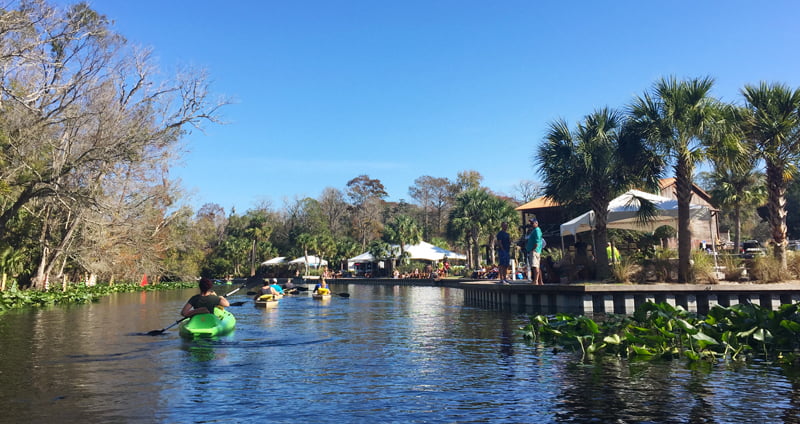 If you've ever rented a canoe or kayak from Wekiwa Springs State Park, you've likely passed by Wekiva Island and instantly wanted to join the party.
This eco-friendly destination offers a little bit of everything: swim in the refreshing water, chill out at the bar, get active, give yourself the VIP treatment, and more all in one place. Once you've arrived, there's really no need to leave. And you likely won't want to.
While summer is notably busier, there's no shortage of happenings and activities to enjoy no matter what time of year you visit. Here are our favorite things to do at Wekiva Island.
If you can't get enough of fresh air and outdoors, check out these 30 Outdoor Activities for Adults in Orlando.
Updated February 2023 by Dani Meyering
7 Things to Do at Wekiva Island
1. Paddle down the river
Whether by canoe, kayak, or paddleboard, rent your vessel of choice and make your way along the scenic Wekiva River. You'll see wildlife such as birds, fish, and even the occasional alligator or otter all while soaking up the beautiful scenery.
Canoes and single kayaks are available for rent for $50/day ($45 after noon), double kayaks are $55/day ($50 after noon), and paddleboards are $50/day ($45 if rented after noon).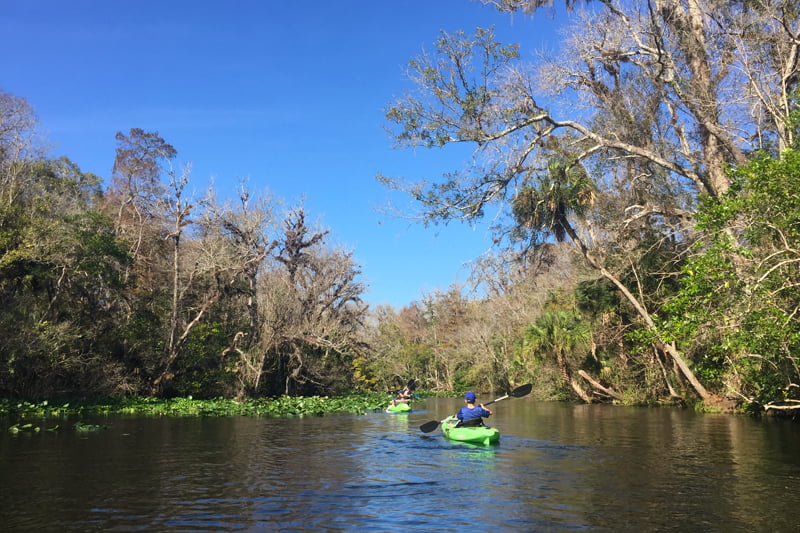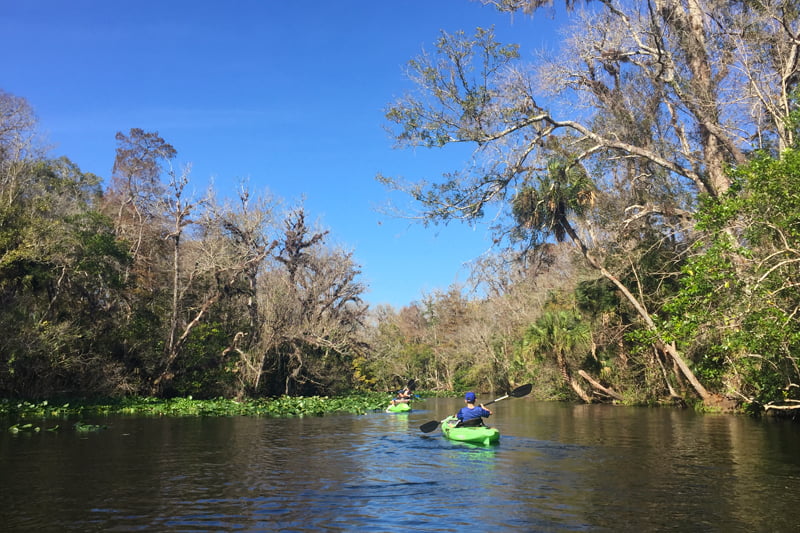 READ MORE: Affordable Kayak Rentals in Orlando
If renting a kayak or canoe and venturing into the water is a little much, it's totally okay to just swim or float in the water. You can bring your own innertube or float.
And bonus, there is an air machine next to the bar so you can fill up your float in a matter of minutes. If you have trouble finding the air machine just ask a staff member.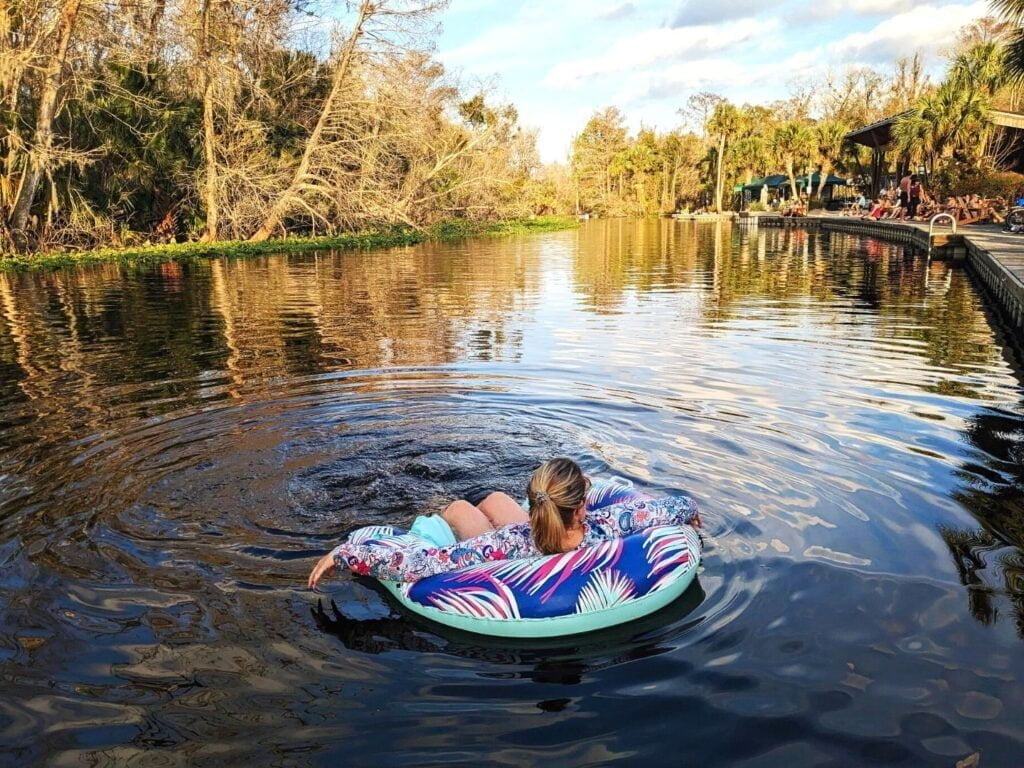 2. Rent your own private "River Bana"
For the ultimate combo of luxury and relaxation, treat yourself as a VIP for a day by renting your own private river cabana. Unwind and soak up the sun in your own little slice of paradise, which comes equipped with a comfy couch, Adirondack chairs, two guaranteed parking spaces, and more.
By renting a cabana, you're permitted to bring in your own outside food and beverage, although alcohol is not permitted unless purchased at the on-site bar. Cabana rentals range in price from $150-$250 and typically sell out on weekends during the warmer months, so book online in advance.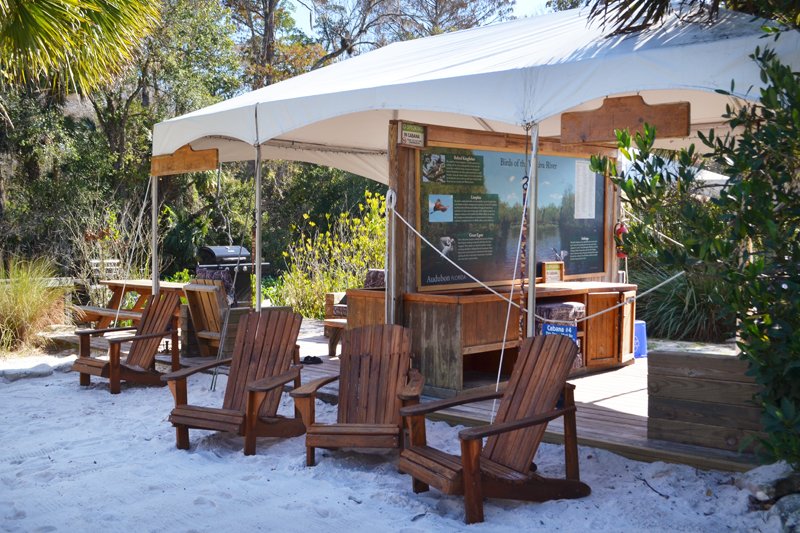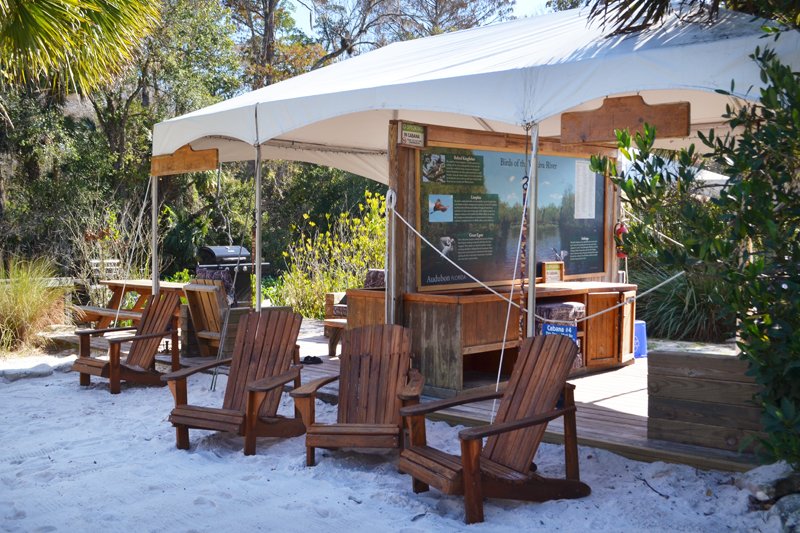 3. Fuel up at The Tooting Otter
You won't want to miss The Tooting Otter, Wekiva Island's very own bar. The indoor/outdoor space offers fuel of several varieties. Take your pick of wine and beer, including an impressive selection of craft beer, or indulge in a selection of food and snacks.
Expect to pay $12 – $15 for food at the Without a Paddle Food Truck, permanently on site. Beer and wine run about $4-$7, and soft drinks are also available. End your day on a happy note and save a little money during happy hour (5-7pm) when beer and wine is $1 off.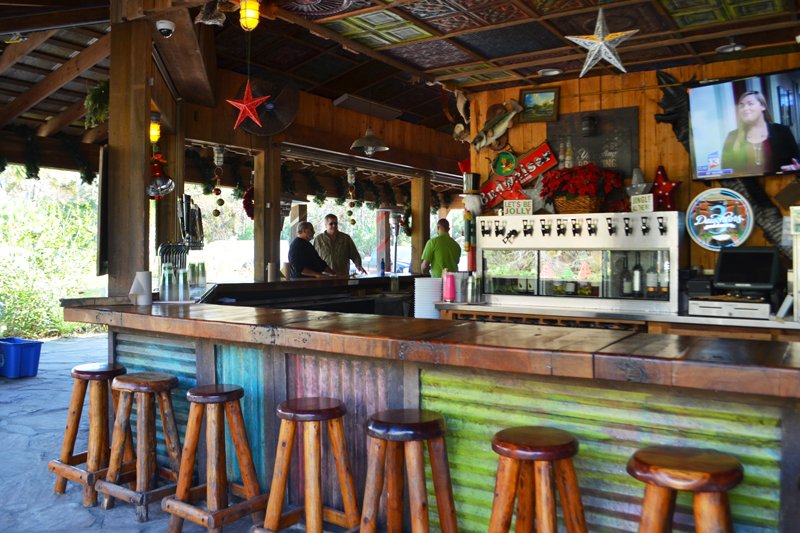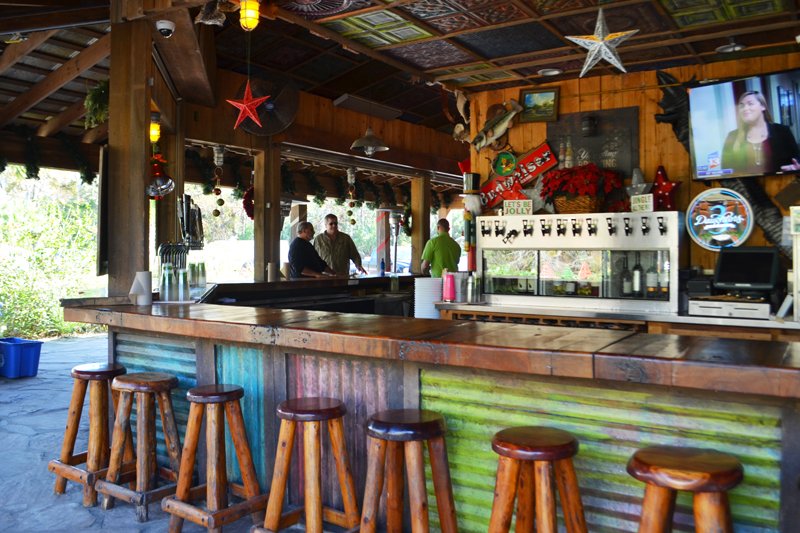 There is plenty of seating at the riverside covered-pavilion. Seats at the bar become a premium during the busy weekends and summer. It can usually take about 10 minutes for your food to be prepared and ready. We suggest ordering your food then head to the bar to grab a drink while you wait.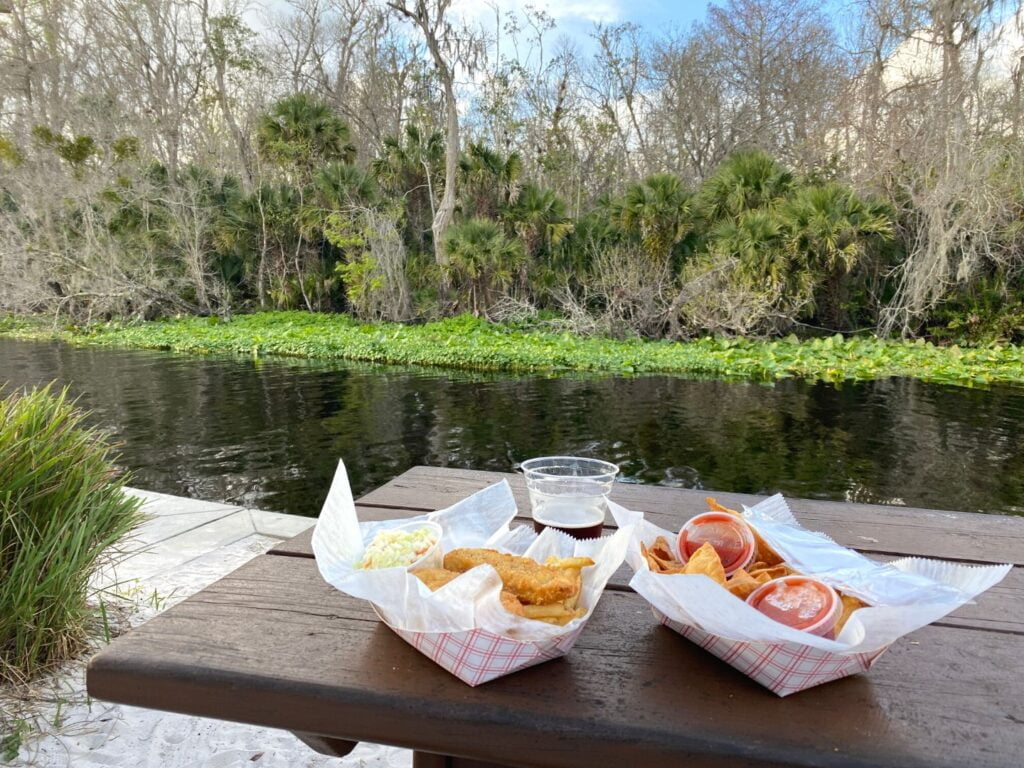 READ MORE: 75 Places with Outdoor Dining in Orlando
4. Get sporty
Aside from adventures of the watersport variety, Wekiva Island has several activities to partake in on land. Challenge your friends to a beach volleyball match, or try your hand at a game of corn hole with your date. The beach volleyball court is available for rent if you've got a large group, just remember to make a reservation in advance.
5. Chill out on the boardwalk
Nothing beats an afternoon spent soaking up the sun by the water. Tons of Adirondack chairs are lined up right along the riverfront boardwalk for your use and enjoyment. Pull up a seat and watch the world go by, and if it's a warm day take a dip in the refreshing river to cool off!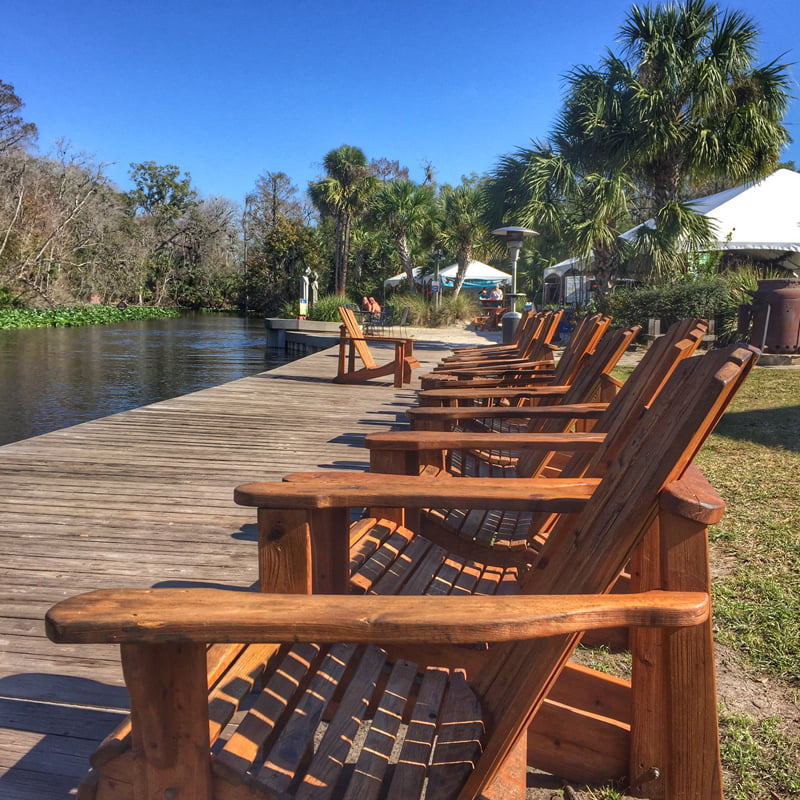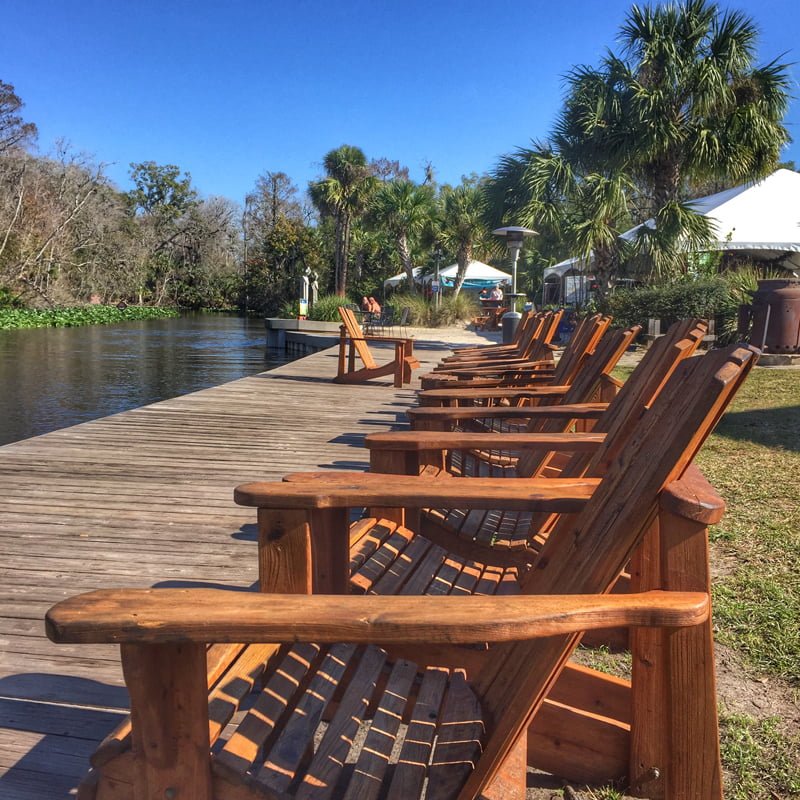 6. Stay warm and toasty by the firepit
For the cooler Florida months, nothing beats an early evening spent by the firepit. Roast marshmallows, trade fireside stories, and warm up on chillier evenings. Wekiva Island sometimes hosts "Firepit Fridays" featuring themed dinners and live music, perfect for date night. Select Saturday evenings in the winter offer a similar experience too.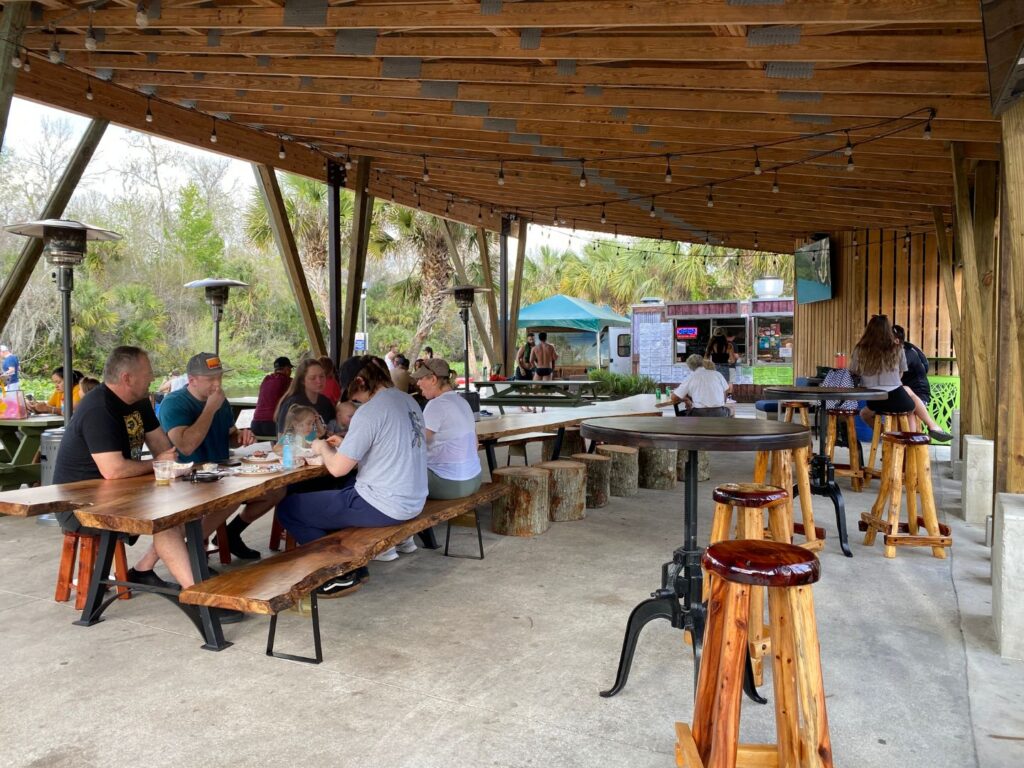 7. Check out the full events calendar
Lazing the day away in an Adirondack chair by the water is a perfectly acceptable activity, but there are also a ton of events happening each month. From paint nights to wine events and live music performances, there's something for everyone here.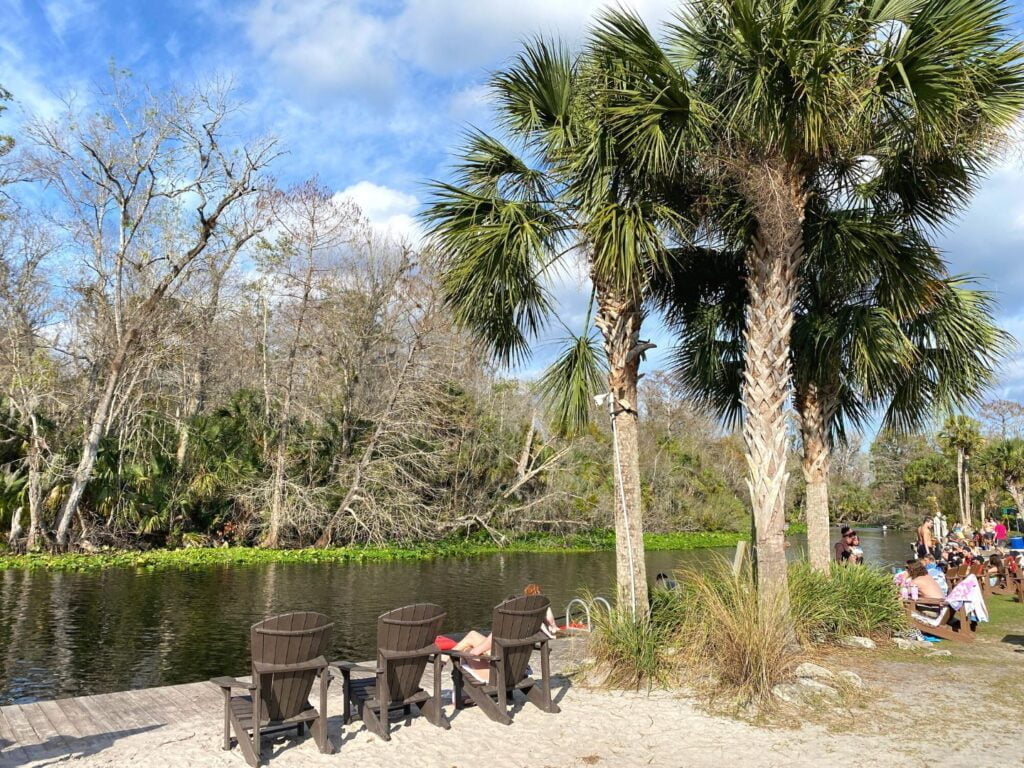 Check the events calendar for the full lineup and plan your visit accordingly.
Know before you go…
There's a $2 entrance fee per adults on weekends and weekday holidays, so make sure to bring along some cash. Parking can reach capacity especially on weekends.
Head here as early as possible. Once capacity is reached cars and walk-ins will be turned away.
Outside food and drinks aren't permitted unless you've rented a cabana. Alcohol isn't permitted, but you can enjoy beer and wine at The Tooting Otter.
All images by Stephanie Patterson unless otherwise noted