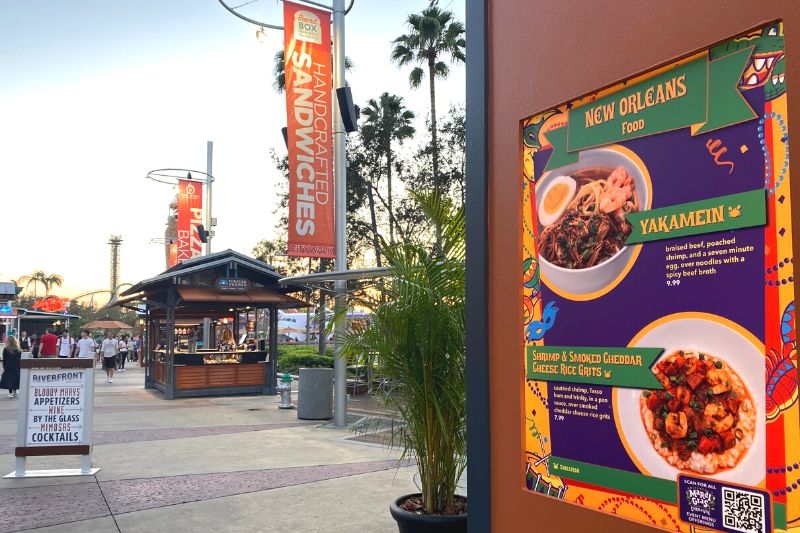 As much as we absolutely love heading into Universal Orlando's theme parks for some fun, it can be very pricey. February to April is a great time to venture into Universal because of the epic Mardi Gras celebration. But you can actually enjoy some of the festivities of Universal's Mardi Gras without needing a theme park ticket! Here's how!
If you are indeed heading into the theme parks then jump over to our Guide to Universal's Mardi Gras 2023 and fuel up with our 8 Must-Try Food and Drinks at Universal's Mardi Gras.
Written by Jodi Caballero and Dani Meyering
How to Enjoy Universal's Mardi Gras Without a Theme Park Ticket
The main event may be inside the theme park gates, but plenty of Mardi Gras fun can be found at Universal CityWalk. From February 4 – April 16, 2023 you can order food and drinks from Mardi Gras booths at CityWalk. But that's not all.
There's even more fun including two bars and lounges that go ALL OUT for Universal's Mardi Gras. Keep reading to get all the details – including the menus for the CityWalk Mardi Gras booths.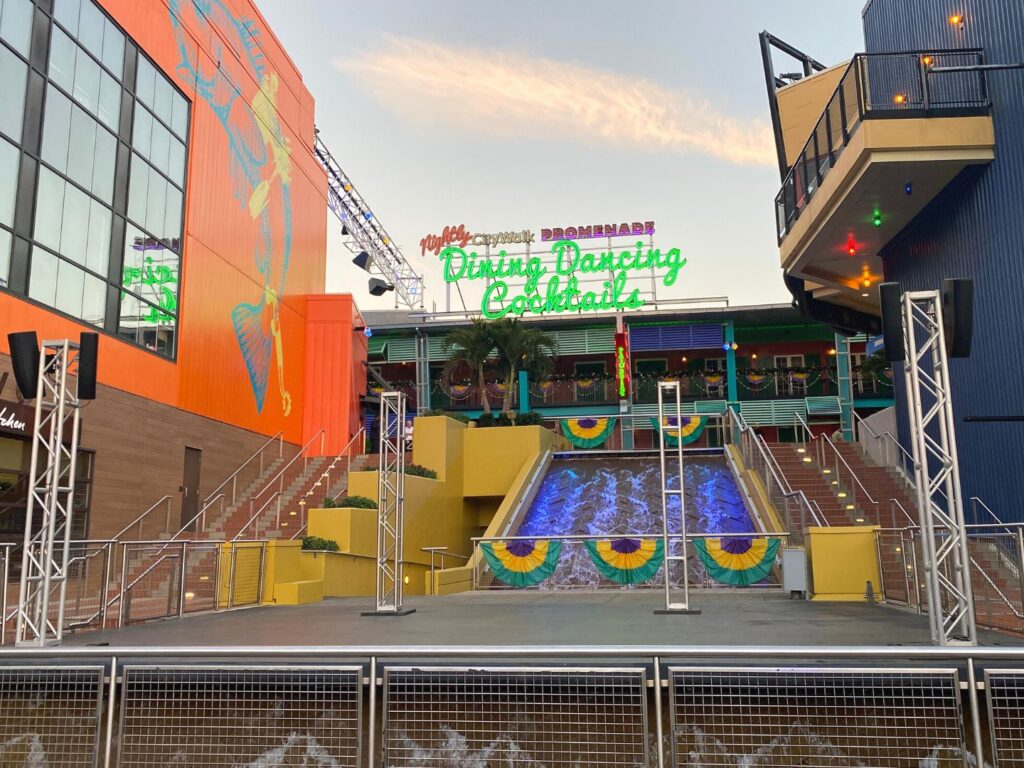 Cursed Coconut Club
One of the new star performers in the CityWalk area has been the themed bar that takes over the Red Coconut Club. The Mardi Gras season brings the Curse Coconut Club – a voodoo spin! The detail and work that has gone into this bar are impeccable.
It's a great place to let the good times roll!
The focus of the Cursed Coconut Club is on the more dark, eerie but fascinating side of New Orleans culture and history. The Club is adorned with skeletons, tarot cards, projected colorful tiki-like characters, Mardi Gras music, black lights and even a fireplace of sorts, this club can't be missed.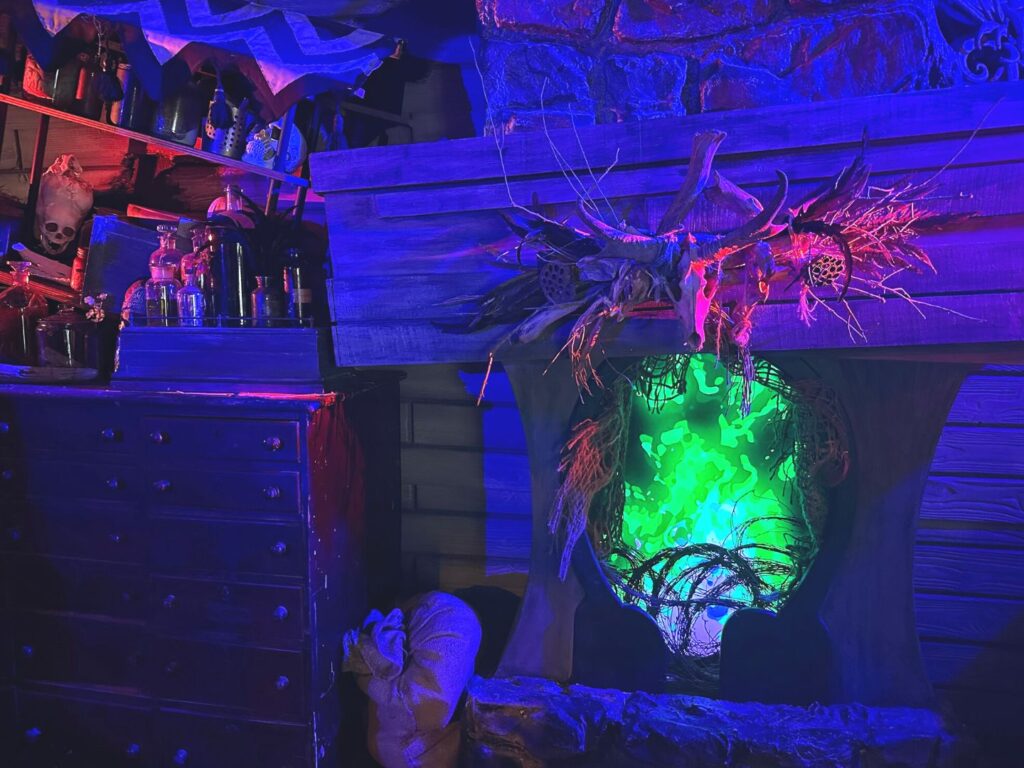 There are three bars, each with its own theme. The upstairs is named "The Baron's Shack" and when you reach the top of the stairs you'll meet what can only be assumed to be the Barone, in his new skeletal state.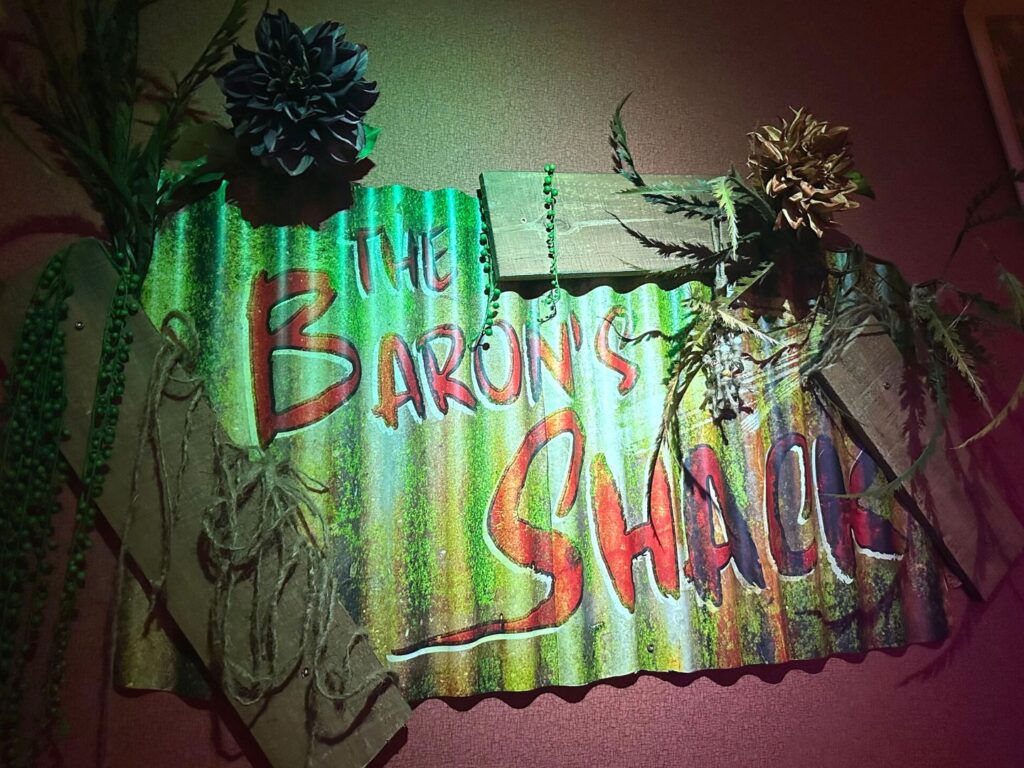 The venue is full of mossy walls, street lamps, dark lighting and very intricate corners full of what you would imagine would be in some of the attics of the house in the south. Don't forget to check out the wall of Voodoo dolls, rumor is they actually chatter!
Mardi Gras Drinks
The Menu is full of tiki-like cocktails with a N'awlins flare. We tried the Sazerac (very strong), Cafe Brulot Diabolique, and the Scarlet Veve, all were very good but beware they definitely pack a punch!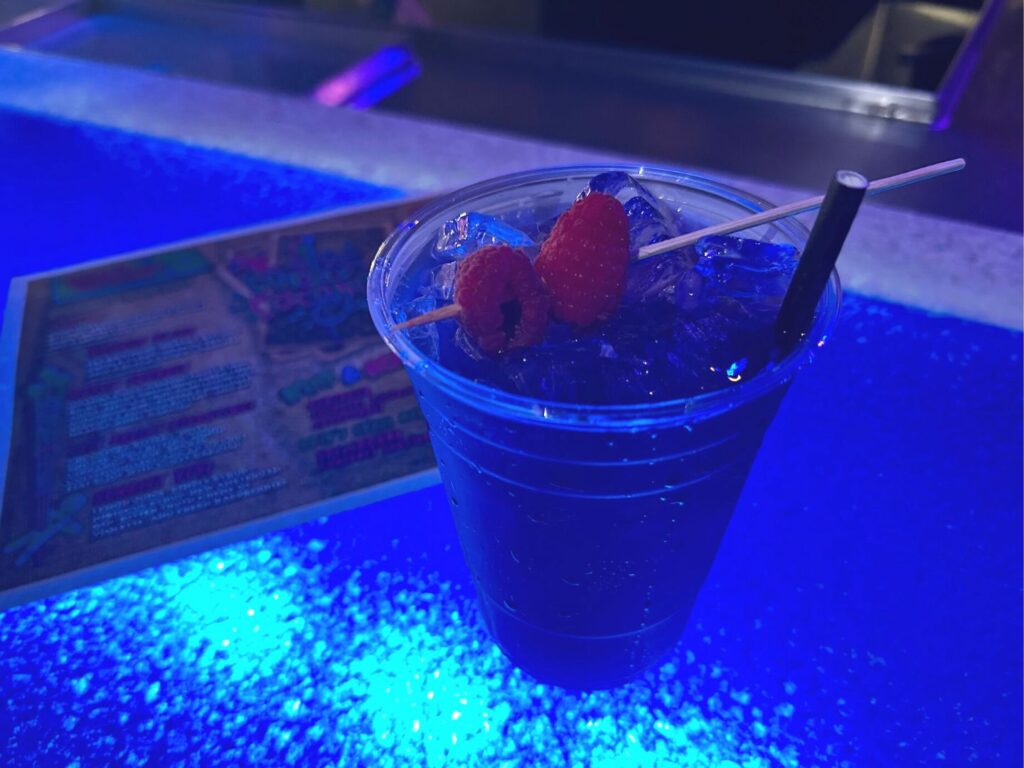 The menu also offers beers and mead. Most of the drinks can be purchased in a plastic tiki souvenir cup, except the stronger drinks.
Souvenir Cup $18.00
Souvenir Cup Refill $15.00
Non-Souvenir $15.00
Also, this season brings two Mad Mocktails that sound great, we love a good Mocktail!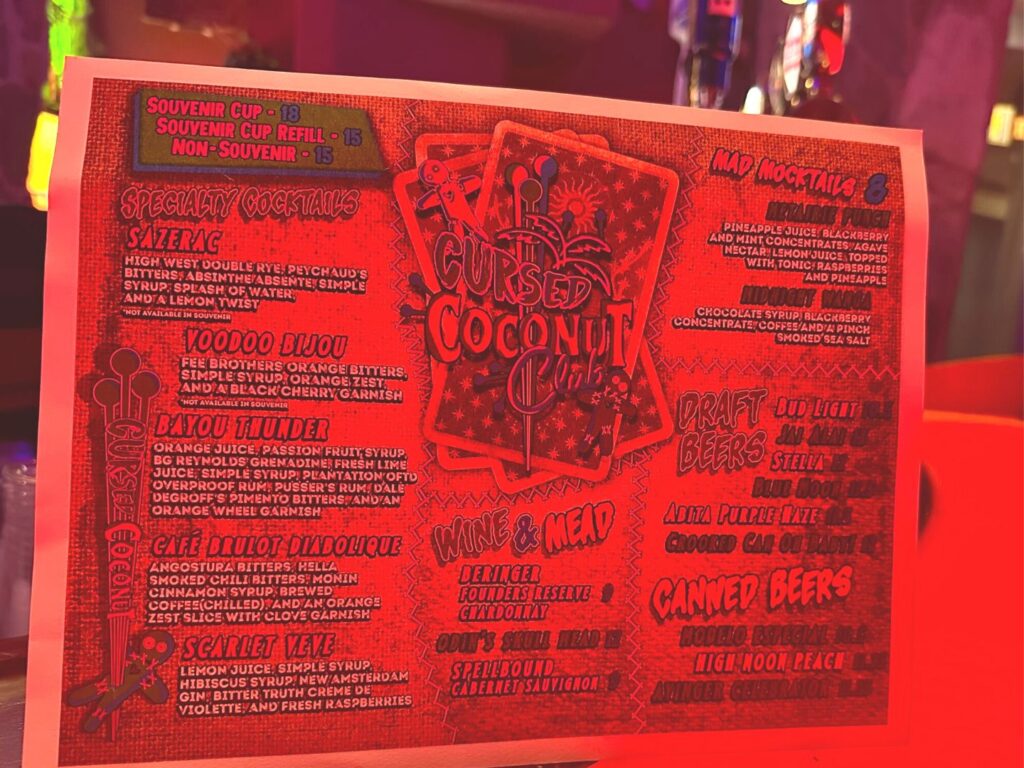 With the music pumping, fog machines blowing, halloween-esque facade on the outside, and detailed inside, the Cursed Coconut Club will surely be a hit this season.
Visitors beware the venue does close a lot for special events, make sure to check the Universal App for the daily opening times. It generally opens from 5 p.m – 12:00 a.m.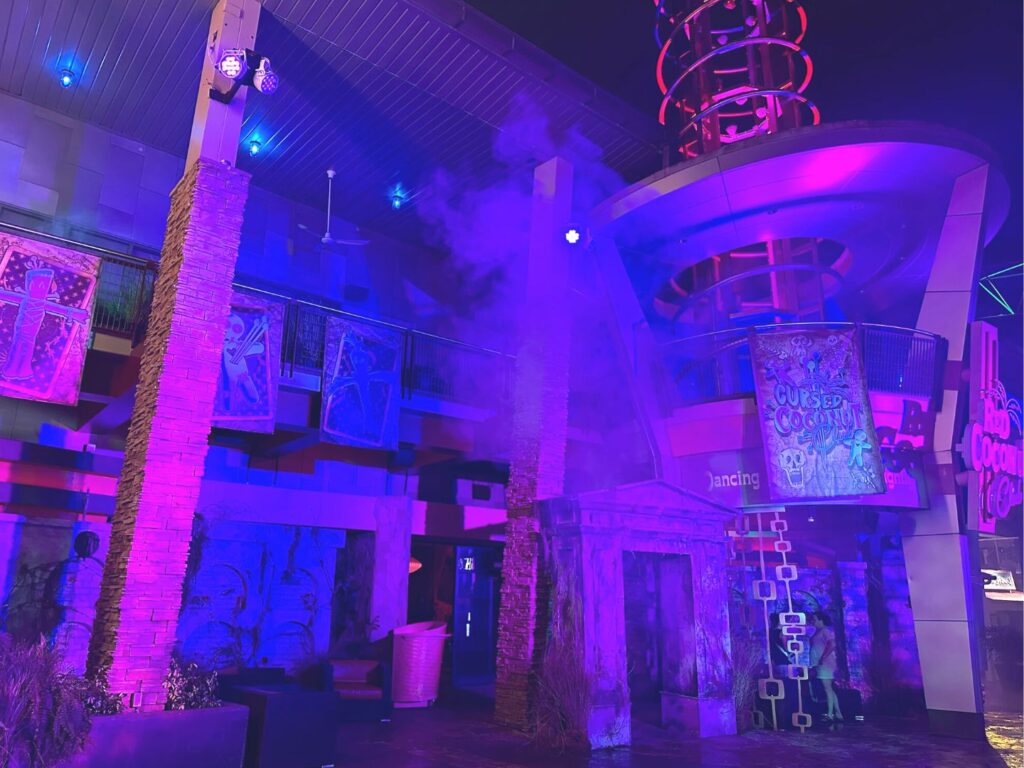 Also, the music changes at 9:00 p.m. to club-like music so make sure to check it out beforehand to get the full feel. There wasn't any live entertainment yet when we visited, but Universal has been known to add it as the season progresses so stay tuned!
Pat O'Brien's Mardi Gras Party
Keep the festivities going all night long during Pat O'Brien's Mardi Gras After Party – taking place from 4 p.m.- 1 a.m. on select nights during Universal's Mardi Gras.
This party includes live DJs, stilt walkers, exclusive food and drink offerings and more.
While admission is complimentary, reservations are encouraged and can be made online or by calling 407-224-3663.
Mardi Gras Food and Beverage Booths at CityWalk
There are three Mardi Gras food and beverage booths exclusive to Universal CityWalk! And in fact, our favorite dish of Universal's Mardi Gras 2023 is NOT found in the theme park, but at CityWalk instead.
The Shrimp and Smoked Cheddar Cheese Rice Grits is our favorite dish so far this year. A small serving of sauteed shrimp, Tasso ham and trinity, in a pan sauce is served over smoked cheddar cheese rice grits. You can find this New Orleans booth near the center of CityWalk, towards the water and boat dock.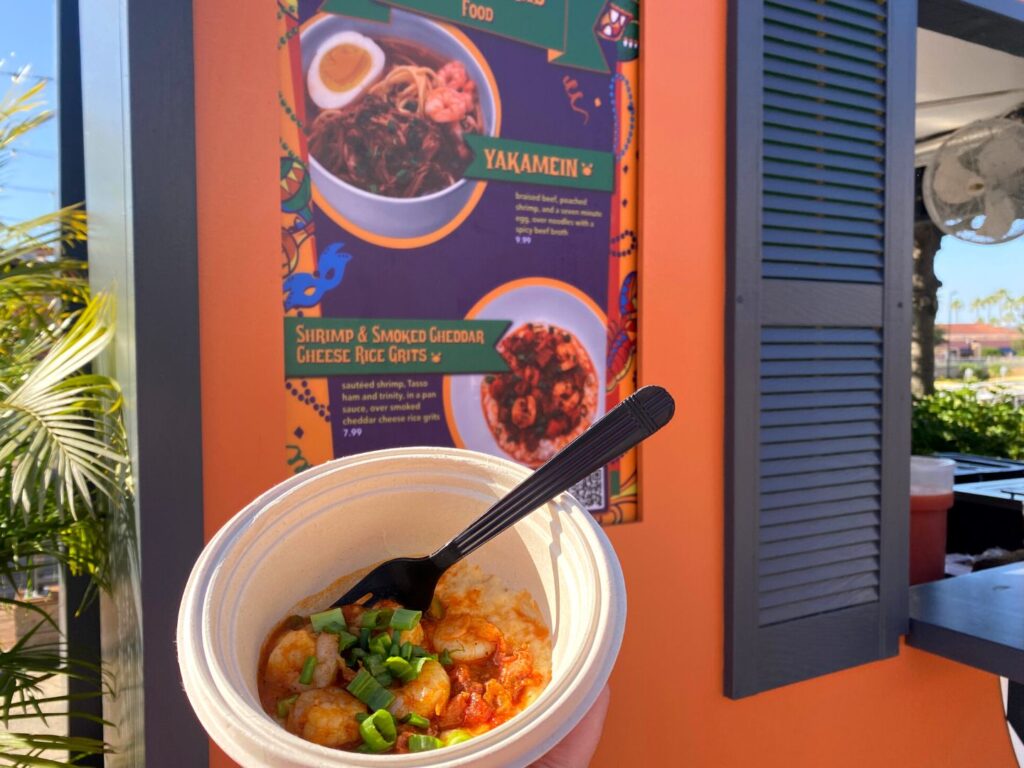 In fact, all 3 Mardi Gras booths at CityWalk are near the water. This is an absolutely gorgeous location during sunset – so plan accordingly!
Menus for Food and Beverage Booths at CityWalk
New Orleans Booth #1
Shrimp and Smoked Cheddar Cheese Rice Grits
Sauteed shrimp, Tasso ham and trinity, in a pan sauce, over smoked cheddar cheese rice grits
Yakamein
Braised beef, poached shrimp, and a seven-minute egg, over noodles with a spicy beef broth
Category 5 Punch
Myers's Dark rum, Cruzan Aged Dark rum, passion fruit purée, mixed with grenadine, orange and lime juice
Oh Baby Beer
this custom brew is bursting with vanilla and cinnamon flavors on a base of sweet yet roasty malt
New Orleans Booth #2
Cauliflower Dirty Rice(GS, VG)
Riced cauliflower, Gardein® crumbles, black eyed peas, and Cajun spices
Crawfish Etouffee
Creamy crawfish and vegetable stew, over white rice
Category 5 Punch
Myers's Dark rum, Cruzan Aged Dark rum, passion fruit purée, mixed with grenadine, orange and lime juice
Abita Purple Haze Beer
a lager brewed with real raspberries, wheat malts, and Wanguard hops
Taste of the Mediterranean Menu
Crepe Suzette(V)
topped with a Grand Marnier orange sauce
Grilled Octopus (GS)
marinated grilled octopus with tomato, oregano, and lemon herb rice
Francois Montand Brut Sparkling (Wine)
aromas of white flowers and citrus fruit give way to a creamy and smooth palate with flavors of freshly baked bread, golden delicious apples, and Meyer lemons
Bertrand Corbieres Heresie (Wine)
a velvety texture with a balanced finish, notes of fresh fruit, morello cherry, wild raspberry, and spices
Mas La Chevaliere Cabernet Sauvignon (Wine)
intense fruit concentration laced with developed tannic structure, good intensity and nice, juicy mouthfeel
Monograph Agiorgitiko (Wine)
Nemea grapes present a smooth body and complex aroma of prickly pear, pomegranate and butterscotch
Monograph Assyrtiko (Wine)
youthful with refreshing acidity with notes of citrus fruits, honeysuckle, lemongrass, and stone fruit with a touch of salinity
And great news! You can purchase and/or use the Universal Mardi Gras Food and Beverage card at the CityWalk booths. There is no expiration date on this card and it provides overall savings.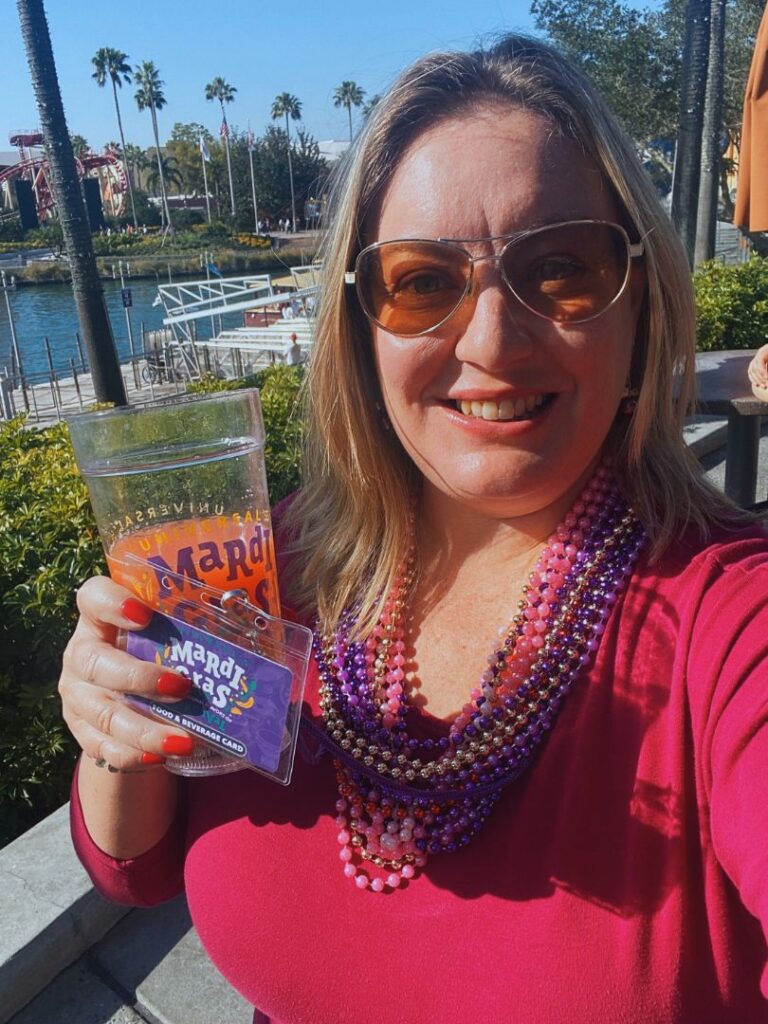 You can also purchase and use the Universal Mardi Gras souvenir blinky cup. This cup gives you discounted refills on Mardi Gras drinks and beer through April 16, 2023 – both inside the theme park and at CityWalk!
KNOW BEFORE YOU GO
Parking at Universal/CityWalk parking garage is free after 6pm, otherwise is approximately $27/car
There is no cover charge for Cursed Coconut Club or Pat O' Brien's
Don't forget to use your Universal Annual Pass for discounts, just ask