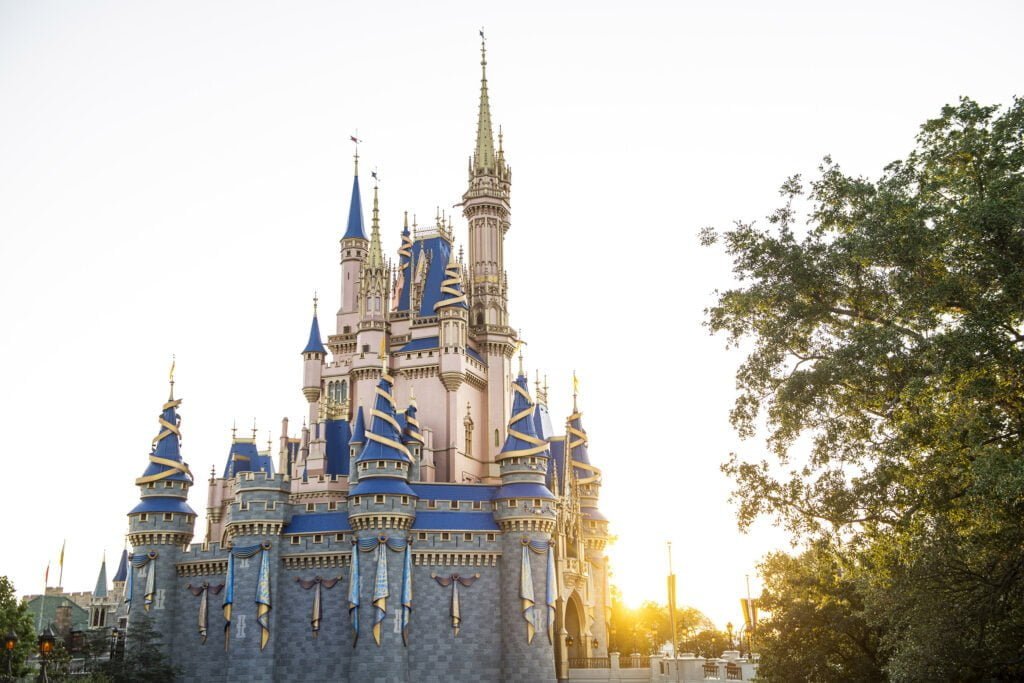 It's one of the most popular times to visit Orlando. Let's talk about spending Easter at the most magical place on earth also known as Walt Disney World. Easter is Sunday, April 9, 2023 and we're expecting lots of visitors and locals to head to Disney World for the occasion.
Magic Kingdom is far and wide the most popular Disney park for Easter. Regardless of which theme park or part of Walt Disney World you plan to visit, there is still plenty you need to know.
If you'd rather not deal with the theme parks, head to Disney Springs for Easter. And you can view amazing Easter Egg displays at certain Disney resort hotels – for free!
Keep reading for the details on these free displays and special treats you can purchase.
You can also jump over to our ultimate guide of things to do for Easter in Orlando 2023.
Spending Easter at Walt Disney World
We're going to cover everything you need to know about spending Easter at Walt Disney World including the Easter cavalcade, Easter treats, Easter egg displays, and more. 
It's a busy time of year so plan ahead. Here are some tips you can refer to make the most of your holiday at Disney World during Easter.
Expect crowds April 1 – 7, 2023
The busiest days at Magic Kingdom will be April 8 -12, 2023
Secure your parade viewing spot 60 – 90 minutes before parade time
Fireworks viewing is best secured 90 minutes before showtime
Keep reading for information about Easter egg displays, Easter brunch, and more.
Easter Bunny at Magic Kingdom
Mr. and Mrs. Easter Bunny are meeting guests at Magic Kingdom the week of Easter. You can find the adorable Disney Easter Bunny at Liberty Square gazebo behind the Christmas Shoppe, 11am – 5pm through Easter Sunday, April 9, 2023.
What time is the Easter Cavalcade at Magic Kingdom? 
In years past, there has been an Easter-themed cavalcade or mini-parade at Magic Kingdom before the Festival of Fantasy parades. Although no official announcement from Disney has been made about the cavalcade for this year, it usually takes place on Easter and the day before. 
Filled with Easter bonnets and more, many people line up early to secure a good spot for viewing the cavalcade.
We think that this special cavalcade and the parade are worth lining up early for!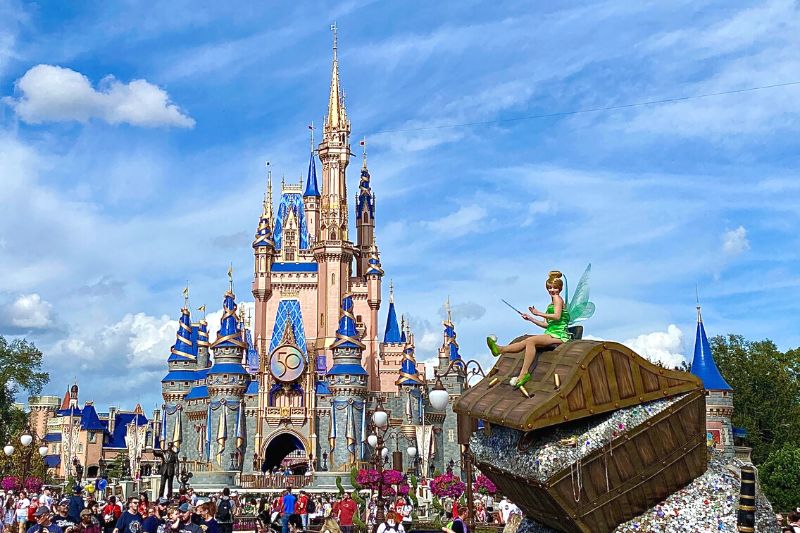 Easter Religious Services
If you're someone who celebrates Easter and would like to attend a religious service, there are several services usually hosted at Disney's Contemporary Resort which guests are welcome to attend. 
Disney Easter Egg Displays 
Many deluxe resorts on the property host a chocolate easter egg display for guests to enjoy. The eggs are typically decorated with beloved Disney characters or are Easter-themed. These displays are normally available for guests to view on Easter and the surrounding days. These resorts can get pretty crowded with guests looking to take a look at the eggs.
Disney's Grand Floridian Resort
Disney's Contemporary Resort
Disney's Beach Club Resort
The official policy from Disney is that parking at resort hotels is reserved for hotel guests and those with confirmed dining reservations. We recommend parking at Disney Springs or one of the theme parks and taking a Disney Transport bus over to the resorts to avoid being turned away at security. 
Easter Eggs at the Grand Floridian
Disney's Grand Floridian Resort & Spa is known for its giant chocolate Easter egg display. It seems like each year the Disney Easter egg display gets bigger. For 2023, the Easter egg display spans multiple tables inside the Grand Floridian lobby.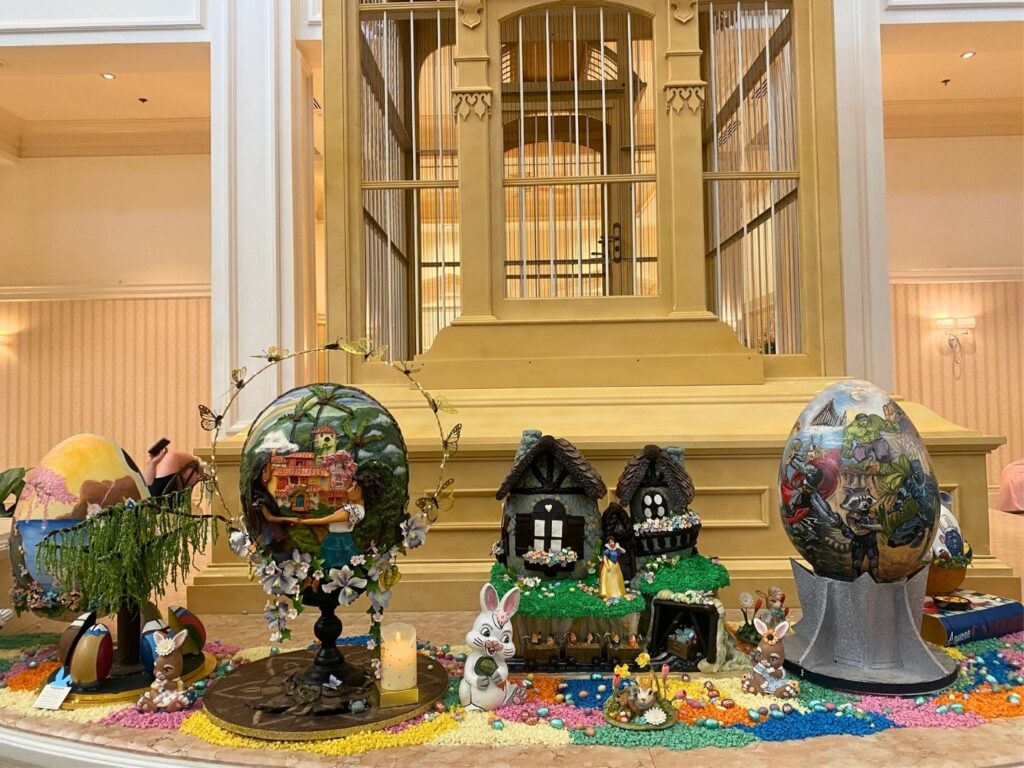 In addition to the chocolate egg displays, the Grand Floridian introduced The Grand Cottage last year which was a pop-up shop where guests could purchase Easter treats. 
The Grand Cottage is open from March 7 – April 9, 2023, 11am – 9pm daily. Get a peek at some of the treats including which ones are gluten-free in this Instagram post from @itsjendixon.
The 2023 Menu of Easter and springtime treats at Disney's Grand Floridian at The Grand Cottage includes:
Hot Cross Buns
Guava Cream Cheese Sweet Roll
Peanut Butter Cereal Egg
Bunny Burrow Dirt Cup
Fruity Mickey Pop
Carrot Blondie Pop
White Chocolate Bunny Pop
Lemon Blueberry Mickey Whoopie Pie
Orange Scented Cookie Sandwich
Cream Cheese Carrot Coffee Cake
Confetti Cake Lamb Pop
Salted Caramel Chocolate Popcorn
Milk Chocolate Bunny with M&M's
Spring Artisanal Macarons
Vanilla Bean Cupcake Sampler
Grand Egg with Jelly Beans
The Cottage Box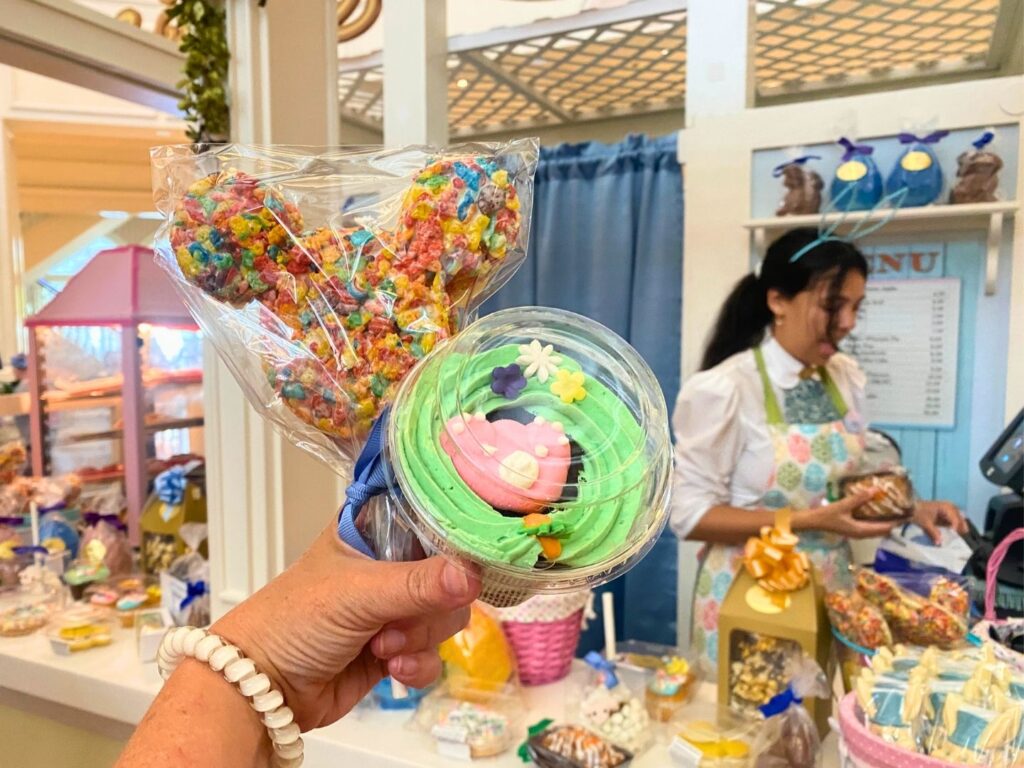 While you're at Disney's Grand Floridian, head upstairs to Citricos. Enjoy cocktails or mocktails at the lounge and enjoy the lovely floral decor.
Easter Eggs at Disney's Contemporary Resort
You can also usually find some chocolate easter egg displays at Disney's Contemporary Resort on the fourth floor, towards the end of March to early April. 
Pastry Chef Jeff Barnes and his team are egg-cited to offer a curated collection of new and returning hand-crafted chocolate Easter eggs to the resort this year. Some standouts include inspiration from Tron, The Nightmare Before Christmas, and even a Mickey Mouse Popcorn Bucket!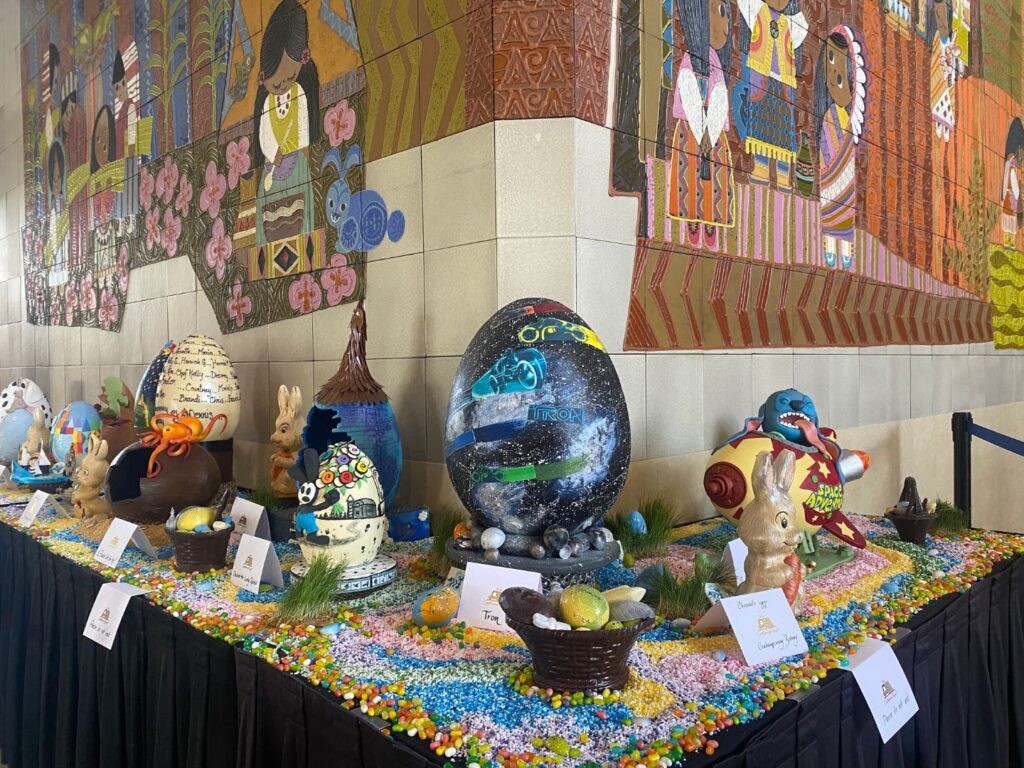 Enjoy Easter and Spring themed treats at Contempo Café (Available through April 9; mobile order available)
Spring Bunny Tart: Honey pastry cream topped with lemon curd and strawberry Chantilly cream
Spring Coconut Macaroons: Coconut macaroon, dulce de leche macaroon, and chocolate macaroon decorated to look like a bunny tail (New)
Peanut Butter Eggs: Peanut butter milk chocolate crunch egg coated in chocolate
Hummingbird Cake: Cake with pineapple, banana, and pecans drizzled with caramel icing
Five-legged Goat Cookie: Citrus-scented gluten free sugar cookie with an edible image of the Five-legged Goat (Gluten/ Wheat Friendly)
Easter Eggs at Disney's Beach Club Resort
If you're in the Epcot area, you can stop at Disney's Beach Club Resort to see some additional chocolate Easter Eggs. These Easter Eggs are usually on display in the Beach Club lobby starting March 20, 2023 until Easter Sunday, April 9.
This year, Pastry Chef Michael Craig and his team were inspired by the EPCOT International Flower & Garden Festival and Pixar's Finding Nemo when creating their beautiful egg display.
Where Can I Meet The Easter Bunny? 
Although there are no guarantees, Mr. and Mrs. Bunny have been known to meet guests in the Town Square Courtyard area. 
There is usually a Photopass photographer who can take a professional photograph of you which you can view at purchase at a later time if you choose. However, cell phone photos are permitted and the accompanying cast members are usually more than happy to help out with snapping a photo of the whole family. 
Easter Treats
Disney World is known for its themed treats and snacks, especially around certain holidays, including Easter. 
Disney has not yet released a 2023 foodie guide for Easter, but typically the resorts, Disney Springs, and the parks offer themed cupcakes, meals, treats, and alcoholic beverages guests can purchase to help them celebrate. 
These treats are usually available on Easter as well as a couple of days prior.  
Egg-Stravaganza Easter Egg Hunt at EPCOT
If you're looking for a fun Easter activity for the whole family, you shouldn't overlook the Egg-Stravaganza Egg Hunt at EPCOT. After purchasing a map, you can spend some time looking for the hidden easter eggs that can be found throughout the park.
If you find them all, you'll be able to receive a prize. Even if you don't find them all or have the time, this is a unique activity that will get you in the Easter spirit. 
Plus it's lovely to visit Epcot during the Flower and Garden Festival, especially around Easter time.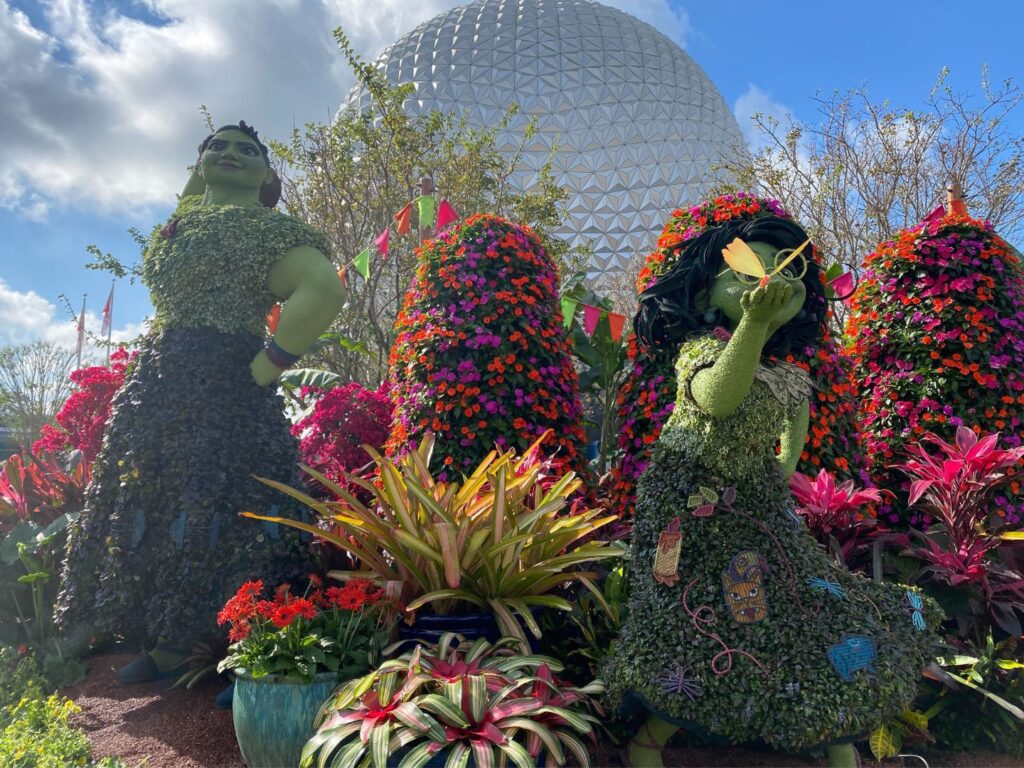 Although no restaurants have announced any special brunch offerings for 2023, several restaurants across the property have hosted Easter brunch in the past including Steakhouse 71, Ale & Compass Restaurant, Whispering Canyon Cafe, and Olivia's Cafe. 
Disney Springs is also popular for Easter, and we love Wine Bar George and Raglan Road Irish Pub and Restaurant for Brunch.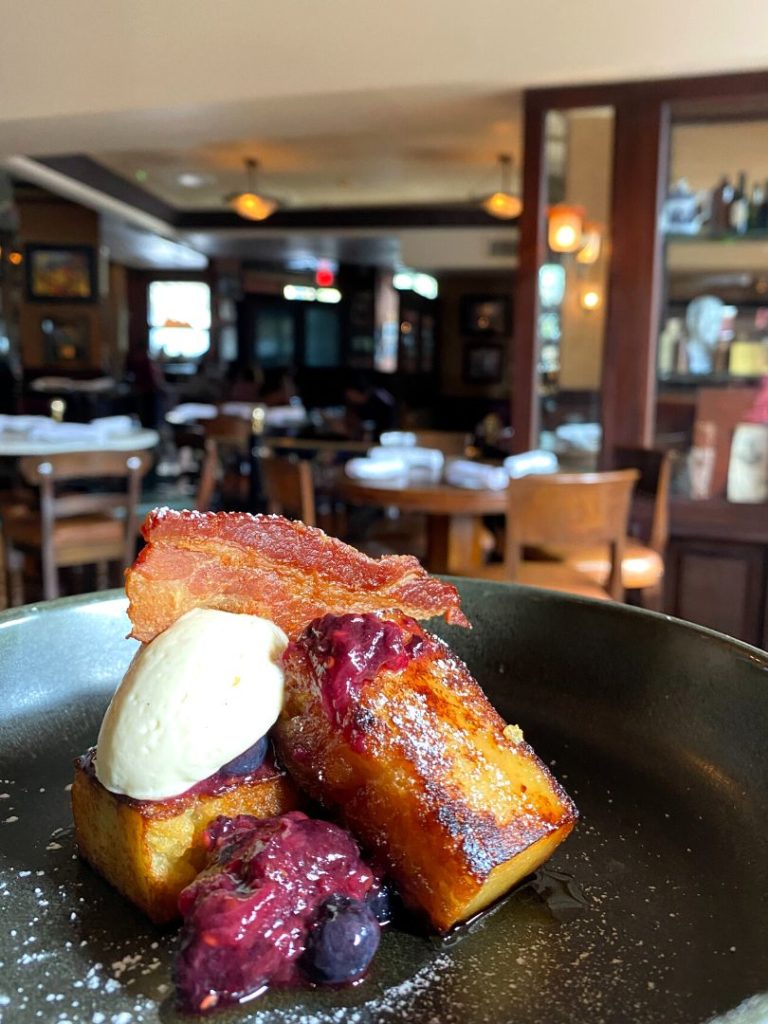 READ MORE: Brunch at Disney – No Park Ticket Required
We recommend snagging a reservation as soon as you can to ensure a spot.
What to Wear at Disney World on Easter
The weather in Orlando in April is relatively warm and great for wearing your Easter best comfortably. With average highs of 84 degrees and lows of 64 degrees it is relatively pleasant.
If you're looking to visit the theme parks, we recommend wearing more comfortable and casual clothes. If you will be prioritizing your time at resorts or restaurants, lightweight and more elegant attire could be worn comfortably. 
Important tips: Ways to Avoid Long Lines at Disney World
Feature image courtesy of Walt Disney World (David Roark, photographer)