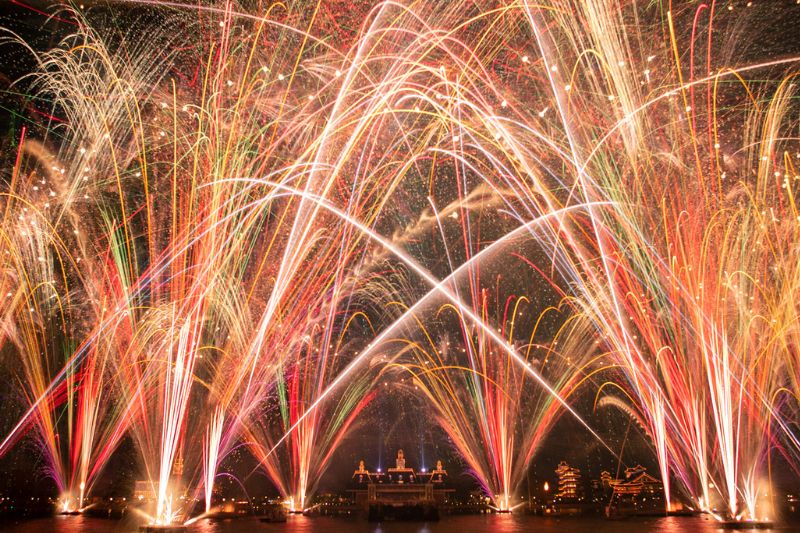 Epcot Forever has returned to World Showcase Lagoon at EPCOT. This temporary show is a treat for Disney fans. Epcot Forever was a previous Epcot fireworks show that returned on April 4th, 2023, and is running in the interim while Harmonious barges and equipment is being slowly transformed out of the Lagoon. Here's what you need to know and expert tips for watching this fireworks show. 
And coming in late 2023, guests will be treated to the debut of an all-new EPCOT nighttime spectacular later this year. A dazzling display of music, pyrotechnics, lasers and lighting, the show will feature an original composition and evocative selections from the Disney songbook – all woven together to remind us that we are more alike than different.
Since Epcot's inception in 1982, the vision of Walt's idea for the park was to create a 'community of tomorrow' that would never be completed. If you ask any recent park-goer, that is still the case. It seems like Epcot will be under construction for the foreseeable future. Something that underwent a huge change after 20 years was the end-of-the-night fireworks and light show around the World Showcase.
The previous fireworks show, IllumiNations: Reflections of Earth, ran from 1999 to 2019 and cost approximately $25,000 each night to show. It ran for 20 years as a part of The Walt Disney World Millenium Celebration and became a family favorite. In 2019 Illuminations was replaced with an extremely short run of Epcot Forever. It only lasted a year before being replaced by Harmonious.
Epcot Forever is definitely less of a production than both IllumiNations and Harmonious, but as always fireworks shows at Disney tug at your heartstrings and are really a perfect ending to any park day.
To make the most of your viewing experience you can discover the best viewing locations for EPCOT Forever, as well as important schedule information.
Where is the best location to see EPCOT Forever Fireworks?
As showtime gets closer each night, most people will start to gather in between the Port of Entry Stores. This is right at the entrance to the World Showcase. Be mindful of the tape markings on the ground. The tape is there to show the areas where you can and can not sit for the show. If you select a spot outside of those tape marks a cast member will ask you to move for safety reasons.
Whereas Harmonious was centralized in the Lagoon and had viewing places that were better than others, Epcot Forever covers the whole Lagoon and really can be seen from just about anywhere around the World Showcase.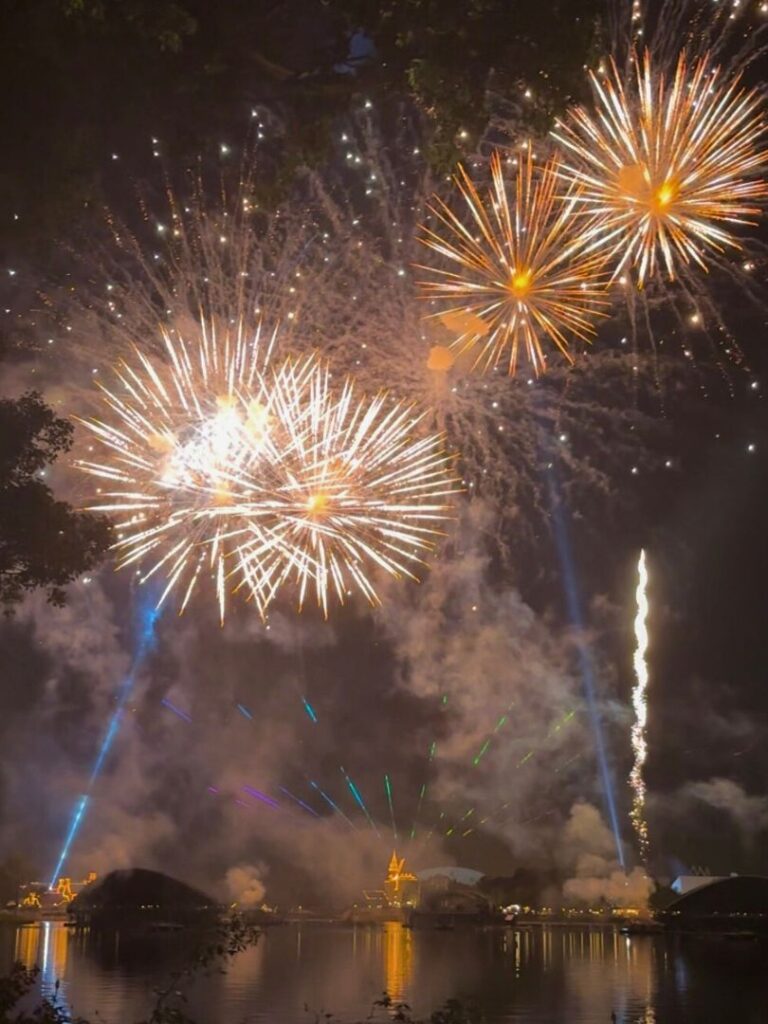 I am not one to line up an hour or so before the Fireworks show but you will see people start around that time frame. They line the fences around World Showcase to claim their spot, but it did seem like less were doing it during Epcot Forever when we viewed it on a weeknight.
Two of my Favorite Spots to watch fireworks have always been the Japan Pavilion, which has a large open space and fewer trees, and the Germany Pavilion, as it also has some space and people kind of forget about it.
Both are on the back side of the park so it does mean a longer walk after the fireworks but it is calmer, and walking the countries at the park close when they are all lit up is always a nice experience.
Don't fret too much over finding the perfect spot for the show, it really is viewable all around.
How long does EPCOT Forever last?
The EPCOT fireworks showtime is usually 9:00pm, every night. Epcot Forever is a temporary show, they run it while they are doing lagoon work so it's short and to the point. It runs at approximately 11 minutes or so each evening, which is perfectly quick for tired families but also may be a bit underwhelming compared to other fireworks spectaculars at Disney.
What characters or songs will I be able to see and hear in the light show?
The return of this firework show is great for the trueDisney Park and Epcot fan. While Harmonious was full of favorite Disney Songs from movies and characters on the LED screen barges, Epcot forever removes all that and hits a different heartstring.
The show is a tribute to all things Epcot from the old rides, shows, and attractions. During the show you will hear sound clips of Walt Disney saying things like "We call it EPCOT and EPCOT will be an experimental prototype community of tomorrow". You will also hear songs like "One Little Spark" from Journey into Imagination, the Universe of Energy Music, "We've Just Begun to Dream" from the Epcot Center Grand Opening, "Veggie, Veggie, Fruit, Fruit", "Tapestry of Nations," and a handful of other Epcot specific music.
The Medley has a lot of children singing and sound clips from the parks. It really does hit those nostalgic memories we all have from the younger Disney years. 
Epcot Forever did previously have other effects like jet skis and light-up kits but with its return this year they have removed those features. The show is mostly your standard fireworks, with some smaller effects. The Countries light up during the show and there are some fun rocket-like fireworks that shoot from around the lagoon.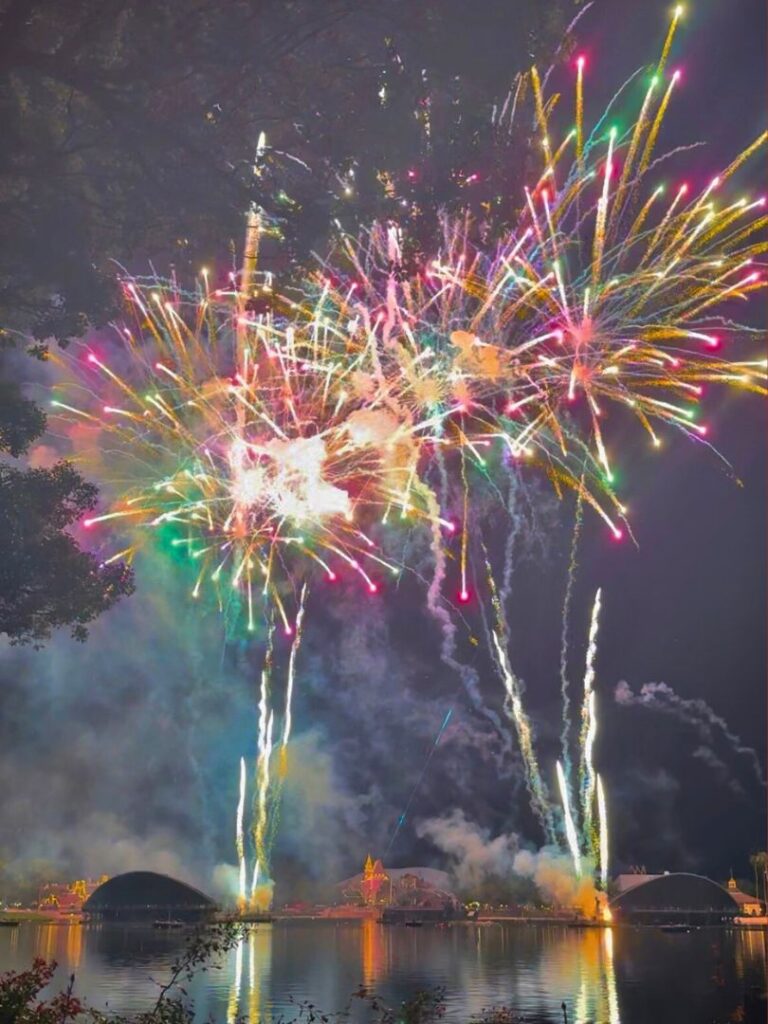 Can I order food and drinks during the show?
Not really. When Epcot Forever starts, much like other shows, the lights around the pavilions will dim and many of the quick service locations will close for the evening. It is always best to order your last food and drink options a little before the official park hours end. This is why we like to hang out in Germany for the show, with easy access to snacks and drinks while waiting.
There are a few options if you want a dining experience during the show. Log into your MyDisneyApp to book advanced dining reservations at either Spice Table Road in Morocco or Rose & Crown in the United Kingdom Pavilion. Both locations are directly on the lagoon and have wonderful unobstructed views of the show.
The Spice Road Table Dining Package includes two small plates, a dessert platter, and unlimited beverages. The Rose & Crown Dining Package includes one appetizer, one entrée, a dessert platter, and unlimited beverages. While these dining options boast an amazing experience, they can be a bit pricey and start at around $70 per person.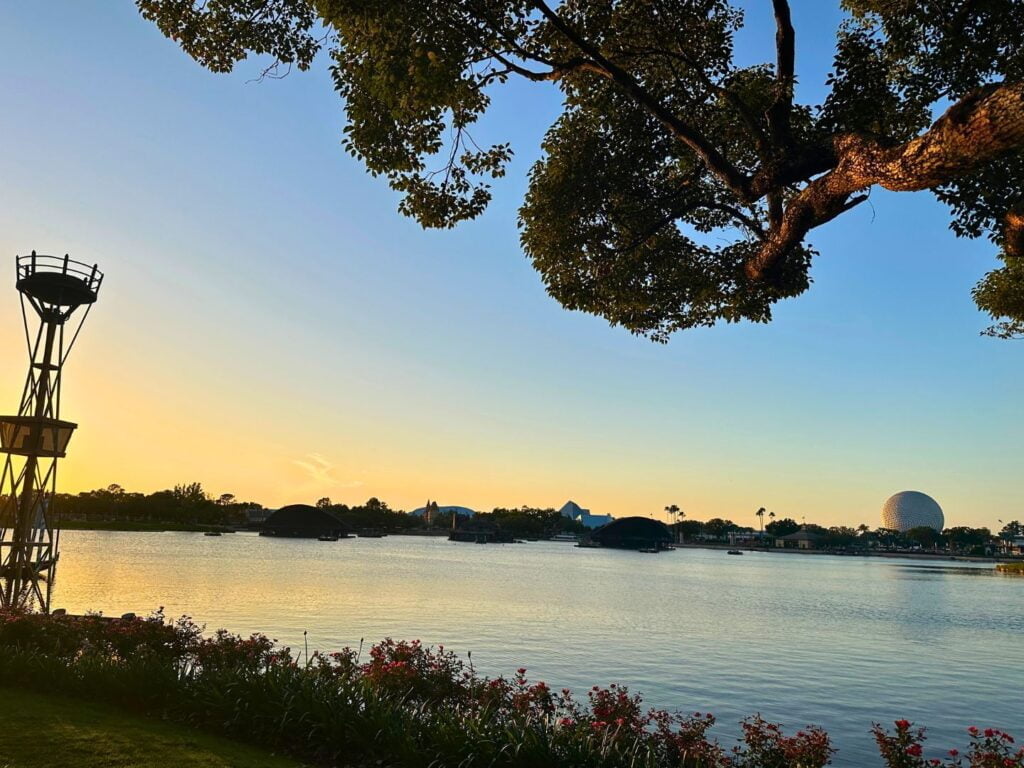 When is the show?
On most days fireworks begin at 9:00 p.m. at Epcot. You will begin hearing the cute child voices announcing the show will begin in 15 minutes and count down as it gets closer. However, make sure to check your MyDisneyExperience app or a Disney Resort Front Desk agent for showtimes on the day of your visit. Because it is an outdoor show, it can be canceled due to extreme Florida weather, though it is rare. There are also occasional private events that can close EPCOT to the public before showtime.
If this is a must-see for you, make sure there are no private events the day you schedule your EPCOT ticket. Also, as of April 19, 2023 annual passholders no longer need park reservations after 2:00 p.m., so catching fireworks just became easier.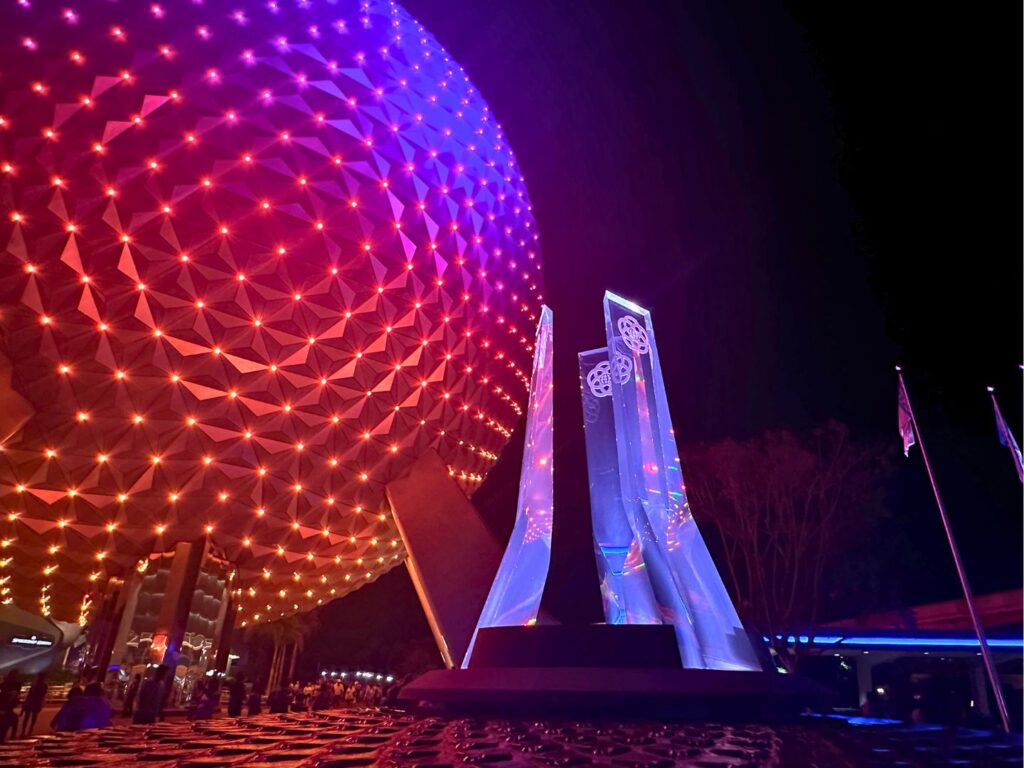 How to view Epcot fireworks without a park ticket…
Nothing beats seeing a Disney fireworks show inside the park itself. The music is better, the lighting effects are more impactful, and you are truly enveloped in the experience. However, if for whatever reason you'd like to see the fireworks without having to go into one of the theme parks, there are plenty of options. Our guide to viewing Disney fireworks outside of the parks gives you locations and tips. 
Make time to catch the Beacons of Light show on Spaceship Earth on a night you plan to visit, you won't be disappointed!