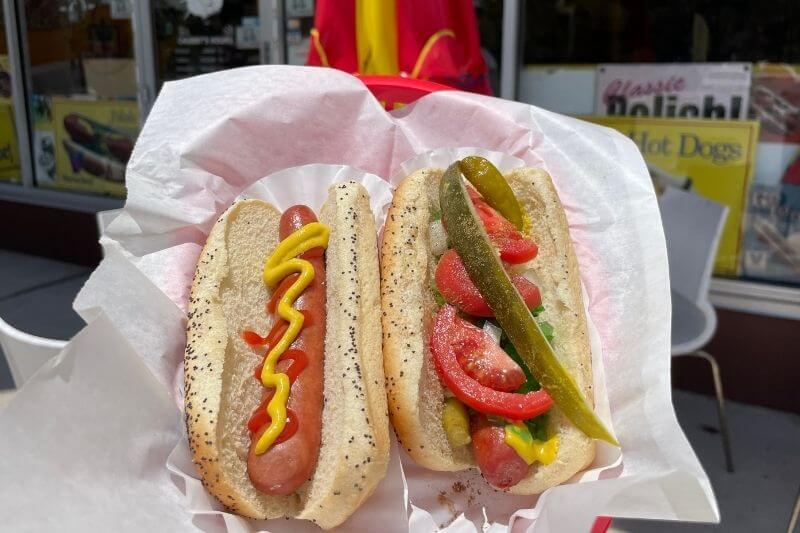 It's spring and summertime, and that means sun, fun and hot dogs! The Orlando/Central Florida area has some great places to grab a hot dog and enjoy your summertime festivities. Looking for some of the best? We've put together some of the best hot dogs in Orlando from classics to gourmet. 
Best Hot Dogs in Orlando
In our local's guide to the best hot dogs in Orlando we'll start off with classic, simple hot dogs then explore the gourmet creations with unique toppings and flavors.
Simple and Classic Hot Dogs
For over 500 years we've been enjoying hot dogs, with so many options, sometimes you just want a simple and straight-to-the-point hot dog. No flair, no fancy, just tasty! Orlando has lots of styles but some of its staple hot dog locations have a great traditional dog. 
Hot Dog Heaven
Serving Orlando since 1967 is Hot Dog Heaven. Hot Dog Heaven is home to the giant Hot Dog on a Fork sign that dons the side of Colonial Drive and can't be missed. It's a traditional hot dog joint with picnic tables outside, red bar stools, and black and white checkered flooring inside it. Hot Dog Heaven has found itself as more of a roadside attraction than most restaurants and when driving through you have to stop.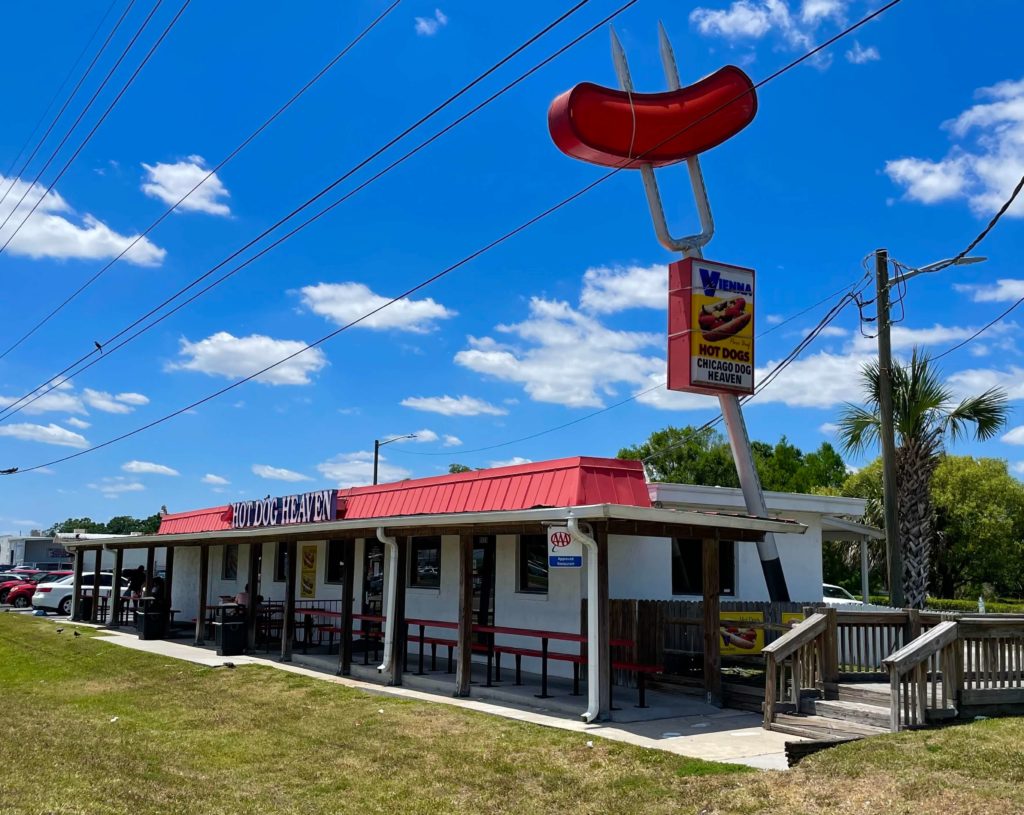 They use Vienna Beef Hot Dogs and no artificial ingredients. Their menu offers a large array of hot dog options, from a classic plain hotdog to chili cheese dogs, American cheese dogs, a Reuben dog, and a jalapeño cheddar dog. You can Jumbo size any hot dog for an extra fee and they offer a basket with sides.
Don't pass on the French Fries! As another option, Hot Dog Heaven does offer some Polish and Italian sausages as well. It's the perfect little stop for an Orlando day date. 
Related: 10 Perfect Picnic Spots in Orlando
Kappy's in Maitland
If you're looking for a no-frills, just good eats, kind of diner, Kappy's is the place. Kappy's is located in Maitland and has been a long-standing establishment since 1967. Their hot dog selections include your traditional hot dog toppings, ketchup, mustard and relish. If you want to go all out, order the Kitchen Sink which includes every topping but the kitchen sink and it's so big they have to put it on a sub roll!
Kappy's has that home diner feel and it's a good Orlando drop-in. There isn't a lot of seating in the small restaurant but if you can grab a counter stool it is great to watch your food being prepared right there. Kappy's makes for great take-out for a park date too!
Related: 11 Ideas for the Perfect Date Night in Maitland
Chicago Style Hot Dogs in Orlando 
Who doesn't love a classic like the Chicago Style Hot Dog? Orlando, being full of good eats, has some great places to grab one. A Chicago Style Dog starts with a steamed poppy seed bun, all-beef hot dog, topped with yellow mustard, green relish, chopped onions, tomato wedges, pickle spear, sport peppers, and a dash of celery salt. Chicago Dogs are an acquired taste if you haven't had one, but for many, once you get your first taste you'll start craving them.
These places offer some of the best for an Orlando summertime date experiment.  
Chicago Dog & Company in Altamonte
Located in Altamonte Springs is the Chicago Dog & Company. Owners Sandra and Monica were born in Chicago and raised in Central Florida. They opened their dream hot dog stand in 2021. When I think of a hot dog stand, Chicago Dog & Company fits the bill.
They have windows to order your food and picnic tables with umbrellas outside, with no inside seating. It's a cute little stop for a day date, albeit a little loud being on the side of SR -436.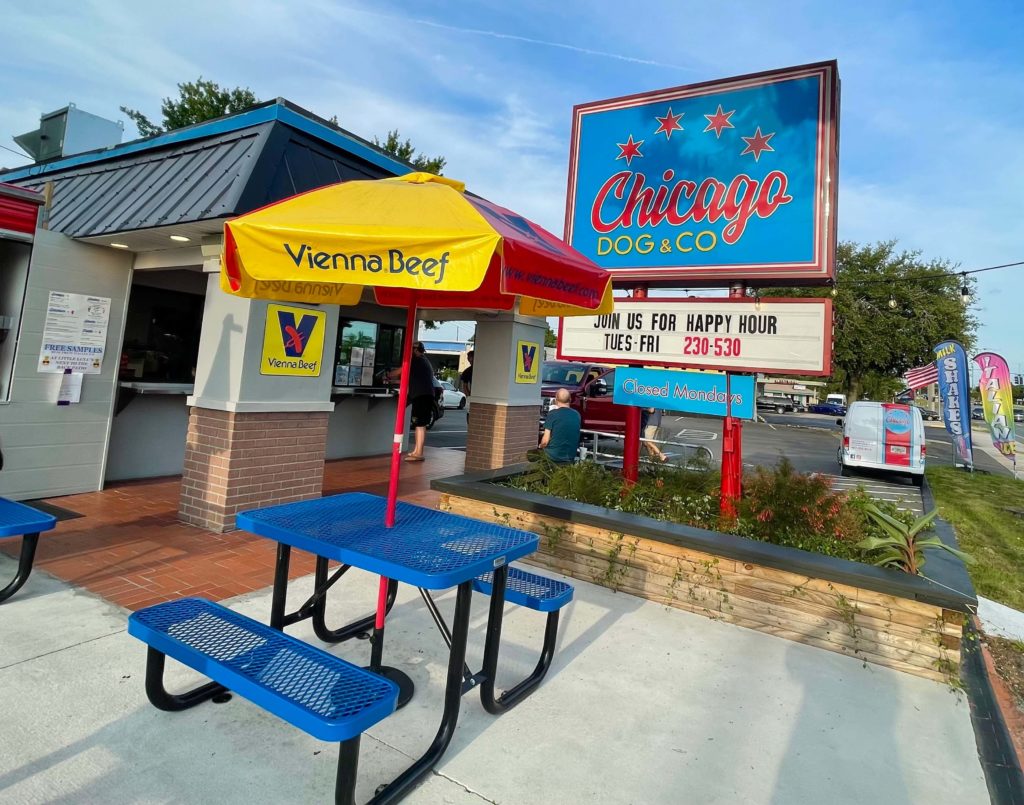 They offer an incredible Chicago Style Hot Dog with crispy sport peppers and pickles on top of a Vienna all-beef dog, in a fluffy poppy seed bun. However, they do have quite a menu to fill all cravings. We had the Chicago Style Hot Dog and Ditka Dog, which is a deep-fried Polish sausage. They also offer smash burgers, Italian beef sandwiches, pizza puffs, a veggie dog, and occasional specials.
Besides the Chicago Dog, highly recommended is their chili cheese fries, they are some of the best we've ever had and plenty to split!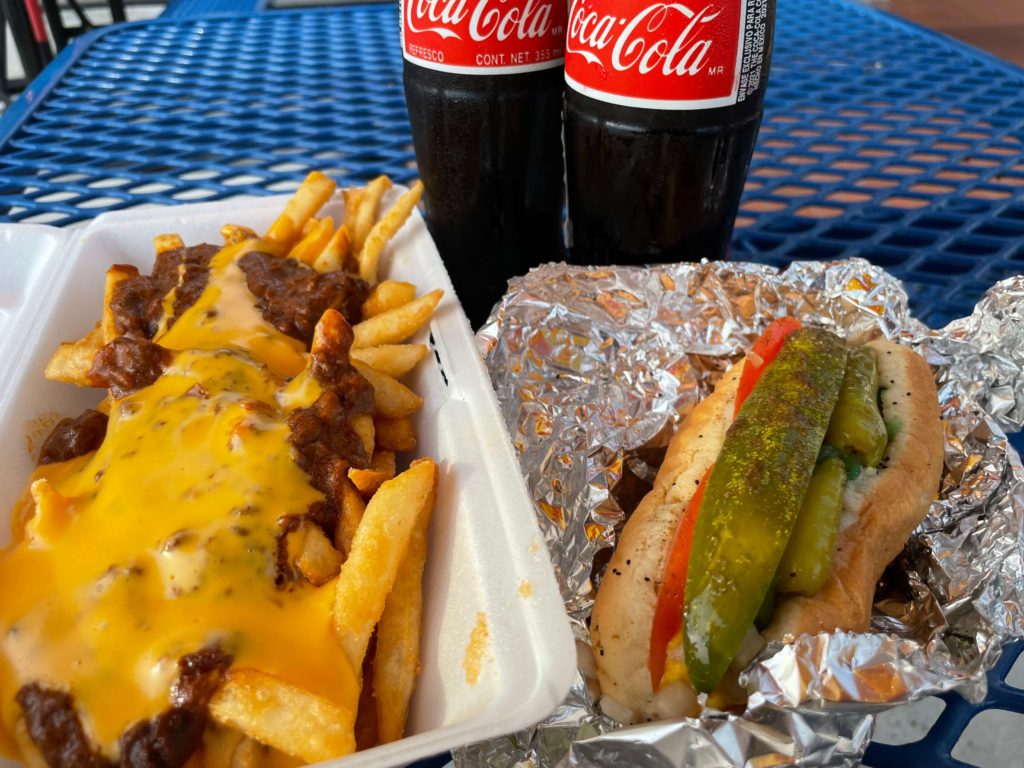 Chubby's Hot Dogs 
Another Altamonte Springs/Maitland favorite is Chubby's Hot Dogs. Chubby's is also well known for the Chicago Style Hot Dog. The hot dogs here are creatively called the "chubby" and they have a large array of selections of toppings. They use all fresh ingredients and all of the hot dogs or sausages we've tried here have been great, all with that fresh snap when you bite into them.
The owners are friendly, and the restaurant does get really busy but they move quickly. Besides the Chicago Style favorite, they also offer burgers, sandwiches, sausages and even chicken tenders. It's a small business with not a lot of seating, and there are only two smaller tables outside.
It's practically next door to the Maitland SunRail Station so consider hopping on board to head to a nearby park.
Here's how to Plan an Outdoorsy Date Using the SunRail Schedule and Routes.
Portillo's 
A new addition to the Orlando hot dog scene is Portillo's. Portillo's is a Chicago-based chain that opened its first location in Orlando in 2021. They did so well that they are opened a second location in 192 in Kissimmee. Portillo's is known for their Chicago Style Hot Dog, Cake Milkshakes and Italian Beef Sandwiches. They really have perfected the art of Chicago Style Hot Dogs, their ingredients are fresh and the hot dogs are cooked perfectly. If you've never had a Chicago hot dog in Orlando, it's hard to beat Portillo's.
Of the places for a Chicago hot dog in Orlando, Portillo's has the widest selection if you're looking for something other than a hot dog like spicy chicken sandwiches, salads, and more. Their new plant-based hot dog has received great reviews. 
Gourmet and Over the Top Hot Dogs in Orlando
Cholo Dogs
Orlando's #1 Mexican Street Hot Dogs (Weens) are from Cholo Dogs. Cholo Dogs is a hot dog cart that can be found all over Central Florida, slingin' weens! They bounce around between breweries, festivals, and events. You can usually find where they are located on a particular day on their website or Instagram. Their hot dogs are over the top Mexican street dogs with toppings like Mexican street corn, cotija cheese, cilantro, and topped with tajin, like the El Borracho. As weird as these dogs sound they are excellent and best enjoyed with a local brew.
Cholo Dogs' cart is decorated with face of the company, Franco Furtero a heavy-weight wrestler in all his wrestling mask glory. Hunt them down or visit the local brewery they are parked in front of and enjoy a silly, slingin' weens, date night!
Mochinut
Wanna try a Korean Hot Dog? Then make sure to check out Mochinut. Located in the Sand Lake Restaurant Row area is this fun Korean treats restaurant. A Korean Hot dog is like an American Corn Dog but with a twist, it can be filled with a variety of delicious things like cheese, it is then coated in a batter, deep-fried and then rolled in different style toppings.
Mochinut offers a handful of specialty dogs like potato chip-coated, crunchy ramen, or flaming hot Cheetos. They are a real fun treat! The best thing about Mochinut is that they offer a half and half, which is half mozzarella and half hot dog so you can get the best of both worlds. Mochinut is a worldwide chain, with more locations opening soon, so be on the lookout for one near you. It's a fun day date stop and you can finish off with a Mochi Donut and a Boba Tea for the full Mochinut experience!
Hot Dog Hall of Fame  
Located in the heart of Universal's City Walk is Hot Dog Hall of Fame. Hot Dog Hall of Fame is a quick-service establishment that is great to mobile order or walk up to when you can't get in a restaurant and you still want a one-of-a-kind foodie experience. Their menu offers just about any topping that you can think of. Various regions are represented like the Detroit style which is Koegel dog, Abbott's Coney chili, diced onions or Kansas City style which has pulled pork and coleslaw.
Dog Hall of Fame also offers a vegan hot dog as an option as well. It's a great location for a date night to grab a couple of dogs, and a table and enjoy the theme park lights and atmosphere.
Related: The Best Restaurants in Universal Orlando for Date Night
Doghouse in College Park
Over in Orlando's College Park Neighborhood, you'll find Doghouse, home to a crazy good hot dog. Doghouse says the motto is crazy dogs and loaded tots, and boy they aren't wrong. Their toppings range from crushed Fritos, spaghettiO's, to peanut butter sauce and everything in between. They have a ton of options of predesigned hot dogs like Tutti Frutti which is Peanut Butter Honey and Raisins and the Taco Dog which is in a Taco Shell and has chili, cheese sauce and lettuce and tomato.
Besides toppings, they offer a handful of different hot dog types like a beer craft dog, vegan, corn dog, beef or smoked sausage. As if that isn't enough, there is a full menu of crazy tater tots options too. College Park is a great little date area to visit and stroll around.
Doghouse is attached to The Soda Fountain which is a perfect way to end your date!
Vegan and Plant Based Hot Dogs
Everyone should have the option to enjoy a hot dog, even our vegetarians. The Vegan and Plant Based options are becoming more and more readily available in our Central Florida Foodie scene. Check out these fun places for your vegan or plant based needs.
The Vegan Hot Dog Cart
The Vegan Hot Dog Cart has been a staple for the Orlando scene for years. It has had a couple of different owners but has been purchased by Dixie Dharma's Owner and has gone brick and mortar. The Vegan Hot Dog Cart is now located on Orange Avenue in a permanent location next to the long-time running SlyFox Pub.
The Vegan Hot Dog cart menu houses traditional hot dog toppings, mustard ketchup and relish but they offer things like a holiday dog with cranberry chutney and a blooming dawg with crispy fried onions and secret sauce. The menu also consists of burgers and tasty tater tots!
Related: 8 Plant-Based Restaurants in Orlando Everyone Will Love
Honorable Mentions
All images by Jodi Caballero