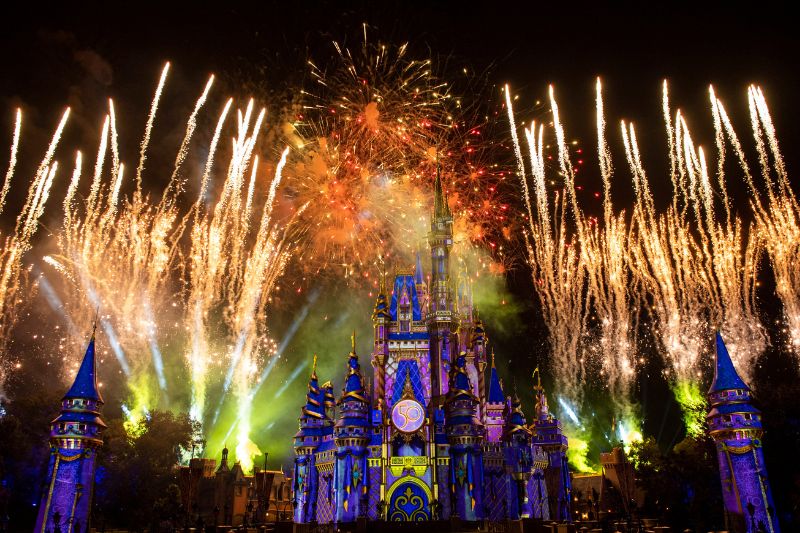 People say once you see the fireworks at Magic Kingdom in Walt Disney World, all other fireworks shows are ruined. They aren't wrong. 
"
Ready to begin? Let the wonder take hold. Feel it draw you in. Watch the moment unfold." The opening lyrics to Happily Ever After Fireworks encapsulate the precious, breathtaking moments of watching this spectacular
. These tips for watching Magic Kingdom Fireworks will save you time and increase the magic of these fireworks. 
5 Tips for Watching Magic Kingdom Fireworks Together
In front of the castle is one of the best viewing areas
Book the dessert party for less stress and reserved viewing
Double check the showtime well before your visit
Place a mobile order to enjoy a snack after the show
Don't rush out after the show
Keep reading for important tips for the best time watching Disney fireworks at Magic Kingdom.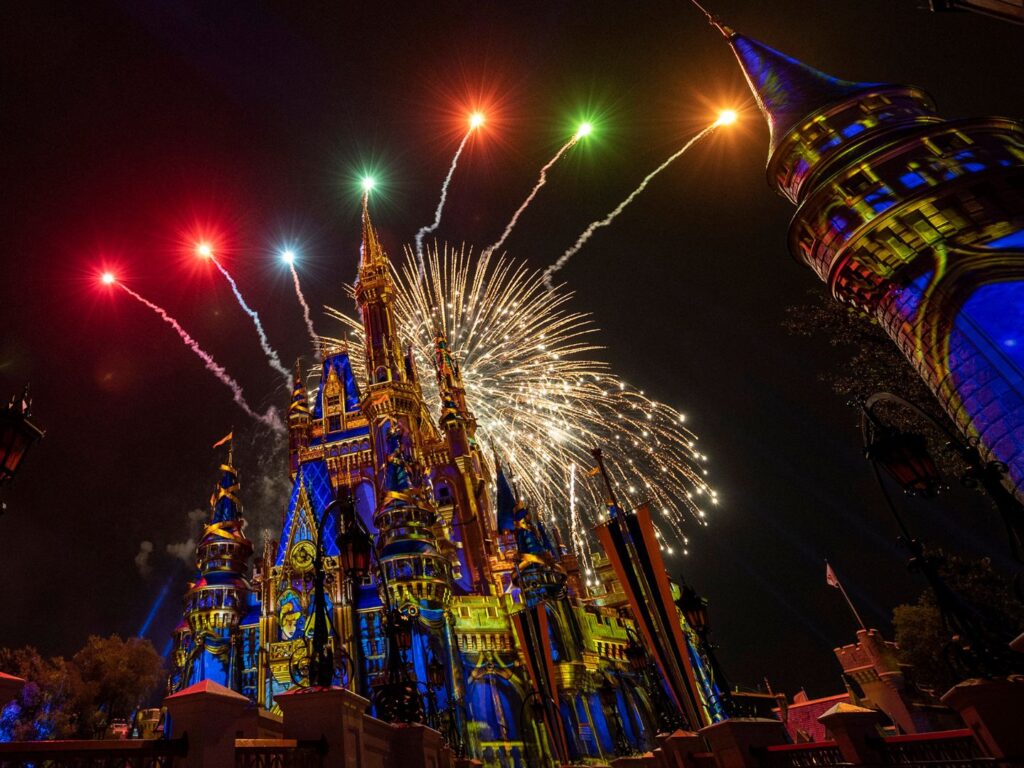 Happily Ever After Fireworks at Magic Kingdom 
During Walt Disney World's 50th Anniversary Celebration "Disney Enchantment" took over the Magic Kingdom skies. The show was updated in August of 2022 to add a bit more Walt Disney history for loyal fans.
The final performance of Disney Enchantment was April 2, 2023.
Now "Happily Ever After" has returned, and with new enhancements!
Where is the best location to see Magic Kingdom's Fireworks – Happily Ever After?
Although you are able to see the fireworks from many locations in the park, most agree that directly in front of the castle is the best viewing area. Fireworks can be seen from Tomorrowland, Adventureland, and Fantasyland, though views can be obstructed.
There are light projections on the front of the castle throughout the fireworks show. If that is something you don't want to miss out on, stay near the front of the castle. Being too close can make it tough to enjoy the full experience.
And there are new projections on the buildings of Main Street U.S.A. during certain moments of "Happily Ever After." So, I recommend finding a spot near Casey's Corner or the Ice Cream Parlor.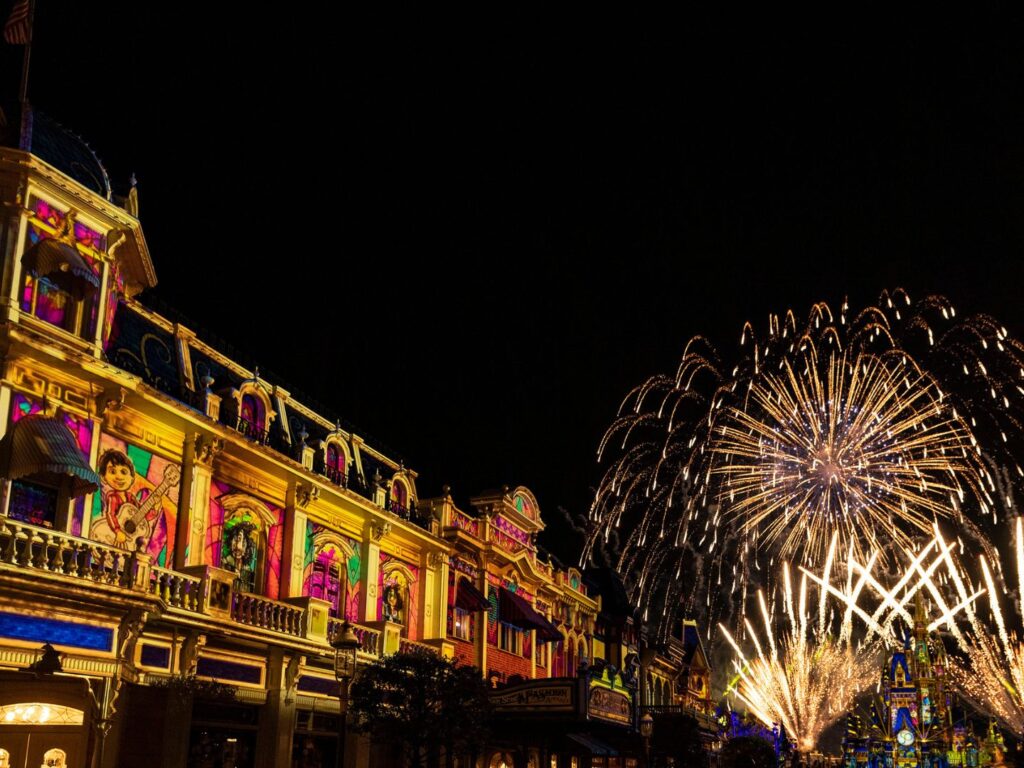 As expected, some families stake out a spot hours before the fireworks show and elect one family member to stay at that location. You can start to see these family members with strollers, sometimes blankets on the lawn, and other ways to "save" as much space as possible.
Understand, that even if that is what you or your family are planning to do, at showtime people will get as close and as tight against you as possible. If you have any type of claustrophobia your best location will be near a walkway that is blocked off. Check with a Cast Member, or closer to showtime, check for the tape markings on the ground. 
Main Street will fill up. During major holidays and busy seasons, you and your fellow guests could be shoulder to shoulder, family to family. The walkways by the shops will remain open for the flow of traffic. 
Can I reserve a spot to see the fireworks? 
If you would prefer not to wait for fireworks on your own and want a bit more of a VIP experience there is a Fireworks Dessert Party available. 
Guests can book either the Terrace view or Plaza view for the fireworks. The desserts and drinks are the same for either option.
Guests who book the Terrace view have seats in the Tomorrowland Terrace's front area. Everyone in your party will be seated at a table with chairs.
Plaza view guests are able to enjoy the drinks and desserts but will be walked out to a viewing lawn before the show starts.
There are no tables and chairs, and it is open-air. Technically it is standing room only, but the lawn is usually nice for sitting to watch the show, as long as it has not been raining. 
Admission is $114 per adult (ages 10 and up); $69 per child (ages 3 to 9), tax included. You must also already have park admission in addition to the special event ticket. These tickets do sell out, so do not wait until the last minute.
Can I order food and drinks during the show? 
You are able to complete mobile orders during the show to pick up directly after. It is best not to leave your area during the show or it can easily be taken. It is also difficult to maneuver in and out of the crowds with food. 
There are two snack carts (churros, popcorn, and pretzels) on both sides of Cinderella Castle. If you leave your area to grab a drink or snack, chances are you will not be able to get back to your spot easily. That's when teamwork kicks in. Send your sweetheart to snag some snacks while you hold down your spot. 
While you wait for the Disney fireworks to begin, place a mobile order and select a time for after the show. The lines to leave the park immediately after the show can be long and frustrating. Using that time to eat or explore more of the park can help separate your group from the crowds headed for the monorail or ferry at once.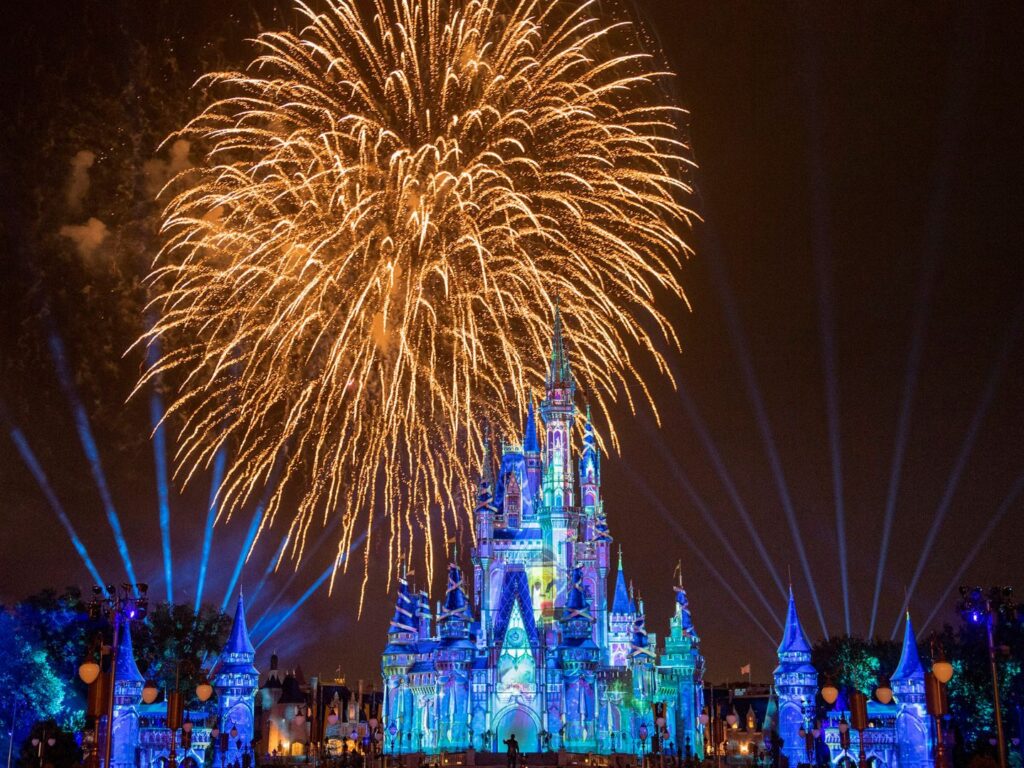 When is the show? 
Magic Kingdom Fireworks are at 9pm on most nights. If there is a special event like Mickey's Not So Scary Halloween Party the fireworks may be earlier, or may not be scheduled for regular guests visiting that day.
Make sure to check your MyDisneyExperience app or a Disney Resort Front Desk Agent for showtimes on the day of your visit. Extreme weather can cause the show to be delayed or canceled. There are also occasional private events that can close Magic Kingdom to the public before showtime.
If this is a must-see for you, make sure there are no private or holiday events (Mickey's Not So Scary Halloween Party or Mickey's Christmas Party) the day you schedule your Magic Kingdom ticket.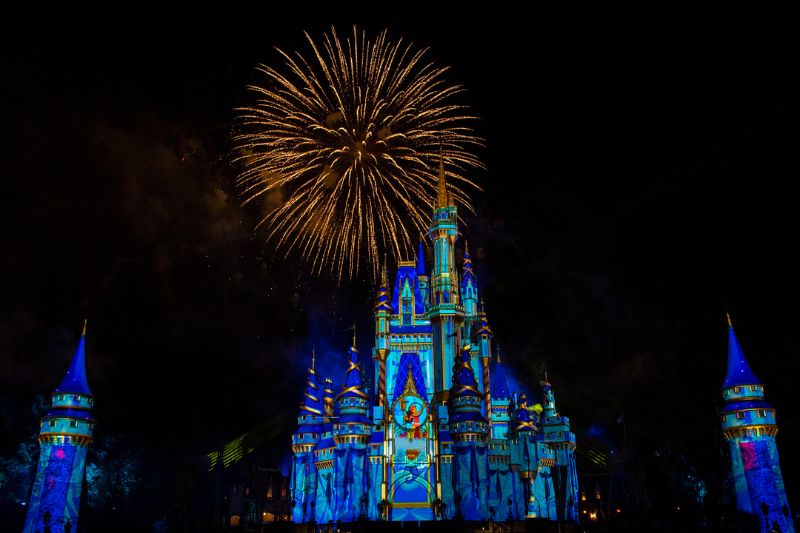 How long does Happily Ever After last?  
Happily Ever After lasts for about 15 minutes. 
Is Happily Ever After only a fireworks show?  
Happily Ever After is not only a fireworks show but also includes lights and projections that envelop guests in the story. 
If you prefer not to be around crowds but want a unique fireworks experience, timing out rides on Big Thunder Mountian, Tomorrowland Speedway, or The People Mover can add excitement and something special. Catch glimpses of the Magic Kingdom fireworks while on these rides.
The music and the fireworks are loud. 
I learned when my sons were both young, we needed to hide from the loud noises of the fireworks show and find an indoor ride. Small World, Winnie the Pooh, and Peter Pan are all great rides to block out the sounds of the show. Hearing protection is great to have on hand to help with the comfort of young kids.
A bonus is that most ride lines are shorter during the fireworks show.
While many of the effects are best seen inside the park, you can still enjoy multiple viewing spots outside the park. From casual waterside spots to rooftop restaurants you can find all your options inside our Guide to
Watching Disney Fireworks Outside of the Parks
. And best of all, you don't need a park ticket to enjoy the magical fireworks from these vantage points.