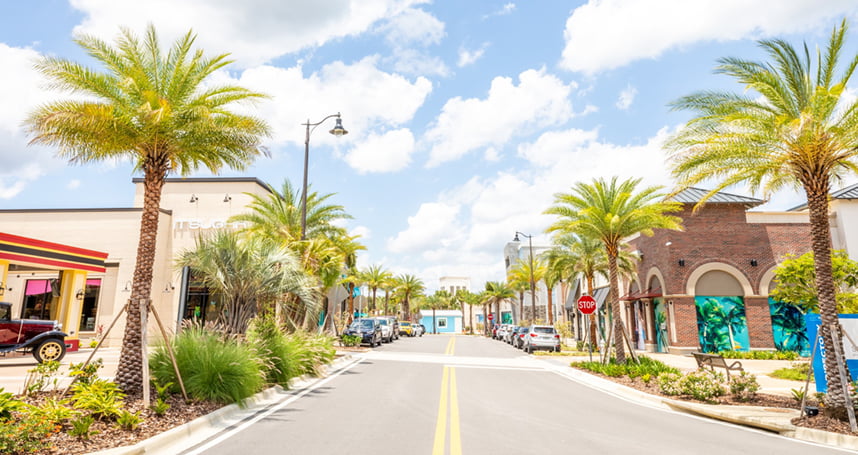 The Margaritaville Resort Orlando is unlike anything Margaritaville has offered before. One of the best features of the resort is its Sunset Walk area. This walkable shopping and dining complex has a relaxed island vibe making it ideal for a fun pub crawl.
Our pub crawl itinerary starts at the front of Sunset Walk as you stroll the sidewalks making stops along the way with a stop at the Margaritaville Resort hotel itself. I suggest visiting in the late afternoon and very early evening to make the most of your time. As you stroll through Sunset Walk there are shops to pop into and browse and plenty of food and drink options to go around.
Waste away in Margaritaville right here in Orlando by following our pub and live music crawl below! This night out also makes for one of our great birthday ideas for adults.
Please visit each stop's website to confirm live music times and happy hour times as these can change. Also, please drink responsibly and have a designated driver or use a rideshare service.
Rock and Brews Kissimmee Live Music
Live music: Friday and Saturday nights (starting around 8-9pm)
You are sure to have a rocking good time at Rock and Brews. The outdoor seating area is so inviting with games and plenty of spaces to gather together. Pull up a seat at the bar, a high top table, or at one of the plush lounge seating areas complete with personal fire pits. The selection of craft beer is impressive, as are the cocktails. Share an appetizer or split a burger to fuel your pub crawl.
One of the reasons I suggest starting here is that Rock and Brews is in a standalone building located next to the main thoroughfare. After starting here, head across the parking lot to get to the main sidewalks of Sunset Walk.
Check out the weekend live music schedule here.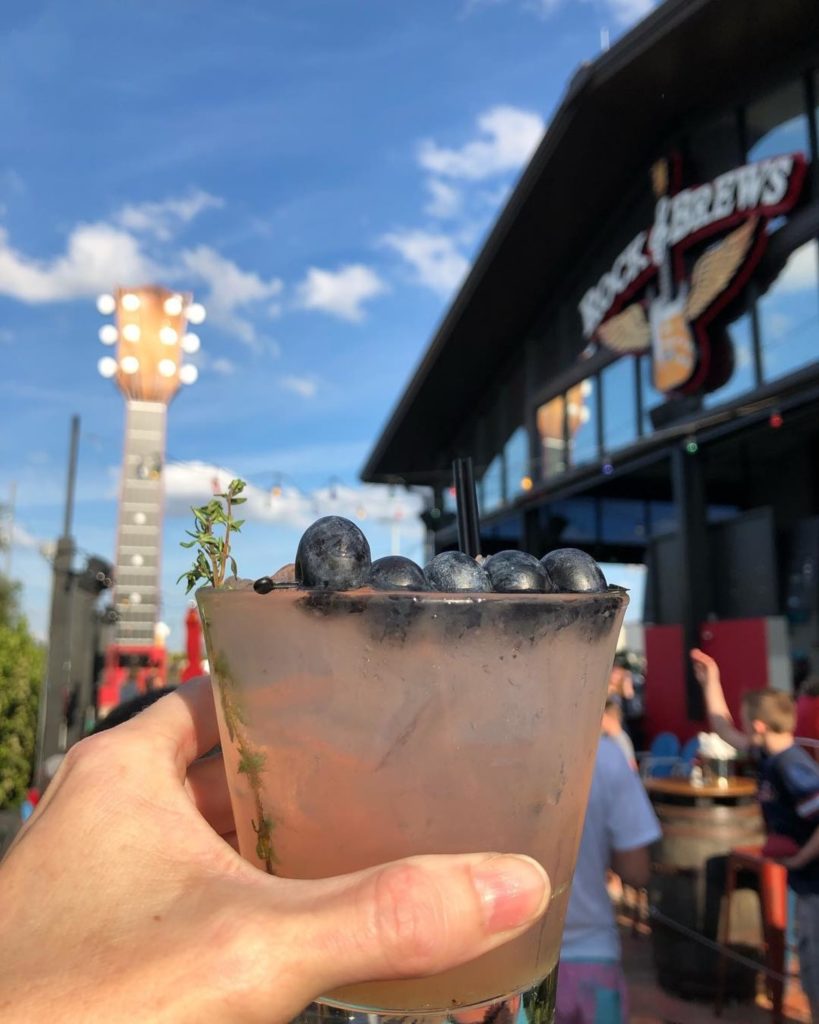 Keep the music going at The Wharf
Born from the same group as B.B King's Blue Cafe, The Wharf is a perfect addition to Sunset Walk. There is live music every night, usually, and a great combination of delicious Southern and seafood cuisine. There is also an oyster bar, and their drinks pack a punch, especially the Hemingway Hurricane.
Bahama Buck's Shaved Ice or Fat Tuesday
As you stroll through Sunset Walk you may want to cool off or wet your whistle. Bahama Buck's has 91 flavors of shaved ice including seasonal flavors. Besides "the greatest sno on Earth" they have shakes, lemonades, fruit bowls, and more. This is one of the most popular spots in Sunset Walk.
If you'd rather keep the libations flowing visit the NEW Fat Tuesday location at Sunset Walk. You can even grab a frosty drink as early as 11am!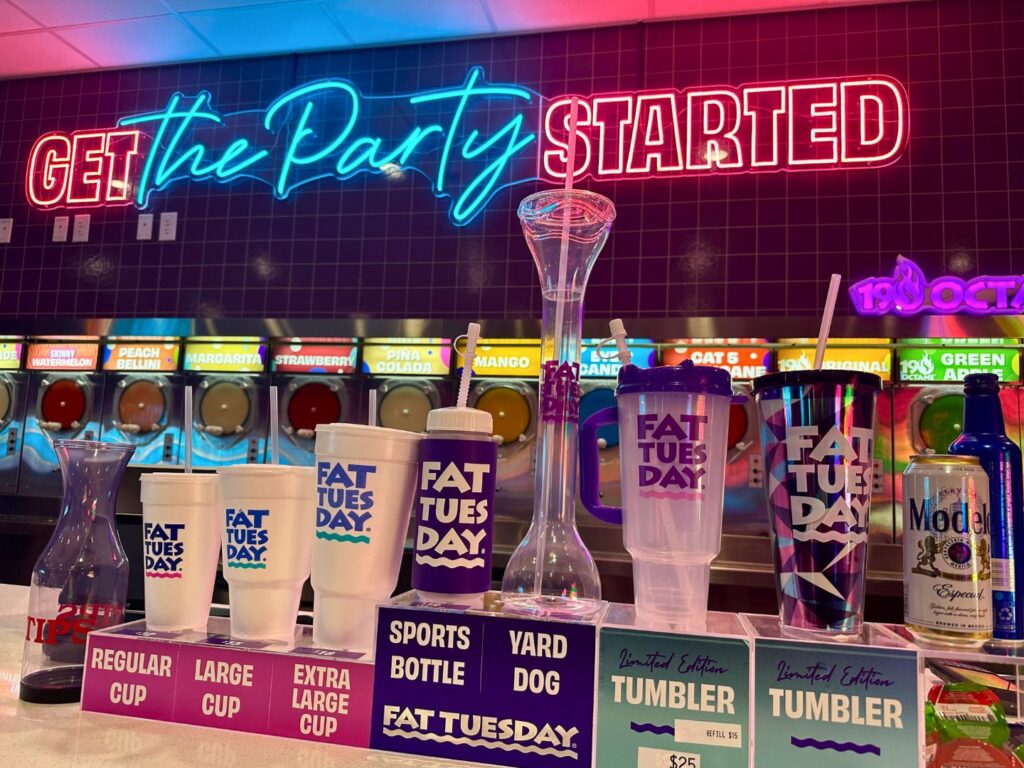 Witness a Live Broadcast of SiriusXM's Radio Margaritaville
Margaritaville all started with a 1977 song by Jimmy Buffett. On SiriusXM, Jimmy Buffett's Radio Margaritaville plays a mix of rock, reggae, and so much more. Broadcasting live on SiriusXM's Radio Margaritaville is DJ and Florida native JD Spradlin. You can actually visit him in his Parrot Perch studio at Sunset Walk and witness a live radio broadcast.
Pop in and say "hi" while you're on your pub crawl. His studio is right across from Bento Asian Kitchen and Bahama Buck's,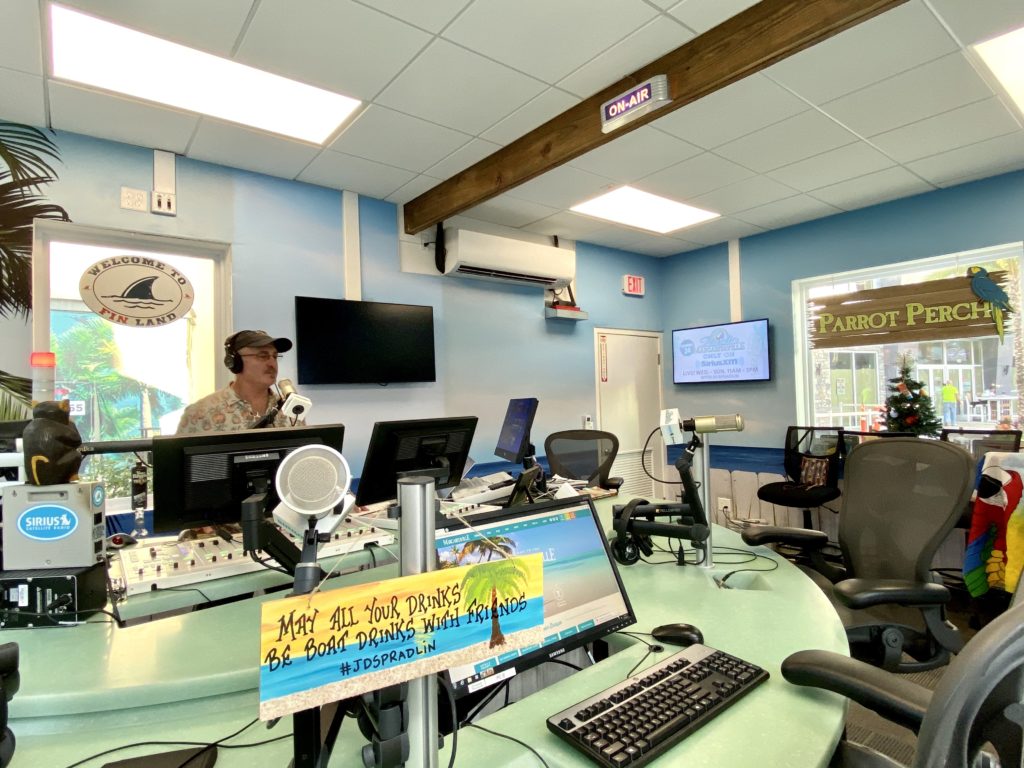 Let the Good Times Roll at Ford's Garage Sunset Walk
Continue on and enjoy the atmosphere of Ford's Garage at the outdoor bar and seating area. Share an adult root beer float like you're at an old fashioned soda fountain. Or select a frosty craft beer or hand crafted cocktail – the Back Seat Driver is a delicious twist on a margarita. There are some fun photo opportunities here too!
Get Locked Up at Capone's Coal Fired Pizza
The motto of Capone's is "pizza so good, it should be illegal". The themed decor inside Capone's is worth making a stop, whether you want pizza, pasta, or just the next round of drinks on your crawl. When you walk in keep an eye out for Capone's hideout. Grab a seat at the bar which is decked out with classy miniature lamps and chandeliers. Capone's offers handcrafted cocktails and martinis like the Bonnie & Clyde and the Italian Mule, plus wines on tap and cold beer.
Escape to Euphoria Fish House at Margaritaville Resort Orlando
Live music: 7:00 p.m. – 11:00 p.m. Tuesday – Sunday nights
Sunset Walk is part of Margaritaville Resort Orlando's grounds and the hotel itself is just a few steps from Capone's Coal Fired Pizza. Stroll down the sidewalk and up to the hotel's lobby. As soon as you walk in you'll be swept away to the tropics – no passport required. Take a few moments to enjoy the lobby before heading toward the back right side for the resort's signature restaurant, Euphoria Fish House.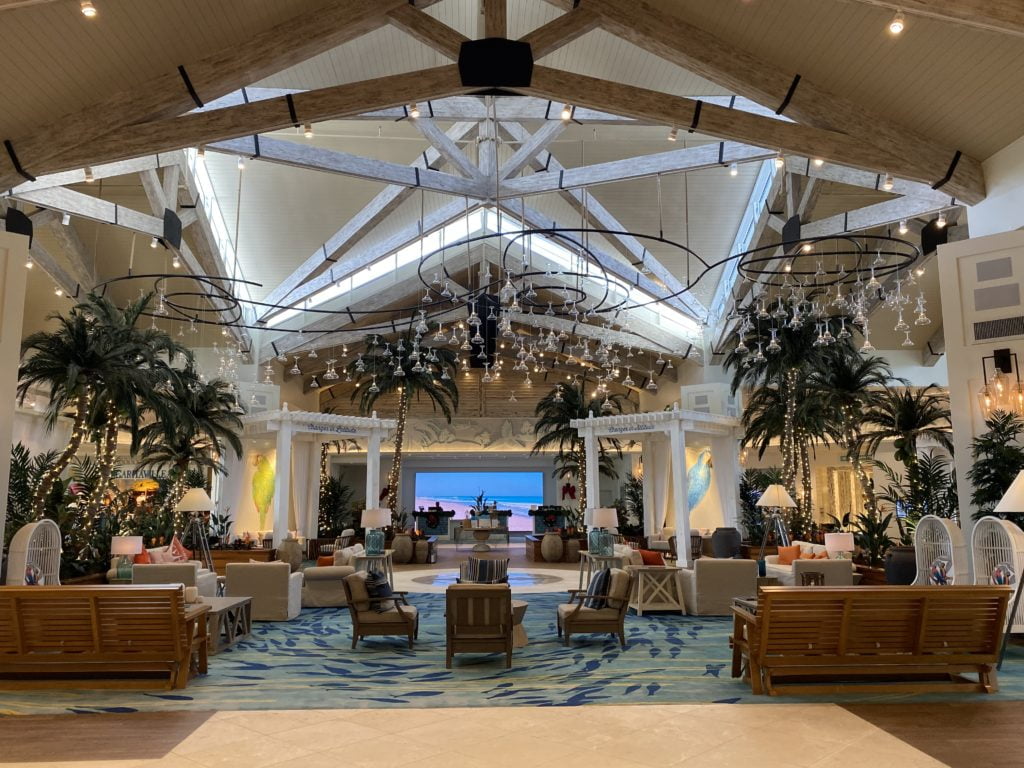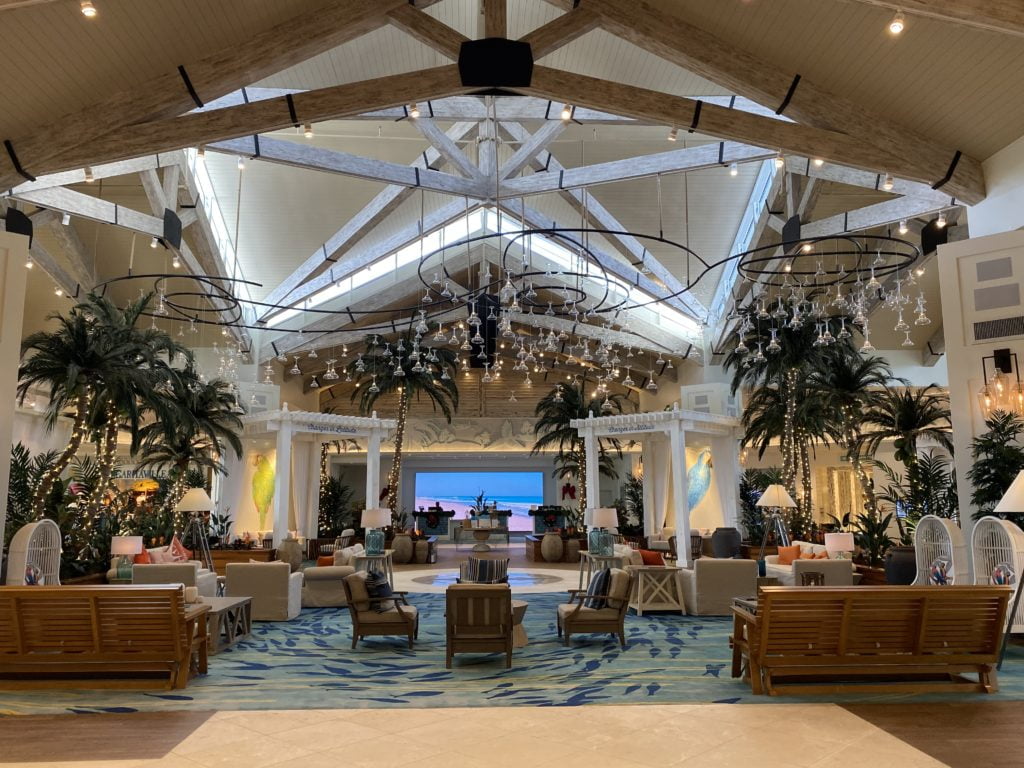 If there are two seats at the bar be sure to grab them as you'll be treated to a sweeping view of the resort's pool and grounds. Top shelf margaritas are the specialty – my favorite is the Coco-Rita made with coconut tequila and rum with a rim toasted coconut. There is a wide array of handcrafted cocktails and delicious food. It may just be your favorite stop on the crawl.
Plus there is live music every Tuesday – Sunday nights from 7-11pm, and Happy Hour each evening, 4pm – 6pm.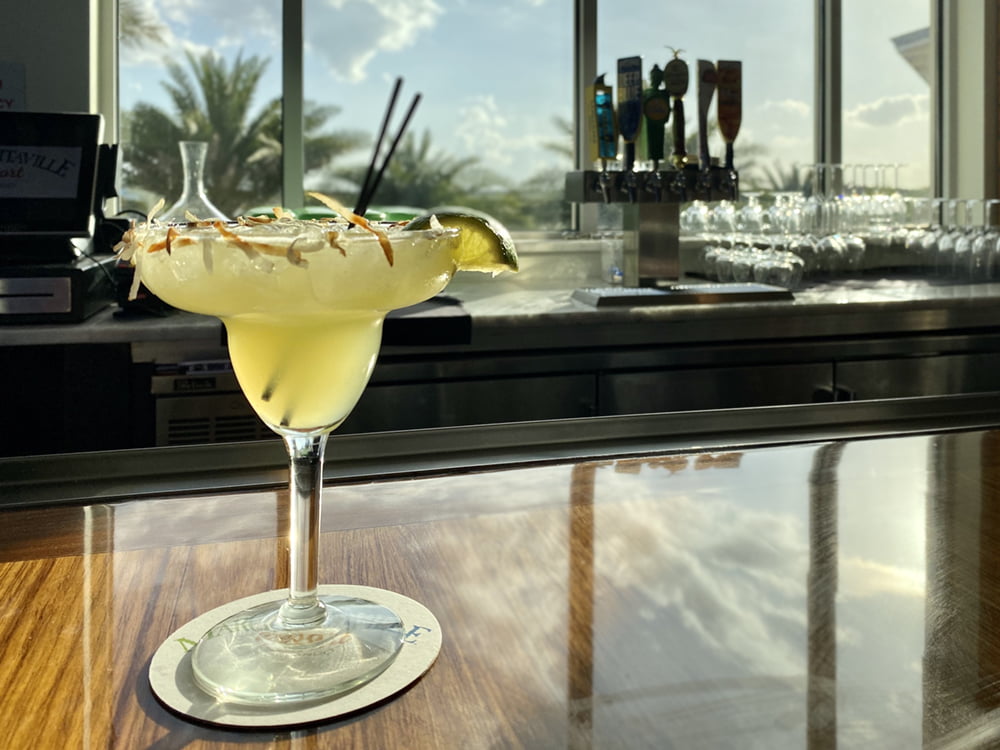 Enjoy Live Music at Yeoman's Cask and Lion
Live music: Thursday and Saturday nights
If your pub crawl takes place on a Thursday or Saturday night, pop into Sunset Walk's pub, Yeoman's Cask and Lion, to listen to live music. Every Thursday and Saturday night 8pm – 11:30pm, this British-style pub hosts live musicians. The food and drinks are hearty and make this a fun stop as you head into the later evening hours.
April 2023 Note – Yeoman's Cask and Lion is currently closed for renovations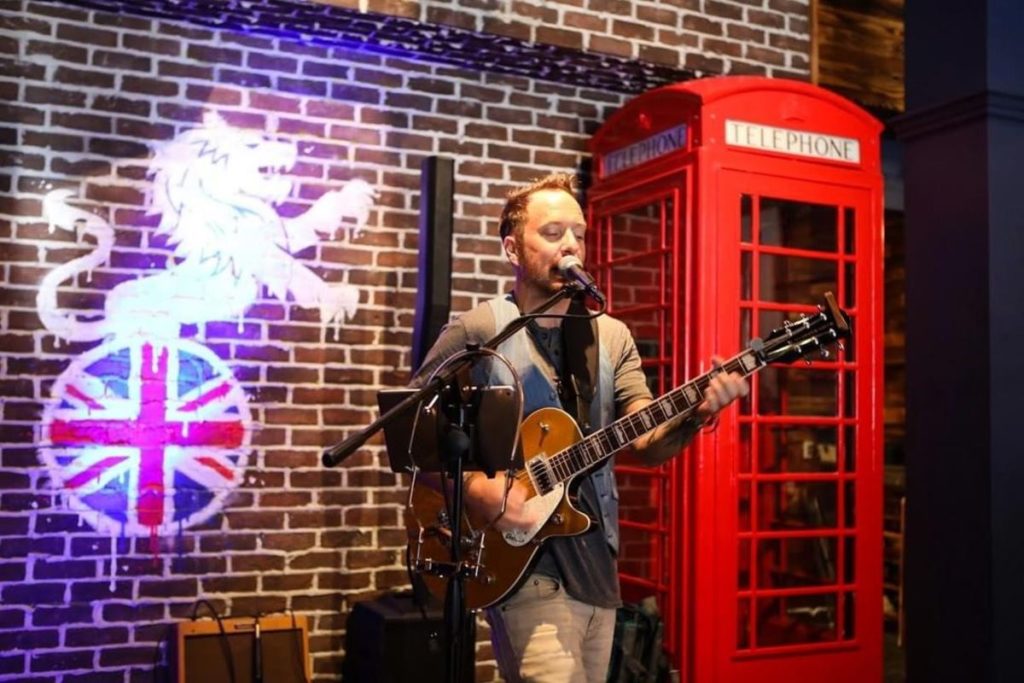 Cap Off Your Night at Estefan Kitchen
Live music: Most nights
Estefan Kitchen is the flagship restaurant at Sunset Walk. The thatched roof at the entrance and at the outdoor bar evoke the vibe of a tropical escape. There is live music most nights and the outdoor bar is at the center of Sunset Walk, a hub of energetic activity in the evening. Cap off your pub crawl through Sunset Walk with dinner, dessert, or just some drinks, like their incredible mojitos. This is the perfect place to toast the fun you've had at Sunset Walk.
Other Fun Stops at Sunset Walk
Know Before you Go
Sunset Walk is open 7 days a week with most of the shops and restaurants opening at 11am or noon.
Parking is free.
It is dog friendly, with most restaurants allowing dogs to sit in the outdoor dining areas.
Weekly and monthly events, including a car show every Sunday, are offered.
Promenade at Sunset Walk also hosts recurring events throughout the week, including Fired-Up Fridays, The Street Market, Show Car Saturday Nights and more. Check @promenadeatsunsetwalk on Instagram, @PromenadeatSW on Twitter and their Facebook for the latest news.
All images by Dani Meyering unless otherwise noted. Feature image credit: Sunset Walk