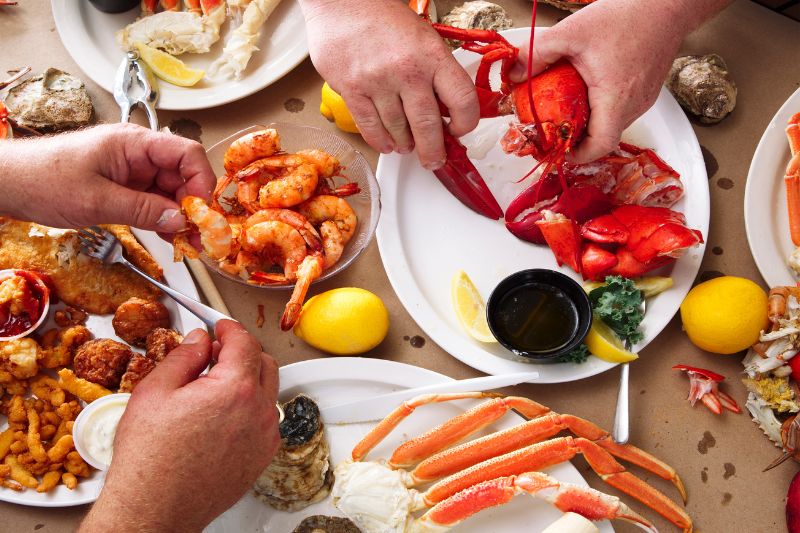 From mangrove snapper to spiny lobster, Florida is a seafood lovers' paradise. But you don't need to retreat to a dimly lit upscale restaurant to savor these flavors. Throughout the Sunshine State, including Central Florida, you can feast on fish and shellfish while enjoying fun-in-the-sun seafood festivals.
Here's a round-up on where you and your beloved first mate can catch the best seafood festivals in Orlando and beyond, starting with spring time, then summer, fall, and a look ahead into 2024.
And if you just can't get enough scrumptious food from the ocean, scope out our favorite seafood restaurants in Orlando.
 Seafood Festivals in Orlando and Beyond
April's Best Seafood Festivals
When: Now through May 7, every Friday through Sunday
Where: SeaWorld Orlando
Admission: Included with regular park ticket; food and beverage samples extra (with upgrade options)
In case you missed it, the Seven Seas Food Festival kicked off in February. But don't worry it's running until May. Sink your teeth into more than 200 food offerings. As the event name implies, this food festival showcases tons of dishes composed from sea delights; but, menus also feature meat, pasta, veggies, desserts, wine and more than 75 craft brews. The Seven Seas Food Festival will please your palate with world-class fare… enjoyed right here in our hometown.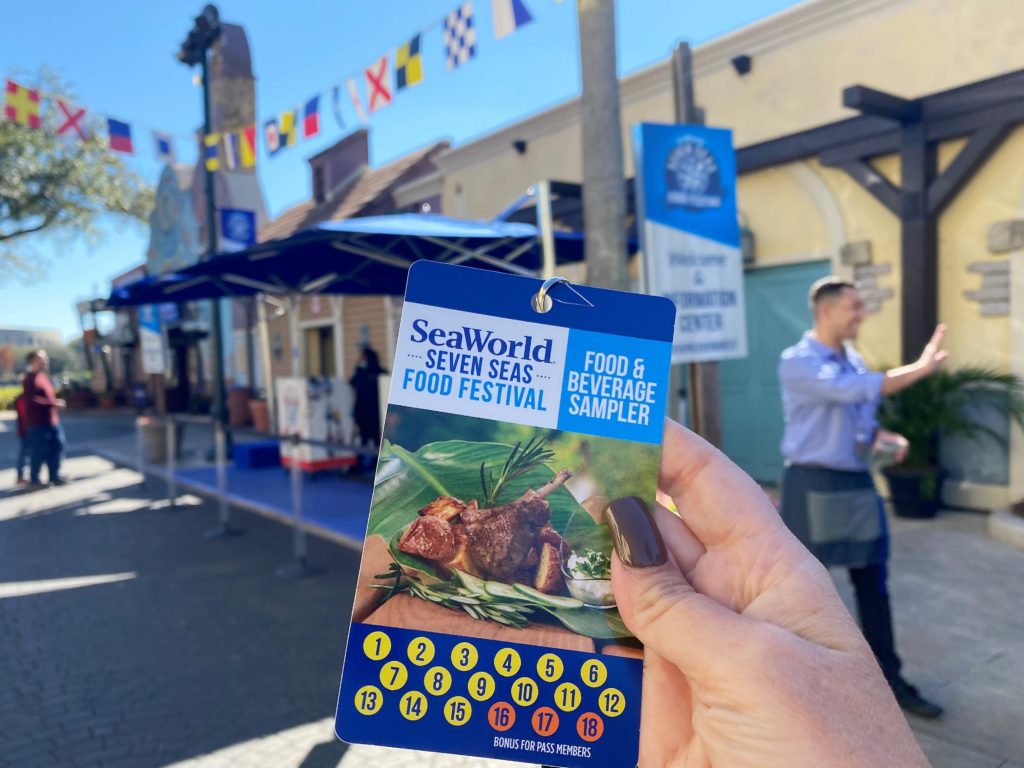 When: April 22 (10 am-6 pm) & April 23 (10 am-4 pm)
Where: Memorial Park & River Walk Center, Fort Pierce
Admission: Free
Need an excuse to make this two-hour road trip with your love? Well, oysters are a natural aphrodisiac! You see, researchers found that raw oysters contain amino acids that trigger increased levels of sex hormones. Anywho…
Along the waterfront in Downtown Fort Pierce, you can shuck oysters to your hearts' content, as well feast on other seafood (and landlubber) dishes. Plus, get your fill of live music, arts & crafts and plenty of ocean air. FYI, after shucking and sucking, don't toss your oyster shells in the trash! The event planners will repurpose shells for local oyster restoration projects, including at the Fort Pierce City Marina.
When: April 29th and 30th, 10am – 6pm and 10am – 5pm
Where: Downtown Sanford
Admission: Free
See Art-in-Action from live artist demonstrations and create your own piece of artwork at workshops scheduled during the weekend. Enjoy gourmet tastes at the 'Culinary Arts Court' while you listen to the sounds of acoustic performers.
Also:
May's Best Seafood Festivals
When: May 20-21; 11 am-7 pm
Where: Orlando Festival Park, Orlando (Milk District)
Admission: $5-10
If your babysitter isn't available to watch the kids for this day date, no worries… the Orlando Seafood Festival is a family-friendly foodie event. Your kiddos can eat up the entertaining children's zone, all while you nosh on yumminess served by multiple seafood vendors. Ideally located on the outskirts of Downtown Orlando, you can drop anchor at this festival for some light bites and then take your crew elsewhere if you choose.
Also:
June's Best Seafood Festivals
When: June 3; 4-10 pm
Where: Tampa Premium Outlets
Admission: $10; free for children under 18; plus, pre-sale VIP packages options
Looking for a fresh way to dive into summertime? Take a short drive (about 1 hour, 20 minutes) to the Tampa Bay area to take part in the 2nd Annual Summer Rum & Seafood Festival. This event will feature a dozen seafood eateries (local restaurants and food trucks) offering crab legs, fish tacos, lobster rolls and more mouthwatering selections. You can pair these dishes with alcoholic drinks from ten Florida-based distilleries.
Plus, a full line-up of musical acts will make for a "reel" fun day, especially with Best of Both Worlds headlining at 8:30 pm. This Van Halen/Sammy Hagar tribute band will rock your boat. Be sure to catch the crab races, slated to run every hour! And plan to snap tons of selfies with costumed swashbucklers.
[FYI, as of ODNG's press time for this article, there are no seafood festivals slated for July.]
August's Best Seafood Festivals
When: August 10-13
Where: Various island locations
Admission: Varying ticket prices
Florida's lobster season opens in August, thus baiting an ongoing north versus south battle about this crustacean. You see, there are two types of lobsters. American (aka Maine) lobsters have large front claws and are often called cold water lobsters due to their northern habitat. Florida Spiny (aka Caribbean) lobsters are clawless with long antennas and harvested in warm waters. The only edible part of the Florida Spiny is its tail, which has a softer-textured meat with a mild, sweet taste. Yum!
The Key West Lobsterfest features days of foodie fun spread out across the island. Thus far, the schedule of events includes the Original Lobster Boil at the Porter Mansion Courtyard at Caroline's Café, a pool party at the Marker Resort, five-course lobster dinner at La Mer Dewey House, the Lobsterfest Duval Pub Crawl and the Lobsterfest Street Fair with a free concert.
September's Best Seafood Festivals
When: September 1-3
Where: Shores of St. Joseph Bay, Port St. Joe
Admission: $5-10
For seafoodies craving a flavorful Labor Day getaway, know that historic Port St. Joe is the place to be. That's because the Florida Scallop, Music and Arts Festival is an epic celebration that sort of wraps up our region's scallop season, which typically spans July through September.
Aside from scallops, music and arts galore, this festival includes an interactive cook-off, bocce ball tournament and plenty of seaside views of the water and lighthouse.
Also:
October's Best Seafood Festivals
When: October 21 & 22
Where: Beach-side City Park
Admission: free
When you're ready to slow down to island time to bond with your fellow foodie, spend a few romantic days in Cedar Key to enjoy the Annual Cedar Key Seafood Festival. This charming, sleepy village town — which has just about 800 full-time residents — comes to life when its historic 2nd Street boasts over 100 arts and crafts exhibitors, live music by local musicians and, of course, plenty of seafood and downhome fare.
Pro tip: get the clam chowder! Because, surprisingly, this little gem of a place shines in the commercial clamming market. Who knew, right?
Discover – The BEST Restaurants in Cedar Key
 Also:
November's Best Seafood Festivals
When: November 4; noon to 10 pm
Where: Historic Downtown Crystal River
Admission: $15
You'll pinch yourself if you miss this seafood festival. Picture fellow seafoodies dancing in the street to music by six cool bands rocking out on three different stages. The main dish is, of course, fresh stone crab, which can be washed down with beer, wine and, if you prefer, non-alcoholic beverages. If dancing makes you feel like a fish out of water, then coast along the various booths to cast your sights on arts, crafts and more.
Also:
December's Best Seafood Festivals
When: December 1st (noon-9 pm), 2nd (11 am-9 pm) & 3rd (11 am-6 pm)
Where: Siesta Key Pavilion, Siesta Beach
Admission: $5
Fresh (and we mean fresh) catch is on the menu at this seafood festival, held annually on the popular barrier island of Siesta Key. That's right… seafood dishes are prepared onsite using fresh, local and sustainable ocean resources from the Florida Gulf Coast. If you're a pescatarian dating a vegetarian, know that your love will also be able to enjoy vegetarian dishes, plus sweet treats too.
Casting Ahead to 2024
January
February
March 2024
Bon appetite, seafoodies!